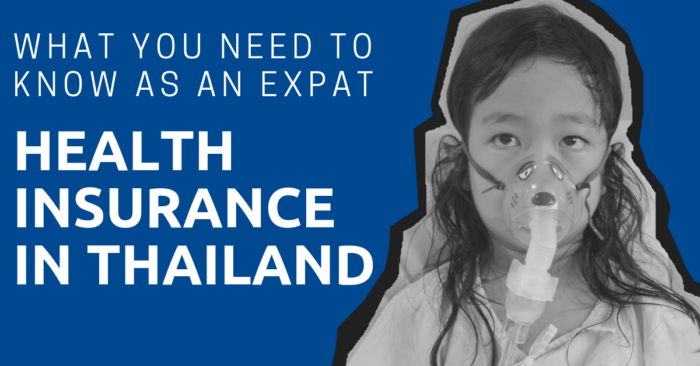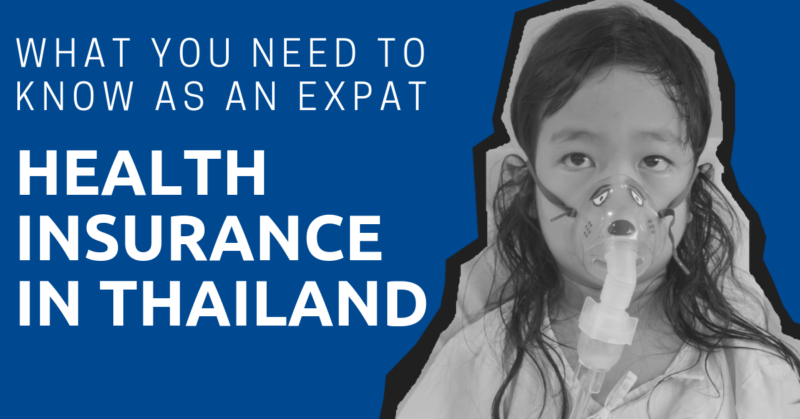 As an expat in Thailand, you might be wondering why you should obtain health insurance here.
While the cost of healthcare in the country is generally affordable, things can get expensive over time.
For example, I had nose surgery at Bumrungrad Hospital for a breathing problem. The surgery would have cost me around THB300,000. Instead, my health insurance paid for it.
Also, recently a friend of mine had meniscus surgery on his right knee at Bangkok Hospital. The whole treatment cost over THB200,000. And his insurance paid for it as well.
Aside from worry-free surgeries, having insurance will also let you go to a good private hospital without thought.
But because buying health insurance isn't only about finding the cheapest plan on the market, you want to make sure you get a plan that actually covers you when the time comes.
Saving myself — and you — some time in choosing an insurance company is the reason that I've written this guide on the crucial points of health insurance for expats in Thailand.
If you want to skip the article and get right to my recommendation, check out Cigna Global. It offers comprehensible and flexible expat health insurance plans. Even its basic plan comes with a US$1,000,000 annual limit – sufficient for your life in Thailand.
"*" indicates required fields
Insurance Options
There are six common health insurance options for expats coming to or already living in Thailand:
expat insurance
local insurance
group insurance
social security
universal health coverage
travel insurance
Each option has its own pros and cons. Let's take a closer look.
Expat Health Insurance
Expat insurance are health insurance plans created specifically for expats by international health insurance companies.
It's by far the most popular option for expats in Thailand for many reasons.
First, its coverage and limits are by far the most comprehensive, usually better than Thai policies.
Second, you get coverage internationally, not just in Thailand. This means you can keep the same plan even if you move to another country.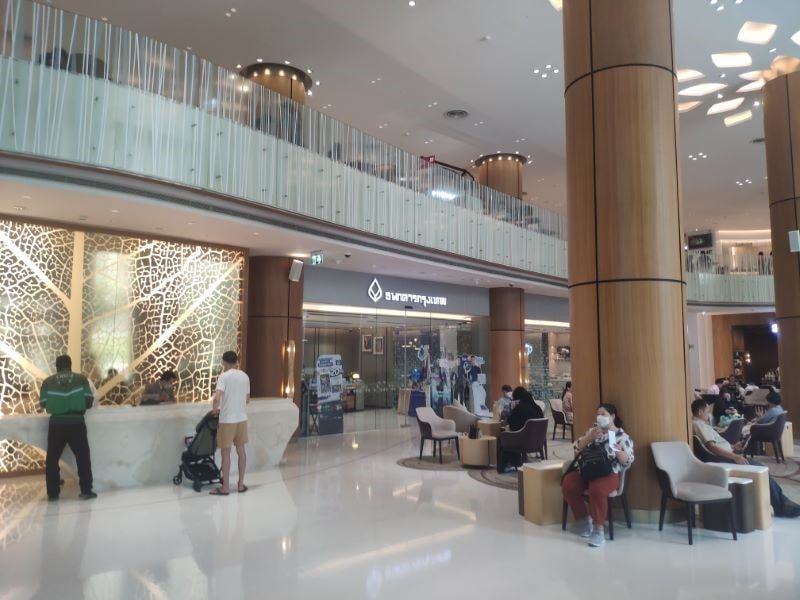 Third, international health plans are much easier to understand than Thai policies because they work the same way as those in your home country.
Fourth, many expat health insurance companies renew your policy despite your age. This is called a lifetime guarantee. However, you might want to get health insurance before you turn 55 years old. More on this later.
Lastly, international health insurance companies need to follow insurance regulations set in place by the United States and the EU, which are more strict than Thai insurance regulations.
This means you're less likely to be kicked out of your plan or experience significant premium increases just for making a claim.
Expat Health Insurance Coverage
Expat health insurance covers a majority of healthcare in full as long as it's under your annual limit, including:
ICU stays
cancer treatment
evacuations
surgery costs
medication
hospital rooms
nursing fees
However, expat health insurance companies may have separate limits for certain minor treatments, such as:
out-patient treatment
MRIs
home nursing
physiotherapy
acupuncture
When it comes to outpatient treatment, some expat health insurance plans offer annual limits and others offer plans that limit the number of visits you can make per illness.
Expat health insurance usually comes with worldwide coverage, excluding the United States. There are plans that do cover the United States, but the premium is going to be more expensive.
Many plans also come with home coverage. This means you can fly back to your home country and get treatment there. This is useful if you want to be treated in familiar surroundings or have your family around.
The overall coverage you get with expat health insurance, even with a basic plan, is enough for expats in Thailand.
Expat Health Insurance Options
You have several expat health insurance options in Thailand.
First, Cigna Global is generally recommended. Even its silver plan comes with a US$1,000,000 annual limit, which is enough for getting healthcare in Thailand.
You can customize the plan to suit your needs too. For example, you can choose whether you need coverage in the United States, OPD treatment, medical checkups, and more. Cigna also has plans for retirees and it doesn't apply any age limits.
It's also easy to get pre-authorization with Cigna. People have reported that their cases are approved on the same day after one phone call.
Other major players in the market include:
GeoBlue – known for U.S. coverage
Now Health – affordable plans but can get more expensive after making claims
Foyer Global Health – have unlimited coverage limits
April International – affordable plans with low annual limits, but it can take five to 15 working day for pre-authorizations
Cigna's expat health insurance plans cover every important thing you need as an expat in Thailand.
There are also plans from William Russell, Aetna, Passport Card, and much more. You can look at our expat health insurance comparison page for a side-by-side comparison.
Expat Health Insurance Disadvantages
Expat health insurance isn't perfect. There are still certain disadvantages, including:
Premiums: Usually the most expensive option for health insurance in Thailand. You can expect to pay at least US$1,000 a month even for the most basic plan.
Claims: Making a claim isn't as easy as doing so through local insurance. For out-patient treatment, you may need to pay out-of-pocket first and make a claim later.
Support: Expat health insurance companies may not have an office in Thailand. To contact them, you may need to make an international call or go through their app.
Disputes: If you have a dispute with an expat health insurance company, you might not be able to pursue your claim in Thailand. And disputes overseas will be a lot harder to manage. As far as I know, you can dispute claims with local insurance companies through the Office of Insurance Commission (OIC) without the need to hire a lawyer in Thailand.
To avoid these disadvantages, you should buy expat insurance from a credible company. While premiums can be high, you'll have less problems with making claims, getting support, or settling disputes.
However, it's still a good idea to read your insurance policy in detail to understand exactly what you're getting. Based on my observation, many disputes come from people trying to make a claim on what isn't covered in their plans.
Where to Get Expat Insurance
You can buy expat health insurance through two methods:
By using International Citizens Insurance, you can get instant quotes for the leading expat health insurance plans mentioned above and ask its international brokers any questions you might have.
Or you can fill out our health insurance form to get advice and quotes from our partner health insurance brokers.
Keep in mind, though, that you can't get expat health insurance from a broker in Thailand.
One of the main reasons is that the OIC only allows brokers in Thailand to sell local health insurance. Otherwise, they might have issues with their insurance licenses.
Local Health Insurance
You can find local health insurance from private health insurance companies in Thailand. Local health insurance is also provided by international insurance providers that have branches in Thailand, including AXA, Allianz, and AIA.
Banks in Thailand also offer health insurance. But most of the time, it's an add-on package for life insurance. This type of add-on insurance usually isn't available to expats because it's hard for expats to get life insurance from a Thai bank.
Agents and brokers offer local health insurance, and local insurance is what you see advertised in the Thai media.
One big upside to having local health insurance is that hospitals regularly deal with local companies. You show your card when you register, and the hospital and insurance company take care of the rest.
You also won't have to fill out and send in so much paperwork when using local health insurance.
However, you have to visit a hospital in the insurance company's network. If you go to a hospital or clinic outside of the network, you can file a claim and get reimbursed.
Your insurer updates the list of hospitals in its network every year. You can also find this list in your insurance policy.
Here's a summary of local Thai health insurance:
There are various types of local health insurance available in Thailand. The plans come with benefit limits (more on this in the next section) and work the same way as expat insurance. Some even come as an add-on to life insurance plans.
Local health insurance tends to be more affordable than expat health insurance but comes with lower coverage limits.
One of the great things about local health insurance is that the company pays the hospital directly, so you won't need to make a claim.
Local Health Insurance Coverage
The coverage for most private local health insurance plans works differently than in the West. Instead of annual limits, they come with benefits limits.
What you find when browsing for local health insurance plans is a list of coverage limits on different hospital expenses, such as:
doctor fees
scans
hospital rooms
surgery fees
ICU stays
For example, your plan may have a limit of one million baht but might cap surgical fees at THB100,000, hospital bills at THB80,000, and room and board at THB8,000 per day.
So, depending on how much a hospital charges for each procedure, you may need to pay out of pocket.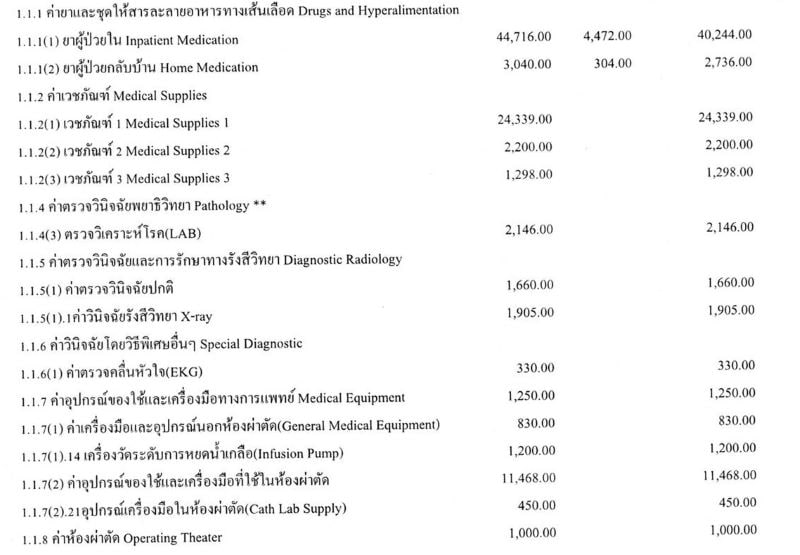 In addition to benefit limits, you can find local health insurance plans that come with sickness limits, or the total amount they will pay per sickness, which is becoming more popular.
Some local health insurance companies are even starting to provide plans with annual limits like expat health insurance.
Please note that even local plans may come with annual limits or limits per sickness. They may still have a cap on doctor's fees, hospital rooms, and hospital fees. So, carefully read your plan.
Local Health Insurance Options
Previously, the health insurance market wasn't that big in Thailand because the local insurance market was mainly for car insurance.
Back then, health insurance was only available as part of life insurance from companies like AIA. The whole situation was quite the same as health insurance in Indonesia at the moment.
However, the health insurance market in Thailand is growing and you now have a lot of options.
One private local health insurance company I often suggest is Luma.
The plan is mainly for expats and works similar to expat health insurance.
It comes with annual limits of THB5 million to THB50 million, which should cover even the most expensive treatment in Thailand. They've also partnered with many top-tier private hospitals, including
Bumrungrad
Bangkok Hospital
Samitivej
You can also choose to get international coverage through Luma.
Other major players in the local insurance market include:
AXA
AIA
LMG
Muang Thai
Aetna, which has been taken over by Allianz
You can easily compare these local plans and buy them directly from a local broker named Mister Prakan.
Many banks in Thailand also offer health insurance. But it's usually accident insurance or life insurance rather than a comprehensive package.
Local Insurance Disadvantages
Local coverage can also be limited in terms of:
the amount of coverage when compared to local coverage in other countries
your age (meaning a few will kick you out when you reach 75)
exclusions (don't get into a motorcycle accident)
coverage area (you can't keep your plan when moving out of Thailand)
There is a wide range of local private health insurance plans with different coverage limits. Some plans might not be comprehensive, but they are affordable.
They can also be more expensive than expat health insurance in terms of coverage per premium.
For example, you can pay THB42,000 per year for a local plan but it pays out a maximum of THB500,000 per sickness. On the other hand, expat health insurance can be slightly more expensive but you get much higher coverage limits at THB35,000,000 per year, in addition to international coverage.
In addition, local health insurance companies follow Thai insurance regulations, which can be much less strict than regulations in the West. Sometimes, they may raise the premium significantly after you make an expensive claim.
Because of this, local private health insurance can be a good option for those on a limited budget and know exactly what they want.
If you get good private local health insurance, you won't have to worry about going over your coverage limits. However, premium can be fairly expensive as well.
Where to Get Local Health Insurance
Similar to expat insurance, you can get local health insurance directly from the insurance company's website.
Since most customers are Thai, English-speaking customer support might not be as good as you expect, unless you go through a provider that targets expats, such as Luma.
Alternatively, you can buy from a local health insurance broker.
I recommend Mister Prakan. It's a one-stop solution that lets you shop around for local plans and compare them side-by-side. You can also talk to one of its brokers for further details.
Group Insurance
Group insurance can be separated into two types:
group insurance for families
group insurance for business
If you buy family group insurance, you can get a discount if you insure three or more family members. Discounts range from 5 percent to 10 percent.
The main disadvantage of group insurance is that when the number of people in your plan falls short of the minimum requirement, you might not be able to renew the policy.
This can be a problem for aging people with medical conditions because they won't be covered for medical treatment anymore.
Another option is group insurance for business. If you run a company in Thailand, you can buy group insurance for you and your workers from local health insurance companies.
They are cheaper than individual plans. And you can use them to decrease your business taxes. Based on my observations, it might not be comprehensive enough if you want to use them as your main health insurance. But it's a nice benefit for your workers.
The amount of out-patient treatment coverage is what grabs workers' attention the most.
On the other hand, if you have a team or remote workers, you can't get a group plan from local providers. You need to get international plans instead.
Remote Health can be a good option. It's international insurance mainly for digital nomads and remote workers. It comes with worldwide coverage and an annual limit of US$1,500,000.
It's much more comprehensive than local plans but more expensive as well.
For more information, read our group health insurance guide.
Social Security
If you work in Thailand legally, you'll have insurance through Social Security.
Your employer will deduct 5 percent of your gross salary, but no more than THB750, for Social Security every month.
With Social Security, you can get medical care and medicine for free by going to your designated Social Security hospital with your Social Security card and passport.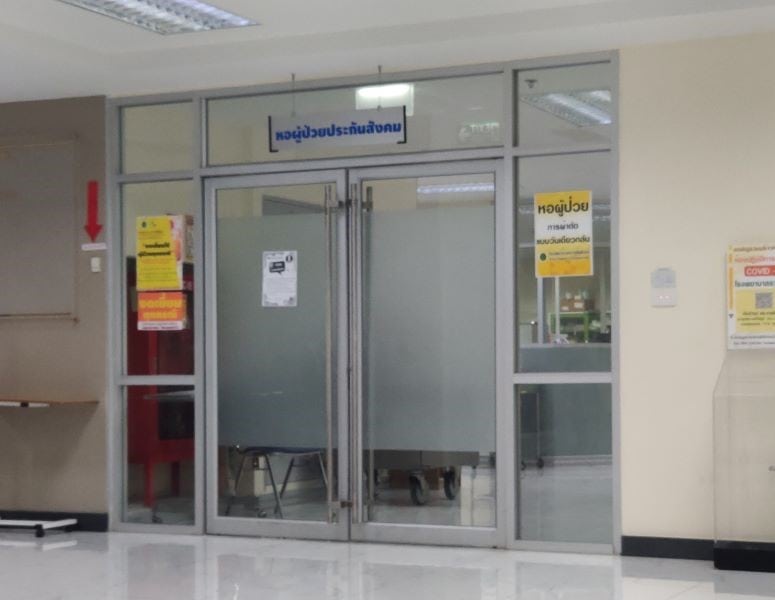 You can't pick any hospital to visit on Social Security, but you can pick three that you prefer out of a network. You have over forty hospitals to choose from in Bangkok.
Social Security basically gets you free medical treatment. But there are concerns about the quality and waiting times because of the long queues at the hospital.
Many expats we talk to do not use Social Security because they don't want to waste the entire day at a hospital.
You can find out more in our guide to Social Security in Thailand.
Universal Health Coverage
Thailand's universal health coverage is known as the 30-baht scheme.
With this scheme, you can pay THB30 to get full treatment at your designated hospital.
However, we won't go into a lot of details here because the 30-baht scheme isn't an option for expats. It's only available to Thai citizens who don't have Social Security, or public insurance for government officers.
Find out more: Healthcare System in Thailand: A Guide for Expats
Travel Insurance
Some insurance companies offer short-term coverage in the form of travel insurance.
Short-term coverage can range from a few weeks to a few years. You can get travel insurance if you apply from your home country, but not when you're in Thailand.
Prices are a lot more attractive than what you'd get for long-term coverage.
By taking out travel insurance coverage, though, you're facing two possible problems:
Travel insurance companies don't have to deal with expensive long-term care. If you need long-term care they could repatriate you and hand you off to the Social Security system in your home country.
Travel insurance companies tend to offer emergency healthcare coverage. This means you're covered for accidents or illnesses that need immediate care.
You should get travel insurance for short-term stays or vacations in Thailand.
Other than that, it makes sense to get long-term health insurance so you're covered for severe medical problems.
Read our guide to travel insurance for more information.
Health Insurance for Retirees
Health insurance options for retirees are quite limited since many insurance companies may not accept new applicants if they're older than 60. It's also getting harder to find a company that accepts someone who's older than 70.
If they do accept you, premiums are going to be very expensive, which can cost easily over THB100,000 a year.
There are certain insurance companies, both local and international, that have plans for retirees.
Cigna Global, for example, has a senior plan that's specifically created for retired expats living abroad.
In addition to international coverage and an annual limit of US$1,000,000, what's great about this plan is that it doesn't have any age limits. You can sign up at any age and keep renewing your plan.
Cigna also covers outpatient treatment and medications for pre-existing conditions such as hypertension, type-2 diabetes, arthritis, and more.
In addition to Cigna Global, you can check retiree plans offered by local insurance providers. These plans are mainly to qualify for a Thailand retirement visa. So, the coverage limit is subject to change, depending on visa requirements.
It's more affordable than Cigna Global but not as comprehensive. For example, the coverage limits are much lower. And it tends to come with a high deductible, at least THB100,000.
If you're interested in this option, check out Luma Long Stay Care.
Best Health Insurance Company
There are over 100 insurance companies that offer health insurance for expats in Thailand. So, we couldn't mention them all in this guide.
Also, each company has different pros and cons. Some plans may be more expensive than others but come with better coverage or easier claims processes. Some companies may have a great plan on paper but cancel your coverage if you make too many claims.
That said, here's a list of insurance companies in Thailand that are popular with expats. Some of them are more popular than others, so let's take a look.
Cigna Global
Cigna Global is one of the largest health insurance companies. Its plans are popular with expats not just in Thailand but around the world.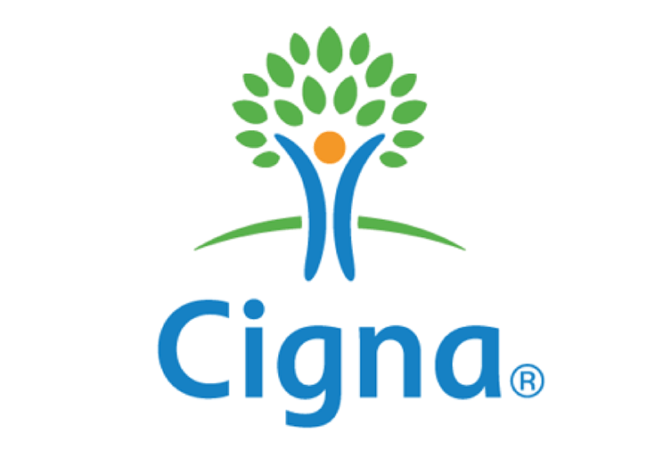 Key Takeaways
Good health insurance plan overall for expats in Thailand
Comes with annual coverage limit of THB35,000,000
Comprehensive overall coverage
Many ways to customize your health insurance plan
Good senior plan, which in our opinion is one of the best in the market for retirees
Easy one-day claims process
Slightly more expensive than other plans
Cigna offers flexible plans. You can customize your coverage, optional coverage, areas of coverage, and much more.
Cigna's basic plan comes with THB35,000,000 in coverage, which should be enough for expats in Thailand.
Recently, it released its Cigna Close Care plan, which is another affordable option. But this plan only comes with THB15,000,000 in coverage. And you can only choose one country to get coverage in.
Luma
Luma offers many local health insurance plans. One of its main plans for expats in Thailand, Hi5 Health Insurance, comes with THB5,000,000 in coverage. While the coverage amount is lower than Cigna's, it's still enough.

Key Takeaways
More affordable option than Cigna but still comprehensive
Sufficient THB5,000,000 coverage limit
Direct billing with many of Thailand hospitals
Can also get coverage for other Asean countries (Zone C plan)
Can increase your coverage limit to THB50,000,000
If you want more coverage, they also have a PRIME tier, which comes with THB 50,000,000 in coverage per year.
They have many options for areas of coverage. For expats in Thailand, Zone C is the most appropriate option. However, they do not cover you in the following Asian countries:
Japan
Hong Kong
Singapore
Taiwan
Also, to enjoy the full benefits of direct billing, you must visit a hospital that operates within their network. Most of these hospitals are located in Bangkok, but they do work with hospitals in other provinces.
Foyer Global Health
This might be the first time you're hearing about Foyer Global Health. However, this health insurance company offers great plans for expats.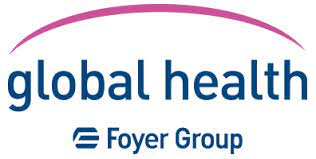 Key Takeaways
Health insurance plan comes with outpatient coverage, which is hard to find with other providers
Unlimited coverage
Can contact them in advance and have them pay the hospital directly
Located in Luxembourg, so contacting them from Thailand might not be convenient
Overall price is good for what you get
The first time we found out about Foyer was from our partnered insurance broker in Bangkok. He insures himself through Foyer.
He had knee surgery in Bangkok Hospital and Foyer paid for all the costs. So, it's another good option for expats in Thailand.
One good thing about Foyer is that its basic plans come with outpatient coverage. This is hard to find from health insurance providers that cover expats in Thailand.
However, since it's from Luxembourg, setting up direct billing in Thai hospitals might be hard. This is especially true for outpatient care.
GeoBlue
If you are from the U.S., you might already be familiar with GeoBlue. It's a partner of Blue Cross, the largest health insurance network in the U.S.

Key Takeaways
One of the best plans for those who need U.S. coverage
More affordable than other plans that offer the same U.S. coverage
Since it's a partner of Blue Cross, you get access to their vast U.S. network
If you don't need U.S. coverage, it might be better to buy another plan
GeoBlue is usually popular with U.S. expats who need coverage in the U.S. After all, GeoBlue tends to be cheaper than other health insurance companies. You also get access to its massive U.S. health network.
However, in our opinion, GeoBlue's health insurance plans are not that attractive if you don't need U.S. coverage.
LMG
LMG have two local health insurance plans for expats: Long Stay Visa Plus, and Long Stay Visa Plus Premium Plan US$100,000.

Key Takeaways
Affordable health insurance plan for expats in Thailand
Many plans available for those with different coverage needs
Plans for those getting a Thai retirement visa
While it's affordable, overall coverage can be less than other plans
Luma can be a good option for retirees who need health insurance to meet their visa requirements.
These plans are available to anyone younger than 80 and can be renewed until you are 100 years old. Premiums are also affordable than other plans for anyone older than 60.
The main disadvantage is the high deductible, which starts at THB100,000.
So, LMG is good for expats who need health insurance for visa purposes or retirees who need coverage for major care.
To get a plan from LMG, it's a good idea to talk to a local broker so that you understand exactly what you're getting. We recommend Mister Prakan. You can also explore other local Thai insurance plans with them.
Mandatory Insurance for Retirement Visa
As of November 2023, you officially need to have health insurance if you want to retire in Thailand with a retirement visa.
It can be either offshore insurance or local insurance, as long as it has at least 400,000 baht IPD and 40,000 baht OPD coverage.
Luma Long Stay Care is a good plan in this regard. In addition to being affordable, they also follow the new regulations for the retirement visa closely to make sure that their plans pass the requirements.
The plan is also available for those who are younger than 79 and renewable until you are 90 years old.
You should note that insurance plans for the retirement visa in Thailand come with a high deductible of 20,000 baht to 200,000 baht. You may also need to do a health check-up if you are over the age of 65.
Since the regulations of health insurance for the retirement visa have been changing regularly, it is highly recommended to do your own research again before buying it.
This said, you'll probably find that getting your health insurance in place before you actually need it may be a good investment (especially since serious issues may not only crop up without prior warning but also then prevent you from being able to obtain coverage in the future due to a pre-existing condition or the high likelihood of this recurring).
COVID-19 Coverage
If you already have health insurance, chances are that you are already covered for COVID-19.
If you don't, you can check out insurance plans that are mentioned in this article. All of them, including LUMA and Cigna Global, come with COVID-19 coverage.
In case you want travel insurance, you can check out Mister Prakan.
You get the same coverage and coverage limits for COVID-19 as other diseases.
Please note that COVID-19 coverage usually comes with a 14-day waiting period.
Health Insurance from Your Home Country
If you already have health insurance, check your area of coverage before you come to Thailand.
If you have expat health insurance from an international provider, chances are that it might already cover you in Thailand, so you can keep the same plan. If your plan doesn't cover you in Thailand, contact the company. They may be able to make some changes to your plan so you can have coverage in Thailand.
On the other hand, if you have local or public health insurance, including medicaid and medicare, chances are that it won't cover you in Thailand.
And you can forget about health insurance provided by credit card companies. Most of the time, it only covers you for personal accidents in which you lose a limp.
Alternatively, you can check out health insurance in your home country before flying to Thailand. It can be cheaper than buying health insurance in Thailand and even cover pre-existing conditions. But the main limitation is that it's only available for your first few years in Thailand.
As far as I know, only German and Swedish nationals have this option.
Insurance Plans Explained
You'll find the price of health insurance and the rough description of what's included are just the tip of the iceberg.
You'll have to read the fine print to find out about:
exclusions
pre-existing conditions
cancellations or non-extensions
areas of coverage
coverage limits
age restrictions
premiums
optional coverage choices
Let's take a closer look at what's excluded.
Exclusions
Here are some exclusions you'll find in every insurance plan:
alcoholism
disasters and terrorism
motorcycle accidents
sexually transmitted diseases
sports
But one important exclusion varies from insurer to insurer:
You should take a good look at the fine print. Here's what to watch out for:
Alcoholism
Insurers exclude alcoholism under all plans. There are also selective exclusions if you get hurt under the influence of alcohol.
You'll have to read the fine print to find out if this means no coverage for "drunken bar fights" or "for anything as long as a traceable amount of alcohol is in your blood.
I've heard of one insurance company who hired a private investigator to check if a patient who filed a big insurance claim was under the influence during the accident in question.
It turned out that he was. The insurance company refused to pay for medical care and the hospital kicked the patient out of the hospital.
Chronic Diseases
You won't see this limit often. Most of the time, insurance companies exclude pre-existing conditions. But they cover any new conditions in full.
Some insurance companies might limit your coverage of chronic diseases. You should worry about this.
With outpatient department coverage, or OPD, chronic diseases cause some of the most costly claims.
Please note that the insurance company may no longer pay for chronic disease if, based on a doctor's decision, further treatment will not improve the patient's condition.
Disasters and Terrorism
Every insurance company excludes you from coverage if you take part in war or crime.
Some insurance companies might not offer coverage if you were a victim of a natural or man-made disaster.
Given the political protests and bombings that happen in Thailand every few years, make sure this isn't the case with your plan.
Motorcycle Accidents
Some plans don't cover anything motorcycle-related. Not good.
Buying health insurance in Vietnam is similar to Thailand in this regard. You're likely to be on a motorcycle at some point.
Other plans are more lenient and won't cover you only if you were driving without a license.
Then there are the tricky plans that exclude accidents involving both jaw bones, regardless if you wore a helmet or not.
You should read the fine print of this exclusion on insurance plans.
Good news is that if you are a passenger or hit by a motorcycle, you will be covered.
Thailand also has compulsory insurance known as Por Ror Bor that always covers road accidents. Read our car insurance article for more information.
Sexually Transmitted Diseases
Some insurers exclude coverage of sexually transmitted diseases, or STDs.
Others exclude it, unless you weren't at fault. But the burden of proof may be on you.
Some insurance companies limit coverage costs for HIV treatment.
In any case, keep in mind that the majority of costs for the treatment of STDs are OPD. Unless you opt for OPD coverage, insurers won't cover you for STDs.
Sports
You won't find much coverage for taking part in professional sports, combat sports, and other high-risk activities such as paragliding.
If you compete or take part in a dangerous sport, check the exclusions for sports activities.
Some insurance companies exclude specific sports. Others describe the sports they exclude less clearly.
If you're at risk for sports injuries, you'll want your potential insurers to put into writing whether or not they'll cover you.
Pre-existing Conditions
Pre-existing conditions are the biggest problem with health insurance plans.
You'll often hear that insurance companies will review pre-existing conditions on a case-by-case basis or offer insurance excluding pre-existing conditions.
In my experience, that's true for things like:
rashes
allergies
injuries that don't affect other parts of the body
one-time occurrences from accidents
Insurers may refuse you coverage for serious injuries or illnesses that can lead to problems in the future.
As a rule of thumb, if your illness is a major reason you're seeking insurance, they won't accept you.
Beware of insurers that accept you and don't check this until you make a claim. They'll give you a false sense of security.
If you are older than 40 years old, it's recommended to get a health check-up before buying a new health insurance policy.
You can use it as a proof if the insurance company won't pay for your treatment by claiming that it's a pre-existing condition.
Cancellations or Non-Extensions
Is the insurance company able to cancel the policy or refuse to renew it?
Avoid plans that allow insurance companies to cancel or refuse the renewal of your policy.
Because if you send in a lot of claims, get a chronic disease, or are sick when the renewal date comes around, expect insurance companies to do just that.
I had one reader email me who had that happen to him.
A broker sold him an affordable plan that seemed comprehensive. He found out it was an "annual plan" when the insurance company canceled it the moment he became too pricey for them.
The same thing also happened to my employee. A few years ago he had to get a cardiac Holter monitoring test.
Although the results showed that his heart was normal, the insurance company listed it as an exclusion and they didn't cover costs related to cardiac arrhythmia for a year after that.
In other words, when my employee needed the insurance the most, the insurer walked away scot-free.
Area of Coverage
Are you covered when traveling to your home country and other destinations? If so, for how long?
Not a big deal really, since travel insurance can be had for cheap: As long as you don't forget to sign up for it every time you go abroad.
Coverage Limits
You'll find three types of limits in insurance contracts in Thailand: annual limit, sickness limit, and benefits limits.
Annual limits are quoted per year. Sickness limit and benefits limits are quoted per sickness.
Coming from Germany, the fact that a Thai insurance company would only repay me a certain amount was new to me.
In Germany, you're either covered in full or you have to make a copayment—usually for dental work—and that's it.
It doesn't matter if you're in a coma for ten years or more. What are they going to do? Stop treating you once you reach your limit?
Well, that's what can happen to you in Thailand.
In Thailand, every private health insurance sold has a limit. If you're new to the country, it's a tough call to decide what amount of coverage is enough.
How Much Coverage Limit Should I Need?
So what limit should you choose?
To get a good idea, you can look at Bumrungrad Hospital.
They are one of the most reputable hospitals in Thailand and their prices match the quality of care and level of comfort they offer.
A few procedures cost more than 500,000 baht.
But the real heavy hitters for hospital costs are less-routine surgeries, along with the long-term stays in ICU due to a mishap or illness.
The most expensive case I've heard of involved heart surgery with a total hospital stay of six months. The cost for that came to 12 million baht.
He amassed that amount the first few weeks in the ICU, which clocked in at about 500,000 baht a day.
No broker I talked to knew of anyone who ran up more than 16.5 million baht in bills.
If I were to sign up for new insurance, I would aim for at least 15 million baht in coverage. For expat plans that would mean $500,000 in coverage.
On the lower end you should keep in mind what the Thai government deems minimum coverage. Thailand's Social Security System has a coverage limit of 2 million baht.
In other words, that's the healthcare coverage every 7-Eleven employee gets.
You don't want to go below that.
Procedure-Specific Limits
Insurance companies limit specific procedures. Here's an overview of common procedures and how much you're limited to:
Organ Transplants
Some insurers have limits on donor costs for organ transplants. Now Health International's WorldCare Excel plan limits them to $50,000.
I assume if a liver is too costly, they'll pass and wait for the next, cheaper one?
Most limits are about the donor's costs. I assume they want to avoid having the hospital bill them for ICU costs by the late donor.
In some cases, like with ACS, they refuse to pay for any donor costs.
HIV Treatment
This is a big topic in Southeast Asia. Lots of insurance companies leave it out if caught through sex. Some even exclude it outright.
Those that don't limit treatment costs will put a limit on the maximum amount you can claim.
HIV treatment in Thailand isn't too pricey because HIV medication is made here. But in the future you might not get coverage for more expensive treatments.
Pregnancy
I haven't spent too much time looking into this limit for obvious reasons.
But to my knowledge pregnancy is an add-on, often with coverage limits and a 10-month waiting period before coverage kicks in.
Pregnancy coverage is usually only available on comprehensive insurance plans.
You can check out our post on having a baby in Thailand for more details and the costs involved.
Age Restrictions
The rule of thumb is that if you sign up before the age of sixty, you can find health insurance with lifetime coverage.
Once you turn sixty-five, it becomes harder to get comprehensive health insurance for people of retirement age.
If you are older than 70 years old, you will have very limited choices.
One reason for the de-facto age limit is that, on average, people spend 80% of their healthcare costs in the last five years of their lives.
Of course acceptance is just one part of it–the other is the premium.
Above the age of sixty, you won't be able to find cheap insurance coverage. Insurance plans in Thailand don't subsidize older age groups with premiums from younger members.
This means coverage at an advanced age comes at a much higher price than you'd pay back home.
It's important that your insurance can't cancel or refuse to renew your coverage.
You also want to watch out for any specified maximum ages.
Lots of companies with lower costing, local insurance plans specify an age at which coverage ends.
It might not matter if you're thirty-three, but at fifty-five you need to take this into account.
Of course that doesn't protect you from rising premiums, but that may be a lot cheaper than finding yourself without coverage after falling ill.
One insurance company you can take a look at is Luma Health. Their plans comes with:
5-million baht to 50-million baht limit
coverage for cancer treatment
medical evacuation
a lifetime guarantee until you are 99 years old
The plan doesn't cover any pre-existing conditions. But this is normal for health insurance companies.
Although the maximum age you can sign up is seventy, you should get it before turning fifty-five.
The premium rate for fifty-five year old males starts at 70,000 baht a year.
Or you can just check out Cigna Global. They have a plan for retirees that doesn't have any age limit.
Cost
Cost or the premium is the clearest part of an insurance policy. It's the fine print that's trickier to get. But even though the premiums are stated, you should keep these things mind:
payment terms
deductibles
medical inflation
age groups
Payment Terms
A number of insurers have a surcharge for monthly payments.
Since your contract runs the full year anyway, you might as well pay in full.
Deductibles
Your premiums will be a lot lower if you agree to pay for the first thousand or two thousand dollars of healthcare each year yourself.
In practice, that means you won't be able to claim anything but severe cases.
Make sure you keep receipts and file them by their deadlines. People forget about this because they don't expect to have to pay for bills beyond their deductible—until they do.
An easier, more hassle-free choice that would get you the same results but much less paperwork would be to just opt out of OPD coverage.
What happens if you're in an age group where the cost for insurance shoots up? You can add a deductible to lower your premium to an affordable level while keeping coverage for serious cases.
Medical Inflation
Medical inflation in Thailand is high. Most insurance companies say they'll raise yearly premiums by less than 10%.
From my experience I'd say that the increases are a lot lower than that.
But you should keep this in mind for future budgeting. Your health insurance will go up 5% each year along with the increases that occur when you get older.
If you go with a local insurer, your plan may be significantly more expensive after you make an expensive claim.
Age Groups
Most insurance companies divide age ranges in groups of five years.
Every time you enter a new age group, your premiums will go up. In your twenties and thirties that doesn't make much of a difference. But once you pass fifty, the increases can start to hurt.
You should compare current day rates and the rates your insurance is charging people who are five to ten years older than you.
Optional Coverage Choices
A few options are covered as add-ons. Skipping them lets you lower your premium as long as you're okay with paying out of pocket.
Some of the optional coverage is:
OPD
dental
medical evacuation
OPD
Going to a hospital in Bangkok costs anywhere from 700 baht to 3,000 baht in total, depending on the fanciness of the hospital, medications, and the doctor's chosen medical field.
To give you an idea, Bangkok Hospital, one of the fanciest hospitals in Thailand, charges you around 2,000 baht per visit for a consultation fee, while general private hospitals usually charge around 500 baht to 1000 baht.
Medication is sold at a mark-up in the hospital itself. Mark-ups range from two to ten times the cost of a pharmacy.
If you buy medication at the hospital you could pay just as much as you pay to see the doctor.
Going to cheaper hospitals that don't have free juice and a hotel-lobby-style waiting room would lower your OPD costs.
If you're not living in Bangkok, the OPD facilities you're going to use will be a lot cheaper unless you visit a branch of Bangkok Hospital.
A close second in why you might not want to bother with OPD insurance is the paperwork. A lot of people dread having to fill out forms, mail claims, and dispute rejections.
It's frustrating to do that for a minor claim only to have it denied. You're better off paying straight out of your own pocket.
You should also be aware of some insurance companies classifying certain procedures as OPD, even though you might spend a few days in the hospital.
This way they can refuse a claim unless you opt for OPD coverage.
In the end, I opted for OPD coverage because I feel the amount I overpay is worth the fact that I'll never put off a hospital visit due to cost.
Call it a psychological effect.
Dental
Coverage for dental varies a bit. Some insurance companies make you co-pay or cover one routine checkup a year.
In my experience though, they've covered 100% of my dental costs for the minor claims I filed.
You shouldn't pay more than 3,000 baht per year for regular checkups every six months even if you visit an international clinic like BIDC.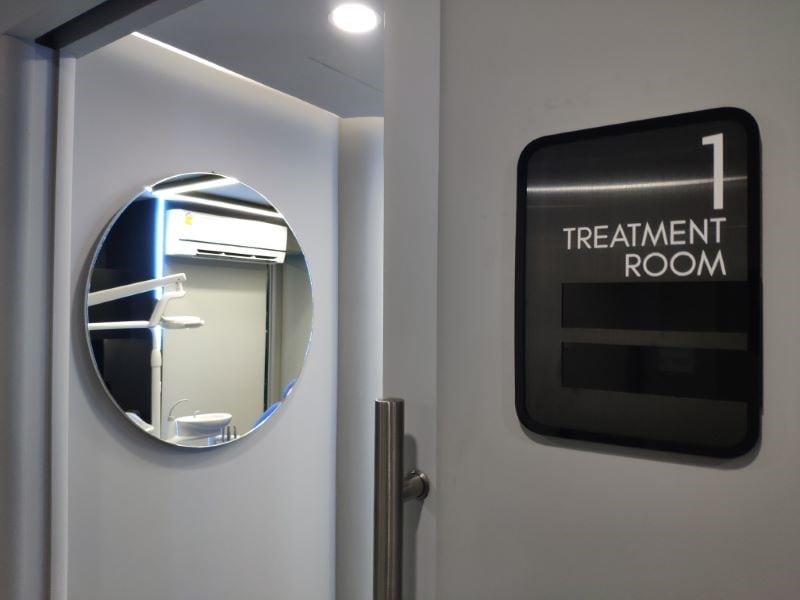 Most insurance plans you'll find in Thailand will only include dental work as optional coverage. They also won't cover cosmetic dentistry or dental implants unless it's necessary such as you need to do it after having an accident.
But since the cost of dental care is lower, you shouldn't worry about it too much.
Medical Evacuation
Some insurance companies offer medical evacuation as an add-on. The usefulness depends on where you live in Thailand.
Most competitive-priced plans won't fly you to your home country, but to the next suitable hospital, which in most cases will be in Bangkok.
If you don't leave Bangkok much or get travel insurance when you do, there's little point in requiring medical evacuation.
The exception? If your limit is high, I imagine the insurance company might offer it themselves whether you picked it or not.
Flying you home might be cheaper for them than paying for an extended stay at a top-tier hospital in Thailand.
But don't count on it.
Other Terms and Conditions
There may be other terms and conditions that can affect the viability of your insurance coverage.
Reading the conditions of your insurance contract is tedious. But think about how much you'll be spending on this for the next five to ten years.
That should be worth setting aside an hour or two to go over the details of your plan.
We published a nice wrap-up on expat insurance terms and what they mean. You should check it out to get to know the language of insurance.
If in doubt, I suggest sending an email to your potential insurer, listing out what you're concerned about, and trying to get some statement from your broker or insurance company that clarifies your question.
I'm not a lawyer or insurance expert and this isn't legal advice, but I assume this should improve your position if it ever comes to a dispute.
Paperwork
When you take out insurance, you'll have to think about the amount of paperwork involved. So let's look at three common areas of insurance in which you'll need to file paperwork:
insurance applications
prior authorizations
denials of claims
Insurance Applications
Applying for insurance in Thailand is like applying in other countries. Each insurance company has its own survey.
Insurers will ask you questions about your past health and illnesses and if you lie about it, it might void your coverage.
Some companies ask if other companies have turned you down. If you think you're at risk of getting turned down by some companies, apply for all of them at once.
This way they can't deny you if you're going to be turned down by another insurer.
Prior Authorizations
In some cases, insurance companies require prior authorization before getting hospital care. You can call them and do it via their apps. This is standard for any non-urgent visits to a hospital.
Some insurance companies also require prior authorization for more expensive OPD procedures like MRIs.
That tends to result in a back and forth between hospital and insurer and you waiting a day or two until the insurance comes through.
I've never heard of insurers refusing authorization, but I assume it does happen. Otherwise, why have it?
Anyway, it is still recommended to contact your insurance provider before going to a hospital.
In case it's an emergency, go to a hospital and contact an insurance company when you can. Or ask your friend to do it.
Denials of Claims
What good is insurance coverage if your claim gets denied?
Pre-existing conditions are one of the most common types of claim denial. Sometimes, if you make a claim many times after getting health insurance for a few months, the insurance company may ask you to pay out of your pocket first until they can investigate your case and reimburse you later.
Many brokers said that another common reason for denials of claims come from clients not clearly understanding the coverage they get and making a claim on what isn't covered on their plans.
So, read your insurance policy well.
Finding the Best Insurance Plan
When looking for insurance plans, don't make the mistake of looking for the cheapest plan.
Instead, it's better to look at:
area of coverage
coverage limits
exclusions
renewal guarantee
company reputation
Area of Coverage
Does the plan cover you in Thailand or other countries as well? This is important for those who often move or travel to new countries.
Coverage Limits
How much is the plan's coverage limits? And what are the limits of the benefits? Are they enough for your needs?
Exclusions
Are there exclusions that you should be aware of? Do you have a chronic disease or take part in activities that aren't covered?
Renewal Guarantee
Are they going to let you go if you're diagnosed with a chronic disease, make too many claims, or claim too much?
Company Reputation
Is the insurance company easy to deal with? Do they raise premiums every year by a large percentage? How about people's experiences with them?
The plan suitable for you might not be the cheapest, but it's better than getting a plan that doesn't give you enough coverage when you need it.
Reading the fine print, looking at reviews from customers and talking to a good broker will help.
You can research suitable insurance plans by checking out:
comparison websites
brokers
Each of these methods have pros and cons.
Compare Thai Health Insurance Plan
Comparison websites let you search for insurance plans with filters and searches, rather than having to compare sales brochures and brokers' Excel sheets.
You can also fill out medical surveys and apply online for plans.
In case you'd like to look into expat insurance plans, you can use a comparison service from International Citizens Insurance.
They are international brokers and can give quotes from multiple major offshore insurance companies at once.
If you have any questions or concerns, you can ask them for advice. They might be able to suggest a plan that you haven't come across during your research.
Mister Prakan offers a comprehensive comparison of local health insurance plans in Thailand.
They are a licensed brokerage company in Thailand. They'll allow you to do the initial research yourself, making it easy to compare plan benefits and costs online at your own pace before talking to one of their agents.
The website covers major insurance companies and:
sorts them by price
allows you to filter them by coverage level
gives details about coverage limitations
displays editorial ratings of each company.
They also act as a broker and have English-speaking staff who can answer your questions.
If you're looking for a locally licensed, Thai-baht insurance plan, they're a one-stop shop.
Brokers
You shouldn't have trouble finding a broker in Thailand. The rate you get when going through a broker is the same as when you go to the insurance company directly.
The main advantage of a broker is that they can offer you a wider range of plans than an insurance company.
If you don't already know which plan you want, they can give you details on what best suits your needs.
For example, if you want to get expat insurance, you can talk to our partnered broker who can give you advice and suggest different international plans that are suitable to your needs.
In theory, brokers are neutral and act in your best interest. In practice, in Thailand that'll be true for good brokers and not so true for others.
One thing to keep in mind is that sales commissions for brokers are recurring.
For every year you stay with them, they get between 10% and 15% of your premium.
If you go through an insurance company, they keep that sales commission.
This means brokers have an incentive to sell you an insurance plan and keep you as a client in the future.
This recurring commission payment means that the broker will have a financial interest to help you out when it comes to dealing with insurance.
But brokers only offer you limited help with claims or disputes.
Aside from the details of the claim and your individual case, it depends on their relationship with each insurer and of course on the insurance itself.
Whether or not your broker sends your insurance company a lot of business, and whether or not your insurance company cares can make a difference.
In case you're not happy with the support of your broker, you should also know that you can change brokers without changing insurance plans.
In short, signing up for insurance through a broker means you have one more person you can talk to before signing, and one more person to complain to after signing.
On the other hand, a broker might not know every single detail about every insurance plan for sale.
This is why it's important to only buy health insurance from a broker that really knows stuff.
You can read our in-depth guide to insurance brokers in Thailand for more information about this topic.
Frequently Asked Questions
Below is a list of questions regarding health insurance frequently asked by expats living in Thailand.
Can I buy health insurance in Thailand?
You can get health insurance either inside or outside Thailand.
The only type of insurance that you need to obtain in Thailand is one that's tied to the Social Security program, which is usually arranged for you by your employer.
Does Thailand have free healthcare?
Yes, and it is provided under the Universal Coverage for Emergency Patients (UCEP) program. However, it only applies to emergency treatments, usually for life-threatening medical cases.
And it's available to Thai nationals only.
According to the UCEP Coordination Center, you can get free healthcare for the first 72 hours of treatment in any hospital nearest to you as long as your medical case includes the following symptoms or conditions: temporary unconsciousness, severe breathing problems, sudden chest pain, sudden limb weakness, and other symptoms that affect the circulatory (blood circulation) and nervous systems.
Please note that the free emergency treatment needs to be approved by the UCEP Coordination Center and you get free healthcare only for the first 72 hours of treatment.
The remaining cost needs to be paid out of the pocket or an insurance provider.
Do I need health insurance to enter Thailand?
You no longer need health insurance to enter Thailand anymore. However, it's still a good idea to have some kind of insurance. It can be travel insurance.
Is there any recommended child health insurance?
An optimal way to go about getting health insurance for your child is to purchase family health insurance.
It's basically group insurance that comes with a 10%-20% discount when you buy a plan with at least three family members under the same plan.
You can read our guide to family insurance in Thailand to get more information.
Is it possible to get health insurance in Thailand after 70?
If you are over 70 years old, it's still possible to get health insurance in Thailand. Because of the new insurance requirements for the retiree visa, many local insurance companies have been introducing new plans especially for those who are over 70 years old.
For example, Luma has their Long Stay Care plan for anyone who is younger than 79 years old. Although it might not be as comprehensive as the expat plan, it's much cheaper.
And you can use it to apply for the Thailand retiree visa.
Insurance Guide in Other Countries
We also have our health insurance guide in other countries including:
Now, on to You
Are you left with questions about buying insurance in Thailand? Feel free to send me an email and I'll help you out as best as I could.
Keep in mind I'm not a broker, lawyer, doctor, or professional proofreader, but when I wrote this article I did my best to research and fact-check.
I also can't promise the info in this post is 100% true. Things always change with insurance. And although I do my best to keep this post up-to-date, you should check with a professional before buying insurance.