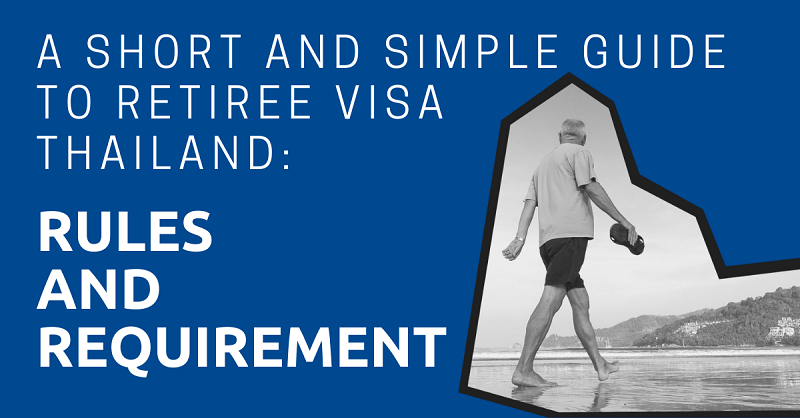 Have you been thinking about retiring in Thailand? Wondering what the requirements are to get a long-term visa?
In this post you'll find out what financial requirements you need to meet, and which documents you need to present, to qualify for a Thailand retirement visa.
If you want to retire in Thailand hassle-free and save thousands of dollars, check out our premium subscription. Coming with over a hundred pieces of exclusive content, they show you how to manage your finances and make Thailand your new home.
What is it?
The Thai retirement visa, or the non-immigrant O or OA long stay visa, lets qualified retirees who are at least 50 years old and meet the specific financial requirements live in Thailand for up to one year. The one-year visa can then be renewed every year as long as the person applying continues to meet the financial requirements.
Requirements
To get a retirement visa in Thailand, you must be at least 50 years old, have no criminal record in your home country and in Thailand, and have no prohibitive diseases, which the Thai Embassy lists as Leprosy, Tuberculosis, drug addictions, Elephantiasis, and Syphilis in its third phase.
You'll also need to show one of these three financial documents to qualify for non-immigrant O or OA visa:
copies of your bank statements showing a deposit of the amount equal to and not less than 800,000 baht in your Thai bank account or
copies of bank statement showing income of not less than 65,000 baht per month or
a combination of a deposit account and a monthly income totaling at least 800,000 baht
The requirements for each nationality can be different and subject to change. If you have difficulty getting the retirement visa, you can check out the Elite Visa.
New Health Insurance Rule
Since April 2019, there's a new regulation requiring you to have health insurance with 400,000 baht IPD coverage and 40,000 baht OPD coverage in order to apply or extend a retirement visa.
The new regulation is officially confirmed in the end of October 31, 2019.
Currently, it seems like only local insurance is accepted.
You can get Luma Long Stay Care plan to get an affordable health insurance plan that passes the visa requirement.
Alternatively, you can use MisterPrakan to compare plans from local insurance companies.
How to Apply
You can apply for a retirement visa either in your home country (in some cases) or in Thailand.
Inside Thailand
First thing you'll want to do is prepare your required financial documents and all of the following:
passport with at least six months validity and two blank pages on both side.
4 cm x 6 cm photos taken in the last six months
an updated bank passbook
a bank letter confirming your funds not less than two months from the date of application*
a health certificate (you may not need this if you're in Thailand)
a police/background check certificate
*To get a bank letter visit the bank branch where you opened your account. Tell them you need an official bank letter stating that you had the funds in your account on the date two months out from your application date. The letter usually costs a few hundred baht, depending on your bank. And it can be done on the same day, usually within an hour.
Then you can go to either the Division 1 Immigration Office in Bangkok. Here's the Google Maps link to Division 1 Immigration Office in Bangkok. And here's the physical address:
120 Thanon Chaeng Watthana, Khwaeng Thung Song Hong, Khet Lak Si, Krung Thep Maha Nakhon 10210
Just bring with you all of the documents listed in this section and the above requirements section.
In most cases, you need to apply for a non-immigrant visa O before you extend your visa in Thailand into a one-year non-immigrant OA visa. You'll be given 90 days in the kingdom. And after your first 60 days, you can apply for a one-year OA visa.
Outside Thailand
If you're applying for your retirement visa outside of Thailand, you'll be applying for a non-immigrant OA visa. You'll need to bring the same documents listed above with you to the nearest Thai Embassy in your country.
If you don't have a Thai bank account yet, it is possible to get a financial statement or a proof of income from your home country.
But don't be surprised if you the embassy tells you they don't issue this type of visa to foreigners, as not all of them do.
The non-immigrant OA long term visa lets you retire in Thailand for one year and can be renewed from within Thailand every year thereafter.
You'll have two options when getting your non-immigrant OA visa: single-entry or multiple-entry.
Single-entry
If you're not planning on leaving Thailand while on your retirement visa, you can apply for a single-entry non-immigrant visa OA. If you do need to leave the country, whether for leisure or in an emergency, you must apply for a re-entry permit.
Multiple-entry
A multiple-entry OA visa lets you leave and enter Thailand as you wish. So if you know that you're going to come and go quite often while living in Thailand, your best bet is to get a multiple-entry visa from the start.
Whether you apply inside or outside of Thailand, you'll have to do 90-day check ins at Thailand immigration after your visa has been approved.
Visa Restrictions
Retirement visa holders are prohibited from engaging in any type of work.
How to Extend Your Visa
When your visa is about to expire, you'll need to renew it at any of the immigration offices in Thailand. The process is the same as when you first applied. But you should start your renewal process about 15 days before your visa expires. This will give you plenty of time for adjustments if Thai Immigration asks for more documents.
If you want to renew your visa outside of Thailand, you can re-apply at the nearest Thai Embassy.
How to Show Proof of Funds (Income Affidavit)
Showing proof of funds can be a headache for retirement visa applicants.
The most straightforward way to show adequate funds in Thailand is to open a bank account in the country and leave THB800,000 there for two months before applying for or extending your visa.
*Note that as mentioned above, the required balance differs between each type of retirement visa.
Once you open your bank account, you'll have to get a financial statement showing the required amount. You can get this statement for a few hundred baht at any of your bank's branches.
After you get your visa stamped into your passport, you shouldn't let your balance drop below THB800,000 for three months. After that, you should maintain at least THB400,000 at all times.
If you don't want to leave that much money in your Thailand bank account, then there's another route you can take. You can show that you have at least THB65,000 going into your bank account every month.
You can send money to your bank account in Thailand each month. If you want to save on transfer fees and exchange rates, you can open a Wise Multi-Currency Account, convert your local currency to Thai Baht when rates are good, and then transfer into Thailand.
Keep in mind that these are the only two ways to show proof of income in Thailand. Since 2019, you can no longer get an income affidavit from your embassy, as those are no longer accepted by Thai immigration.
What if You Can't Open a Bank Account in Thailand?
It can be a challenge to open a bank account in Thailand if you're here on a tourist visa. However, as long as you have a retirement visa, you shouldn't have any problems opening a bank account in the country.
Therefore, it's a good idea to get a retirement visa from your home country. You can use a financial statement from your home bank as proof of your income when you apply for your retirement visa at a Thai embassy in your home country.
Once you're in Thailand, you can open a bank account and manage your funds as mentioned in the above section.
Other Retirement Visas
Here a few other options you have if retiring in Thailand is in your radar.
Five-year Retirement Visa (O-X)
The five-year Thai retirement visa lets affluent retirees from 14 countries stay in Thailand for up to five years. Here are those countries: Australia, Canada, Denmark, Germany, Finland, France, Italy, Japan, Netherlands, Norway, Sweden, Switzerland, United Kingdom, and United States. The five-year non0immigrant OX visa is renewable every five years.
The requirements for this visa are a little different. You'll need the following to qualify for non-immigrant OX ten-year visa:
3 million baht in a bank account, untouched for at least three months from your application date or
1.2 million baht in a bank account and 100,000 baht monthly income. After you are in Thailand, your Thai bank account should have at least 3 million baht untouched within a year.
health insurance that provides you with at 400,000 baht IPD coverage and 40,000 baht OPD coverage (non-optional)
The application process is the same as applying for a non-immigrant O visa. The only difference is that at the end of this process, you must get a re-entry permit.
Thailand Elite Visa Program (Privilege Entry Visa)
The Elite Thai Visa isn't technically a retirement visa. But it's a valid option for affluent foreigners who wish to stay long-term in Thailand and avoid visa runs and extensions.
Depending on the membership package, qualified foreigners can stay in Thailand for five to 20 years.
The best thing about the Thailand Elite Visa is that it significantly decreases the time and headaches of dealing with paperwork and immigration officers, and it keeps you updated with the everchanging retirement visa requirements.
You also don't need to keep having 800,000 baht in your bank account all the time with the Elite visa.
A great number of retirees now go for the Elite Visa even if they are eligible for the retirement visa.
To find out more or apply for the Privilege Entry Visa, read our Thailand Elite Visa review. Reach out to us and we'll put you in touch with an agency that's authorized by the Tourism Authority of Thailand to provide Thailand Elite Visas.
Marriage Visa
If you're married to a Thai national, you can get a non-immigrant visa O based on marriage from the Thai embassy nearest to you or in Thailand at an immigration office. The financial requirements are a little easier to manage. So this visa is great for those who don't have enough funds to get a retirement visa.
Now, on to You
That's how you get yourself a Thailand retirement visa. The process itself is straightforward if you meet the financial requirements and present the right documents.
So be sure to double check the list above and contact your local Thai embassy or Thai immigration office.
If you've made it this far and still aren't sure which visa you should get, feel free to get in touch with us and tell us what you need.