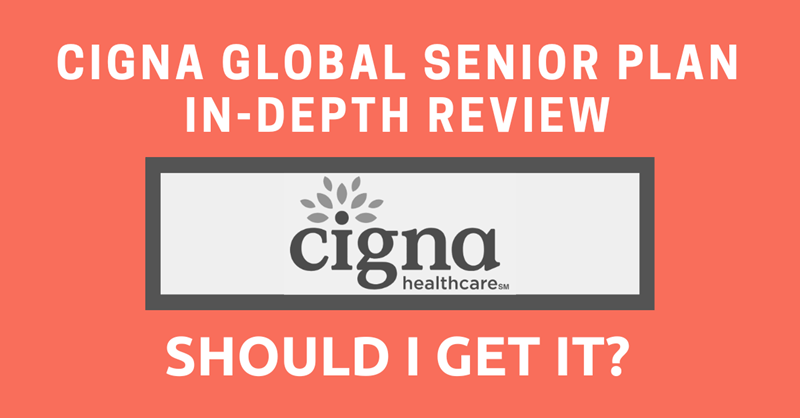 In an era where health and well-being takes center stage, it is important to find a health insurance plan that addresses the specific needs of seniors. Cigna Global, a renowned name in global healthcare, has launched a tailor-made global health benefits package specifically designed for individuals aged 60 or over.
The 'Cigna Global Plan for Seniors' encompasses a range of healthcare, wellness, and preventative services, along with coverage for hospital stays and vaccinations. In this review, we will discuss the key features, benefits, and overall effectiveness of this plan.
This article will take approximately 17 minutes to read. Don't have the time right now? No worries. You can email the ad-free version of the article to yourself and read it later!
Key Benefits From Cigna Global Senior Plan
Cigna Global is a U.S. based medical health insurance company specializing in expat insurance.
This plan has no age limit, whereas 80% of other health insurance providers set an age limit of 65-75 years of age. 
The annual limits start at US$1,000,000 and includes comprehensive in-patient coverage, support for chronic conditions, mental health support, full cancer support, and lifestyle support.
Certain pre-existing conditions, including hypertension, type 2 diabetes, glaucoma, arthritis, joint or back pain, and osteoporosis are covered.
Cigna also covers essential hospital stays, along with access to outpatient consultations with specialists and preventative services.
Compared to other healthcare providers, Cigna offers more flexibility and customizable health benefit plans.
There is no waiting period for their medical plans. Meaning you can enjoy policy benefits from the first day.
You can manage the premium rate with Cigna Global's deductible and cost-sharing options. The highest deductible option is US$10,000 and the highest cost-sharing is 30 percent.
Cigna has an extensive medical network of over 1.65 million partners across 30 countries.
Plan and Coverage
The Cigna Senior Plan provides three tiers of insurance plans, available to individuals of all ages, including those who are 75 years or older.
The Cigna Silver plan has an annual limit of US$1,000,000 and covers major medical treatments and inpatient care at most private hospitals.
The Cigna Gold plan increases the annual limit to US$2,000,000 and offers more comprehensive coverage, including maternity benefits and higher limits on other elective benefits.
The Cigna Platinum plan offers an unlimited annual limit with full coverage for most benefits.
For seniors, the Cigna Silver plan is often the most suitable choice. It includes a range of essential benefits and can be further customized by adding optional outpatient care, vision, dental, repatriation, and wellbeing health benefits.
You can learn more about the specifics of each tier in our Cigna Global Review article.
Core Plan
The core plan includes International Medical Insurance, Outpatient (optional), and Health & Wellbeing (optional) benefits.
The Cigna Senior Plan was designed taking into account the feedback and needs of Cigna clients and individuals aged 60 and above. This plan is particularly beneficial for those who live to travel or choose to reside outside their home country.
The primary component of the core plan is the International Medical Insurance, which offers essential coverage for hospitalization and treatments, covering expenses such as surgeon fees, specialist consultations, hospital accommodations, nursing care, and prescribed medications. Additionally, the plan encompasses both inpatient and outpatient mental health services, as well as coverage for testing, treatment, and vaccinations in response to a pandemic.
Cigna has also extended the core coverage to include outpatient and wellness benefits, ensuring coverage for unforeseen accidents or emergency admissions. Additionally, it grants you access to the Cigna Wellbeing App and Global Telehealth tools, streamlining access to phone or video consultations, and providing a comprehensive platform for managing and monitoring your health.
Core Coverage
The Cigna Senior Plan has no age limit. You can join at any age and stay on the plan as long as needed. Here is the range of coverage and benefits of this plan at an annual benefits limit of US$1,000,000.
Cancer Care
This plan includes full cover in case of cancer. This includes testing, diagnosis, treatment, rehabilitation, outpatient drugs, and costs towards consumer products, such as wig, headband, or mastectomy bra.
Pandemic Care
Full cover for testing, treatment, and vaccinations resulting from a pandemic, epidemic, or outbreak of infectious illnesses, including long Covid.
Clinical Support
Seniors have access to Cigna's Clinical Case Management Program which provides tailored medical support to help you manage chronic conditions, complex treatment plans, or consultations with experts to get a second medical opinion worldwide.
Over 60s Benefits
For those 60 years and over, the plan offers coverage for pre-existing conditions, including hypertension, type 2 diabetes, glaucoma, arthritis, joint or back pain, and osteoporosis.
Mental Health Support
Cigna covers up to US$5,000 for therapies in case of mental health issues. Up to 20 face-to-face counseling sessions are provided if you are suffering from depression or anxiety.
Lifestyle Support
Access to personal trainers, qualified coaches who can assist with weight management, healthy eating, physical activity, sleep, stress management and tobacco cessation.
Additional Services
This plan offers some preventative services at no additional cost, including annual health checks and age-specific cancer screenings. It also provides support for relocation and administrative tasks.
You will have access to their Whole Health services, which encompass life coaching, Cognitive Behavioural Therapy, and mental health support for situations such as bereavement or relationship issues.
Create a Plan
You can create a flexible Cigna Global Senior Health Plan in a few steps.
Choose a core plan. The primary component of the core plan is the International Medical Insurance which provides essential coverage for hospital stays and treatments. You can choose from Cigna's Silver, Gold, or Platinum plan level.
Add optional coverages. These include Outpatient Benefits, which offers access to a range of outpatient consultations, and Health & Wellness Benefits, which provides preventative care services.
Select your coverage area. You can choose between Worldwide excluding USA and Worldwide including USA. 
Adjust your premium. Applicants can adjust their premiums with a wide range of deductibles and cost shares options.
Optional Coverage
Cigna offers several optional modules that you can add to the Senior Plan for a more comprehensive coverage
International Outpatient
International Outpatient offers patients treatments that do not require an overnight stay in the hospital, including prescribed outpatient drugs and dressings.
The Outpatient plan for Seniors boasts an annual limit of US$15,000, which surpasses the regular Cigna Silver plan's limit of US$10,000. You have the flexibility to schedule consultations with a medical practitioner, whether virtually or in-person, without any restrictions, as long as you remain within this limit.
Furthermore, the outpatient coverage encompasses a range of essential services including prescribed medications, radiology and diagnostic tests, rehabilitation therapies such as physiotherapy and chiropractic treatment, traditional Chinese medicine, well-child tests, and coverage for dental accidents. Additionally, for those aged 60 and above, the plan extends to cover outpatient treatment and medication for the ongoing management of chronic conditions.
International Evacuation & Crisis Assistance
The International Evacuation and Crisis Assistance module includes full coverage for medically necessary evacuations and repatriation, the return of mortal remains, and travel expenses for an accompanying person.
To further support global customers, this option includes Crisis Assistance provided by FocusPoint International. They offer in-country crisis response services, such as field rescues or arranging transportation during instances of terrorism, pandemics, or natural disasters in over 100 countries.
This option is highly recommended for those who frequently travel internationally or reside outside their home country for prolonged periods. However, even if you choose not to add this option, rest assured that the core plan still provides full coverage for local ambulance and air ambulance services.
International Health and Wellbeing
The International Health and Wellbeing optional coverage helps you proactively manage your health. It covers screening against diseases, testing against common illnesses, and routine physical exams up to US$225.
CIgna also provides 24/7 access to counseling services for mental and behavioral support via their Life Management Assistance program.
This add-on is recommended for seniors as it is beneficial to conduct preventative screenings annually to catch signs of cancer as early as possible.
International Vision and Dental
The Vision and Dental modules cover dental and eye care, such as eye exams, prescription glasses/contact lenses, routine dental treatments, and orthodontics.
Dental benefits have an annual limit of US$1,250 and a waiting period applies. Preventive and routine checkups require 3 months whereas major restorative treatments take 12 months.
Plan Comparison
The table below quickly compares the key coverage benefits and costs of Silver, Gold, and Platinum plans for Seniors.
| | | | |
| --- | --- | --- | --- |
| Treatment/Plan | Silver | Gold | Platinum |
| Annual Limit | $1,000,000 | $2,000,000 | Unlimited |
| Hospital Charges | Fully Covered | Fully Covered | Unlimited |
| Hospital Accommodations for Parents/Guardians | $1,000 | $1,000 | Unlimited |
| Pandemics, Epidemics, and Outbreaks | Fully Covered | Fully Covered | Fully Covered |
| Inpatient Cash Benefit | $100 | $100 | $200 |
| Accident & Emergency Room Treatment | $500 | $1,000 | $1,200 |
| Transplants | Fully Covered | Fully Covered | Unlimited |
| MRI, CT, and PET Scans | $10,000 | $15,000 | Unlimited |
| Rehabilitation | $5,000 | $10,000 | Unlimited |
| Home Nursing | $2,500 | $5,000 | Unlimited |
| Acupuncture & Chinese Medicine | $1,500 | $2,500 | Unlimited |
| Palliative Care | $35,000 | $60,000 | Unlimited |
| Prosthetic Devices | Fully Covered | Fully Covered | Unlimited |
| Local Ambulance | Fully Covered | Fully Covered | Unlimited |
| Mental & Behavioral Health | $5,000 | $10,000 | Unlimited |
| Cancer Care | Fully Covered | Fully Covered | Unlimited |
| Newborn Care | $25,000 | $75,000 | $156,000 |
| Maternity Care | Not Covered | $7,000 | $14,000 |
| Global Telehealth | Unlimited | Unlimited | Unlimited |
Optional Coverage
| | | | |
| --- | --- | --- | --- |
| Treatment/Plan | Silver | Gold | Platinum |
| Annual Outpatient | $15,000 | $35,000 | Unlimited |
| Consultations with Practitioners & Specialists | $2,500 | $5,000 | Unlimited |
| Prescriptions | $1,500 | $3,000 | Unlimited |
| Outpatient Rehabilitation | $5,000 | $10,000 | Unlimited |
| Hearing Aids | $500 | $1,000 | $2,000 |
| Vaccinations | $250 | Fully Covered | Unlimited |
| Dental Accidents | $1,000 | Fully Covered | Unlimited |
| 60+ Care | $500 | $1,000 | $2,000 |
| Sleep Apnoea | No Coverage | $1,500 | $2,000 |
| Medical Evacuation | Fully Covered | Fully Covered | Unlimited |
| Routine Checkups | $225 | $450 | $600 |
| Vision Expenses | $155 | $155 | $310 |
| Annual Dental Benefits | $1,250 | $2,500 | $5,500 |
| Dental Routine Treatments | 80% Refund | 90% Refund | Unlimited |
| Dental Major Restoration | 70% Refund | 80% Refund | Unlimited |
Area of Coverage
The Cigna Senior Plan offers two areas of coverage: Worldwide Excluding the USA and Worldwide Including the USA.
If you are retiring in Thailand, there is also an Asia Only (excluding China, Hong Kong, and Singapore) option.
Compared to other international insurance providers, Cigna Global provides a much wider range that covers most countries, including those with expensive healthcare costs such as Switzerland and Singapore.
Age Limit
There is no maximum age limit for joining the Cigna Global Plan for Seniors and you can join for as long as needed. Those over 60 years old are also entitled to a 10 percent discount to plans with a minimum deductible of US$750.
Exclusion
The Cigna Senior Plan covers mostly everything an average policyholder needs. However, some health risks and coverages are typically not included in health insurance for seniors, which are as follows:
Diseases or treatments that are not proven or accredited by physicians
Medical expenses due to self-harm or intentional injuries
Cover/reimbursements for experimental therapies, elective cosmetic procedures, and fertility treatments.
Anything directly or indirectly related to pre-existing conditions that were not disclosed on the application. 
Advanced Medical Imaging diagnostic tests 
Coverage for long-term care or nursing home stays may have limitations. The core plan states up to 30 days per beneficiary period for home nursing.
The core plan only includes local ambulance service, both road and air. International medical evacuation is an add-on.
While Cigna offers worldwide coverage, there may be limitations in certain regions or countries, it is best to check the specifics in your policy.
Cost
Here's an estimate of how much it would cost annually for the Cigna Global plan for Seniors worldwide excluding the USA at a $1,500 deductible. The prices will vary based on your location, age, and choice of coverage options and deductibles.
Age 60 – 69: US$3,568 – US $5,888
Age 70 – 79: US$6,469 – US$9,430
For a more accurate cost estimate, fill out a quote with Cigna Global.
Deductible and Cost Share
Similar to other Cigna Global plans, they offer a range of deductible and cost share options. This allows customers to lower the annual premium and tailor their plan to suit their needs.
The deductible is the amount you pay each year for medical services before your insurance starts covering the cost. The cost share or copay refers to the portion of healthcare costs you are responsible for after your deductible has been met. For example, the flat fee to see your doctor or fill a prescription.
There's an annual out-of-pocket maximum on your deductibles and cost share. Once this limit is reached, Cigna will cover 100 percent of your covered healthcare expenses. This cap is designed to protect individuals from potential financial difficulties that could arise from high healthcare costs, particularly in years when they require extensive medical treatment.
Deductible options under Standard Plan
US$0 / US$375 / US$750 / US$1,500 / US$3,000 / US$7,500 / US$10,000
Cost Share options under Standard Plan
0 percent / 10 percent / 20 percent / 30 percent
Up to an out-of-pocket maximum of US$2,000 or US$5,000 per year
Deductible options under Outpatient Plan
US$0 / US$150 / US$500 / US$1,000 / US$1,500
Cost Share options under Outpatient Plan
0 percent / 10 percent / 20 percent / 30 percent
Up to an out-of-pocket maximum of US$3,000 per year
Under this plan, it is possible to choose an annual deductible of $375, additional 20 percent cost share, and out-of-pocket maximum of US$2,000.
For example, if your hospital bill costs US$20,000, you will pay the US$375 deductible and 20% cost share (US$3,925) and Cigna will cover the other US$15,700. Since you have reached your US$2,000 out-of-pocket maximum, any other claims during that year will be fully covered by your insurance.
If you're generally in good health and don't anticipate needing expensive medical services, a plan with a higher deductible and a cost share of 10-20 percent might be suitable for you. On the other hand, if you have pre-existing medical conditions, opting for a plan with a lower deductible, a 30 percent cost share, and a $5,000 out-of-pocket maximum could be a wise choice. This approach could help lower your insurance premium while still providing coverage against costly medical bills.
Global Telehealth
Cigna's Global Telehealth services offer members the opportunity to engage in virtual consultations with licensed doctors at any time and from any location worldwide, addressing all health-related inquiries and concerns. This service includes diagnosing non-emergency health conditions, issuing prescriptions (when medically necessary), referring you to a hospital or specialist within the Cigna hospital network, and pre-authorizing your claim.
This service is particularly useful when living or traveling abroad, as it allows for swift communication with Cigna regarding any health-related issues. According to feedback, the response time from Cigna Global Telehealth contacts has been notably efficient, typically returning calls within a day to address inquiries.
You can easily use this service by downloading the Cigna Wellbeing App and making an appointment with a doctor.
Making a Claim
To make a claim with the Cigna Senior Plan, you can easily log in to Cigna's Online Customer Area to submit a claim. There is a live chat available for assistance. If all necessary documents are completed, claims should be processed within one week.
There is also the option of printing the appropriate claim form, filling it out, and mailing the claim to the address shown on the form. However, this can take up to 15 days to process.
In most cases, if you received in-network care, your provider will file a claim for you. With Cigna's vast global medical network, most hospitals can arrange direct billing to Cigna.
Certain procedures, medications, and treatment locations may require prior authorization from Cigna Healthcare before receiving care. Failing to obtain approval in advance could result in a partial or full denial of your claim. Thus, it is recommended to reach out to the Cigna customer service team beforehand to verify coverage for the intended treatment, unless it is an emergency situation.
How to Apply
You can easily apply for the Cigna Senior Plan online using this form and obtain a quote almost instantly.
Alternatively, you can apply through your local broker. The costs are similar to buying directly from Cigna. If you need recommendations for reliable insurance brokers, we can provide some options if you fill out this form.
Things to Consider Whetsn Buying Medical Insurance for Seniors
When choosing health insurance for seniors, here are some important factors to consider:
Coverage: Ensure the policy covers critical illnesses that are more likely to affect older individuals, and covers most of the expenses related to pre and post hospitalization.
Pre-existing Illness: health issues are common with those over 60, it is crucial to choose a plan that covers pre-existing conditions
Waiting Period: Look for policies that have short or no waiting periods for accessing medical benefits and pre-existing conditions
Exclusions and Add-Ons: Check what the plans cover and what they exclude. Additionally, check for any sub-limits on treatments and room rent capping.
Cigna Senior Plan Vs. Other Health Insurance Plans for Retirees
While many health insurance providers offer coverage for individuals up to the age of 65 or 70, there aren't many that have specific plans for seniors aged 60 and above.
For seniors who frequently travel abroad, obtaining senior travel insurance is a more common and straightforward process, and it usually doesn't have an age limit. However, this type of insurance only covers travel-related risks and emergencies for the duration of the trip.
Besides the Cigna Senior Plan, here are other health insurance plans for retirees offered from top global health insurance providers.
IMG Global Senior Plan
IMG Global is also a US based global health insurance provider. They also have a Global Senior Plan that is slightly more affordable than the Cigna Senior Plan. However, most of their coverage benefits have limits on them, such as a US$400 per day and 60-day maximum for hospitalization treatments.
Some of the other major differences include the age maximum and benefits limit. The IMG Senior Plan has a maximum age limit of 74 and a limit of US$250,000 per period of coverage or a US$1,000,000 lifetime maximum.
They also offer coverage for pre-existing conditions up to US$5,000 annually. However, they do not cover COVID-19, vaccinations, and pandemics.
If you are relatively healthy with no major pre-existing illnesses, IMG could be an alternative at a lower price range for global senior health insurance.
William Russell
William Russell is another well-known global healthcare provider. While they don't offer a specialized plan for individuals over 60, their standard plans extend coverage up to 76 years of age. In terms of benefits and coverage options, both Cigna Global and William Russell are comparable, offering comprehensive services including full cancer care and management of chronic conditions.
However, there are distinct differences between the two providers. For instance, William Russell's coverage in the USA is limited to 90 days. Additionally, their annual limit starts at US$1,500,000 making the overall premium slightly higher compared to Cigna.
Is Cigna Senior Plan Worth It?
The Cigna Global Senior Plan stands out as a preferred option for senior health insurance, and this reputation is well-deserved. It offers comprehensive coverage with generous limits for hospital expenses, cancer treatment, mental health support, and common pre-existing conditions seen in this age demographic.
While the premium for the Cigna Senior Plan can be nearly twice as much as the average senior health insurance plan, it offers high annual limits and an extensive network of healthcare providers. This ensures that most healthcare treatments and surgeries in private hospitals worldwide are covered.
Overall, the plan's flexibility and the option for both virtual and in-person care, along with the absence of a maximum age limit, guarantee that seniors have the freedom to select the healthcare that best suits their individual needs.