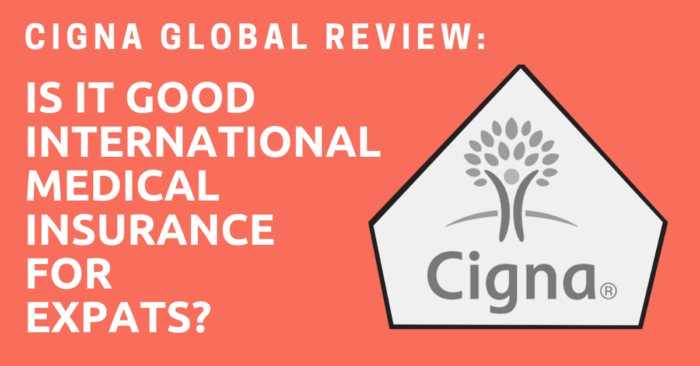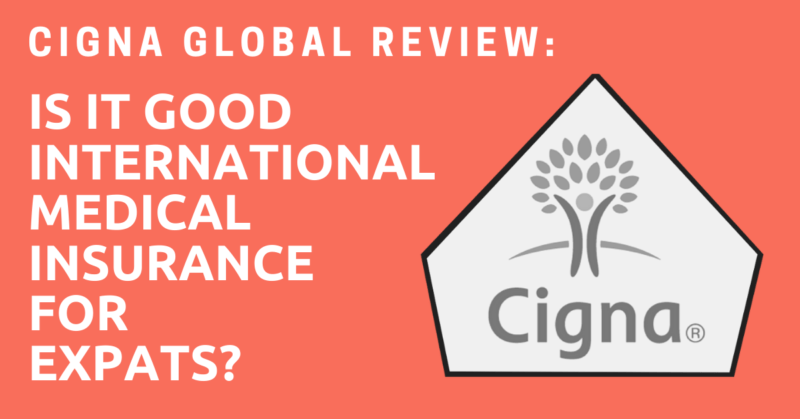 Looking for a comprehensive international health insurance plan that is designed with expats in mind? Look no further than Cigna Global. As one of the most well-known insurance companies in the world, you can expect thorough coverage and customizable plans.
Cigna's plans may come at a higher cost than other options on the market, but it has more options compared to its competitors. You can customize your coverage, including outpatient benefits, medical evacuations, deductibles, and copayments.
In this article, we will review Cigna Global Insurance, breaking down the pros and cons, and dive deep into what this service has to offer expats.
After you read this review, you can get a quote directly from Cigna Global using this link*.
*Cigna is offering a year-end promotion that provides an additional discount of up to 10% on all their plans for life, with a minimum purchase value of $3,000. The offer ends on December 31, 2023. T&Cs apply.
Company Introduction – Background
Cigna Global is a U.S.-based medical insurance company specializing in expat medical insurance. The flexibility of its tailor-made individual medical insurance plans is one of the things that sets Cigna apart from other healthcare providers and international insurance companies.
As a specialist in international medical insurance, Cigna Global offers medical insurance solutions for individuals, families, and groups.
All levels are based on Inpatient/Hospitalization and Day-patient coverage (standard benefits) and can be enhanced by adding optional Outpatient, Health and Wellbeing, Vision and Dental, and Medical Evacuation and Repatriation benefits.
Together with Cigna's global hospital provider network, its insurance plans provide an all-in-one service solution for anyone looking for excellent service and comprehensive coverage.
Key Benefits From Cigna Global
Cigna Global offers comprehensive and flexible health insurance plans. You can create a premium plan in which Cigna pays for all your medical treatment, or an affordable plan that prevents you from going bankrupt from the cost of healthcare.
You can create your plan from one of these options:

Silver: comes with a US$1,000,000 annual limit. It covers major medical treatments and hospitalizations.
Gold: comes with an annual limit of US$2,000,000. It also includes maternity coverage and has a higher limit on other benefits such as dental, vision, and mental health care.
Platinum: comes with unlimited annual limits and full coverage of most benefits.

You have two choices for area of coverage: 1) worldwide excluding the U.S., and 2) worldwide including the U.S.
While Cigna Global isn't the cheapest insurance provider, its plans are considered inexpensive for those needing coverage in the U.S.
The company offers opportunities to decrease your costs. You can take advantage of Cigna Global's deductible and cost-sharing options. The highest deductible option is US$10,000 and cost-sharing is 30 percent.
Similar to other insurance providers, there are sub-limits on certain benefits such as maternity, dental coverage, and out-patient treatment.
They also just released a more affordable plan, Close Care, coming with a US$500,000 annual limit. This plan isn't worldwide and only covers trips to your home country and healthcare in your residing country.
Since Cigna Global health insurance plans are customized, prices vary based on your location, age, choice of coverage, deductibles, and cost-sharing options.
Here's how much it should cost per year you if you choose to go with Cigna Global's Silver plan:
Age 30 to 39: US$1,481 to US$3,909
Age 40 to 49: US$1,890 to US$5,283
Age 50 to 59: US$2,518 to US$6,927
For the most accurate cost estimate, fill out a quote with Cigna Global.
To find out more about Cigna Global, continue reading.
Why Cigna Global?
First thing first, let's take a look at the advantages of Cigna Global.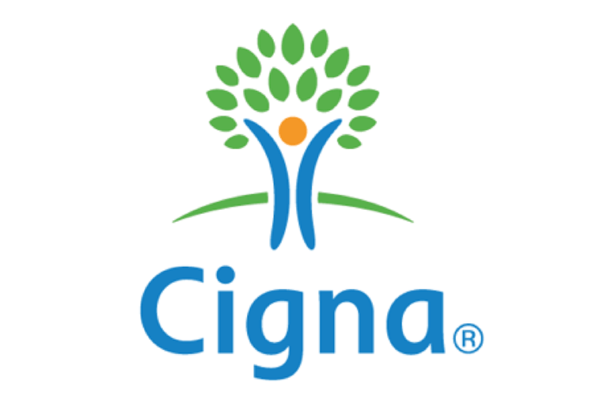 Extensive Health Benefits
The biggest advantage of Cigna is the amount of coverage its plans offer. Cigna Global is an excellent option for expats looking for an insurance plan that has an annual limit of US$1 to US$2 million (unlimited for platinum plan).
This is enough to cover most healthcare costs including major surgeries in private hospitals in most countries around the world.
The Gold plan covers maternity care, and the Platinum plan even covers stem cell transplants. We rarely see this level of coverage from other insurance providers.
Furthermore, Cigna covers all ages and all nationalities, while many other insurance plans have age or citizenship limits.
A Wide Range of Area of Coverage
Being one of the biggest insurance companies in the world, Cigna Global has a wide range of coverage that covers most countries on Earth, including countries that have a high healthcare cost such as Switzerland, Singapore, and Hong Kong, which might not be covered by other insurance companies.
This is quite rare among international insurance providers since most insurance companies, including William Russell and IMG Global, won't offer coverage in countries with expensive healthcare costs.
Flexibility
Cigna Global has a flexible plan that allows clients to choose which modules of coverage they want. For example, the plans have the option to add on benefits such as dental, vision, outpatient care, medical evacuation, mental health care, and more.
So, you can choose your basic plan and then add on the additional coverage modules you want to receive. This also means you can cut down coverage you don't need in order to decrease your plan's premium.
Excellent Support
One of the biggest headaches anyone will face with insurance is filing claims and getting support from the company.
For example, you might live in a different time zone than the international health insurance company, making it hard to contact its support team. Or sometimes, support isn't helpful and can't answer the questions you really want answers to. However, Cigna Global is different.
In fact, they have one of the best customer support systems we've seen. The company is available 24/7, provides telehealth services, and you can easily manage your claims and profile details online or with the MyCigna mobile app.
Competitive Pricing Within the U.S.
Many global health insurance plans provide limited coverage in the U.S., or choosing to be covered in the U.S. significantly increases the price of the plan.
Being a U.S. insurance company, Cigna Global offers a competitive price point for expats looking for cover in the country. While adding U.S. coverage will increase the price of a Cigna plan, it's still a competitive price point compared to some other plans.
Cigna Global Disadvantages
Cigna Global isn't perfect. Let's take a look at its main disadvantages.
Pricing
The biggest downside of Cigna Global is the price. If you're budget conscious and don't need extensive healthcare provisions, Cigna isn't the best option for you, as it costs 10 percent to 30 percent more than other insurance plans for the average policyholder.
Moving to a New Country Can Be Complicated
If you're currently covered by Cigna and plan to move to another country, your premium may go up, and there may be some changes to your coverage. For example, your global insurance plan might be transferred to a local plan.
This is because Cigna Global has many branches and sub-companies in different countries. That said, situations can be different for each individual.
Therefore, it's best to check with a Cigna Global representative about this before purchasing a plan.
Most international insurance providers don't mind you moving to a new country as long as it covers that country.
Location Restrictions
Cigna is available to most people on the planet and can cover expats in most of the world.
However, the company cannot provide coverage to those residing in Cuba, the Democratic Republic of the Congo, Iran, Israel, Libya, Sudan, and Syria, or the U.S. territories of Puerto Rico, the U.S. Virgin Islands, Guam, the Northern Mariana Islands, and American Samoa.
Limited Coverage Under the Base Plan
Cigna Global's standard (Silver) plan covers most things the average policyholder needs, but it has some limitations.
The Silver plan doesn't cover maternity care and doesn't offer unlimited care maximums that some other providers do (such as GeoBlue).
Optional Medical Evacuation
Cigna Global basic plans only come with local ambulance service, for both road and air. If you need international medical evacuation coverage, you need to pay extra for it.
How to Choose the Right Cigna Global Plan
Health insurance is by no means easy to navigate. So, let's dive deep into everything that Cigna Global offers. We will cover everything from its plan tiers and optional add-ons to using your insurance and filing a claim.
Cigna Global Explained
Here are the steps you'll take to use Cigna Global Insurance.
1. Choose a plan
2. Customize your plan
3. Get a quote
4. Purchase the plan
5. Use your insurance
Step One: Choose Your Plan
Cigna's medical insurance for individuals and families offers three different product tiers:
Silver: The standard plan and the most affordable
Gold: Mid-tier plan with lots of added benefits
Platinum: Most expensive plan with the most inclusions and coverage
Silver Plan
The Silver Plan is the base-level insurance plan of Cigna Global. The overall annual plan limit under the Silver Plan option is US$1 million and includes a variety of essential benefits that should be covered under any reasonable basic hospitalization and day-patient medical insurance plan.
Here are some key things that are covered in Cigna Global's Silver Plan:
Hospital charges in full
Pandemic coverage
Medication in full
Cancer treatment in full
Intensive care in full
Ambulances (road and air) in full
Unlimited telehealth consultations
Up to US$500 for emergency room treatment
Up to US$10,000 for advanced medical imaging
Up to US$35,000 of palliative care treatment
US$25,000 in newborn care
Transplants in full
What doesn't the Silver Plan cover?
Senior care
Obesity treatment
Maternity and childbirth
Pre and post-natal care
Sleep apnea
Infertility
Diabetes consultations
Limited coverage on advanced imaging (MRI, CT scans), congenital conditions, physio- and complementary therapies, home nursing, rehabilitation, mental health conditions, and more
Is the Silver Plan Worth It?
The Silver Plan is a good balance between a premium and a cost-effective plan. This plan covers a lot and is the perfect option for most policyholders.
The Silver Plan is a good basic health plan that covers most major surgeries and other hospital bills.
However, if you're on a tight budget, you might consider using a different provider or instead opt for Cigna's Close Care Plan.
Gold Plan
The Gold Plan covers many essential benefits. The annual overall limit is much higher than the Silver Plan, and Gold provides coverage of up to US$2 million and includes maternity benefits.
For certain benefits, sub-limits apply similarly to the Silver Plan, but the limits are generally higher, making the Gold plan a much better medical insurance plan overall.
Here are some key things that are covered in Cigna Global's Gold Plan:
Senior care
Hospital charges in full
Pandemic cover
Up to US$1,000 in emergency room coverage
Medication in full
Cancer treatment in full
Intensive care in full
Ambulances (road and air) in full
Unlimited telehealth consultations
Up to US$15,000 for advanced medical imaging
Up to US$60,000 of palliative care treatment
US$75,000 in newborn care
US$20,000 in congenital conditions
70 percent refund for obesity care (up to US$20,000)
Transplants in full
Up to US$21,000 in maternity care
What doesn't the Gold Plan cover?
Infertility
Diabetic consultations
Limited cover on many of the different conditions
Platinum Plan
Cigna Global's top Platinum Plan provides unlimited coverage on most conditions, which is unique among international medical insurance providers for expats.
However, there are some limitations with the Platinum Plan:
US$1,200 in emergency room treatment
80 percent refund on obesity treatment (up to US$25,000)
90 percent refund on cancer prevention surgery (up to US$18,000)
US$39,000 in congenital conditions
US$42,500 in maternity care
US$156,000 in newborn care
Is The Platinum Plan Worth It?
Cigna Global's Platinum Plan is one of the most inclusive healthcare options for expats. While it's definitely a pricey option, it's the perfect choice for expats who want to be fully covered in case of any health care issues.
That said, those who are on a tighter budget can still get a good amount of care with the Silver or Gold plans.
Step Two: Customize Optional Coverage
The Silver, Gold, and Platinum plans all have several optional modules you can add on, giving you access to more benefits.
These include International Outpatient, Health and Wellbeing, Vision and Dental, and Medical Evacuation and Repatriation. The offers on these modules differ depending on your base plan.
Area of Coverage
There are two areas of coverage that can be chosen for the Silver, Gold, and Platinum plans. Policyholders have the option to choose Worldwide Cover including the U.S. and Worldwide Cover excluding the U.S.
If you choose Worldwide Cover excluding the U.S., Cigna still provides emergency coverage for temporary trips of a maximum of three weeks per trip and a maximum of 60 days per period when traveling to the U.S. But you won't be covered for non-emergency medical treatment.
The Worldwide Cover including the U.S. doesn't limit coverage in the U.S., and treatments are covered within the limits of the particular plan and aren't limited to emergency coverage.
In general, we recommend only getting the Worldwide Cover including the U.S., if you plan to live in the United States or visit often. This is because adding the U.S. to your area of coverage can significantly increase your annual insurance premiums.
If you're a U.S. citizen who is living abroad, it's beneficial to add the U.S. to your area of coverage if you plan to spend time in the States visiting family and want to be able to see a doctor or receive non-emergency medical care.
International Outpatient
International Outpatient is an optional module for Cigna Global that assists patients when their condition isn't severe enough to be admitted to a hospital. This add-on covers things like outpatient medication, rehabilitation, vaccinations, and tests.
Cigna's Outpatient plan is better when compared to other providers because it has an annual limit of US$10,000 at a minimum. Other plans are limited to a set amount of outpatient visits and may limit when you can use the service.
For example, with IMG Global you can only receive outpatient cover after surgeries. With Cigna you can visit whenever you want and as many times as you want as long as you stay under your limit.
The Silver Outpatient Plan covers non-hospitalization or day-patient treatments up to an overall annual limit of US$10,000. It includes coverage for general practitioner and specialist consultations, prescribed medications, diagnostic tests, physio- and other alternative therapies, vaccinations, well-child tests, immunizations, and annual eye and hearing tests, as well as dental emergencies caused by accidents.
The Gold Outpatient Plan has an overall annual limit of US$25,000, with similar benefits and sub-limits to the Silver Plan, but the sub-limits are much higher for the benefits mentioned under the Silver Outpatient section. In addition, the Gold Outpatient Plan includes benefits for pre- and postnatal maternity care.
For the Platinum Outpatient Plan, basically all benefits are covered in full, except pre- and postnatal maternity benefits, which are limited to US$7,000 per year. Furthermore, there is no annual overall outpatient limit – it's unlimited.
Health and Wellbeing
The Health and Wellbeing optional addition to Cigna Global offers mental health counseling, physical wellness examinations, lifestyle coaching, and cancer screenings. According to the CDC mental health treatment has increased by over 20 percent in the past few years.
So it's very beneficial to have this type of care included in your plan. While many healthcare plans cover cancer treatment, it's important to consider adding cancer screenings to your plan, to ensure you catch signs of cancer as early as possible.
Here is what each plan covers.
The Silver Health and Wellbeing add-on provides coverage for adult routine annual physical checkups of up to US$225.
Additionally, women's checkups, as well as checkups for certain cancer types, are covered up to US$225 if over a certain age. Cigna also provides a life management assistance program and an online health education, health assessment, and web-based coaching program under the Health and Wellbeing plan.
The Gold Health and Wellbeing module has the same benefits as the Silver Plan but with a higher annual limit of US$450. This allows better and more comprehensive annual routine checkups, as the Silver plan limit is quite low for many countries.
The Platinum Health and Wellbeing plan covers all necessary women's checkups and cancer checkups in full. Routine medical checkups are limited to US$600 a year, but that is a sufficient amount for most comprehensive checkups anywhere in the world.
Vision and Dental
Vision and Dental is self-explanatory. The plan covers dental and eye care, including orthodontics, routine dental treatment, surgeries, preventative care, eye tests, glasses/contacts prescriptions, and more.
The Silver Vision and Dental module has an annual overall limit of US$255 for vision and US$1,250 for dental benefits. The vision benefits include a US$150 allowance for prescribed lenses and glasses, including sunglasses.
The dental benefits can be used for preventative dental-like routine examinations and cleanings, but also major orthodontic treatments. However, copayments apply under dental benefits:
Preventative treatments = zero copays (fully covered by Cigna)
Routine treatments = 20 percent copays (80 percent covered by Cigna)
Major treatments = 30 percent copays (70 percent covered by Cigna)
Orthodontic = 60 percent copays (40 percent covered by Cigna)
The Gold Vision and Dental module has higher limits for vision, up to US$355, and for dental, up to US$2,500. Furthermore, the copayments are more customer friendly:
Preventative treatments = zero copays (fully covered by Cigna)
Routine treatments = 10 percent copays (90 percent covered by Cigna)
Major treatments = 20 percent copays (80 percent covered by Cigna)
Orthodontic = 50 percent copays (50 percent covered by Cigna)
The limit for lenses and glasses under the Platinum Vision and Dental plan is US$310 per year. However, vision examinations are covered in full. For dental benefits, an annual overall limit of US$5,500 applies, and no copays are necessary for routine dental procedures, except orthodontics, where 50 percent must be paid out of pocket by the client.
Medical Evacuation and Repatriation
It also covers you if you need to be repatriated for ongoing or urgent treatment. Cigan covers the repatriation of mortal remains, too, and the travel costs of an accompanying person.
Cigna's optional Evacuation and Repatriation plan fully covers medically necessary evacuations and repatriations within the annual overall limits of the plan you choose (Silver, Gold, or Platinum).
If you travel internationally often, this is a crucial add-on to have. On the other hand, if the country you're currently living in offers good healthcare, and you don't plan to travel much, you might not need it. After all, Cigna Global plans come with full coverage and coverage for ambulances. Related content: What to Consider When Buying Health Insurance as an Expat
Step Three: Get a Quote
Once you have chosen your desired Cigna Global plan and decided which optional add-ons to go for, it's time to get a quote for your medical insurance.
To get a quote with Cigna Global, you'll simply need to fill out a quick online form with some personal information. The form will then direct you to choose your deductible amount and payment schedule.
You'll then see the pricing options for the Silver, Gold, and Platinum plans, which will differ depending on the deductible and payment schedule.
Once you've chosen your plan, you'll then get the option to add on other modules, giving you your final quote amount for the insurance.
Step Four: Purchase Your Insurance
Finally, it's time to purchase your Cigna Global insurance plan. Here is some important cost-related information to know before purchasing your plan.
Deductibles and Cost-Share Options
Cigna Global has several copay and annual deductible choices. This allows clients to reduce their yearly insurance premiums.
Your deductible is the amount you must pay per year out of pocket before your insurance starts covering the costs. Your copay is the percentage of coverage you must pay out of pocket for all care.
Your copay has an out-of-pocket maximum, so you won't have to pay the copay for all coverage during the period. Once the out-of-pocket maximum has been reached, Cigna will cover 100 percent of your eligible medical expenses.
Deductible options under Standard plans
US$0 / US$375 / US$750 / US$1,500 / US$3,000 / US$7,500 / US$10,000
Copay options under Standard plans
0 percent / 10 percent / 20 percent / 30 percent
up to an out-of-pocket maximum of US$2,000 or US$5,000 per year
Deductible options under Outpatient plans
US$0 / US$150 / US$500 / US$1,000 / US$1,500
Copay options under Outpatient plans
0 percent / 10 percent / 20 percent / 30 percent
up to an out-of-pocket maximum of US$3,000 per year
This means it's possible, for example, to choose a standard inpatient annual deductible of US$3,000 with an additional 10 percent copay option, with up to US$5,000 out-of-pocket maximum under the Standard plan.
If your hospital bill costs US$20,000, and you have had no other claims during the given period, you'll pay US$5,000 and Cigna Global will cover the other US$15,000. And now that you have reached your US$5,000 out-of-pocket maximum (including your US$1,500 deductible), any other claims during the period of coverage will be 100 percent covered by your insurance.
Under the Outpatient plan, a US$150 annual deductible with a 30 percent copay option with an out-of-pocket maximum of US$3,000 is a good choice if you're looking to reduce your insurance premiums and still be insured against high-cost medical bills.
Contract Renewal
All Cigna plans are annual contracts with guaranteed renewability and no age limits as long as the client lives somewhere abroad. This doesn't mean, however, that the rates stay the same, as they are subject to change due to a number of different factors.
Costs
As mentioned above, Cigna's insurance premiums aren't cheap compared to other available international medical insurance with similar benefits. Even under the entry-level Silver Plan, insurance premiums can be pretty steep.
On the other hand, Cigna does offer very competitive rates in certain regions of the world (for anyone residing in Europe, for example), and it's worth checking out Cigna's options. Moreover, Cigna usually offers the best rates for any U.S. citizen living abroad but seeking full elective U.S. coverage.
The cost of Cigna's services can vary depending on the regions you plan to cover, your age, and your elected copay and deductible. In general, you can expect to pay as little as US$700 per year for a Worldwide Plan, excluding the U.S., if you're young and healthy and don't choose any add-ons.
However, if you're older and require more care, your plan can cost more than US$20,000 per year in some cases. So, as you can tell, the price fluctuates a lot depending on your individual situation.
Step Five: Use Your Insurance
The final step is to use your insurance. Once the plan is chosen and paid for, you're able to use the plan.
Here are some of the ways you can use your Cigna Global insurance.
Cigna Wellbeing App
The Cigna Wellbeing app is a unique benefit that policyholders get when they go with Cigna Global insurance. The app comes with a whole host of features that help you track your health, make appointments, talk with practitioners, and more.
The app has a health-tracking biometrics feature that allows users to keep track of their weight, blood sugar, blood pressure, and cholesterol levels. The Wellbeing app also makes contacting doctors and specialists easier and more convenient.
Cigna's Telehealth program is one of the best across all international insurance companies, as you can generally expect to be connected with a healthcare professional within 24 hours.
With the Cigna Wellbeing app, you can also access valuable life coaching and wellness help from exclusive blog and video resources.
Case Management
Cigna's Clinical Case Management Program is a very useful feature that allows those with serious medical conditions to feel that their health is in good hands.
You will be assigned a team of doctors and specialists who will give you expert advice and planning you need to navigate your condition in the best way possible. You will also be assigned a case manager who will help monitor your severe condition.
This program is an exciting addition that helps Cigna stand out from other global insurance providers.
Customer Service
Cigna Global has a secure online customer area where all policy documents are listed, including the insurance certificate and claim forms. Within the member portal, a customer can check out all policy documents, policy rules, and coverage, submit claims online, and search for a healthcare provider (clinic, hospital, or any doctor) nearby.
In addition, Cigna has a global multi-language assistance and support customer service team reachable 24/7 through its helpline. The Customer Care Team can be contacted by the following:
Phone: +44 (0) 1475 788 182
Email: [email protected]
If you're unsure about your treatment or wondering if the costs will be covered, it's always advisable to contact Cigna's customer service team first. They may even be able to arrange an appointment for you.
In any emergency situation, Cigna should be informed as soon as possible (within 48 hours) through the hospital, the customer, or a representative of the customer.
Close Care Plan
Close Care is a new plan offered by Cigna Global that is targeted at expats who only need coverage in the country they are currently living in or plan to move to.
The plan also covers trips back to their home country. Keep in mind that this plan only covers these two countries and isn't a worldwide plan like the other Cigna Global plans. Close Care includes a yearly limit of US$500,000 and covers most of the basic healthcare needs.
While the policyholders with the Silver, Gold, and Premium plans have the option to add additional modules of cover, Close Care Plan holders are limited to the coverage under the basic plan.
Many insurance plans don't accept senior citizens over the age of 75, or coverage is much more expensive for them. Cigna's Close Care plan is a good choice for senior citizens as it's more affordable than the other global plans. Cigna is also a good option for American citizens who live in other countries and plan to return to the States for a short period.
Here are some of the main things covered under the Close Care Plan:
Cancer treatment in full (except for preventative treatment)
Medication (US$5,000 in coverage)
Pandemic cover
Semi-private hospital room in full
US$2,500 in advanced medical screening cover
US$2,000 in rehabilitation cover
US$2,500 in hospice and palliative care
Ambulances (road only) paid in full
What doesn't the Close Care plan cover?
Emergency room treatment
Transplants
Home nursing
Obesity treatment
Private hospital rooms
Access to optional modules (Dental and Vision, International Outpatient, Medical Evacuation and Repatriation, and Health and Wellbeing)
Congenital visits
Maternity, childbirth, or newborn care
Is the Close Care Plan Worth It?
Cigna Global's Close Care plan is the most affordable option. However, it also covers the least amount of benefits. This is a good plan to consider if you're an expat who doesn't need worldwide coverage and only needs coverage in your country of residence and your home country (for temporary visits). The Close Care Plan also has less coverage on most benefits, so if you're looking for a plan that ensures you're covered for a wide range of health issues, you may want to consider the Silver, Gold, or Platinum plans instead.
That being said, this is a good option for expats who are on a tighter budget and have few health issues.
If you opt for the Close Care Plan, you'll only be covered in the country you live in and your home country (for short visits).
Plan Comparison
You can check the below table here to quickly compares four plans from Cigna.
Treatment/Plan
Close Care
Silver
Gold
Platinum
Annual Limits
$500,000
$1,000,000
$2,000,000
Unlimited
Hospital Rooms
Semi-private room
Private room
Private room
Private room
Hospital Accommodations for Parents/Guardians
Not covered
$1,000
$1,000
Unlimited
Inpatient Cash Benefit Per Night
Not covered
$100
$100
$200
Emergency Room Treatment for Accidents
n/a
$500
$1,000
$1,200
MRT, CT, and PET Scans
$2,500
$10,000
$15,000
Unlimited
Transplants
n/a
Fully covered
Fully covered
Fully covered
Cancer Treatment
(In- and Outpatient)
Fully covered
Fully covered
Fully covered
Fully covered
Home Nursing
Not covered
$2,500
$5,000
Unlimited
Palliative Care
Not covered
$35,000
$60,000
Unlimited
Local Ambulance
Fully covered
Fully covered
Fully covered
Fully covered
Out of Area Emergency Hospitalization Coverage
$40,000
$100,000
$250,000
Unlimited
Maternity Care
Not covered
Not covered
$7,000
$14,000
Newborn Care
Not covered
$25,000
$75,000
$156,000
Optional Coverage
| | | | | |
| --- | --- | --- | --- | --- |
| Treatments | Close Care | Silver | Gold | Platinum |
| Annual Outpatient Benefits | $5,000 | $15,000 | $35,000 | Unlimited |
| Vaccinations | $250 | $250 | Fully covered | Fully covered |
| Dental Accidents | $500 | $1,000 | Fully covered | Fully covered |
| Medical Evacuations | Not available | Fully covered | Fully covered | Fully covered |
| Routine Checkups | $100 | $225 | $450 | $600 |
| Vision Expenses | Not available | $155 | $155 | $310 |
| Annual Dental Benefits | $750 | $1,250 | $2,500 | $5,500 |
| Dental Routine Treatments | 80% refund | 80% refund | 90% refund | Fully covered |
| Dental Major Restoration | 70% refund | 70% refund | 80% refund | Fully covered |
How to Make the Most From Cigna Global
Here are some of our top tips for making the most of your Cigna Global insurance plan.
Understand Your Coverage
Before using your insurance, take the time to understand what is covered and what isn't. Read the fine print (however grueling it may seem) of your policy documents and terms and conditions carefully.
Ask questions. Your Cigna representative is there to help you make informed decisions about your health care. Doing so will help you avoid any surprises later on.
Take Advantage of Preventive Care
Cigna Global's preventive care services are one of the company's standout features. These include annual physicals, immunizations, cancer screenings, dental preventative treatment, and more.
Take advantage of these services, as they can help you catch illnesses early and prevent more serious conditions down the road.
Get Prior Authorization
When it comes time to actually use your insurance, it's vital to understand how to file a claim and make sure your claim will be covered with Cigna.
If it's just a common cold, you don't need to contact Cigna first. You can go to the hospital right away. On the other hand, if you need to be admitted to the hospital or require a particularly expensive procedure such as an MRI, it's a good idea to get prior authorization from Cigna.
By doing this, Cigna can pay the hospital directly, saving you the time and hassle from making a claim. In addition, Cigna can also recommend the best hospital or doctor to treat your condition.
During this process, you can also check with Cigna to see what's covered by your insurance plan and what's not.
In fact, getting prior authorization is normally required by all insurance providers, not just Cigna. This is mainly because they want to review what is medically necessary for your treatment.
Update Your Policy and Coverage as Needed
Your healthcare needs are bound to change over time. Maybe you have moved to a new country and want to expand your coverage to ensure you get the best care in your new home. Or perhaps you're welcoming a new member to your family and want to include maternity and newborn care to your plan.
You should tweak your Cigna Global Health Insurance policy to reflect your healthcare needs. You can always change your plan, add new modules, and adjust your copay/deductible amounts.
Does Cigna Global Cover Pre-Existing Conditions?
It's uncommon for health insurance to provide coverage for pre-existing conditions, but some will cover these conditions under certain circumstances, such as Moratorium terms.
Moratorium terms allow policyholders to be covered for their pre-existing conditions if they haven't made any claims or had symptoms in a certain period before starting their new policy (usually three to five years). Cigna Global's medical insurance plans are fully underwritten, and unfortunately, Cigna doesn't provide any other option, such as Moratorium terms.
Even though Cigna says in their brochures that pre-existing conditions can be covered with a premium loading, the truth is they will exclude pre-existing conditions and don't even consider the possibility of providing an option for any new applicants with existing conditions – no matter what they are.
Cigna Global is one of the most strict insurance providers when it comes to pre-existing conditions.
How to Make a Claim
Claims can be easily uploaded into Cigna's online member area and processed within five working days if all necessary documents are completed. In addition, most simple outpatient treatments don't require prior approval by Cigna.
However, a pre-approval from Cigna is required for some more expensive treatments, such as diagnostic tests or scans like MRIs. This also applies to any inpatient treatments.
In cases where Cigna wasn't informed prior to the treatment but approval was required, Cigna may only cover 80 percent for treatments outside the U.S. or 50 percent for treatments inside the U.S.
Therefore, it's always advisable to contact Cigna first and check whether Cigna covers the treatment (unless it's an emergency situation, in which case Cigna needs to be informed within 48 hours).
Not only can you confirm the treatment will be covered by reaching out to the customer service team, but Cigna will also be able to find the right provider close by and can arrange direct billing in most cases – regardless of whether you're receiving inpatient or outpatient treatment.
Cigna has a global partnership hospital network of over 1 million facilities and is, therefore, able to arrange direct billing in most cases.
Even if a hospital or clinic is outside Cigna's network list, direct billing can be arranged as long as Cigna has issued a guarantee of payment prior to the treatment or the facility agrees that Cigna pays directly.
In the event a customer has to pay upfront, Cigna will usually settle the reimbursement to a customer as soon as all claim documents have been submitted to Cigna's claim team.
How to Apply
It's easy to apply.
You can use this link to go to Cigna's website and apply. Make sure to talk with a Cigna representative and understand what you're getting. Once you're ready to proceed, you need to send your application and payment.
You can do the entire application process online.
Alternatively, it's also possible to apply with a broker of your choice. The price you get from a broker is similar to buying directly from Cigna.
The benefit of using a broker is that they offer more insurance companies, not just Cigna.
But you need to be careful when choosing a broker because not all of them are the same. They might not truly know what the insurance plan offers and only push the plan that they get the most commission on. If you want us to recommend a good insurance broker, fill out this form.
How to Cancel Cigna Global Insurance
Within the first 14 days of purchasing a Cignal Global plan, you can receive a full refund as long as no claims have been made during this period.
After the 14-day cool-off period, the customer can terminate the policy and end coverage by giving at least seven days notice in writing. To cancel, simply contact Cignal Global at [email protected].
If you cancel your insurance after the cool-off period, note that you'll be charged for the period of coverage.
In other words, if your annual premium is being paid in intervals throughout the year, you'll still need to pay the remainder of these payments for the period of coverage.
FAQs
How Do I Contact Cigna Support?
There are several ways to get in touch with Cigna Global. If you're an existing customer, make sure you have your policy number (it starts with a "9") on hand. You can contact Cigna Global in the following ways:
Live chat
Phone: +44 (0)1475 788182 if you're calling from outside the USA or 800 835 7677 if you're calling from within the USA
Email: [email protected]
If you're enquiring, you can contact Cigna Global via:
Phone: +44 (0)1475 788182 if you're calling from outside the USA or 800 835 7677 if you're calling from within the USA
Online email form
Callback form
How Long Do Cigna Claims Take?
In general, if you contact Cigna before going to a hospital in its network, it's possible that Cigna will pay the hospital for your medical treatment.
Right now, Cigna has the largest number of hospitals within its network – over 1.2 million throughout the world. So, it's safe to say that most private hospitals around the globe are in Cigna's network.
If you need to make a claim – for outpatient treatment, for instance – you can expect Cigna to pay back your claim within five days after you file online.
However, if you submit your claims by mail, it may take up to 15 days to process. Here is the information that Cigna asks policyholders to include in their claims:
Information on where to issue the refund
Scanned copies of invoices and claims
Your policy number should be included on all documents
Please send your claims to Cigna's claims email: [email protected]
You can also fax information to: +44 (0) 1475 492113
Is it Difficult to Make a Claim?
Making a claim is fairly straightforward and similar to your average insurance company. If you've paid for your treatment by yourself, you'll have to claim back the costs by filling out an appropriate claim form.
Depending on what you're claiming, use the:
Medical and vision claim form
Dental claim form
Then send your invoice and form to Cigna Global via:
Your online Customer Area
Email: [email protected]
Fax: +44 (0) 1475 492113
Mail: Customer Care Team, Cigna Global Health Options, Customer Service, 1 Knowe Road, Greenock, Scotland, PA15 4RJ
Cigna Global will generally reimburse you within five days of receiving the claim.
Does Cigna Global Cover Dental?
Cigna Global's Silver, Gold, and Platinum plans all have the option to add on the Vision and Dental module. This plan covers preventative, routine, orthodontic, and major restorative dental treatment between US$1,250 and US$5,500 per period, depending on your plan.
Is Cigna Global Good Insurance?
Cigna Global is generally considered a good insurance provider and offers a wide range of health insurance plans and coverage options for individuals and families living abroad.
Cigna has a strong reputation for customer service and its plans often include comprehensive benefits such as emergency medical coverage, mental health services, and wellness programs.
However, as with any insurance provider, it's important to carefully review the details of each plan and assess its suitability for your individual needs and budget.
Is Cigna Global ACA Compliant?
Cigna Global isn't ACA compliant, as it primarily serves expats and international travelers rather than U.S. residents who are subject to the Affordable Care Act (ACA) regulations.
Most notably, in order to be ACA compliant, there mustn't be any annual or lifetime cap on the amount of money an insurer will pay for services, which isn't the case for Cigna Global.
Is Cigna Global Widely Accepted?
Cigna Global is a very widely accepted global health insurance plan that is offered in more than 200 countries, including over 1.65 million healthcare professionals.
If you use Cigna Global in the U.S., you may have to receive prior authorization beforehand to receive care at a hospital to ensure the hospital is in Cigna's network.
That said, if you receive care at a hospital in the U.S. outside of Cigna's network, you'll still be able to use Cigna, but you'll be reimbursed 20 percent less than normal.
Online Reviews
Cigna Global is a worldwide and well-known health insurance provider. So, anyone looking for online reviews can find plenty of them.
However, you have to take online reviews lightly because health insurance is much trickier to rate than physical products that you can test and hold in your hands. Using insurance also isn't like eating at a restaurant, where after two hours you have a good idea of the value it provides.
In fact, most people will have a tough time deciding what star rating to give any insurance company.
First off, reviews can be about a wide range of topics, such as coverage expectations, claims, cost-sharing, deductibles, or direct settlement arrangements.
Second, some people leave five-star reviews without ever having used their coverage. There are also those who give one-star ratings if their claims are denied simply because they didn't disclose their pre-existing conditions. Other complaints are often caused by misunderstandings or unclear coverage information.
Having said that, is anyone really in a position to judge the quality of an insurance company?
Instead, it's better to read through the policy before signing on the line. It's time consuming, sure, but it's probably more informative than reading about that one digital nomad who had a skiing accident and whose claim went through smoothly.
Is Cigna Global Worth It?
Cigna Global, with its great customer service, global hospital network, and the ability to find direct billing anywhere in the world, is a great option for anyone willing to spend a bit more money, as long as the applicant is healthy when applying for any of the plans.
Anyone with pre-existing conditions may want to check with other insurance providers.
Coverage for pre-existing conditions aside, Cigna's unique insurance plan design allows customers to customize any of the plans to an extent that can't be found anywhere else in the market for individual policies. This allows anyone to find a good insurance solution based on one's individual needs.
While there are plenty of healthcare providers for expats, Cigna Global is, without a doubt, a top contender for the best expat insurance.
However, Cigna's premium-level services are definitely reflected in its premium price point, too. If you want to purchase Cigna Global, you can use this link to get a personalized quote directly from Cigna Global. Then, you can talk to them or ask them specific questions you may have and proceed with the purchase directly.
Cigna Global Vs. Other Expat Health Insurance Plans
Cigna Global is just a drop in the bucket when it comes to the world of expat health insurance plans. So, if you're unsure of whether this provider is for you, you have many other options. Here is how Cigna compares to some of the other top expat health insurance providers on the market.
Check out our full article comparing various expat health providers for more on this.
William Russell
Cigna Global and William Russell are both popular healthcare providers for expats. Cigna and William Russell have similar benefits, with global coverage, 24/7 customer support, and a range of coverage options, but there are some key differences to consider.
Cigna Global has a more extensive network of healthcare providers and offers more flexibility in coverage options, including the ability to tailor policies to individual needs with modules and add-ons. Cigna also provides the option to be covered in the U.S., but William Russell only provides cover up to 90 days maximum in the U.S., including for citizens.
Cigna also offers a mobile app for managing healthcare while on the go. On the other hand, William Russell is more expensive in general compared to Cigna and offers a broader range of health insurance options, including options for individuals, families, and businesses. William Russell also comes with a higher range of coverage with a minimum of US$1.5 million.
GeoBlue
GeoBlue Expat Insurance is one of the most reputable healthcare providers for expats, with plans for expats of various nationalities living around the world.
Compared to Cigna, GeoBlue is less customizable and more expensive. GeoBlue offers unlimited coverage and a wide variety of care options, but since you can't customize the plan, you're stuck paying for all benefits – even if you don't need them.
GeoBlue provides custom plans for citizens of the United States, Canada, Japan, Germany, and Brazil who are living abroad.
The plan also specializes in insurance for foreigners living in the U.S. and U.S. citizens living abroad, so if you fall into this category, GeoBlue and Cigna Global are comparable. However, Cigna has more options for expats from other nationalities.
IMG Global
IMG Global is another major healthcare provider for expats around the world. The plan is more affordable than the others already mentioned and comes with several customization options.
One major difference between Cigna Global and IMG are their annual limits. Cigna provides annual maximum coverage limits starting at US$500,000; IMG Global provides lifetime coverage limits ranging from US$1,000,000 to US$8,000,000.
You may be attracted to the idea of having lifetime limits. However, it's not always beneficial.
Most of the time, you'll only need those higher limits provided by IMG if you develop a major disease. And after you use it up, you'll have to pay for the rest of your medical costs out of pocket. Also, you won't be able to change insurance companies because you now have a pre-existing condition that no provider will cover you for.
On the flip side, you'll rarely – if ever – exceed Cigna's yearly limits, even at the US$1,000,000 mark. Cigna has more extensive coverage for maternity care, newborns, senior citizens, dental, vision, mental health, and more, too. So, if you want a comprehensive health insurance plan, Cigna Global is better. If you're on a budget, IMG Global is a good second option.