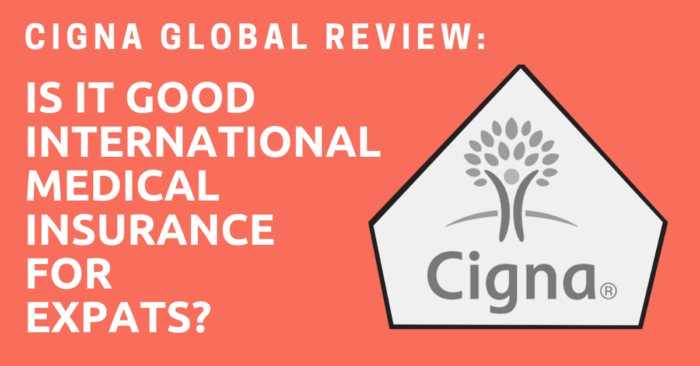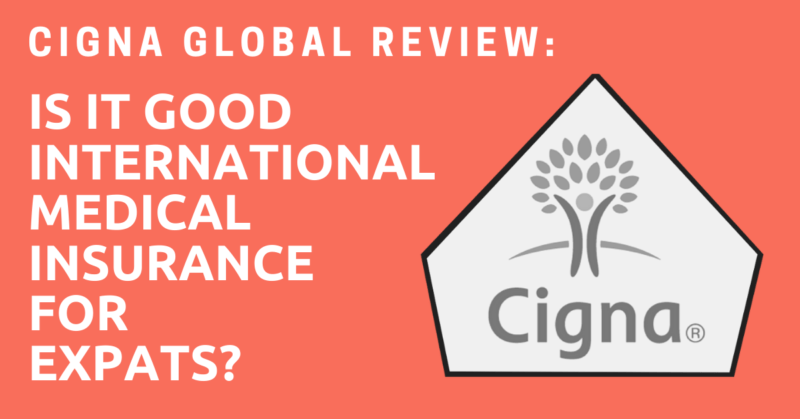 Cigna is one of the most well-known insurance companies in the world.
Although their international health insurance plans for expats might be more expensive than other plans you would find on the market, they are comprehensive.
In addition, Cigna has very good customer service. Their platform is also user-friendly.
Generally speaking, Cigna is a good option for those who are willing to spend more money for better service.
If you want to find out more, read on.
This article will take approximately 14 minutes to read. Don't have the time right now? No worries. You can email the ad-free version of the article to yourself and read it later!
Company Introduction – Background
Cigna Global is a US-based medical insurance company specializing in Expat medical insurance. The flexibility of their tailor-made individual medical insurance plans is one of the things that makes Cigna unique among other providers of international medical insurance.
Together with Cigna's global hospital provider network, their insurance plans provide an all-in one service solution for anyone looking for great service and comprehensive coverage.
What Does Cigna Global Have to Offer
As a specialist in international medical insurance, Cigna Global only offers medical insurance solutions, for individuals, families, and groups. For other types of insurance, you may have to check out other insurance providers. Cigna's medical insurance for individuals and families offers 3 different product lines – Silver, Gold and Platinum.
All levels are based on Inpatient / Hospitalization & Day-patient coverage (standard benefits) and can be enhanced by adding optional Outpatient, Health & Wellbeing, Vision & Dental, and Medical Evacuation & Repatriation benefits.
Evacuation and Repatriation benefits are not included under Cigna's standard base policy, unlike most other insurers. In addition, Maternity benefits are included under the standard base level Gold and Platinum plans, but are not available for the Silver plan.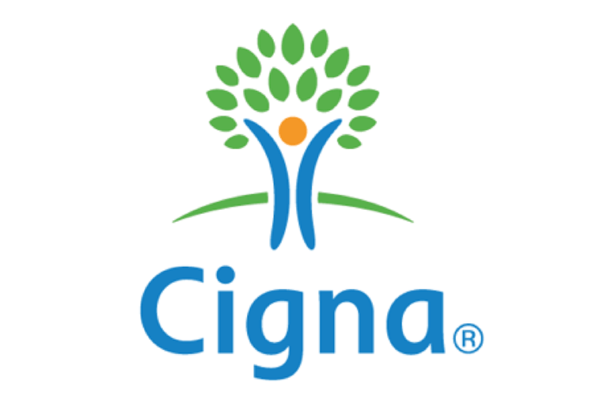 For any woman looking for a comprehensive hospitalization-only medical insurance plan, including childbirth benefits, the Gold and Platinum Inpatient-only base plans might be one of the best options in the market, as they include routine delivery benefits and coverage for complications.
Silver – Inpatient Standard Plan
The overall annual plan limit under the Silver plan option is USD 1 million and includes a variety of essential benefits which should be covered under any reasonable basic hospitalization & day-patient medical insurance plan.
The standard benefits cover Hospital charges including medication, Intensive care, Cancer care, Day-surgeries, Surgeons & Specialists, Transplantations, Ambulance service and Inpatient emergency dental treatments in full, up to the annual overall limit.
However, the Silver plan only covers Semi-Private rooms in case of hospitalization, and has some limitations for benefits, such as Advanced Imaging (MRI, CT scans), Physio- & Complementary therapies, Home nursing, Rehabilitation ,as well as mental health conditions, which should be taken into account when considering the Silver plan.
Outpatient
The Silver Outpatient plan covers non hospitalisation or day-patient treatments up to an overall annual limit of USD 10,000, and includes coverage for General practitioner & specialist consultations, Prescribed medication, Diagnostic tests, Physio- & other alternative therapies, Vaccinations, Well-child tests & Immunisations and annual eye & hearing tests, as well as Dental treatments caused by accidents.
However, all benefits have sub-limits, which should be taken into account before signing up.
Health & Wellbeing
In addition to the tests allowance for eyes and ears under the Outpatient plan, the Silver – Health & Wellbeing optional plan provides coverage for adult routine annual physical check-ups of up to $225.
Also, women's check-ups as well as check-ups for certain cancer types are covered up to $225, if over a certain age. Moreover, Cigna also provides a Life management assistance program and an online health education, health assessment and web-based coaching program under the Health & Wellbeing plan.
Vision & Dental
The optional Silver – Vision & Dental plan has an annual overall limit of $255 for Vision and $1,250 for Dental benefits. The Vision benefits include a $150 allowance for prescribed lenses and glasses, including sunglasses.
The dental benefits can be used for preventative dental like routine examination and cleaning, but also Major – & Orthodontic treatments. However, co-payments apply under dental benefits:
Preventative treatments = zero copays (fully covered by Cigna)
Routine treatments = 20% copays (80% covered by Cigna)
Major treatments = 30% copays (70% covered by Cigna)
Orthodontic = 60% copays (40% covered by Cigna)
Gold – Inpatient Standard Plan
Similar to the Silver plan, Gold covers many essential benefits, and allows private rooms instead of semi-private. In addition, the annual overall limit is much higher and provides coverage of up to USD 2 million and includes maternity benefits.
For certain benefits, sub-limits apply similarly to the Silver standard plan, but the limits are generally higher, which makes the Gold plan a much better medical insurance plan overall.
Outpatient
The Gold Outpatient plan has an overall annual limit of USD 25,000, with similar benefits and sub-limits to the Silver plan, although the sub-limits are much higher for the benefits mentioned under the Silver Outpatient section. In addition, the Gold Outpatient plan includes benefits for pre- and postnatal maternity care.
Health & Wellbeing
The Gold – Health & Wellbeing optional plan has the same benefits as the Silver plan, but with a higher annual limit of $450. This allows better and more comprehensive annual routine check-ups as the Silver plan limit is quite low for most areas in the world.
Vision & Dental
This is similar to the Silver – Vision & Dental plan, but with higher limits for Vision, up to $355, and for Dental, up to $2,500. However, the co-payments are more customer friendly:
Preventative treatments = zero copays (fully covered by Cigna)
Routine treatments = 10% copays (90% covered by Cigna)
Major treatments = 20% copays (80% covered by Cigna)
Orthodontic = 50% copays (50% covered by Cigna)
Platinum – Inpatient Standard Plan
The top Platinum plan provides unlimited coverage, which is unique among international medical insurance providers for Expats. The maternity benefits, however, are limited to USD 14,000 (complications up to $28,000). Other than that basically everything is covered in full.
Outpatient
For the Platinum – Outpatient plan, basically all benefits are covered in full as well, except pre- & postnatal maternity benefits, which are limited to $7,000 per year. Also, there is no annual overall Outpatient limit – it is unlimited as well!

Health & Wellbeing
The Platinum – Health & Wellbeing plan covers all necessary women's check-ups and cancer check-ups in full. Routine medical check-ups are limited to $600 a year, but that is a sufficient amount for most comprehensive check-ups anywhere in the world.
Vision & Dental
The limit for lenses and glasses under the Platinum Vision & Dental plan are $310 per year; vision examinations however are covered in full.
For Dental benefits, an annual overall limit of $5,500 applies and no copays are necessary for normal dental procedures, except orthodontics where 50% needs to be paid out of pocket by the client.
Medical Evacuation & Repatriation
Worldwide Evacuation & Repatriation benefits are not included under Cigna's standard plans and need to be added optionally. Most international insurance providers include such benefits as part of their essential benefits, because it's a very important component towards a comprehensive medical insurance plan.
Especially for Expats living abroad in more remote areas or not fully developed countries with less sufficient equipped hospitals, a good Evacuation & Repatriation plan is a must-have.
Cigna's optional Evacuation & Repatriation plan covers medically necessary evacuations & repatriations fully within the annual overall limit of the chosen standard plan (Silver, Gold, or Platinum), and covers repatriation of mortal remains and travel costs of an accompanying person also.
Area of Coverage
For all of Cigna's plans, two areas of coverage can be chosen between Worldwide including US and Worldwide excluding US. If worldwide excluding US has been chosen as the area of coverage, then Cigna still provides emergency coverage for temporary trips of a maximum of 3 weeks per trip and a maximum of 60 days per period while travelling to the US.
The worldwide including US area of coverage does not limit coverage in the US, and treatments are covered within the limits of the particular plan and not only limited to emergency coverage.
Deductibles & Cost-Share Options
Cigna Global gives a great variety of Copay and annual Deductible choices, so that any client can reduce their insurance premiums. The great and unique feature is that all copays and deductibles can be combined with each other in order to find the best possible solution for a client.
Deductible options under Standard plans
$375 / 750 / 1,500 / 3,000 / 7,500 / 10,000
Copay options under Standard plans
10% / 20% / 30%
up to an out of pocket maximum of $2,000 or $5,000 per year
Deductible options under Outpatient plans
$150 / 500 / 1,000 / 1,500
Copay options under Outpatient plans
10% / 20% / 30%
up to an out of pocket maximum of $3,000 per year
This means, it is possible for example to choose an Inpatient annual deductible of $1,500 with an additional 10% Copay option, with up to $5,000 out of pocket maximum under the Standard plan.
And under the Outpatient plan, a $150 annual deductible with an 30% copay option with an out of pocket maximum of $3,000 could be a good choice to reduce the insurance premiums and still be insured against high costs, because the out of pocket maximums will prevent bankruptcy caused by medical bills.

Pre-existing Conditions & Underwriting
Cigna Global's medical insurance plans are fully underwritten and unfortunately Cigna does not provide any other option such as Moratorium terms.
Even though Cigna says in their brochures that pre-existing conditions can be covered with a premium loading, the truth is they will exclude pre-existing conditions and do not even consider the possibility of providing an option for any new applicants with existing conditions – no matter what they are.
Cigna Global is one of the most strict insurance providers when it comes to pre-existing conditions.
Premiums / Costs / Contract Renewal
All Cigna plans are annual contracts with guaranteed renewability and without age limits, as long as the client lives somewhere abroad. This does not mean however, that the rates stay the same.
In fact, Cigna's insurance premiums are not cheap in comparison to other available international medical insurance with similar benefits. Even under the entry-level Silver plan option, insurance premiums can be pretty steep depending on the area of coverage.
On the other hand, Cigna does offer very competitive rates in certain regions in the world (for anyone residing in Europe, for example) and it is worth checking out Cigna's options. Moreover, for any US citizen living abroad, but seeking full elective US coverage, Cigna usually offers the best rates when it comes to including the US, not only for emergencies.
Customer Service
Cigna Global has a secure online customer area, where all policy documents are listed, including the insurance certificate and claim forms. Within the member portal a customer can check out all policy documents, policy rules & coverage, submit claims online, and search for a healthcare provider (clinic, hospital or any doctor) nearby.
In addition, Cigna has a global multi-language assistance & support customer service team reachable 24 / 7 through their helpline. The Customer Care Team can be contacted through:
Call: +44 (0) 1475 788 182
Email: [email protected]
If you are unsure about a treatment, or if the costs will be covered, it is always advisable to contact Cigna's customer service team first. They may even be able to arrange an appointment for you.
In any emergency situation, Cigna should be informed as soon as possible (within 48 hours) through the hospital, the customer, or a representative of the customer.
Claims Procedures & Direct Billing Solutions for In- and Outpatient
Claims can be uploaded into Cigna's online member area easily and will be processed within 5 working days if all necessary documents are completed. Most simple Outpatient treatments do not require prior approval by Cigna.
However, for some more expensive treatments such as diagnostic tests or scans like MRIs, a pre-approval from Cigna is required. This also applies for any Inpatient treatments.
In cases where Cigna was not informed prior to the treatment, but an approval was required, then Cigna may only cover 80% for treatments outside the US, or 50% for treatments inside the US.
Therefore, it is always advisable to contact Cigna first and check whether or not Cigna covers the treatment (unless it is an emergency situation in which case Cigna needs to be informed within 48 hours).
Not only can you confirm the treatment will be covered by reaching out to the customer service team, but Cigna will also be able to find the right provider close by, and can arrange direct billing in most cases – regardless of whether you are receiving Inpatient or Outpatient treatment.
Cigna has a global partnership hospital network of over 1 million facilities, and therefore is able to arrange direct billing in most cases. Even if a hospital / clinic is not within Cigna's network list, direct billing can be arranged as long as Cigna has issued a guarantee of payment prior to the treatment, or if the facility agrees that Cigna pays directly.
In the event a customer has to pay upfront, Cigna will usually settle the reimbursement to a customer as soon as all claim documents have been submitted to Cigna's claim team.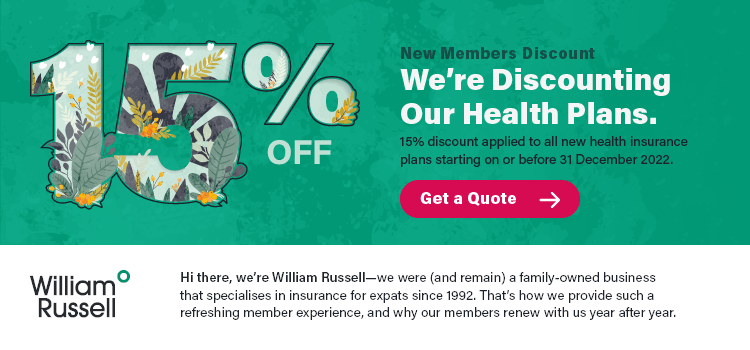 Advertisement
How to Apply?
It's easy to apply – you can either speak with a broker of your choice, who can explain the differences between Silver, Gold, and Platinum plans (as well as all deductible & cost-share options).
Or you can go to Cigna Official website and apply directly (prices are the same – therefore anyone interested may speak to a broker first and get proper advice).
Online Reviews
Cigna Global is a worldwide and well-known medical insurance provider, and anyone looking for reviews will find plenty. Most reviews are positive, but some can be negative. As most things in life, not everything goes as expected, and sometimes expectations don't fit with reality, so people sometimes complain.
This can be about coverage expectations, a claim in terms of cost-sharing and deductibles, or direct settlement arrangements, and is often caused by misunderstandings and unclear coverage information.
Therefore, make sure to understand what you are covered for before purchasing any medical insurance plan, whether through Cigna or someone else.
Now, on to You
Cigna Global, with it's great customer service, global hospital network, and the ability to find direct billing anywhere in the world, is a great option for anyone willing to spend a bit more money, as long as the applicant is healthy when applying for any of the plans.
Anyone with pre-existing conditions may want to check with other insurance providers.
Coverage for pre-existing conditions aside, Cigna's unique insurance plan design allows customers to customize any of the plans to an extent which can't be found anywhere else in the market for individual policies. This allows anyone to find a good insurance solution based on one's individual needs.