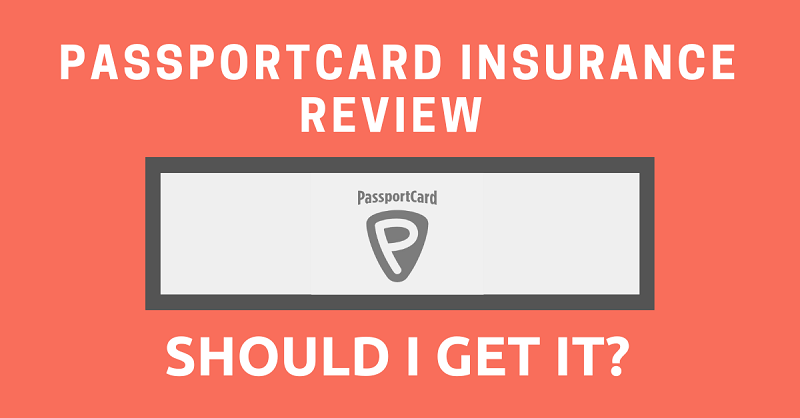 Have you heard of PassportCard? It's a new form of international health insurance for expats that functions like a debit card.
Instead of receiving an insurance card, as provided by most insurance providers, you receive a PassportCard, which operates much like a debit card. You can use it to pay directly at hospitals that accept Mastercard.
This means there's no need to pay out of pocket or make a claim later. Additionally, the card isn't restricted to in-patient treatment; it also covers out-patient treatment.
In this article, we'll review the PassportCard international health insurance plans for expats, covering aspects such as coverage, the claim procedure, and usage. This information will help you decide if it's the right insurance for you.
This article will take approximately 8 minutes to read. Don't have the time right now? No worries. You can email the ad-free version of the article to yourself and read it later!
What is PassportCard?
Originally known as David Shield, PassportCard has been a part of the international health insurance market for some time. It's a subsidiary of the David Shield group, an insurance provider based in Israel.
Now, they've expanded their operations and have branches in countries such as Germany, Cyprus, Australia, Israel, and the UK.
PassportCard collaborates with several prominent health insurance providers, like Allianz, to offer international health insurance plans for expats.
To differentiate their claim procedure from other expat health insurance providers, they've also partnered with MasterCard, the world's second-largest credit card company.
Once your application is accepted, you receive a PassportCard that allows you to pay directly at any hospital worldwide that accepts MasterCard.
Two primary PassportCard entities offer international health insurance plans under the same moniker: PassportCard Cyprus and PassportCard Germany.
Although both entities fall under the David Shield group, their international health insurance plans vary.
For this review, our focus is on the plans provided by PassportCard Germany, as we believe they are superior to those of PassportCard Cyprus.
How Does It Work?
The operation of PassportCard international health insurance plans mirrors that of other international health insurance options. You're given an annual limit, and expenses under that limit are fully covered.
There are also specific limits for treatments such as maternity, dental, scans, and acupuncture.
However, what sets PassportCard apart is its claim process.
To utilize your insurance, you must first contact their support, available 24/7 via phone or the PassportCard app.
Following this, they'll transfer funds to your PassportCard, which you can then use to pay directly at any hospital, provided they accept MasterCard.
In essence, if a hospital accepts credit cards, you should be able to pay using your PassportCard.
Key Benefits
Here are the principal advantages of PassportCard:
Affordable plans, particularly for expats in SEA, Asia, and Africa (excluding high-cost countries like China, Hong Kong, and Singapore).
A straightforward claim process that lets you use your PassportCard for direct hospital payments.
Comprehensive plans that encompass all expat needs, including medical evacuation and out-patient coverage.
The simplicity of plan selection with only three primary plans and a singular optional coverage.
Comprehensive maternity coverage that ranks among the best available options.
Full coverage for cancer.
Inclusion of bone marrow and organ transplant coverage, capped at $150,000 for a lifetime.
Plan and Coverage
Choosing a plan from PassportCard is straightforward, with just three primary plans available: Compact, Comfort, and Premium.
Each plan provides essential coverage for expats, such as:
In-patient coverage
Out-patient coverage
Cancer treatment
Medical evacuation and repatriation
24/7 support
Below is a quick comparison of the major differences between the plans:
Compact: Ideal for those on a budget with $1,500,000 coverage. It includes basic health insurance with outpatient coverage. Drawbacks include only a semi-private room for in-patient treatment, no coverage for critical illness or outpatient treatment of chronic conditions (unsuitable for those 40 years and older), and no maternity coverage.
Comfort: A mid-range plan with $3,500,000 coverage. It covers critical illness and chronic condition treatment but still offers only a semi-private room.
Premium: The top-tier plan offering $5,000,000 in coverage and a private room for in-patient treatment.
Here's a brief overview of the key coverage of each PassportCard plan:
| Coverage | Comfort | Compact | Premium |
| --- | --- | --- | --- |
| Annual Limit | $1,000,000 | $3,500,000 | $5,000,000 |
| In-patient Treatment | Covered | Covered | Covered |
| Room for In-patient Treatment | Semi-private | Semi-private | Private |
| Medical Treatment | Covered | Covered | Covered |
| Doctor's and Surgery Fee | Covered | Covered | Covered |
| Medical Scans | Covered | Covered | Covered |
| Cancer Treatment | Covered | Covered | Covered |
| Evacuation and Repatriation | Covered | Covered | Covered |
| Long-term Care | 20 days | 40 days | 60 days |
| Dialysis | Not covered | Covered | Covered |
| Organ Transplants | 150,000 EUR per lifetime | 250,000 EUR per lifetime | Covered |
| Out-patient Treatment | Covered | Covered | Covered |
| Office Visit | Up to $2,000 | Covered | Covered |
| Critical Illness Following In-patient Treatment | Not covered | Covered | Covered |
| Maintenance of Chronic Conditions | Not covered | Covered | Covered |
| Scans | Up to $1,000 | Covered | Covered |
| Maternity Care | Not covered | Up to $10,000 per baby delivery | Up to $25,000 per baby delivery |
Optional Coverage
There's only one optional coverage for the PassportCard plan: dental coverage.
There are two available options.
Option 1 primarily covers routine dental treatment, including two annual check-ups, x-rays, and tooth fillings. It provides $2,000 of coverage annually, with the first year limited to $1,000.
Option 2 offers more extensive coverage, encompassing various dental treatments such as surgeries, extractions, cleanings, and even dental implants. However, be aware of a 20% copay for this coverage, with an annual limit of $5,000. The first year has a $2,500 limit.
Area of Coverage
When purchasing health insurance plans from PassportCard, your country of residence determines your zone.
There are five zones in total. Zones 1 to 3 offer worldwide coverage excluding the United States. Zone 4 primarily covers Asia and Africa, while Zone 5 covers only Southeast Asia.
Obtaining worldwide coverage for Zones 4 and 5 is possible, but premiums will rise, aligning with those in Zone 3.
As of 2023, PassportCard is a favorable choice for those residing in Zones 4 or 5, offering competitive health insurance plans at affordable rates.
However, for residents in other zones, such as Europe, Mexico, or Costa Rica, other health insurance options might be more economical, as PassportCard's premiums can be higher in these regions.
An optional U.S. coverage is also available, but this can considerably hike up the premium. It's typically not recommended unless U.S. coverage is essential.
Worldwide Emergency Coverage
In the event of an emergency, you're covered worldwide, including in the United States, for a maximum of 60 days per trip.
Emergency coverage primarily encompasses accidents and severe illnesses requiring immediate treatment.
Maternity Coverage
Maternity coverage from PassportCard is available only for the Comfort and Premium plans.
It's notably comprehensive. Even with the Comfort plan, you receive up to $10,000 per birth, which generally surpasses what other insurance providers offer.
Furthermore, PassportCard covers complications during pregnancy and childbirth, as well as congenital conditions in newborns such as premature birth and birth defects.
Waiting Period
Certain coverages come with a 12-month waiting period, including in-patient mental treatment, psychotic treatment, speech therapy, and maternity coverage.
There's also a 6-month waiting period for dental coverage.
Deductible
Three deductible options are available: $1,000, $2,500, and $5,000.
You'll need to pay the deductible directly to the hospital, after which PassportCard will cover the remaining expenses.
Copay
The only copay available for PassportCard plans is the 20% copay for major dental treatments under optional dental coverage.
You're required to pay this 20% copay directly to the clinic. If not, PassportCard will deduct the copay amount directly from your credit card, which you provide during signup.
Claim Procedure
PassportCard's claim process stands out. Instead of an insurance card, you receive a debit card that you can use at any hospital or clinic that accepts MasterCard.
This feature is immensely convenient as you won't need to pay upfront for any medical treatment, including outpatient services, and then seek reimbursement, as long as the treatment falls within your health insurance plan's coverage.
However, before using your PassportCard, you must contact their support so they can load funds onto your card.
After making a payment, retain the receipt and send it to PassportCard only if they request it.
Cost
Like other health insurance plans, PassportCard's cost can vary significantly based on multiple factors such as age, coverage zone, deductible, plan type, and more.
As a rough estimate, a 35-year-old male expat living in Thailand might anticipate a monthly cost of around $250 for a Comfort plan with zero deductible.
For a precise quote tailored to your circumstances, you can complete this form.
Is PassportCard Worth It?
In our assessment, PassportCard presents an intriguing option for individuals residing in PassportCard's Zones 4 (Asia and Africa) and 5 (Southeast Asia).
It's reasonably priced and offers robust health coverage.
The claim procedure is also notably user-friendly, eliminating out-of-pocket expenses and allowing for effortless payment via a debit card swipe.
For those seeking maternity coverage, PassportCard ranks among the top choices in the market.
It's particularly suited for younger expats and families without chronic conditions. Those 40 years or older might find the Comfort plan unsuitable due to the lack of coverage for critical illnesses and the treatment of chronic conditions.
Please be advised that we are not insurance brokers.
If you're thinking about acquiring PassportCard, we strongly urge you to consult with a licensed insurance broker before making a decision. This will ensure you fully understand the coverage offered and the associated annual costs.
If you don't have a broker in mind, you can fill out this form to get in touch with one.