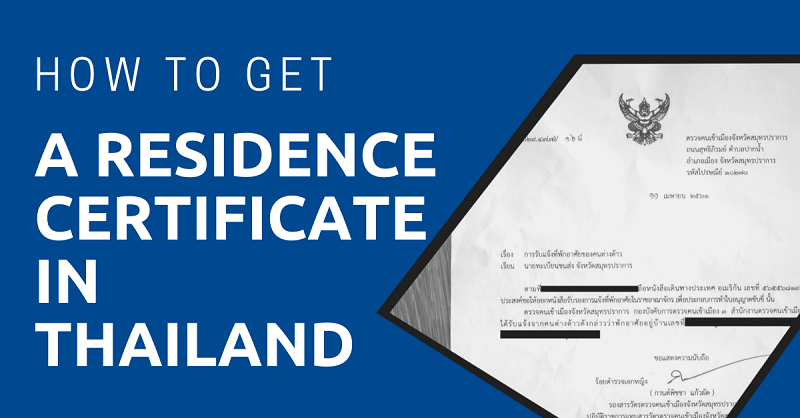 There I was, crammed in the same tiny photocopying room for the second time in just ten minutes. The young kid working behind the copier recognized me, reached out his hand, and again I handed him my passport.
"These two pages this time," I said. And he copied what I hoped would be the last of what the girl working at the information counter required from me. But dealing with immigration, especially in Samut Prakan where things tend to be much less organized, I wouldn't find out until I went back downstairs to hand in the rest of my documents for my Residence Certificate.
I made my way back downstairs and handed the rest of my copies to the girl working behind the information counter. As she looked through my paperwork, three Chinese university students came in to go through the same process I was going through.
They asked her where they should go to get their Residence Certificate too. And without hesitation, she uttered the same words she told me, "Copy your passport."
I knew the three university students would be making multiple trips like I did because of her vague answer. So I told the lady they wanted to do the same thing I was doing. And then she took one of the university student's passports and pointed to each page that they needed to copy.
This shouldn't come as a surprise, really. Spend any length of time in Thailand and you're bound to come across unhelpful immigration staff. Most of the time, although they are employed because of us, it seems they have little interest in actually helping us.
Though, there are those rare few who go out of their way to help us.
In this guide, I'm going to walk you through the process of applying for a Residence Certificate in Thailand so you don't spend most of your time running between the help counter and photocopier.
Although I went to the immigration office in Samut Prakan, it looks as if the process is the same no matter which immigration office you go to.
If you want to set up your life in Thailand hassle-free and save thousands of dollars, check out our premium subscription. Coming with over a hundred pieces of exclusive content, they show you how to get a job, start a business, manage your finances, and make Thailand your new home.
What is It?
A Residence Certificate is an official letter from the Thailand immigration office stating that you actually reside in the address you claim to live in.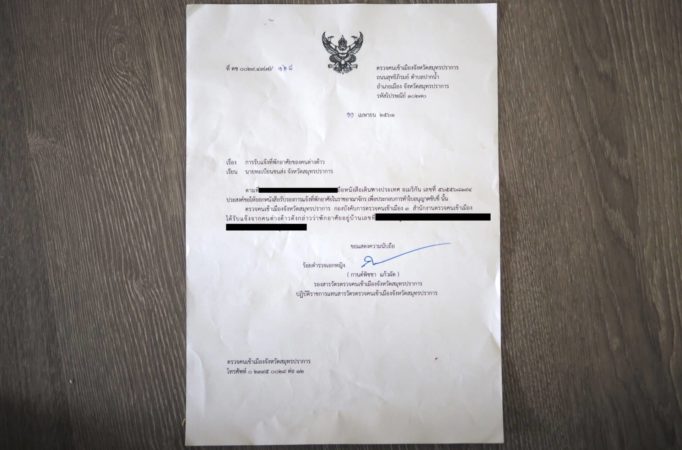 Why Do You Need It?
You'll need a Residence Certificate for many cases in Thailand. I got mine because I needed to change the address on my Thai driver's license. You may need to get one for a work permit, your visa, buying a car, opening a Thai bank account, or any other number of legal matters in Thailand.
Even with a Thailand Elite visa, you still need a Residence Certificate.
And don't forget, you need to apply for a new Residence Certificate each time someone asks for one. And they're only good for 30 days.
Application, Forms, and Documents
Before you apply for your Residence Certificate in Thailand, you'll need to make sure you have each of these documents on hand:
your passport
copy of your passport's photo page
copy of your visa (if applicable)
copy of your TM6 Departure Card
copy of your Receipt of Address Notification
copy of your lease/house book with your name and address
two passport-size photos
You should sign all copies in blue ink across the image, not on a blank part of the document. If you sign a blank part of the document someone could cut away your signature and use the rest of the document elsewhere.
If you don't have a copy of lease/house book with your name and address, you can ask it from a landlord with a signed copy of his/her ID card. You may also need to present a rental copy with your name in it.
Please note that each immigration office many require a different type of document.
Immigration Offices
I got my Residence Certificate from the immigration office in Samut Prakan. So I'll list the details of how I did it there first. Then I'll give you some more popular places around Thailand to get your certificate. If you don't live in any of these provinces, I left a link at the bottom of this section with the addresses to all the immigration offices in Thailand.
Samut Prakan
Since I recently moved into a townhouse from Bangkok to Samut Prakan, I applied for my Residence Certificate in Samut Prakan. Here's a Google Map's link to the location.
And here's the address:
Sutthi Phirom Alley, ตำบล ปากน้ำ Amphoe Mueang Samut Prakan, Chang Wat Samut Prakan 10270
You can take the BTS and get off at Samrong Station and take a taxi down the road. It shouldn't cost you more than 45 baht or take more than 5 minutes.
There is a parking lot if you plan on driving, but it gets crowded.
The office itself, which is nestled along the Chao Phraya River, doesn't look like much. In fact, it isn't. They don't even have air conditioning in the waiting area on the second floor. But they do have ice cream outside.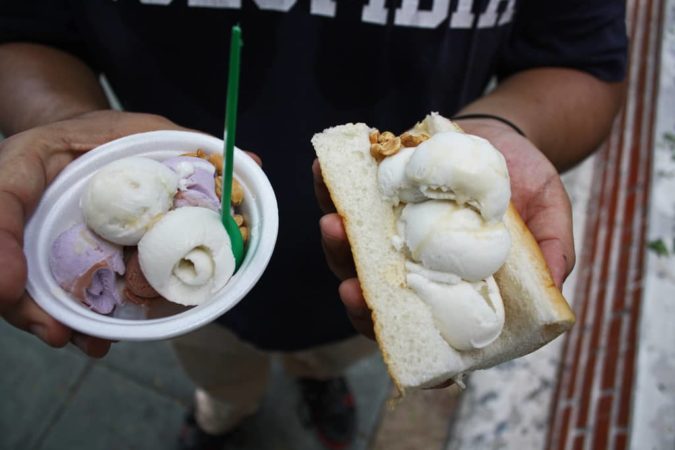 When you get to the immigration office, walk through the front door and go straight to the information desk, usually manned by an immigration employee and a volunteer. It's to the right of a staircase leading to the photocopy room.
That's the spot you want to go to.
Before applying, you'll have to pay 500 baht.
Bangkok
If you're a resident of Bangkok, you'll need to get your Residence Certificate at the Division 1 Immigration Office on Chaengwathtana Road. The certificate will cost you 200 baht in Bangkok. On the first floor of the immigration office, you'll find photo and copy centers if you need them.
120 Thanon Chaeng Watthana, Khwaeng Thung Song Hong, Khet Lak Si, Krung Thep Maha Nakhon 10210
If you apply for a Residence Certificate at Division 1, keep in mind you can't get the certificate the same day. They'll give you a slip with a number on it and mail you the certificate within two weeks. And if you don't receive the certificate within two weeks, you can go back and pick it up with number on the slip that they give you.
Also, Division 1 only issues Resident Certificates to visa holders who have to report to immigration every 90 days. If you have a 30-day visa exempt stamp or a 60-day tourist visa, you must go to your embassy to get the Resident Certificate.
Chiang Mai
If you want to get your residence certificate in Chiang Mai, you'll have to go to the Chiang Mai Immigration Office, located next to Chiang Mai International airport. Residence Certificates here are free. As of November 2018, copy and photo services are NOT available inside the immigration office.
71 Moo 3Sanambin RoadSuthep, Chiang Mai, Chiang Mai 50200
Chonburi
If you live in Chonburi, you'll have to go to the immigration office in Jomtien. Once there, you'll find the help desk just to the left when you walk in. Residence Certificates here are 300 baht. But since you'll need photos and copies, plan on spending more than that.
75/265 12 Jomtien Road 5 Tambon Nongprue, Amphoe Bang Lamung, Chang Wat Chon Buri 20150

If you want to apply for your Residence Certificate in Thailand, but you're in another province, contact the immigration office in your province or closest to your province.
Application Process
As for the application process, it really is one of the easiest things to do as an expat in Thailand. Just hand over all the documents listed above. The officer working at the information counter will make sure you have everything.
And if you do, he/she'll tell you to come back in an hour to pick up your Thailand Residence Certificate.
If you don't, he or she'll tell you to go up and down the stairs making photocopies until you have everything you need. So it's best to ask up front which pages you needs to copy.
And that's it. No queue numbers. No lines. No hassles. No translating documents from English to Thai or the other way around.
You'll then have your Residence Certificate, which is good for 30 days of the issued date.