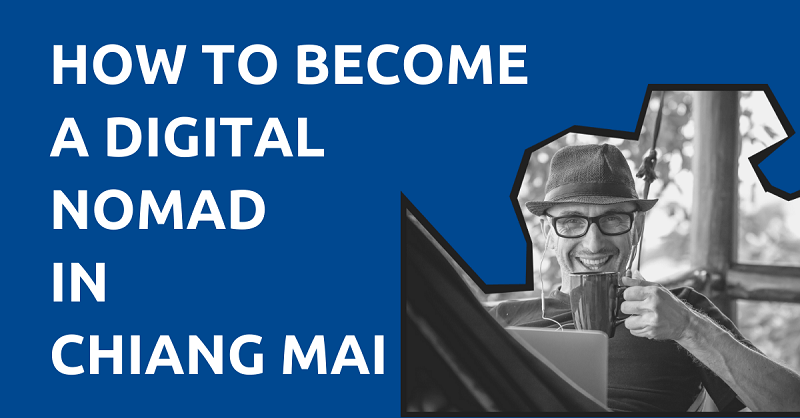 Money was tight. My business was languishing. My personal life was in the dumper and I was not a happy man. One of my best friends said only one thing to me, "Come to Chiang Mai."
His words changed my life. Traveling to a foreign land seemed like a stretch, both financially and emotionally, but having lost it all, I had nothing else to lose.
In this guide on how to become a digital nomad in Chiang Mai, I'll outline a few of the benefits, give you some practical advice, and even give you a blueprint for getting your toe in the water.
Why Chiang Mai?
Chiang Mai is a great place to spend a vacation. We know that much. But Chiang Mai Buddy lists 25 reasons why Chiang Mai makes the perfect place for digital nomads. But what it boils down to is weather, atmosphere, and community.
Aside from January through April, which is the crop burning season in Chiang Mai, the weather tends to be much cooler than the weather in Central and Southern Thailand.
On top of the weather, Chiang Mai is just an all-around great place to live. There are lest tourist traps and there is more nature than what's found in Bangkok or Phuket.
And lastly, the digital nomad community in Chiang Mai is strong. There are networking events many times of the year that feature speakers from all over the world and within Thailand who spoke about a wide variety of topics related to the digital nomad lifestyle.
Financial Benefits
Many digital nomads choose to set up shop in Chiang Mai because their money goes some much further here than it does in the West. Consider health costs, for instance.
Last year I had two elective procedures done here. The first was a full eye exam. I went to one of the best eye clinics in the country, Rutnin Eye Hospital (the same one the queen of Thailand goes to). In addition to a glaucoma screening, pink eye medication, and an exam by a physician, I was greeted by four receptionists and didn't wait more than two minutes. I was out in under an hour. The total cost? $32.
Your dollar simply goes further here. These financial benefits translate into a much cheaper cost of living, which I'll discuss in greater detail in another section.
Challenges
Being a digital nomad in Chiang Mai does present some challenges. But if you could overcome most of the challenges below, you should excel here in the kingdom.
Culture
Learning all the customs of Thailand can take a while. It's important to learn what is permissible and what is downright offensive. For example, in Thailand you must remove your footwear when going into temples, residences, and some businesses.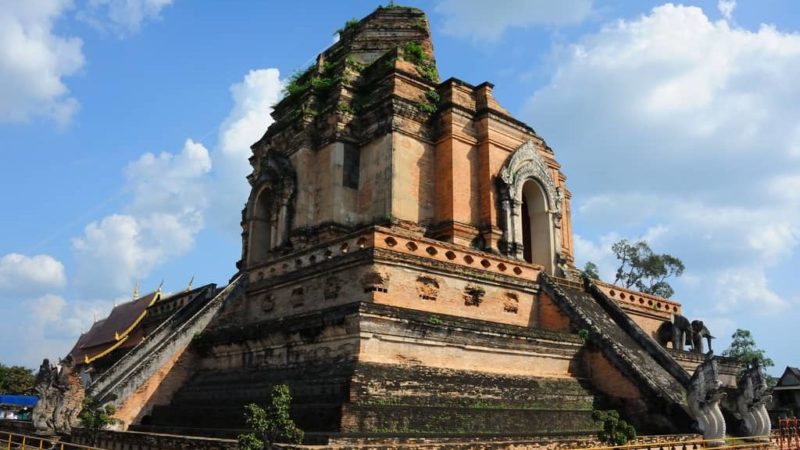 With interpersonal relations, a majority of people are less straightforward compared to those from the West. It's not what's said in Thailand, but often what's not said. So flexibility is not only important, but critical to managing relationships in Thailand.
Respect is another important part of Thai society, especially when it comes elders, the royal family, and religion.
Beyond culture, a common challenge is language.
Language
On one hand, most Thai people don't have a solid command of the English language. You'll find yourself speaking in short, clipped sentences that most people can understand. Google Translate and other language apps are a big benefit here.
On the other hand, technically speaking, the English language has a quite a few extra (and often unnecessary phrases. When you state briefly and directly what you want to communicate, it forces you to get to the point. And that's a good thing.
For example, "Where is the toilet?" can easily be stated as "Toilet?"
But if you plan on staying in Thailand long term, learning the language is a must. We've dedicated an in-depth guide to learning Thai, so be sure to check that out.
Visas
One of the more important topics of becoming a digital nomad is your visa.
For the majority of travelers, you can enter the kingdom without a visa. As of this writing, citizens from 57 counties are allowed to visit Thailand without a visa from anywhere between 14 and 90 days. So check to see how many days you qualify for.
Determining whether your work requires you to obtain a work visa or not is still a gray area to this day. But the general rule of thumb is, as long as you don't take away jobs from the locals, the authorities simply won't go after you.
In fact, they consider digital nomads in Thailand low-risk and are not their biggest area of concern. Especially if your job is something you can do in your own country; it doesn't affect the image and security of Thailand; and it doesn't take jobs away from Thais.
I don't recommend getting short-term visas and doing border runs as that poses greater risk. Multiple entries done in short intervals give Thai authorities a reason to believe you're working in Thailand with a tourist visa.
The Thailand Elite Visa is a good visa for digital nomads in Thailand. It's legit. Anyone can get it as long as they can afford the application fee.
If you elect to do things by the book, consider getting a business visa. I have a Thai business partner who is helping me with my business visa. But if you don't have one, there's a wonderful service provided by Iglu, which hires digital nomads and then helps them get the right visa and work permit. But this option is more expensive than the Elite Visa.
You can also check out a new type of visa under the Smart Visa Program. It's designed to attract highly skilled investors and workers. The visas are offered to foreign experts, entrepreneurs, investors, and business owners and allow you to stay in Thailand for up to four years.
The limitation of the Smart Visa Program is that you still need to be employed by a company in Thailand. Otherwise, you need to set up your own business here.
Income
By far, the biggest challenge you'll most likely face as a digital nomad in Chiang Mai is earning a steady income. Unless you have set up your business to earn a steady $5,000 to $10,000 or more per month, and have a disciplined team to help you, distractions and the solo-preneur lifestyle can be a challenge.
But, for many people, the digital nomad lifestyle is the way to go. In order to build my business, I train my clients to work with me via Skype. Deriving a consistent income takes work—a lot of work.
If you are easily distracted by the bright lights of the city, elephant sanctuaries, Buddhist temples, or the crazy nightlife, you must discipline yourself to set up your work environment to avoid those things (at least most of the time).
You'll find hundreds of expats drinking away their pensions in Thailand. If you don't want to become a Facebook Meme, make daily appointments with yourself for your health, fitness, and business.
With no boss to hold you accountable, it's easy to procrastinate.
Flights
Getting to Chiang Mai from Suvarnabhumi Airport, or BKK, is quite easy. It's a major hub for Southeast Asia and nearly every major airline flies into and out of BKK.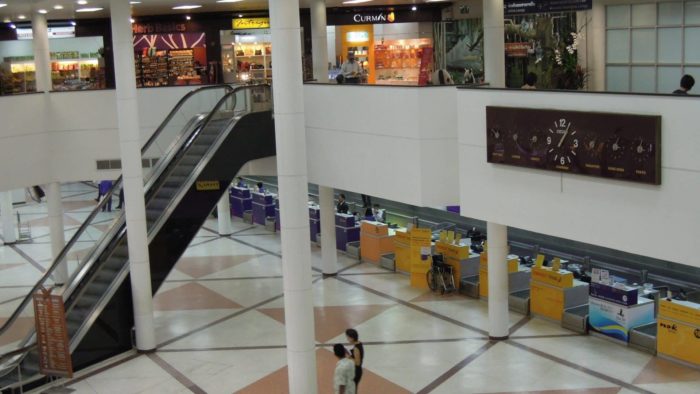 You can go from Bangkok to Chiang Mai from Don Mueang, as well. This airport was the original main airport for decades until Suvarnabhumi was built. Don Mueang, or DMK, has recently gone through major renovations and is pretty much up to modern standards but not as busy as BKK.
While there are hundreds of flights from North American, Europe, and Asia to Thailand, getting to the kingdom from North America or Western Europe usually comes with a layover.
I've traveled here over fifteen times, and most of the time, a flight from Chicago to Thailand includes a layover in Japan, Korea, or China. If you go east to west, a layover in Doha or Frankfurt is more likely.
As a digital nomad, I traditionally book one-way flights because I don't plan on leaving! Even though I am not a permanent resident of Thailand (we'll cover that in a bit, too), a 60-day Visa will get you pretty well immersed. Booking a one-way flight gives me maximum flexibility.
But most airlines will want to see your return ticket before allowing you to board a flight into the country. In addition, when getting a Visa from the Thai embassy, they'll need to see onward travel for you as well.
Once you are in Thailand, you'll find local flights to Chiang Mai to be cheaper than a bus ticket in the West. I am amazed I can fly from Bangkok to Chiang Mai (equivalent of flying Chicago to NYC) for under $50 one-way.
Cost of Living
Startup budget to get established in Chiang Mai would have to be at least $5,000. That's to pay an advance and a few months rent when renting an apartment in Chiang Mai, a motorbike (to save on transportation costs), and the cost of some household items. Set aside $1,500 to cover emergency medical costs.
After that, you could probably live on $800 a month after you've covered the startup expenses and set aside some emergency funds. As you get regular income, increasing this to $1,200 still wouldn't hurt and you'd be living pretty comfortably if you're alone.
There are varying degrees of lifestyle, of course. On my first trip here, my buddy set me up at a five-star hotel suite. It was easily 1,000-square feet and is technically a six-star hotel by Western standards. It only costed $85 per night.
Now, as I live here six to eight months out of the year, I am more comfortable with getting an Airbnb or using some of the lesser known hotels that are massively abundant. I rarely spend more than $45 a night though. But you could find a place to rent for a lot cheaper.
Internet
A 500mbps connection in Thailand costs around $20 a month, while this same subscription would cost three times the amount in the US. But the fact that you are a digital nomad means you often have free internet connection everywhere—in your accommodation, in the café where you're having coffee, and so on.
What's even more amazing is that Thailand's internet speed is the second fastest In ASEAN, just behind Singapore.
Food
In Chiang Mai, there is a wide range of the quality and low-priced food. You can easily have a decent meal for less than $2 at street-side restaurants that are quite literally an extension of the homeowner's kitchen. Or you can have a meal in the heart of Chiang Mai for $25 that would be easily $100 or more in the America.
Regardless of your appetite or wallet, you can eat for a lot less in Chiang Mai.
Housing
In the more expensive cities in the US, the average rent is $1,200 monthly, but in the more affordable places, expect to pay between $600 to $750 a month. Now, think of a modern two-bedroom apartment located in the city center of Chiang Mai. That will cost you $350 to $450 a month, sometimes including household items.
And average utilities? $85.
Where to Stay
Chiang Mai is a wonderful place for digital nomads to set up shop. Like most of the popular places in Thailand, it's an eclectic mix of ancient temples, traditions, and culture interwoven with new condos, hip bars, and happening restaurants. Although a separate guide can be written on all the sections of Chiang Mai (Yes–there are that many.), I've narrowed down three of the most popular spots for digital nomads.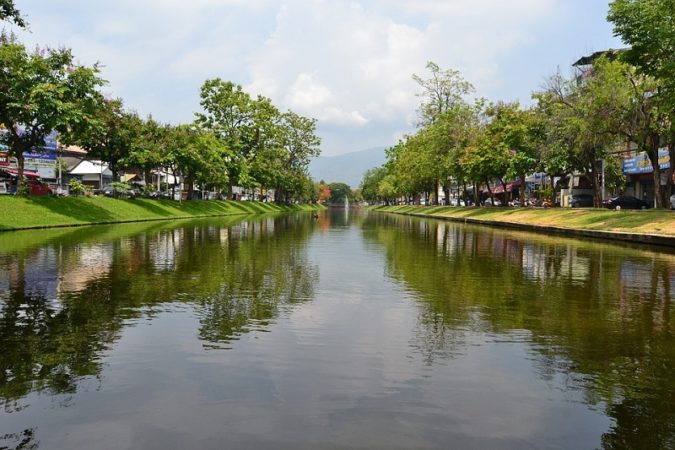 The Old City
Although The Old City might come up as a tourist attraction, it offers a lot of benefits for digital nomads who are just getting their feet wet in Thailand. You won't find many fancy places to rent. But the serviced apartments available in the area come at a cheap price. There's also lots of coffee shops. And being The Old City, you get a taste of Thai culture as well.
Nimmanhaemin
Nimmanhaemin is one of the trendier spots in Chiang Mai. And because of the number of cafes and restaurants and other attractions, it makes it one of the favorite places for digital nomads who want to make Chiang Mai there home. Nimmanhaemin has seen quite the boom in the last few years, so expect prices to be higher than other areas of Chiang Mai.
Santitham
Santitham is another great place for digital nomads who want to make Chiang Mai their home. Like Nimmanhaemin, Santitham is growing, and there are a number of places to rent for the new or just-starting-out digital nomad. On your downtime, there's no shortage of attractions to experience as well.
Renting Apartments
If you are just testing the waters before deciding to settle in Chiang Mai as a digital nomad, you can rent an Airbnb room instead of paying an advance for an apartment. There are clean, efficient, and cozy hotels you can snag for as little as $11 per night.
If you're already set on living in Chiang Mai, then you can look for a long-term lease. The easiest way to to search for rental properties is to use a website like hipflat. Hipflat makes it easy to search for rental properties based on your needs, like whether you want to rent a house or a condo, how many bedrooms you'd like, and how much you want to pay.
Listings start at 6,000 baht per month and go up to 180,000 baht per month. I imagine if you're just getting started, you'll probably want to start on the lower end of the price list.
Whichever property website you use to search for rentals, be sure to look with a skeptical eye. You might find some listings for only 900 baht per month. But owners post these low prices as a way to lure in potential tenants. As the saying goes: All is fair in love and war.
Getting Around
You'll have no problems getting around Chiang Mai. You have three main options for traversing the city. Well, four if you count walking. The three ways are renting a motorbike; using taxis, tuk-tuks, or Grab; and taking public transportation.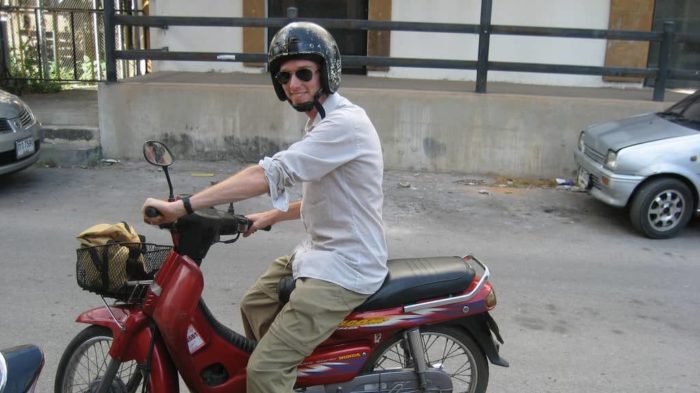 If you plan on staying in Chiang Mai long-term, consider buying or renting a motorbike. But don't forget to get your Thai driver's license first. Police are cracking down on unlicensed drivers throughout Thailand. You could probably rent a motorbike for 2,500 baht to 3,000 baht per month.
Taxis, tuk-tuks, and Grab are another option for digital nomads. But the cost of using these everyday adds up overtime. So use them judiciously.
Public transportation would be your cheapest bet. For just 15 baht to 20 baht, you could get anywhere in the city on a songthaew, or covered pickup truck with benches.
Co-working Spaces
Chiang Mai is also known for it's co-working spaces. In Chiang Mai, at Maya Shopping mall, there is a large co-working space on the top floor called CAMP (Creative and Meeting Place). It has super fast WIFI and working there is free for the first hour.
But after that you'll need to order at least 50 baht worth of food from the café to get a 2-hour wifi voucher. It's also open twenty-four hours a day.
There are other areas to find wifi as well. Personally, I lean towards Starbucks and hotel lobbies. Starbucks generally gives you twelve hours of free internet access and the speeds are pretty good.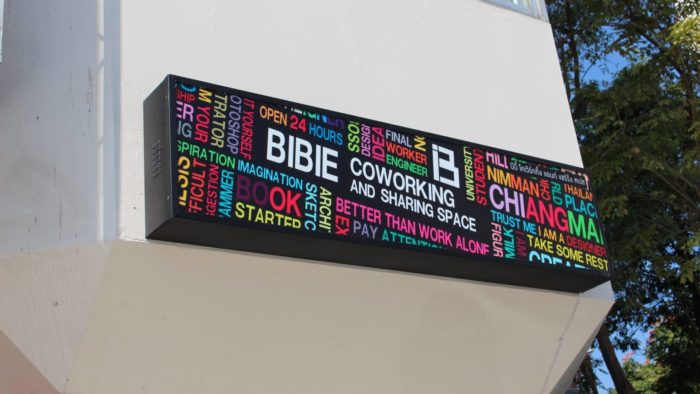 A hotel lobby may cost you a bit more to hang out there (always order a drink from the bar) and is a bit quieter than a Starbucks.
Depending on your need for either buzz or quiet, working from your own hotel or Airbnb is also an option. I always ask the host or hotel about their internet speed before committing to a place to stay, however. The speed can vary greatly depending on their setup.
Finding Work
When you come to Chiang Mai on a tourist visa, you are technically prohibited from working. Thailand is very protective of their economy and they don't want foreigners to take jobs away from Thai people. If you choose to work here, even digitally, you may be in violation of their rules.
Thai authorities have gone on the record to say that any work in Thailand, even work performed online, for a client outside of Thailand, requires a work permit. While I've never heard of any digital nomads getting prosecuted for working from a Starbucks, it's important to be aware that you may be breaking the law by doing so.
These laws are similar to what you'll find in other countries that prohibit any kind of work on a tourist visa. In practice, Thai authorities haven't shown a lot of indication that they want to fight this on a significant scale. The masses of digital nomads you see working in coffee shops don't seem to care either.
On the other hand, as a digital nomad you're not taking a job away from a Thai person if your clients are located outside of Thailand. So you could argue that as a digital nomad, when you serve clients in your home country from your computer, you're not breaking the rules nor the spirit of the Thai law. But, you should work at your own risk.
If you are new to working remotely, you've got your work cut out for you. You'll need to be mindful of your time and be able to sell yourself. Once you get work, balancing your prospecting sales time with production time is a dance that you must watch over constantly.
Not busy enough? Go sell something. Too busy with work? Just wait. It'll run out and you'll have to sell.
When I got started, I went after the low-hanging fruit—my current network of friends and family. People always want to help out a new business. It's the American dream, even if you are not in America. So, don't be shy. Proclaim what you intend to do and ask if anyone knows of anyone else looking for work.
The number one activity to start with is simply to ask. Or look online. We have an in-depth guide to finding work in Thailand.
And although there are some resources in the guide for finding work at brick and mortar companies, a portion of the strategies revolve around finding work as a digital nomad in Thailand.
Getting Paid
Getting paid for online work has never been easier. PayPal is active in many countries and you can use your US-based PayPal account while in Chiang Mai. As a freelancer, PayPal is probably the easiest to use for selling and buying. For purchases, be sure to get a debit/credit card from them so you can use the ATM machines in Thailand.

As a freelancer, you may also consider accepting credit cards online through portals like Stripe and Squareup. Both of these companies are well established and you can access your funds within 24 to 48 hours of receiving payment.
But what do you do once you've gotten paid and want to use your money in Thailand? You could withdrawal the money from an ATM, but you're going to pay $7 per withdrawal.
This is why you should consider setting up a bank account in Thailand. You could even set up an account with a tourist visa.
Once you have an account in Thailand you can then use Wise to transfer money from your bank account back home into your bank account in Thailand without paying exorbitant fees or losing out on currency exchange rates.
Paying Taxes
Just because you've left your home country doesn't mean you should stop filing taxes. American citizens, for example, are still required to file and possibly pay taxes on all worldwide income, depending on how much you make. If you don't file and pay taxes, you could have your passport revoked.
For more info on paying taxes while living in kingdom, check out our in-depth guide to paying US taxes from Thailand.
Health Insurance
As I mentioned in the beginning of the this guide, healthcare in Thailand is cheap compared to costs in the West. But you should still consider getting health insurance in Thailand for those major accidents and medical emergencies happen. And trust me, they happen to all of us.
It could be taking a spill on your motorbike, getting injured while exploring nature, coming down with a serious illness, or having a baby in Thailand. All of these instances and more will be a lot easier on your pockets if you have insurance.
So, after you're done reading this article, read our health insurance guides, Thai Health Insurance: Here's What You Need to Know as an Expat, Thailand Travel Insurance: Companies, Requirements, and Advice, and insurance options in Thailand.
Communities
Chiang Mai is now one of the world's hubs for digital nomads. No matter your nationality, you can find like-minded people to hang out with. The amazing expatriate experience that Chiang Mai offers is one of the reasons why it's attracting more and more digital nomads.
Here are some resources to help you connect with like-minded digital nomads in Chiang Mai.
Photos by aschaf, David McKelvey, Amanda, Devon Sampson, Mike Gifford, and GotCredit.