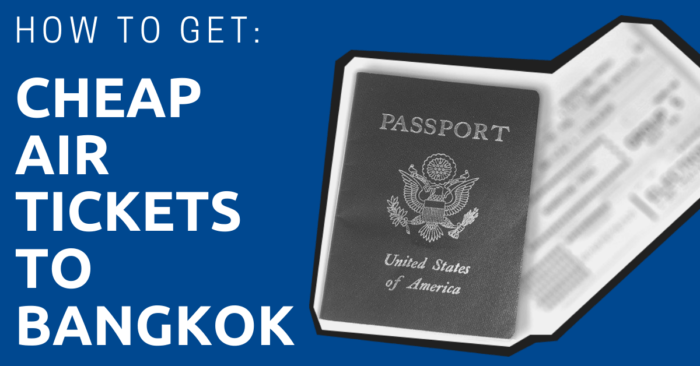 Planning to fly to Bangkok? The gateway to traveling Southeast Asia, Bangkok offers mouthwatering street food, rich culture, non-stop nightlife, top-notch spas, world-class fine dining, intriguing local galleries, and much more—all for a very affordable price.
So, how can you find the cheapest possible flight to Bangkok so that you have more money left over to spend on pad Thai and tuk-tuk rides?
Read on and find out about the best flight deals from all over the world to Bangkok.
Of course, flight prices change all the time so I cannot promise that these exact numbers will be accurate when you are reading the article. However, you will get an idea of the general price range, which can help you when planning your travels.
If you want a quick way to find cheap flights to Bangkok, check out cheapOair.
Tips for Finding Flight Deals
Looking for a cheap flight to Bangkok? Here's something to keep in mind:
Depart and return on a Tuesday. According to this article from HuffPost, you can save an average of $115 on flights to Thailand by arriving and leaving on a Tuesday.
Check out international airlines such as Cathay Pacific, Korean Air, Japan Airlines, and China Eastern Airlines, which often offer flights for affordable prices.
Use a flight comparison portal that includes deals, such as cheapOair. It can save you time and money without having to check each airline's website individually.
Fly to Bangkok in late April, the beginning of May, and late September, as these are the low tourist seasons. Avoid the crowds and high prices of the busy season, which is from November to March.
Depart from airports with a higher volume of flights to Asia. For example, in the USA, LAX and JFK have more flights to Asia than all other cities in the USA. So you may find a cheaper flight by heading there first, then flying to Bangkok.
Be flexible with your dates and even flexible enough to depart from a different airport can allow you to find great savings.
Try widening your search to include flights from other airports and also look at other airlines. Also, do not always assume that the booking site is offering you the best deal.
They may not have access to the small budget airlines' databases which means that they might not be showing you the lowest fares available. So, if you see a flight you want try checking the same flight directly on the airline's site and see if you can save by cutting out the middleman.
Once you get a flight to Bangkok, you may need to book a domestic flight in Thailand.
From America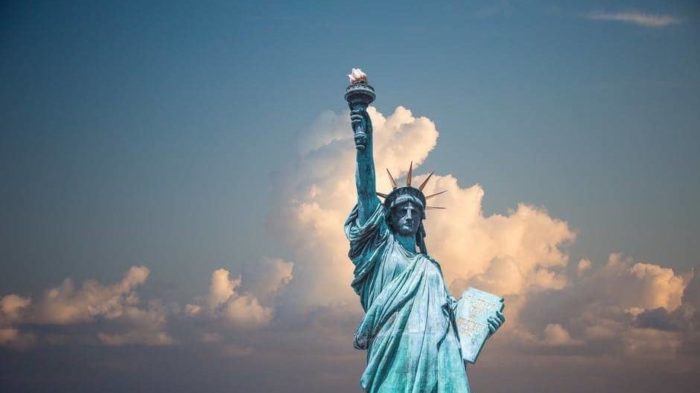 New York, New York
It seems like Chinese airlines are the way to go when you are flying from New York to Bangkok. I found several flights for the specified dates between $700–800.
The cheapest flight that Google Flights offers from New York to Bangkok is with China Southern Airlines for $701 round trip.
This is an economy-class flight that includes a layover in Guangzhou, China. A search on cheapOair also found a round trip flight for $794 with Cathay Pacific Airlines. This flight departs from JFK but returns to EWR (Newark Airport) and includes a very short stop at Hong Kong International Airport.
I also found a flight on Orbitz.com from China Eastern Airlines for $804, which departs from JFK and has a three-and-a-half-hour layover in Shanghai on the way there and an eleven-hour stopover in Shanghai on the way back. Perhaps just enough time to nip out of the airport and get some Chinese dumplings?
Los Angeles, California
When flying from Los Angeles to Bangkok, consider traveling via Hong Kong. I was able to find a flight with Hong Kong Airlines on Google Flights for only $602 round trip. It includes a five-and-a-half-hour layover in Hong Kong on the way there and a four-hour layover on the way back.
Something strange was happening when I searched for flights on Expedia. I would see a China Eastern Airlines flight for around $450–475 round trip, which seemed like a great deal.
Then, I would click through and the ticket price would jump from $450 to $4,900. Yikes! Watch out for this and make sure that you check the price before you make your final payment. Also, if it seems too good to be true—it probably is.
Another cheap option is Air China. I found a flight on Kayak for $597 round trip, including a twenty-hour stopover in Beijing, China on the way back—a chance to make a quick visit to another exciting Asian city.
Seattle, Washington
I found a return flight on Expedia from Seattle Tacoma Airport to Bangkok for $757. It takes a little bit of a roundabout route though—stopping in Shenzhen and Xiamen before reaching the final destination. It is offered by Xiamen Airlines, another Chinese budget airline.
Another option offered by Alaska Airlines and China Airlines involves a stop in San Francisco and Taipei and cost $722.
One of the great things about booking with Expedia is that they often offer free cancellation within twenty-four hours. So, if you book a flight but you find a better deal within the same day, you can always cancel the original flight you booked.
In fact, according to this Huffington Post article it is a federal requirement for airlines to offer passengers a full refund within the first twenty-four hours. Of course, many airlines don't advertise this.
Dallas, Texas
The cheapest flight from Dallas to Bangkok on Expedia is an Etihad Airlines flight with a thirteen-hour stopover in Abu Dhabi on the way there and the way back for $998. I've flown with Etihad Airlines before and the experience was wonderful—so this is a great value flight deal.
The Etihad price looks even more attractive when you compare it to another flight I found from China Southern Airlines. It stops in Los Angeles and Guangzhou on the way there and on the way back. The total comes to $1,091, which is almost $100 more than the Etihad flight. However, compared to Etihad, when you read reviews of China Southern Airlines the feedback is quite negative.
From the United Kingdom
London, England
When I searched for flights from London to Bangkok, I found an economy return flight departing from London Heathrow with Gulf Air for £415. It included a two-hour hour stopover in Bahrain on the way there and an eleven-hour layover in Bahrain on the way back. I've never flown with Gulf Air, but according to the reviews on WhatTheFlight.com it's not a very enjoyable experience. However, for such a cheap price you might be able to grin and bear it.
Flysharp.com is another great place to look for flights. I found an Emirates Flight for £467 departing from Gatwick with a two-hour stop in Dubai on the way there and a seven-hour stop on the way back.
The next cheapest flights I found were all around the £500-£600 range. For example, on Tripsta.co.uk I found a flight with Etihad Airways that departs from London Heathrow and stops in Abu Dhabi for about two hours on the way there and one-and-a-half hours on the way back for £573. However, I'd go for the Emirates Flight from Gatwick in this case and save £100.
Manchester, England
There are some great deals to be found when flying from Manchester to Bangkok. Again, FlySharp.com seems to be a great resource when booking flights from the UK to Thailand. I found a flight matching the dates with Emirates for only £434. It includes a stop in Dubai for nine hours on the way there and for seven hours on the way back, but if you don't mind the extra time it's a great price.
Another great site for finding UK flight deals is TravelTrolley.co.uk, which is where I found a flight for £454 with Etihad Airways. It has a four-hour stop on the way there and an eleven-hour stop on the way back in Abu Dhabi.
Newcastle, England
When I searched for flights from Newcastle to Bangkok with Flysharp, I found one with Emirates for £597 with an eleven-and-a-half-hour stopover in Dubai each way. It was difficult to find anything cheaper from Newcastle; most of the flights were in the £500–600 range and some were even higher.
To be honest, the more affordable option for Geordie travelers heading to Bangkok may be to catch a train from Newcastle to Manchester and fly from there. The train takes about three-and-a-half-hours and return tickets are between £40-£90 depending on when you book them and what time of day you travel. If you have a UK rail card, they may be even cheaper. Then, you can catch one of the cheaper flights from Manchester, such as the £434 Emirates flight, and you will still save. Check Trainline for prices.
Liverpool, England
Warning to all Scouser travelers who want to visit Thailand—don't fly from Liverpool. When I looked at flight prices from Liverpool to Bangkok, they were ridiculously expensive—over £2,000! These shocking prices seemed to show up no matter what website I tried searching on, from Travelocity to Skyscanner. Also, these crazy expensive flights included multiple stops.
If you live in Liverpool, you should absolutely take a train to Manchester and fly from there on a cheap flight like the ones listed above. The train will only take about forty-five minutes to an hour, it won't cost you more than a tenner, and it will save you a huge amount of money. Even if you traveled from Liverpool to Manchester in a limousine, it would still be cheaper than flying from Liverpool.
From Australia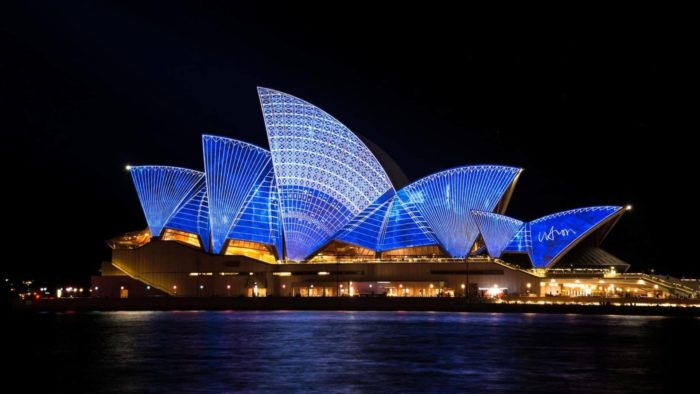 Sydney, New South Wales
Some of the cheapest prices for flights from Sydney to Bangkok were from Philippine Airlines. I found a flight for $572 on Tripsta.com.au, although it had quite long stopovers. It stops in Manila each way, for twenty-two hours and nineteen hours, respectively. However, if you want to take a whirlwind tour of Manila and enjoy some yummy Philippine street food this could be a good option.
If you are willing to pay a little more you'll be able to find a much less time consuming option. There is a direct flight from Sydney to Bangkok with Emirates Airlines that I found on Skyscanner.com.au for $769. Yes, it's more expensive but you'll be there in nine-and-a-half hours rather than spending an entire day in Manila, so if you are on a tight schedule it might be worth the extra!
Melbourne, Victoria
I tried to use Webjet.com.au to find cheap flights from Melbourne to Bangkok, but their search interface was so confusing that I gave up. Either way, the cheapest flights I found were offered by Scoot Airlines, a low cost airline based in Singapore. Never heard of them? Me neither, but they offered a flight from Melbourne to Bangkok for $705. Not a bad price at all.
The departing flight is with Scoot and has a stopover for five hours in Singapore, but the returning flight is with AirAsia and has a stop for eight-and-a-half hours in Kuala Lumpur. In fact, it looks like almost all of the return flights from Melbourne combine multiple airlines. If this saves you money—great. However, just make sure that you have the details straight as flying with multiple airlines can be confusing.
Brisbane, Queensland
Flights from Brisbane also often integrate flights from two different airlines to offer a cheaper deal. For example, one of the best deals I found cost $753 and looked like this:
Departure
Brisbane to Denpasar (Indonesia) via Malindo Air
One-hour stop in Denpasar
Denpasar to Bangkok via Thai Lion Mentari
Return
Bangkok to Denpasar via Thai Lion Mentari
Ten-hour layover in Denpasar
Denpasar to Brisbane via Malindo Air
The one-hour stop on the way there might be a little tight, but other than that this is a great value option. However, I found another option with Emirates via Fly365 that was very similar in price at $758 and only has a two-hour connection in Sydney each way—a much better choice in my opinion.
Perth, Western Australia
Again, many of the flights from Perth to Bangkok involve combining different airlines. I searched with Kiwi.com (which is very user friendly) and found a flight offered by AirAsia for $536 from Perth to Don Mueang Airport in Bangkok.
This is the smaller and older of the two airports in Bangkok, but it's still quite convenient and it's only a thirty-minute taxi ride from Bangkok. Here's our guide on how to get from any Bangkok airport into the city.
Scoot Airlines also came up in this search, as they offer a flight priced at $567 which stops in Singapore for seven hours on the way there. Then, the return flight is with Indonesia Airlines and stops in Denpasar on the way back for six hours. It also arrives at Don Mueang Airport in Bangkok, rather than Suvarnabhumi Airport—so be aware of this.
What's to Do Next
Keep these tips in mind for finding the cheapest flight to Bangkok from wherever you are in the world–so that you can enjoy this exciting destination for an affordable price. And before you get to Bangkok, be sure to get yourself some travel insurance.