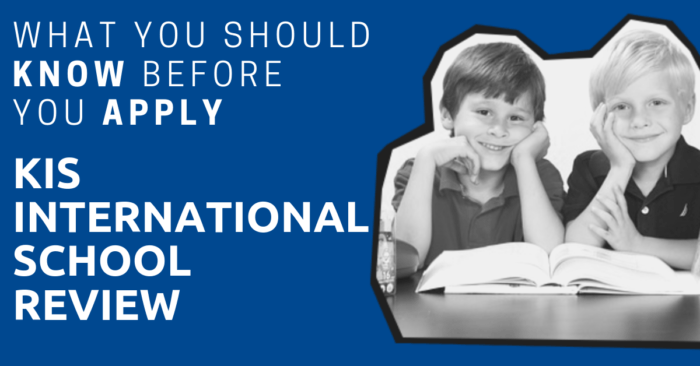 Choosing a school for your son or daughter is one of the hardest decisions you'll have to make when you move to Thailand.
International schools are usually the best choice for expats. But with so many schools to choose from, where do you begin?
You don't want to send your child to an international school in Thailand that focuses so much on academics that they feel like cold, rigid institutions.
In these schools, teachers lecture students and students can't engage with their peers or teachers—not the ideal setting for your child to explore their world, grow in curiosity, and become a prepared global citizen.
You want a school where your child is going to learn critical thinking, logical reasoning, applied mathematics, and more through student-centered, activity-based learning.
And one school that educates children using this method is KIS International School.
About KIS International School
Founded in 1998 on the pillars of Knowledge, Inspiration and Spirit, KIS is a mid-sized international school located near the center of Bangkok. The school is fully authorized to offer the International Baccalaureate (IB) programs for children of all age groups, starting from Early Years through to Grade 12.
KIS International School has a diverse and international community, with students from 55 different countries and teachers from 10 countries around the world.
If you choose to enroll your child at KIS International School, you will have peace of mind knowing that your child is receiving quality education tailored to their personality, needs and learning style from trained IB instructors who are fully-qualified in the field that they teach and majority of whom hold postgraduate degrees.
Why KIS International School?
Here's what sets KIS apart from other international schools in Bangkok:
With a teacher to student ratio of 1:7, your child will receive the right level of individual care, attention and support from the teachers.
You child has the opportunity to learn through the IB curriculum from early years through to Grade 12, developing positive attitudes and skills, such as an international mindset, the ability to think critically and experience in managing their time, ensuring success in and beyond school.
Students graduating from KIS receive offers from top universities around the world
You and your child become part of the schools close knit community of 800 students who have proven to not only achieve high academic excellence by scoring higher than average globally in the IB Diploma but also becoming well rounded individuals who are proud of themselves and who contribute to a better world.
Curriculum
Unlike many other international schools in Bangkok who only offer the IB Diploma programme, At KIS all students learn through the IB curriculum from the Primary Years Programme, through the Middle Years Programme, and to the Diploma Programme.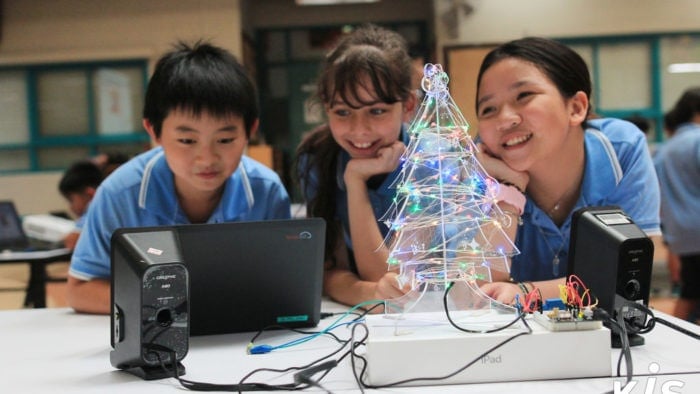 Primary Years Programme
KIS has a dedicated building for the Primary Years Programme, which also houses the Early Years Center for the younger kids (ages 3-6). The Primary Years Programme is designed for children between the ages of 3 – 12 years. The program uses inquiry to teach students to learn by developing and asking questions, as well as researching answers and solving problems structured around key concepts.
By focusing on the child's academic, social, physical, emotional and cultural needs, the Primary Years Programme helps the child develop and grow as a whole.
Middle Years Programme
The IB Middle Years Programme is designed for students aged between 11-16 years (Grade 6 – Grade 10). The Programme employs the use of assignments and activities to help children develop responsible, independent and international mindsets that will prepare them for the IB Diploma Programme and, to become successful and responsible global citizens.
IB Diploma
The IB Diploma Programme is designed to setup students between the ages 16 – 19 for university and career success.
The pass rate for the IB Diploma at KIS is 96%, compared to 77.4% worldwide and over the years, the school has an average score of 34 points, which is well above the global average of 29.78 points. Students who graduated from this programme at KIS have also received university scholarships worth over at total of $1,000,000 USD on average over the past few years.
Calendar
KIS International School's academic calendar has 3 terms and runs for about 180 days each year:
Term 1, from mid August to mid December
Term 2, from the beginning of January to the beginning of April
Term 3, from the end of April to mid June
KIS accepts students year-round.
School Hours
Like most other schools in Thailand, students at KIS study from Monday to Friday with the exception of school and public holidays. However, the instructional hours vary based on the grade in which your child is enrolled:
Primary School
Early Years 1, from 7:50 a.m. to 12:30 p.m. (extended care until 2:30 p.m.)
All other primary school grades, from 7:50 a.m. to 2:30 p.m.
Secondary School
Middle Years and IB Diploma, from 7:40 a.m. to 2:45 p.m.
After school activities for all grades are usually from 3:00 p.m. – 4:00 p.m.
Fees
The fees at KIS are roughly equal to other top tier international schools in Thailand, but what sets KIS apart is that the fees don't increase by much as your child progresses through the years.
In order to secure your child's place at KIS after acceptance, you are required to pay a one time non-refundable registration fee based on the grade in which your child is enrolled. The registration fees are as follows:
Early Years 1 to 2 = 150,000 THB
Early Years 3 to Grade 10 = 190,000 THB
Grade 11 and Grade 12 = 120,000 THB
You are also required to pay either a refundable development fee of 150,000 Thai baht which acts as a deposit and is refunded within 30 days if you withdraw your child from the school, or pay a non-refundable annual development fee of 30,000 Thai baht when your child enrols at the school, and every subsequent year.
The fees in the table below are all in Thai baht and are based on the fees published for academic year 2019/2020. The fees may be subject to change.
| | | | | |
| --- | --- | --- | --- | --- |
| Tuition Fee | Term 1 | Term 2 | Term 3 | Annual |
| Early Years 1 | 145,200 | 108,900 | 108,900 | 363,000 |
| Early Years 1 Extended Day | 196,800 | 147,600 | 147,600 | 492,000 |
| Early Years 2 | 208,400 | 156,300 | 156,300 | 521,000 |
| Early Years 3 to Grade 5 | 239,600 | 179,700 | 179,700 | 599,000 |
| Grade 6 to Grade 10 | 284,000 | 213,000 | 213,000 | 710,000 |
| Grade 11 | 306,000 | 229,500 | 229,500 | 765,000 |
| Grade 12 | 306,000 | 229,500 | 195,800 | 731,300 |
*All fees are in Thai baht
The tuition fees for Early Years 1 to Grade 10 include all materials, workbooks, textbooks, most class field trips, and Asia International School Athletics Association coaching and clubs. The Asia International School Athletics Association is a sports league founded by six international schools in Bangkok, including KIS, to provide friendly league competition among member schools in various sports.
The tuition fees for Grade 11 and Grade 12 include the fees required for students to take the International Baccalaureate exam (roughly 850 US$), but exclude textbooks.
KIS also offers a sibling discount on registration and tuition fees if you have more than one child enrolled at the school, as follows:
20% off the registration fee for the 2nd child
30% off the registration fee for the 3rd and subsequent child
5% off the tuition fee for the 2nd child
30% off the tuition fees for the 3rd and subsequent child
KIS also offers financial assistance or scholarships to students who are qualified and come from eligible families.
Location
KIS International School is located in a quiet, gated community 10-15 minutes from MRT Thailand Cultural Centre Station away from high traffic areas. The school is safe and relatively easy to access from many locations in Bangkok.
They also provide a free shuttle bus service to and from MRT Thailand Cultural Centre Station, and a door to door school bus service from all the main expat residential areas.
This means you can choose a variety of residential areas to call home in the heart of Bangkok and still have easy access to the school.
Facilities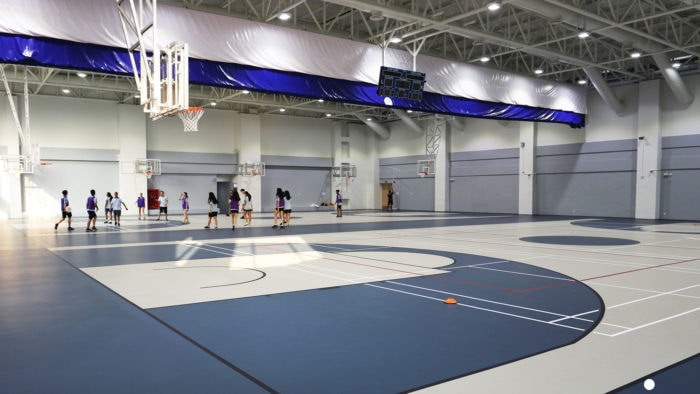 KIS International School features facilities such as dedicated primary and secondary school buildings, libraries, media centres, science laboratories, arts and design building, IT labs, a dance studio, visual arts studios, a recording studio, a study centre, a woodshop, 3D printing rooms, a gym, and two swimming pools.
The school, which is often described an innovative learning hub, employs the use of its facilities and technology such as augmented reality in the classroom to enhance the learning process, ensuring your child receives a well-rounded education and develops real-world skills in a progressive environment.
How to Apply
You can start the application process for your child to study at KIS even before you come to Thailand by following this application process:
Step 1: Visit the School
When applying for your child to study at KIS, the first thing you are required to do is to schedule a school tour. The tour will allow you to take the guesswork out and see whether the school is the right fit for your son or daughter.
During the tour you also get to meet the teachers who will educate your child, see how students engage in class and ask any questions you may have on the spot without having to send emails back and forth.
Step 2: Complete the Application Form and Upload Necessary Documents
If you like KIS after the visit, you are required to complete the application form and upload all the required documents. It can be done through the schools online portal. The required documents include:
One passport size digital photo of yourself and your child taken in the past 6 months.
A copy of you and your child's passport and visa.
A copy of the child's report if the child was previously in school, including the name and email address of a teacher or administrator from the previous school.
Once you have submitted the application form and documents, you are then required to pay an application fee of 5,500 Thai Baht.
Step 3: Schedule the Assessment/Family Interviews
Once the school has reviewed your child's application, they will invite you and your child to the school for an assessment which can include tests and classroom observations or an in-person interview with the principal. The school will then assess your child's application based on the school's admission criteria:
Level of confidence and independence
Proficiency in the English language
Experience in an IB programme
Academic proficiency
Previous international school experience
Nationality
Siblings
Class size and seat availability
Step 4: Registration
Once your child has been accepted, the school will send you a placement offer. You are required to accept the offer within one or two weeks by signing acceptance letter and making the payment.
Now, on to You
Thailand has a lot of great international schools but what makes KIS great is their tailored education approach, recognizing the individual learning needs of each student and providing them with all the tools they need to become life-long learners and successful and responsible global citizens.
Ready to kick-start your child's educational journey in Thailand the right way? Schedule a school tour at KIS International School.
Disclaimer
We're happy to connect you to service providers who we'd consult with in your situation, and who we find to be professional, knowledgeable, and ethical. That said, it's important to note that we sometimes get commission from service providers for referring new clients to them. This happens at no cost to you and helps us cover some of the expenses of running ExpatDen. While we do our best to pick the most suitable service providers, we can't make any guarantees or accept any liability resulting from your interactions and transactions with them.