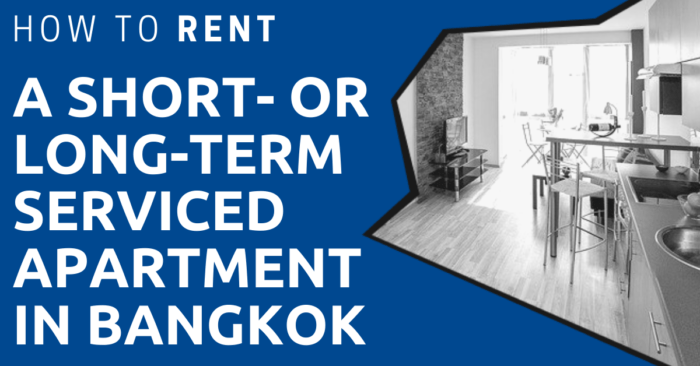 Have you ever heard of serviced apartments?
They are fully furnished apartments that include everything you need to live comfortably in Bangkok.
And unlike condos, you don't have to buy furniture, kitchen appliances, or set up utilities.
This guide shows tells you about serviced apartments in Bangkok, prices, and how to make the best choice.
"*" indicates required fields
What's a Serviced Apartment?
Serviced apartments come with the same services you get when staying at a hotel.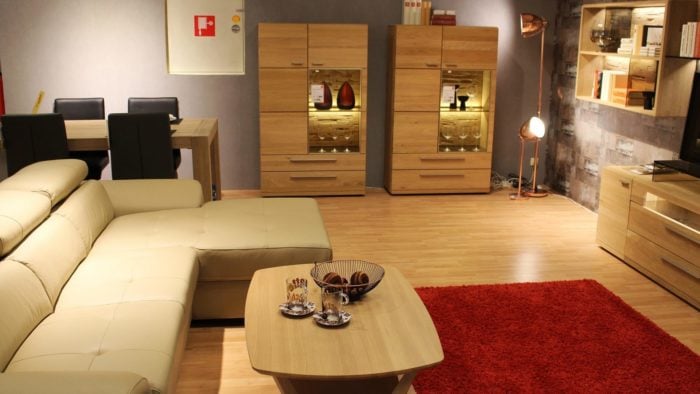 Serviced apartments have fully-furnished living rooms and bedrooms and fully-equipped kitchens.
And along with standard bathrooms, serviced apartments usually have laundry rooms as well.
As for utilities, serviced apartments have electric, water, and internet already setup—no setting up accounts.
Some serviced apartments also have shared pools, gyms, and free shuttle bus services to nearby train and bus stations or shopping centers.
Serviced apartments usually have maids on hand to clean your room, and some may even offer laundry or concierge services.
Similar to hotels, serviced apartments also have check in and check out times, usually 2:00 PM for check in and 12:00 PM for checkout.
Differences from other Accommodations
Let's take a look at the differences between serviced apartments and condos, hotels, and Airbnb in Bangkok.
Serviced Apartments vs Condos
Serviced apartments are like an upgraded version of a condo. They include everything condos have and the additional facilities and services mentioned above.
What sets them apart from condos are their flexible leases. You're not restricted by long-term leases. You can rent a serviced apartment by the day, week, month, or year.
Serviced Apartments vs Hotels
Serviced apartments and hotels might offer very similar services. And many hotels offer serviced apartments to their long-term customers.
But there are some major differences between serviced apartments and hotels.
Privacy
Serviced apartments are more private than hotels.
If hotels offer serviced apartments, they normally dedicate an entire floor to serviced apartments, allowing you to stay with other long-term tenants.
Space
Serviced apartments are bigger than hotel rooms but come at the same price.
Kitchens
Unlike hotels, serviced apartments have fully-equipped kitchens.
Rates
Although daily prices between service apartments and hotels isn't much different, service apartment is cheaper for long-term stays.
Serviced Apartments vs Airbnb
Airbnb is a popular choice for those looking for a short-term stay in Bangkok.
Although Airbnb offers flexible leases like serviced apartments, there are a few major differences between the two.
Services
Airbnb doesn't offer cleaning or laundry services. The room is cleaned after you leave, and you're responsible for your own laundry.
Management
A landlord who sublets their property on Airbnb is not a professional. Any problem you encounter while staying at an Airbnb might not get resolved.
Legality
Airbnb isn't entirely legal in Thailand. You won't be put into jail for using Airbnb, but the landlord might ask you to leave on a moment's notice.
Grade
Serviced apartments in Bangkok are generally categorized into two grades: luxury grade and standard grade.
Luxury Grade
Luxury grade serviced apartments are offered by top brand hotels or premium service apartment providers.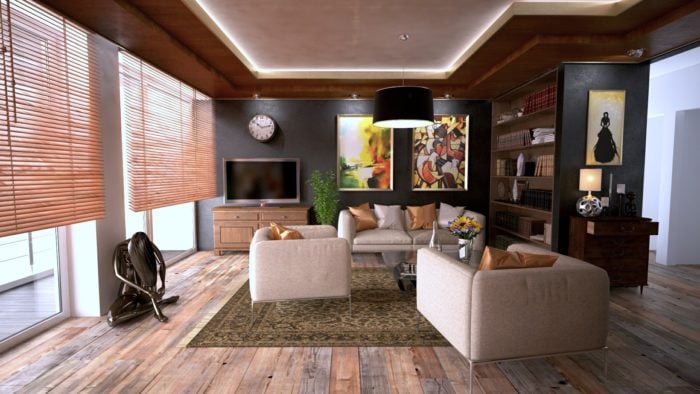 Facilities, amenities, and services are similar to five-star hotels, where you get access to Jacuzzis, limos, private lounges, and even private gyms.
Serviced apartments in the luxury grade are usually in very good locations. The one from Marriott Hotel, for example, is just three minutes away from BTS Thong Lor.
Some hotels don't use the word "serviced apartment" when offering serviced apartments. St. Regis, for example, calls it a "residence."
If you stay in a luxury grade service apartment, you'll pay a few thousands baht per night or around a hundred thousand baht per month.
Standard Grade
Standard grade is your average serviced apartment. They are offered by local serviced apartment developers.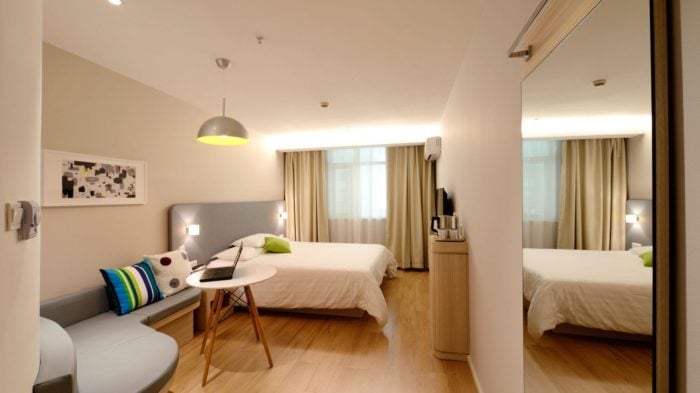 While the facilities, amenities, and services can't be compared to the luxury grade, they're still sufficient for living in Bangkok.
You still get regular maid service, fully-furnished kitchens, swimming pools, and gyms.
And the locations are convenient. Even standard grade serviced apartments are within walking distance from either the BTS or MRT.
It's a great option if you're on a budget. Prices start at 18,000 baht a month, which is comparable to renting a condo.
Rates
Serviced apartments in Bangkok come with either daily or monthly rates.
The longer you stay, the lower the price.
For example, at Nice Resident in Ekamai, the daily rate for a studio is 1,790 baht, but it costs 600 baht a day, or 18,000 baht a month, if you stay over six months.
However, daily rates tend to include the cost for water and electricity.
Serviced apartments in Bangkok range from 18,000 baht a month to over 200,000 baht a month.
The price difference comes from many factors including:
the size of the apartment
the number of rooms in the apartment
the location and accessibility to transportation
the quality of facilities
extra services like breakfast, cleaning, limo service, and so on
Let's take a closer look at each factor.
Size
The smallest size available for serviced apartments in Bangkok is normally a 35-square-meter studio.
Despite the small size, they usually come with a bed, sofa, TV, kitchen appliances, air conditioner, and washing machine.
Two people can live comfortably in these rooms.
The bigger the size, the higher the rates and the better the facilities, services, and amenities.
You get daily cleaning service. You get a kitchen with all appliances, instead of just a microwave and electric kettle.
Types
There are normally more than three kinds of serviced apartment available in each building, starting from a studio to a family suite that can sleep seven people.
For example, for a studio, everything including bed, furniture, and kitchen is packed inside one room. But you get separate bedrooms and living rooms with suites.
Family suites can have more than one bedroom and bathroom.
Room type always goes together with the room size.
Location
The closer a serviced apartment is to the BTS, MRT, or malls, the more expensive it is.
However, service apartments in a same area can vary by price.
Room type, services, facilities, and amenities also play a big part when it come to prices.
Facilities
All serviced apartments usually offer similar facilities and come furnished.
But what makes the difference is the quality of the facilities and furniture.
For example, one serviced apartment may come with a furnished kitchen. But that might mean an electric kettle, microwave, and a fridge.
But another serviced apartment may have a kitchen with a stove, oven, appliances, and even a dish washing machine.
Luxury serviced apartments come with five-star hotel pillows, beds, and blankets, whereas standard serviced apartments only come with standard bedding.
Services
Services are anything that's added on to the normal room.
Some serviced apartments offer daily housekeeping services, whereas cheaper serviced apartments come with only weekly cleaning service.
And yet others come with laundry and dry cleaning services.
A high-end serviced apartment may give you access to a lounge with free food and drink for the whole day.
Pet Friendly
There are certain serviced apartments in Bangkok that allows pets.
Location
Serviced apartments are usually located in the central parts and business districts of Bangkok including Silom, Sukhumvit, and along the BTS or MRT lines.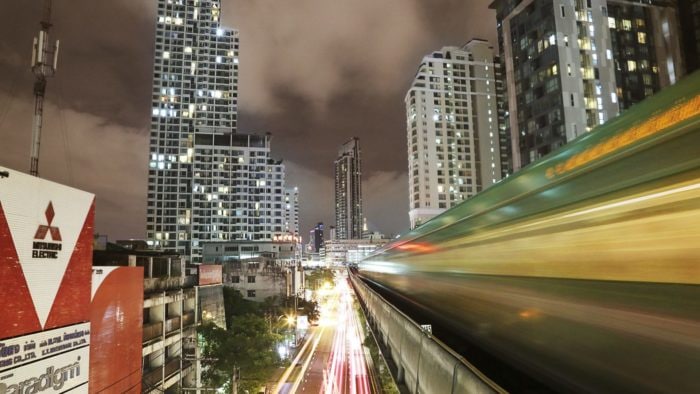 These areas are also popular areas for the working class since they're full of offices, condos, houses for rent, and malls.
These serviced apartments are fully furnished and come with a lot of facilities and decorations.
You can get to many nearby places by bus, MRT, BTS, taxi, and motorcycle taxis.
However, being in a business district with a lot of facilities, prices are also higher, starting at 38,000 baht a month to over 300,000 a month.
Let's take a look at the serviced apartment options in each area.
Silom
Serviced apartments in Silom are mainly located near BTS Saladaeng.
This gives you access to Lumpini Park and many tourist attractions including Silom Night Market and Simon Complex.
Ploen Chit/Chit Lom
You can find a lot of serviced apartments in Soi Nai Loet and Soi Langsuan. They are near both BTS Chit Lom and BTS Ploen Chit.
Many embassies, including the UK, USA, and Swiss Embassies, are here. There are also a lot of shopping malls, including Central Embassy and Central Chit Lom.
Nana
Certain serviced apartments are located near BTS Nana, inside Soi Sukumvit and Soi Sukumvit 8.
Sukhumvit (Asok)
Asok is another popular area for expats. This area has a lot of office buildings and shopping malls. This area is directly connected to BTS Asok and MRT Sukhumvit.
Tholong (Soi Sukumbit 55) and Ekamai (Soi Sukumvit 63) are connected to one another. Both of them have their own BTS stations.
Thonglor/Ekamai
These entertainment areas are full of restaurants, clubs, and bars.
Other
You can also find many serviced apartments along the BTS or MRT lines.
Finding a Monthly Serviced Apartment
Looking online is currently the best way to find a serviced apartment.
Serviced apartments are still a new business model in Bangkok and owners mainly advertise their properties online.
Searching for serviced apartments online gives you plenty of information and lets you compare serviced apartments in a convenient way.
You can find serviced apartments on many hotel booking websites. Websites show you the price per night, pictures from many angles, and reviews.
Agoda has a good selection of listings and they have a "serviced apartments" page to make things easy for you.
You can also book them for a maximum of 90 days. After that, it's possible to deal with a serviced apartment directly to extend your contract.
Booking.com also lists hundreds of serviced apartments in Bangkok. You need to use the "serviced apartment" filter. However, you can book them for a maximum of 30 days only.
You can also take a look at CBRE. This real estate agency website has 52 serviced apartments available in Bangkok.
However, CBRE stills lacks in comparison to Agoda and Booking.com.
Signing a Lease
You still need to sign a lease when renting a serviced apartment.
Leases for serviced apartments are similar to leases for condos. The main difference is the duration of the contract.
When renting a condo, you usually sign a one-year lease. If you break the lease, you won't get your security deposit back.
On the other hand, serviced apartment come with flexible rental periods. You can sign a lease for a week, month, six months, or more.
If you stay in a serviced apartment for just a few days, you might not need to sign a lease.
A signed copy of your passport is the only thing you need when signing a lease.
Leaving a Deposit
You may need to pay a security deposit when booking a serviced apartment.
Security deposits cover the costs if you damage the apartment.
For example, if you break a door, the cost of fixing the door is deducted from your security deposit.
If the damage happens without you being the cause, you don't need to pay to fix it.
If you stay in a serviced apartment less than a month, you might have to pay a 3,000 baht to 10,000 baht or more deposit.
If you sign a one-month to five-month lease, the security deposit is one month's rent.
If your contract is longer than six months, then you pay two month's deposit.
Things to Consider

When it comes to choosing a serviced apartment, here are some things to keep in mind:
Is it within your budget?
Does it have enough furniture and facilities for your needs?
Is it close to the BTS, MRT, or your workplace?
Is it near supermarkets or convenience stores?
Does the apartment offer a cleaning service?
Is the apartment clean?
Does it have a reliable security system?
A good way to choose a serviced apartment is to read online reviews and see what other people have said about the serviced apartment.
One thing to remember though is that online reviews can be manipulated.
You should focus on all the reviews, not just the single best review.
If any serviced apartment has hundreds of positive reviews there's a good chance that it's a reputable place.
Now, on to You
If you're ready to book a serviced apartment for your next stay in Bangkok, head to booking.com.
You can read reviews of over 200 serviced apartments in Bangkok and check out the facilities they offer.
Related Articles