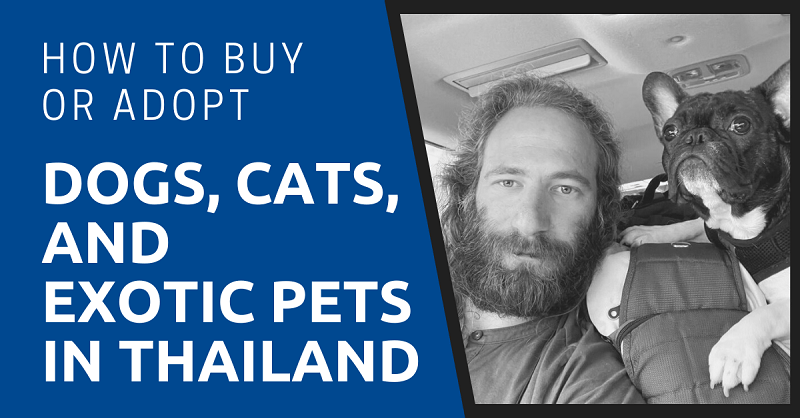 In Thailand, it's not uncommon for households to have furry friends who are considered beloved family members.
Fortunately, for the most part, Thailand is a very pet-friendly country. In fact, I've found that Chiang Mai is one of the most pet-friendly cities in Thailand. This is one of the many reasons I choose to live here.
However, no matter what Thai city or town you live in, owning and caring for a pet does have its challenges.
Whether you already have a pet or are planning to get one, this guide to adopting and buying pets in Thailand will help you every step of the way.
"*" indicates required fields
Before Buying or Adopting a Pet in Thailand
If you're reading this article, I'm sure you're excited about welcoming a new furry, feathered, or scaly member into the family. Before doing so, let's discuss some fundamentals to help you better prepare.
Pet Permits
About five years ago, Thai legislation attempted to pass a law requiring you to register your dogs and cats. However, the law never passed.
This means you can visit a pet store and get your pet without having to obtain a permit. This also includes adopting pets.
However, special permits are still required for more exotic pets that fall under the category of wildlife control under the Convention on International Trade in Endangered Species of Wild Fauna and Flora (CITES).
Examples of exotic animals that fall under this category include certain species of birds, reptiles, and amphibians.
If you intend to own exotic animals, make sure you go through the proper channels to obtain the necessary permits. You can visit the DNP website or their Facebook page for more information.
Expenses
Of course, no matter what kind of pet you have, you need to consider the expense of caring for an animal in your monthly budget.
To sum it up, I pay:
about US$45 a month for dog food
US$10 a month for dog toys
about US$20 to US$30 per month for treats and dog bones
US$30 to US$60 for unexpected expenses, such as emergency vet visits
That is an approximate total of US$145 a month, or US$85 without any unexpected expenses. Your expenses may vary depending on the type, size, and special needs of your pet.
Here's a closer look at each type of expense.
Pet Food
The most fundamental expense when owning a pet is the cost of its food. Costs will vary by the type of pet you have. For example, my French Bulldog is prone to food allergies, and she requires a special diet.
I have learned from trial and error that she tends to fair better on the more expensive dog food brands. Unlike human food in Thailand, dog food can be quite expensive.
The price depends on the quality of the dog food, too. In my case, I spend about US$80 to US$90 for a 28-pound bag of dog food. This will last my 28-pound French Bulldog about two months.
Ultimately, your costs will vary depending on your dog's size, breed, or special dietary needs.
The basic rule of thumb with imported goods is that the price reflects the world market. In other words, the cost of premium dog food is about the same, or even higher, than what I was accustomed to in the U.S.
Aside from dog food, the costs of treats and chewing bones are another expense to consider.
I don't indulge my dog with many extra treats, but she does get plenty of chewing bones. Pet store dog bones are relatively inexpensive. However, I have been known to spoil my dog with human-grade bone marrow. You can find these bones at your local butcher shop.
Admittedly, they are more on the pricey side, but my dog loves them, and they tend to last her a very long time compared to the processed bones you find in pet stores.
Pet Toys
If you were to visit my apartment, you would definitely notice an abundance of dog toys. Dog toys are relatively inexpensive here, ranging anywhere from US$3 to US$10.
Sticking to quality made pet-safe toys with no choking hazards or hazardous materials is important. Well-made toys should give your dog a few months of enjoyment before they are torn to shreds.
Unexpected Expenses
Of course, you should always consider unexpected costs such as emergency vet visits, or, speaking from personal experience, when your dog destroys something costly when you're not looking.
Veterinarians
Fortunately, I have never had to take my dog to the vet for anything too serious. From my experience, veterinarians in Thailand are very thorough and compassionate.
In comparison to the U.S., veterinarians are also very affordable. A basic checkup typically costs around US$20, and basic medication costs about US$5 per prescription.
Check out our article on veterinarians in Thailand for more info.
Pet Insurance
Speaking of unexpected vet visits, pet insurance can be a worthwhile investment. Insurance policies range from US$20 to US$150 per year.
Prices vary depending on your pet's age and the coverage the policy provides. You can start an insurance policy for your pet as young as three months old and up to seven years of age.
Policies typically cover accidents and illnesses and recommended annual vaccines. Some even compensate for expenses incurred in case of a pet's passing.
More expensive policies even cover damage caused by your pet, such as the destruction of property or even physical harm to others.
Insurance policies vary in price and coverage. Do diligent research and shop around for the best policy that works for you.
Accommodations
Before buying or adopting, always check with your building manager or landlord on the pet policy.
Clarify what type of pets you intend on having. Common pets such as dogs and cats are typically not a problem. However, more unique pets that may pose harm or noise nuisance to neighbors may not be allowed.
From my inquiry, many houses in Thailand don't have a problem with pets. However, many condos have a strict no-pet policy, with very few exceptions.
In my personal case, we move a lot. This has been challenging as most pet-friendly apartments, condos, and houses want tenants to sign long-term leases.
A hack I have learned throughout the years is to look for hotels and resorts that are pet-friendly and offer monthly rates.
Bear in mind that monthly hotel rates tend to be more expensive than a typical apartment. However, utilities are also included in the price. This is another hack I have learned, as I tend to run the AC for my dog even when I'm not home, so what I save on electricity bills usually offsets the more expensive cost of the hotel rate.
Popular Pets
Which is better, cats or dogs? It's an age old question with no objective answer. In Thailand, the answer varies depending on the region of the country.
In the city, small dogs and cats are more common. Bigger dogs are more prevalent in suburban areas and the countryside, as houses here provide pets with yards and room to wander.
As an owner of an adorable French Bulldog, perhaps I am biased in saying that dogs are the best.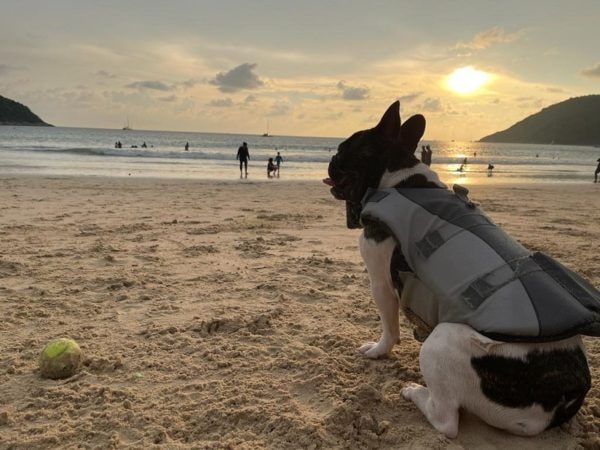 In Thai culture, dogs are typically not pampered, especially in the countryside, where they usually live as mostly outdoor pets and enjoy much freedom to wander the neighborhood.
On the other hand, my wife and I have more of a western approach to caring for our dog. In fact, on more than one occasion we have been accused of babying our dog, and my wife is definitely guilty of spoiling her.
However, in the city, I have noticed that the Thais have a unique relationship with their cats that I am not accustomed to coming from the west.
People in Thailand love their cats. They take them everywhere. And they treat them like babies. I have even seen the Thais take their cats out to enjoy a day at the park.
Perhaps you are not a dog or cat person. It's not uncommon to see more unique animals as pets here in Thailand.
In Southern Thailand, some people keep monkeys as pets. I have also seen pet bunnies, parrots, turtles, hamsters, and even squirrels at local parks in Chiang Mai.
Where to Find a Pet
In Thailand, you can find pet stores, qualified breeders, rescue organizations, or people looking for a home for a pet they can no longer care for.
Pet Stores
Pet stores are all over Thailand. You can even find them at your local street market. However, these are typically smaller pet stores and usually don't have larger pets such as dogs. Here, you can find everything like kittens, rabbits, hamsters, birds, turtles, and even squirrels.
In larger cities such as Bangkok, you can find pet stores that sell larger animals such as dogs. The biggest pet market places in Thailand are located inside Chatuchak Market. There's a specific zone for pets with almost a hundred pet stores over there.
You can find all types of pets here from cats and dogs to exotic pets such as lizards, snakes, and turtles. However, always be wary of pet stores that give inadequate care for their animals. Look for pet stores that run their business for passion rather than profit. They will more likely put a premium on the health of their animals.
If you're specifically looking for a full-bred dog, I recommend finding a qualified breeder rather than a pet store.
Breeders
In the past decade, full-bred dogs have become very popular in Thailand. You can find qualified breeders, but you may have to travel to bigger cities such as Bangkok or Chiang Mai. Unfortunately, full-bred dogs are known for being prone to various health problems.
Always do diligent research before picking a breeder. A qualified breeder will be happy to answer all your questions and address any concerns you may have.
As I got my French Bulldog in the U.S., I personally don't have any recommendations for breeders in Thailand. However, I did some research and found a few interesting and well-reviewed sources.
Dogilike is a good marketplace to find a dog breeder in Thailand. Here are some tips from American Kennel Club (AKC) to help you find a responsible dog breeder.
Popular Dog Breeds
Ironically, some of the most popular dog breeds in Thailand are those that don't fare well in hot climates. This includes the husky, a breed known for its thick coat that keeps them warm in cold climates.
The popularity of short nose breeds, such as the English Bulldog, the French Bulldog, and the American Bully has been rising in recent years.
Short nose breeds are prone to overheating, especially in hot climates. If you choose to have a short nose breed here in Thailand, ensure they are in good health by buying from a qualified breeder.
Other popular breeds in Thailand are Golden Retrievers, Labrador Retrievers, Corgis, Chihuahuas, Shih Tzus, Poodles, Beagles, Pugs, Pomeranians, Jack Russel Terriers, and the Thai Bang Kaew to name a few.
Trends in Thailand change constantly, and one can only guess what the next popular dog breed will be.
Adopting Pets
Unlike Western countries, Thailand doesn't have an animal shelter system. Furthermore, it's not popular to spay or neuter animals in the country. For this reason, soi (street) dogs run rampant throughout Thailand.
In some cases, I have known some people to adopt soi dogs. I commend their compassion. However, it's essential to care for them by taking them to a qualified veterinarian to ensure they're in good health.
You should also make sure that you can pet these street dogs before adopting them.
There are many dog rescue foundations in Thailand.
Soi Dog Foundation is a really good foundation that help find a person to adopt a street dog. It's also possible to adopt a dog from foundations like Dog Rescue Thailand, Friends of Rescue, Jai Dog Rescue, and Rescue Paw Thailand.
You can also check platforms like Facebook or other local listings for people trying to find soi dogs a new home. There are countless animal loving Facebook groups that post pets for adoptions regularly, such as FrenchBullDog Club Thailand and iLikeHusky.
Unfortunately, many popular Facebook groups are only in Thai.
In my case, my wife is happy to translate for me. If you don't know anyone who speaks Thai, there is always the translation feature available on Facebook.
If English is a priority for you, you can check out Bangkok Pet Lovers. You can also check out a general expat group such as Expats in Chiang Mai.
This is a Facebook group that can be an excellent place to network and communicate with other expats. However, it's not specific to pet lovers.
In these groups, you occasionally find other expats looking for a new home for a pet they can no longer care for.
Another option is to visit a nearby temple. Some pet owners decide to abandon their pets there. This is why there are many street dogs inside a temple.
If you find a dog you like, you can talk to a monk and ask for their permission to adopt the dog.
On a side note, a running joke in Thailand is that some houses come with a soi dog or cat. This happens when the previous tenants cared for the animal, and the animal still wants to make themselves at home with the new tenants.
Mostly, these animals are self-sufficient. But if your heart is open to it, they will surely appreciate food, water, and affection.
Short-Term Adoptions
If you don't plan to stay in Thailand for a long time, consider the consequences of having a pet. Nothing is worse than having to depart from a beloved pet, and vice-versa.
I have seen countless Facebook posts about short-term expats returning to their home country and looking for a new home for their family pets.
In many cases, these animals are older, and finding them a new home can be challenging.
Pet-Friendly Spaces
In Thailand, it's not out of the norm for people to take their pets everywhere they go.
Most Thai life is done outdoors. It's not uncommon for restaurants with outdoor seating to see people enjoying a meal with their furry companions. In fact, chances are your local establishments have a few pets of their own freely roaming the restaurant.
Health regulations aside, if pets at a restaurant concern you, you may be dining out less often in Thailand. Of course, one positive is that these pets are well-behaved.
Unfortunately, my dog does not meet that requirement, and I typically have to leave her at home when going out for food.
Public Parks
I cannot speak of other large cities such as Bangkok, but here in Chiang Mai you can find an abundance of public parks well-suited for your furry friend.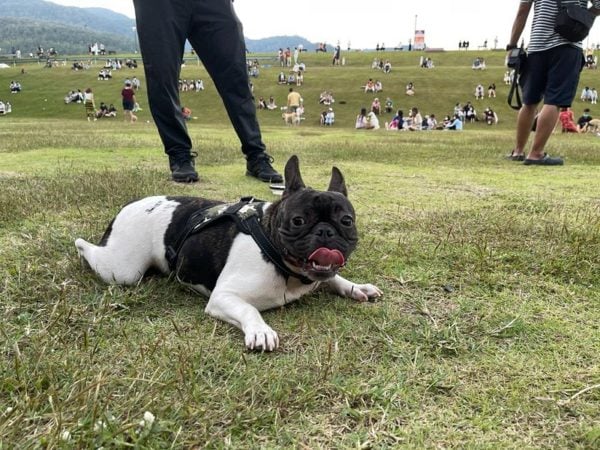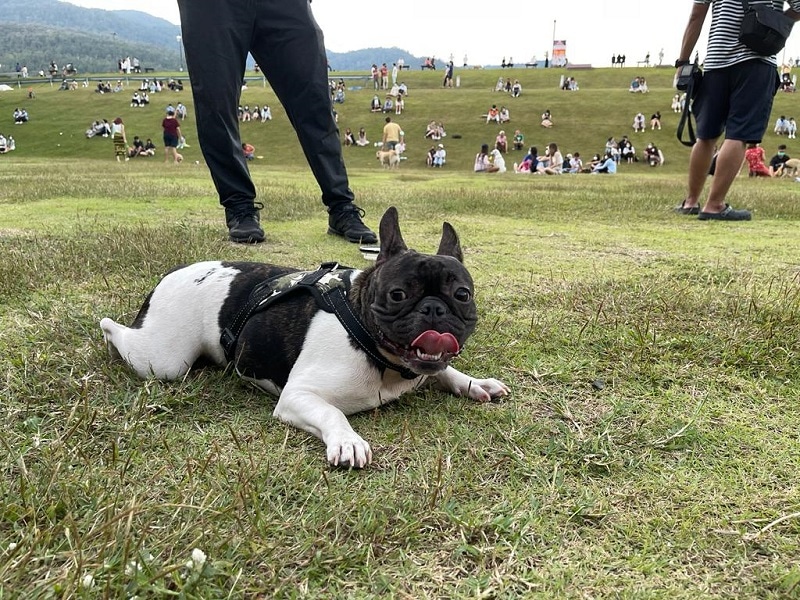 In my neighborhood, Chiang Mai University is well known for having a strong, welcoming dog community.
Also, throughout Thailand, there is no shortage of nature and hiking trails for you and your furry companion to enjoy together.
National Parks
Unfortunately, Thailand has a strict no-pet policy that means you can't bring animals into national parks.
According to the information I received when inquiring, the official reason is that they are worried about animals bringing outside viruses and bacteria to the park's natural habitat.
Beaches
As far as I know, there are no official restrictions when bringing your pet to a Thai beach. This may not be the case with private beaches, so I recommend calling beforehand.
On public beaches, pets are allowed. However, some beaches are more pet-friendly than others. For example, while we were staying in Phuket, Nai Harn beach had a welcoming dog community. There was no shortage of furry friends for my dog to play with.
Other beaches like Kata are more tourist-oriented and have more of a lounge-on-the-beach vibe. To say the least, some people were not too pleased about me bringing my dog there. Nonetheless, if your dog is well-behaved, you may have no problem bringing them to any public beach in Thailand.
Do You Need to Leash Your Dog in Public?
From my observation, in Thailand it's actually less common for people to leash their dogs. However, their dogs are typically well-behaved and listen to their owner's commands.
Ironically, in many cases, Thai people are more nervous around dogs on leashes. Their perspective is that if you need to have your dog on a leash, it's because they are not well-behaved and might even be aggressive.
In my case, my dog is very outgoing and tends to get overstimulated in crowded places. For this reason, I prefer to keep her on a leash when warranted.
Soi Dogs
The presence of soi dogs is simply a part of life here in Thailand. The question is, do they pose a danger to you or your pets?
The short answer is no. In fact, most soi dogs are well-behaved. In a manner of speaking, they know their role in society.
They are relatively docile, tend to keep their distance, and typically show gratitude to people who share food or water with them.
As far as other animals, ironically, it's my dog who is typically the problem. She tends to get very territorial and shows aggression toward soi dogs.
Thankfully she is a small dog who only thinks she's a big dog and is more bark than bite, and most dogs don't take her too seriously.
However, in some cases, soi dogs do respond aggressively. I try to mitigate this by avoiding soi dogs when walking my dog outside.
One crucial factor to be aware of is the behavior difference between soi dogs during the day and during the night. Soi dogs travel in packs at night and show more aggressive behavior. It's not uncommon for them to chase motorbikes, be more territorial, and show a more dominant demeanor in packs.
Traveling With Pets
We had just welcomed our dog to our family a few months prior to moving to Thailand. My move to Thailand was an unforeseen decision, to say the least, and I knew I would have to do whatever was necessary to get her on the plane.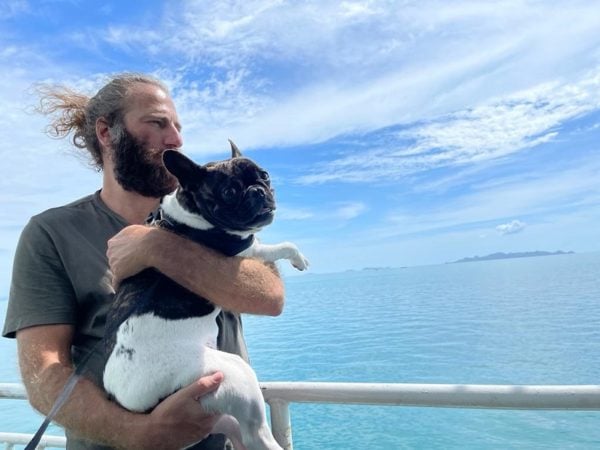 There are a myriad of procedures and documentation to import your pets into Thailand. For more info, check out our in-depth guide to importing a pet to Thailand.
Flying Domestically
Recently, airlines such as Nok Air have changed their policy to allow pets such as dogs and cats to fly within the cabin. However, this is limited only to Chiang Mai and Bangkok.
Other caveats are that your pet must be more than two months of age, and you're required to show a fit-to-fly document from a veterinarian.
Furthermore, your pet must fit into the airline-supplied crate. They offer various sizes that would potentially fit larger dogs, such as Golden Retrievers.
Of course, another choice is loading your pet in the cargo. Being that my dog is a short-nose breed, I don't feel comfortable loading her in the cargo. Use your own judgment for your individual pet.
Public Transportation
Traveling in Thailand with your pet can be challenging if you don't have your own means of transportation.
There are some options in regard to using public transportation. However, I would recommend that you carefully consider whether it's the right choice for you and your pet.
BTS and MRT
Unfortunately, as of two years ago, pets are no longer allowed on subways or sky trains unless they are registered as service dogs or K9 police units.
Buses
Pets are not allowed on buses. However, you can load them in the cargo. I would highly advise against this as it can be potentially hazardous for your pet's well-being.
Trains
From my inquiry, pets are allowed to board the train. However, they can only board the lowest class level. This section of the train doesn't have air conditioning, though, so this can be an arduous and uncomfortable journey for you and your pet.
Boats or Ferries
If you plan on taking your pet with you to islands such as Samui or Pha Ngan, ferry companies such as Seatran and Raja do allow pets on board.
However, pets are restricted from entering the boat cabin. This means you must stay on the outer deck, where there is no air conditioning.
I have personally done this a few times with my dog. The ocean breeze supplies adequate cooling for the most part.
Motorbikes
There is nothing like your first time seeing a dog riding a motorbike. Unfortunately, my dog never enjoyed this. Perhaps the secret is to get them used to it from a very young age.
I have seen all types and sizes of dogs comfortably riding as passengers and enjoying it.
Pet-Friendly Accommodations
Now that you got all your transportation sorted out, it's time to face the challenge of finding accommodations and hotels that will welcome your pet as well as you.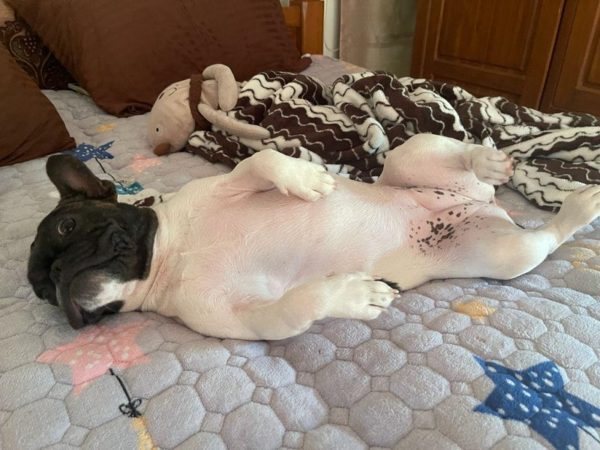 In my experience, I have had more luck with smaller family-owned hotels and Airbnb. Airbnb has a user-friendly filter system. Simply search for pet-friendly accommodations. Options, however, may be more limited.
If you're traveling with a service dog, Airbnb policy states that owners cannot reject service animals. From my experience, no one has ever asked me to supply proof that my dog is a service animal. Take that information as you will.
Another good possibility is the IBIS hotel chain. It has very lenient pet policies and branches are located all throughout Thailand. Take note that only certain branches are designated as pet-friendly, so call ahead to confirm before booking.
It's not uncommon for hotels to charge an additional pet fee. In my experience, it typically ranges from an added THB300 to THB500 per night, or, for more extended stays, one flat cleaning rate.
What to Do When Your Pet Dies in Thailand
It's with a heavy heart to consider this inevitability. Upon researching this article, I learned something I was unaware of.
In Western countries, if your dog is suffering from the consequences of old age or an un-treatable illness, euthanizing is often used as a means to end its suffering.
As a Westerner, it was shocking to learn that in Thailand, not only is it an uncommon practice but in fact it's not even an option offered.
Perhaps it relates to the practice of Buddhism and the belief in karma that influences Thais choices in this matter. Buddhists believe that the act of taking a life, whether human or animal, will remain with them in their next reincarnation.
Regardless of your personal beliefs and perspectives, this is a reality you have to face as a pet owner in Thailand.
Thankfully, my beloved dog is still young and in excellent health, and I look forward to many more cherished years with her.
Unfortunately, the passing of a beloved pet is inevitable. Common practices here in Thailand are to hold burying ceremonies or cremation ceremonies at a nearby temple. There is also a pet cremation service such as Pet Funeral Thailand.
Cherish your time with your pets. They may not be here for a long time, but they will undoubtedly be in your heart and memories forever.
Now, on to You
It's a well-established fact that pets promote health and well-being to their owners. If you have chosen to read this guide, you undoubtedly already know this.
I hope this guide provided information that better prepares you for the challenging but enriching experience of having a beloved pet in Thailand.
For an inside glimpse of my dog Zoe's life in Thailand, check out her YouTube channel, Life of Zoe.