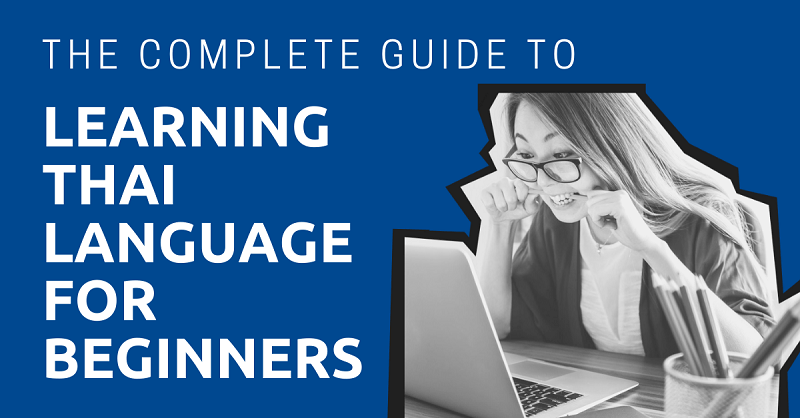 When it comes to learning Thai language in Bangkok, you have quite a few options.
You can go to a physical school if you have the free time. At a school you'll get to study with other learners and practice in and out of the classroom.
You can take one-on-one private lessons. This will speed up your learning, but you'll have to take it upon yourself to practice in between lessons.
Or you can study online. Studying online lets you practice at your own pace, while saving you time. But you still have to practice to get the most out of your learning.
If you're looking for a time- and cost-efficient way to learn Thai, then checkout Thaipod101.com. Just for being an ExpatDen reader, you can use this link and get 25% off on ThaiPod101 courses.
If you want to find out about all the learning options available to you, this guide shows you how to learn Thai at language schools, the courses they offer, and your online options.
Enter your email below to receive our FREE Thai Language Cheat Sheet. It includes a comprehensive list of downloadable PDFs to quickly get you started learning the Thai language. The Cheat Sheet covers everything, from the alphabet, tone marks, and consonant sounds to vocabulary and much more.
Basic Thai Language
With 44 consonants, 15 vowels, and five tones, Thai language is probably one of the most challenging languages to learn.
But not all these consonants and vowels are used. The ones borrowed from Sanskrit language will usually be used in formal or royal writings.
So, unless you're running for the Thai government, you only need to learn the Thai alphabet and tones.
Thai grammar rules are straightforward. In contrast to the English language, where there are several exceptions and many different styles to follow, writing a Thai sentence is less complicated.
The five tones are the tricky part. Different tones mean different things. I learned that the hard way when I tried to ask a kid where his aunt (paa with a falling tone) was, but I ended up being told to go to the forest (paa with low tone).
One time I wanted to buy bananas (kluai) and the lady kept giving me the side eye. Only later did I realize that I told her I wanted to buy male genitals.
Eating at restaurants and food stands was sometimes a disappointment. I would order something with chicken (gai), but I would be given eggs (khai).
Benefits
Speaking of food, some local eateries ask you to write your order so they can line them up. This is easier when you can speak Thai. If not, the staff are usually helpful enough to write your order for you.
Being fluent in Thai, I have opened myself to opportunities that aren't readily available to non-Thai speaking expats.
Going places has gotten easier. Doing mundane tasks like ordering my tom saeb nuea, or more complicated tasks like giving directions to our condo in Bangkok to a non-English speaking delivery guy over the phone, I can do more efficiently.
Finding jobs is better when employers know you're fluent in Thai. Only some Thai employees these days can speak English.
Some workflow processes will require you to talk Thai to coworkers. Those who are seeking managerial positions definitely need this. At some point, there will be a subordinate or two who'll need you to explain a process in Thai.
How Did I Do It?
For the first ten years, I learned Thai with Thai friends who were eager to teach me. Learning how to listen and speak in different situations came first. The reading and writing came later.
It took me a few months to converse daily. Although my tones are far from perfect, my listener usually knows what I'm trying to say based on context.
I started with learning one word per day and tried to use them in conversations. That's how I built my vocabulary. It's very helpful when you're on the receiving end of the conversation and trying to understand what the speaker is saying.
For example, I started by memorizing the numbers one through 10. That opened up a whole new world of topics.
The second word I learned was water (naam). This paved the way for me to learn that Thai words are straightforward. Anything that's in water form has naam in it.
The third word I learned was beautiful (suay). By doing so, I then realized that Thai is different than English in that the adjective comes after the noun.
By using the words I learned in conversations, I discovered these lessons which I wouldn't have otherwise known.
My conversational Thai is not perfect, but it's functional. Right now, I'm not only learning to read and write Thai at a language center, but I'm also learning how to correct the tones I have adopted through habit.
How Can You Do It?
There are a variety of ways that you can learn how to speak, read, and write Thai. But like most learning endeavors, you need to put in the time and dedication.
A three-month course gives you the basics. And with a one-year course, you can expect to have the proficiency of a first-grade Thai student.
This all depends on how intensive your learning is, of course, and how often you learn and how fast of a learner you are.
Thai Lessons for Beginners
You can try to teach yourself Thai, like I did in the beginning, or you can do so through the following methods.
Learning Online
Despite the lack of social interaction and immediate feedback, there are pros to learning Thai online.
For example, when and how you learn is up to you. If you're self-motivated and commit to your studies, you could advance quickly and use what you learn in the real world.
ThaiPod 101

One online learning course is Thaipod101.com. When you sign up, you get a seven-day free trial of all their premium offerings, which include:
spaced repetition flashcards
Core 2000-word lists
ten downloadable PDF lesson notes
and more
Their lessons are divided into four proficiency levels:
absolute beginner
beginner
intermediate
advanced
ThaiPod101's lessons revolve around practical uses of the language, letting you apply everything you learn to daily life.
The program, called My Pathway, will lay out lesson plans according to your skill level.
If you want to give yourself a break from the lessons, there are other resources such as the PDF cheat sheets, bonus apps, flashcards, and word banks.
The fastest way to learn, though, is to study one-on-one with an instructor by upgrading to a Premium Plus membership.
You get a more personalized program based on your skills and needs, and you can keep track of your progress with regular assessments.
You can read our Thaipod101 review for more information.
Learn Thai From a White Guy

Another popular course for learning Thai online is Learn Thai from a White Guy.
Their online Thai course is good for learning practical Thai that you can use in your daily life, rather than "textbook" Thai that is more formal and less practical.
Once you finish the first course, you should be able to read the Thai script and have a good understanding of the Thai sound system, tone rules, and pronunciation. You will also learn enough vocabulary and common sentences to communicate in everyday situations.
The course gives you a solid foundation in Thai, which will help significantly on your journey to master the language.
Learn Thai from a White Guy was developed by Brett Whiteside, the "White Guy", based on a system he developed over 10+ years of direct experience learning and teaching Thai to foreigners.
He knows the problems that you face with current Thai language books and courses. And he understands the difficulties that English speakers have when learning a tonal language like Thai, since he experienced all the same frustrations when he first started studying Thai.
This knowledge helped him develop a systematic way to teach Thai to foreigners.
The Learn Thai from a White Guy course is broken down into 3 steps (read Thai, learn common Thai sentences and phrases, and understand basic conversations) which is broken down over 4 courses:
Read Thai in 2 Weeks
Starter Sentence Pack
Need to Know Sentence Pack
Talking Thai
Within each course, he points out all the important parts to help you quickly learn Thai, including specific problems English speakers have and how to overcome them.
The courses also come with audio, examples, and exercises.
You also get supplemental material almost every week by email. If you have any questions or problems, you can also contact Brett for his advice. He's always happy to explain if you get stuck.
To summarize, if you are looking to save a lot of time and frustration on your journey to learn Thai language, check out Learn Thai from a White Guy's program where you get a systematic way to learn Thai as a foreigner.
You can even use the two courses together to complement each other.
Since we've published the guide, people have asked us about learning Thai with duoLingo. Although they have over 35 languages you can learn, Thai isn't one of them—yet.
But once they do offer Thai we'll be sure to add a review of duoLingo here.
Using Online Tutor
An online tutor is a great way to learn Thai. An online tutor can dedicate all of their time to helping you improve your Thai, point out problems, and quickly teach you basic vocabulary on the topic you want to know.
Using an online tutor is very similar to taking a private class. You just meet your tutor online instead of in person. It can be done through Skype or another video calling application.
Online tutors are slightly cheaper than taking private classes. They're normally in the range of 240 baht to 450 baht per hour.
In addition, you don't need to pay for the cost of transportation, or coffee at a coffee shop. And you can start learning from your home country.
To start your search for an online tutor, go to italki.com, and choose the teacher that you like the most.
Then you can take a trial hour, which is 50% cheaper than the normal rate.
If it works for you, then you can keep using that tutor. If not, you can change your tutor or use other learning methods.
Enrolling in Thai Language Courses
**Because of the current COVID-19 pandemic, this method isn't available at the moment. **
Most of these centers serve two different purposes though. One purpose is for students to learn Thai, and the other purpose is for students to secure a Thai students' (Non-ED) visa.
You should only get a non-ED visa by enrolling in Thai language courses when you want to learn Thai and can actively attend a class.
Getting a non-ED visa without attending class is considered illegal by the Thai government. Alternatively, you can look at other visa options such as the Thailand Elite Visa for staying in Thailand.
If you're looking to learn in a classroom setting, there are a number of language centers in Bangkok. The teaching method usually goes by modules, on weekdays, and varies in price.
Learning with a group means you interact more, and there are more people to help you other than the instructor. This also means that instructor's focus is divided in the class and learning is based on the pace of the class.
Based on inside sources, Duke Language School is considered the number one language school in Bangkok.
Rak Thai Language's method of teaching is similar to the Union Thai method, which was designed over 40 years ago for teaching missionaries to be fluent in Thai.
Pro Language School regularly updates their teaching materials.
Sumaa is also considered a good school by many people.
Other schools, including Modulo Language School, Union Thai Language, and AAA Thai Language School, are also good.
Each school has their owns strengths and weaknesses. You should choose the one whose teaching method you love the most. Most of these language centers are along the BTS and MRT lines.
For more serious learners, one of Thailand's most prestigious academies, Chulalongkorn University, is home to the Center for Thai as a Foreign Language (CTFL).
Currently, the program is divided into three courses.
Intensive Thai Program

o Price: 29,500 baht
o Times: Mondays to Fridays from 9:00AM to 12:00AM or 1:00PM to 4:00PM
o Duration: six weeks
o Benefits: ED Visa
o Enrollment: odd months

Communicative Thai for Beginners

o Price: 9,500 baht
o Times: Mondays and Wednesdays or Tuesday and Thursday from 6:00PM to 8:00PM
o Duration: 10 weeks
o Enrollment: January, April, July, and October
Reading Thai Language Books
There are a thousand and one books out there about Thai language. Depending on your skill level or goals, you're sure to find a book that caters to your needs.
But how do you find the best books? How do you look for the perfect book without spending a week in Kinokuniya browsing the language shelves? Here at ExpatDen we have a guide dedicated to Thai book reviews.
Books can provide a good reference point. However, Thai language uses a lot of tones that you must heard and speak.
If you learn through books, you risk not learning the right tones. Use books as a secondary resource.
Also, there are a few secondhand bookshops around Bangkok if you're looking for a more cost-efficient route.
A popular bookstore is Dasa Book Cafe between Sukhumvit 26 and 28. You can visit the cafe or browse their DasaBase page for the list of books they have in stock.
There are also a number of secondhand bookshops in Chatuchak's weekend market and at MBK Center.
Taking Private Classes
One-on-one instruction is the most effective way of learning Thai because your instructor can assess you more effectively.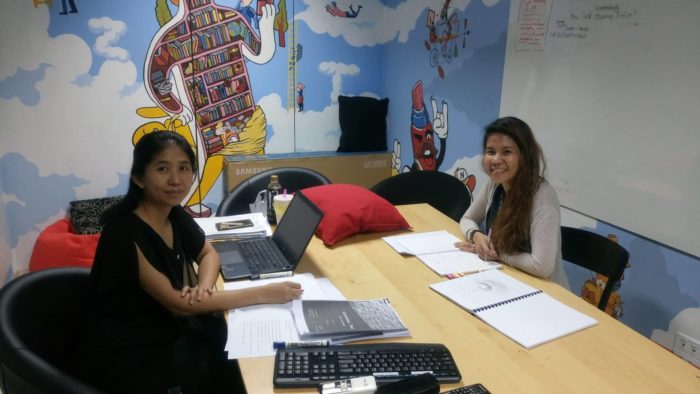 I'm learning to read and write Thai through my employer's incentive program at Sumaa Language and Culture Institute.
Private classes start at 39,000 baht, which gets you 60 one-hour classes. Students also have the option to pay for a minimum of 10 one-hour classes and then add more classes later at 650 baht per class.
Sumaa gives students the choice of studying at the language center in Sathorn or at their own place. If students prefer the latter, the fee starts at 900 baht per hour.
Aside from Sumaa, there are a number of Thai language centers in Bangkok that offer private classes. You can start you search in the section on Enrolling in Thai Language Courses.
There are also freelance Thai teachers you can approach. They can teach you online or at food courts, coffee shops, or your office and condo.
Rates range from 400 baht to 600 baht per hour. You can look for them our list of recommended Thai language teachers.
italki is another choice to help you find an online private tutor.
Learning with Friends
Many of these avenues for learning all promise fun. But in my opinion, the best way to have fun while learning Thai is to learn with people you're most comfortable with—friends.
Perhaps it was a stroke of luck that I was surrounded by Thai friends who weren't only supportive and honest, but also patient.
They were quick to point out if I was using the wrong word and would not hesitate to launch into a quick Thai tone lesson, even in the midst of our bowl of noodles (koey tiaw).
My friends were the ones who introduced me to the one-word-a-day practice and suggested we begin our mornings at work not with hello (sawadee), but with "What word would you like to learn today?"
It was their blind trust in my Thai language skills that gave me the courage to converse with anyone in Thai despite my imperfect tones.
Bonus Isaan (northeastern Thailand) words were handed out at no extra costs, together with a round of Thai slang. And when I failed to get my point across, they would take over, pat me on the back and say, "practice makes perfect."
Learning Thai with Apps
Head over to your Google Play store or App Store for iOS and search "learn thai." It's overwhelming how many apps there are for learning Thai on your phone.
Hundreds, if not thousands are available at your fingertips. Too many for us to review.
If I had to give any advice about learning Thai with an app, I'd say stick with apps built by reputable language learning companies.
ThaiPod101 have a mobile app, so if you sign up for their courses you can learn right from your phone.
Other Methods
There are many YouTube channels that help you to learn to speak Thai. But my favorite channels are:
You can use Bangkok Post to your advantage when you reverse the direction of learning. You get to learn the Thai equivalent to most common English words.
Also another activity that has helped me improve my Thai is listening to Thai music and watching Thai movies with subtitles. It's a win-win situation. I get to have fun while I learn unfamiliar words, especially slang.
Now, on to You
When it comes to learning Thai, different styles work for different people. Some learners may like to learn at a school. Others may prefer to learn online.
While there is no one best way to learn Thai, you can use Learn Thai from a White Guy to start learning Thai and laying out your Thai language foundation.
Then, use Thaipod101.com to help you to be fluent in Thai.
What to Read Next