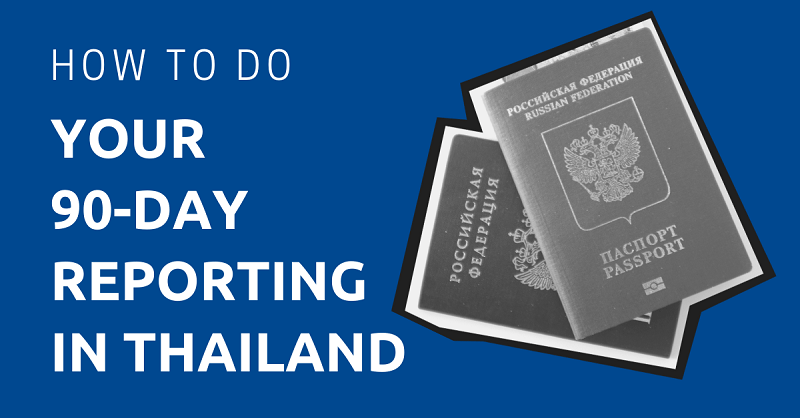 The first time I went to the Thai immigration office in Chang Watthana, Bangkok, to do my 90-day reporting, I had no idea what I was doing.
Moreover, I didn't know what paperwork I needed, whether I needed visa photos, or if I'd have to pay for the process.
Seven years later, I've become a pro at the mandatory 90-day check-in.
That said, this short guide will walk you through the 90-day reporting process, show you where to go, and tell you the three methods you have for reporting.
What is 90-Day Reporting?
Anytime you stay in Thailand on a long-term visa, such as one for work, education, retirement, marriage, or similar, you must report to the immigration office every 90 days.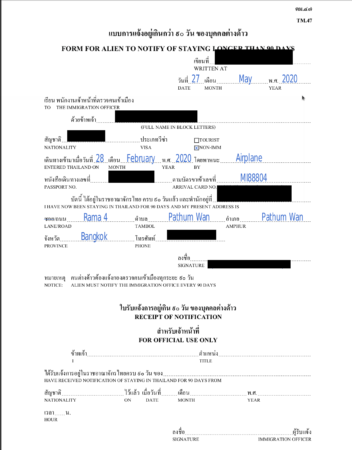 You have to do this to let immigration know that you are, indeed, still in Thailand and living at the same place.
This process has been around for quite some time, but we can only hope that 90-day reporting will be done away with in the future.
What 90-Day Reporting is Not
When you do your 90-day reporting, you're not being granted more time in Thailand. You're simply letting immigration know that you're still in the country and living at the same residence.
Moreover, your Thai visa and 90-day reporting have nothing to do with each other.
And lastly, when you apply for a new visa every year, your 90-day reporting date does not change.
When to do 90-Day Reporting
You can do your 90-day reporting anywhere from two weeks before your due date up until seven days after your due date without paying a fine (more on fines later).
I was once late by one day because I came down with the flu, but immigration had no zero sympathy – I had to pay the fine.
So, make sure you do your 90-day reporting on time every time to avoid paying hefty fines.
To make sure you never miss a due date, set a reminder on your phone or calendar.
When Does Your 90-Day Reporting Due Date Reset?
Every time you do your 90-day reporting to immigration, your due date resets by another 90 days.
Immigration officers will stamp your next due date on your 90-day receipt of notification, which they sometimes staple into your passport.
However, if you have a long-term visa, leave Thailand, and then re-enter, your 90-day reporting due date resets from the date you re-entered the country.
As a side note, if you plan on leaving Thailand and you have a long-term visa, you must get a Thailand re-entry permit, otherwise you'll void your visa.
Documents
Unlike applying for a Thai visa, doing you're 90-day reporting in Thailand doesn't take piles of paperwork and many hours to prepare.
With just a few forms, your passport, and some copies, you'll be good to go.
To do your 90-day reporting, you need the following documents:
your passport with visa stamp
two copies of your passport biometrics page
two copies of your TM.6 departure card (the card you filled out on the airplane before landing in Thailand)
two copies of form TM.47, completely filled out (download the PDF)

on form TM.47, fill in the date, your name, passport number, and address; the immigration officer will fill in the lower half under "For Official Use Only"

two copies of your visa stamp from inside your passport
your previous 90-day reporting receipt of notification (if you've done your 90-day reporting before)
Note that in some immigration offices you may not need copies of your documents. But it's always a good idea to bring two copies just in case.
Once you have your documents in order, you can go on to the next step.
Where to do Your 90-Day Reporting
When it comes to doing your 90-day reporting, you have three choices, which we'll cover in depth in each section below.
In Person
The most popular way to do your 90-day reporting is in person at one of the local immigration offices in Thailand.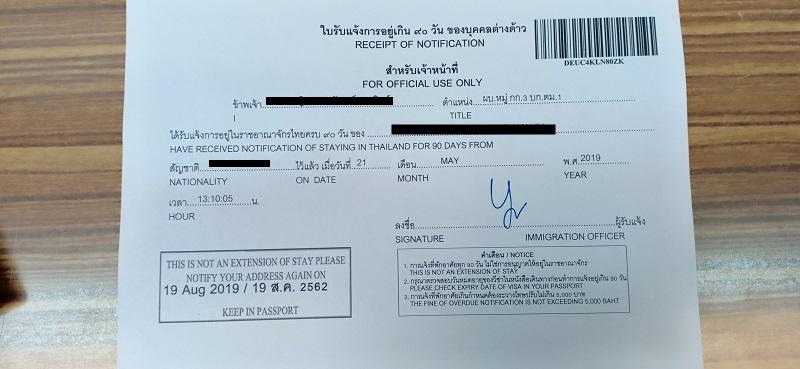 Here's a Google Maps list of most of the immigration offices located throughout Thailand.
In most cases, you show up at the immigration office, get a queue number, and then wait your turn.
Outside of Bangkok, the process is fairly quick – usually under 30 minutes. However, in Bangkok it could take over an hour depending on how many people show up.
Also, you can have someone else do your 90-day reporting for you. Just make sure you give them all the required documents from the list above. Moreover, you don't have to give that person power of attorney to do it for you.
Online
This is the method I've been using for the last two years.
A lot of expats say that Thai immigration's website doesn't work, but I've never had a problem using it.
In the past, I used the website below from my old Macbook Air using Firefox browser, but nowadays I'm currently using a Lenovo laptop running Linux and using Firefox.
Go to the Thailand Immigration website.
Read and accept the terms and conditions (you have to scroll through the entire text box).
Click the top-most blue box for 90-day reporting (online version of form TM.47).
Fill out form TM.47.
Get and print confirmation page.
Keep in mind that the confirmation page is not your 90-day reporting approval.
You'll have to wait a few days for immigration to email your official 90-day reporting results.
Once they do, print it out and keep it for your next 90-day reporting. It'll also have the due date for your next 90-day reporting.
Through Mail
You can also send form TM.47 and photocopies of all the documents in the Documents section above to an immigration office through mail (check Google links above for addresses).
Personally, I wouldn't go this route because I need to know that immigration actually received my paperwork, and going through the mail, there's just no way to be sure that they've received it.
In the last seven years, I've only met one expat who did his 90-day reporting through mail, so it is possible – but I'd be wary.
Fines for Not Reporting
There may come a time when you forget to do your 90-day reporting. It happens to all expats at some point.
If this is the case, you have to pay a maximum 2,000 baht fine.
Changing Your Address
When you move in Thailand, you have to let immigration know ASAP.
You may think it's okay to wait until your next 90-day reporting is due, but you'll have to pay a fine if you do this — up to 2,000 baht, in fact.
Legally, you must let immigration know within 24 hours of moving into your new place. Realistically, this is hard to do when you're dedicating all your time to moving.
Changing your address is not a difficult process, but it does take the help of your landlord. I wrote this guide on changing your address in Thailand for the province I live in, but the process is generally the same wherever you live.
Now, on to You
After you do your 90-day reporting one time, you'll see it's one of the easier things you have to do while living in Thailand.
Hopefully in the future Thai immigration will do away with the whole process, as it doesn't really seem to serve much of a purpose.
But until then, it's a reality of being an expat in Thailand, and one of those things you have to do to enjoy living in the country long-term.