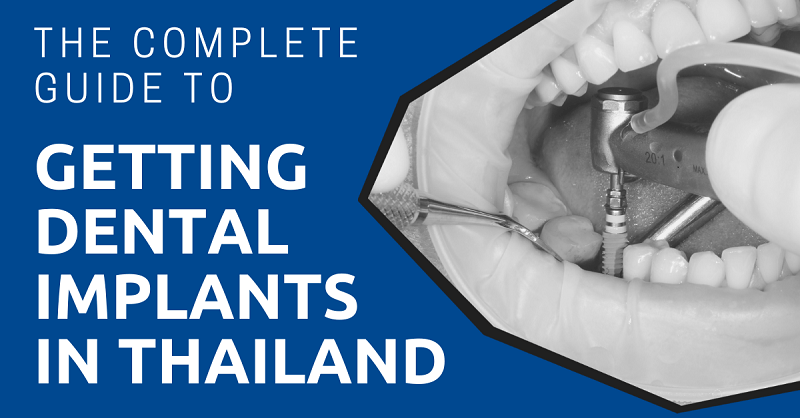 Getting dental implants is a big deal.
If done well, It will be a procedure that you need to undergo only once because it is permanent and will last a lifetime.
You want to make sure everything goes as smoothly as possible and without breaking the bank.
Read this article to learn everything you need to know about getting dental implants in Thailand. This guide covers information on implant systems, procedures, costs, dental clinics, and payment plans.
Why Thailand?
Thailand is the world's leading medical tourism destination. More and more people are traveling to Thailand for medical and, recently, dental treatments. Thailand is a popular dental tourism destination because of two main reasons: cost, quality, and service.
Dental implants are undoubtedly the most expensive among all dental treatments. In the U.S. this will cost you around USD$4,800 for a single tooth implant. In Australia, it can be as high as $7,000 AUD.
In Thailand, even the most expensive clinics won't charge you more than $3,000 USD for the best implant systems they offer. You might even pay less than $1,500 USD for a single tooth implant.
Prices aren't the only reason though; dentists in Thailand are internationally trained and use the same implant systems and materials as those in the west. Your results can be just as good or better than your dentist at home.
How to Get Tooth Replacement with Dental Implants
A dental implant is one of the best ways to replace a missing tooth. It involves placing a new artificial tooth root in the jaw and a separate tooth cap on top of the new root to replace a missing tooth.
An oral surgeon will perform a minor surgery to place a small rod fixture — usually made from titanium — that will fuse with your jawbone beneath the gums where the missing tooth was. This is the artificial root.
A replacement tooth will then be screwed into that rod in a separate procedure after the initial phase has healed.
A dental implant is more expensive and time-consuming than other teeth replacement methods, but is also stronger, fits in the mouth more comfortably, and has a higher success rate. Implants made from titanium are built to last for decades.
A dental implant can replace a single tooth, multiple teeth, or even all of your teeth. If you need to get dental implants for multiple teeth, a dentist may place only a certain number of rods and then connect the replacement teeth to dental bridges secured at implant spots throughout the mouth.
All-On-Four Dental Implants
All-on-4 dental implants are a popular dental implant technique to replace every tooth in the entire upper and lower jaw.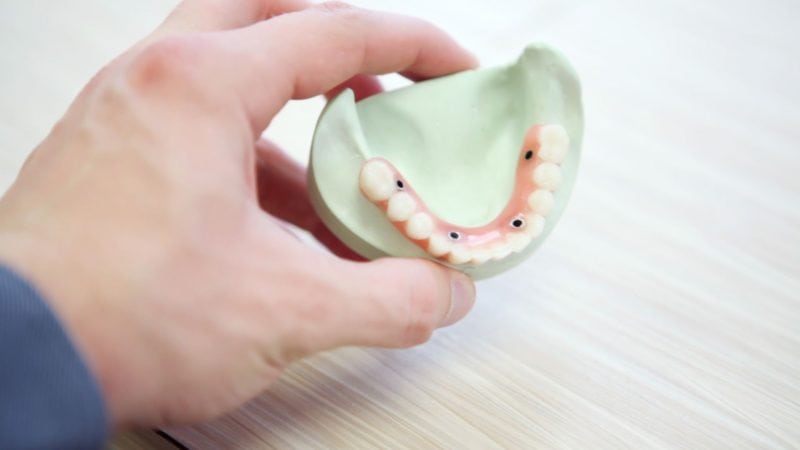 All-On-Four implants only require 4 screws into the jaw bone and are available in Thailand.
Four rods are placed into the upper jaw and/or four rods into the lower jaw and then dental bridges are created and a whole set of teeth are placed like permanent dentures. Fewer rods leads to quicker recovery times and less pain.
This video shows you how all-on-four dental implants work.
Requirements
A patient's health status, time, and money are the three main considerations when getting dental implants.
Health Status
If you are able to visit the dentist regularly and have healthy gums and bones in your mouth, then you are a viable candidate for dental implants. Healthy gums and bones are required as they hold the artificial tooth root.
Note that after you get dental implants, you will need to maintain good oral health and regularly visit the dentist.
Time
Dental implants are a long procedure. You will need to visit the dentist a few times over a period of 3 to 6 months minimum. In some cases, it can take eight months in total.
So if you plan to come to Thailand to get dental implants as a medical tourist you will need to fly here at least twice within the required period, once for the initial consultation and implant surgery. Then a second time after it heals for the tooth application.
Your situation will be unique, understand the timeline clearly by discussing with your chosen oral surgeons.
Money
Getting dental implants is widely understood to be one of the most expensive dental treatments available. In Thailand, prices start at 35,000 baht for a single tooth replacement.
For an all-on-four treatment, you can expect to pay a few hundred thousand baht.
Please note that these are the costs of the dental implant alone. To fully replace your tooth, you may need to pay the cost of a dental crown, CT scan, tooth extraction, and so on.
We will discuss more about costs later in the article.
Is it Painful to Get Dental Implants?
Most people are afraid of going to the dentist. And the idea of opening up your gums and getting your jawbone drilled sounds really scary, right?
You are not alone in this. In various online surveys where people shared their experiences in getting dental implants, a majority said that it's not as painful as they initially thought. Some even claimed that they didn't feel pain at all both during and after the surgery.
And all of them agreed that it's worth getting implants.
Anesthetic and Sedative Options
In case you are still nervous, it's highly recommended to visit a clinic with a range of sedation dentistry. Not all dental clinics have anesthesiologists on staff to provide various sedation options. Finding one with experience in this part of surgery is very important.
Depending on your health condition and your surgery requirements, your options will vary.
The most basic is a local anesthetic injection to numb the affected area. Twilight anesthesia uses mild doses of drugs to block pain, reduce anxiety, and provide a temporary memory loss. General anesthetic is when you are put under, into a deep sleep for the duration of the surgery.
Pain-free-dentistry, as it is known, costs more since you need to pay for anesthesiologists and a post-anesthesia care unit.
Only a limited number of dental clinics in Thailand are licensed to do general anesthesia. One of them is BIDH.
Guidelines to Getting Tooth Implants
There are several steps involved in a dental implant procedure.
The whole process may take several months depending on your oral condition, requirements, and chosen implant technique. In perfect situations, it is possible to have the whole procedure finished in one day known as one-day implants.
Below is a rough guideline of what you need to do to prepare.
Please note that there are several ways to perform a dental implant procedure. Your procedure may not be similar to what's outlined below.
Evaluation and Planning
Before you begin, a dentist will order dental x-rays, examine your overall oral health, and come up with a treatment plan and inform you about the cost of your procedure.
Depending on your condition and requirements, a dentist may use a 3D CT scanner to examine your entire mouth in order to get accurate data on your bone and jaw structure. Note that the CT scan is only available at major hospitals and dental clinics.
After the evaluation process, you will set a date to begin the process of implanting the tooth.
Implanting an Artificial Tooth
A dentist may need to extract an old tooth first before implanting an artificial tooth. If you're in good oral health, a dentist might be able to drill your jawbone and place the implant right away on the day you visit. This is called an immediate implant.
If you need bone grafting or other situations arise, then you need to wait a few weeks to a few months before the dentist can place the implant after preparing the area.
Once the implant is placed, you need to wait 8 – 24 weeks until you are healed and the implant is fully integrated into your jawbone.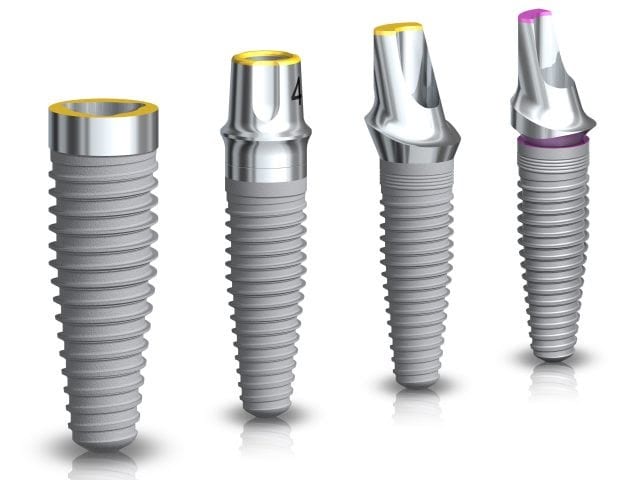 Placing Abutment
An abutment screw connects an artificial root to the crown and bridges with a replacement tooth. Once it's placed, a dentist may create a model of your tooth that needs replacing and put a temporary crown in its place.
Placing a Permanent Crown
This is the final step in a dental implant procedure. This involves replacing a temporary crown with a permanent crown, with the dentist making sure that your new tooth is going to function normally and have a similar color as your natural teeth.
Follow-Up Treatments
You may need to visit a dentist a few times for check-ups and follow-up treatments. This is to make sure that the process is a success and you can use your new tooth/teeth as normal.
One-Day Implants
Because of advancements in dental technology, it's now possible to complete every step of the surgical procedure in one day. This is called a one-day implant or a single-day implant.
Performing one-day implants depends on your dental requirements, oral conditions, and the dental clinic facilities.
After one-day implants, you will be required to eat soft food for a few months and regularly visit the dentist.
You can have one-day implants in Thailand in many leading dental clinics and hospitals including BIDC, BIDH, and Thantakit Dental Center.
Implant Systems
You can choose from a variety of implant systems available in Thailand. These systems mainly differ in size, shape, and material.
The most popular system is the ITI Straumann from Switzerland. It's one of the best dental implant systems in the world because Straumann is known for the quality and stability of its materials.
Alternatively, you can go with a more economical option from SIC Invent (also from Switzerland) and PI Branemark from Sweden. There is also Osstem from South Korea and Astra Tech from the United States.
If you are looking for Nobel Biocare, another popular dental implant system from the U.S., please note that as of January 2022 Nobel Biocare no longer has a distributor in Thailand.
Although you may choose an appropriate system for yourself, the dentist's recommendation ultimately carries a lot of weight. Consult with them about which system is most suitable for you based on your jaw and bone conditions.
Note that some dental clinics may not tell you which implant system they use. You may need to ask.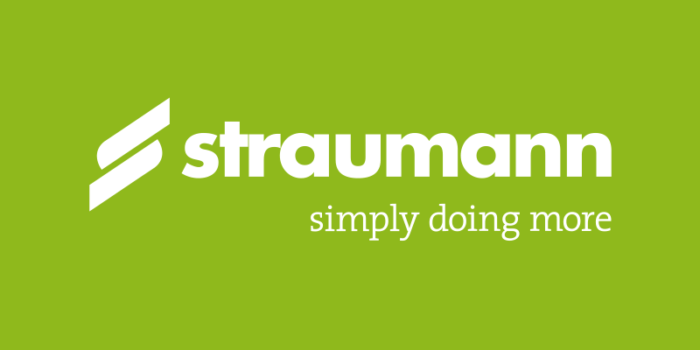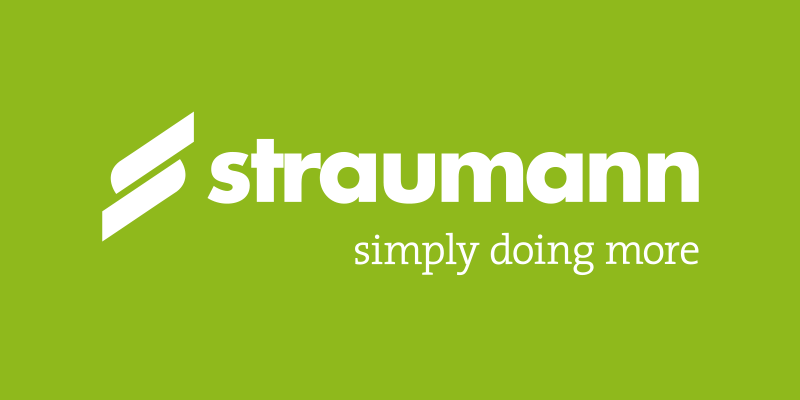 Costs
The cost of dental implants in Thailand depends on the following factors:
Implant system type
How many implants you need
Related treatments
What clinic you go to
Implant Systems
Different clinics in Thailand offer a variety of different implant systems.
Osstem from Korea is the cheapest implant system, followed by Astratech, and ITI Straumann.
ITI Straumann from Germany is usually the most expensive system.
For a single dental implant, Osstem can be cheaper by at least ten thousand baht than ITI Straumann.
In addition, each system requires different materials and products, and therefore has different price points. For example, you can choose between Roxorid and titanium for the ITI Straumann system.
Roxolid is a combination between zirconium and titanium which is more durable and results in faster healing compared to titanium alone. But it's also more expensive.
For ITI Straumann, you can expect to pay at least 70,000 baht for a single-tooth implant. On the other hand, an implant system from Korea will cost less than 50,000 baht per tooth.
Complexity
In addition to how many implants you need, the level of complexity of your case will determine the cost. A dentist may charge you more if your case is complicated.
This is why before giving you an exact quote, a dental clinic will first examine your oral condition.
Related Treatments
When getting implants, you need to pay additional costs for related treatments including attaching an implant crown, CT scan, X-ray, check-ups, and tooth extraction.
The price you see on the website may not be the final price you pay.
Some dental clinics may provide an initial quote indicating that you need to pay only 30,000 baht for the dental implants when in fact, there could be an additional 20,000 baht or more on top of that.
Avoid surprises and ask the clinic first to give you a detailed breakdown of all the costs that will be incurred before you choose them. They should be able to provide it to you after examining you. Get it in writing.
Full Mouth Dental Implants Cost
With all of the costs combined, you should expect to pay around 200,000 baht ($6,700 USD) to 500,000 baht ($16,700 USD) to get a full mouth of dental implants in Thailand.
Although the cost may look expensive, it's much cheaper than other countries. For example, in the US, the same treatment can cost you over $50,000 USD.
To get a precise cost of treatment, you need to visit a dentist. Your cost will depend on your unique situation.
Which Clinic To Go
Different clinics quote different prices even those who offer the exact same technology and procedures.
Brand-name dental clinics tend to be more expensive than privately owned clinics. But those that charge more are not always better, and more affordable clinics will not necessarily be bad.
It boils down to a matter of trust. Many expats would rather get dental implants at a brand-name clinic and pay more because they trust that the service is high-quality and they want to make sure everything goes well.
These types of clinics in Thailand have modern facilities, state-of-the-art equipment, and experienced specialists.
Below is a table comparing the costs of dental implants in popular (i.e., brand-name) dental clinics in Thailand. This should give you an idea how much you need to pay for dental implants.
However, the actual price that clinics will charge may vary.
*Prices are in Thai Baht
If you want to save some money, you can choose the PI Branmark system. It is actually an original implant system developed in Sweden by Nobel Biocare Brandmark and recently imported to Thailand.
You can find their price list below.
Where to Get Dental Implants
The process of getting dental implants is a specialist procedure, you can't just go to any clinic on the street.
Not every clinic has both implantologist and aesthetic dentists on board, and some may not have a 3D CT scanner, which is essential to the procedure.
It's the same with hospitals in Thailand. If you want to have the procedure done in the dental ward of a hospital, you need to go to big hospitals that have fully equipped dental centers.
Bangkok
As the center of Southeast Asia's medical tourism industry, Bangkok offers world-class dentists, clinics, and technology to make sure your dental implant treatment is a success. The variety of options will ensure you can find the right dental clinic for your budget, comfort, and needs.
You will be able to find the largest number of internationally board-certified dentists in Bangkok compared to other cities in Thailand. You can check out the American Dental Association's (ADA) website for a complete directory of ADA certified dentists in Bangkok.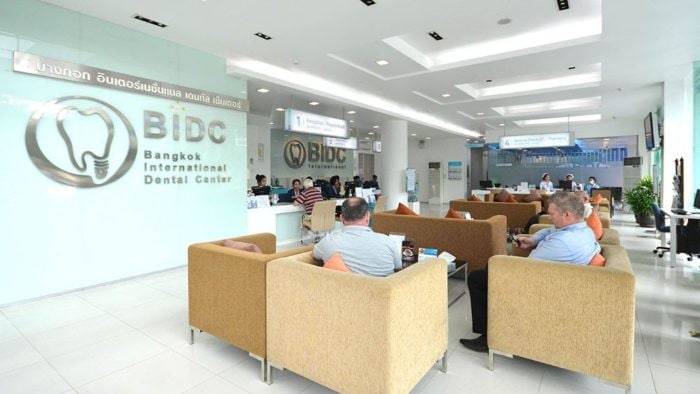 Majority of dentists in Bangkok speak English well enough that a translator is not needed. Some places will even staff employees fluent in Japanese, Chinese, and Korean.
Because dental implant procedures are more complex, you will be required to schedule an appointment in advance via a message to their Line, an email, their website contact form, or phone. You can also just walk in to make inquiries and might even be able to get a consultation on the spot.
Dental implants can also be done at a discount by students at Bangkok's dental schools, however getting an appointment is difficult and a Thai translator is needed.
Dental implants in Bangkok will run you a little more than in Chiang Mai or Phuket because of the city's higher cost of living. However, Bangkok offers a wider variety of dental implant systems and superior facilities.
Learn More:
Bangkok International Dental Hospital (BIDH)
BIDH is one of Thailand's newest and largest dentistry centers. It is a fully licensed hospital that offers an extensive range of dental treatment services as well as the most advanced dentistry technologies accessible in Thailand. The BIDH Dental Implant Center is staffed entirely by overseas board qualified dentists.
They are one of the few dental clinics in Thailand that offers general anesthetic and sedative options for dental implants, for both single and full-mouth treatments. All dental implant cases are handled by qualified implantologists, not general dentists.
Prices as of January 2023 are listed below. It includes implant post, abutment, crown, anesthesia, and surgery fees. It does not include additional procedures needed for pre and post treatments, such as CT Scans and minor repairs.
| | |
| --- | --- |
| Implant System | 1 Implant 1 Crown |
| P-I Branemark | 60,000 THB |
| SIC Invent Swiss | 65,000 THB |
| Straumann | 85,000 THB |
| Straumann Roxolid | 90,000 THB |
Bangkok International Dental Center (BIDC)
BIDC is among the most comprehensive dental care facilities in all of Thailand.
BIDC and BIDH are owned by the same corporation. They are both part of the Dental Corporation Public Co. Ltd., Thailand's largest dental network. With its main office located in Ratchadaphisek and satellite clinics in major shopping complexes like Paragon and Emquartier.
BIDC is an approved dental implant center and accredited by Joint Commission International (JCI). Its dentists include the largest concentration of certified ITI Straumann dental implant specialists in the country. Dentists and implantologists from across the country travel to BIDC for training courses and the latest implant methods so you can rest assured you're getting professional care.
BIDC charges for implants and crowns separately. The cost of the crowns may differ depending on what material you choose.
| | | |
| --- | --- | --- |
| Implant System | Implant Fee | Crown Fee |
| P-I Branemark | 34,000 THB | 15,000 THB |
| SIC Invent Swiss | 35,000 THB | 25,000 THB |
| Straumann | 54,000 THB | 25,000 THB |
Thantakit International Dental Center
Thantakit is one of Thailand's oldest dental institutions, founders of the Thai Society of Dental Implantology, and JCI accredited. It is also the top choice for dental tourism because it offers accommodation and transportation packages in addition to dental needs.
Thantakit has a dedicated dental implant center for single, multiple, and full-mouth implant cases, as well as mini implants and implant-supported overdentures. Dr. Thara Sirikai, the current owner of Thantakit, leads the team and sees many dental implant patients personally.
Thantakit charges slightly more than average because they focus on serving an international clientele. However, you can expect excellent professional service, hospitality, and multilingual employees.
The fees listed below do not include check-up, consultation, or anesthesia fees. They offer a 10% discount on all cash payments.
| | | |
| --- | --- | --- |
| Implant System | 1 Implant 1 Crown | 2 Implants 3 Crowns (Bridge) |
| Dentium | 65,000 THB | 155,000 THB |
| BioHorizons | 75,000 THB | 175,000 THB |
| Straumann | 85,000 THB | 195,000 THB |
Smile Signature Dental Clinic
Smile Signature is a leading chain of dental clinics in Thailand with 8 locations in convenient locations throughout Bangkok. It is an affiliate member of the American Dental Association (ADA) and has many internationally trained dentists. Receptionists and dentists speak English comfortably, especially at their Siam branch.
Smile Signature also has implantologists who are trained to handle all cases of dental implants. While appointments at BIDC and BIDH can take up to two weeks to schedule, patients should expect to get in for a consultation or appointment at a Smile Signature clinic within a week. They provide dental implant packages for single, multiple, and full-mouth implants.
| | | |
| --- | --- | --- |
| Implant System | 1 Implant 1 Crown | 2 Implants 3 Crowns (Bridge) |
| P-I Branemark | 45,000 THB | N/A |
| SIC Swiss | 49,000 THB | 128,000 THB |
| Straumann SLA | 69,000 THB | 166,000 THB |
Chiang Mai
Aside from Bangkok, Chiang Mai is an excellent choice for modern dentistry, staffed by professional board-certified dentists. Because Chiang Mai has one-tenth the population of Bangkok, you rarely have to wait more than a few days for an appointment.
While implant systems are priced similarly to those in Bangkok, patients can save money on treatment plans, consultation fees, and other pre- and post-operative examination services, as well as living expenses in the more affordable city.
Here are the few clinics that specialize in dental implants in Chiang Mai.
Learn More:
Chiang Mai International Dental Center (CIDC)
Since CIDC is part of the same dental network as BIDH and BIDC, you can expect the same level of professionalism and quality from the staff and dentists. If you've previously visited them in Bangkok, your information is shared throughout their network, making your consultation at CIDC much faster and easier.
| | | |
| --- | --- | --- |
| Implant System | Implant Fee | Crown Fee (Titanium) |
| P-I Branemark | 34,000 THB | 15,000 THB |
| SIC Swiss | 44,000 THB | 15,000 THB |
| Straumann SLA | 50,000 THB | 25,000 THB |
Kitcha Dental Clinic
Kitcha Dental Clinic is one of Chiang Mai's largest private dental clinics located across from the Chiang Mai Gate Market in a newly renovated 5-story building. They have also been recognized by Chiang Mai's Provincial Public Health Office as an outstanding and high quality dental clinic.
There is an international patient coordinator department to assist with communication for foreign patients.
Kitcha uses 3D CT scans for dental implant treatments to ensure safe and more accurate results. They also provide a one-year local warranty for all dental implants. If for any reason the first implant placement is unsuccessful, they will re-do the implant procedure free of charge within one year.
Dental implant prices below are only for implant and crown. X-rays, sterilizations, and other procedures fees are not included.
| | |
| --- | --- |
| Implant System | 1 Implant 1 Crown |
| Dentium | 50,000 THB |
| Straumann Roxolid SLA | 75,000 THB |
Dental World Clinic
Dental World is another popular clinic located in Chiang Mai Old Town. It is known to have skilled dentists who are professors from Chiang Mai university. The facility is very modern and equipped with implantation technology and 3D CT-Scans for dental implant treatments.
| | | |
| --- | --- | --- |
| Implant System | Implant Fee | Ceramic Crown Fee |
| Hi-Ossen (USA) | 37,000 THB | 16,000 THB |
| Blue Diamond (Korea) | 37,000 THB | 16,000 THB |
| Astra Tech (Sweden) | 55,000 THB | 16,000 THB |
| Straumann (Switzerland) | 70,000 THB | 16,000 THB |
Unlike many Thai dental clinics, they offer nitrous oxide N2O (laughing gas) as an additional anesthetic beginning at 1,500 THB for thirty minutes.
Dental World's additional services include a CT Scan: 3,500 THB/time, panoramic x-ray: 500 THB/film.
The same services at BIDC are a bit higher. CT Scan: 5,000 THB/time, panoramic x-ray: 1,300 THB/film.
Phuket
With fewer clinics and implantologists, Phuket is not as convenient as Bangkok for receiving dental implants. However, Phuket is a top spot for medical and dental tourists, so the services that do exist are very high quality.
It's about the same price for Straumann implant systems as it is in Bangkok, but additional procedures and living costs are more affordable in Phuket.
Learn More:
Phuket Dental Signature Clinic
Phuket Dental Signature is the largest and most prominent dental clinic on the island. It is also a leading dental implant center, with the bulk of overseas patients seeking implant treatments here.
They offer 12 treatment rooms, therefore waiting times are usually shorter than at other Phuket clinics. As a subsidiary of BIDC, costs are standardized, making dental implant treatments here more expensive than other dental clinics in Phuket but almost on par with those at BIDC. However, Phuket Dental Signature may offer more promotions or packages to entice tourists.
| | | |
| --- | --- | --- |
| Implant System | Implant Fee | Crown Fee (Ceramic) |
| P-I Branemark | 30,000 – 35,000 THB | 15,000 THB |
| SIC Swiss | 34,000 – 39,000 THB | 15,000 THB |
| Straumann SLA | 54,000 – 59,000 THB | 25,000 THB |
Sea Smile Dental Clinic
Sea Smile Dental Clinic is another highly regarded dental clinic that specializes in implantology and dental aesthetics. They now provide a service they call "Teeth-in-24-Hours". Dr. Paulo Malo's procedure, commonly known as the all-on-four technique, allows you to receive four dental implants and a full-jaw fixed bridge within 24 hours.
Sea Smile is also a part of the Malo Global Dental Network, which is one of the world's largest networks of dental clinics and facilities. This means that if you have dental implants placed at Sea Smile Phuket, you can have follow-up care at any of the other Malo Dental member clinics throughout the world by purchasing a warranty through Malo Dental's International Patient Guarantee Program (IPGP). It is specifically for dental implant patients and costs 15,000 THB for coverage between 6 months to 60 months, depending on the procedure.
Sea Smile dental implants are inclusive of all surgical and check-up fees. If you are interested in the Teeth-in-24-hours treatment for full jaw implants, prices currently start from 270,000 THB depending on materials.
| | | |
| --- | --- | --- |
| Implant System | Implant Fee | Crown (Ceramic) Fee |
| Nobel BioCare, AstraTech, Hi-Ossen | 65,000 THB | 15,000 – 18,000 THB |
| Straumann | 75,000 | 15,000 – 18,000 THB |
Pattaya
If you live in Pattaya and need dental implants, there are just a few facilities to choose from. Most dental clinics in Pattaya will not have a professional implantologist on staff and will instead employ a general dentist for dental implant procedures.
Fees for consultations, treatments, and dental materials are slightly lower than in Bangkok.
Because dental clinics in Pattaya may not have the most up-to-date technology, it is still recommended that you get dental implants done in Bangkok if you are looking for modern implant process techniques.
Pattaya Smile Dental Clinic
Pattaya Smile is an average sized dental clinic located along South Pattaya Road. It is currently the most highly rated and reviewed clinic on Google Maps in Pattaya. They currently have one implant dentist, Dr. Pom, who handles all dental implant cases.
Dental implants range between 40,000 – 55,000 THB per tooth. Crowns are charged separately starting at 13,500 THB per tooth depending on the brand of ceramic crown.
Pattaya International Dental Center (PIDC)
Pattaya International Dental Center has one of the nicest dental facilities in Pattaya with reviews saying the staff and dentist are able to communicate well in English compared to other clinics.
PIDC has quite a large team of dentists with a few of them receiving training from dental institutions overseas. They currently have two dentists staffed specializing in implant dentistry as well.
Implant systems start around 40,000 THB per tooth with an additional 15,000 THB per ceramic crown. They offer free consultation and oral examinations to get a more accurate quotation for dental implant treatments.
Payments
Because of the high cost as well as the nature of getting dental implants, you may not need to pay the total cost of treatment in one go.
At some clinics, you may pay in installments, depending on how many times you need to visit the dentist, with three installments being the most common. Payment installments are usually structured as:
60% on the first visit
20% on the second visit
20% on the third visit
In addition to Thai Baht, some dental clinics may accept other currencies including USD, GPB, EUR, and AUD.
However, it's recommended to pay in Thai Baht to benefit from a better exchange rate.
In case you want to pay by credit card, you should check with your credit card company to find out how much they charge for the currency conversion rate.
Some companies may impose an additional 1-3% foreign-exchange risk charges.
Insurance
Many insurance companies won't cover dental implants since the procedure is considered an elective cosmetic treatment.
If you have insurance which does cover implants, it might come with specific limits, which means only a portion of the treatment cost will be covered.
In general, for this procedure, don't expect much from your health insurance provider — even insurance providers that provide dental coverage.
Now, on to You
We hope that this article will answer all your questions about getting dental implants in Thailand.
Getting a dental implant is a typically long and expensive process but it is also well worth it.
If you are ready to do it, you can set an appointment with a good clinic such as BIDH, get your oral health examined, and discuss your personal treatment plan with certified dental experts.
Alternatively, you can fill in the form below and we will put you in touch with a clinic that's most suitable to your requirements.
Related Articles