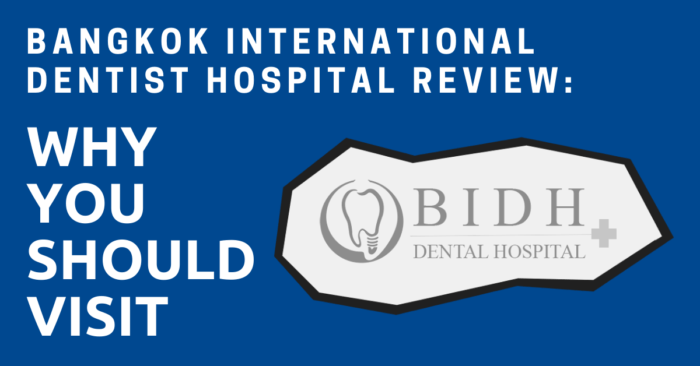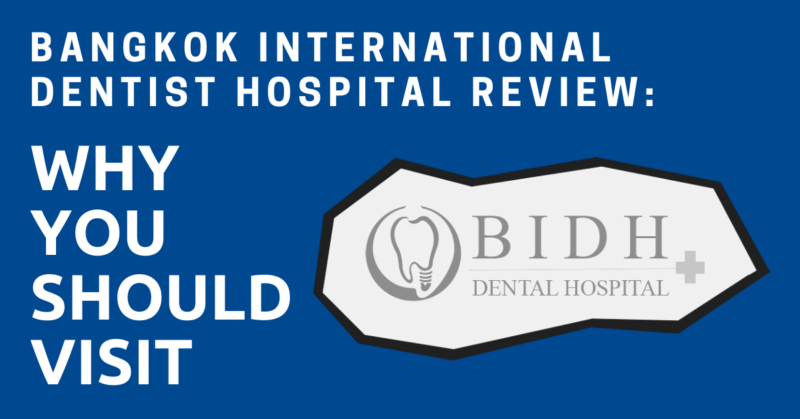 Are you looking for a good dentist in Bangkok?
The thought of getting your teeth or gums drilled with a sharp tool that produces a loud screeching sound can be scary and intimidating.
Of course you would want to make sure that your dental treatment is as smooth and painless as possible.
If you're looking for a relatively pain-free dental procedure in Bangkok, one of the best options is Bangkok International Dental Hospital or BIDH.
Bangkok International Dental Hospital has been re-opened since May 1, 2020. You can now make an appointment with them.
Why Choose Bangkok International Dental Hospital
Bangkok International Dental Hospital is one of the first dental hospitals in Thailand that offer specialized dental services. It's centrally located in the heart of Bangkok and is close to BTS Ploenchit station.
The hospital was established and is currently managed by the Dental Corporation, the same organization that runs BIDC Bangkok Hospital Dental Clinic, a dental clinic that's popular among locals, expats, and medical tourists.
What makes Bangkok International Dental Hospital different from other dental hospitals and clinics are their high-quality treatment, specialists, technology, facilities, and services.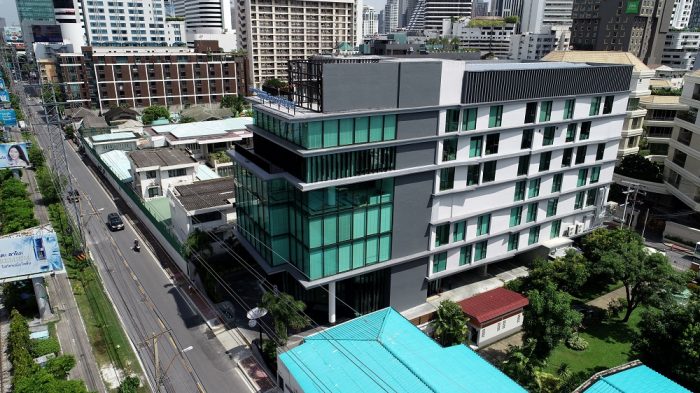 Quality of Treatment
The quality of treatment at Bangkok International Dental Hospital is comparable to the west. And the services might even be better than their western counterparts.
BIDH dentists are highly professional and well-trained. Their staff are service-minded and speak good English. The hospital premises are well-maintained, clean, and fully equipped with modern facilities.
Additionally, they've won many awards locally and internationally, including the Dental Service Provider of the Year at the Global Health Awards 2019.
Specialists
Bangkok International Dental Hospital comprises a team of experienced dental specialists.
A majority of them graduated from Thailand's top universities and pursued a master's degree and/or Ph.D. in countries like the United States, United Kingdom, Germany, Australia, and Japan.
Many of them taught at dental schools within and outside Thailand before practicing dentistry in the country. Some are lecturers at a leading dental school in Thailand.
Regardless of whether you're getting a simple procedure like dental cleaning or a complicated one like dental implants, you'll be in good hands.
Facility
Bangkok International Dental Hospital is managed by one of the biggest networks of dental clinics in Thailand, which is why it is well-equipped with advanced dental technology.
In addition to 38 dental treatment rooms, BIDH has a fully equipped central sterile services department (CSSD) room, 3D CT scan, dental laboratory, and in-patient rooms inside the 8-story building.
Having these facilities in-house means faster and more accurate treatments for all types of dental procedures.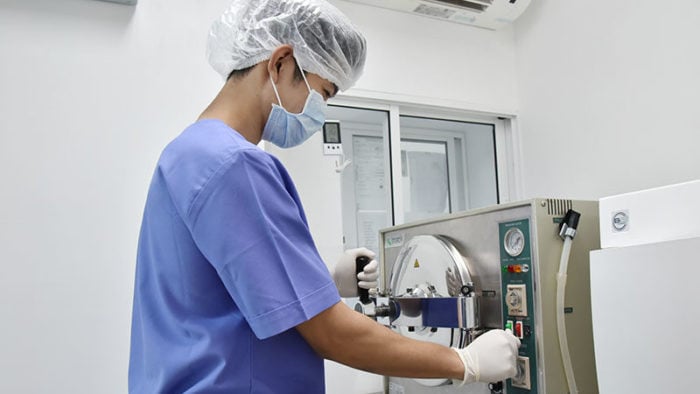 Technology
Bangkok International Dental Hospital regularly trains their dental specialists for new dental technology.
In fact, their dentist team are one of the first dental hospitals in Thailand that offered the Straumann BLX implant system, which is the latest implant system introduced by the Straumann company, one of the world's biggest manufacturers of dental implant equipment.
BIDH uses the same dental technology as practitioners in the West.
Sedation Services
Bangkok International Dental Hospital offers sedation services to those who are afraid of undergoing dental procedures.
During sedation, a dentist administers a drug that puts you to sleep or a semi-conscious state in order to decrease your fear of getting dental treatment.
The sedation service is done by an anaesthesiologist accompanied by medical staff who will closely monitor the patient, under the ASA safety standards.
There are four levels of sedation— from a minimal sedation where you can still communicate with the dentist to an intensive one involving anesthesia.
The dental hospital in Bangkok has treatment rooms with IV equipment and vital monitoring devices, full operating theaters, and post anesthesia care units (PACU) for deep sedation.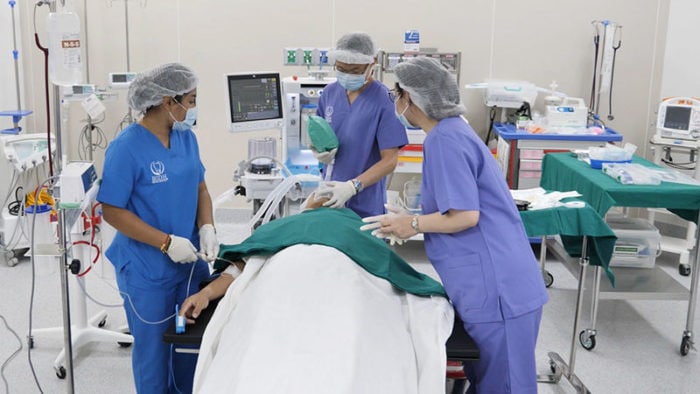 Dental Treatment
Regardless of the type of dental work you may need, you can go to Bangkok International Dental Hospitals to get it done.
The treatments they offer range from normal dental extraction (tooth removal), braces, veneer, teeth whitening, to dental implant and all kinds of cosmetic dentistry procedures.
General Dentistry
Bangkok International Dental Hospital can handle a variety of general dentistry needs, including tooth removal, tooth filling, cleaning, root canal treatment, and gum health treatment.
They also provide free oral health checkup although you will be charged 200 baht for sterilization and nursing fees.
Cosmetic Dentistry
You can get various types of cosmetic dentistry including teeth whitening, veneers, filling, crowns, bridges, inlays and onlays, and dental bonding.
You can also choose different materials and procedures based on your preference and oral health condition.
For example, in a teeth whitening procedure, you have an option to get it done at BIDH or get a customized tray and home bleaching kit so you can do it yourself at home.
BIDH uses the "Zoom" method for teeth whitening, which is the most popular teeth whitening method used worldwide.
For dental veneers, you may choose between porcelain veneers and composite veneers. You may also choose between the IPS Empress eMax veneers and super-thin veneers.
When it comes to dental crowns, there are several types of materials available: stainless steel, metal, porcelain, ceramin, and composite.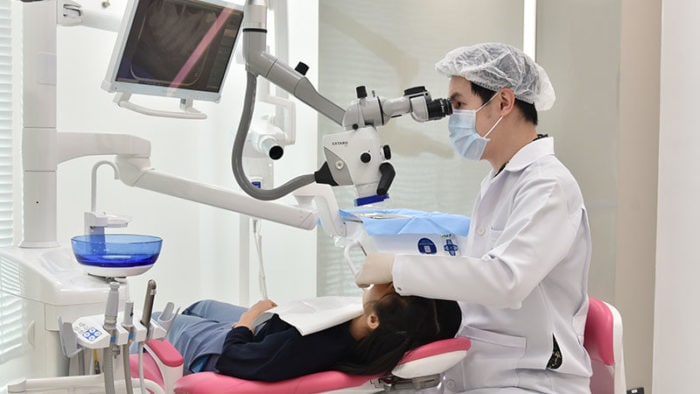 Dental Implants
Bangkok International Dental Hospital is also famous for dental implants.
You can get dental implants here, whether it's to replace a single tooth, multiple teeth, or a full mouth.
Different procedures and systems are available, including conventional procedures, immediate procedures, immediate load procedures, Nobel Biocare, Steaumann, and SIC Invent Swiss.
Orthodontics
At BIDH, you can get various types of braces including metal braces, self-ligating braces, lingual braces, and invisalign.
The hospital's dental specialists are able to perform jaw surgery to fix your facial or bite abnormalities at its in-house operating theater.
Measures Against COVID-19
Bangkok International Dental Hospital has implemented additional measures in order to protect their staff and patients from COVID-19 including:
temperate checks and screening checks upon arrival
social distancing practices in waiting areas
full usage of PPE (personal protective equipment) and hand sanitizer
additional equipment to reduce aerosols and droplets during dental treatments
regularly disinfecting patient rooms with ultra-violet light
fully circulating air with the air ventilation system
Visiting BIDH
The process of visiting Bangkok International Dental Hospital is similar to when you visit any regular hospital in Thailand.
You go there, get your vitals checked, see a dentist, and pay your bill.
Making an Appointment
Although you don't always need to book an appointment in advance, it's recommended that you do so.
This is to make sure that you can see a specialist who is most suitable for your case upon your first visit without having to wait for a long queue.
The easiest way to make an appointment is to do it online.
You can fill out this form here, choose the preferred date, and that's it. Everything can be done within 5 minutes.
After that, BIDH staff will contact you within 24 hours to make further arrangements.
Arriving at BIDH
Upon arriving at Bangkok International Dental Hospital, the receptionist will take you to a screening room to get your vitals checked.
Other dental clinics in Thailand don't normally do that.
The reason why BIDH does this is to prevent any unexpected problems that may occur such as hypertension and dizziness during the dental treatment.
Seeing the Dentist
Once you're through health screening, you will be taken to the dentist who will attend to your case and provide treatment.
Depending on your case, you might be sent to the X-ray, CT scan, or a treatment room with IV equipment and vital monitoring device for sedation dentistry.
One thing you need to know is that dentists at BIDH are conservative. They don't perform tooth drilling often or do anything that's not necessary.
Paying Your Bill
You can pay the hospital in Thai baht in cash or with a credit card. They don't charge for credit card surcharges.
All prices are VAT inclusive.
In case you have health insurance, you can send the bill to your insurance company and get reimbursed later.
Price
Bangkok International Dental Hospital isn't the cheapest option in the market. They tend to be slightly more expensive than other local clinics you would find on the street.
However, their prices are on par with international dental clinics.
The table below compares their treatment prices with other well-known dental clinics in Thailand. Note that the treatment price varies from person to person depending on one's oral health condition.
| | | | | | |
| --- | --- | --- | --- | --- | --- |
| Dental Clinic | Tooth Removal | Composite Resin Veneers | Whitening (Zoom) | Full Ceramic Crown | 1 Implant with 1 crown (ITI Straumann Roxolid) |
| BIDH | 1,200 | 6,000 | 8,500 | 18,000 | 80,000 |
| Thantakit | 1,500 | 5,000 | 12,000 | 18,000 | 85,000 |
| BIDC | 1,000 | 5,000-6,000 | 9,000 | 18,000 | 80,000 |
| Bangkok Smile Dental Clinic | 1,000 | 5,000 | 9,000 | 18,000 | 75,000 – 85,000 |
| Smile Signature | 1,000 | 5,000-6,000 | 8,500 | 15,000 | 75,000 |
| Dr. Sunil International Dental Center | 2,000 | 6,000 | 10,500 | 18,000 | n/a |
*All prices are in Thai Baht.
Accommodation Services
IF you want to fly to Thailand to get dental treatment as a medical tourist, you can request BIDH to help you make arrangements for accommodations at a hotel near the hospital as well as airport transfers.
Warranty
Bangkok International Dental Hospital provides 2 years local warranty for various kinds of dental treatment including veneers, crowns, bridges, dentures, inlays, onlays, prostheses over implants and 5 years for dental implants.
During the warranty period, the hospital can fix the dental work free of charge; material costs and doctor fees are also covered under warranty.
The warranty comes with three main conditions:
The dental work must not be adjusted or modified by other dentists after the treatment
You need to undergo dental checkup twice a year
The warranty only applies under reasonable cases
How to Go There
Bangkok International Dental Hospital is located in Soi Sukhumvit 2.
The easiest way to go there is to take the BTS Skytrain, get off at Ploen Chit station (exit 4) or Nana station (exit 2), and walk to the hospital (it takes approximately10 minutes).
If you don't want to walk, you can either take a taxi or a motorcycle taxi. It's a short trip — it's only 500 meters away from the entrance of Soi Sukhumvit 2.
There's a car park available for those who are driving.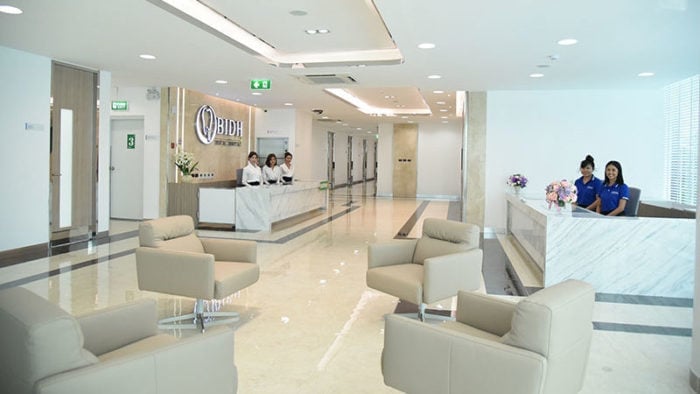 BIDH vs BIDC
We've been receiving inquiries from our readers to ask us which one they should go: Bangkok International Dental Hospital or Bangkok International Dental Clinic.
The short answer to that is: go to the one closest to where you live.
For example, if you live in the Ratchada area, then go to BIDC since it's closer. If you live in Ploen Chit, then BIDH is a better choice.
The two clinics are run by the same organization and therefore have similar service quality and facilities.
Now, on to You
We hope this article has answered all your questions about getting a dental treatment at Bangkok International Dental Hospital.
If you want to visit BIDH, fill out this online appointment form and a BIDH representative will contact you within 24 hours.
If there's anything else you want to know, please leave a comment below.
Related Articles