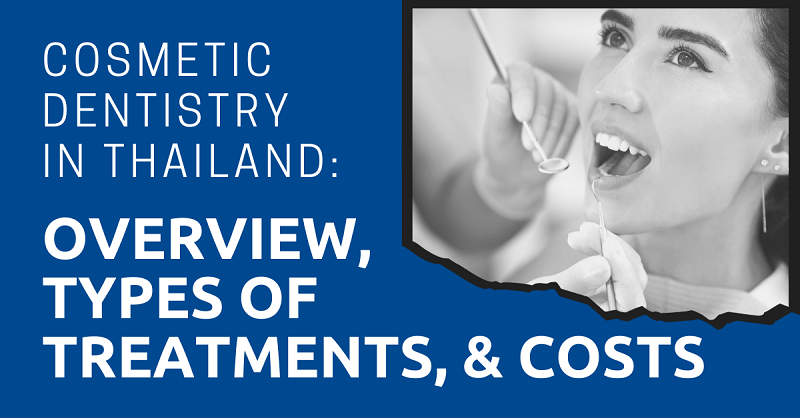 Cosmetic Dentistry refers to any dental work specializing in improving the appearance of your teeth, gums, or smile. Whether you're looking to fix a broken tooth, cover discolorations, or just get your smile looking its best, modern cosmetic dentistry can do it all.
Thailand has remained a top dental tourism destination due to its low prices, skilled dentists, modern facilities, and ideal geographical location for both Westerners and neighboring Asian countries.
This guide will give an overview of common cosmetic dentistry treatments, estimated costs, and recommended dental clinics. If you are interested in learning more about the quality and variety of dentists and dental clinics in Thailand, refer to our guide on finding a dentist in Bangkok, Chiangmai, or Phuket.
Where To Find Cosmetic Dentists in Thailand
As a popular dental tourism location, Thailand has more than enough dental clinics and centers to match your budget and needs. Finding the right cosmetic dentist varies greatly depending on the extent of treatment required to achieve your specific aesthetic goals.
Bangkok
In Bangkok, you definitely do not need to worry about finding a dentist or dental provider, there are thousands of them. While quality of care is generally very good, some are better than others and experiences vary. Below are some reputable clinics that we recommend trying.
The Bangkok International Dental Center or BIDC, Bangkok International Dental Hospital or BIDH, and Thantakit International Dental Center are all popular options among expats and tourists. The treatment costs are considered a premium compared to lesser known clinics, but they are considered the best dental centers in Thailand offering modern facilities, the latest technology, and American Academy of Cosmetic Dentistry certified aesthetic dentists. They have English and Chinese speaking staff upon request.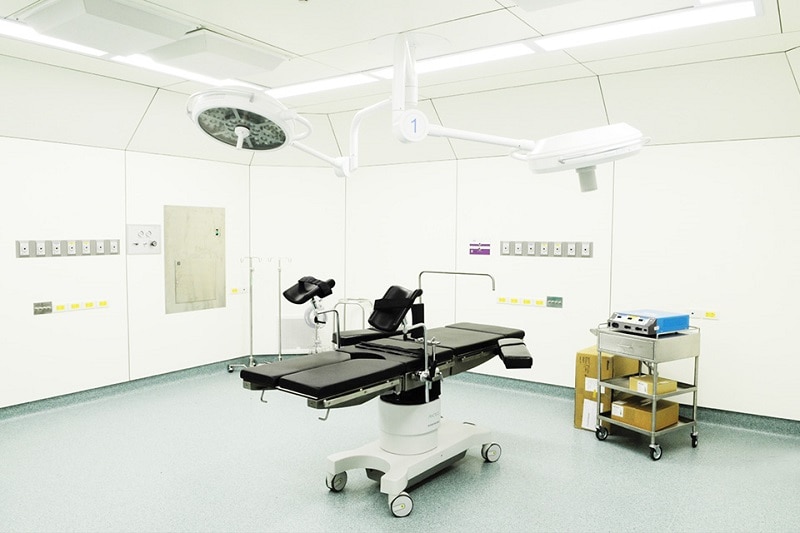 Phayathai Modern Dental Center (PMDC) is another international dental center with its own Cosmetic Dental Center. They are able to do all types of cosmetic dentistry treatments but costs are higher than BIDC or BIDH.
Bangkok Smile is another highly rated clinic among foreigners here with four branches within central Bangkok. For dental implants and bridges, many clients recommend Dr. Sunisa at Bangkok Smile.
Denta-joy is a multinational dental clinic with 9 branches in Bangkok. They are an excellent option for orthodontic services as it is currently ranked the No.1 Invisalign clinic in South East Asia.
If you are simply looking to whiten your teeth, there are many dedicated teeth whitening clinics around Bangkok, such as The Smile Bar located in downtown Bangkok, offering quick and affordable teeth whitening services.
Chiangmai
Similar to Bangkok, you can easily find a suitable dentist in Chiangmai for your cosmetic and oral dentistry needs.
The Chiangmai International Dental Center or CIDC is operated by the BIDC company. You will find the same range of treatment options, similar prices, and quality care as their Bangkok counterpart.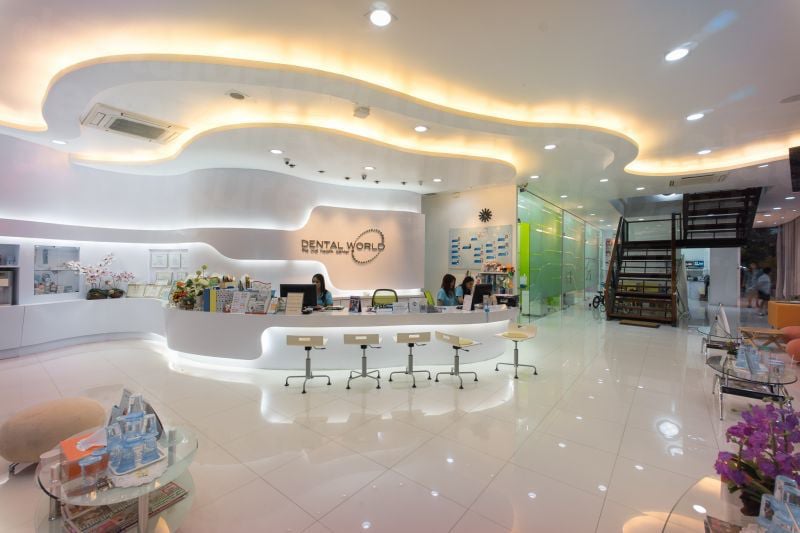 Another leading dental service provider in Chiangmai with Thai Dental Clinic Accreditation is Dental World Clinic. They offer all the cosmetic treatments listed above at slightly cheaper costs.
Phuket
There are fewer dental providers in Phuket and many of them are usually an extended branch of an existing dental clinic in Bangkok.
Phuket Dental Signature is a branch of BIDC located in Patong Beach offering all the common cosmetic dentistry treatments except gum reshaping procedures. Treatment fees are equal to BIDC.
Alternatively, Tooth Therapy and Sea Smile Dental Clinic are two more highly credible clinics with headquarter branches in Bangkok. Both have in-house dental labs equipped with CAD-CAM systems, which are innovative dental software used in cosmetic dentistry to help speed up and improve the design of operations such as veneers and crowns.
Types & Costs of Cosmetic Dentistry in Thailand
The primary focus of general dentistry is on preventative care, including regular checkups, cleanings, fillings, and root canals. Whereas cosmetic dentistry concentrates on procedures like veneers, whitening, implants, dentures, and smile makeovers.
Whiten Teeth
Many people resort to teeth whitening treatments as it provides a faster and more effective alternative to over-the-counter teeth bleaching kits or whitening toothpastes. It is the most popular cosmetic dentistry treatment and suitable for the majority of people over the age of 16 years old.
Treatment Options
Laser Teeth Whitening
Philips Zoom Teeth Whitening
POLA Tooth Whitening
Take Home Bleaching Kits
Costs
Laser teeth whitening is the more traditional way of teeth whitening. These treatments typically cost around 7,500 THB on average. However, laser whitening services are no longer available in many international dental facilities. You will need to look for smaller or more independent dental facilities for this treatment.
Zoom teeth whitening by Philips is the latest and most popular method of teeth whitening using LED light. Treatments cost around 9,000 – 11,000 THB at the majority of international dental clinics in Thailand. There are other LED teeth whitening brands available for cheaper but Zoom is the most commonly used one in Thailand currently.
POLA tooth whitening is considered the quickest option with only 30 minutes of treatment time. They are available both as an in-office treatment or as a take-home kit. Treatments average around 7,000 THB per time.
Professional home bleaching kits are an available option at most dental clinics. They start around 3,000 THB per kit depending on the brand you prefer.
Recommended clinics for teeth whitening:
Bangkok International Dental Center (BIDC)
Bangkok Smile Dental Clinic
The Smile Bar at Siam Square
Fix Crooked Teeth
For those who have crooked or misaligned teeth, cosmetic dentistry can help correct them and restore their self-confidence. The most common teeth straightening treatments in cosmetic dentistry include braces and Invisalign aligners.
Treatment Options
Orthodontic Braces
Clear Aligners
Costs
Since traditional braces have been around for a long time, there are a variety of braces options available in Thailand. Orthodontic braces use either metal or ceramic brackets, wires, and bands. The cost of braces varies from case to case. Generally, you can expect to pay an average of 50,000 THB for a set of metal braces which includes installation and regular adjustments for about a year.
Invisalign aligners are the most commonly accessible brand of transparent aligners in Thailand. They are hardly noticeable and removable so you can eat, drink, brush, and floss as usual. The cost of Invisalign treatments varies depending on the patient, however most adults have paid between 80,000 – 100,000 THB for a full set with moderate complexity at the average dental clinic here.
Clinics
Bangkok International Dental Hospital (BIDH)
Denta-joy
Phuket Dental Signature
Replace Missing Teeth
Cosmetic dentistry can be very helpful for people who have teeth that are broken, missing, or have gaps between them. You should seek the advice of a prosthodontist, cosmetic dentists specializing in surgical and restorative procedures such as placing dental implants and bridges.
Treatment Options
Dentures
Dental Implants
Dental Bridges
Costs
There are two types of dentures: partial and complete dentures. Acrylic dentures estimate around 5,000 THB whereas metal ones start at 12,000 THB for partial plates. A few international dental clinics in Thailand also provide Valplast, a flexible nylon denture that is significantly softer than regular dentures. Prices start at 11,000 THB per plate.
Dental implants are usually the ideal method for replacing a missing tooth. Different clinics in Thailand offer a variety of different implant systems. The higher-end implant systems such as ITI Straumann and Nobel Biocare will cost around 70,000 THB per tooth. Many clinics will also offer cheaper systems, such as Osstem, SIC, and Zimmer implants, that start at 50,000 THB per tooth.
Dental bridges are another option for replacing missing teeth that are less expensive than dental implants and more likely to be covered by insurance. The estimated costs of a dental bridge can vary greatly depending on many factors. It is advised to consult with your prosthodontist either in-person or via pictures through email to get an accurate cost estimate.
Clinics
Reshape Gums
If you are self-conscious about uneven gums that appear too low or too high, cosmetic dentistry can easily reshape your gum tissue so that it appears proportional to your teeth. You can contact either a cosmetic dentist or a periodontist (a gum specialist) for these treatments.
Treatment Options
Gum Contouring
Crown Lengthening
Costs
Gum contouring treatments are minimally invasive. The average price starts around 2,000 baht per tooth and up to 20,000 baht for a full gummy smile makeover. To determine the cost and ideal course of treatment, you can send pictures of your teeth to the dental clinic either via email or Facebook messenger for an evaluation with their dentist.
Crown lengthening procedures are more invasive and require surgical procedures. Therefore, it can be almost triple the cost of gum reshaping procedures. At BIDC, they quoted 10,000 – 20,000 THB for 1 to 6 teeth per area. Because most smaller or independently-owned dental clinics in Thailand do not provide this procedure, it is better to look for surgical crown lengthening procedures at international dental clinics or private hospitals in Thailand.
Clinics
Bangkok International Dental Center (BIDC)
Phyathai Modern Dental Clinic (PMDC)
Thantakit International Dental Center
Conceal Imperfections
Dental veneers are one of the most widely used cosmetic dentistry procedures if you want to hide any dental flaws or alter the color, shape, or size of your teeth.
Treatment Options
Composite Veneers
Porcelain Veneers
Costs
Composite resin veneers are the most common and easily found at any dental clinic in Thailand.The prices vary depending on the brand used and quality of dental clinic. Expect to pay roughly 2,500 THB per tooth at more local or smaller dental clinics like those found in shopping malls, and around 5,000 THB per tooth at more premium dental clinics.
Porcelain veneers are two to three times the cost of composite veneers.They can last around 10-15 years whereas composite types are about 5-8 years. The most common brands of porcelain veneers you will see here are Lumineers, Porcelain Emax, or IPS Empress Esthetic. Lumineers or sometimes called "super thin veneers" are the most expensive option starting at 18,000 baht per tooth. Porcelain Emax veneers are the most popular option at approximately 15,000 THB per tooth. Empress veneers start around 11,000 THB per tooth.
There are frequent promotions for dental veneers, ranging from 2,000 to 4,000 THB off the normal prices. Also, many dental clinics will offer a 1,000 THB discount per tooth if you plan to do five or more teeth at once. Usually, promotions will be listed on the front page of their website or Facebook page.
Clinics
Bangkok International Dental Center (BIDC)
Chiangmai International Dental Center (CIDC)
Sea Smile Dental Clinic in Phuket
Payment & Insurance
Cosmetic dentistry is normally not covered by dental insurance. However, certain plans may pay a portion of the cost if the reason for the procedure is for the overall functional health of your teeth rather than for cosmetic reasons. For example, dental implant fees could be covered if the tooth loss was sustained via an accident or injury.
Consult with your insurance advisor or learn more about Thailand expat insurance to determine an appropriate dental plan for your needs.
Many dental clinics in Thailand offer payment plans so you can spread out the cost of your cosmetic dental treatment. If you have a Thai credit card, such as Kasikorn Bank or Bangkok Bank, you can typically get additional discounts or 0% interest rate installment plans for up to 10 months at most larger dental clinics.
Getting a Quotation
Choosing the right dentist and dental clinic can be overwhelming with all the options available in Thailand. To save some time and energy, do some basic research and inquire about costs prior to your in-person visit. Most dental clinics are available via Facebook, e-mail, or phone. Here are some standard information to provide to get an estimate cost and timeframe:
Your dental concerns
Any photos or x-rays of your concern area
Preferred date of treatment
Be sure to take your passport or identification card and any previous x-rays relevant to your treatment for your first visitation.
Now, On To You
Cosmetic dentistry is a great option for anyone who suffers from tooth or gum pain, or is embarrassed about their smile and wants to fix it. We hope this article gives you an overview of cosmetic dentistry procedures and whether or not it is right for you.
You are certainly in the right country to pursue a path to having the perfect smile! People come from all over the world to get theri dental work done in Thailand, so take advantage of being an expat here, and don't wait to be proud of your teeth!