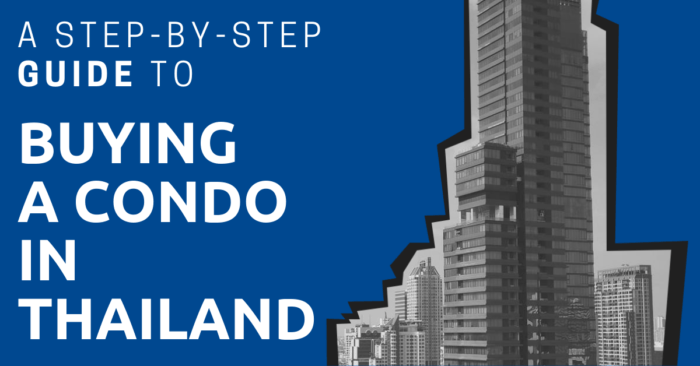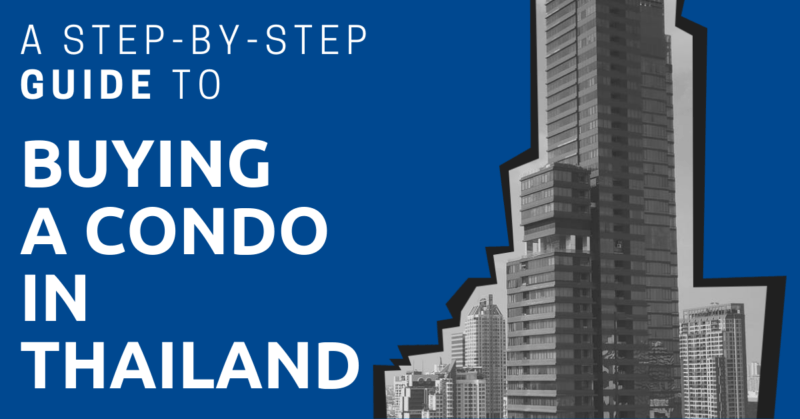 As an expat you can buy a condo in Thailand. With both new and used condos on the market, there are plenty of options to choose from.
A few years ago, I bought a two-bedroom condo in Bangkok. It was a huge decision to make, and everyone was divided as to whether or not it was a good idea. One thing I can say is that it wasn't always straight forward and there were certainly a few bumps in the road. Overall, I am happy with my decision and I would do it all over again if I was in the same situation.
There are always going to be divided opinions on whether or not purchasing an apartment in Thailand is a smart investment.
Aside from the financial side of things, the main concern for most buyers are potential pitfalls when it comes to valuation, future outlook, complications, and bureaucracy.
This article lists out the must-knows in these areas for anyone looking to handle the process themselves.
For more insider tips on buying a condo in Thailand, check out ExpatDen Premium and get instant access to these exclusive articles:
"*" indicates required fields
Overview
When you begin your research online before buying a condo, you will come across plenty of negative attitudes. They say the Thailand condo market bubble will burst and your property won't be worth anything. With careful research, and smart choices, this does not have to be true.
In the following article, we include several interesting links to projections of the Thai condo market. We will show you where to find lists of properties in all price ranges, and we will also connect you to the right people who can support you all throughout the process of buying a condo.
Can Foreigners Buy a Condo in Thailand?
Yes. But there are many laws that foreigners have to consider when buying a condo in Thailand. At the time of writing these are the three key points which we will cover in more depth later in the article.
All money for the purchase of a condo must be sent to Thailand from a foreign country in the original currency. Without proof of this, a foreigner cannot register the condo in their name.
Only 49% of rooms in a development can be owned by foreigners.
The building needs to be governed by the condominium act.
There are of course many other laws and regulations which we will cover as well.
Market Status
My first worry was that the market really would burst. There are many new developments being built and it could be possible that the market will stagnate. But at this point, condo prices are still increasing every year, especially for luxury condos.
Since 2008, condominium prices in Thailand have been increasing steadily on an average of 2% every year. Even during the COVID-19 pandemic, the condominium prices still increased. There's consistently a good demand for condominiums in Thailand.
The fact that I saw growth in prices and demand gave me certainty, but is it possible to continue in the current economic situation and would a change in this affect you in the long run? If you are planning to buy to rent, then it might, but if you are planning to buy and live in Thailand then the effect might be less evident.
Cost of a Thai Condo
It is difficult to say how much a condo in Thailand will cost as prices vary greatly based upon size and location.
Most people compare the size of a condo in meters squared to determine the value and rental potential of a property.
The table below provides an overview of the cost of condos in Bangkok. An entry level is considered anything below 70,000 baht per square meter. This gives a good idea of costs and availability in different areas in Bangkok.
| | |
| --- | --- |
| Level | Price per m² |
| Entry | Below ฿70,000 |
| Mid-Range | ฿70,000 – ฿89,999 |
| Upper-Mid-Range | ฿90,000 – ฿119,999 |
| High End | ฿120,000 – ฿199,999 |
| Luxury | ฿200,000 – ฿299,999 |
| Super Luxury | Above ฿300,000 |
In terms of new condos, the starting price for a one bedroom, 22 sq meter property is around 1.5 million baht (70,000 THB per meter squared). This would be the price of a basic condo away from the BTS / public transport and built by a developer such as Lumpini and Pruksa.
A similar sized condo located within a couple hundred meters of a BTS or MRT line in Bangkok could well be over 2.2 million baht. Closer to downtown, it will be over 3 million baht – a huge difference.
Looking outside of Bangkok, prices do vary a lot. Prime locations in Phuket rival the high end Bangkok properties, while condos in smaller towns and cities are similarly priced to those on the outskirts of Bangkok.
When I first bought my condominium in 2015, my 64 sq meter condo cost 2.6 million Baht which works out at a little over 40,000 THB per square meter – entry level. My condo doesn't have a pool, gym or library. It is a simple building with basic facilities, but that is all I need.
If you are looking at getting a bargain then there is the option to buy an old condo. You will often find owners who are willing to drop their asking price to secure a sale. Some buildings have multiple units for sale and are great places to bargain hunt.
The price you see in advertisements isn't always the same price you'll pay in person. You can decrease advertisement prices by 5% to 20% off the final condo price. And many developers will give you free gifts such as iPhones or tablets.
On the other hand, there are hidden expenses that sellers might keep from you. You will learn about them after signing the purchase contract and they can add up to hundreds of thousands of baht.
Types of Condo
There are many different types of condos you can buy. Properties range from studio rooms to five bedroom penthouses.
Below is a general overview of condominiums in Thailand. For more in depth information, take a look at our in-depth guide at accommodation in Bangkok.
Studios
A studio in Thailand is the smallest type of condo. It's also the cheapest and the most popular type for first-time buyers in entry and mid-level condominiums. But many high-end condominium projects wont have studios.
Studios are usually a room of 22 to 30 sqm with everything in the same room, a small pantry area, basic kitchen facilities, living area, bedroom, and a small laundry area outside with the bathroom being the only separate space.
For a new studio room condo, you can expect to pay at least 2 million baht in Thailand. It can be more or less depending on the project and location.
One Bedroom
A one bedroom room will commonly be 33 to 40 sqm. With bedroom and living spaces separated.
Some projects may have a deluxe option for a one bedroom condo which will be 5 to 10 sqm bigger with a tiny extra room that could be used as an office for a starting price of 2.5 million baht.
Two Bedrooms
Two bedroom apartments usually start at 50 to 60 sqm. The biggest type of room available for an entry to mid-range condominium.
To get a new two bedroom condominium, you can expect to pay at least 3.5 million baht. If it's inside a city area, it can cost you over five million baht.
Three Bedrooms Plus
Three bedroom + apartments are mainly only available in the high-end, luxury, and super luxury condos. Room sizes and prices differ heavily between each project.
To give you an idea, if you want to get a three-bedroom condo from the Monument Thonglor, a luxury condominium from SanSiri, you need to pay well over 80,000,000 baht for a 252 sqm condo.
On the other hand, you can pay 25,000,000 baht and get a 134 sqm three-bedroom condo in ASHTOM MORPH 38.
Location
Location is a key factor when buying a condo in Thailand.
From bustling Bangkok to chilled Chiang Mai, there are plenty of locations around Thailand to find your dream place.
Pretty much every city and town will have condos, but there are a few key areas where most expats buy.
In addition to reading our article, if you want to buy a new condo, you can talk to Keller Henson and hear their suggestions.
Bangkok
Bangkok is the condo capital of Thailand, there are several hot spots where you will find premium developments. The BTS and MRT lines attract developers and that means you will find at least one new condo development next to every station.
Since central Bangkok has the most expensive land prices, especially the Sukhumvit area (from BTS Chit Lom to BTS Ekamai), you will mainly find high-end condos along this busy road.
Condos in these areas are the most expensive in Thailand. If you want one, you should prepare to spend at least 8 million baht for a one-bedroom condo.
Away from the central zone of Bangkok, you will find more reasonably priced condos, especially away from public transport. Areas around motorway junctions are now becoming popular in the outskirts of Bangkok when it comes to buying a property.
Future BTS, monorail, and MRT lines in Bangkok mean developers are starting to buy up land near proposed lines for building new condos.
The orange line extension and new pink line are prime examples of how you can find new properties in locations where there will be new lines in the next couple of years. These properties will provide transport convenience but are still considerably cheaper than existing condos along the current BTS / MRT lines.
One thing to note is that these proposed lines will take a minimum of three years to be built, so if you buy now, you will have to make do with other transport options.
Proposed transport schedules are not reliable, so ignore promises of new lines being finished this year and know that you could be in for a wait before your new condo gets really convenient.
You can find out more on our guide to buying condos for sales in Bangkok.
Pattaya
Outside of Bangkok, the next most popular location for condos is Chonburi which includes Pattaya and Jomtien, the infamous beach resorts.
Being by the beach is a huge draw, especially for retirees who are looking to avoid the big city lifestyle that comes with Bangkok.
A popular location in Pattaya is in the central Pattaya area since it has a panoramic sea view, and is close to walking street, and Central Festival. Condo prices in this area are comparable to Bangkok.
You can expect to pay at least 3.5 million baht for a one-bedroom condo.
A more budget-friendly condo will be found inside the city, away from the sea, with prices starting at 1.5 million to 2.2 million baht.
Chiang Mai
Chiang Mai has become a popular destination for both digital nomads and retirees alike. It offers a metropolitan lifestyle with great places to eat, drink, party, and shop. At the same time, the scenery and nature of the mountains is only an hour away.
Condominiums in Chiang Mai are still much more limited compared to other popular expat cities in Thailand. This is because people up there prefer living in houses rather than condos.
However, there are many reasonably priced condos found throughout Chiang Mai with new condo development projects on the outskirts of the city area. The price is at 2 million baht on average for a new condo.
Studios and one-bedrooms are the most popular types of condo here.
Phuket
In addition to being a popular location for millionaires to have their own villas by the beach, Phuket also has many reasonable condo developments.
All the main town areas in Phuket have condos, but the key areas for you to focus on, will likely be the popular areas for expats such as in the west near Patong Beach.
The downtown area in Phuket's east is another popular location with premium and budget condo options with prices starting from a million and a half and soaring over twenty million baht.
Other Areas
In smaller cities in Thailand, fewer worthwhile condo projects are available. Hua Hin and Khon Kaen are exceptions. In general though, land prices in rural areas are still low, making it a better option to build a house rather than a condominium.
Condo Builders
While there are independent condo builders out there, the majority of developments are run by several key players under different brands.
You will see the names Lumpini, Life, Noble, Sansiri, and D Condo popping up everywhere.
There are some independent builders and buildings which offer a little more variety than the standard Lumpini-style builds.
Major Condo Developer Reviews
Our premium subscription includes reviews of major condo developers in Thailand.
The guide lists the pros and cons of each developer and also points out which condos are better for living in and which are better for investing in.
It's one of our 100+ exclusive pieces of content available only to our premium subscribers.
To get access, please become a subscriber.
Ananda
Ananda is known for their Ideo brand, which focuses on convenience. A lot of condominium projects by this brand are located next to a BTS or MRT station, which make it a good option if you need to travel around Bangkok regularly.
You can find them mainly near big stations such as Lat Phrao MRT, Rama 9 MRT, Thong Lor BTS, and even the upcoming MRT station of Ramkamhaeng Lamsali.
AP
There are many condominium brands under AP. Each brand targets a different segment.
For example, Vittorio, their flagship brand, focuses on luxurious condominiums with prices starting at 32 million baht. They also have The Address and The Rhythm brands in business areas such as Siam and Sukhumvit.
Life is their most iconic brand, focusing on city areas such as Ladprao, Rama 4, and Rama 9. They also have the Aspire brand for affordable condominiums.
Lumpini
Lumpini or LPN in short, is one of the leading condo builders in Thailand. They have over 25 condominium projects throughout Bangkok.
Juristic persons from LPN Condominiums are known for being strict. This is actually a good thing because they can keep everyone living in peace without letting neighborhood issues become problems.
This makes a condominium from Lumpini a good place to live. However, a lot of their condominium projects are quite big with thousands of people, meaning their facilities get crowded.
Noble Development
Condominiums from Noble Development are mainly located inside CBD areas including Silom, Sukhumvit, Thong Lor, Ekamai, or Ratchadapisek.
Condominium projects from Noble are all clearly named as such: Noble Ambience Sukhumvit 42, Noble Revo Silom, and Noble Remix2.
Condominiums from Noble can be more expensive than other builders since they are located in expensive parts of Bangkok.
Pruksa
Pruksa has a lot of affordable condo options from many of their projects including Plum Condo, the Tree, the Privacy, Chapter, etc.
Their apartments tend to be cheaper than with other builders in the market. Sometimes, the starting price can be even lower than 1.3 million baht for a new condo in Bangkok.
However, they also get the most complaints when it comes to build quality as well.
Sansiri
Sansiri is one of the most popular condo builders among expats. Previously, they were known for D Condo, which is a brand of apartments on the outskirts of Bangkok.
Now, Sansiri has many brands under them, including the MUVE, the LINE, and Kawa Haus. All of them are resort-style condominiums with modern designs. Many condominium projects from Sansiri are located in popular expats such as Onnut and Bang Na.
SUPALAI
Supalai is among one of the biggest condo builders in Thailand. They have been in the real estate market for over 30 years and have built over 100 real estate projects in Thailand from houses, townhouses, to condominiums.
When it comes to condominiums, they have almost 20 projects around Bangkok, located inside business zones and living areas.
They also have both luxurious and affordable condos available.
New Vs Old Condos
Another key decision when buying is whether you want to buy a new or an old condo. There are advantages and disadvantages to both.
The key selling point of a new condo is that you will be the first person to live there and everything will be fresh. The hallways and common areas will be decorated well, and the rooms will have the latest appliances and technologies. The condo itself should be built using up-to-date construction procedures and with high-quality materials.
The downside of buying a new condo is that you don't know how things will work a few years down the line. The initially helpful, polite staff might have a change in attitude after a while and services like cleaning and repairs might not be as frequent as in the first couple of years.
Another downside is that the room has been lived in, which means you might potentially have to do work to update it and decorate if things aren't to your taste.
Save Money on a Used Condo
Do you know that there's a way to buy a used condo or other property in Thailand for 30% cheaper than the market price?
We talk about it as in of our 100+ exclusive pieces of content available only to our premium subscribers.
To get access, please become a subscriber.
The major benefit of an older condo is that the price should be lower than a new unit and you can get a bargain.
The majority of locals would rather buy new than old which means that there is often an oversupply of old condo units. You can get a good price for a room that is only a few years old. With condos in this category, you can also get a better idea about the build quality.
When I set out to buy my condo, I never really thought about buying a used condo. There were so many new developments that it seemed the obvious thing to do. In the end, the condo I bought is a bit new and a bit old. The building itself is around 12 years old, but the owners did not complete the project until 2014 and I purchased it in 2015.
Related article: How to Find a Handyman in Bangkok, Thailand
How to Find a Condo
There are many different ways to find a condo, and depending on whether or not you are in Thailand, you should look at as many of these as possible.
Agents
Many people use real estate agents to help them find properties to buy. Here's why:
It's very convenient. You just need to tell them what you want. And they will show you all the properties they have, both new and used properties, based on your requirements.
You get insider advice on the area and property you are going to buy
They can even help you apply for a loan from a bank
It's free since they get commission once the condo is sold from the seller.
It's easy to find real estate agents in Thailand. As soon as you post that you are looking to buy a condo on any expat facebook groups in Thailand, you will be quickly approached by dozens of agents.
Many property websites listed in the following section are also frequented by real estate agents.
But one thing you should be careful about with an agent in Thailand is that they don't need to be licensed.
This means everyone you meet can be a real estate agent even if they don't know much about the real estate market in Thailand. Some may push you to buy a condo where they know they will get the highest commision.
Be careful of the agent you choose to use and don't trust everything they say. Instead, research the condo project yourself. Be aware of them inflating prices for foreigners. You might want to ask Thai neighbors politely to see if they will tell you what they paid for the same condo.
After a conversation with my Thai friend who just bought a new condo, he told me that he bought his for 2.1 million baht but his expat neighbor next door got the same apartment for 2.5 million baht.
If you want to use a real estate agent to buy a condo in Thailand, you can check out Keller Henson. They can give you solid advice on the property market in Thailand, especially those for investment.
Related article: Real Estate Agents in Bangkok: What You Must Know
Online
Property websites in Thailand are comprehensive and intuitive. They are easy to use and you can filter everything you need, from location, to prices, and numbers of bedrooms in order to show a property that matches your needs the most.
DDProperty.com and Hipflat are the two biggest sites in the market right now. Additionally, you can check out Craigslist or baht & Sold Thailand Classifieds. Another online source is the Bangkok Post news website ads and banners.
Facebook marketplace is another option, but beware, not everything you see online is accurate, visit the place before reaching out to the seller to make sure that the building is as advertised.
While using a property website is a great way to help you learn more about what kind of property you are expecting you get with your budget, it can be overwhelming.
The property market in Thailand is big. You will see thousands of listings making it quite a challenge to find a good deal online. In many cases, a lot of listings are posted by the same real estate company.
Offline
Most condos under construction will have purpose built sales rooms with showrooms for you to look at, so your best bet is to hit the streets in the areas you like and pop into the showrooms to speak with sales staff.
You can use Google Maps to find apartment buildings in your favorite area.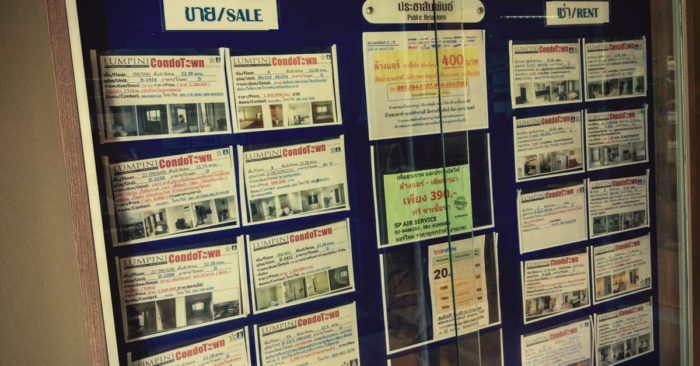 In older developments, go to the management office staff to find out about purchase options. Many condos will have information boards where owners post photos and information about their properties available for rent or sale.
This can be better than looking online, but remember that it is unlikely that the decorations and all the facilities will be included in the final price, so make sure to ask about that.
Legal Issues
There are a few legal issues you should know about when buying a condo in Thailand.
Buying in the Name of a Foreigner or Thai National
One big decision which many Thai/Foreign couples need to decide on is whose name the condo should be registered under. While it is possible to register the condo under a foreigner's name, there are several factors to consider.
Thai citizens can get a mortgage from a Thai bank as long as they have a good credit history and a salary of at least 15,000 baht a month. If the condo price is over 1.5 million baht, they will need to earn over 30,000 baht a month to get a loan.
The requirements are much stricter for foreigners.
Because of this, some foreigners decide to register their condo under their Thai partner's name. It makes the process initially much easier and more affordable.
You do have to consider that Thailand doesn't allow foreigners to pay a property for their partner and then claim ownership. Any money given to a Thai partner is considered a gift and will have no rights in terms of ownership of any property purchased with your money.
This means that if you and your Thai national partner break up, they have the legal right to kick you out and maintain ownership even if they didn't contribute any of their own money towards the purchase.
Putting the property in a Thai person's name might be the only option for some couples, but it is also a risky move.
Lawyers
Before making a financial commitment, many condo buyers in Thailand decide to discuss their options with a lawyer.
Lawyers can help explain the legalities of buying a condo and do background checks on the seller or building.
You might run into larger issues while purchasing a condo. For example, if the developer suddenly stops the project and does not give you a refund, then you will need to recruit a lawyer from a firm that specializes in real estate law.
In my case, the condo was part of a building owned by a large company, so I didn't feel like I needed to do any background checks. I did get a lawyer to run through the contract and everything was above board and as explained to me previously.
If you need help finding a lawyer, you can fill out this form. If you want to learn more about how to work with a lawyer, take a look at our in-depth guide to hiring a lawyer in Thailand.
During the Buying Process / Condo Construction
Once you have decided to buy a condo, it's time to start doing all the paperwork and arrange for the finances to be in place.
Rights and Obligations
It is important that you know your rights and obligations when it comes to buying a condo in Thailand.
The laws and processes will likely be different than your own country, and it is at this time having a lawyer will be very helpful, especially since the contracts you will sign are going to be in Thai. They will go through the contract with you and ensure everything is clear and above board.
Remember not to believe everything sellers tell you verbally. The contract is all you have to rely on if conflicts arise.
Triple check that the condo can be registered under the foreign quota of 49% of the total rooms. This is especially important when buying an old condo from a Thai citizen as they may not actually know the real answer to this question. Always check with the condo office.
You or your lawyer also must also check the building is registered under the condominium act and as such can be registered in your name.
Timetables
Buying an unfinished condo is known as "off-plan" and, in this case, you will likely be given a projected finish date rather than a firm one. As the project goes through different stages and gets closer to completion, the date should become more concrete.
When signing a contract, there will often be clauses related to delays in construction. Most state that if the delay is more than X-number-of-days then you will be due some form of compensation. There will also likely be a clause based on the cancellation of the project, so make sure you are aware of your rights.
As a rough guide, a medium sized condo project should take around eighteen months to be completed.
Deposits and Payments
The deposit and payment schedule will depend upon many factors such as whether you're buying off-plan or a pre-built condo.
With off-plan condos, you will often pay an initial deposit followed by small monthly sums during construction until the end where either the balance is paid or a mortgage is taken out.
The initial deposits are often very low, perhaps only 10 to 20 thousand baht and monthly payments can be as low as 5,000 baht for a property valued at around 1 million baht.
For example, this writer once looked at a 6 million Baht condo in Ladprao and was quoted 200,000 Baht as a deposit, and three further 200,000 Baht payments over the following 9 months before the condo was due to be finished.
If buying a prebuilt or used condo then there is often a small deposit paid to get an agreement and then full payment made prior to the registration of the property.
There are no legal requirements in terms of timing, but it's normal that from the deposit being paid, most sellers expect completion within 30 days.
Official Documents
There are a few very important documents you will need during the process of buying and registering your new condo.
Contract
The first is your contract. This should be signed by you and the developer if buying a new condo. It contains all of the information regarding registering, payments, and procedures. This is your fallback on all matters related to the building, fees, and timetables.
FET Form
Next you will need FET forms (Foreign exchange transfer forms) which show money for the purchase has come from abroad and been transferred upon arrival into Thai baht. You can get this from the bank that you transfer money to.
This point is very important, the money must arrive in Thailand in your own currency and then be converted by the Thai bank. If you have made multiple transfers, you will need a form for each transfer.
Personal Documents
You will also have to have originals and copies of your passport and any other official documents (work permit, visa, marriage certificate, etc).
If buying under a Thai person's name then they will need to bring their ID card and one other form of ID when registering a property.
A seller or a real estate agent can tell you the exact documents you need.
Taxes and Fees
At the time of transfer, there are fees to pay and they should be included in your contract and explained to you prior to purchase.
This article on SamuiForSale.com was the site I used to see that my only obligation was towards the transfer fee. Stamp duty and business tax is the responsibility of the seller, and as such, as a buyer you shouldn't be expected to pay a penny for these.
In terms of the 2% transfer fee, it's commonly split equally between a buyer and a seller.
When you move in, you are required to pay into the sinking fund – a fund of initial monies paid by new residents in a condominium.
This could be 10 to 20 thousand baht and is a one off payment around the same rate as one year's worth of maintenance fees (see below). You might also pay several thousand baht for installation of a water and electric meter.
Hidden Condo Fees
Taxes and transfer fees are not the only fees that are involved in buying a condo.
We have an exclusive article on hidden condo fees. It shows you all the fees you need to deal with when buying a condo in Thailand. It also tells you which ones you need to pay yourself, and which ones the seller should be responsible for.
It's one of our 100+ exclusive pieces of content available only to our premium subscribers.
To get access, please become a subscriber.
Yellow House Registration Book
When all taxes and transfer fees are complete, you will receive a Tabien Ban book – blue for Thais or yellow for foreigners. This book shows the resident of the unit and is an important document, needed if you plan to sell the condo in the future.
It is also at this time the title deed will be changed to your name and the buying process is complete!
Finance Options
As an expat, you can't just walk into a Thai bank and ask for a mortgage. In fact, most Thai banks won't give you a loan unless you have a permanent resident status.
Your options will be either banks in your home country or international banks that have branches in Thailand such as UOB and ICBC.
You need to reach their minimum financial requirements. For example, for UOB of Singapore, you need to make at least $100,000 SGD per year or $70,000 SGD a year if you have a Thai work permit.
You also need to be between 21 to 65 years old.
To get a loan, you can talk to a bank yourself. Or you can ask a real estate agent to help you.
After Buying
Property Insurance
Having adequate property insurance is really important. You want to know that your property and belongings are covered should the worst happen.
Technically, the building owners are responsible for all external walls, floors, and ceilings as well as the common area if the fault is their own.
In terms of insurance, you should look to get a policy which covers contents and damage to the building. There are comprehensive plans for just a few thousand baht per year for peace of mind.
There are many companies that offer insurance, and you can compare and buy from Mister Prakan. .
Also see our detailed health insurance guide to get a good idea about how it works in Thailand.
Condo AGM
Every year, there will be an annual general meeting (AGM) which covers many important factors such as the financial status of the condo, repairs needed, and proposed rule changes.
A couple of weeks before the AGM, you should receive financial statements related to the condo. In theory, this should give you time to read through the information and prepare any questions you have. You will also receive a list of proposed topics and votes that will take place which will again allow you time to digest the information.
The AGM information and meeting itself is entirely in Thai, and they might only be about taking minor votes such as whether or not to keep the maintenance fee at the same or to employ an extra security guard.
However, it is a good idea to attend and have a translator. Sometimes major decisions could be voted on, such as remodeling or structural changes, which might require extra payments from owners.
Rights and Obligations
As a condo owner, there are several rights and obligations that you will have.
The first is that you have the right to see the condo accounts and attend and vote at the annual AGM. You should also be aware that you will be bound by the decision of the AGM. This might mean an increase in maintenance fees or a one off payment to cover a large project.
You should also have the right to lodge complaints and have them dealt with. In the same way, you are obliged to cooperate with your condo management if you have caused any problems.
Furniture
New condos are sold with furniture in 99% of cases, but you often need to buy a few extras over the basics which are provided. You might need to purchase some electronics separately for example. Check with the developer if everything you see in the showroom will be included in the final price.
If you buy an older unit then there is the chance that the owner will want to take the furniture with them, so either check to see if it is included or whether you can make an offer for any items you want.
If you are in need of buying / upgrading the furniture in your condo, there are lots of options in all price ranges.
If you are looking for bargain basement deals then you will often find local shops which sell furniture at rock bottom prices. These shops are normally located on most major roads and will be independent places with furniture spilling out onto the street. From sofas to fridges, they have the lot; some things are new, others are secondhand.
Furniture stores are found in pretty much every shopping mall. Index, SB Design Square, Homepro, and of course, Ikea Thailand are the main players in the market and will have everything you need to kit out your new pad.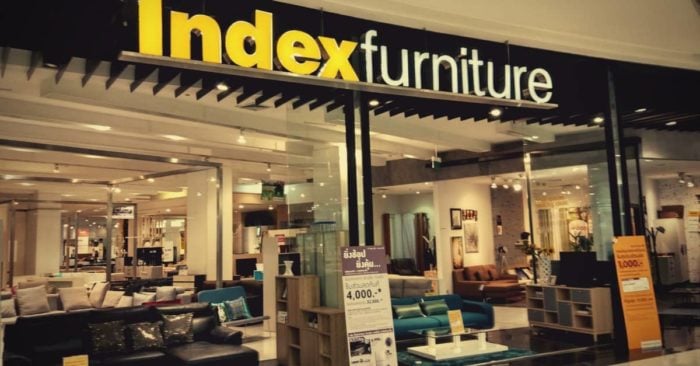 As an estimate of price, you could fully furnish an average one-bedroom apartment from one of the above shops for around 80 – 100,000 baht.
Another fancier option is to head to the Crystal Design Center, often called CDC, which is located between Ramintra and Ladprao in Bangkok. It is a huge shopping complex which specializes in furniture but prices there can get pretty steep.
Another option is to ship your furniture from your home country. Some people grow attached to their beds, kitchen units, and other items around the house, and if you sold your place to move to Thailand, it could be an option for you.
You can read our shipping to Thailand guide to find out how to do it.
Decorating
Most new-build condos will come at least partially decorated. The walls will be painted and the bathroom tiled. You will be able to add a few of your own touches and the good news is that decorating is simple and quite cheap to do.
If you buy an old condo then there is the possibility it will be quite dated and in need of a lot of work to smarten it up. There are plenty of options, both offline and online, to make the decoration process a piece of cake!
For your basics such as paints and wallpaper head to Homepro in all the big shopping malls or Thai Watsadu, the local choice for DIY. There are also small local DIY shops and hardware in most major towns and suburbs.
If you are looking for interesting items to add some character to your home, Thailand is full of markets which have wonderful nicknacks to make your space unique. In Bangkok check out the Ratchada train market or Chatuchak's JJ market where you can buy anything you can imagine.
When it comes to painting, wallpapering, and other physical changes to the room, you can do it yourself or hire a decorator.
Maintenance
There are two aspects of maintenance that are important to know.
The first is the maintenance fee, a monthly amount based on the square meterage of your condo that you pay to the condo management to cover staff fees, communal areas, and other shared costs with other condo owners. This can start at about 30 baht per square meter and go up to several hundred baht.
The second type of maintenance is the repairs you will need to carry out in your place. When you are the owner, these small repairs and maintenance issues fall on you. Remember your shiny new condo won't stay like that forever and you will need to budget a large amount to replace and repair things especially after the first few years.
Renting Out Your Condo
Global Property Guide shows that rental yields in Bangkok ranged around 5-8% in areas close to the BTS and MRT lines. And it has been around this percentage for many years. It seems like a reasonable investment but still be wary when it comes to buy-to-rent in Thailand.
The main issue with renting out your condo is that it is likely that there are a huge number of other units in your building which are up for rent, which leads to high competition and lower rental prices. If you want to rent out your condo at a reasonable price then it needs to be something a bit special and should be located in a desirable location.
If you are living abroad and trying to do this, it becomes even more difficult.
Property management agents will promote your property and show potential renters around. Real estate agents in Thailand normally charge a fee of 1 month's rent when they get you a tenant.
You do have the option of privately promoting and renting out your condo. It is free to post on the majority of rental sites and if you have something unique or in a highly desirable area, you can find someone relatively easily. But you will need help with the rental contract.
Agents provide this service but if you don't use an agent, you will have to draw up your own contract or get a lawyer to help.
The final issue is the reliability of tenants. Foreigners are prone to abandoning a lease to go home suddenly or just move to a better place. So after spending months trying to get a tenant, you can find them walking away and you have to start the process all over again.
Deposits cover some of your trouble, but you would have paid a month's rent commission to the agent, so you end up at square one.
There is also the issue of renter damage. Will their rent cover your costs and ongoing maintenance of the place?
Selling
It can be difficult to sell a condo in Thailand.
With the seemingly never ending supply of new condos, people tend to buy new. Unlike in the UK where people look at older properties as having "character," the older condos here are seen as the last option unless you have a unique place in a desirable location.
The best bet is to use an agent to help promote your property across many different platforms and languages. Agents normally charge 3% when the property is sold. You can find an agent through either your condo manager or by looking online at the numerous property sites and dropping them an email.
You can choose to sell it privately either online or by word of mouth, but it might prove difficult to do if you are outside the most desirable areas.
Is Buying a Condo in Bangkok a Good Investment?
Many expats buy condos in Thailand for investment purposes. This is because the real estate market in Thailand is good. There was even market growth during the pandemic.
Expats buy condos in Thailand and make profit by selling them later on, while getting rental income along the way.
Also, there are many new condo developments being built in Thailand right now, which should increase the property price in the future.
Thailand is also tax friendly. You can buy a property here and pass it on to a family member without them having to pay inheritance tax. And Thailand property tax is much lower than property taxes in many countries around the world.
The average yield rate in Bangkok during the past years is around 5 percent. It's definitely not the highest in Asia, but it could give you a good return on investment.
One of the main benefits of buying a condo in Bangkok is that the city keeps expanding continuously. By 2025, it's expected that the mass transportation system will run all throughout Bangkok, and land prices are expected to increase after that.
In fact, property prices in Thailand have been increasing. CEIC has shown a steady increase in condo prices in Bangkok from 2008 until present.
Although there's a huge supply of condos on the Bangkok market – some people claim there's an oversupply – there's still a demand as well. For example, in early 2022, buyers were interested in purchasing large condos in Bangkok. So, if you know the market well, buying a condo for investment could be a good idea.
However, this doesn't mean that buying a condo is risk-free. If you want to invest in a condo in Bangkok, research the condo you're planning to buy or talk to a property investment specialist in Thailand.
Is It Possible to Buy a Thai Condo while Living Abroad?
It is possible to buy a Thai condo while living abroad, and most of the steps above are the same. The only difference is you will need to employ a lawyer or a real estate agent and give them power of attorney to agree to the contract and act on your behalf when transferring the property.
We don't recommend buying a property while living abroad though, as you want to see everything first hand and check on all the little details before signing a contract.
The cost of a one week trip to Thailand would probably be only slightly higher than the legal fees of hiring a lawyer to do all these steps for you.
Buying vs Renting
Buying a property is one of the biggest decisions we make in our lives. It is a commitment to a building, an area, and a lifestyle for a prolonged period of time.
When buying a condo in a foreign country, it also means making a commitment to living away from home and having to jump through a number of hoops. Thailand doesn't make it straight forward for a foreign national to buy or sell a condo, so you need to be sure of your desire to be here for the long term.
Having a potential rental property for the future is a good back-up-plan as well.
After living in rented properties, some people want somewhere to decorate and furnish to their own standards.
In my case, my decision to buy was based on the idea that I would be staying in Thailand for the long term and that buying a property in Thailand would be much easier than doing so in the UK.
The value of a Thai condo will not rise in the same way that UK property does, but I felt that I could still find a good deal and make some money if I decided to buy in the right area and things are looking promising in this regard.
Buying a condo meant I could rent it out in the future should I need to. Similar rooms in my building are currently renting for 12,000 Baht a month. I also just wanted somewhere I could decorate and furnish to my own standards.
The main benefits of renting are quite clear:
Flexibility of movement
Monthly payments
No maintenance worries
Once you purchase, if you want to move, you either have to sell or rent it out. This might take a few weeks or a few years.
The ability for renters to pick up and leave is a major benefit, especially as circumstances change. The worst that will happen is you lose your security deposit which is normally one or two months' rent.
Monthly payments mean you don't need to have a lump sum and can normally move into a place for a relativity low outlay. First month's rent and two extra months are normally needed to sign a contract.
When renting, it's good to know it's not your responsibility to pay and fix things that go wrong. As long as you have a good landlord, you shouldn't have too many problems getting things done.
Additional Tips
While studio rooms are cheap, many people hate to live in a condo where you do everything in the same room. It can eventually feel like a prison cell and you might not want to be there long-term. Renters you get will also likely only be there short-term before craving more space.
If you only have the budget for a studio, think carefully if this is how you really want to live.
Also note that a lot of one and two bedroom condos suffer from a lack of natural light. Some only have windows in a couple of rooms, leaving others in the dark meaning you need to have the lights on during the middle of the day.
It can become a problem and cost more in electricity. Look for corner apartments and keep this in mind. Windows on two sides of a condo makes it much more livable.
Now, on to You
Buying a condo in Thailand is a big investment. You need to make a careful decision before doing it. If you aren't ready to buy, you can still rent an apartment.
But if you're certain that you want to buy a condo, go to Keller Henson to get things started.
Hopefully we have answered all your questions but feel free to comment below if we missed something, and we will get back to you!
Related Articles