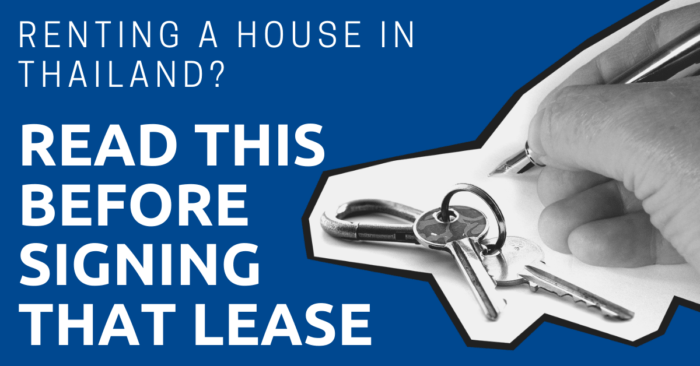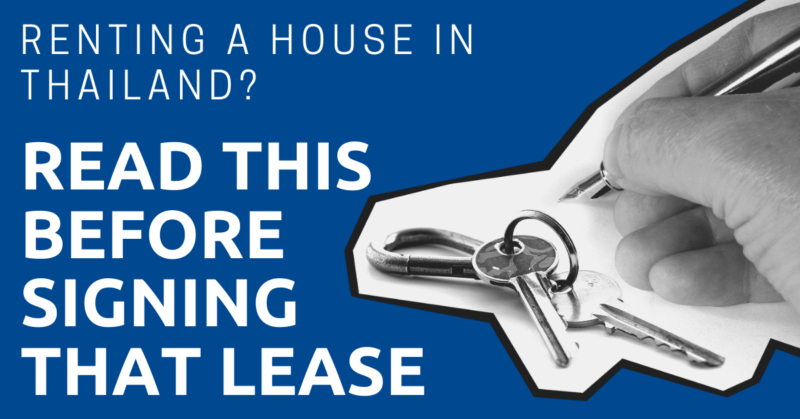 When moving to Thailand, the first thing you should think about is where you're going to live.
If you want to have space for you and your family, renting a house in Thailand is a great choice.
It gives you a lot more spaces but even cheaper than renting a condo.
This guide shows you how to find a house to rent, how to deal with landlords, and how to overcome the challenges you'll face as a tenant in Thailand.
Types of Houses
Simply speaking, you can find two types of houses in Thailand: detached houses and townhouses.
Detached Houses
Detached houses in Thailand are similar to houses in the West. They usually have small lawns and garages.
You can find detached houses on the outskirts of Thailand's cities.
If you happen to see a house in the heart of the city, chances are the house has been passed down through the generations of a wealthy family.
The best thing about detached houses is the large space they offer you and your family to have parties, garden, or play.
You'll also have more privacy with a detached house.
When looking at detached houses, you should always consider the size of the actual usable area inside the house, not the land size.
It's possible that the house will be on a big piece of land but have little livable space.
If the detached house isn't in a real estate housing development, you should be double careful with security.
You house can be a target for burglaries.
Townhouses
Townhouses are what you commonly find in Bangkok and city areas of many major provinces in Thailand.
They provide the most living space possible.
Townhouses usually have two floors. In some places, they may have five floors, providing you with more living space than a detached house.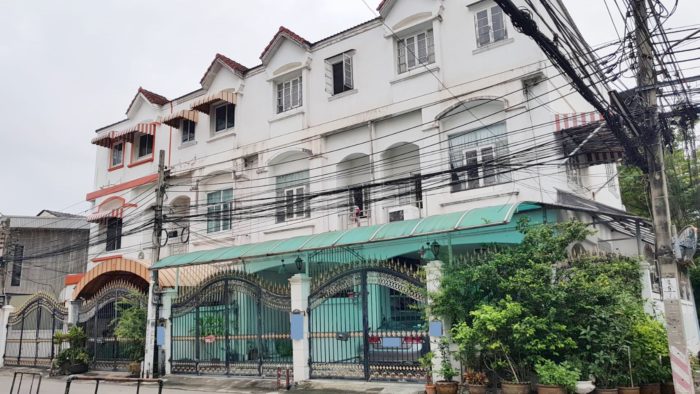 One downside to townhouses is the lack of outdoor space. When renting a townhouse, you barely have any space for outdoor activities.
Some townhouses may not even have parking spaces.
Because of this, people who live in townhouses tend to park their cars in front of the other houses on the street, which leads into parking space issues with neighbors.
If you want to buy a car and rent a townhouse, just make sure you're guaranteed at least one parking space at your townhouse.
Townhouses are usually less expensive than detached houses. And they're easier to maintain.
Provinces
Let's take a look at your location options and prices of renting a house in Thailand.
Bangkok
The number of available detached houses and townhouses for rent in Bangkok is dropping.
Some are still available in Silom and Sathorn. But they're expensive. You can pay more than 70,000 baht for a detached house and 30,000 baht for a townhouse each month.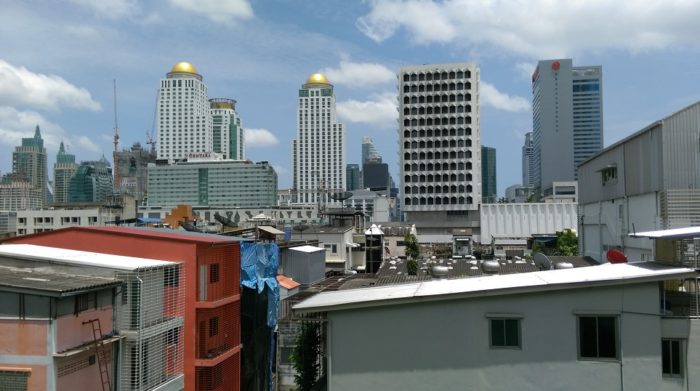 Detached houses in good housing developments in rural areas start at 22,000 baht a month.
You can find many townhouses for rent outside of the city. Prices will be less than half of a detached house, starting price at only 10,000 baht a month.
Chiang Mai
Chiang Mai is one of the biggest provinces in Thailand. It's also the biggest tourism province in the north and a popular retirement destination.
More and more people are moving to Chiang Mai, including an increasing numbers of expats.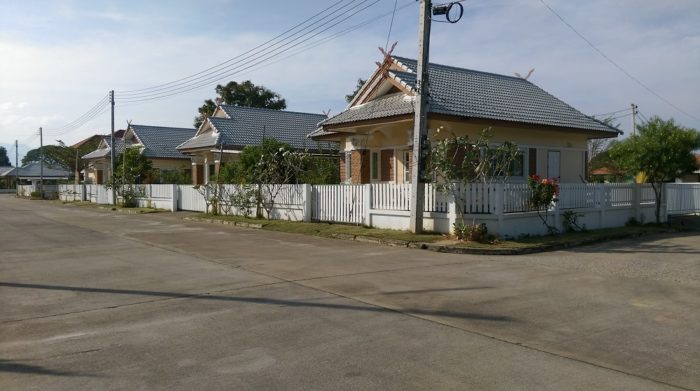 You can find houses for rent in this mountainous province in many districts including around the moat, San Sai, Hang Dong, San Kumpang, and Sarapee.
You can rent a townhouse starting at 6,500 baht a month inside the city.
You can rent a detached house starting at 12,000 baht a month almost everywhere else, especially in the new housing developments that are springing up.
Phuket
Phuket is the smallest province in Thailand yet has the highest cost of living.
Although Phuket is one of the most famous beach destinations in the world, don't think you can rent a house by the beach and enjoy the sunset everyday.
Those areas are heavily developed with luxurious condominiums and hotels.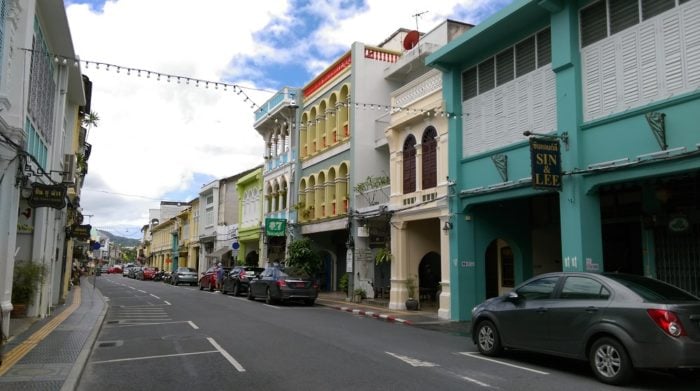 Phuket is full of housing projects, both with detached houses and townhouses.
Rental prices depend on how close the property is to the beach. The closer it is, the higher the price.
In general, the rental price in Phuket is similar to Bangkok.
Other
In addition to the above provinces, you can find more detached houses than townhouses in other parts of Thailand.
Price ranges heavily depending where you stay.
For example, the prices in Pattaya and Hua Hin are similar to the rental prices on the outskirts of Bangkok.
At the same time, you can pay only 8,000 baht a month and can rent a detached house in a province like Roi Et.
Looking for a Place to Rent
When in comes to finding a house for rent, there are three different methods you can try:
using real estate agents
looking online
walking around
asking friends
Using Real Estate Agents
In Thailand, anyone can be a real estate agent. There are no qualifications or licenses needed.
So it shouldn't take you long to find an agent, but you should vet them very carefully.
Many agents pop up in Facebook groups like Bangkok Expats after someone asks for help in finding a place to rent.
You don't have to pay a real estate agent to help you find a place to rent. They get a commission from the property owners at no cost to you.
The longer you rent, the higher commission they get.
Using an agent is the most convenient way to find a place to rent, but you may need to pay higher rent than if you dealt directly with the landlord.
In addition, this method is usually beneficial to those who want to rent for longer than six or 12 months.
If you need a real estate agent, use this form to contact one of our recommended real estate agents. A reputable real estate agent will get back to you within 24 hours.
Looking Online
There are over ten real estate websites where you can look for rental houses in Thailand.
When using websites, you can easily see the location, pictures, size, and price per month for rental properties.
You can also get directly in touch with the person who posted the rental property.
Property Scout, DDproperty and hipflat are three popular online property marketplaces in Thailand, with listings for thousands of rental houses.
In each listing, you'll see:
pictures of the property,
location
map
size
number of rooms , bathrooms, and kitchen
nearby facilities and transportation
Property rental websites give you a good idea on the average price of the area you want to live in, and you can quickly compare listings.
But if you see something you like, you should go have a look in person.
The pictures you see online can be totally different from what is actually there.
Walking Around
Any house that's available for rent will have a message board posted in front with the price and contact info.
You can walk or drive around your desired neighborhood to find rental houses.
It might take some time, but you can see the house in person and its condition, environment, transportation options, and your future neighbors.
You can call the number posted on the message board. If the owner lives nearby you can go inside the house and take a look right away.
Seeing the house in person can help you make a decision. And dealing with the owner gives you more room for negotiation.
Asking Friends
If you're in Thailand, you can ask your friends or coworkers for recommendations on where to rent.
They might've already done their own research and can suggest a good place to live.
And they may know landlords or even have a house for rent, which can make the negotiation process easier.
Rental Prices
Rental prices for houses in Bangkok and Phuket are similar.
Rental prices for detached houses in Bangkok and Phuket are very expensive.
A 250 square meter house can easily cost you over 70,000 baht a month.
But for the same size house in Chiang Mai, you would pay only 20,000 baht a month or less.
Rental prices vary depending on many factors.
Even in the same exact location, one house can be significantly more expensive than the one next door.
Here's a list of factors that affect the rental price.
location: inside or outside of the city?
transportation: how convenient it is to travel to other locations?
condition: a new or an old house?
facilities: does it come with AC? is there a park or swimming pool in a shared space?
size: how big it is? how many bedrooms and restrooms are there?
management team: does the house living located inside the housing project with a management team?
To give you an idea on rental prices, we've gathered prices from several listings and came up with a graphic of average prices for various locations in Thailand.
Note that prices can still be significantly different from what you find because of the factors we mention above.
This table shows an average price of renting a detached house with 50SQW. SQW or Square Wah is a Thai measurement equal to 4 square meters.
| | | |
| --- | --- | --- |
| Location | City | Rural |
| Bangkok | 55,000 | 30,000 |
| Chiang Mai | 20,000 | 12,000 |
| Phuket | 25,000 | – |
| Huahin | 25,000 | – |
| Pattaya | 25,000 | – |
| Other | 8,000 | – |
This table shows an average price of renting a townhouse with 20SQW.
| | | |
| --- | --- | --- |
| Location | City | Rural |
| Bangkok | 30,000 | 15,000 |
| Chiang Mai | 12,000 | 6,500 |
| Phuket | 15,000 | – |
| Huahin | 15,000 | – |
| Pattaya | 15,000 | – |
| Other | 6,000 | – |
Choosing a Place to Rent
There are seven points to keep in mind before signing a lease:
budget
size
transportation
management team
security
street dogs
neighbors
Budget
Budget is the most important part when choosing a house to rent. You should first specify how much you want to spend per month.
A budget will help you narrow down the area and size of house available.
Size
The size of the house should be equal to the number of people who'll be living in the house.
If the house is too big, you need to spend more money than necessary, not just on rent, but also on utilities.
On the other hand, if the house is too small, you might be uncomfortable.
Transportation
The house should be in an area that's close to supermarkets, work, your kid's school, or even hospitals in case of emergency.
Since houses are mainly located out of town with limited transportation, you should go to the area and see how easy or difficult it is to get around.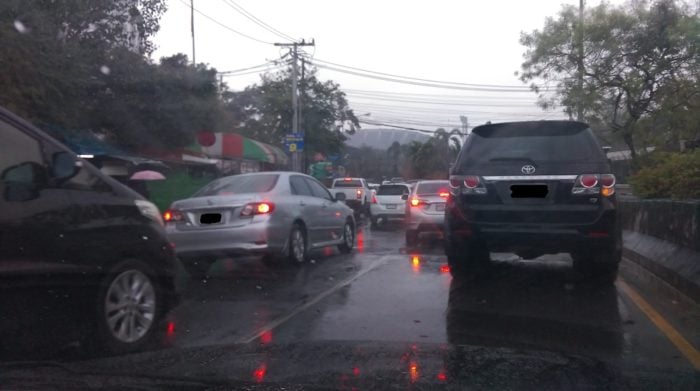 You can also check the traffic in the area. You don't want to live at the end of a soi that takes 20 minutes to get up and down during rush hour.
caption: You definitely wouldn't want to get struck in a traffic like this!
Management Team
If you're planning to rent a house in a housing development, you need to make sure it has a good management team.
A good management team should maintain the property grounds, making the development a pleasing place to live.
To check the quality of the management team, you can take a look at the conditions of the public areas, roads, parks, and swimming pools.
Security
Security is an important matter. You should make sure the development you live in has a good security.
If you rent a house that's inside a housing development, the development should have a security gate and a few security guards stationed there.
In addition, they should only open the gate for those who either have an access card or exchange their IDs.
Some housing developments have CCTVs installed throughout the public areas.
If the house you're planning to rent isn't inside a housing development, check the surrounding environment.
You shouldn't rent houses on dark roads where few people travel at night.
Although it's uncommon, burglaries can happen at houses with no security.
Street Dogs
Street dogs are everywhere in Thailand. So you shouldn't surprised to find street dogs that wander into your development every now and then.
If you live in a development with lax security, street dogs may stay indefinitely.
And Thailand doesn't have any laws saying street dogs aren't allowed in housing developments.
Street dogs may rummage through garbage at nighttime. They may sleep in the development. And sometimes they can get aggressive.
You'll sometimes hear stories of people getting bit by street dogs. With the rabies outbreak in Thailand, it's a good idea to just stay away from them.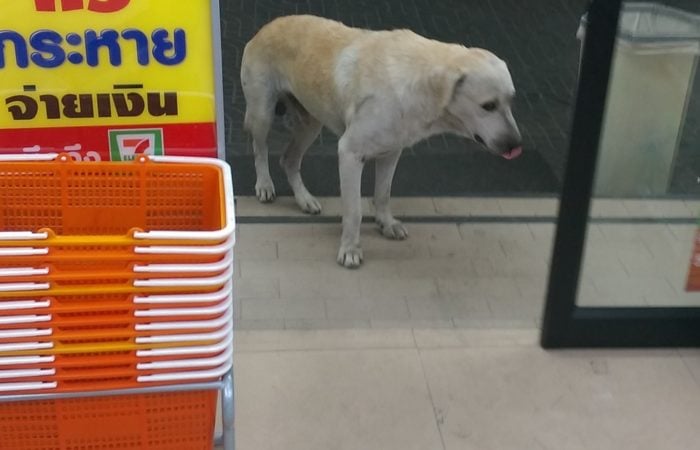 Sometimes street dogs chase you while you're riding a motorbike and you could end up in an accident.
Rent a house in a development that has no street dogs. And if street dogs are setting up shop in the development, be sure they're tame.
Neighbors
Potential neighbors are a great source of information. They can provide insider info that you can't get from the landlord.
You can ask them about any problems they have in their house or neighborhood and check about the safety of that area.
But neighbors could also be the source of some of the challenges you might face.
Some neighbors might make loud noises at night and park their car in front of your house. Some may have pets that give off horrid odors.
But if you get a good neighbor they can help you out. If you go away for vacation they can watch your house or pets.
Dealing with Landlords
A good landlord will take care of any issues that come up at your house in a reasonable amount of time.
If anything is broken, they'll fix it. If the light bulb doesn't work, they'll replace it. If the pipe is clogged, they'll find a handyman to unclog it.
But since your not Thai, your landlord will also have to help you in other ways.
Landlords need to give you supporting documents on many occasions for:
tax certificate from Revenue Department
So when you negotiate your lease, tell the landlord that you'll need their help throughout the year with these processes and make sure they're okay with giving you:
copies of their ID
copies of their house registration
their signature from time-to-time
Even if the landlord had expat tenants in the past, don't expect them to know about your specific legal or immigration needs.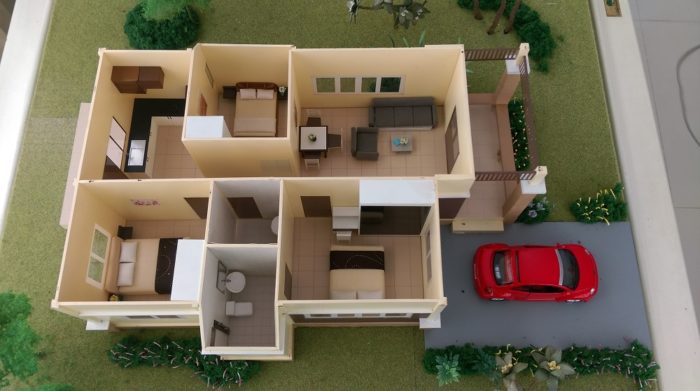 It's difficult to determine a good landlord from a bad landlord, so use your best judgement.
To help, it would make sense to rent from a landlord who could speak English and lives close by.
And remember, just as you want a good landlord, the landlord wants a good tenant.
They might ask you questions about work, lifestyle, visas, family, and why you came to Thailand.
They want to be sure you're going to pay the rent on time and keep the house in good order.
When you meet your potential landlord for the first time, dress well and be polite. First impressions are important.
Signing Leases
A copy of your passport copy is normally the only thing you need when signing a lease.
On certain cases, property managers or landlords might want to see your work permit or your visa.
This is to make sure that you can stay in Thailand legally with a long-term visa and won't suddenly fly back to your country without paying the rent.
Leases are prepared by the property owners. In many cases, they'll just get a template online and adapt it without any input from a lawyer.
Or they just Google translate a Thai lease into English without checking the accuracy of the English.
So make sure you review and ask questions about the following:
Is the rental price on the lease the same price you agreed to?
Is the length of the lease the same as you agreed to?
Is the landlord requesting a one-month deposit per the new laws introduced in 2018?
And does the lease say that the landlord will return your deposit in full seven days from when you move out, so long as nothing is broke?
What is the date that each month's rent it due?
Is the landlord responsible for management fees, or are you?
Who's responsible for maintenance costs if you break something?
Who's responsible for the maintenance costs for regular up-keeping of ACs?
What are the restrictions in the lease?
Leases are prepared in two copies. You and the landlord sing both. The landlord keeps a copy and you keep a copy.
One thing to keep in mind is that Thais are not keen on the Thai legal system. They aren't strict and try to resolve everything through negotiation.
Don't be surprised if landlords let you do things the lease says you can't. And especially don't be surprised if landlords do things the lease says he or she can't.
But if you want to do anything in the house, such as paint or hand shelves, make sure you get approval from the landlord.
Notifying Immigration
According to Thai law, the landlord must register all foreigners within 24 hours of the foreigner moving into their property.
If they don't, they have to pay a fine of 200 baht per day, at a maximum of 2,000 baht.
If the landlord doesn't register you with local immigration, you'll find out at your next 90-day notification. Then you'll have to pay the fine.
This law has been out for a while but immigration is just starting to enforce it.
But many landlords don't know about this law. So before moving in, tell your landlord about it.
If your landlord is unwilling to do register for you, you can ask for the documents from landlord and do it yourself.
You can find more information about this topic in this article.
Household Expenses
There are other expenses you need to pay every month in addition to rent, including water, electricity, and internet.
Electric and Water
Unlike renting a condo, you don't need to worry about the extra cost of water and electricity charged by your landlord.
Instead, you're be billed directly by Metropolitan Waterworks Authority for water and Metropolitan Electricity Authority for electricity.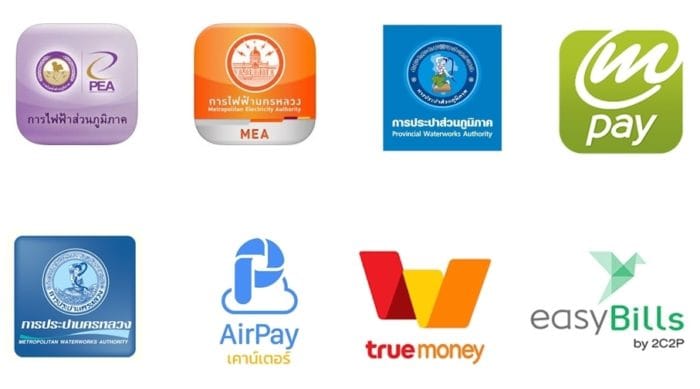 You'll be billed at the beginning or at the end of the month depending on where you live.
There are many ways you can pay these bills:
You can also check your bill on Phone apps.
If you live in Bangkok, Nonthaburi, and Samut Prakan, you can download MWA OnMobile and MEA smart life apps to get real-time bills.
If you live outside of Bangkok, check out PEA Mobile and PWA Wallet.
Internet
It's great if the landlord already has internet. You can use it right after moving it.
But on many occasions, you'll need to set it up yourself.
TRUE, AIS, 3BB, TOT are the four biggest landline internet providers in Thailand.
There isn't a big difference between quality, speed, and prices from these providers.
Their internet packages similarly start at 599 baht per month for 50/20 Mbps speed.
Some providers have a combined phone and internet package.
The difference comes from whether or not they have a coverage in your area.
If you live outside of the city, you may have only one option for internet.
To set up your internet, go to their shop with a copy of your passport and your lease.
Then, they'll come to your house a few days later and install the internet.
You don't need to pay any setup fees.
One important point to note is that the internet package tends to come with a one-year contract.
If you need to cancel the package beforehand, you'll need to pay around 3,000 baht.
Now, on You
Renting is one of the biggest expenses while living in Thailand. Before signing that lease, think carefully and make sure that everything is right.
If you have made it this far and still aren't sure what to do before signing your lease or need help finding a house to rent, reach out to us and we'll put you in touch with an agent we feel comfortable recommending.
Related Articles