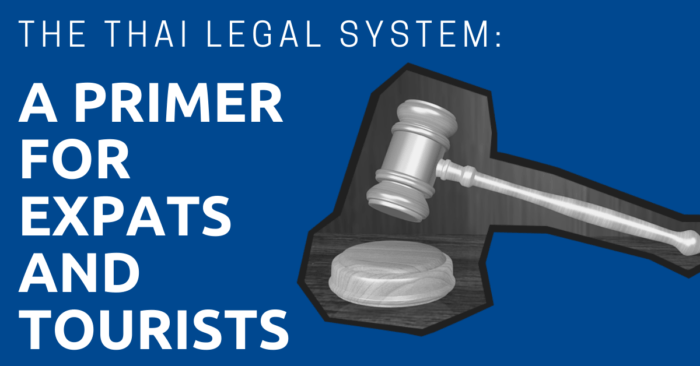 Many visitors and long-time residents of Thailand don't always terribly accurate picture of the legal system. Most of it is probably shaped by what tends to get reported in the media – which tends to either highlight when the legal system fails or when it's a particular prominent outlier that gets caught in it.
In reality, the legal system in Thailand tends to work not too different from that what many people are used to back home. That doesn't mean there aren't exceptions, but the base assumption should be that usually things tend to follow the letter of the law. Minor issues and powerful figures aside, that tends to be closer to the reality than what otherwise gets reported. That means people still fill out their tax returns, have lawyers and apply for bail.
There are a number of exceptions though – not only when laws don't apply, but also in the letter of the law itself. When being confronted with either a violation of your own rights or with accusations that you violated those of others it makes sense to be familiar with those peculiarities before deciding on how to move forward.
The information in this article is in part based on public information provided by various embassies (including the German Embassy and the British Embassy) which offer basic information on Thailand's legal system online and without any warranties (and so do I).
I've also received some input from lawyers and entrepreneurs, most of them asked to remain anonymous. Explanations might be out of date, missing details or incorrect.
All information is provided without any warranty whatsoever. If it's for an actual case or issue, you can fill out your information on this page and we can help you find the right lawyer for your case.
What follows is an alphabetical listing of some major differences and defining points in the Thai legal system you might want to familiarize yourself with.
Appeals
A major civil court case might cost 20 million THB in legal fees, but the appeal may only be an additional THB 300,000, a small investment that can increase the likelihood of an appeal. Consult your lawyer about potential appeals (as well as how long they may drag on the resolution of a case).
Bail
It's often possible to get bail in case of libel and defamation cases, but for anything involving drugs it's usually not granted. I've heard reports from some people claiming that they have succeeded in this, but I have yet to meet someone or hear of a specific case of a drug offense being granted bail.
Computer Crime
The definition of computer crime is so wide, that basically any anonymously posted comment that's considered disparaging to a person or entity, could already result in charges being brought against you. Whether you get sentenced is another question, but you should think twice before insulting someone online in Thailand – even if it's 'just' on Facebook, Twitter or an internet forum.
Consultants
Thai nationals (with or without a law degree) can offer legal advice. However, only lawyers accredited with the Lawyers' Council of Thailand are licensed to give you legal advice and represent you in court in which you can get in touch with one of them here.
Foreign nationals are usually not permitted to provide advice or represent you within the Thai legal jurisdiction. There are a few foreign lawyers left that were grandfathered in before the law was changed in 1975. In fact, there's so few that I can actually list them by name: Al Chandler, John Hancock, David Lyman, Harvey Price and Harold Vickery (to my knowledge, none of them still represent clients at court).
In practice, many foreign lawyers will talk to you on the basis of being a 'business consultant', but the actual representation in court will always be handled by a Thai national.
Contempt of Court
Penalties for contempt of court can be quite stiff, and people found themselves in hot water from as little as criticizing an actual court verdict. I wouldn't recommend making negative remarks about any court or court verdict in public.
Criminal Cases (as Private Party)
Be aware that private individuals can bypass prosecutors and police to bring about a criminal case themselves. In many cases this is done to reach a settlement in exchange for dropping the charges.If you think you might get into a civil dispute with another party, you might want to look into the chances of a criminal charge being filed on top or instead (which they might choose to speed things up as civil cases take longer to resolve).
Defamation and Libel
Thailand has the concept of criminal defamation and libel. Be very careful of who you criticize in public, including (and maybe most importantly) your own lawyer. You may end up being unable to leave the country for an extended period of time once a lawsuit has been filed against you.
As a general policy, if you identify a person or a company in public, especially in written form – be it digital or on paper – you probably want to avoid writing anything bad about them. You don't want to rely on something being the truth as a defense in that case. My impression is that courts might look also at your intentions when posting this – which can either work in your favor or against. I definitely recommend erring on the side of caution.
Public Defenders
Defendants have a right to a public defender if the death penalty is on the line. In case of a possible imprisonment of more than ten years, a judge decides if the defendant receives a public defender. For three to ten years, the defendant has to prove that she or he lacks the necessary funds for a lawyer.
Licenses
The Lawyers' Council of Thailand and the Thai Bar Association are responsible for regulating those lawyers who are their members. If you wish to complain about your lawyer, you may submit your concerns directly with them. If a lawyer is licensed to practice in Thailand, she or he may do so in any civilian and criminal court.
Malpratice
From what I understand there's no such thing as 'malpractice' in the legal profession in Thailand. In other words – if you think your lawyer committed gross negligence while representing you, there might be little legal recourse you have. It's probably best to vet your representation well in advance, limit your losses when you notice things went wrong and then move on.
Notaries
Notary services in Thailand are often provided by lawyers who completed a legal training course by the Lawyer's Council of Thailand. There is no separate, distinct 'notary' profession. If you need a notarization for a non-Thai document or for anything that's used outside of Thailand, a better choice may be to have it notarized by an embassy. From what I understand this can reduce the likelihood of getting the notarization challenged in court.
The US Embassy tends to ask for roughly 50 USD per notarized copy – which can be pricey. The German Embassy on the other hand only charges you 1 EUR per copy, with a minimum charge of 10 EUR. Unless it's required to have things notarized by a specific embassy, you might as well shop around.
Self-Representation
According to some embassies, there is no requirement for parties to be represented by lawyers at court. If they have adequate knowledge of legal matters, they can choose to represent themselves. Of course, it's highly recommended though that you seek out a lawyer who can represent you professionally.
Wills and Estate Planning
If you're looking for some information to get started on wills and estate planning in Thailand, we have an article on how to make it and Reddit has a thread on passing away in Thailand. There are also useful posts on Thaivisa, including why you might not want to use a lawyer for your will in Thailand.
Further Reading
For additional information on Thailand's legal system and the responsibilities of the different roles in it, I can recommend Wikipedia's article on the legal profession in Thailand. Also, you should read this lawyer guide in Thailand to understand more on the whole process working with lawyers as well as usual rates. Once you have an idea on how things work, I have a list of legal firms in Bangkok and Phuket based on recommendations from different sources.