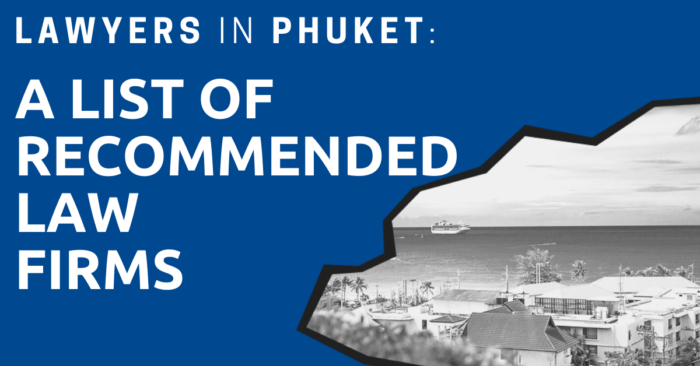 There's no shortage of legal firms in Bangkok, but finding the right firm can be more of a challenge outside of the capital. The only city where I received significant intel during my work and research on lawyers in Thailand (aside from Bangkok of course) was Phuket – thus this article.
If you happen to have made good experiences with lawyers elsewhere (especially in Chiang Mai), I would appreciate if you could drop me a line.
For Phuket, the exact same three companies were recommended to me by different sources. Based on that I feel quite confident about the listings in this category.
This said, I assume most of the workload of these firms in Phuket come from real estate transactions, family law matters or criminal law issues. For other areas of expertise,
I would probably opt in favor of taking a trip to Bangkok to work with a lawyer specializing in the respective field.
"*" indicates required fields
Law Firms
Duensing Kippen
The partners Duensing (German) and Kippen (US) appear to have a very good reputation among colleagues and clients. The firm maintains offices in Phuket and Bangkok.
Frank Legal & Tax
Frank Legal & Tax is a law firm with a very good reputation and litigation experience (especially in real estate). They also have a Bangkok office.
International Law Office (ILO) Phuket
Mr. Friedrich 'Sam' Fauna has an outstanding reputation among colleagues and clients. His international law office is recommended in all fields of practice they cover. The firm does not accept cases involving drugs or pedophilia.
Other Options
Aside from the limited list of firms provided here, the British Embassy lawyer list details the coverage of law firms outside of Bangkok (working areas as well regional offices) which is helpful if you are okay with working with a Bangkok-based company.
Keep in Mind
In general it makes sense to read up on how lawyers operate and what you should keep in mind when hiring one in Thailand. This guide to lawyers in Thailand covers the basics and allows you to make a bit more of an informed choice when it comes to picking a law firm.
In case you are considering your best course of action, I also recommend you read up on this quick primer on potential differences in the Thai legal system.