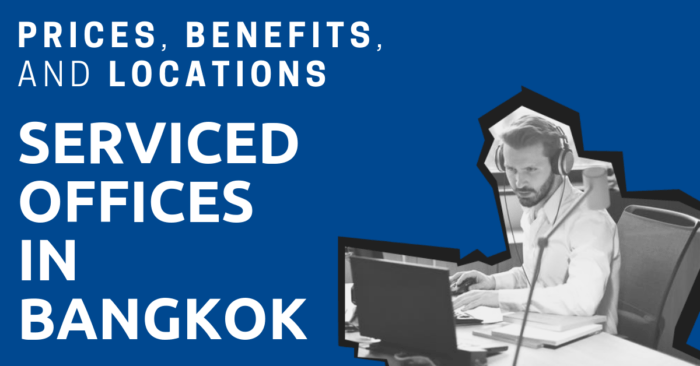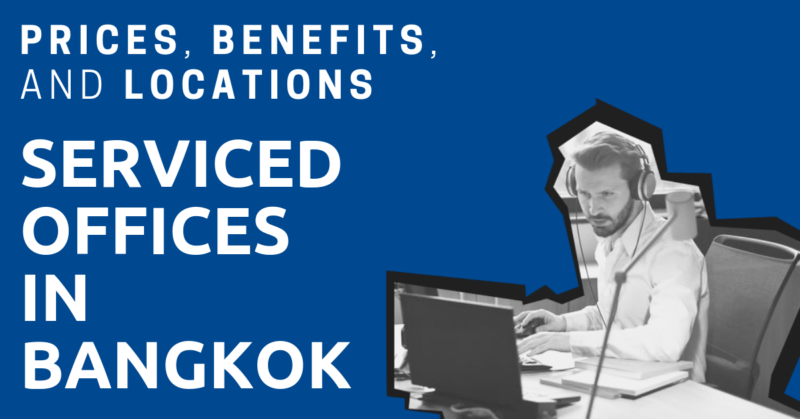 Many years ago we changed from a physical office to a serviced office.
Since then, we decreased our admin work. Monthly bills for electric, internet, phone, water, and office cleaners vanished. And expenses for coffee, water, tissues, and dish washing liquid were no more.
We didn't have to fix water leaks in restrooms or replace security door batteries. We didn't lose money selling unused furniture at cheap prices.
We now only have to pay our serviced office fee which was deducted from our credit card. It's much easier to manage with much less overhead cost expenses.
Because of these, it's no wonder why companies, both big and small, are moving into serviced offices.
There are over 20 serviced offices available in Bangkok from the business area of Sukhumvit to the outskirts of Bangkok in Bangna. Let's take a look at how to find the right one for you or your company.
"*" indicates required fields
Exclusive Business Content
We have exclusive business content with insider business tricks that you can't find anywhere else.
By becoming a subscriber of our Business tier, you can get immediate access to this content:
That's not all. You get a free consultation with a corporate lawyer, a free consultation with an accountant, enjoy ExpatDen ad-free, and get access to over a hundred pieces of exclusive content to make your life in Thailand hassle-free.
Here is the full list of our exclusive content.
To get access to these exclusive business guides and more, become a subscriber.
What Do You Get from Using a Serviced Office?
When you rent a serviced office, it's easier to manage your budget. Your monthly fees cover everything, so there's no surprises when utility bills roll around each month.
Serviced offices include everything you need to do business in Thailand from workstations to accounting advice.
Meeting new people is also an indirect benefit of serviced offices. These people could turn out to be future business partners. Strangers in co-working spaces can give you unexpected business ideas.
Here's some more details on what you get from using a serviced office, in addition to office spaces and fast internet.
Accounting and Legal Advice
Some serviced office providers take care of all your administrative tasks so that you can focus on building and running your business. They can help you with payroll management, accounting, and even visas and work permits.
Furniture
Office tables, chairs, and file cabinets are just some of furniture provided in serviced offices. If you need more, serviced offices might give you free furniture. Or they might charge you.
You can bring your own furniture as well.
Lounges
Along with private offices, serviced offices also offer shared workspaces and lounges, where you can work with power and internet. You can get free coffee and tea here.
Co-Working Spaces
Serviced offices come with co-working spaces. Large serviced offices including Regus might offer member cards that let you use their co-working spaces at any of their worldwide branches.
Meeting Rooms
Your serviced office package might give you free access to meeting rooms equipped with audio and visual equipment. But you're limited to a certain number of hours per month. Or you'll need to pay for rooms at member prices. You usually need to book in advance.
Mail Services
Receptionists handle mail services. They can send mail or faxes to your room. Some can even scan mail and faxes and send them to your email account.
For important documents like those from the Revenue Department, you might need to pick them up for security reasons. Receptionists can also deliver mail for a small fee.
Messaging Services
Serviced offices also offer phone services. They can take messages and forward calls. Some can answer specific questions from customers. But this costs extra.
Amenities
With a serviced office, you get drinking water, coffee, tea, microwave, refrigerator, kitchenware, daily cleaning, and newspaper.
Extras
You can get more pay-as-you-use services not mentioned above. This ranges from printing, scanning, and messenger services, to IT support, help desk, and even computer server rentals.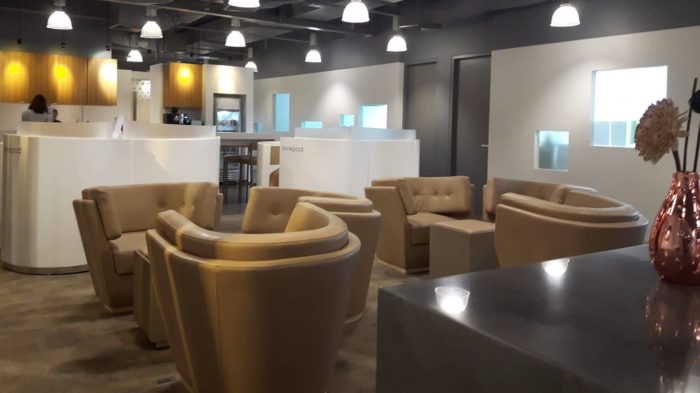 Finding Serviced Offices
Serviced offices in Bangkok are mostly inside office buildings near the MRT or BTS around Sukhumvit, Sathorn, and Ratchada.
Although there are some serviced offices in Lad Prao, Wongwian Yai, and Bang Na, you're limited in choices. There are over 30 providers in Bangkok. And numbers keep growing.
Serviced offices vary in size depending on the building. And providers tend to rent whole floors, or more, and make separate rooms. Common packages are for three to six people.
Regus is one of a few service office providers that offer small serviced offices with one workstation. However, rooms with over seven workstations are hard to come by.
If you want to compare serviced offices, you'll have to do it yourself. Unlike renting an apartment, there aren't any comparison sites to compare prices, packages, and available rooms.
This info is unlikely to appear even on serviced office providers' websites. You need to contact them and ask for prices and packages.
Serviced office providers might not mention extra costs for kitchen amenities, internet, key cards, and company signs until you sign the contract.
A quick visit is necessary to check about payments, package inclusions and exclusions, costs, operating hours, and any other needs for your business.
Also, check with companies that do business inside the serviced office. They can tell you how good the serviced office is.
If you don't have time to find the right office for your company, tell us what you need and we'll put you in touch with a reliable serviced office provider.
Serviced Office Providers
Thailand has seen a huge influx of serviced offices over the years and as providers try to find ways to differentiate themselves from the competition, serviced offices have taken on lives of their own.
You can find everything from corporate serviced offices to vibrant and inspiring workspaces. Depending on your needs, there is a variety of providers to choose from.
ATa Services provides a one-stop solution for all your business needs, which includes help with visas and work permits, recruitment, payroll, accounting, car rentals, and more.
Regus, on the other hand, has the greatest number of choices. You can find them throughout Bangkok and they have serviced offices in every size.
Another serviced office provider you can look at is Spaces. They offer a community-focused creative work environment and host a lot of events.
They even have locations directly above the office of Thailand's Board of Investment and One-Stop Service Center for visas and work permits, which is great if you start a BOI-promoted company in Thailand.
Here's a list of all the serviced office providers in Bangkok and what they specialize in:
Locations
Serviced offices are available throughout Bangkok. Serviced offices tend to be in great locations, just a few minutes away from the MRT and BTS stations.
You can find a lot of them in business districts. There are serviced offices available even on the outskirts of Bangkok.
Below is a list of serviced offices in key areas in Bangkok.
Asoke
Being one of the biggest business districts in Bangkok, you can find many serviced offices in Asoke. The most convenient serviced office in this area is Regus in Exchange Tower. The building is connected to BTS Asoks/MRT Sukhumvit station.
You'll find everything you need to run your company in this building. Various banks are located here. It's also a few minutes' walk to Terminal 21, which has the best food court in Thailand.
Two more popular serviced office providers in this area are Corporate Serviced Offices and Glowfish.
Phrom Phong
Phrom Phong is only a BTS station away from Asoke. Serviced offices in this area are inside office buildings of the luxury department stores in Thailand, which are connected to BTS Phrom Phong.
Because of this, it's very convenient, modern, and secure.
If you want to rent a serviced office here, check out Regus at Bangkok Bhiraj Tower. It's an office building in EmQuartier, the luxurious shopping mall in Bangkok that has plenty of brand name stores and international food.
On the opposite side of EmQuartier, check out Linuxx Serviced Office at Emporium Tower. It's located inside Emporium Department Store, another luxurious mall that's been open since 1997.
Thonglor
Two BTS stations away from Asoke, Thonglor is popular for Japanese residents. You'll find a lot of Japanese restaurants and stores in this area.
Many businesses and traditional office buildings are also here.
Unlike Asoke and Phrom Phong, serviced offices in Thonglor aren't directly connected to the BTS station. Instead, the buildings are located inside Soi Thonglor.
To get there, you would need to take a motorcycle taxi or walk, if you don't mind the heat of Bangkok.
You won't find big name serviced office providers in this area. If you're interested in renting a serviced office in Thonglor, check out The Hive and MINT.
Ekamai
Ekamai is famous for its nightlife, restaurants, and bars. At day time, you'll see a lot of office workers throughout the area.
Ekamai is like Thonglor. You won't find any big-named serviced office providers here. You have to take a motorcycle to get there. And traffic is heavy at night.
Hubba is a reputable serviced office provider in Ekamai. They have a lot of events there for startups.
Another provider you can check out is UnionSpace.
Sathorn
Sathorn has been the central business district in Bangkok for decades. It still holds true today.
Because of this, office prices in Sathorn are more expensive than other areas but have a lot of offices available.
If you want to save some budget, you can check out Spaces. They are near Sathorn. Their location is very good. You can walk directly from MRT Samyan station. They also have community-driven workspace, which increases your chances of building your network.
If you still want to be in Sathorn, check out Regus. They have serviced offices inside Bangkok Chartered Square and Bangkok Sathorn Square, the two grade-A office buildings located next to BTS Chong Nonsi station.
Next to them, you'll find IW Serviced Office and The Right Office in the same Sathorn Thani Building, and Linuxx Serviced Office at Asia​ ​Centre​ ​Building.
Rama IV
If you want a cheaper alternative to Sathon, you can check out Rama IV. Although it isn't a business district, many well-known companies are there including Channel 3 TV Station, the biggest TV channel in Thailand, and Bumrungrad Hospital.
The area is much cheaper than Sathorn, but it's still convenient.
You can check out ATa Serviced Offices at Green Tower. It's about five minutes away from MRT Queen Sirikit Center station. There are a lot of banks nearby.
It's also next to Big C, Tesco, and Suanplern Market, a new community mall on Rama 4.
Pathumwan
Pathumwan is a shopping area. Siam Paragon, Central World, and MBK Center are all there. It has the second most expensive land prices in Thailand next to Silom at 900,000 baht per four square meters.
There's no doubt that serviced offices in this area are also more expensive than other areas. The price is comparable to a serviced office inside a modern office building in Sathorn.
Regus at Bangkok Siam Tower is the most prominent serviced office in this area. It's only a few minutes away from BTS Siam station.
For a cheaper alternative, you can checkout Regus at CRC Tower, which is a 12-minute walk from BTS Ploentchit station.
Another serviced office you can check in this area is CEO SUITE at Athenee Tower.
Rama IX
Rama IX is expected to be a new business district in Bangkok with emerging modern office buildings within walking distance from the MRT Rama IX station.
Office prices in this area aren't as high as Asoke or Sathorn, but you'll get similar facilities.
A recommended serviced office in this area is Regus at the Ninth Tower. It's five minutes' walk from Central Rama 9 and the MRT Rama IX station.
Bangna
Although being on the outskirts of Bangkok, Bangna is in a very convenient location, especially if you need to go Chonburi regularly. It takes only a one-hour drive to get to the industrial parks in Chonburi and two hours to Pattaya.
In addition, it's a new residential area for expats and locals with affordable condos for rent. You can hire good employees there, especially for those who want to work close to their house.
The great thing about this area is the prices, which are cheaper than inside the city.
You can check out ATa Services here. They are around 10 minutes away from BTS Udomsuk.
Other
There are serviced offices in other locations that we haven't mentioned here. There is Maven Mesh in Lad Phrao, Comet Office in Wonwian Yai, and the Phyll Connect in Onnut.
Prices
Serviced offices tend to cost more than standard offices, especially for large companies. Serviced office prices depend on several factors including:
size
number of available workstations
location
Serviced office prices normally start around 12,000 baht per month. This gets you a 10-square meter room with one workstation and file cabinet.
You can find cheaper packages. But they come with smaller rooms or shared spaces. For rooms with three workstations, prices should start around 35,000 baht per month.
On average, you'll pay around 300 baht per person, per day for serviced offices in normal locations and buildings, and 450 baht per person, per day for better locations and buildings.
For luxurious buildings and convenient locations, you might pay 600 baht per person, per day.
But overall, serviced office providers give different prices, even within the same area.
In Asoke, for example, a serviced office with three workstations from Regus in Exchange Tower Building costs around 33,000 baht a month.
A serviced office with four workstations from Corporate Serviced Office in Glas Haus building costs about 35,000 baht a month.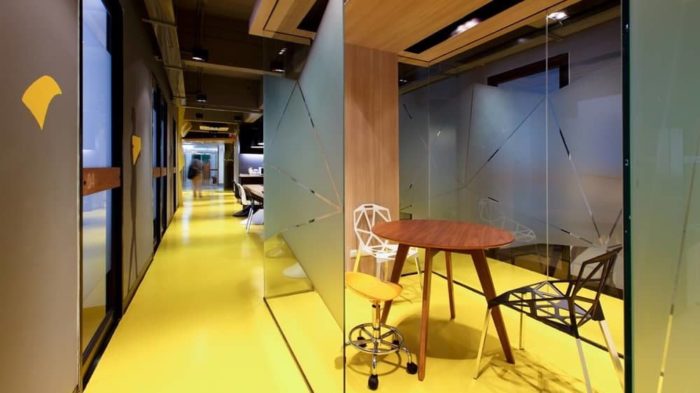 Location isn't the only thing that affects the prices of serviced offices. Building conditions also play a key role in prices.
You could have two different serviced office buildings priced differently in the same area if one building is newer than the other or comes with 24-hour access.
Prices in each location also differ with the same serviced office provider. Glowfish, for example, starts at 22,000 baht a month at Asoke Tower. But the number goes up to 29,000 baht a month in Sathorn for the same size room with one to two workstations.
Even within the same building, prices vary based on views, spaces, and noise levels.
This table below gives you an estimated price on how much you pay when using a serviced office in Bangkok. Please note that serviced office prices vary. You may find offices cheaper or more expensive.
| | |
| --- | --- |
| Type | Monthly Price |
| 1 work station shared office | 10,000 baht |
| 1 work station private office | 13,000 baht |
| 3 work stations private office | 35,000 baht |
| 6 work stations private office | 62,000 baht |
| 8 work stations private office | 83,000 baht |
Check what you get in serviced office packages. Some packages are cheaper than others. But they don't include internet, phone, and coffee. While other packages include everything for one price.
Note that each serviced office provider offers different packages, which directly affects their starting prices. Some provide shared spaces, while others only have packages for private rooms with three workstations.
Initial Payment
Like renting an apartment, initial payment includes a two-month deposit, service fees for the first month, and office set up fees. Expect to get the deposit back unless you break something.
Office set up fees get you keys, access cards to both office building and serviced office, and everything related to moving in. It's a one-time payment of 2,000 baht to 3,000 baht.
You may have to pay for company signs in front of your office—a one-time payment—or at office building directories. You need to pay for the latter every month.
If you'd like to register your company in Thailand with a serviced office address, you must get a letter of consent. This document confirms the office building is letting you use their building as an office.
This costs 2,000 baht to 3,000 baht for two sets of letters: one for the Department of Business Development and another for the Revenue Department.
Additional Costs
Along with service fees, you have to pay additional costs every month. This varies between serviced office providers. Some serviced office packages include everything. Others don't.
The first common extra cost is for kitchen amenities such as drinking water, coffee, tea, and kitchenware. Average costs are based on the number of employees you have multiplied by 1,000 baht.
You also have to pay every month for internet and phone service. Some packages include both in one bundle, without giving you the chance to pay only for internet. This should cost an extra 1,000 baht to 2,000 baht every month.
There are also costs for key cards for security doors, parking spaces, IT support, and pay-as-you-use services.
They tend to cost more than what you'd pay in normal offices. For these services, you'll pay by the hour, or you'll pay fixed prices. Some service providers add 20% service fees to actual costs. Convenience comes with a price.
Promotions
Most serviced office providers offer 12-month contract promotions. You can get discounts or free services for the first month.
When you want to end your serviced office contract, send written notification three months before your contract ends.
Wire transfers and credit cards are common payment methods. Serviced office providers like Regus can even deduct 3% withhold tax (since it's considered a service, not rent) automatically from credit card payments. You still need withholding tax certificates.
Contract Duration
While a physical office comes with a 12-month contract, with serviced offices, you don't need to sign long contracts and make investments. It's hard to find standard offices to rent for less than one year. With serviced offices, you can find contracts for less than six months long.
Some serviced offices let you rent by the month or even day. It's that simple.
This also makes it easy to move in and out without thinking about how to move or sell furniture at a loss.
Limitations
Serviced offices aren't perfect. Here're their main limitations.
Space
The first limitation to a serviced office is space. It's less spacious than traditional offices. You can barely walk through offices packed with tables, chairs, and file cabinets.
And you may need to pay extra to store documents.
Privacy
The second limitation is privacy. Most serviced offices in Thailand divide their rooms by glass instead of cement. And they might not let you stick posters or tint on windows. This lets people see everything your company does. You'll need to be extra careful when handling confidential data.
There are no private rooms for managers unless you buy costly packages.
Company Growth
The third limitation is about the growth of your business. Service office providers limit the number of available workstations. It's hard to find rooms with more than 12 workstations. You have no choice but to move if you want to increase your company's size.
Registering Companies with Serviced Offices
When you rent a serviced office in Bangkok, you can use that address to help register your company in Thailand. Here's how to do it.
Department of Business Development
The first thing you need to do to set up your business in Thailand is to register it with Department of Business Development. Required documents between companies having standard offices and serviced offices are similar.
For serviced offices, you need a letter of consent issued by the office building to prove your address. This tends to cost a few thousand baht for two sets of letters, one for Department of Business Development and another for the Revenue Department.
Unless company owners are present while registering companies at the Department of Business Development, a lawyer needs to certify the documents. So it's easier to hire a law firm who can register your company for you for a few thousand baht.
After registering your company with the Department of Business Development, they'll give you a business registration. This registration is an important document needed by all organizations, both private and government.
Revenue Department
If your company has to pay VAT, you must register with the Revenue Department. They're stricter than the Department of Business Development. And they need more documents to prove your address.
With a letter of consent, the Revenue Department would like to see pictures of your office building, company signs, and workstations. And they tend to send officers to inspect your business every year.
Revenue Department officers are familiar with companies using serviced offices. They can point out exactly which documents you need, and how to fill out forms. But different officers may ask for different documents. It might take a few visits to finish everything.
Unlike the Department of Business Development, if business owners are unable to do VAT registrations, they can issue power of attorney to someone else instead. Usually, an accountant can do it for you.
Other
The procedure to register with other organizations—including the BOI and the Social Security Office—between companies with standard offices and serviced offices is not different. Needed documents and the procedures are the same.
Other Solutions
If your potential serviced office provider can't help you with meeting rooms or phone services, here are a few choices.
Meeting Rooms
If you need a meeting room and one isn't available, over 30 StarBucks branches in Bangkok have meeting rooms.
These rooms are suitable for six to 12 people for up to five hours. You can book rooms one week ahead by calling one of the numbers below. But you might need to confirm in person.
To qualify for a room, your party must reach the minimum number of people and order the minimum number of food and drinks.
But Starbucks's meeting rooms may not come with sound and video equipment or high-speed internet. Also, the room tends to have glass walls, which won't help if you plan to hold confidential meetings.
Here's a list of Bangkok Starbucks branches that offer meeting rooms:
Baan Silom Tel. 084–4387355
Jasmine City Tel. 081–7557365
UBC ll Tel. 092–2624305
SOHO Tel. 081–9388131
The Walk Kaset Nawamintra Tel. 081–8702373
Im Park Sam Yan Tel. 092–2464190
The Mall 3 Ramkhamhaeng Tel. 084–7517625
The Paseo Park Kanchanaphisek Tel. 061–4108966
Amorini Tel. 02–9197080
The Street Tel. 062–5901123
Food Villa Ratchapruek Tel. 061–4192837
The Jas Wang Hin Tel. 092–2601403
Bee Hive Tel. 061–3867697
Suanplern Market (Drive Thru) Tel. 061–4172004
Fast Fac Tel. 092–2834319
The JAS Ramintra (Drive Thru) Tel. 098–2573206
Aoto Mall Navanakorn Tel. 098–2769130
Baan Yai, Wangnoi Tel. 062–6029490
The X Place (Drive Thru) Tel. 062–5931377
Victoria Garden Tel. 098–2514518
V Market Lat Krabang Tel. 061–4210194
The Paseo Mall Ladkrabang Tel. 092–2614380
Vanilla Moon Tel. 092–2464183
The Crystal Ratchapruek Tel. 084–4387438
Jas Urban Srinakarin Tel. 062–5985157
Ease Park Tel. 062–5985223
SF Chaengwattana Tel. 084–4387376
All Seasons Place 2 Tel. 062–5985640
At United Bangna Tel. 062–6010570
Central EastVille-Think spaze Tel. 063–2262117
The Scene Town in Town Tel. 084–7517727
Index Living Mall Rama 2 Tel. 061–4083971
Meeting rooms are also available at many co-working spaces in Bangkok. Prices start at 300 baht to 400 baht per hour. They're more expensive but come with better facilities and provide greater privacy.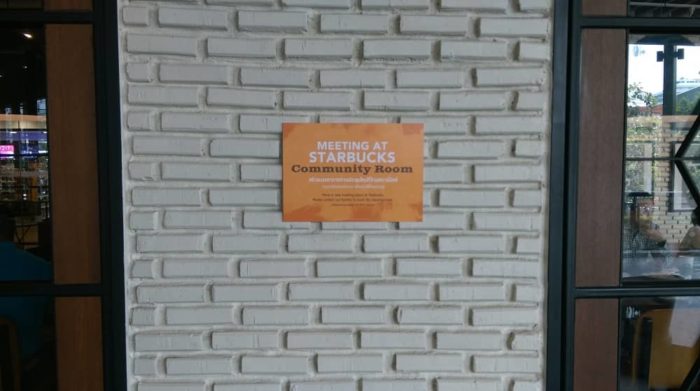 Document Storage
One weak point of using serviced offices is lack of space, not just for workers but documents, too.
Working in Thailand calls for paperwork. Some, such as accounting documents, need ample space. And you need to keep them for many years.
It'll be a big mess if the Revenue Department comes to inspect your business and you've lost important documents.
Document storage providers can help. We use DataSafe. They store documents in Chachoengsao Province. If we need to send or receive documents, they can do it in one day. This is an excellent choice, especially for accounting documents we have to keep for 10 years.
Also, DataSafe can destroy documents whenever you're finished with them.
Virtual Offices
Most serviced office providers offer virtual office packages. This is when companies can register with the Department of Business Development using their serviced office address.
Average rates for virtual offices are 2,000 baht to 3,000 baht per month with discounts for six- or 12-month contracts.
Cheaper packages may let you to use the business address. But not for business registration with the Department of Business Development.
Virtual office packages come with mail and call handling services. But they might charge you extra for every piece of mail received—normally 100 baht per piece.
Costly virtual office packages give you free access to meeting rooms and shared workspaces.
With virtual offices, the process to register your business with the Department of Business Development is painless.
But if you need to do VAT registration with the Revenue Department, I recommend a serviced office, assuming you don't have a standard office.
Find out more: Virtual Offices in Bangkok: Benefits, Prices, Locations
Now, on to You
Over the years, Thailand has seen a huge increase in the number of serviced offices, each offering something unique.
There are serviced office providers that try to differentiate themselves by offering extras, but with the number of available choices it's hard to choose which one is right for you.
If you're unsure which serviced office you should use, get in touch with us and tell us what you need.