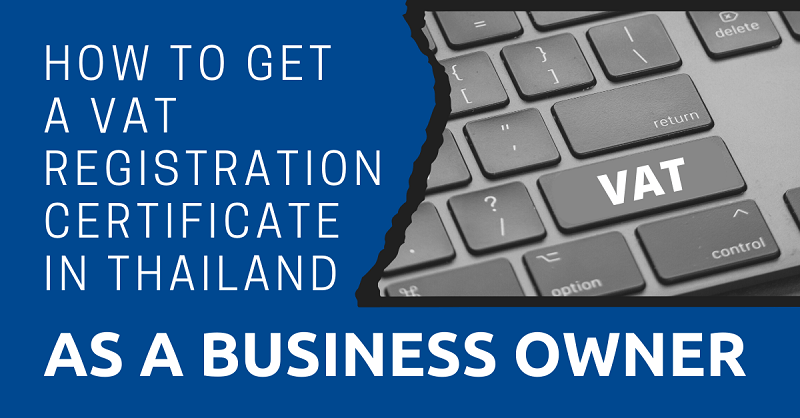 The VAT registration certificate in Thailand is referred to as the P.P. 20. This is an important certificate that shows that the company has registered VAT and entered the revenue department's VAT system.
Let's take a look at how to register for VAT in Thailand as a business owner.
"*" indicates required fields
Exclusive Business Content
We have exclusive business content with insider business tricks that you can't find anywhere else.
By becoming a subscriber of our Business tier, you can get immediate access to this content:
That's not all. You get a free consultation with a corporate lawyer, a free consultation with an accountant, enjoy ExpatDen ad-free, and get access to over a hundred pieces of exclusive content to make your life in Thailand hassle-free.
Here is the full list of our exclusive content.
To get access to these exclusive business guides and more, become a subscriber.
Which Companies Need to Register for VAT?
According to the Thai Revenue Department, any person or entity that supplies goods or services in Thailand on a regular basis and has an annual turnover of more than 1.8 million baht is subject to VAT.
The registration must be completed within 30 days that the threshold is reached.
Service is also considered provided in Thailand if:
The service is performed in Thailand, regardless of where it is utilized
The service is performed elsewhere and utilized in Thailand
As of September 2021, foreign electronic service providers and electronic platforms providing online services in Thailand were required to register for VAT when their income surpasses 1.8 million baht annually.
It is not compulsory to register for VAT if your annual sales turnover is projected to be below 1.8 million baht, but it is possible to apply for a voluntary registration.
Keep in mind that once you are registered for VAT, it's not easy to cancel your VAT registration. Therefore if you are considering a voluntary registration, do not take the decision lightly.
VAT Registration Process
You should prepare the following documents to register for VAT:
Three sets of the P.P.01 form. This is an application form for VAT registration.
A housing registration letter showing where the company is located with the signature of the building owner (if renting, you must also give a signed copy of your landlord's national identification card)
A copy of the passports, visas, and work permits of company directors with their signatures
A photograph of company headquarters, including a signboard and inside of the offices
Rental agreement (for rented premises)
The company registration certificate.
If you rent an office, your landlord may charge an additional fee for issuing a house registration and other related documents.
If the business is located in Bangkok, the registration application must be submitted to your local Area Revenue Office; outside of Bangkok it must be submitted to the local Area Revenue Branch Office.
Now, it's also possible to register online.
Can I Do It Myself?
If you want to prepare the documents yourself, it can be very challenging as all of the documents are in Thai.
A better option is to assign a power of attorney by asking your Thai office manager or secretary to do it on your behalf. The whole process is straightforward as long as you have the right documents.
The Revenue Department website has detailed instructions, including all of the documents you need, on this page (only available in Thai language).
If you want to speed up the process, you can use a local accountant.
What to Do After Getting a VAT Certificate?
VAT-registered businesses must perform the following:
Charge 7% output VAT on goods and services sold, issuing a tax invoice for each sale, and then remit the VAT collected to the revenue department.
Company purchases are also subject to a 7% input VAT, which can be used to offset sales VAT. You may deduct VAT paid on certain goods and services from the VAT charged and collected. The tax invoice from purchases must be kept by the company as proof of tax credit to be used for deductions.
By the 15th of each month, VAT for the previous month must be submitted using the P.P. 30 form.
You need to withhold tax when paying for a service that is VAT registered, issue a withholding tax certificate, and also file P.P.3 or P.P.53 form.
The VAT registration certificate must be displayed in your company's physical location alongside your company registration.
In case you don't file P.P.30 form for more than six months, in a row, your VAT registration will be canceled automatically. And you will also be subject to fines.
Other helpful links:
Thailand Business: Filing a P.P. 30 Value Added Tax (VAT) Return
Taxation in Thailand: 6 Common Mistakes
VAT Rate
Thailand's current VAT rate is 7%, and by law this rate will remain in effect until at least September 2023. An importer is also subject to VAT.
The Customs Department will collect VAT when goods are imported. Certain businesses are exempt from VAT and must instead pay Specific Business Tax (SBT).
Certain types of goods and services are exempt from VAT in Thailand. These include import duty-free goods.
Can I Cancel VAT Registration?
You can cancel your VAT registration under two conditions. It's when you need to close your business or when your company makes less than 1.8 million baht for three years in a row.
To do it, you need to file P.P.09 form to your local Revenue Department or file it online.
Should I Register for VAT?
Everyone can apply for VAT registration even if they make less than 1.8 million baht a year.
Let's take a quick look at the pros and cons of having VAT registered.
Pros
You can claim input tax. This mean you pay less VAT for your company expenses
Your company has more credibility
It gives more business opportunities. There are many companies that need a tax invoice in order to claim tax.
Cons
It creates more accounting work because of P.P.30 filing and withholding tax
The accounting company will charge you more because of extra work
Your products or services will be more expensive because of VAT
If you know that your annual revenue is going to be more than 1.8 million baht per year, you must register for VAT.
Now, on to You
We hope that this article should answer everything you need when it comes to registering your VAT certificate in Thailand.
It's important to stress again that you must do it if your revenue is over 1.8 million baht per year. This is one of the common mistakes business owners make in Thailand.
If you don't want to do it yourself, using a local accounting company is a convenient way to handle this.