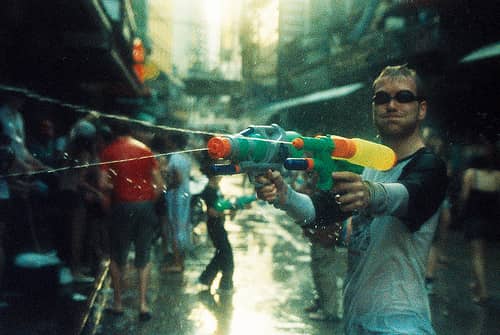 Thinking about opening a Thailand office? Already have a virtual team and are wondering what the additional costs are of putting them under one roof? Curious how much overhead and benefits contribute to total costs? The following data offers some answers, allowing you to make a more informed decision in any case.
Quick Summary
Starting with the big numbers: My total cost per employee is ฿45,392.36 per month – or roughly $1,418.52. Overhead costs account for ฿12,540 of that and consists of anything from rent (฿3,327.83) to drinking water at (฿21).
Included Data
All data in this report is based on calculated monthly averages per employee for the observed time-frame. While this isn't representative for businesses of any size, it gives you a rough idea of what kind of overhead expenses you can expect when running a small web company (think 5 to 20 employees) out of Bangkok.
I left out all overseas expenses (e.g. advertising, commissions, exchange rates, payment processing, suppliers…) since those bare little connection to the base of operations.
The data is meant to give you an idea of the local cost structure and overhead costs of setting up a company in Thailand. If there's anything missing (or you're just curious) just leave a comment below and I can provide some additional details.
Exclusive Business Content
We have exclusive business content with insider business tricks that you can't find anywhere else.
By becoming a subscriber of our Business tier, you can get immediate access to this content:
That's not all. You get a free consultation with a corporate lawyer, a free consultation with an accountant, enjoy ExpatDen ad-free, and get access to over a hundred pieces of exclusive content to make your life in Thailand hassle-free.
Here is the full list of our exclusive content.
To get access to these exclusive business guides and more, become a subscriber.
Company Profile
Some background on the actual company. I run a software and e-commerce company in Thailand. Being promoted by Board of Investment, I own 100% of the company. I have no Thai partners. And I registered my company with the BOI entirely by myself. So feel free to get in touch if you need help with this.
The company's payroll consists of janitorial, administrative, marketing, customer service, sales and technical staff.
Overall employee fluctuation (people leaving for other jobs, to continue their education, take over the family business, etc.) is less than 5% per year. If you want to know more about our employee recruitment and management processes, you can check out my article on how to build a team of kick-ass Thai employees.
I'd describe the way we furnish our office as 'basic' (IKEA), the hardware we use as 'functional' (Lenovo, Asus, Samsung) and the software we've installed as 'open' (Ubuntu, LAMP, Django, Python). This lean structure is mostly thanks to our persistent bootstrapping strategy that made the company viable and successful to begin with.
| | |
| --- | --- |
| Category | Monthly Expense |
| Salary | ฿32,851.39 |
| Rent incl. Service Fees | ฿3,327.83 |
| Accounting and Auditing | ฿2,150.00 |
| Social Security and Welfare | ฿1,567.43 |
| Entertainment | ฿907.91 |
| Hardware and Software | ฿848.53 |
| Electricity | ฿788.45 |
| Internet and Phone | ฿463.03 |
| Office Supplies | ฿432.30 |
| Office Furniture and Fixtures | ฿426.91 |
| Transportation, Messengers, and Postage | ฿387.91 |
| Government Fees | ฿181.27 |
| Drinking Water | ฿21.78 |
| Misc Expenses | ฿1,037.62 |
Let's look at the data in a bit more detail.
Expense Details
Salary (฿32,851.39)
Unsurprisingly the lion's share of expense per employee. I'd love to break that down by position, but given it's a small company, that would equal publishing individual salaries. This said, the distribution of salaries probably follows a bell curve, determined by individual qualifications.
Rent incl. Service Fees (฿3,327.83)
We rented an office in Bangkok in a building called Forum Tower on Rachadaphisek Road in the Huay Khwang. It's by no means a central business area, but it's about to become one with major developments springing up in the area in recent years.
Rent clocks in at THB 500 per sqm with another 10% in service fees (air conditioning, building maintenance, etc.). There are some other buildings in the area that offer cheaper prices, but in that case you're getting very close to the 'entertainment' establishments and the buildings themselves are some 30+ years old.
On the other hand, the more modern places in the area will probably cost you an estimated THB 700 per sqm.
Accounting and Auditing (฿2,150.00)
Since we a have a lot of oversea dealings and some more complicated tax issues, our accounting and auditing costs are above average for an organisation of our size.
Friends of mine have their accounting done for as little as THB 4,000 to THB 7,000 a month (though you'll probably have to factor in another THB 24,000 or so for yearly financial statements and auditing – even at the lowest end of the scale).
On the other hand, international accounting companies won't start working for you for anything less than THB 30,000 a month. We're somewhere in the middle, employing an accountant with significant experience in international corporate accounting and taxation on a freelance basis.
Social Security and Welfare (฿1,567.43)
Social Security is mandatory in Thailand. It's a percentage of base salary, but capped at THB 750 out of the salary of the employee and another THB 750 that the company has to pay (cap is reached at around THB 15,000/ month). This gets staff free treatment at their 'chosen' social security hospital. In addition, I believe there are some minor unemployment and retirement benefits (something like THB 1,500 / month tops?), but given that the average age in my company is ~30, that hasn't really been much of a topic of conversation.
The other part of this is a private corporate health insurance we offer our employees through Aetna. The coverage limits aren't anywhere near what you are used to in most Western countries, but neither are the costs of health treatment here, so it usually works out. My staff mostly uses it for OPD – it means this way they can go to a much wider range of hospitals without potentially having to wait for hours at the social security government hospital.
Personally, I like them to have it to safeguard against any major illnesses or accidents – even though that hasn't occurred yet.
Entertainment (฿907.91)
No, those aren't trips to the massage parlour (though those would show up in the same column). This is free office lunch on Fridays ('Isaan Friday') as well as events for staff (Karaoke, Dinner, etc.) and the occasional company trip (works out to be once every year, sometimes once every other year).
In Thailand, the office environment is also a social environment, so that just comes with it. For more details about our company culture, you can read up on my account of cross-cultural management challenges.
Hardware and Software (฿848.53)
Our office PCs and laptops run Ubuntu (the odd one or other machine for video games and government websites aside) and Open Office.
Of course the majority of the cost isn't the cost of the hardware, but its maintenance by staff: I have a full-time system administrator who takes care of our online servers, as well as our local infrastructure. In comparison to his salary, the cost for hard- and software is basically non-existent.
Electricity (฿788.45)
Not much to say about this really. We pay the official electricity rate and it's mostly computers and air condition. It's a bit higher during the hot season due to A/C usage and a bit lower during the 'cold' season.
Internet and Phone (฿463.03)
Just run of the mill phone connections, internet lines (with backup connections) and mobile phone contracts. The internet in Thailand is very fast and affordable.
If you have large transfer volumes, you might want something custom arranged, but most smaller offices will be fine with whatever is being sold by TRUE, TOT and their counterparts.
Office Supplies (฿432.30)
Paper, post-its, pens…
Office Furnitures and Fixtures (฿426.91)
Surprisingly, outfitting an office in Thailand was more expensive than in Germany.
When we first moved here, there was no IKEA, and the only other options were laminated fiber straight out of the 80s, custom-made interior or professional 'office furniture' from one of the few companies in Bangkok offering them at a 200% mark-up: The common issue of the cheap stuff being too bad in quality and the expensive stuff just being way over the top with nothing in-between. Nowadays we just pick up new furniture at IKEA. Looks okay, get's the job done and doesn't cost a fortune.
Since we're using a serviced office from Spaces, our furniture cost is low. Most of our office furniture is provided at the serviced office.
Transportation, Messengers, and Postage (฿387.91)
The costs of low-tech. A lot of companies and government offices don't offer you to handle things online, so someone has to go in person (transportation) or you have to send them physical copies (messengers). Actual mail – if you can actually use it – costs nothing at THB 3 per letter. The downside being it can rarely be used. It's in line with my observation that if you're happy with 'commonly available standards of quality' in a 'developing' country, you'll get a good deal.
If your standards are higher (e.g. reliable and fast delivery), you might end up paying more than in an already developed country.
Government Fees (฿181.27)
Stamp fees, visas, work permits … it's not that the fees for them are high (the government costs to obtain a work permit, a visa and a re-entry permit for a single foreign worker will cost about THB 10,000), but the time required to jump through all the hoops is.
The actual cost of government processing thus is much more in the form of people working on compliance and preparation, rather than the fees themselves.
Drinking Water (฿21.78)
Did you know that employers are legally required to provide drinking water in Thailand?
Well, at THB 18.15 per employee it's one of the easier and cheaper government requirements (not the reason we're doing it of course). Come to think of it, bulk-buying home-delivered water is probably even a convenient strategy for your own home. I imagine my own grocery bill would be a few baht lower if I did that :).
What's Not on the List
You'll notice that this list doesn't include legal fees. While I've worked with a number of lawyers in the past, I didn't have to hire anyone in the field during the time frame that I collected the above data. While you're less likely to be faced with litigation in Thailand than in the US or Europe, the actual costs if you do have to hire a lawyer tend to be not that different from what you'd be in Europe.
Your Thoughts?
This gives you a pretty good picture of the expenses you can expect when operating out of Bangkok. If you need help in running a business here, feel free to contact me directly though this form.