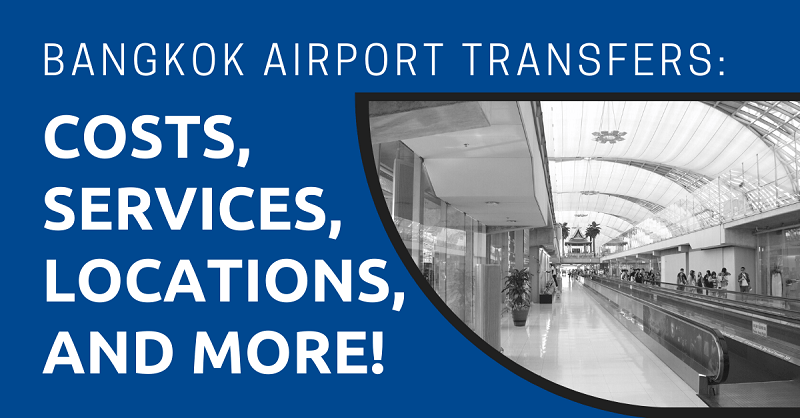 When one first lands in Bangkok, ready for the adventure of a lifetime, moving to Thailand as an expat, or just on vacation, things can feel overwhelming really quickly.
Walking out of arrivals, getting hit by a wall of heat and noise, where to go, what to do, how to pay, how to communicate with people… it can be a lot.
In this guide you're going to learn about the airport transfers available to you from both Suvarnabhumi and Don Muang airports.
We will give you a quick rundown on prices and give you some top tips for navigating your way into downtown Bangkok and on to your holiday destinations.
"*" indicates required fields
Airports in Bangkok
Thailand is home to two international airports, Suvarnabhumi (BKK) southeast of the city and Don Mueang (DMK) to the north.
Knowing which airport is closest to your destination will not only help you land closer to your destination, but also help you decide which airport transfer will help you go from the airport to your hotel or guest house.
Suvarnabhumi Airport Transportation Options
Suvarnabhumi Airport (BKK), also known as Bangkok International Airport, is Thailand's primary international gateway and one of Southeast Asia's busiest and most prominent airports.
The biggest airport in Thailand, this is where you will most likely land from an international flight. To avoid sounding like a tourist, you should learn how to pronounce the long tricky airport name which means The Golden Land. Ignore the spelling! It is pronounced "soo·waan·a·poom".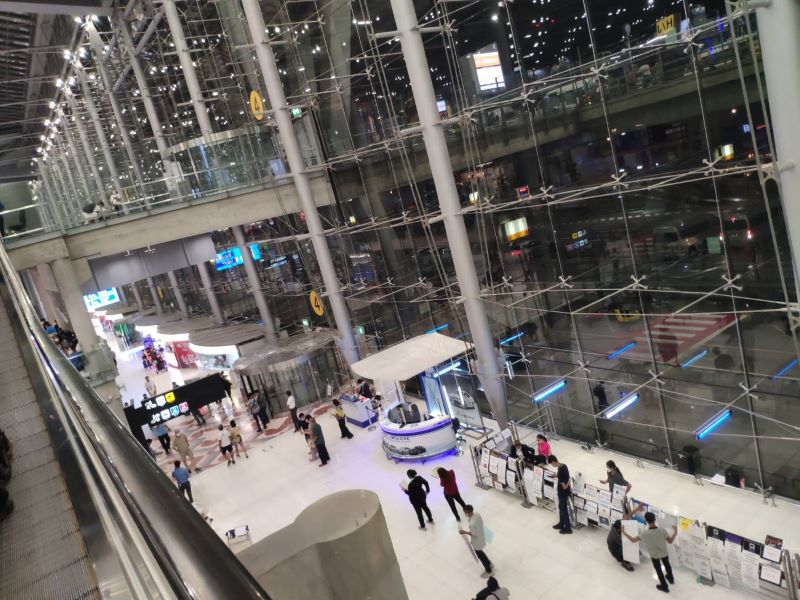 Suvarnabhumi is located about 30km east of Bangkok central.
You can get a taxi from outside the airport twenty-four hours a day. Buses and vans come and go from Suvarnabhumi to Bangkok, Pattaya, Koh Chang, and Hua Hin. The Airport Rail Link is on the bottom floor of the airport. It has eight stops, starts at Suvarnabhumi, and ends at Phaya Thai station.
More on the transportation options below.
Airport Taxis
If you're looking for an airport transfer to the city, you can't beat a taxi.
Suvarnabhumi Airport has a taxi stand system on the first floor with ticket kiosks near doors 4 and 7. As you arrive on the 2nd floor, you need to go down one level.
You press a button and take a ticket for either a regular taxi or a "big" van or SUV taxi. Then walk to the taxi stand with the corresponding number to your ticket and hand it to the driver.
You will be charged a 50-baht airport fee and the taxi should always use a meter. If they don't, you can report it to the airport and definitely change taxis. A thirty-minute commute to the city center should cost you around 250 baht. 
The driver will likely take the highway. They might ask you first. You need to tell them either "Highway OK" or "No Highway". The highway will save you lots of time and cost you under 100 baht in toll fees.
How Long Does It Take from the Suvarnabhumi Airport to the City Center by Taxi?
On a good day, you can get to and from BKK by car using the highways in about 40 minutes.
During peak hours – 8am to 10am and 5pm to 7pm – the journey could take you an hour or longer. So it's always best to overestimate how much time you need.
Taxi Scam Alert
Do not, under any circumstances, follow anyone yelling "hello taxi!?" at you as you exit arrivals. They are not official, there is no guarantee of safety, there are no set prices – even if you think you have negotiated a good deal.
These are just simply opportunistic men and women trying to make an extra buck with their personal car. While not all of them are "bad", there is just no way to tell, and it is not recommended for tourists to take such a risk.
What can happen is they take you somewhere unfamiliar and scary looking and then demand more money to get you to your actual hotel. Their prices are usually at least twice that of a regular taxi even if you speak Thai and try negotiating with them.
Metro · Subway · Sky Train · Slow Train from BKK
The integrated tapestry of trains and monorails for inter-Bangkok travel is called the Bangkok Mass Rapid Transit Systems or Urban Rail Systems. This includes the overground and underground lines of the MRT, BTS, ARL, and SRT. They are all separately owned but linked … we know, it's confusing.
You will learn how to navigate the BTS and MRT with some time spent in Bangkok, but for getting out of the airport, we need to know two main lines: the Airport Rail Link (ARL) to Suvarnabhumi Airport (BKK), and SRT Dark Red Line to Don Mueang Airport (DMK).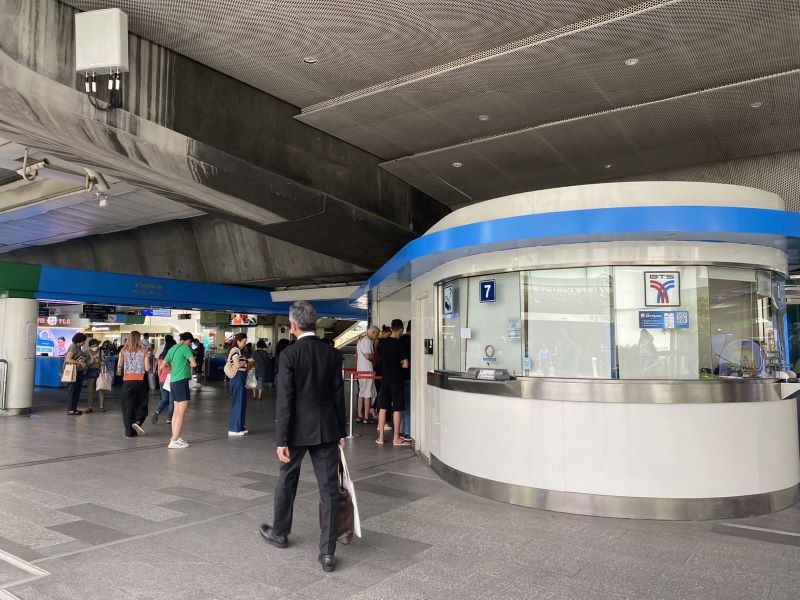 Trips on these lines cost up to 45 baht per person. Tickets can be bought at machines or at manned ticket counters.
They get you out of the airport fast and without any fuss. But then you are somewhere random in the city and need to find your way to your exact location.
So you will need to get a taxi, take a bus, or change trains to the MRT or BTS to get closer to your final destination.
Which Train Station from BKK?
From BKK, most people will take the ARL from the airport, 7 stops to Phaya Thai station which connects to the BTS. This takes 30 minutes.
Once you are on the BTS, you can head north to Latphrao and beyond. You can also head south and then east to Siam and on to the outer suburbs of Of Nut, Bang Na and beyond. If you change trains at Siam, you can also get to Silom, the riverside and Bangkok's southwest.
You can also change from the ARL to the MRT at Makkasan station and that would be your best choice if you are heading to Khao San Road (Sam Yot is the nearest station) or west across the river to Bang Khae.
Train Disclaimer
Honestly, while the airport link rail lines are so welcome and we appreciate them, unless you are staying very close to a train station on the airport link lines, they are quite a challenge if you have luggage, and generally just not worth the struggle.
Even the best transfer from the ARL to the BTS at Phaya Thai is a good 5 minute walk. Up and down several escalators, and with all the regular Bangkok commuters going about their day.
If you are getting on the BTS or MRT at peak hour with your huge suitcase, you are going to draw stares of disdain as tired office workers watch you take up the space of 3 people, forcing them to miss their train. Frequently people have to wait for 2-4 trains to come and go because people are packed in like sardines.
Looking at the big picture, you have already paid thousands of dollars to come to Thailand, why not pay 400 baht (USD11) for a taxi when you have baggage?
You will go from the door of the airport to the door of your hotel in clean, quiet, affordable comfort.
Buses
To be honest, the buses from the airports in Bangkok are usually our last choice. Maybe we are spoiled, but we find them a bit inconvenient, even though they can save you a lot of money.
Often they won't go close enough to your hotel to be of much use, forcing you to then get a taxi, walk, or find other transportation from the drop-off point.
The private services like the AoT Shuttle Buses cost 30 baht per person and stop at limited places between the airport and BTS Mo Chit, Victory Monument, Lumphini Park, and Khao San Road.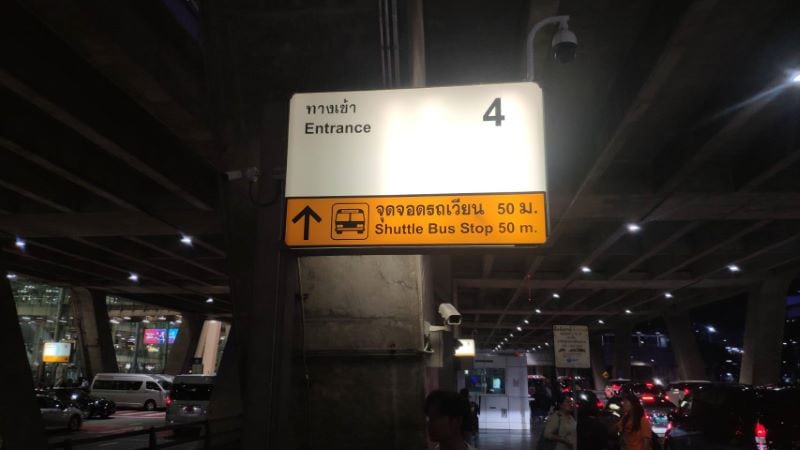 Look for the signs directing you to the shuttle buses on the 2nd floor to see if they are helpful for you.
There is a company called Limo Bus which strangely shows up as an option on Google Maps, but they have limited stops and the website is clearly for tourists only. Thai currency and language are not even options on their site and the tickets are US$15 (500 THB). I would give these guys a miss. That's pricer than a taxi! You can see their map online here.
If you are extra brave, and feel like you can navigate the public bus system after your long flight, then you can head to the bus terminal to find a regular city bus.
Here is a list of the bus numbers you will need, for example, number 552 goes to On Nut BTS station from BKK for just 35 baht.
Long-distance buses (coaches or min-vans) also go from BKK to places like Hua Hin and Pattaya. Ticket prices for the bus to Pattaya are around 100-200 baht and it will take about 2.5 hours. Ticket prices for buses to Hua Hin cost around 200-400 baht and the trip will take around 3.5 hours.
You can book coach tickets online with companies like Roong Reuang Coach or Bell travel Service.
Bus Safety Warning:
If you land at night, be wary of taking overnight buses or vans. Accidents involving buses and mini-vans are somewhat of a regular occurrence in Thailand, and are most common at night when sleepy drivers use stimulants to stay awake and poor road conditions become a challenge.
The Department of Land Transport in Thailand records approximately 300 coach bus accidents annually, resulting in around 2,000 injuries and 200 fatalities each year. Link to source article.
In Thailand, a study revealed that mini-vans were the most common type of public transportation involved in accidents, with 215 reported incidents a year. On average, these accidents resulted in nine fatalities PER MONTH. Link to source article.
Cost of Transportation Options from BKK
Suvarnabhumi Airport is the largest airport in Thailand and there are dozens of transportation choices from BKK. Of course you can buy a sim card there to get you online right away which will broaden your transportation options.
Here is a quick price comparison chart. All of these prices are estimates or might change in the future but should give you an idea what to expect.
Transfer Method
CBD Bangkok
Khao San Road
On Nut
Hua Hin
Pattaya
Public Taxi
300 baht
400 baht
250 baht
2,000 baht
1,500 baht
Private Car with Driver
600 baht
700 baht
600 baht
2,500 baht
2,000 baht
Public Bus or Airport Shuttle
30 baht
30 baht
Bus 552B
32 baht
269 baht
120 baht
Airport Link Train
45 baht
–
40 baht
–
–
Luxury Private Vehicle
1,300 baht
1,300 baht
1,300 baht
3,300 baht
2,500 baht
Food, Restaurant, Hotel, and Emergency Service
The airport has some decent food options, some services, and a bit of shopping before you go through passport control on the public side of the airport.
You have Thai, Japanese, and Chinese food, Starbucks, Coffee Club, Subway, Burger King, and other cafes as well as a very cheap food court on the first floor. You also have a Boots pharmacy, a massage place, banks and ATMs, and Naiin for books and stationery.
BKK has Boxtel@Suvarnabhumi Airport mini hotel if you need a place to say on your layover. There is also a lovely Airport Novotel if you need something a bit fancier.
All of the telecommunications companies are represented so you can get connected with a Thai SIM card right away as well. And of course, there are medical clinics in case of emergencies.
Don Muang Airport DMK Transportation Options
Don Muang Airport was once Bangkok's only airport, these days it is particularly for low-cost carriers and domestic flights. If you're arriving from a nearby country or on a budget airline, there's a good chance you'll touch down at this airport.
Just like BKK, you have plenty of food, beverage, shopping, health products, and services both in the public area before passport control and after you go through immigration before your flight. Whether you are arriving or taking off, you will be able to get whatever you need in the airport.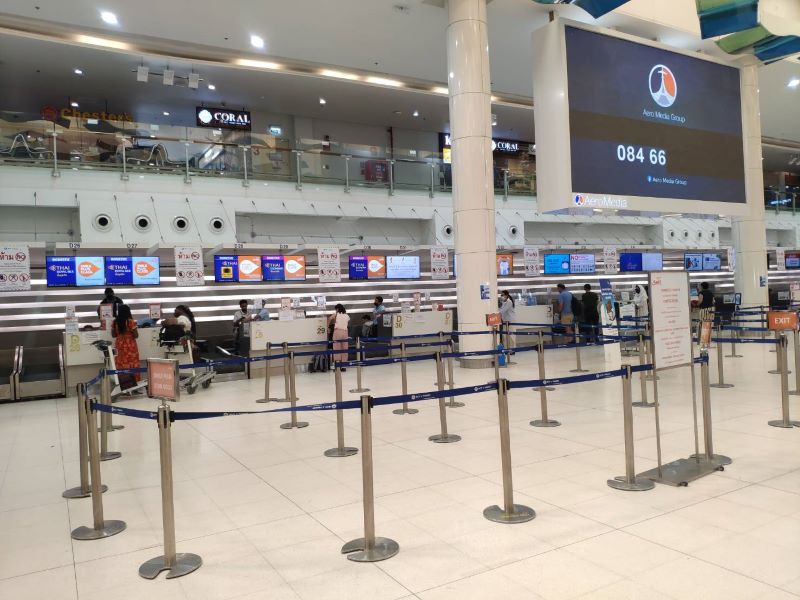 DMK also has Sleep Box by Miracle, a mini hotel inside the airport if you need a nap on a layover.
Don Mueng, located 30 km north of central Bangkok, is easily accessible by car in about 30 minutes, but during peak hours (8-10am and 5-7pm), the journey may take longer. It's wise to plan for extra travel time.
Airport Taxis (DMK)
In Don Mueang Airport, the taxi stand is located on the first floor, at the very end of the terminal near Gate 8.
The system operates similarly to that of Suvarnabhumi Airport (BKK). You press a button at the taxi stand to receive a queue number, wait for your number to be called, and then hand the ticket to the driver.
There is also a 50-baht taxi charge.
Metro and Slow Train at DMK
The new metro airport link train line stops opposite the DMK airport, it is the SRT Dark Red Line between Don Mueang Airport (DMK) and Bang Sue Train Station.
Follow the signs for the 'MRT Red Line' across an elevated walkway from the arrivals area and through the carpark.
The red line is brand new this year and not finished yet. When it is complete you will be able to from from Rangsit in the north, past DMK airport, and all the way to the old Hualamphong station where you can connect to the MRT blue line.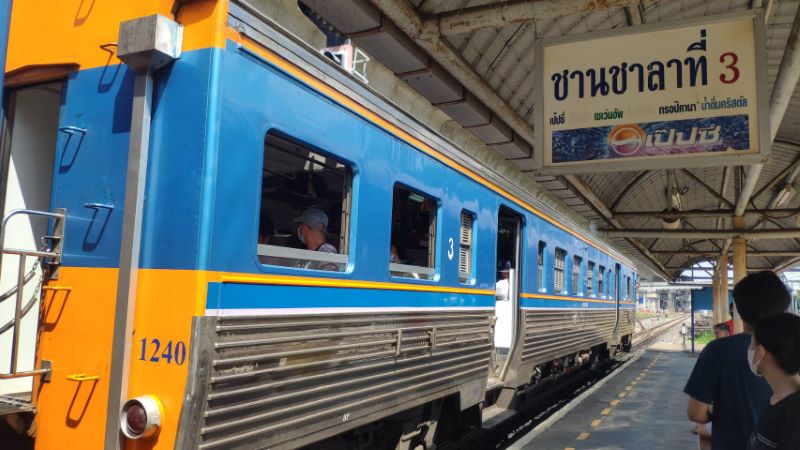 At the moment, you can take it south to Chatuchak or on to bang Sue station at Krung Thep Aphiwat. You can connect to the MRT at Bang Sue.
The red line does not connect to the BTS. The closest you can get is at Chatuchak where you have to travel 2.6km to the BTS Mo Chit.
There is also a traditional railway line at Don Mueng. The train will take you into Bang Sue Train Station at a snail's pace.
If you are traveling to Ayutthaya then the train is worth looking at. The journey takes around an hour and prices start at a tiny 20 baht per person.
Other
You can join the line for a taxi on the ground arrivals floor of the airport. You can catch a mini-van outside the airport to Mo Chit BTS, Minburi and Ramintra with these vans. Local buses offer convenient routes to Minburi and Rangsit but are not catered to most tourists.
If you're looking for a tourist bus, check out Don Mueang Airport's guide to public transport.
Cost of Transportation Options from DMK
Don Mueang Airport used to be Thailand's international flights hub. Since Suvarnabhumi opened, though, Don Muang has become more commonly used for domestic flights or budget flights around Asia.
| | | | | | |
| --- | --- | --- | --- | --- | --- |
| Transfer Method | CBD Bangkok | Khao San Road | On Nut | Hua Hin | Pattaya |
| Public Taxi | 300 baht | 350 baht | 350 baht | 2.000 baht | 1,500 baht |
| Private Car with Driver | 500 baht | 500 baht | 400 baht | 3,500 baht | 2,500 baht |
| Public Bus or Airport Shuttle | 30 baht | 30 baht | 30 baht | – | – |
| Airport Link Train | 45 baht | – | – | – | – |
| Luxury Private Transfer | 1,050 baht | 1,050 baht | 1,050 baht | 4,000 baht | 4,500 baht |
Other Types of Airport Transportation
In this section you'll find other transportation types you can choose for Bangkok airport transfers.
If you are going straight from the Bangkok airport to a holiday destination such as Pattaya and Hua Hin, you can get to many of these places using common transportation methods.
But if you're staying further away, you might need to use private transportation. Not all Bangkok taxis will want to take you from Suvarnabhumi Airport to Hua Hin for example.
Fast Track VIP Services
Before you arrive in Bangkok, you might want to look into a meet and greet service. With a meet and greet service, someone will meet you at your arrival gate and take you to immigration. They'll help you zip through immigration via a VIP counter. They'll assist you with collecting your bags and take you to your driver.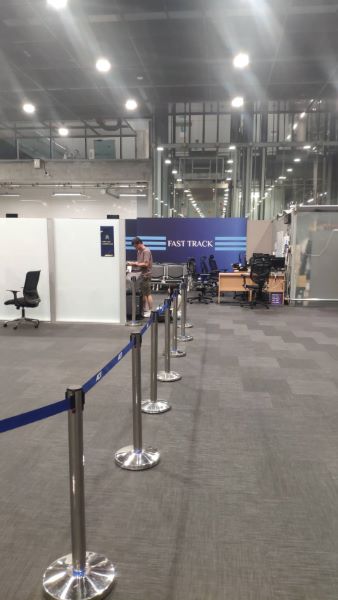 This service is good for anyone who wants to skip the long immigration lines that tend to extend far into the airport corridors at busy travel times. The service might also be useful for elderly travellers or travellers needing help.
Assist-Ant, Bangkok FastTrack, and Royal Airport Concierge are three companies that offer this type of service. Prices vary but expect to pay around $70–100 per person. Limo and taxi providers also offer fast track services.
Check out Limousine and Holiday Taxis for more info.
Hotel Transfers
If you want to get an airport transfer to your hotel in Bangkok, some hotels will include the service with your stay. Other hotels may offer you a paid option for an airport transfer when you book your room.
This can save you headaches, time, and money. You won't have to deal with taxi drivers. You won't have to wait in long taxi lines. And you won't overpay for airport transfers.
When booking you hotel in Thailand, ask the staff if they offer airport transfers as part of their service. Or ask if you can add it on for an addition charge. Agoda and Booking.com also specify hotels with free airport transfers.
Ride Hailing Apps
Uber does not work in Thailand. Here we use Grab, Bolt, or InDrive to call our own car or taxi as a safe and effective way to get to your destination.
When you use an app to call a car at the airport, the downside is that you might have to go and find them in the complicated carpark area as they can't pull up to the taxi stand.
If you're arriving in Thailand alone or with one other person, you can hire a compact car. If you're arriving with a group, or you want something a bit more luxurious, you can hire premium cars or SUVs.
Just download the app for Apple or Android. Then ask for a car, wait for the driver to accept your offer, and when he shows up, pay and go, you can connect a Thai bank account for payment, or pay cash.
This is a safe and transparent option. You get to see the driver's info, rating, price, and car details before you accept a ride from them.
Ride hailing apps are great for urban travel and getting to your destination nearby airports and within major cities. But if you're heading into rural Thailand, you might end up going through several drivers before finding one who agrees to a long ride.
InDrive is best for inter-city rides as drivers can use the app to negotiate their fee with you.
Rent a Car to Drive Yourself
Renting your own car in Thailand is a popular activity on the islands and in tourist destinations like Krabi, but interestingly in Bangkok, very few foreign visitors ever consider it an option.
I guess it makes sense as Bangkok traffic is quite notorious and we do drive on the left side of the road, so many visitors would find it way too intimidating to hop off the plane and get behind the wheel. But for those with the nerves of steel, you can indeed rent a car right from Bangkok airport.
All the usual companies have kiosks at both BKK and DMK. You can find Budget, Hertz, Avis, Europcar, Sixt, Chic Car Rent, and more.
You can drive in Bangkok and throughout Thailand on a foreign driver's license. However, it's essential to have an International Driving Permit (IDP) in addition to your foreign license, especially if your original license is not in English. Some police might be confused when presented with a non-Thai license, but in the end you will be okay.
If you are planning to stay in Bangkok for more than a few months, we recommend getting a Thai driver's license. It is really not very hard.
Luxury Car and Chauffeur Rental
First Class Bangkok aims their luxury airport transfer services at members of the government and Fortune 500 executives. But if you want to ride in style, you can also swoop up any of their luxury cars. They offer transfer services from Bangkok to many popular destinations around Thailand.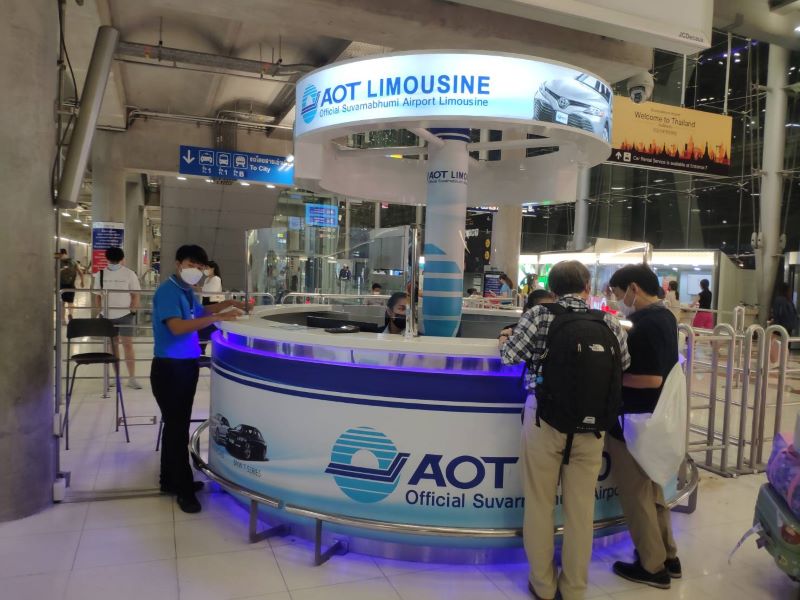 When you ride with First Class Bangkok, you'll get free wifi in each of their cars. You'll get the option for drinks. And you can even have a bouquet of roses placed in the car, in case you want to impress your love interest.
But compared to the other airport transfer options, Bangkok First Class is expensive. An airport transfer from Suvarnabhumi Airport to Hua Hin is about 8,000 baht. The same ride using a taxi would cost just 3,000 baht.
Stretch Limousines
To get the ultimate VIP experience, consider hiring a stretched limousine for your airport transfer.
Most people never consider hiring a limo for their Thailand airport transfer because they don't know the option is available.
Stretch limos are great for larger groups. They come with TVs, food and drinks, and comfortable seating — perfect after spending twelve plus hours balled up in an airplane seat.
Some companies that offer stretch limos are Party Vehicles Bangkok, Party Bangkok and Thai Boat Party. Head over to their websites and see which limo service works best for you.
Helicopters
If you are a bit of a moneybags, you can fly from the airport to your hotel, or vice-versa, via helicopter.
Helicopters are available in most major cities in Thailand and offer visitors a unique way to experience the country.
Transferring between airports and hotels with a helicopter is the quickest way to get around—or over—the crawling traffic of Thailand's congested cities.
The service isn't cheap though. A forty minute flight could cost over 50,000 baht. If you're interested, check out Skydance, which flies out of Bangkok. You could look into the Thailand helicopter directory, HeliThai, to compare prices on other companies as well.
Domestic Transfers Between Airports
If you want to transfer between Suvarnabhumi and Don Mueang airports, you have a few choices. You can take the free shuttle bus, called A1, run by the AOT. Suvarnabhumi Airport has a list of departure times, also listed below.
You can catch the bus at Suvarnabhumi Airport's second floor, exit number three. If you want to catch the free shuttle at Don Mueang Airport, you'll have to go to the platform on the first floor of the airport.
| | |
| --- | --- |
| Time | Frequency of Departures |
| 5:00am – 8:00am | every 30 minutes |
| 8:12am – 11:00am | every 12 minutes |
| 11:30am – 3:00pm | every 30 minutes |
| 4:12pm – 7:00pm | every 12 minutes |
| 7:30pm – 12:00am | every 30 minutes |
If you want speed, a taxi is your quickest option to get between the two airports.
Under the best of conditions, it will take 40 minutes, but you should allow yourself at least an hour or more to transfer between the airports. You should budget around 300 baht to 400 baht for this trip.
Additional Needs
There may be times when you or someone you're traveling with has special needs. If this is the case, the next four sections below are for you.
Children
Thai law doesn't require child seats in cars. You'll find it difficult to get taxis with child seats. If you prefer using child seats while in Thailand, you'll need to use one of the companies in private transfer section at the beginning of the article. You must note that you need a child seat at time of booking.
You can bring your own child seats if possible. Or you can get a car with a child seat by renting a car.
Disabled
If you have special needs, you might be okay with regular taxis, but it would be a good idea to book a transfer in advance just to make everything easier and so you can tell them your needs in advance. Space for a wheelchair, lifting help, etc. You can use a site like Klook to book your airport transfers straight to your hotel or condo.
Accessible Thailand has lots of great info for people traveling with disabilities. The website covers airport transfers as well as hotels, restaurants, and tours catering to the disabled.
Pet Transfers
For info on bringing pets to Thailand, take a look at our fantastic guide on importing your pet into Thailand. The article has many links to pet import services and a step-by-step guide to bringing your pet with you to Thailand.
The best option from the airport is to take a van taxi, as long as the driver agrees to carrying your pet. You can also use one of the ride hailing apps listed above which have a special pet option.
Cargo Transfers
When moving to Thailand it is quite possible that you will get some of your belongings shipped across. As such you will need a reliable transfer company to get your things from the airport to your new residence. Thankfully there are a lot of options out there which mean minimal effort for you and a one stop service from your original location to you new home in Thailand. Our in-depth guide on shipping to Thailand covers everything you'll need to know.
Taxis to the Airport
Unless it's a rush hour, which is between 7 am to 9 am and 5 pm to 8 pm, it should be very easy to take a taxi to any airport in Bangkok.
Some taxis may not be willing to turn on the meter. You can refuse them and take another taxi or negotiate with them to pay around the same price as when you take a taxi to the city center.
But we do not encourage negotiating with taxi drivers unless you have to. it is very risky. Meter is ALWAYS best and it is the law.
Off-meter taxis will usually ask for around 400 baht to the airport from city center Bangkok. You can accept that if you want, but tell them "including highway okay?" to make sure you don't also have tolls on top of the inflated price.
Alternatively, you can ask hotel staff to call a taxi for you which usually guarantees a safe metered ride.
Ride hailing apps are usually what we choose, the price and expectations are crystal clear.
Now, on to You
Bangkok has many airport transfer options to cater to every budget.
Whether your wallet calls for a local bus or a private helicopter, I hope I've given you a starting point for your next airport transfer. If you've recently transferred from Bangkok to your hotel or destination, tell us about your experience in the comments section below.