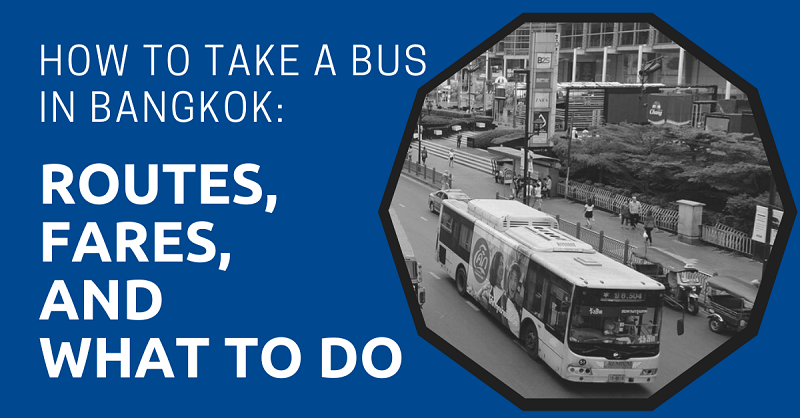 There are many options for getting around Bangkok.
The bus, despite being the most popular option for locals, it's often ignored by expats. A majority of expats in Thailand have never taken a bus in Bangkok before, even if they have been living here for many years.
However, it's very easy and simple to take a bus in Bangkok. And it's very affordable too.
Let's take a look at everything you need to know to catch a bus in Bangkok, including available routes, fares, timetables, and what to do.
"*" indicates required fields
Pros and Cons
First, here's a quick list of the pros and cons of buses in Bangkok.
Pros
They are the cheapest way to get around in Bangkok
They have a wide range of coverage across Bangkok and nearby provinces
They are convenient as you usually only need to take one bus to reach your destination
Cons
They can be slow because of heavy traffic in Bangkok
THey aren't very comfortable especially when you are cramped inside a non-AC bus
It can be hard to find the right bus number as there are hundreds of them
BMTA vs Private Bus Companies
Buses in Bangkok are operated by both the Bangkok Mass Transit Authority (BMTA) and private companies.
You can distinguish them by bus staff uniforms.
A BMTA bus staff member will wear an official uniform, with a white collar shirt and black pants/skirt. The uniform will look similar to government uniforms.
On the other hand, bus drivers and fare collectors for private bus companies will be more casual. Sometimes they will be in a blue shirt and jeans.
It's also possible to distinguish them by bus color. But it's getting more difficult since Bangkok buses are under reform, with new colours as well as bus numbers.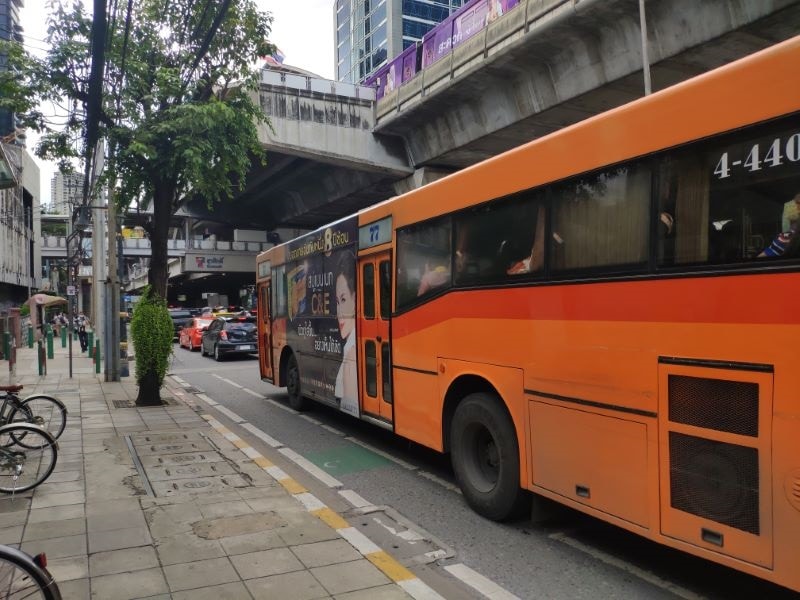 The main difference between BMTA buses and private bus companies is about "politeness".
A BMTA bus driver's income is a salary, while drivers from private companies get a salary + commission.
So, a driver from a private company will try their best to gather as many passengers as possible in order to make more commission from bus fares. This results in speedy driving and stopping outside of an official bus stop area.
Other than that, everything is pretty much the same, including fares.
Bus Type
Bangkok buses can be generally categorized into three types: minibuses, non-air conditioned buses, and air conditioned buses.
A single bus route may have all of the three types of bus.
Minibuses
Minibus is a small non-air conditioned orange bus mainly operated by a private company.
Minibuses are only available on certain routes in Bangkok. Mainly they are old routes with small streets.
Minibuses are especially known for reckless driving, especially minibus number 75.
When you take a minibus, you should hold a handrail firmly to prepare for unexpected brakes.
The minibus fare is a fixed rate at 10 baht per trip.
Non-Air Conditioned Buses
Both the BMTA and private companies operate non-air conditioned buses.
If it's the BMTA, the bus will be cream and red. If it's another color, such as pink, cream and blue, and so on, then it will be from a private company.
When taking a non-air conditioned bus, the trick is to find a space as close to a fan as possible.
Non-air conditioned buses charge a fixed rate of 8 baht to 10 baht per trip.
Air Conditioned Buses
Air conditioned buses are available in various colors including blue, orange, yellow, and light blue.
The fare for an air conditioned bus is charged by distance, from 12 baht to 30 baht.
When taking an air conditioned bus, you must tell a bus fare collector your destination, and you will be charged accordingly.
How to Check Bus Routes
Google Maps is the easiest way to check which bus number to take. With it, you can also see the entire route of each bus number.
The confusing part is that you may see two types of bus numbers. Thailand has been trying to reform the bus network by giving out new bus numbers. However, it hasn't really been successful yet. And people still keep using the old numbers.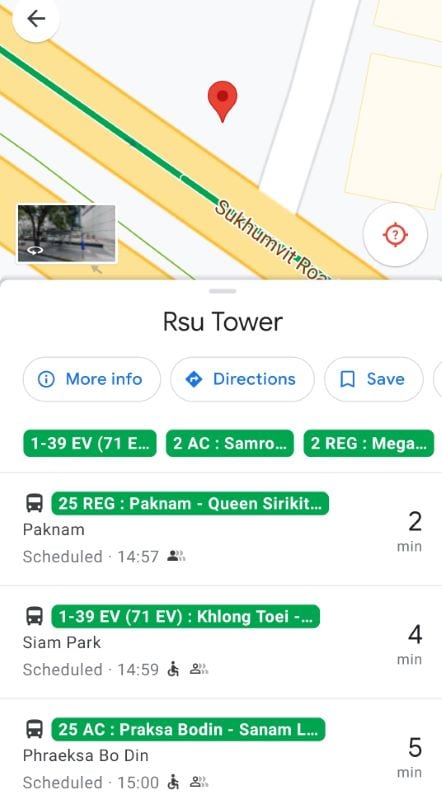 For example, it may show a bus number in this format: "1-39 EV (71 EV)"
Here's what it means:
1-39 = the new bus number after the bus reform
EV = an indicator showing that this bus is an electric vehicle*
71 = the old bus number, which is what you will see on the actual bus
*In addition to EV, there are other indicators such as
REG = a regular bus, which is a non-air conditioned bus
AC = an air conditioned bus
NGA = a bus running with natural gas
MINI = a minibus
In case Google Maps shows only a single bus number, then it's showing an old number.
In addition to Google Maps, another recommended bus application is Via Bus. But Via Bus doesn't include all the bus numbers. For example, as of October 2023, it does not include all bus numbers from Thai Smile Bus, a new private bus company for electric buses.
How to Catch a Bus
When taking a bus in Bangkok, you must find a bus stop which you will see marked on most main roads around Bangkok.
When the bus comes, you can get on via the front door or the back door. If it's rush hour, you will see people trying to get on a bus as quickly as possible to find a seat.
After you are on the bus, squeeze into an available space, then a fare collector will come to you and collect the bus fare.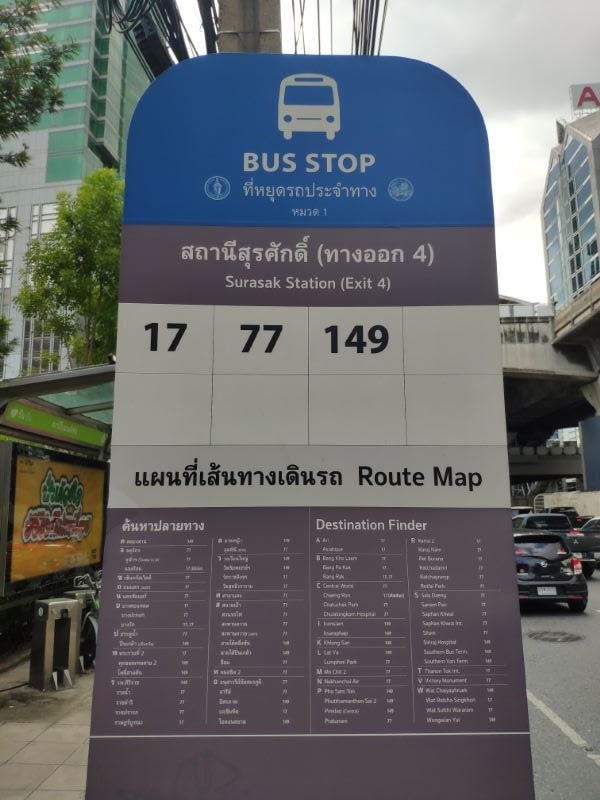 If it's an air conditioned bus, you need to tell your destination to the fare collector.
When you want to get off the bus, you need to ring the bell, which can be found on the ceiling or handrails throughout the bus.
Please note that you shouldn't wait until the bus stops completely before walking to the door. Instead, you should walk to a door immediately, waiting to leave a bus. Otherwise, you might miss the stop. If the driver doesn't see anyone standing, he might not even stop!
If you are unsure which bus stop you should get off at, you can ask the fare collector to help you. Most fair collectors barely speak English. So, when talking with them, say the name of the place you want to go slowly to make sure they understand.
Fares
Bangkok buses are very affordable. They cost around 10 baht per trip for a minibus and non-air conditioned bus.
An air conditioned bus will be in the range of 12 baht to 30 baht.
Cash is the most convenient way to pay for a bus fare.
If you don't know how much it costs, you can just hand over a 20 baht banknote to the fare collector. Or you can ask how much.
Please note that you should not try to pay with a 500 baht or 1,000 baht note as they probably won't have enough change. Even 100 is pushing your luck sometimes. Try to have coins on you before you get on the bus.
Certain buses, mainly BMTA buses, have started to accept mobile payment and contactless payment from credit cards.
But, as this is a new system for buses in Bangkok, it might not work properly. Cash is just the most convenient.
Coverage Areas
The coverage area of buses in Bangkok is pretty extensive. Since it has been the main method of public transportation in Bangkok for decades, it covers nearly every street in Bangkok.
Buses can take you to every part of Bangkok, except for down small sois. In addition, Bangkok buses also cover main streets of provinces near Bangkok including Nonthaburi and Samut Prakan.
You can also take a bus to Bangkok airports. Unless you have sufficient time, it isn't recommended since Bangkok traffic can be unpredictable.
Operational Times
Bangkok buses run from 5 a.m. until 11 p.m. daily.
However, certain bus numbers run for 24 hours. All of them are non-air conditioned buses from BMTA as follows:
Bus Number 2: Pak Klong Talat – Samrong
Bus Number 3: Mo Chit Mai – Khlong San
Bus Number 4: Khlong Toei – Tha Nam Phasi Charoen
Bus Number 7: Khlong Khwang – Hua Lamphong
Bus Number 22: Lat Phrao 101 – Central Rama 3
Bus Number 23: Tewet – Samrong
Bus Number 25: Pak Nam – Tha Chang
Bus Number 26: Min Buri – Victory Monument
Bus Number 27: Min Buri – Victory Monument
Bus Number 29: Hua Lamphong – Rangsit
Bus Number 34: Hua Lamphong – Rangsit
Bus Number 39: Sanam Luang – Mahidol University Rangsit Center
Bus Number 46: Rama 2 – Rong Mueang
Bus Number 54: Wong Wian Huai Khwang – Victory Monument – Kwaeng Bridge
Bus Number 59: Rangsit – Sanam Luang
Bus Number 60: Pak Klong Talat – Suan Sayam
Bus Number 63: Victory Monument – Nonthaburi
Bus Number 71: Suan Sayam – Wat That Thong
Bus Number 73: K Suan Sayam – Phut Bridge
Bus Number 76: Rama 4 – Pleonjit
Bus Number 77: Mo Chit – Central Rama 3
Bus Number 80: Sanam Luang – Nong Kaem
Bus Number 82: Sanam Luang – Phra Pradaeng
Bus Number 84: Om Yai – Khlong San
Bus Number 97: Nonthaburi – Sangkha Monastery Hospital
Bus Number 134: Mo Chit 2 – Bang Bua Thong
Bus Number 145: Pak Nam – Mo Chit 2
Bus Number 203: Sanam Luang – Nonthaburi
Bus Number 206: Kasetsart University – Srinakharinwirot University
Please note that this information is subject to change without prior notice. You can call the BMTA at 1348 to confirm the information.
Timetables
Unfortunately, there's no exact timetable for Bangkok buses.
Each bus number runs regularly every 10 minutes to 30 minutes. Some may run more frequently. And some numbers may be less frequent.
You can use Google Maps to check the frequency of each bus route. But you shouldn't expect accuracy.
Traffic in Bangkok can be very heavy during the rush hour. Everything can be heavily delayed.
Now, on to You
We hope that after you read this article, you will want to try to take a bus in Bangkok. It's a good and affordable way to get around our city.
It can be more convenient than you think, especially during off-peak hours.
However, in case it's peak hour, it's best to avoid taking a bus unless it's necessary.