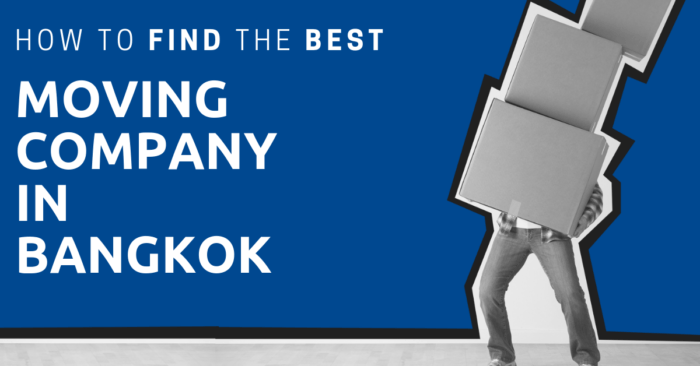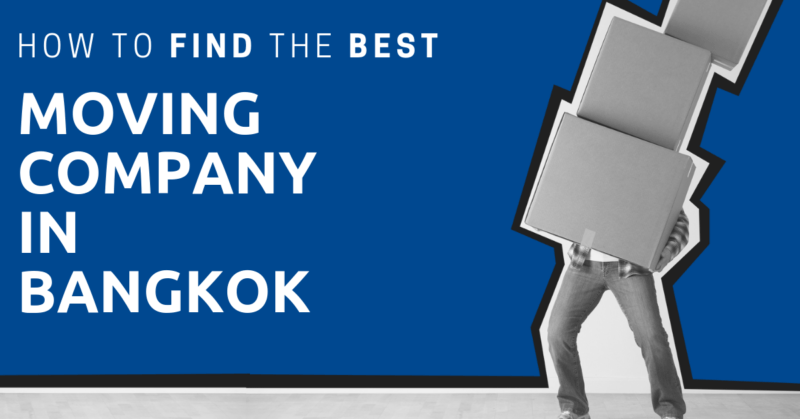 Moving is a good chance to get rid of all the stuff you no longer want or need. But packing and unpacking, cleaning, and hiring a reputable moving company is stressful.
It's hard enough finding a good moving company back home, never mind in Bangkok where the owners of moving companies don't always speak English.
And how about moving internationally to Bangkok? That just adds to the stress.
Since 2014 I've moved several times from America to Thailand, condo to condo, condo to townhouse, and most recently, townhouse to detached house—all in Thailand.
This guide will show you everything I learned over the last several moves, including how to prepare for your move, where to find moving supplies, and how to pick the right moving company.
If you want to find a good international shipping company right away, you can fill out this form and get quoted by international shippers within a day.
"*" indicates required fields
Preparing Your Move
Start preparing one month before you move. Below is a list of what you need to do before hiring a moving company.
Deciding what to move
Researching moving companies
Buying moving supplies (optional)
Packing your belongings (optional)
Deciding What to Move
Moving costs depend on the amount of belongings you have to move. The more you have, the higher the cost.
Before moving, decide what you need to take. Trash, sell, or donate the stuff you no longer want or need.
In Thailand you can throw away anything, even furniture. Just put it outside your house and the garbage truck will take care of it.
You can also sell your unwanted stuff. Post it on a Facebook group like Bangkok Expats or similar groups in your area.
You can also donate your stuff. There are lots of organizations in Thailand that collect secondhand things and give them to the needy such as the Mirror Foundation, Pankan Society, Bann Nokkamin Foundation, and Kanlayano Foundation.
Whether you trash, sell, or donate your stuff, decide what you're going to take one month before you move.
Researching Moving Companies
You can also start researching moving companies one month before you move. Contact five companies and compare the prices and services they offer.
Jump to the Moving Companies section to compare moving services.
You should only spend one week picking a moving company and moving date.
Most moving companies are booked at the end of the month. This is why you should book during the first week of the month.
When you reach out to a moving company for a quote, tell them:
Where you live now: a condo, townhouse, house, or an office
Your current and new addresses
How many floors are in your current and new place (some movers charge more for places with two or more floors)
Which furniture you want to move
Your moving date
To estimate moving costs and the size of the truck, some companies use Line, Skype, or other video apps to see the furniture you want to move.
When you reach out to these companies, they will also want to know who will do the packing.
Buying Moving Supplies
If you are going to pack your belongings you have to buy moving supplies.
If the moving company is going to pack for you, skip this step or buy special packaging for your most prized belongings.
You need moving boxes, tape, and bubble wrap, which you can buy from:
Packing Your Belongings
After you hire a moving company and buy supplies, start packing things you won't need until you move into your new home or office.
The last few days before you move, pack the rest of your stuff.
To make sure you have a few things for days that follow your move, pack a few days of clothes and toiletries as if you were going on vacation.
You can also order food to go as you pack. This way you can pack your pots and pans and kitchen things without worrying about cooking.
Moving Companies
When it comes to moving in Bangkok, you have two choices: professional moving companies and freelance movers.
Professionals
Professional moving companies are registered with the Department of Business Development and offer top-notch moving services.
They can be international moving companies that have branches in Thailand and around the world, or they can be Thai companies.
They offer moving services in Bangkok, Thailand, and internationally. They often have years of experiences and trained staff who work under international standards.
Pros and Cons
What follows are the pros and cons of professional moving companies.
Pros
Movers handle every processes of the move
Companies offer professional packers and movers
Movers are responsible for damages that may happen during the move
You can pay with cash, debit or credit card, or bank transfer
Cons
Moving costs are expensive
Services
Professional moving companies can pack, move, unpack, and organize your belongings in your new place for you.
They can also take apart and put back together any furniture you have.
Here's what moving companies offer in general:
Free in-home moving estimates
Moving supplies like boxes, stickers, bubble wrap, packing, and paper (movers take boxes after the move)
Teams who will pack, unpack, take apart, and put back together your belongings
Organizing your things where you want them in your new place
After-move clean up
Getting Quotes
Getting a quote is easy. Fill in the online forms on their websites, if available.
If you can't find forms on their websites, call their office, use their online chat software, or use smartphone chatting apps like Line.
Finding Professional Movers
Start by searching on Google for "moving company in Thailand." What comes up will mostly be companies that offer international moving services.
But there are many more Thai moving companies that can provide you with excellent services at lower prices. But they can only speak Thai.
If you're interested in checking out these Thai moving companies, copy and paste "บริการย้ายบ้าน" into Google's search box.
Some of these Thai movers also use Facebook to promote their websites. Call to see if they can speak English or ask someone that can speak Thai to help you.
Moving Companies in Bangkok
If you want to skip the Google search, here are some popular moving companies in Bangkok to reach out to.
Thaimovers
Thaimovers has 30 year's of experience and is one of the more popular moving companies in Thailand.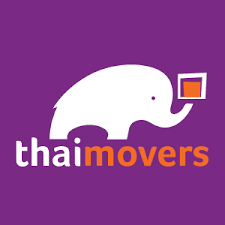 Thaimovers offers several services. One service is called Van and Man. It's a good choice if you have few things, pack your own items, and want to pay for only movers.
Check out Thaimovers for more info.
NJN Moving
Thais consider NJN Moving one of the more professional companies. Whether you're moving your house, office, or even your factory, they can do it all.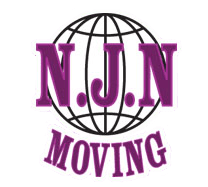 If you want to see the moving process before hiring them, their website has photos and customer feedback to prove their quality services.
For more info, check out NJN Moving or call them at 0–2320–3052–3. They can speak basic English.
Saharienthong Transport (Gold Express)
Saharienthong is another popular moving company for Thais. During our recent move, I contacted them after reading good things about their prices and services.

They include insurance in the price of their of moves and they can speak basic English. But when getting quotes, find someone who can speak Thai to help you.
Santa Fe Relocation
Sante Fe is from Australia but has branches all over the world and in Bangkok. They offer international and local moving and shipping services.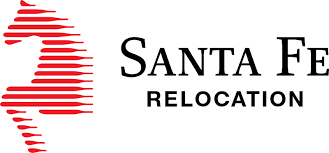 This means they can move your stuff to or from Bangkok, from or to anywhere in the world, and they can help you move within Bangkok.
With 120 year's of experience, Santa Fe Relocation offers professional moving services you can trust.
Check out Sante Fe Relocation for more info.
Freelancers
Freelance movers in Thailand offer moving services during their free time. They have moving trucks, but they aren't registered as legit companies.
Their staff aren't professionally trained. They can be family members or friends.
Freelance movers are cheaper than professional moving companies. But you need to buy boxes, pack, and unpack your things.
The only thing these movers do is move your belongings from one place to another. But they could help you take apart and put back together furniture.
Since they aren't professionally trained, they can't guarantee that your furniture will be in the same shape after they move it and put it back together.
You also might pay more than the initial quote. If it takes an extra trip to move your things, you pay for the extra trip.
Pros and cons
What follows are the pros and cons of freelance movers.
Pros
Cheap prices
Easy hiring process
Cons
You buy your own packing supplies
You pack and unpack your boxes
You take apart and put back together your furniture (most times)
Mostly speak Thai
Your belongings are prone to damage
Cash-only payments
Services
Freelance movers only move your belongings from one place to another. You need to prepare, pack, and unpack everything.
Unlike professional moving companies, they won't clean your place after the move. You have to do the cleaning.
Professional moving companies, pack, move, unpack, and put your belongings where you want them to go. You can kick back and relax.
They can also take apart and put back together anything you have.
Here's what you get from freelance movers:
Free quote
Movers who move your packed boxes and furniture from one place to another
Getting Quotes
Pick up your phone, call them, and give them an estimated list of items that you need moved. Freelance movers will give you a quote.
Finding Freelance Movers
You can find freelance movers by looking for Thai signs that say "รถกระบะและรถบรรทุก 6 ล้อ รับจ้างทั่งไป" on electric poles. Or you can just ask motorcycle taxis or songthaew drivers in your area. They may be able to recommend some to you.
Friends could also recommend freelance movers.
Moving Costs
Many factors cause your moving costs to go up or down.
Distance
Home type
Amount of items
Services
Insurance
The further away your new home or office is, the more expensive the move is.
If you live in, or will be living in, a place that has more than two floors, companies may charge more. Especially if there's no elevator in your building.
If you're moving a lot of stuff, expect the price to go up.
If you want the moving company to pack, move, unpack, or take apart and put back together furniture, you pay more.
And if you insure anything, the price goes up.
To give you an idea of how much it costs to hire a moving company, here's a rundown of our move in March of 2019. And the price hasn't changed much in 2023.
My family and I moved from a townhouse off Bangna-Trad KM. 7 to a house off Bangna-Trad KM. 10.
We chose to pack our things. But we paid 300 baht for the movers to wrap our beds, fridge, oven, and other furniture.
The moving company used a six-wheeler truck. The truck was 7.50 meters long by 2.30 meters wide by 2.30 meters high.
We paid 8,500 baht for our move.
Before we hired this company, I called another company and asked them how much they would charge to pack everything for us. They said 13,000 baht.
Packing everything yourself does save you a bit of money.
Tipping
Tipping isn't necessary. But most people in Bangkok tip movers.
If you're happy with their work, tip the movers whatever you're happy tipping them.
Another way to show you appreciate their hard work is to buy them snacks, lunch, or drinks.
You don't have to buy anything expensive. Some pork or chicken fried rice and some sodas will do.
Moving Fragile or Valuable Items
If you have to move fragile or valuable items that you can't take apart, like pianos, glass furniture, or machines, let the moving company know and get insurance.
Special moving services cost more because their movers are trained to handle fragile and valuable items.
Moving Internationally
Moving locally is stressful enough. But what if you have to move from overseas to Bangkok or from Bangkok to overseas? It can be even more stressful.
This is where it makes sense to hire an international moving companies.
Santa Fe Relocation, Thaimovers, and NJN Moving help you move internationally, take care of customs, and make sure your items get to their destination safely.
If you're looking for more information about moving internationally, check out our guides on shipping from Thailand and shipping to Thailand.
Moving Insurance
In general, registered moving companies offer insurance as add-ons. The prices and coverage limits depend on the value of your belongings.
Also, you can only get insurance for valuable items. For example, NJN Moving offers insurance for items worth 100,000 baht and more.
But even if you buy insurance, moving companies will try to fix any broken items before replacing them. If they can't fix it, they will replace what they broke.
Let the moving company know ahead of time if you'd like any of your items insured.
Hiring Moving Companies
A moving company that's right for me may not be right for you. Before hiring a moving company, consider some important points.
Contact five moving companies and compare quotes. Once you have the quotes, compare which company offers the best service for the cost.
And speaking of service. Ask what service the moving companies can offer you for the price.
For example, if five companies quote you 15,000 baht, do any of those companies offer free boxes or bubble wrap?
Does the price include insurance? Will they fix or replace anything that breaks during the move?
Now, on to You
Moving in Bangkok doesn't have to be difficult, even for us Westerners. The next time you need to move, use this handy guide to help you prepare your belongings and find the right mover.
If you're not yet in Bangkok but you're considering moving here, read our in-depth guide on Moving to Thailand. This will give you a good idea on what to expect once you're here.
And if you're looking for something more specific, check out our in-depth guide to moving to Thailand from America.