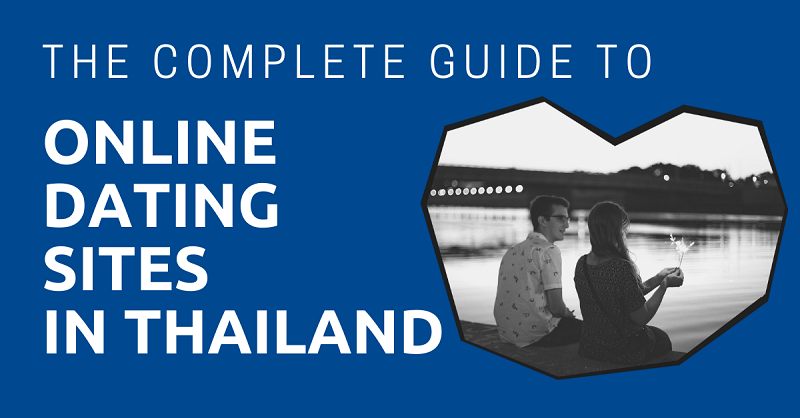 There's relatively little social stigma about meeting people online in Thailand, particularly among 20- and 30-somethings. Whereas it was once looked down upon as the last refuge for the terminally unwanted in the West, those using dating sites and apps in Thailand might be surprised at the number of well-heeled, desirable fellow users.
Not only does online dating allow users to spread the net a little further than they perhaps normally would be able to, but the one-click ease of approaching new people is particularly appealing to traditionally non-confrontational Thais, who might shirk at the potential social embarrassment that approaching a stranger could entail.
However, as in Western countries, always be wary of who you're speaking to online. Get to know your potential date well before meeting, and always agree to meet in a busy public space – preferably one known to you, and that you both feel comfortable with.
Let's take a look at recommended dating sites and applications in Thailand, what to expect, and how to use them to find your date.
If you just want us to point out which dating site you can use, it's ThaiFriendly. It's a great website to help you find both casual and long-term relationship with a single Thai.
"*" indicates required fields
General Tips
Before we give you the lowdown on specific dating sites and apps, it's worth going over a few general tips to maximise your chances of success while dating online:
Beware of inactive or fake profiles (e.g. those operated by bots).
This is particularly risky on apps like Tinder, which don't require a lot of info to get set up on. See a profile with only one fairly generic-looking picture and no bio attached? Getting sent weird links right off the bat? You're probably better off moving on.
Think carefully about how you present yourself. Remember that – like it or not – looks are very important in Thailand. You don't necessarily have to be a natural stunner, but you should at the very least be clean and well put-together in your pictures.
Don't just stick to the one boring profile picture – this isn't a visa application.
Try to use four or five different photos – a holiday snap, out for dinner at a restaurant, and so on. Not only will you be presenting yourself as a well-rounded and interesting person, you're also more likely to assure prospective dates that your profile is real and not a bot.
Photos should be high quality and carefully edited.
No-one likes the grainy potential serial-killer look, and nothing will ruin your chances faster than something embarrassing popping out from behind your carefully-posed selfie.
Even inexpensive modern smartphones have decent cameras bolted into them, capable of taking crisp, clear images, and almost all of them will have some basic editing tools too. There's no excuse for not taking the time to find good photos.
Keep that bio short and sweet – especially on apps like Tinder!
Prospective dates are unlikely to give your bio more than a few seconds' glance before deciding to swipe left or right, so it's essential that you grab their attention immediately and leave them wanting to know more.
Dating Sites
Dating sites, as opposed to the smart phones apps listed below, are usually used by women in their mid-thirties and up.
Some women you find on these websites may be single. Some may be divorced. Some may have kids from a previous marriage.
The most important thing to know about dating sites is how to weed through the profiles that may not be looking for a date, but rather a means to a visa or financial stability.
It's not easy to do this through online chat, so take your time and really get know someone before you invest a lot of time in dating them.
When using any of these sites below, look for potential dates who have steady jobs and their own income. Look for dates who have their own car and condo.
But don't date anyone who hits you with a sob story right away. It could be a good sign they're looking for a financial arrangement.
ThaiFriendly
Who's Using It: Membership skews younger (think 18-35).
What Are They Looking For: Something a bit more casual.
ThaiFriendly is the most popular dating site in Thailand with over 2 million members. The focus is on foreign male/Thai female partnerships, although ThaiFriendly's userbase tend to lean more towards casual meet-ups.

With such a large user-base there's likely to be someone for everyone – particularly if ladyboys are your thing, with transgenders making up almost half of the site's male population according to these statistics.
However, this also means the numbers of Thai female you can find on this website is a lot.
Standard membership is again free, although there is a paid option offering things like a live-chat feature. However, unlike other sites, the free options are generous enough that you should consider a paid option if you're serious about your dating. Or if you want to support the site.
You can initiate contact with almost anyone, regardless of their membership status, as well as add them to your favourites. However, there are restrictions on the frequency of messages you can send.
Although ThaiFriendly is popular for a casual dating, there are many expats who found their soulmates through this website as well.
ThaiCupid
Who's Using It: Mostly working/lower-middle class Thai users (nurses, teachers, government employees, etc.) and foreigners seeking a partner. The majority of users are in the 25 to 45 year old age bracket.
What Are They Looking For: Something long-term.
ThaiCupid is a major site, boasting a membership database of some 3 million users. The focus here is on foreign male/Thai female dating, although that's far from the site's only purpose.

Like many other dating sites, ThaiCupid allows you to either browse match recommendations or search for specific profiles using a number of search criteria.
Although ThaiCupid provides a free membership option, it's much more restrictive than OKCupid's – you're limited to just one message every 15 minutes, and some profiles remain locked behind a paywall.
Paid membership is divided into 'Gold' and an even more exclusive 'Platinum' package. Both plans allow you to message any other user, regardless of membership status, as well as access the Instant Messenger feature.
You're also given access to a tighter selection algorithm, which makes finding a good match significantly easier.
ThaiCupid's venerable age (it's been kicking around since 2002) makes it one of the more established dating sites.
Expect users to skew towards the middle-aged and gainfully employed (nurses, teachers, government employees, etc.) – generally people looking to settle down and find a partner, rather than a quick fling (not to say that that isn't an option, too).
OKCupid
Who's Using It: Generally 20/30-something professionals; a handful of expats.
What Are They Looking For: Something serious.
OKCupid is one of the largest dating sites in the world, boasting some ninty million connections per year (as of 2022). It's broad international appeal makes it a great place to meet fellow expats, as well as locals.

OKCupid is completely free to use, with an optional 'A-List' upgrade providing a few extra features (message read receipts, advanced search features, and so on).
With A-List, you'll also receive an 'automatic daily boost' that'll show your profile to more prospective dates at peak times.
To meet a potential date on OKCupid, you first have to 'Like' them. Once you've done that, you'll be given the option to send them an introductory message. However, to avoid wasting time they won't actually receive this message until/unless they 'Like' you back.
Of course, if they've already 'Liked' you they'll receive both immediately.
OKC uses an astounding number of survey questions to determine your matches, ranging from the banal ('Do you cook your own food or order takeout?') to the deeply personal ('Do you enjoy meaningless sex?').
You can answer as many or as few as you want, but the more you answer the tighter OKC's match algorithms become.
Users tend to skew heavily towards the 'young professional' demographic for both Thais and expats, and the comparatively clunky, detail-oriented nature of the site means it tends to attract people seeking something longer-term than the likes of Tinder.
Dating Application
Tinder
Who's Using It: It can seem like everyone is using it in some circles. But users tend to skew heavily towards the 18-35 bracket.
What Are They Looking For: Something fun.
With an estimated 100 million users, Tinder is probably the world's most popular dating app at the moment and Thailand is no different.

In case you're not sure how it works, you make a profile, put in your preferences and are then presented with a match in the surrounding vicinity, containing their picture and a short bio.
You can then choose to either swipe right if you're interested, or left to continue searching. If both you and your chosen partner like each other, you'll receive a notification allowing you to start messaging them.
Although Tinder's free options should contain just about everything you'd need, there are paid options available under the labels Tinder Plus, Gold, and Platinum. These paid options include unlimited likes, a 'Rewind' option (which allows you to undo an accidental left-swipe) and the option to see who's liked you before you select them.
Tinder's simple-to-use interface and immense popularity make it a great option for meeting people, even outside of a romantic setting.
However, expect many of its users to be seeking something casual and temporary – it's probably not a great place to start seeking the love of your life.
Expect users to also generally skew younger (twenty/early-thirty-somethings) and consist more of 'party-types'.
Badoo
Who's Using It: A similar – though smaller – crowd than Tinder. Expect more younger expat users due to Badoo's relative popularity in Europe and the Americas.
What Are They Looking For: Something even more fun.
Once the dating app of choice in Thailand, Badoo has since been eclipsed by Tinder in terms of popularity. However, its endearing popularity abroad means you can still expect a decent number of expat users, as well as a few local hold-outs.

Badoo works similarly to Tinder. By selecting the 'Encounters' section you're presented a with near full-screen photo of a potential partner. If you like what you see, you can vote 'Yes' and with any luck they'll do the same, allowing you to start messaging each other.
Vote 'No' and you'll be presented with another. You can also opt for the 'People Nearby' section, which presents you only with users – as the name suggests – who are nearby.
The intuitive interface and focus on profile photos above wordy bios makes Badoo – if anything – even more suited to casual hook-ups than Tinder. As a result, expect a similar user-base of mostly youngsters looking for a good time.
Skout
Who's Using It: A similar crowd to Tinder, if a little older and wiser.
What Are They Looking For: Holiday romance.
Skout is another location-based dating app with a broad user-base. You're presented with a row of faces that match your search parameters and can then initiate contact with any that take your fancy.

Profiles contain pictures, as well as recent activities – allowing you to gauge whether you'd have a connection with a potential partner or not.
Although Skout's user-base is smaller than that of Tinder's, features such as the option to search for a partner in a separate city make it more useful for spreading the net wider when it comes to finding a date. As a result, you can arrange dates long before travelling to your location, making it a useful app for setting up a holiday date.
Facebook
Facebook may not be the first place most people think of when it comes to landing a date, but it's an excellent networking tool and means of expanding your social circle.

As anyone who's used Facebook in Thailand is no doubt aware, befriending two locals can quickly lead to befriending ten locals as friends-of-friends make contact. Plus there's the option of joining the many social groups available on the site, which can be a great way of connecting with fellow expats.
Of course, do be aware that the majority of people aren't using Facebook as a dating service and may not appreciate aggressive flirting and hectoring – particularly if they've never met you in person – so keep things casual!
Interestingly, Thailand was one of just two countries selected for beta testing of Facebook's Dating service in 2019.
While it's not as that popular as other dating apps, it's still possible to find your date or make new friends through Facebook Dating.
Now, on to You
The search for Mr. or Mrs. Right in Thailand won't be easy. There are all sorts of cultural hurdles to navigate when it comes to making a relationship with a Thai person work, and the transitory nature of expat life can make it hard to land a long-term relationship with another foreigner.
However, take comfort from the fact that thousands of people are making it work here every day.
You may have to go on a lot of dates before finding The One, so why not enjoy yourself? Use it as an excuse to see some of the country, or to experience things you wouldn't normally do.
Failing to make a romantic connection is no reason to write off a friendly relationship, either – dating is potentially a great way to expand your social circle.
After all, what else would you be doing?
You might also want to check out: