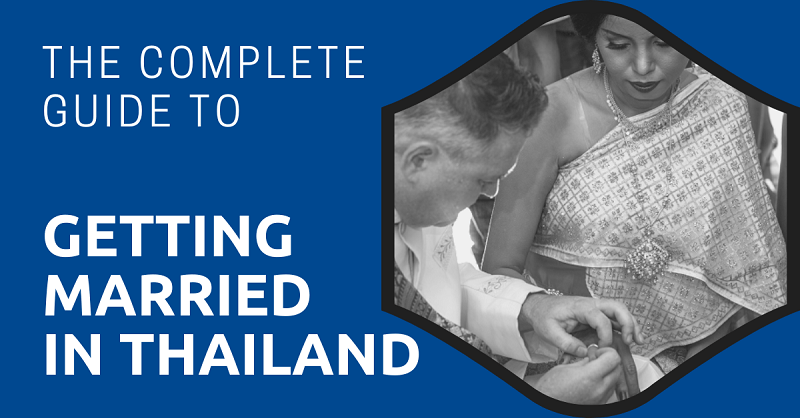 If you are lucky enough to fall in love with a Thai woman and know that you want to spend the rest of your life with her, you may soon learn the marriage customs and traditions in Thailand. You may feel overwhelmed by all that, but you don't have to be.
These customs and traditions may seem unusual compared to western traditions. However, I assure you that love transcends all cultures, and there should be nothing to deter you from embracing them.
"*" indicates required fields
Proposing
Like in many other cultures, when proposing in Thailand, men are expected to respectfully ask the parents for a woman's hand in marriage.
If you're proposing in Thailand, note that it is also part of tradition to have your parents meet her parents at their house.
Since it can be challenging to fly your parents here in Thailand, it's acceptable if only you go there yourself. You can meet them at their house or take them out to a nice restaurant. You can even take them to the place where you plan to have your wedding.
Not being able to speak Thai can be a hurdle. But if you would like to impress her family, consider making an effort to learn Thai on how to ask for their blessing in their native language.
Sin Sod
Westerners may find sin sod a very unusual custom, but that largely depends on the family involved. So, what is sin sod?
Sin sod is an ancient Thai tradition that involves the offering of valuables and goods to the family of your bride-to-be.
There's a school of thought that posits that sin sod is a measure of a man's capability to care and provide for his wife-to-be.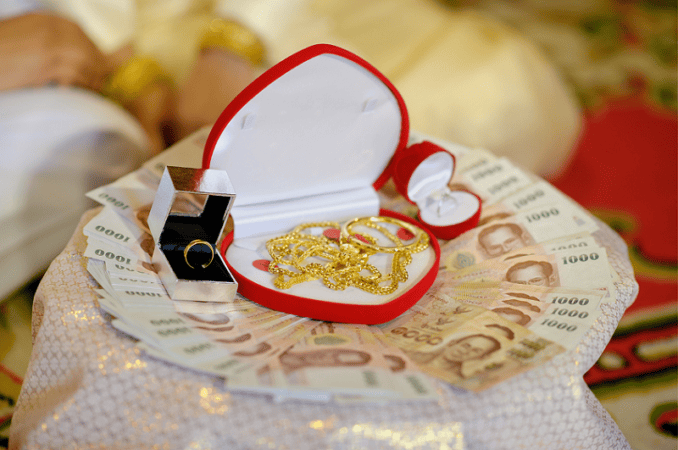 In other interpretations, sin sod is the exchange of money or goods that represent the expenses that the parents have incurred while raising and providing for their daughter. It can also be interpreted as an offering of goods in exchange for the daughter's departure.
Regardless, if you plan to marry a Thai woman, it's likely that there will be sin sod involved.
But from what I've seen and observed, modern Thai society's views regarding sin sod have become much less rigid and the tradition has become generally less commonly observed nowadays.
Ultimately, most Thai parents only want what's best for their daughter and are more likely to believe that love is the greatest Sin Sod offering one can give.
That said, it's always a good idea to have a transparent and open conversation about what your fiancé's family may expect.
You can read more about it on our article about sin sod.
Engagement Ceremony
The engagement ceremony is an intimate celebration reserved for close family and relatives. They use this time as an opportunity to make new family connections.
The engagement ceremony usually takes place in the morning of the wedding day. But there are couples who prefer to have the ceremony prior to the actual wedding, while some simply do not bother with it at all.
Fortunately, me and my spouse were able to have an intimate engagement ceremony during our wedding even though it was held during the time of COVID.
My wife's family were very welcoming and immediately made me feel a part of their family. I did not just get married to my beloved wife, but I also gained a Thai family.
There are three popular types of engagement ceremonies in Thailand.
Traditional Engagement
These beautiful Thai traditions date back hundreds of years.
Thai heritage is deeply imbued with Buddhist traditions, and these are reflected in Thai marriage rituals and ceremonies. I think they're elegant, delightful, and unlike many other engagement ceremonies.
If you're a foreigner marrying a Thai, expect to participate in many rituals and observe traditions throughout the marriage ceremony — from being in the presence of Buddhist monks, the bride and groom wearing traditional garments, performing symbolic rituals, receiving wedding gifts, to celebrating with friends and family.
Traditional engagement ceremonies also involve a Khan Mak parade, door ceremony, providing food to monks, paying respects to close relatives, offering Sin Sod, saying vows, and exchanging engagement rings.
Khan Mak Parade
The Khan Mak parade is a parade in which the groom is accompanied by his family and friends to propose to his bride-to-be.
In the procession, ceremonial items will be offered such as phan khan mak, sin sod, desserts, banana trees, and sugarcane trees to the bride. All items should be in pairs.
Then, people will be dancing to the traditional music playing in the background while the people in the parade march toward the bride's house.
The parade normally starts early in the morning, usually around 7am.
Door Ceremony
Once the Khan Mak parade comes to an end, the door ceremony begins.
In this ceremony, the bride's relatives and close friends will pair up and form silver gates (pratoo ngoen) and gold gates (pratoo thong) by holding a silver chain and a gold chain. In some cases, the pairs may use a belt or a bag strap to form a gate.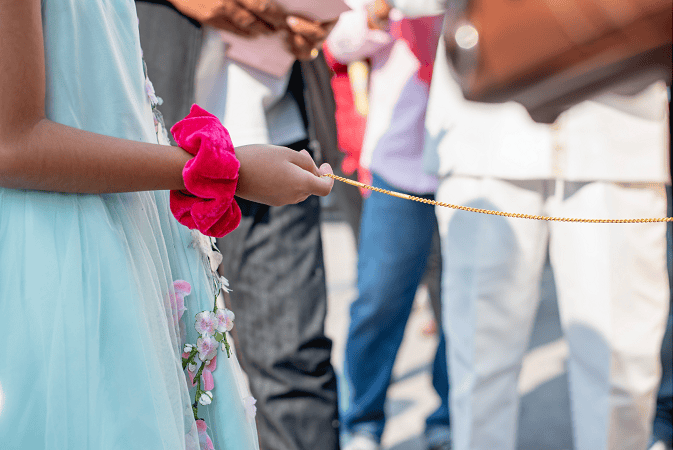 To pass through the silver and gold gates, the groom must fulfill the gate guardians' requests. The two most popular requests are to do pushups and say "I love you" out loud to the bride.
For every gate that the Khan Mak parade passes, the groom's parents must give a red or pink envelope with cash to the gate guardians.
Each envelope will have around 100 baht or more — the amount really depends on how wealthy the groom's family is.
The significance of this ceremony is for the groom to demonstrate that he can take care of his bride physically and financially.
Food Offering
After the door ceremony, the bride will then come to meet her groom and start the food offering ceremony.
In Thai culture, monks perform the blessing and water pouring ceremonies, which symbolize a new beginning and good fortune for the future.
In Thai culture, monks are highly regarded and treated with the utmost respect. This is usually shown by offering them food and ensuring they are comfortable during their stay.
Engagement Ceremony
The engagement ceremony will start right after the food offering. The bride and groom's parents will be invited to the stage, with the sin sod upfront.
The groom's parents will hand over the sin sod to the bride's parents. Then, the bride and groom will pay respects to their parents and the elders in both their families. In return, the elders will tie the bride and groom's wrist with a white ceremonial thread and wish the newlyweds a happy married life.
The couple may also be given gifts, which are usually a gold chain. After that, it's time for the exchange of vows and engagement rings.
A traditional wedding (Rod Naam Sang) will begin right after the engagement ceremony.
Both the traditional engagement ceremony and traditional wedding will end at noon.
Chinese Engagement (Tea Ceremony)
If you marry a Thai who has Chinese ancestry, your engagement ceremony will be different.
A Chinese engagement is more simple; there won't be a Khan Mak parade or door ceremony.
However, it may still involve food offering to monks.
One of the highlights of a Chinese engagement is a tea ceremony in which a newlywed couple provide cups of tea to the elders of the families. After drinking the tea, the elders will bless the couple and wish them a happy family life and present them with gifts, usually a gold chain.
After that, the newlyweds will eat a Chinese dessert together, an act that's supposed to symbolize harmony within the family. There will be two eggs inside the dessert. Each person must eat the whole egg in one bite.
Mixed Ceremony
If you're getting married in Thailand, there's a chance that you might need to have both Chinese and Thai engagement ceremonies at the same time.
For example, some couples may have a tea ceremony during the Thai traditional engagement ceremony, while others may hold the Khan Mak parade at the beginning of their engagement ceremony.
Ultimately, how the ceremonies happen is totally up to the couple. You may even choose not to have an engagement ceremony, or have a simple private dinner with your bride's parents.
Wedding
If you choose to have the engagement ceremony in the morning, you and your spouse will have time to rest, eat, and change into a different dress.
On the other hand, if you chose not to have an engagement ceremony, the wedding can start early in the morning or late in the afternoon — there are no rules!
Now, let's take a look at the popular wedding ceremonies in Thailand.
Thai Traditional Wedding
Thai traditional engagement and wedding always go hand-in-hand.
Depending on what part of Thailand you are in, you may have to participate in symbolic rituals such as the Mạd k̄ĥo mụ̄e and Ródt Naâm Sang.
After the traditional wedding, there will be another ritual that involves giving. In this ritual, relatives who have a successful marriage will take the couple to a room with a bed for newlyweds, prepare the bed, and give blessings.
It is believed that if a happily married couple prepare a bed for a couple at their wedding, the newlyweds will likewise have a successful marriage.
Ródt Naâm Sang
This tradition originated from central Thailand.
In this ritual, a monk or an elder in the family will put three marks of ceremonial power on the couple's forehead. They will also tie a white ceremonial thread around the couple's head.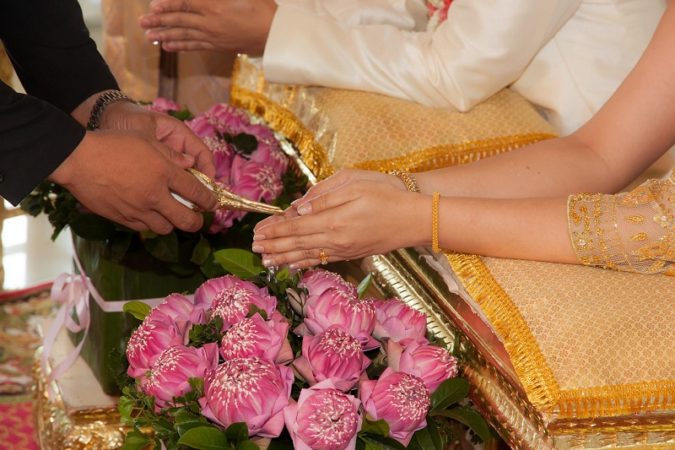 The couple's parents, families, and friends will then give their blessing and sprinkle droplets of water between the couple's hands.
This act symbolizes that the marriage should flow like water, to remind the newlyweds to stay cool, calm, and collected, and to always cherish one another even in times of difficulty.
Mạd Kĥo Mụ̄e
This tradition originated in northern and eastern Thailand. Its direct translation is "joined couple".
In this ritual, family members and guests tie the groom and bride's hands together using a white rope. This signifies blessings for the couple and a bond of their new life together.
To complete this ritual, the bride and groom must untie themselves. This act symbolizes partnership and the power of problem-solving as a newly married couple.
On a personal note, I appreciate the significance of this ritual, as my wife and I have navigated the challenges and experienced the joys of creating a new life as a married couple in this country.
Modern Wedding
Modern weddings have become very popular in Thailand. It has become even more popular than a traditional wedding especially for couples who live in Bangkok.
Modern weddings in Thailand work pretty much the same as everywhere else in the world. It's going to be a feast with hundreds of guests.
The bride and groom wear modern wedding dresses. There will be cake cutting, cheering, and a bouquet toss. Some couples may change cake cutting into something else, such as watering a tree or even a piñata.
It's also common for a bride and groom to invite elders in the family or their managers or directors from their company to give speeches at their wedding.
There will also be an interview asking the bride and groom about how their relationship started and developed, while some couples may even create a video presentation for it.
Christian Wedding
Christian weddings are also becoming more popular in Thailand.
To have a Christian wedding, you need to be a member of a Christian church and take a pre-marriage course before the church conducts your wedding.
Christian weddings in Thailand are similar to how they're done in other countries. There will be a pastor or a priest conducting the ceremony for you.
The wedding starts with singing a gospel. Then, the groom will enter the ceremony area and walk toward the altar, followed by the best men, ring bearer, and pastor. After them, the flower girls will enter followed by the bride holding on to the arm of her father as they walk down the aisle.
The bride's father will then bring her daughter to the groom. They will take Holy Communion, exchange vows and then rings, and light a candle. After that, the pastor will pronounce them as husband and wife.
Christian weddings in Thailand differ from Christian weddings in other cultures in that the pastor may not ask the groom to kiss the bride during the ceremony. Note that in Thailand, kissing is regarded as a private act that should be done in private.
After the ceremonies, there will be a feast.
What Type of Engagement and Wedding Ceremonies Should You Have?
Normally, Thai engagement and wedding ceremonies are held in the morning, followed by modern wedding rites in the afternoon or evening.
However, if your bride-to-be has Chinese ancestry, you should expect that there will be a Chinese engagement ceremony.
If you are Christian couple, then you're going to have a Christian wedding.
Thai society places great regard on family, so it's highly recommended that you talk to the family of your bride-to-be. This is to avoid any surprises in case they want to hold certain ceremonies that you may not want to. If this happens to you, talk to the family and agree to a compromise. Remember that there's no harm in saying no.
Preparation
The preparation stage of a wedding is often the most difficult part as there are many factors to consider. Here are those factors.
Venue
There are plenty of venue options available for you to have a perfect wedding in Thailand. If you can't think of a venue in mind, Facebook is your friend.
Many wedding venue companies in Thailand heavily promote their services via Facebook advertising. You can do a Google search for "wedding venues in Thailand" or ask for recommendations on Facebook expat groups. You'll then start seeing ads for wedding venues within your locality.
When booking a venue, you need to make a deposit in advance. The deposit amount varies from venue to venue; some might ask for 30% of the total price, while some may ask for 50% of the total price. The rest of the balance can be paid a day before, or the day of, the wedding.
Hotel
Hotels are the most popular option to have a wedding in Thailand because they offer facilities that can be used for such an occasion, including a conference hall fully equipped with lighting and sound systems. What's even better is that most hotels offer different kinds and sizes of venues that can accommodate anywhere from 100 to 1,000 guests, and there's usually enough parking space for them.
Depending on your preference and/or budget, you can have your wedding at a hotel in the city center where guests can easily go, or have it by the beach at a beach hotel.
If you're expecting more than 200 guests, a hotel might be your best option. It's ideal because, then, you can stay at the hotel a day before and after your wedding so you can avoid the stress of having to be in different places before, during, and after the event.
Most hotels have a team who can help with the preparations involving the meals, decorations, and even the technical stuff, such as setting up lighting and sound systems. Moreover, many hotels have a partnership with wedding planners/organizers who can make the planning process a lot easier.
It's unquestionably very convenient to have your wedding at a hotel, although a hotel wedding tends to be the most expensive option.
If you choose to have a hotel wedding in Bangkok, you should expect to pay at least 1,000 to 2,000 baht per person for food and drinks alone.
Another disadvantage of a hotel wedding concerns food. The quality of the hotel's food may be average, and portions might not be enough to make your guests feel full.
Please note that unless you live in a big province like Bangkok, your hotel options may be limited. There might be only one or two available hotels within your area that can serve as a wedding venue. This is because in small provinces, people tend to have their wedding at home or other small venues.
Restaurant
If you're inviting less than 150 people to your wedding, having it at a restaurant is a fairly serviceable option.
A major advantage to this is that the food tends to be excellent. And the costs to hold a wedding are cheaper than a hotel, too.
On the other hand, a restaurant may have limited space, which means not everyone will have a full view of the wedding ceremonies. There are also limited options in terms of decorations and sound and lighting systems.
But if your plan is to have a small and intimate wedding, and want your guests to enjoy delicious food, restaurants are a great option.
Wedding Venue
There are many wedding venues in Thailand, especially in Bangkok. Many venues offer a theme that can introduce a sense of whimsy to your wedding, to make it distinctive and unforgettable.
One such venue is VIVACE Wedding Hall, which offers a fantasy theme that turns you and your bride-to-be into a prince and princess.
If you want a garden setting, check out the Pud Garden or Ban Suan Rom Klao.
Alternatively, you can check out Villa de Bua if you want your wedding venue with a classic European touch.
If you're having a traditional Thai wedding, Dhabkwan resort is worth checking out.
One of the best things about these wedding venues is that you don't need to concern yourself with the decorations. You just tell the venue managers your preferred theme color or motif and they will design the place for you, including the backdrop of the main stage.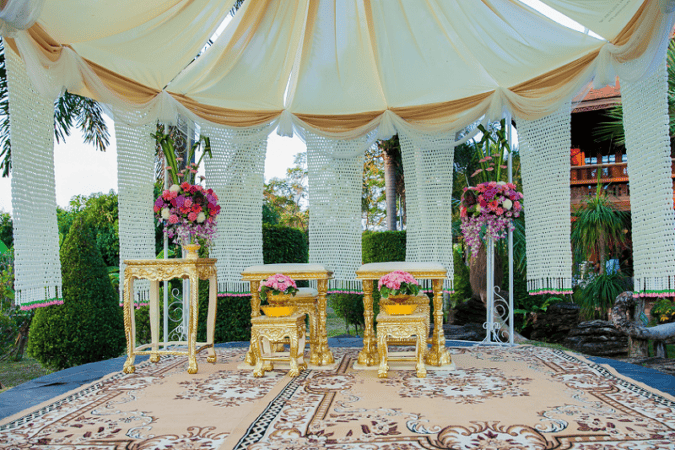 In addition, these wedding venues normally offer wedding packages that may include a wedding dress, makeup, and photography services.
Prices range from 100,000 baht to over 500,000 baht depending on how grand you want it to be.
The main disadvantages of these wedding venues are the limited food options and not enough parking spaces.
Since many of these venues are set up outdoors, you should anticipate the weather conditions on the day of your wedding — better make sure it's not rainy or too hot. If you choose a garden venue, insects might be a concern.
Church
Although Thailand is a Buddhist country, there are many beautiful Christian churches where you can have your wedding.
Saint Louis Church, Assumption Cathedral, and Saint Louis Marie de Montfort Chapel are three of the most popular churches in Thailand to hold a wedding. For you to be allowed to have a wedding in these churches, you need to prove that you're Catholic, take their pre-marriage course, and get an approval from the church's priests.
These churches also have strict regulations. The rules may include some or all of the following: only gospel music can be played during the ceremony; no eating inside the church; only two photographers may be allowed inside the church; and the only decorations allowed are flowers along the aisle.
Couples who opt for a church wedding usually hire caterers and may book another place to hold the modern wedding ceremonies and have a feast there.
Lastly, a church wedding is inexpensive; the total cost just for the venue shouldn't be more than 30,000 baht.
Beach
Thailand is known for its beautiful beaches, and there are plenty of great seaside towns where you can have your perfect beach wedding, with the sunset providing a naturally gorgeous backdrop.
Phuket and Krabi are the two most popular provinces to have a beach wedding in Thailand because their beaches are magnificent. However, beach weddings in these islands tend to cost more than in many other Thai islands, and your guests might have a hard time going there.
If you want to have a beach wedding that's not too far from Bangkok, your options include Pattaya, Hua Hin, and Koh Chang, an island in Trat province.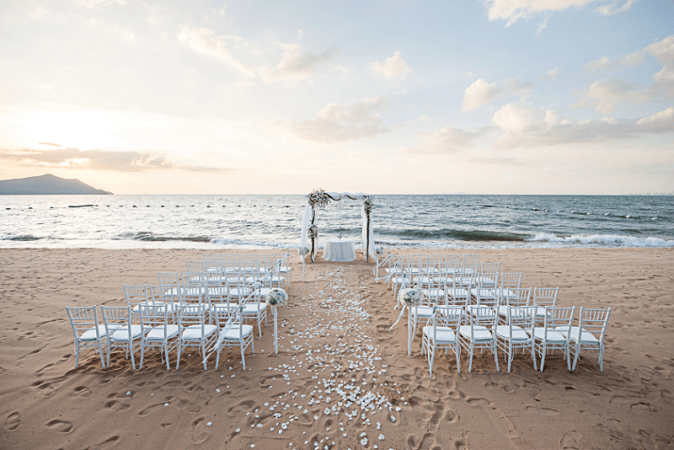 To have a beach wedding, you must contact a hotel that's located by the beach and have them make the arrangements for you. You can't just simply go to any public beach and set it up yourself.
Some examples of hotels that accommodate beach weddings include Sheraton Hua Hin Resort and Spa in Hua Hin and U Pattaya Hotel in Pattaya.
These hotels offer wedding packages that include wedding arrangements, food, decorations, and accessories.
If you want to get married by the beach, you should be aware of the seasons and make sure not to choose a date that falls on rainy and windy seasons. So avoid having one during the monsoon season and research weather forecasts on certain months.
Bride's Family's House
If you live outside of Bangkok, chances are that your wedding will take place right at your bride's family's house.
If this is the case, then you are in luck. In most cases, the bride's family takes care of everything — from the food, to the decorations, to the ceremony. They will even set up a tent and/or a stage in front of their house to accommodate the wedding guests.
All you need to do is show up.
Food
Thai people who are about to get married can be quite meticulous when it comes to wedding food. They will want to make sure that the food served to their guests are excellent. So don't be surprised if your bride-to-be asks you to go to several different restaurants or hotels for a food-tasting.
Expect to see a lot of Chinese dining tables during the reception as these are a popular form of seating guests in Thai weddings. It's basically a round table with eight to ten seats. Eight to ten dishes will be served, including snacks, main dishes, and dessert.
It can cost anywhere from 1,000 to over 10,000 baht per table, depending on the menu. Some of the most popular main dishes in Thai weddings include seabass, abalone, Beijing duck, and roasted pork.
If you prefer a different table setting, you can opt for cocktail style dining. In any case, you should set tables for elders in the family.
Note that because of COVID-19, handing out food boxes is becoming more popular. In many weddings, food boxes will be provided to the guests after the wedding ceremony, so that they can take these home and eat there.
Prenuptial Photos
Prenuptial photo shoots are becoming very popular in weddings in Thailand. This photo shoot is meant to capture beautiful moments and/or highlight the meaningful places, activities, or events for you and your partner. The photos from the shoot are usually used for the wedding itself.
In Thailand, prenuptial photo shoots can be done in places like photography studios, parks, or outdoors, with Chinatown being one of the most popular locations in Bangkok.
You can choose a place that holds significance for you and your fiancé. It can be your favorite spots in the city, the place where you first met, or even your workplace — the possibilities are endless.
Please note that many private places or even parks may charge a fee for a prenuptial photo shoot; it can cost from 1,000 baht to over 10,000 baht. Some places may collect a fee only if it's evident that you're doing a prenup photo shoot session with a professional photographer with a full set of equipment including a camera tripod.
Hiring a freelance photographer who can shoot anywhere and who can do a shoot with unique themes is very common. It's also less expensive than going to a photographer's studio.
However, if you want your prenuptial photos to look professionally shot, you can simply contact a wedding photography studio.
A freelance photographer charges around 8,000 baht to 10,000 baht, while a studio can cost two to three times as much.
Wedding Dress
The most popular types of wedding dresses in Thailand are the prewedding dress, traditional Thai dress, modern wedding dress, and Chinese dress (for the engagement ceremony only).
The number of dresses you'll need depends on the number of ceremonies.
Couples usually require three dresses: one for prewedding event(s), one for the traditional Thai wedding, and one for the modern wedding ceremonies.
However, it's fine to have only a dress for a traditional Thai wedding. Since it will be worn only once, renting a dress is common.
A wedding dress can cost a few thousand baht to 100,000 baht. It may cost more if you are the first person to wear the dress or if it's custom-made.
If you don't know of any wedding dress shop, you can ask your chosen wedding venue if they offer dresses or if they can recommend some shops for you.
Wedding Gifts
In western culture, friends and family typically give wedding gifts like appliances, household goods, and other commodities that can help a newlywed prepare for their new life together. In modern Thai society, cash is king. Family, friends, and guests will give the bride and groom envelopes filled with cash. Or they can provide their bank account number where people can make a transfer.
This money will go towards building their new life together. Some couples use the cash gifts to pay for the wedding.
Photographers and Videographers
Hiring photographers and videographers is normal when planning a wedding in Thailand because couples want their special day professionally shot on camera and on video.
Photographer and videographer rates range from a few thousand baht per day to over 50,000 baht, depending on their level of expertise.
A photographer and videographer usually works with at least one assistant who can help set up lighting equipment, organize the shooting sequence, and change equipment.
It's easy to find photographers and videographers in Thailand. In fact, many new college graduates in Thailand with relevant skills and the right equipment are taking up jobs as freelance photographer or videographer.
To find freelancers, visit this Facebook group and post your requirements and wedding date.
If you don't have a big enough budget for professional photographers, you can ask your friends or relatives to be your wedding photographer and just strike a reasonable deal with them.
Makeup Artists
Makeup artists are important to any wedding. Making you and your partner look good on your wedding day will largely depend on your makeup artist's skills and talent.
The makeup artist usually takes care of both makeup and hair styling of the bride and groom.
In Thailand, you can hire a makeup artist that either of the couple knows or one who works at a salon near the wedding venue.
Instragram is also a good place to find a makeup artist online because here you can check out the makeup artist's work posted on their profile/business page.
The cost of makeup for weddings varies. If you hire someone from a salon, it might cost less than 1,000 baht per person. If you hire a freelance makeup artist, you should expect to pay around 3,000 baht to 7,000 baht per person. If you hire a popular, in-demand makeup artist, you're going to have to pay around 15,000 baht to 25,000 baht per person, or more.
Invitation Card
Invitation cards and their envelopes are essential to any wedding. After all, that's where your guests can put their cash gift, which they will give to you on the big day.
You can use a tool like Canva to design your own invitation card. Alternatively, you can look for businesses that make invitation cards on Facebook or Shopee. But Canva is recommended as it's quite easy to use. It has hundreds of templates for things like wedding invitations. All you need to do is choose a template, fill it up with your wedding's details, and then send it out.
An invitation card and envelope cost around 8 baht to 20 baht.
As you send the invitation card, you will have a better idea of how many people will come to your wedding, which will then help you determine how much food needs to be prepared.
Souvenirs
In Thailand, it's common to give out a wedding souvenir to wedding guests. Some of the most common souvenirs are chopsticks, cloth bags, and small decorative glasses.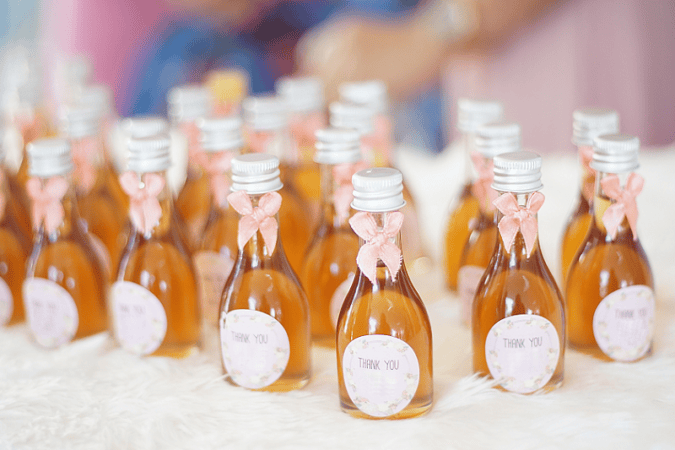 During the pandemic, alcohol sprays became popular as a souvenir because it's useful and you can insert your invitation card in it.
Many shops that create and sell invitation cards may offer a package consisting of an invitation card and alcohol spray.
Backdrop and Decorations
Your wedding venue may not be adequately decorated, so you may need to pay extra to decorate the stage backdrop and the venue's premises. You can either ask the wedding venue to handle the decorating job or outsource it to a wedding organizer.
A simple backdrop should cost between 5,000 baht to 8,000 baht, but extra flowers will cost you around 20,000 baht. Some couples may pay over 100,000 baht just for a wedding backdrop.
Other Important Things to Remember
Note that you may also need to prepare the following:
Bridal bouquet
Wedding cake
Ceremony items
Notebook/log book for well wishers and magic pens
Wedding card box
Flower pedals
Flower pins for the couple and theirs parents
Photo booth
Musical band
Additional food stalls
So that you don't miss any of these, check with the wedding venue organizers if they can take care of all of them. They're likely to have some of these common wedding items. In case they don't, check out Shopee where you're likely to find everything you need (excluding the band, but you never know!).
Other Key Wedding Personnel
Remember that you may not be able to handle any of the moving parts of your wedding, so it's crucial to get someone who can act as the contact person to manage everything on your behalf.
Also, don't forget to assign or hire people for the following roles:
Emcees
Receptionists
Hostess(es)
Short on budget? Ask your friends or relatives to do these jobs instead of hiring professionals.
Wedding Package
Many wedding venues in Thailand offer wedding packages that usually include the following:
The right to use their place, with plain decorations
Food and drinks for a specified number of guests
Flowers for the bride and groom
A basic backdrop
If you're having a hotel wedding, you can get a package that includes a deluxe room for one or two nights.
In most cases, the quote you will be provided may only be for the wedding ceremonies and may not reflect the full price. You may be charged extra for the following:
Electricity fee (particularly if there's a wedding band)
Early set-up fee (if you want to set up early)
Projector
In wedding packages, food and decorations tend to be basic. You'll need to pay more if you want better options.
A wedding package cost usually covers the venue only and may not include the cost to hire a photographer, make-up artists, a bridal bouquet, and so on.
Packages start at 80,000 baht to 100,000 baht for 100 guests. If the wedding venue is famous, the cost will be around 150,000 baht to 250,000 baht for the same number of guests.
How Much Does a Wedding Cost in Thailand?
Unfortunately, there is no exact answer to this question because there are so many factors to be considered. There are couples who spend less than 50,000 baht for a small wedding with only their close friends and relatives, while there are others who spend more than 1 million baht for a grand wedding.
If you're inviting 100-150 guests to be held at a plain wedding venue, you should expect to pay around 120,000 baht to 200,000 baht. There are also couples who forego all wedding ceremonies and parties and just sign a marriage certificate.
The choice is entirely up to you.
Who Prepares and Pays for the Wedding?
Traditionally, the groom provides the sin sod, while the bride's family arranges and pays for the wedding. This is rooted in very old traditions in which weddings are typically held at the bride's family's house.
In the present times, anything goes. Couples normally plan their wedding together. The groom may pay for the wedding, while in other cases, it's the bride who does. Or, the bride and groom share the costs.
There is no single, right answer to this question. What's certain, however, is that cash gifts are usually used to pay for the wedding.
So before tying the knot, it's best to talk to your partner about who will pay for what.
What Are the Most Popular Months to Have a Wedding in Thailand?
November to February are the most popular months to have a wedding in Thailand. This is the cold season, and the weather is pleasant even for an outdoor wedding.
Please note that your bride's family may make you visit a monk or refer to a Chinese horoscope book to find out the best date for you to have a wedding.
This is why there are many couples who suddenly marry upon finding out that a certain date is a good date to get married based on the Chinese horoscope book.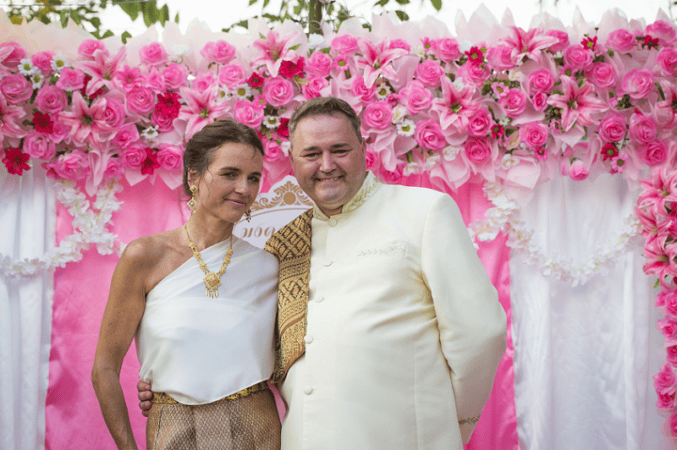 In case you want to marry on popular wedding dates/months, you should book a venue at least a few months in advance to make sure it's available and so you can ensure that the wedding dresses are done on time.
You may not believe in horoscope or be doubtful of the monk's advice, but these do serve as a pretty good guide on when is best date for you and your partner to have a wedding. Otherwise, you might have an argument with your bride's family. And, in case you run into relationship troubles in the future, they might say it's because you got married on a bad date.
Wedding Fairs
If you are not sure how to go about planning your wedding, going to wedding fairs can spark some ideas.
The Bangkok Wedding Fair is one of the biggest wedding fairs in Thailand. It's usually held twice a year, in January and in June at Impact Arena.
During this fair, you will see hundreds of agents from wedding venue companies, as well as wedding planners and photography studio agents.
Marriage Certificate Registration
My wife and I never officially registered our marriage in Thailand. That being said, our marriage is recognized by immigration as I was able to secure my Marriage Visa (Non-Immigrant-O) via our American marriage license.
However, I have a friend who married in Thailand and went through the proper channels to register.
I will share these details with you in the hope that you find them useful and provide clarity while navigating the bureaucratic side of marriage in Thailand.
Visit Your Local Embassy
This will be your first step in acquiring your marriage license.
Before visiting your local district office, you must get an affidavit from your embassy stating that you are not currently married in your home country.
Registering With the District Office
You can visit any district office in Thailand to register your marriage.
Bang Rak is the most popular district office for marriage registration in Thailand since the name means a "district of love".
Make sure you bring plenty of pictures from your wedding ceremony as they may ask you to present them.
Required Paperwork and Documents
An affidavit from your embassy is the hardest document to obtain for registering your marriage in Thailand.
Here's what you need:
A valid passport with a valid visa stamp
An affidavit from your embassy
If you have a yellow house registration book, it's a good idea to bring them with you too.
For your Thai spouse, here's what he or she needs to bring:
A national Thai ID card
A house registration book
There is no fee for registering your marriage in Thailand.
Valid Witness Signature
Upon certification, a witness signature is needed. This can be a close friend or relative who witnessed the wedding ceremony. Or, officers from a district office may sign those themselves or ask nearby couples to sign.
After that, you will get a Thailand marriage certificate both for you and your spouse.
The whole process takes less than 10 minutes.
Changing of Surname
As is the custom in most traditional cultures, the wife would typically change her name to her husband's surname.
But recently, Thai laws have come to favor the more western ideology of offering it as a choice rather than a requirement.
If your Thai wife wants to change her surname, she needs to visit her local district office based on her house registration with you.
Here are the documents she needs to bring:
A national Thai ID card
Thai marriage certificate
House registration book
It's free and takes less than 10 minutes to change her surname.
Benefits of a Marriage Certificate
There are key benefits to the Thai Government or Immigration recognizing your marriage. These benefits include being able to secure a Marriage Visa (Non-Immigrant-O), legal implications, and assets.
In my home country of the United States, my wife was granted certain benefits from marriage, such as a social security number, the legal right to work, and the ability to buy assets like property and businesses.
In Thailand, although I am married to a Thai citizen, I am still regarded as a guest. However, if you plan to call Thailand home, marriage will allow you to obtain a Non-Immigrant-O Visa.
Although this visa won't allow you to own assets such as land or property, you can purchase vehicles such as a car or motorbike. A Non-Immigrant-O Visa will permit you to stay in Thailand indefinitely, with the caveat that you will have to renew your visa yearly.
Furthermore, it is possible to obtain a work permit; however, you must go through the proper channels.
For more information, read our Thai marriage visa guide.
Now, on to You
As this may all seem a bit overwhelming, I assure you that it's all worth it.
I hope this article provided you with a better understanding of the marriage process in Thailand and put some of your worries at ease.
Consider yourself lucky to have fallen in love with a Thai. Embrace the beautiful traditions and indulge in the rich customs of Thai culture. And I wish you a happy blessed marriage!