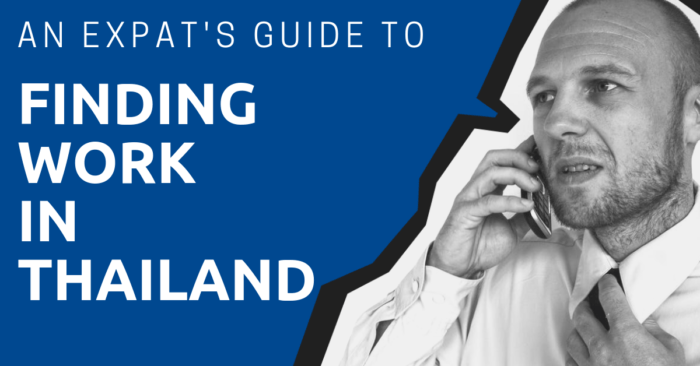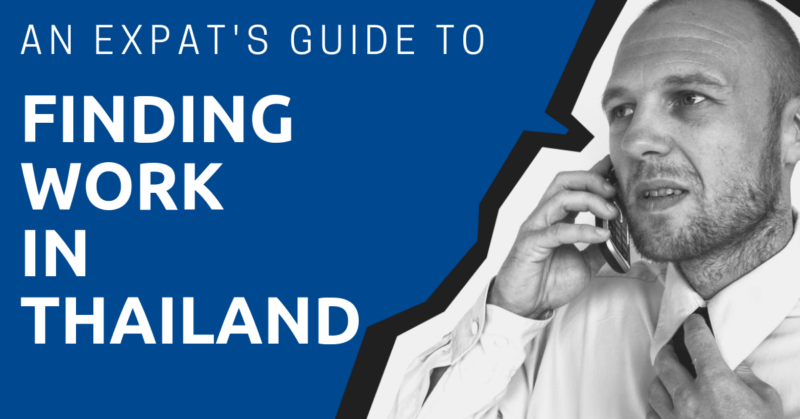 Is finding a job in Thailand easy or hard? This depends on who you ask or what you read.
For some people, Thailand is where you come for vacation. But if you ask me, you can work in Thailand.
"How?" you ask.
Just follow this guide and you'll find out how to search for a job while in your home country or Thailand, what requirements and qualifications you need, what websites and recruitment companies will give you the best shot at landing a job, how to approach companies of all sizes.
You can check our premium subscription to find out insider job hunting strategies proven to be far more effective than general methods. The premium subscription also come with a hundred pieces of exclusive content to make Thailand your new home.
Before Flying to Thailand
You've decided to work in Thailand—congrats! Now you'll want to know how to search for jobs. To start, you'll have to answer these two questions:
Should I find a job before moving to Thailand?
Should I get on a plane and search for a job in Thailand?
The short and unhelpful answer: it depends.
The more helpful answer: the more the job pays, the more likely you can apply before you get to Thailand.
If a job pays more than 80,000 baht a month, the employer may have to extend their search outside of Thailand. Finding a job from your home country for less money is possible but less common.
An HR manager friend in a real estate media company has this to say about getting hired from abroad: it doesn't matter if you're already in or out of Thailand.
A sign that a company would consider you from outside of Thailand is if they post jobs on LinkedIn, JobsDB, or other job boards that cater to all nationalities.
If you meet these companies' needs, they'll interview you via Skype and shortlist you for a face-to-face final interview.
If you're applying from your home country, companies will ask you why you're considering a job in Thailand. If you're applying for a job in Thailand you should expect and prepare for this question.
A friend of mine who recruits for a multinational hospitality and eCommerce company said this question gives them a clear idea of a candidate's purpose for applying.
Some companies would be happy to interview you via Skype or pay for you to move to Thailand if you meet their needs.
But others wouldn't entertain the idea of interviewing you if your resume shows a non-Thailand address.
Certain companies prefer to meet you face-to-face. I often here this:
We never consider candidates who aren't here yet."

We always consider candidates from abroad."
It depends on how specific, urgent, or important the job is to an employer.
Jobs in Thailand: Requirements for Foreigners
While you could find a job with your ability to speak English (or any other language), it'll be less than what's needed to cover your living expenses. Aside from language, here's what you're going to need:
Credentials
Language skills
Cultural adaptability
Geographical flexibility
Nationality
Work experience in Thailand
Health certificate
Work visa and permit
Lets take a look at each one in more detail.
Credentials
Do you need a degree to work in Thailand? Lots of people ask this question.
The degrees that'll help you find a high-paying job in Thailand are the same degrees earning you the highest income abroad.
STEM degrees (degrees in the fields of science, technology, engineering, and math) give you the best odds. But if you have a degree from a business school, finding a job is still easy.
In some fields, you're limited to the type of work you can do because of legal constraints.
Medical pros can't practice as doctors. But you can do research.
Legal pros can't join the bar. But a large number of law firms would hire you as a consultant.
For certain jobs and/or employers, a college diploma isn't everything. NGOs, media companies, and even schools may hire you if you're without a degree.
A friend of mine who works at a real estate media company said that for sales and editorial jobs, the company's hiring team strays from asking questions about university degrees.
The same goes in the tech sector. People with the right skills can find jobs with work permits without holding a university degree. This is also assuming you have at least 5 years of working experience.
While legitimate experience-and-skills-only jobs exist, having a university degree can make your work permit process a lot easier.
Language Skills
Do you need to speak Thai to find a job in Thailand?
The simple answer is no.
You may find work with a multicultural company where people speak English and Thai.
Do you need to speak Thai to thrive in Thailand?
The simple answer to that question would be yes.
Foreigners who can communicate in Thai at a business level always find it easier. Your Thai must be good enough to conduct business or staff meetings in Thai.
But what if you can speak a few words in Thai? Okay, holding meetings is out of the question. But you can build some rapport with your Thai coworkers.
If you learn how to speak Thai, the skill makes your life in Thailand a whole lot easier. And they'll make your job search more fruitful.
Cultural Adaptability
If you can adapt to a multicultural workplace it'll raise your chances of being hired.
You may have spent a few days or weeks in Bangkok or Phuket and think you know enough about Thai culture. But it's easy to miss the more subtle aspects of working in a different culture.
Have a look at this cross-cultural management guide to Thailand to get a better idea of what you might be getting yourself into.
But relax. A little research can help.
Our exclusive content covers many topics that'll help you with a career in Thailand, including:
background on Thai business and culture
how to prepare yourself to work in Thailand
employee regulations in Thailand
how to offer and receive criticism (applicable to expats with managerial jobs)
other systems ingrained in the Thai way of doing business
You have to experience the rest for yourself. There's something to be said about your Thai colleagues' penchant for pungent breakfast dishes and other real or imagined idiosyncrasies.
Adapt your work ethics and personality to fit your job in Thailand. It'll help your employer decide to hire you or keep you after your probation, which lasts for three months.
Geographic Flexibility
How can you showcase that you have the courage to move to and stay in Thailand?
Maybe you have the chops. The staying part is huge.
According to one recruiter, about 25% of all people who are brought to Thailand leave within the first six months.
Past work experience in the region is a big plus. This is why it's a lot easier to find your second job than your first. So think twice before declining a job offer.
If you're just starting your career, you can highlight travel experience on your resume.
Nationality
Aside from your credentials, your nationality matters in your job hunt.
Hiring you and getting your work permit takes a lot of work on your employers end. Hauling your documents to government agencies is something a company wants to avoid.
So unless you bring something worthy to the table, you'll get passed up for a job that a Thai can do.
Most companies need a good reason to choose you over a Thai. Also, there are limits on the kind of work you can do in Thailand.
Some nationalities have other challenges. The Philippines' government has special needs for companies abroad looking to hire Filipinos.
Once companies reach a certain number of Filipino workers, companies need to go through a procedure to recruit more Filipinos.
This rule affects large corporations. But because of these rules, your chances of finding a job may lessen.
The Brewed in Bangkok podcast has an episode that features the experience of a Filipino living and working in Bangkok. The show gives you some more insight on the topic.
It's challenging for Westerners to find jobs in Thailand's service industry. But if you come from the West you can land a job in education, marketing, and hospitality.
If you come from one of the surrounding Asian nations, you could work in hospitality, customer service, and reception.
Work Experience
You have a much better experience finding a job in Thailand if you held one here before.
If you have no working experience, you are unlikely to get a job in Thailand.
For a Thai company to hire a foreigner, you must bring the skills and mindset the company in question wants.
Finding a Good Teaching Job
Teaching English is definitely one of the most popular jobs for expats in Thailand.
However, not all teaching jobs are equal. Some teachers might only make 32,000 baht a month, while others can make over 100,000.
We have an exclusive guide on how to find a good teaching job in Thailand, pointing you what you need to have and to do in order to get a higher salary.
It's one of our 100+ exclusive pieces of content available only to our premium subscribers.
To get access, please become a subscriber.
Health Certificate
If you want to work legally in Thailand, you'll need a work permit. And in order to get a work permit, you'll need a health certificate.
You can get a health certificate at most clinics, government, and private hospitals in Thailand. Hospitals and clinics give you a health certificate after they check you. It's an easy and cheap exam.
Or you can read this article to find out more on medical checkups in Bangkok.
Work Visa and Permit
You may be tempted to work in Thailand while on a tourist visa. You might even be offered a job by a company who knows you have a tourist visa.
But working in Thailand on a tourist visa is illegal. You shouldn't work unless you have the right visa and work permit.
Because of visa restrictions in Thailand, there are mainly companies promoted by the Thailand Board of Investment that are willing to hire foreigners and help them get a business visa.
Searching for Expat Jobs
There are many ways you can search for jobs in Thailand. The most popular method would be using job-posting websites. There are both generic and industry-specific job websites you can look at.
You can use a recruitment agency and let them do the job hunt for you. You can join a networking event and meet up with your potential employer.
In addition, it's also possible to walk into a school or a company and apply for a job in person, assuming they post a job announcement notification in front of the company.
Let's taking a look at each option.
General Expat Job Websites
When looking for work in Thailand, the internet is your friend. The success rate of landing a job though the internet is higher if you're persistent. Here are the website's I'm going to cover in this section:
JobsDB
Craigslist
LinkedIn
Work Venture
JobsDB (Thailand)
In my first few tries to find a job in Bangkok, I leaned toward JobsDB, one of the most reliable job portals in Thailand.
There are a variety of jobs you can find in JobsDB. The best way to do it is by customizing your search by job title, locale, job function, and salary range.
You can expand your search choices by career level (entry, middle, senior, top), employment type (full time, part time, freelance, etc.) and education level (doctorate, master, degree, etc.).
The great thing about JobsDB is that you can set up job alerts based on your search terms. Setting up an alert helps because you get email updates for jobs with your chosen job titles and keywords (Eg, Data Analysis, Marketing Communication, Hospitality, Reservations).
Jobs available for you on JobsDB vary. Most ads leave out preferred nationalities. Rather, job posts indicate whether a job is for "Thai nationals only" or "open to foreigners."
The thing that could discourage you from using JobsDB is that most responses to applications are slow and infrequent compared to other job sites.
Although there is a tracking function for jobs you've applied for, which shows your application's status (under the 'Applications history' tab), responses from the recruiters who post on the site seem rather slow.
Although JobsDB is where I landed my first job, I should have expanded my choices.
I applied for jobs such as Financial Research Analyst, Marketing Assistant, and Personal Assistant for a Real Estate Business that needed Thais.
As a result, I ended up with few interviews after trying a lot.
LinkedIn
I saw the value of maintaining a LinkedIn profile after moving to Thailand.
Through LinkedIn, I landed job number three and have seen that the time it takes for recruiters to respond was also fast.
There are a few ways that help you make the most out of LinkedIn. You should look into the company career pages.
A friend and former coworker who uses LinkedIn to search for and recruit people posts job ads on the company's career page and gets over 50 responses.
This is due to the ease of applying through the site.
According to my friend, here's how the recruit process works:
you apply through a company's LinkedIn careers page
the company's recruiter narrows down the qualified people for interviews
the company shortlists your name if you interest them
the company contacts you for an interview
There is no singular tried-and-tested way of getting hired by a Thai company through LinkedIn.
This explains how I got hired on my third job via the networking site.
When I found a job through LinkedIn, it wasn't because of any keywords in my summary that got me noticed. I got hired because I passed through the company's routine shortlisting process.
Work Venture
Work Venture is a newer job board in Thailand. They're smaller than their competitors. But I know that employers using the platform are happy with the results. Happy employers mean better job ads.
Work Venture launched as a website for student jobs and internships with a strong focus on the local workforce market. But it's moving towards becoming one the of the primary job websites in Thailand.
I suggest looking into Work Venture as part of your job hunting process.
Industry-Specific Expat Jobs
Aside from general job websites, there are a significant number of industry-specific job websites.
If your skills apply to these industries, you sometimes have better odds finding something there than on the more general ones.
Here are some of the more popular industries in Thailand:
Tech
Teaching
Development
Hospitality
Marketing
Publishing
If you want to find a detailed list of job website, you can check our premium subscription.
Now let's take a look at the websites that help you find work in each sector.
Tech
The demand for Western programmers, developers, digital marketers, and graphic designers in Thailand is on the rise.
If you are an experienced tech worker, you can check out Iglu. Their employment is a project-based bringing a minimum revenue of 80,000 baht a month. They also use a PRP salary model where a certain amount of your salary will typically consist of a percentage of the monthly project billing.
You can also check out AngelList. They post jobs for thousands of startups and well-known companies throughout Asia.
If you'd like to find out about Thai job websites that focus on IT jobs, read our guide to IT jobs in Thailand.
Teaching English
You need at least a bachelor's degree if you want to land the higher paying teaching jobs in Thailand.
If you didn't graduate with a teaching related degree, you may also need a TEFL certificate.
And it's better to get your TEFL in Thailand from a Thai Ministry of Education accredited school such as SEETEFL
These schools can guarantee you a teaching job if you're a native speaker after taking their 4-week TEFL course.
Another good resource for those who're looking for a teaching job is Ajarn.com. The site caters to teachers in Thailand.
Ajarn features job postings, forums, news, a blog, and other useful sources for Thailand-based teachers.
Since this is one of the best sites for teaching jobs in Bangkok, you might as well create an account. With an account, you can upload your resume and display your profile, which shows a snapshot of your credentials to employers looking for teachers.
Ajarn's Featured Jobs page is where you want to go. While searching for teaching jobs on JobsDB yields many results, Ajarn.com's jobs search page is more tailored toward education pros.
For one, the pay rate is displayed along with the ad and the exact area of expertise needed is right there on the headline.
Ajarn also lets you filter searches based on your preferred employer type, area of work type of work and pay rate.
Development
You can find jobs with Non-governmental Organizations with ReliefWeb. It is a job board for people looking for NGO jobs worldwide, including Thailand. It has listings for internships, senior level jobs, and other NGO jobs.
Hospitality
Thailand offers amazing hospitality. So expect plenty of work in this field. Here's where to look.
ThaiHotelJob.com has an exhaustive list of hospitality jobs, including hotels and resorts, cruise operators, airline, restaurants, travel agencies and spas, with listings for boutique hotels, mid-range hotels, and 5-star hotels and resorts throughout Thailand.
Publishing
If you're looking for press work, explore the Foreign Correspondents' Club of Thailand.
Its job board has few ads. But postings for mid- to senior management level jobs do exist.
Tip: Sign up as a member to get a weekly bulletin. You'll get a list of open jobs for the jobs I mentioned above.
Other Job Websites
The sites above should help you find work in Thailand. These are the more popular sites for job search. But there are other sites you can explore in case you're looking for more choices.
Most of these have either a large overlap with the above sites, have a limited number of jobs posted, or aren't as relevant for the Thai market:
Effective Ways to Land a Job
Job websites aren't the only option to find a job in Thailand. Based on our research and insider information, many expats get better jobs through other methods.
You can read about them in our guide to effective ways to land a job in Thailand.
It's one of our 100+ exclusive pieces of content available only to our premium subscribers.
To get access, please become a subscriber.
Recruitment Agencies
If you're working in certain industries, getting in touch with one of the several agencies in Thailand might help.
One of the best reasons to do this is having your background matched with the right employers by recruiters.
This may be useful for expats. Recruiters can decide if a company would consider you with no Thai language skills.
Here's what you're going to learn about in this section:
Headhunters, recruiters, and staffing agencies
Pros and cons of recruitment companies
List of recruitment companies
Off-the-beaten path options
Headhunters, Recruiters, and Staffing Agencies
While for the sake of simplicity I'm referring to all companies recruit in some way.
The main difference is if they recruit active candidates who are already looking for a new job or if they're trying to recruit passive candidates who aren't job hunting. Some companies do both.
Here's a quick summary of industry terms:
Headhunting: Finding a potential fit for a job through pro-active outreach to potential candidates. This approach tends to be more common for management jobs and specialist roles.
Executive Search: Finding a potential fit for executive jobs through headhunting means.
Staffing: Operational handling of recruitment. Often companies use that to hire a large number of non-executive employees. Job ads are the most common way.
Recruiting: Can mean any of the above, depending on how the company defines itself. For you as a job seeker, it's obvious, depending if they messaged you or you messaged them first.
If you want to increase your changes of getting approached by recruiters, make sure your profile on LinkedIn is up to date and includes the right keywords.
You also want to go to conferences and other events in your industry frequented by people with similar backgrounds. This holds true if you're outside of Thailand.
Recruiters get paid commissions of up to 30% of their annual salary for finding workers. You can count on them to build a network and find people who are a potential fit for the job openings they're covering.
Pros and Cons of Recruitment Agencies
One reason to look at recruiters is the payment these agencies receive for getting you hired and past probation.
The fact that an company is paying that kind of money means a few things:
it's important for them to hire the right person
they need workers fast
they want the candidate to stick around for a long time
This is all good news for you.
The bad news is that recruiters cover a small percentage of job openings. And the likelihood of getting a job through them is rather low.
Yet, you never know what contacts might pan out in the future. So if you have a chance to build a network in your industry or function, you should take advantage of it.
A word of warning on dealing with third party recruiters: the employer pays the recruiter fees.
Never agree to pay for any placement, a pay-cut, or any other form of compensation that comes out of your pocket.
Recruiters bill your employer.
List of Recruitment Companies
There are plenty of recruiters in Bangkok alone. While I had in-person dealings with some of them, I have little first-hand info on a majority of the recruiters and can't confirm if they're the real deal.
Please use common sense when dealing with any of these:
JAC Recruitment Thailand offers staffing services for local and multinational Thai companies in the fields of sales/marketing, accounting/financial services, industrial/manufacturing, IT, HR, engineering, logistics/shipping, branding/advertising.
Gummy Bear specializes in tech job recruitment.
KTI Consultants focuses on senior to executive level recruitment for Chief Financial Officers/GMs of Finance, Finance Directors, Financial and Business Controllers, Finance Managers, Cost Accountants, and Internal and External Auditor jobs.
Manpower Thailand lets you apply for jobs. Then a recruitment specialist contacts you. When you send an initial email, indicate your desired job and other data. Jobs include jobs in banking and finance, office service, IT, engineering, and technical areas for permanent, temporary and contract jobs.
Monroe Consulting is an international executive search (headhunting) company specializing in senior permanent jobs in the consumer goods, health, industrial, pro and technology industries.
PRTR offers a range of recruitment services, including database, executive, mass and research recruitment; and HR and payroll outsourcing through its group of companies that perform its specialized recruitment functions. You can often see job ads in the Bangkok Post by this firm. It's one of the oldest and most well-known ones.
Robert Walters Thailand specializes in permanent and contract roles for accounting and finance, banking and financial series, HR, IT, sales and marketing, and supply chain and procurement jobs.
RSM Recruitment Thailand offers mid to senior level jobs in accounting and finance, IT, HR and admin, legal, sales and marketing, and general management.
Smart Search Recruitment offers senior level staffing services to multinational and small, local companies in the insurance and financial services, energy and infrastructure, medical and life sciences, and manufacturing and consumer goods.
TrueTeaching specializes in connecting international schools with educators. Worth considering if you hold a degree that qualifies you to teach in your home country.
Salary
I've been working in the digital marketing industry since moving to Bangkok in 2014. The circumstances around my employment are tricky to measure against everyone else's and/or what has worked for those in the same industry.
In this section you'll find out about the most important part of working in Thailand:
Minimum wages
Payment inequality
Salary ranges
Taxes
Preparing to Work in Thailand
Adapting yourself to Thai culture is another important matter that many expats fail to do.
We have an article on how to prepare yourself to work in Thailand. It teaches you about important work culture and regulations you must know.
It's one of our 100+ exclusive pieces of content available only to our premium subscribers.
To get access, please become a subscriber.
Minimum Wages
Matters of compensation should be one of your main concerns when deciding to work in Thailand.
As an expat, one of the most important things to remember is that for foreign laborers, there are government-imposed fixed minimum wages.
These minimum wages vary by nationality. A German citizen must make at least 50,000 baht a month, whereas someone from Myanmar would receive half of that.
Your own salary level as an expat depends on your experience, industry and, for some jobs, your nationality.
Payment Inequality
I will use teaching jobs as a point of comparison for this one.
As a Filipino, if I were to work as an English teacher, I'd make less than someone from the UK or anyone from a native English-speaking country.
The rationale behind this seems easy enough to comprehend, although it might come off as unfair to a non-native speaker who is qualified to teach English and other primary and secondary education subjects.
This is not meant to discourage anyone from pursuing a teaching job in Thailand. Of course, there are special cases.
You may be a non-native English speaker. But if you have an expansive teaching background and have the teaching certifications, it's possible that you could make more than your UK or US counterpart.
Since I have never been a teacher in Thailand, I couldn't claim authority on the disparities between non-native English speakers' and farangs' salaries and/or their status as educators in Thai schools.
Whether an employer pays different nationality different wages for the same job depends on the employer.
I'm not aware of any government regulations against this. In practice, it depends on your employer's policies and your individual negotiation.
Salary Ranges
How much money can you expect to earn in Thailand?
In practice, I've seen everything from a third of their salary back home to double that.
It depends on how rare and valuable your talents are here compared to back home. Playing the piano is an uncommon skill. So even music teachers can charge 600 baht or more an hour.
Another part is the confidence of your potential employer in how likely you're to solve their problem. If they're convinced you're the person that will handle it, the value of the problem reflects your salary.
Experience and personal networks play a big role in this.
The Board of Investment publishes salary data for Thai nationals based on data given by promoted companies. It'll give you an idea on what Thai nationals get paid in similar careers.
In non-technical jobs, Westerners can expect higher salaries, whereas in tech careers salaries are often similar.
Some company may give you lower salary. But they may give you good group health insurance.
It also comes to your personal decision to decide which company you should work with.
Taxes
Even if you're working in Thailand you still need to file your home-country taxes every year. And if you make over a certain amount of money in Thailand, you'll need to pay taxes on that income too—or risk losing your passport.
The amount of taxes you'll pay depends on what country you lived in, your income in Thailand, your income outside of Thailand, and much more.
And once you start working in Thailand, you'll have to pay taxes on that too.
Personal income tax rates will vary from 5% to 35% of your yearly salary. But you're not responsible for paying those taxes. The company you work for will deduct them from your paycheck every month.
Decrease Your Personal Income Tax
A lot of expats we talk to do not know how to effectively decrease their income tax, even when they have been working in Thailand for many years.
You can save a lot of money if you know how to decrease your personal income tax.
We include it as one of our 100+ exclusive pieces of content available only to our premium subscribers.
To get access, please become a subscriber.
Thai Office Culture
Your first few weeks in Thailand might seem like a vacation, but after a while you have to settle into working life, and this process could be challenging.
In the first few weeks there will be surprises and things you need to adapt to. You might have a bit of culture shock and, to be honest, it won't be until after around three months that you began to feel comfortable in your new environment.
You won't know where to go to do simple things, and you might lack knowledge of how to do important tasks. If you've been to Thailand a couple of times before for vacation, but you're now here for the long-term, you could feel a little lost at the start.
Your first job may shock you. Employees may seem happy with you and help you when needed. But after a month of working here, you may realize it isn't always easy to tell when someone is lying or hiding things.
There are little signs you won't pick up, but soon will understand. Thais don't usually say "no" to your requests, but they have no intention of following through or might deny me via email or Line rather than face to face.
This could be frustrating, so you might only want to work for international companies in Thailand.
This part of Thai culture, not always saying what you mean, still catches expats from time-to-time, and you have to be aware that the famous Thai smile is sometimes there to hide another emotion.
Now, On to You
If you're struggling to find work in Thailand, or just thinking about what life would be like working in Thailand, then check out our premium subscripiton.
In the subscription, you'll find out how to get a job and start your life in Thailand hassle-free.
Latest Guides on Finding Work in Thailand