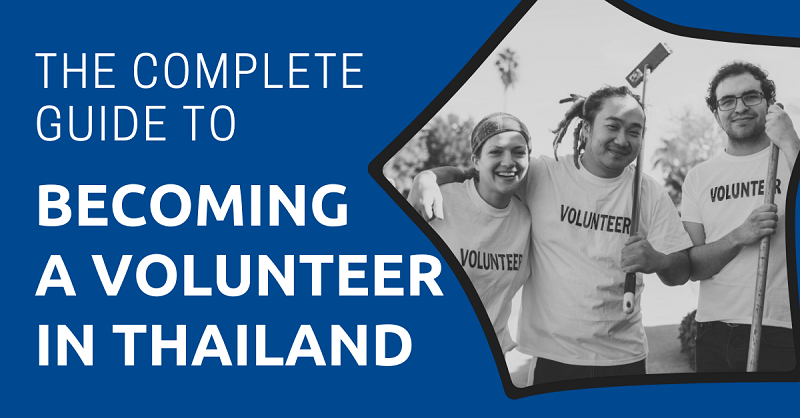 Volunteering in Thailand is way more than just a vacation. It can be a catalyst for transformative personal growth, professional development, and life-long social connections. It's an experience that offers numerous benefits for both volunteers and the local communities they serve.
Before embarking on a volunteer journey in Thailand, however, it's essential to weigh your options carefully. With the diverse range of programs and fields available, each with varying lengths, fees, and training requirements, it can be a daunting task to choose the right fit for you.
We've put together this guide to help you navigate the many opportunities available so you understand what it takes to become a volunteer in Thailand.
Benefits of Volunteering in Thailand
Volunteering is a powerful way to grow personally and professionally in addition to making a positive impact on the world. In Thailand, there are countless opportunities to volunteer and contribute to important social causes.
Let's look more closely at some of the benefits.
Cultural Immersion and Language Acquisition
Thailand has a unique culture and distinct language that is best experienced firsthand. By volunteering in Thailand, you can immerse yourself in the local culture, learn the customs and traditions, gain a deeper appreciation for the country, and immerse yourself in the language.
Job Opportunities
If you volunteer in Thailand, you'll have a better chance of getting a job here. For example, if you have experience teaching English in Thailand as a volunteer, you're more likely to get a teaching job than those without experience.
Adventure Opportunities
Thailand is known for its beautiful beaches and mountains. Volunteering in Thailand can provide opportunities for adventure, such as trekking in nature, exploring ancient temples, or scuba diving in crystal clear waters.
Nature and Wildlife
When people think of volunteering in Thailand, they often think of volunteering with elephants. Why not? Thailand offers unique environmental and wildlife conservation opportunities due to the abundant natural resources.
Delicious Food
Thailand is famous for its delicious food, which is a fusion of flavors from different regions and cultures. Many volunteers have the chance to learn about and cook traditional Thai food.
Buddhism
Buddhism is the predominant religion in Thailand, and many volunteers find the experience of volunteering in a Buddhist temple or monastery transforming. Even if you don't volunteer in a temple, you can learn about Buddhist teachings and practices and participate in meditation and other spiritual activities. You can even join a yoga retreat.
Social Impact
Thailand faces many social and environmental challenges, including poverty, access to education and healthcare, and environmental degradation. As a volunteer, you can help combat these issues by working with local organizations and communities. You can also learn about the unique challenges facing Thailand and gain a deeper understanding of the country.
Types of Volunteering Programs
There are many opportunities available in Thailand for those looking to volunteer.
These include opportunities in environmental conservation and animal welfare, education and teaching, and healthcare and medical services. Depending on your interests and skills, you can find a volunteering opportunity that suits you best and aligns with your personal goals.
Elephant Sanctuaries
Volunteering in an elephant sanctuary is a popular option in Thailand.
The Elephant Nature Park in Chiang Mai provides care and rehabilitation for elephants rescued from the tourism industry.
Volunteers can help with feeding, bathing, and providing enrichment for the elephants while learning about their behavior and the challenges they face.
Another example of volunteering with elephants in Thailand is the Surin Project, which focuses on providing a sanctuary for retired working elephants. Volunteers can help with feeding, maintenance, and enrichment activities for the elephants while also learning about traditional elephant-keeping practices in Thailand.
Find out more: How to Visit and Volunteer at Ethical Elephant Sanctuaries in Thailand
Animal Welfare
One of the biggest draws for volunteers in Thailand is the abundant natural environment and wildlife, allowing for volunteer opportunities in environmental conservation and animal welfare.
This type of volunteering often involves working with local communities and NGOs to preserve natural habitats and protect endangered species.
For those interested in working with animals, the Wildlife Friends Foundation offers opportunities to work with rescued primates, bears, and big cats. Volunteers can help with feeding, cleaning, and providing enrichment for the animals while learning about wildlife conservation and rehabilitation.
For those interested in marine conservation, the Marine Conservation Program on Koh Tao focuses on coral reef restoration and conservation. Volunteers can participate in activities such as reef surveys, beach cleanups, and educational outreach to local communities.
Orphanages and Teaching
For those passionate about working with children and making a difference in their lives, there are numerous volunteer projects available, ranging from teaching English to working with special needs children.
For instance, the Baan Unrak Children's Home in Sangkhlaburi provides a safe and nurturing environment for orphaned children, while also offering them an education.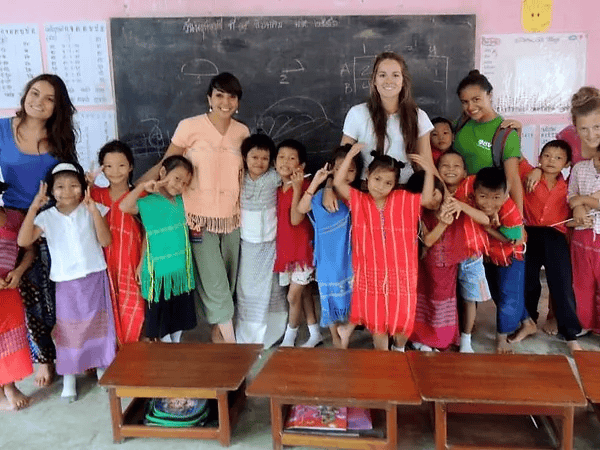 Volunteers can assist with teaching English, sports, and other subjects, as well as provide emotional support and guidance to the children.
Similarly, the Mercy Center provides opportunities for volunteers to teach English and other subjects to children in the Klong Toey slums of Bangkok. The Monk Teaching Program in Tambon Ban Len temple school is where you can immerse yourself in the daily life of a Buddhist monk and teach English to practicing monks.
For those who aren't interested in making an impact in education outside of teaching, consider participating in the Paper Ranger program in Bangkok. Participants create and donate notebooks for local kids in the area who can't afford the required stationary they need for school.
Healthcare and Medical Services
Volunteers with a background in healthcare and medical services can make a significant impact on the lives of people in Thailand by volunteering at hospitals, clinics, and other medical facilities.
While many medical volunteering opportunities require prior training or certification, there are still options available for those without a medical background, such as assisting with administrative tasks or participating in public health programs.
For those with medical training or licenses, there are ample opportunities to apply your skills in a clinical setting as a volunteer. One such program is the Medical Volunteer Project in Bangkok or Chiang Mai. This program lets volunteers work alongside local medical professionals in hospitals and clinics for a minimum commitment of one week.
The public health project offered by RCDP in Surin is another excellent clinical option in a rural area that helps communities in need and immerses their volunteers in the local culture.
Those interested in volunteering in the medical sector but lacking medical training can participate in public health programs like the Global Public Health Project in PhangNga. Here, volunteers carry out hygiene and health workshops in the local community and work with schools to implement physical education programs.
Where to Find Volunteer Opportunities
If you're interested in volunteering in Thailand, you can contact the organization directly.
Alternatively, there are many online platforms and organizations that can help you find the right opportunity.
In the following sections, you'll find some of the most popular platforms and organizations to search for volunteer opportunities in Thailand.
Friends for Asia
Friends for Asia is a platform that offers a wide variety of volunteer programs throughout Thailand, including teaching English, wildlife conservation, and community development. It offers flexible programs ranging from one week to several months, making it easy to find a program that fits your schedule.
Love Volunteers
Love Volunteers is a great place to look for volunteer opportunities teaching English in Thailand, but it also has programs in 30 countries. With a minimum time commitment of one week, Love Volunteers is an excellent choice for those looking for short-term volunteer opportunities at low costs. Its program fees start at just US$600.
World Endeavors
World Endeavors has been helping volunteers connect with communities around the world for 13 years. Its programs offer opportunities in a broad range of areas, such as women's empowerment and environmental protection, with program fees starting at US$1,390 for the first week and US$325 for each additional week.
Gap 360
Gap 360 is a UK-based organization that specializes in GAP-year programs that allow young people to travel the world and explore what they might like to do before enrolling in college. In addition to volunteer programs, it offers unique around the world tours, paid work positions, language programs, and more.
Global Volunteer International
Global Volunteer International (GVI) is a well-known and trusted organization that offers programs in 13 countries, including Thailand. It adheres to the 17 United Nations Sustainable Development Goals and offers a variety of programs, including teaching, wildlife conservation, and marine conservation.
IFRE Volunteers
IFRE Volunteers is a highly affordable organization that allows anyone to volunteer. It has a unique payment model that ensures the money you pay is going right back into the local community you're traveling to help. Its programs in Thailand range from teaching to healthcare and environmental conservation.
Cross Cultural Solutions
Cross Cultural Solutions has been helping volunteers make a big difference in seven countries for over 24 years. They offer a variety of programs, including volunteer abroad, internships, GAP-year, high school options, and group travel. Its programs in Thailand focus on areas such as healthcare and community development.
Volunteering Solutions (VolSol)
Volunteering Solutions (VolSol) has been around for over 12 years and has helped over 14,000 volunteers travel to over 155 projects in 26 countries, including Thailand. It offers programs in areas such as childcare, teaching, women's empowerment, and more. VolSol prides itself on providing safe and affordable volunteer opportunities with flexible start dates and durations.
Choosing a Volunteer Program
Choosing the right volunteer program is crucial to ensuring a meaningful experience that aligns with your goals, interests, and budget. With so many options available, it can be overwhelming to decide where to start.
However, by considering a few key factors, you can narrow down your choices and find the perfect program.
Time and Budget Constraints
Time and budget constraints are two important factors to consider when choosing a volunteer program in Thailand.
Many programs have minimum time requirements, ranging from a few weeks to several months. So, volunteers should be realistic about their availability and budget. After all, you won't be able to earn money while volunteering in Thailand.
The cost of volunteering in Thailand can vary widely depending on the program and organization. Some programs may offer free or low-cost volunteer opportunities. Others may charge several thousand dollars for a few weeks of volunteering.
For example, volunteering with elephants in Thailand can cost anywhere from US$500 to US$2,500 for two weeks, depending on the program and location.
The cost usually includes accommodation, meals, and transportation. However, it's important to confirm what is and isn't included in the program before paying.
When planning to volunteer in Thailand, it's important to factor in the logistics of your trip, including travel, accommodation, and food expenses, as well as health insurance and any necessary documents such as visas and health certificates.
Related article: Cost of Living in Thailand as an Expat: How Much Do You Need Per Month?
Room and Board
Consider your accommodation and dietary requirements carefully before selecting a program.
Some programs may offer only basic living accommodations such as shared dorm rooms or communal bathrooms. Others may provide Western-style private bungalows or hotel rooms. Yet others will ask you to arrange your own accommodation during your time as a volunteer.
Take the time to understand what is included in your program and if you'll be sharing a room or amenities with other attendees. Ask to see photos of the room you'll be staying in and other facilities.
It's also important to consider your dietary requirements before selecting a program. If you're looking to immerse yourself in the local culture, living with a host family may be the best option. However, those with special dietary requirements may find living with a local family challenging.
Be mindful of your personal preferences and needs when looking at the program's accommodation and culinary offerings.
Language and Cultural Differences
One of the biggest challenges volunteers face is the language barrier, especially if the volunteer program is in a rural Thai area.
Many locals in Thailand don't speak English, and it can be difficult to communicate effectively without knowing Thai. This can be especially challenging for volunteers working in the healthcare or education fields or in volunteer programs in rural areas.
So, if you apply to these programs, you might want to learn basic Thai.
Ask the program what resources are available for English-speaking volunteers and if there will be any language classes provided.
Beyond the language, you're also bound to experience cultural differences while working as a volunteer in Thailand. The country's customs, religion, food, and way of life might seem unfamiliar. That said, it's important to take the time to learn about Thai culture before arriving, and remain open-minded and flexible when it comes to differences.
Safety Concerns
Thailand is a relatively safe country, but any visitor should consider the risks and prepare accordingly.
You might want to get travel insurance or health insurance that covers the full cost of inpatient care in case of an emergency. You should also take general precautions to avoid unnecessary risks that aren't covered by insurance.
If you have pre-existing health concerns, consider your proximity to quality healthcare should you need it. Most of Thailand has excellent healthcare options, but volunteering remotely may not suit you if you have acute medical needs.
Goals and Motivations
When choosing a volunteer program, it's important to have a clear understanding of your personal goals and motivations.
The most successful volunteers typically have a specific skill they hope to gain, a cause they are passionate about, or an interest in learning the Thai language and culture. Taking the time to consider what you hope to gain and give during your volunteer experience is crucial in finding a program that aligns with your criteria.
Once you have a clear understanding of your goals and motivations, you can begin your search for a volunteer program that fits your needs. Keep in mind that each program may have its own unique set of requirements. So, it's essential to carefully review each program's details and ensure that it meets your expectations.
How to Become a Volunteer in Thailand
Volunteering in Thailand can be a rewarding experience, but it's important to take the necessary steps to ensure that your volunteer experience is safe and successful.
Here are some steps to follow as you sign up to become a volunteer in Thailand.
Researching and Choosing an Organization
When looking for an organization to volunteer with, it's important to do your due diligence to ensure that the organization's values align with your own and that you fully understand what is expected and included in the volunteer program.
While a simple Google search will yield a multitude of results, it's important to look for glowing reviews, ask to see photos of the accommodation, and talk to a representative of the organization to ask any questions you may have before paying any deposit or program fees. This will help you to avoid programs that may not be fully above board.
Preparing Your Documents
After selecting the volunteer program you'd like to pursue, you may need to prepare documents such as a criminal background check, a health check in your home country, or your college degree documents. It's important to check with the organization to ensure that you meet their specific requirements and that all of your travel documents are up to date.
You will need at least 6 months validity on your passport for travel to Thailand, and it's important to ensure that you leave ample time to get a new passport if required.
Getting a Visa
Getting a visa is an important final step to becoming a volunteer in Thailand. Depending on the duration of your stay and the organization's arrangements, you may need to apply for a tourist visa or a volunteer visa.
The tourist visa allows you to stay in Thailand for up to 60 days and can be extended for another 30 days at a local immigration office. However, if you plan to volunteer for a longer period, you'll need to apply for a volunteer visa. This visa allows you to stay in Thailand for up to 90 days, with the option to extend it for another 90 days at a local immigration office.
To obtain a volunteer visa, you'll need to provide proof of your volunteer work with a recognized organization, as well as a letter from the organization describing your work and the duration of your stay. You'll also need to provide a copy of your passport, a passport-sized photo, and proof of funds to cover your stay in Thailand.
Please note that you need to choose a legit volunteer organization only in order to get you a volunteer visa. This is because many people misused the visa and created a bad impression to Thailand immigration officers. This means, they may check your visa more seriously if you had a volunteer visa before.
It's important to research the visa requirements and ensure that all necessary documents are in order before traveling to Thailand. Additionally, be aware that while on a volunteer visa, you cannot engage in any paid work in Thailand.
Find out more: Non-Immigrant Visas to Thailand: an In-Depth Guide
Paid Volunteer Jobs
By volunteering, this means you contribute yourself to society for free. Therefore, you shouldn't expect payment in return by doing volunteer work.
Actually, it's also against the regulations of the volunteer visa too since sometimes, the Thailand immigration office may need your volunteer organization to clearly state in the invitation letter that you are unable to receive any monetary compensation in return.
However, it's still possible for volunteer organizations to compensate you in other forms such as food and accommodation.
Volunteer Opportunities by Province
When selecting a location for a volunteer program in Thailand, consider the type of work you want to do, the cost of living in the area, and the cultural experience you're looking for.
No matter where you choose to volunteer, it's important to be flexible and open-minded, as you'll likely encounter cultural differences and challenges along the way even if you stay in urban areas.
Experiences vary by organization but here's broadly what you might expect and available volunteer organizations from these locations in Thailand.
Please note that this list doesn't include all of them since there are basically over a hundred volunteer organizations in Thailand. If there's more organization that we should add here, please feel free to contact us.
Bangkok
Thailand's capital city, Bangkok, is a bustling metropolis with a population of over eight million people. While it may not be the first place you think of when it comes to volunteering, there are several organizations based in Bangkok that offer volunteer opportunities in a variety of fields. These include education, healthcare, and animal welfare.
Living in Bangkok can be expensive, however, so it's important to consider your budget and program expenses, especially if you are required to be near the city center.
Accommodation in Bangkok is likely to be Western-style and there are plenty of options for international cuisine and imported goods. Those with special dietary requirements or those looking for a more luxurious experience may want to look to Bangkok for volunteer opportunities.
Mercy Centre
PAWS
Foundation for the Better Life of Children
Operation Smile Thailand
Friends For All Children Foundation
Pratthanadee Foundation
Paper Ranger
Bangkok Community Help
Chiang Mai
The northern region of Thailand is known for its natural beauty and cultural diversity. Chiang Mai, the largest city in the region, is a popular destination for volunteers due to the many programs looking for volunteers in the region and the lower cost of living compared to Bangkok.
Volunteer opportunities in this region include teaching English to monks at local monasteries, working with elephants, and supporting community development projects.
Panya Project
Kids Ark Foundation
Thai Freedom House
Skills Center Chiangmai
Agape Home
Daughter's Rising
Kindred Spirit Elephant Sanctuary
Phuket
The southern region of Thailand is home to some of the country's most popular tourist destinations, including Phuket.
While these areas are known for their beaches and resorts, there are also several organizations that offer volunteer programs in the region. These include marine conservation efforts and supporting local communities through English teaching or medical support.
Living costs in southern Thailand can be higher here than in other parts of the country, however, but the opportunity to work in a tropical paradise can be an irresistible draw for volunteers
Soi Dog Foundation
Phuket Sunshine Village Foundation
Phuket Elephant Sanctuary
Phuket Has Been Good to Us
Asia Center Foundation
Other
In addition to these three provinces, there are volunteer opportunities all across Thailand.
Kho Tao Animal Clinic
Sangkhlaburi Animal Sanctuary
Naucrates
Lanta Animal Welfare
Big Blue Conservation
New Heaven Reef Conservation Program
Pai Seedlings Foundation
Volunteering from Within Thailand
If you already live in Thailand and would like to volunteer on weekends or weekdays when time permits, many of the organizations listed above have opportunities for you.
Because each organization has different needs, though, be sure to reach out to their staff and ask how you can volunteer either your time or skills.
You can cook, repair and paint houses, teach, or donate new or slightly used goods just to name a few ways.
Now, on to You
In conclusion, volunteering in Thailand can be an enriching and fulfilling experience, but it's important to approach it with careful consideration and preparation.
By taking the time to research and understand the challenges and considerations involved, volunteers can make the most of their experience. With a willingness to learn and adapt, volunteers can also make a positive impact while gaining valuable skills and insight.
Whether you're looking to support a cause you're passionate about, gain new experiences and perspectives, or simply give back to the community, volunteering in Thailand can be a truly rewarding journey.