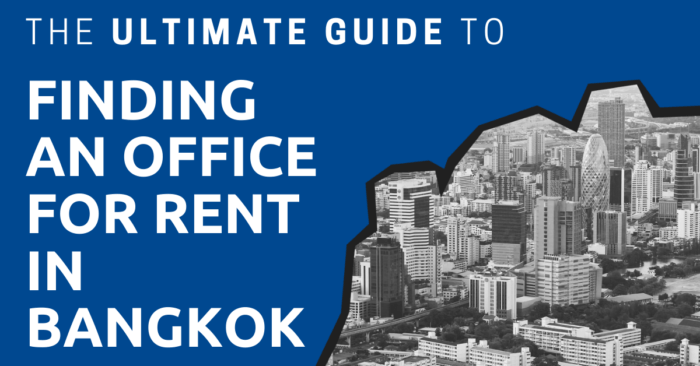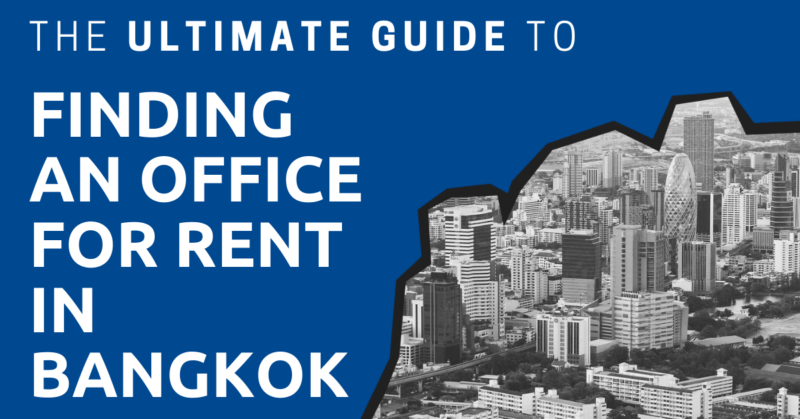 Whether you're launching a startup or you've already set up a company, finding an office for rent in Bangkok can be challenging.
To get the best deal possible, you need to think about location, size, and price.
You want to make sure your office is in a convenient location so you, your employees, and your clients can get there without having to worry about navigating the city streets.
You want to make sure your office has enough space, not just for your current employees, but for when your company grows.
And you need your office to be within your budget since it'll be your biggest expense each month.
To help you find an office for your company, no matter how big or small, this article lists all types of office available in Bangkok, including locations, costs, and other related procedures.
"*" indicates required fields
Exclusive Business Content
We have exclusive business content with insider business tricks that you can't find anywhere else.
By becoming a subscriber of our Business tier, you can get immediate access to this content:
That's not all. You get a free consultation with a corporate lawyer, a free consultation with an accountant, enjoy ExpatDen ad-free, and get access to over a hundred pieces of exclusive content to make your life in Thailand hassle-free.
Here is the full list of our exclusive content.
To get access to these exclusive business guides and more, become a subscriber.
Office Types
When it comes to renting an office in Bangkok, you have four choices:
home offices
office buildings
serviced offices
virtual offices
Before deciding what office type is best for you, look first at the needs of your business.
If you need a lot of space, going with a home office can be a good idea. Home offices are cheap and come in a variety of sizes. But they take time to maintain – which make it an unpopular option for expat business owners unless they have a good Thai partner.
If you need an office in the city, an office building is a good choice. These are most popular with expats running businesses in Thailand. And they're a lot easier to manage.
If you want to pay one price every month and don't want to deal with expenses coming with a traditional office, a serviced office is a good choice. They're easy to set up and becoming more popular nowadays.
A virtual office is an option if you're just starting a company that doesn't need a physical address.
You can use any type of office for registering a company in Thailand.
Let's take a look at each office type.
Home Offices
As the name implies, you rent a house and turn it into an office. This is a popular method for Thais who run small- to medium-sized businesses.
Home offices are so popular that many new residential developers build homes just for these purposes. Some of these developers are:
You can find home offices on the outskirts of Bangkok where the land is cheaper.
The best part about home offices are the prices. You can find a two-story house with room for ten workers for 25,000 baht a month.
But for the same price in Bangkok, you'd get a thirty-five square-meter office big enough for a few people.
You can also use your home office for any special events your company hosts.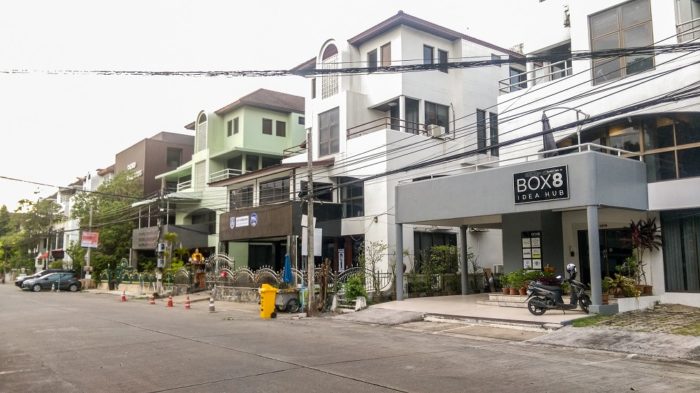 Unlike offices inside office buildings, you're not limited with working hours. Whether evenings, weekends, or holidays, you can run your business anytime you like.
But with home offices outside of Bangkok, getting around is a challenge. The only way to get around might be buses and songthaews or motorcycle taxis.
This might make it hard to find employees since they might not want to do all that traveling to get to work.
It's also harder to manage a home office. Because you're using a house there are more things for you to take care of as opposed to if you were renting an office in the city. And you won't have a maintenance team to help you.
If you're interested in this renting a house and turning it into a home office it's important to ask the homeowner if it's okay first. Not everyone is willing to have their houses used as businesses.
Some residential areas won't let you turn a house into an office as well. So be sure to check with the management team after you get the okay from the homeowner.
Office Buildings
This is the most popular choice for expats doing business in Bangkok. You can find countless office buildings in business districts like Siam, Sathon, and Sukumvit.
Office buildings are becoming more popular, even for corporations. Some corporations take up whole floors, come with extra security clearance, pay for public utilities themselves.
Some office buildings are owned by one person, while others are owned by many people—like condos.
The best part about office buildings is their convenience. Because they're in Bangkok, you can reach them after a short walk from the BTS or MRT. This means you could attract more employees and clients.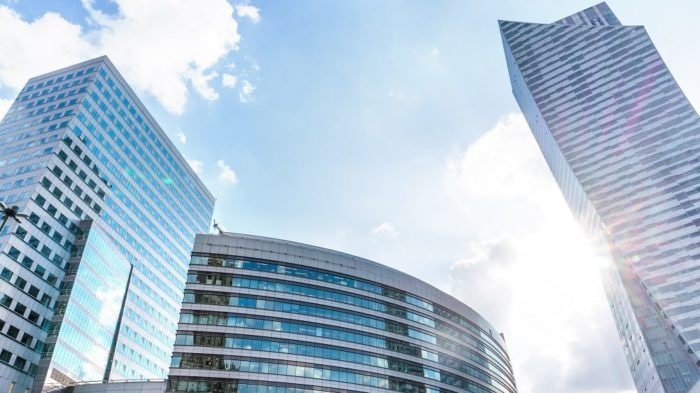 Also, when you rent at an office building you'll have support from the building admin. They can help you with any problems related to the building or find you a maid or handyman.
New office buildings also have good security systems. They have teams of security guards and CCTVs in the building. And you can get in only with an access card.
With older buildings, they still have a team of security guards but access cards nor CCTVs might be lacking.
The downside to office buildings are their sizes and prices. You can spend over 35,000 baht a month for a fifty square-meter office. For the same price you can get the three-story home office.
Also, landline internet connections might be a problem. Some office buildings, especially older ones, might not support fiberoptic internet making ADSL, which is slow and expensive, your only choice.
Serviced Offices
Serviced offices are fully-furnished offices whose monthly prices includes facilities and utilities. You can find these offices in many buildings throughout Bangkok.
The serviced office providers take an office building and separate it into private offices with one to ten workstations.
If you rent a serviced office you can bring your laptop and start working the same day. Internet, phone, copy machine, fax, and drinks are ready to go.
This means you don't need to handle any office related matters yourself, which decreases the costs, accounting works, and challenges involved with renting an office in Bangkok.
Service offices also come with a reception team that can take care of anything you need with the office space. This includes taking care of your mail and welcoming your guests.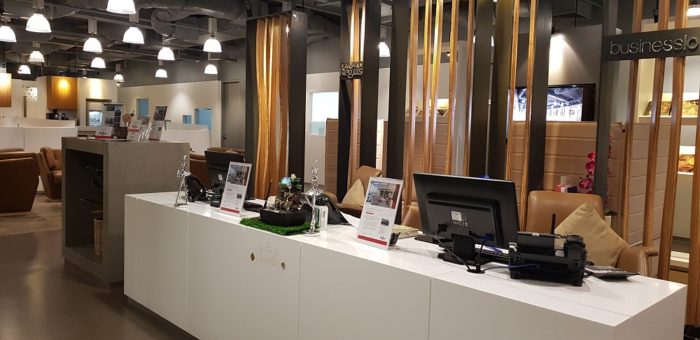 Services are the most convenient but tend to be the most expensive choice.
Find out more in our guide to serviced offices in Bangkok.
Virtual Offices
We live in a time when we can work from home and never have to show up at an office. You can do all your communicating and collaborating online. This is where virtual offices come into play.
Virtual offices are the newest form of offices. They're not like physical offices that you show to work at everyday. You get a virtual office only if you need an address to register your company or a place to have mail sent.
This choice is suitable for startup companies with a few employees who work from home.
Not all companies can use a virtual office. As soon as your company makes over 1.8 million baht per year, you must do your VAT registration at the Revenue Department. And to get your VAT registration you need pictures of the inside and outside of your office.
Virtual offices are advertised by serviced office providers. So with virtual office packages you get a few hours to use a meeting room for those times you want to bring your staff together.
You can find out more on our virtual office guide.
Location
After deciding what type of office you want to rent you should look at a suitable location for your office. Each location has its own pros and cons.
Here are the main areas you should look into when renting in an office in Bangkok:
Business Districts
Suburbs
Outskirts
Let's take a look at each one a bit closer.
Business Districts
Sukhumvit, Silom, Sathorn, and Ratchada are business districts in Bangkok. They are full of office buildings that play host to many of Bangkok's companies.
If you go to these areas during the week, you'll see many office workers walking to work, eating meals, and talking about business deals.
Business districts are the most convenient area to rent an office, not only in terms of convenience because of the nearby buses, BTS, and MRT, but because they have many places to live, eat, and work.
Sukhumvit
Sukhumvit is a mix of business and tourist districts. There are office buildings, shopping malls, and tourist attractions in the area.
This is why Sukhumvit is one of the most crowded areas in Bangkok—day and night with lots of condo for rent.
Although Sukhumvit is the name of the road from Bangkok to the Thailand-Cambodia border, Bangkokians know Sukhumvit as the area between BTS Asok to BTS Thong Lo.
Siam, Chidlom, Ploenchit, Ekkamai, Phakhanong, Onnut, and other areas along the BTS Sukhumvit line are also a part of Sukhumvit. But we tend to call them by their district names instead.
You'll have plenty of choices for new and old offices on Sukhumvit. Office prices in this area are among the highest in Thailand.
As soon as you step off the BTS you'll see many office buildings. Some are a few steps away or even connected to the BTS/MRT stations, including:
Interchange 21
Exchange Asok Tower
Glas Haus Building
If you walk along Asok or Thong Lo you'll see many office buildings as well.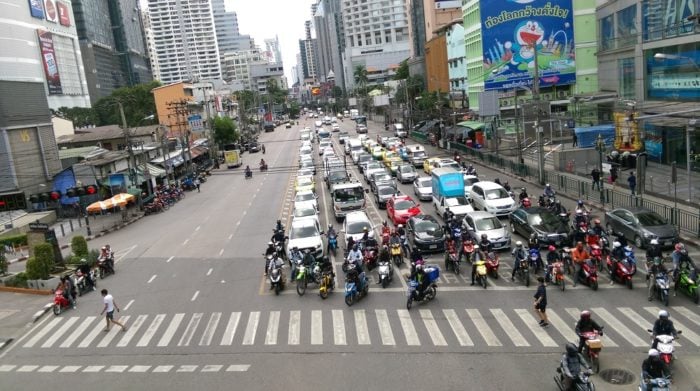 Despite the heavy traffic, these two areas are the most convenient, having many forms of transportation nearby like buses, BTS, MRT, and even boats.
Sukhumvit is also considered central Bangkok. This makes commuting more convenient for you and your workers, no matter where everyone lives.
This area is also full of places to eat and shop. There are street food stalls and famous department stores like:
Terminal 21
Emporium
Emquartier
Silom – Sathorn
Although tourists might visit Silom – Sathorn for the famous Patpong Night Market, Silom – Sathorn is a business district in Bangkok. So it's another popular area for renting offices.
These two areas are also close to One-Stop Service Center, which is convenient if your company is promoted by Board of Investment.
Silom and Sathorn are one BTS station away from each other. You'll find a lot of new offices for rent in these areas.
The transportation is great, too, with many BTS and MRT stations nearby. In Sathorn you have BTS stations:
Surasak
Chong Nonsi
MRT Lumphini Station
In Silom you'll find:
BTS Sala Daeng Station
MRT Silom Station
The iconic Chong Nonsi skywalk is the center of the business zone in the Silom – Sathorn area.
It connects huge office buildings in all four corners of the intersection, including:
Sathorn Square
Empire Tower
Bangkok City Tower
Sathorn Nakorn Tower
The best part about Silom – Sathorn are the numbers of banks in the area. The headquarters of Bangkok Bank and Standard Chartered are there.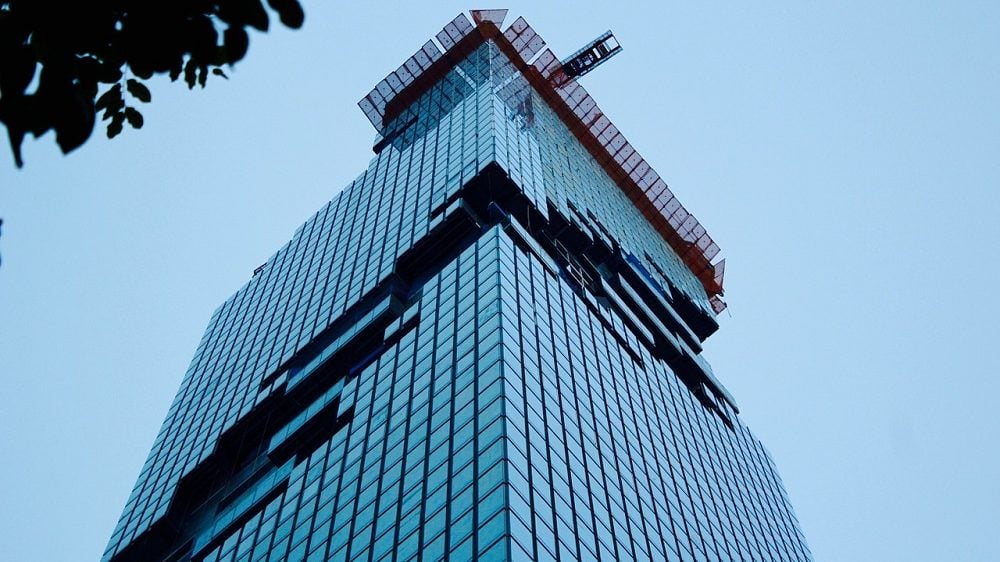 Ratchadapisek
Ratchadapisek is a mix of offices and condos. You'll find office buildings along the MRT line in every station, from Rama 9 station until Ratchadapisek station.
The average office price in Ratchadapisek is cheaper than Silom, Sathorn, and Sukhumvit. But you get similar facilities.
Noteworthy office buildings in Ratchadapisek are:
G Tower at MRT Rama 9 Station
AIA Capital Center at MRT Thailand Cultural Center Station
Muang Thai – Phatra Complex at MRT Sutthisan
Our previous office at Forum Tower is also near MRT Huay Kwang station.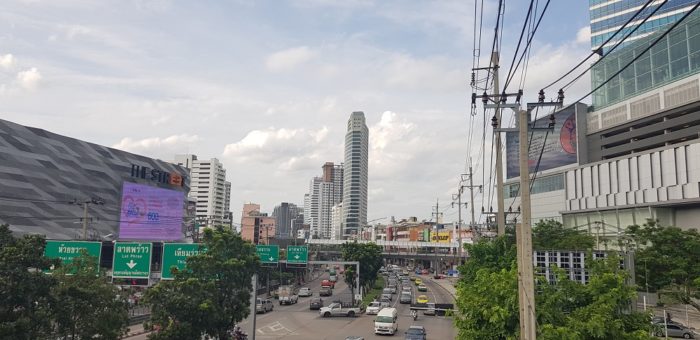 And once you walk inside the small roads off Ratchadapisek you'll see many condos.
It's a great place to live: renting a condo is cheap, commuting with the MRT is easy, and shopping is convenient since there are many markets and department stores nearby.
Suburbs
You can find office buildings and home offices inside suburbs like:
Lad Prao
Sapan Kwai
Wongwian Yai
These are residential areas but you'll find some home offices there too. They are also in a convenient location since the BTS and MRT passes by those areas.
Although limited in office choices, you can find offices in buildings like:
SJ Infinite One Business Complex
Phromphan Building
Outskirts
These areas include Bangkapi, Ramkhamhaeng, Nawamin, and Minburi. They are like the suburbs but have less home offices and office buildings.
But in some out-of-town locations, you'd be surprised to find a lot of companies there. There are many real estate projects built for home offices.
For example, you'll find over thirty companies inside the real estate housing project Town in Town in Ramkhamhaeng.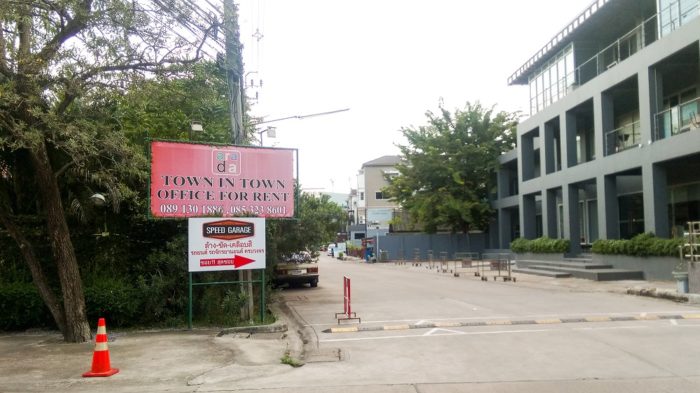 These areas are like smaller versions of business districts, but are filled with home offices rather than office buildings.
Transportation is challenging if you rent an office in these areas. Sometimes one bus passes by these areas so motorcycle taxis becomes the main mode of getting around.
Also, many of your workers would want to bring their own vehicles, which can result in not having enough parking spaces.
Prices
Office rental prices depend on many things, including:
location (is it in the business district or not?)
age (is it a new building or the old building?)
convenience (is it close to shopping mall or BTS/MRT?)
facilities (security system, maid, handyman, and so on)
Rental office prices per month are calculated by price per square meter.
Here's the average price per square meter for popular office buildings in Bangkok:
Office Expenses
Rent isn't your only expense for running a business. You still have to pay for electricity, water, telephone, internet, parking spaces, administrative fees, and maids.
If you break something you'll also need to find a handyman, which will increase your cost of doing business.
You might also have to pay for toiletries, cleaning supplies, and snacks and coffee for your employees.
If you rent a home office, you have to take care of anything that happens inside the office. You'll need to find your own maids, handymen, security guards.
Although renting an office in an office building is more expensive, you'll have an administrative team to take care of almost anything that happens. And they have a list of any service providers you'll need.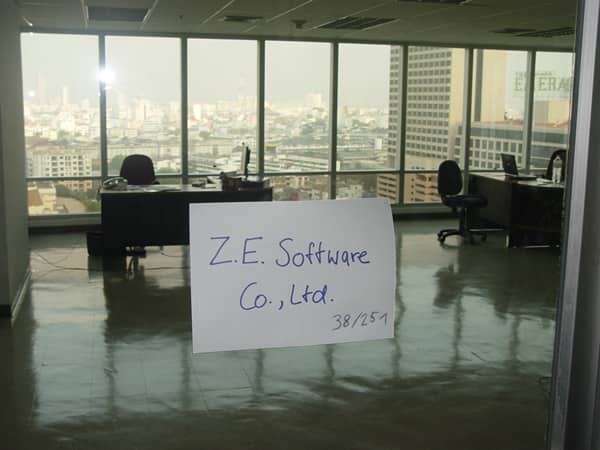 Because of the expenses involved in renting an office, many business owners prefer to rent serviced offices. They pay one price, which includes electricity, water, drinks, handymen, maids, furniture, and office maintenance costs.
The only thing serviced offices wouldn't cover would be computers, printers, shredders, and other electronics you own.
Take a look at below table to see what kind of expenses you need to pay for, according to office type.
| Expenses | Home Office | Office Building | Serviced Office | Virtual Office |
| --- | --- | --- | --- | --- |
| Maid | ✓ | ✓ | × | × |
| Internet and Telephone | ✓ | ✓ | * | * |
| Electric and Water | ✓ | ✓ | × | × |
| Furniture | ✓ | ✓ | × | × |
| Management Fees | ✓ | ✓ | × | × |
| Maintenance Fees | ✓ | ✓ | × | × |
| Parking Spaces | ✓ | ✓ | × | × |
| Other | ✓ | ✓ | × | × |
*These may be included in the office price depending on your package.
Maid
If you rent a home office or office building, you'll need to find a maid to handle the up keeping. You can hire either a full-time or a part-time maid.
You could add a full-time maid to your payroll as an employee. The average salary for a full-time maid is 12,000 baht a month.
In addition to having her clean your office, you can ask your maid to pay water, electricity, and internet bills, social security, buy stuff for your office, update bank passbooks, and buy food for your employees.
In Thailand, maids are also good sources of info. They know lots of local service providers that you might've never heard of before. They know where to find movers, handymen, and much more.
You can also get a part-time maid and have her clean the office once a day. They cost 400 baht to 500 baht an hour.
One strategy you can use to find a maid is by asking other maids if they know anyone looking for work.
You can even ask cleaning staff from your apartment building. They have their own community and should be able to refer you to a maid.
You can also find a maid online through websites like Mindhomeservice, Ayasan, and Seekster.
If your office is in an office building, talk to the management team and let them find a maid for you. You can also ask a full-time maid there and hire her to clean your office outside of her working hours.
Internet and Telephone
There are many internet providers in Thailand. And some of them, such as TRUE, AIS, and TOT, offer both internet and telephone service packages.
If they don't, you can get a separate office number from TOT Public Company Limited. They are the biggest telephone service providers in Thailand.
To install the internet, the first thing you should check is the area of coverage for each provider. While there aren't any major differences in terms of price, speed, and quality, you might be out of their area of coverage.
If you rent an office in the office building, you need to check with the management team. The building might have a contract with a certain internet company making them the sole internet provider of the building.
Also, some office buildings, especially old ones, might not have a cable internet system installed, leaving ADSL internet as your only choice.
Internet packages for corporations are cheaper than internet packages for individuals. They come with higher speeds and more free calls per month. But the internet speed can be different based on the time of a day.
Below is the starting rates for corporate landline internet packages in Thailand as of June 2023.
| Provider | Price per Month | Internet Speed | Phone Number |
| --- | --- | --- | --- |
| True | 799 | 500 mbps | 1 office number and a free phone call for 200 baht per month |
| AIS | 599 | 500 mbps | 1 office number and a free phone call for 50 minutes per month |
| 3BB | 500 | 500 mbps | N/A |
Electric and Water
The cost of electric and water are like the costs of electric and water for an apartment rental. You get the bill from the government organization and have to pay it every month.
In modern office buildings, you might instead get the bill from the management team. And you'll need to pay them.
In addition, if that building uses central air they will charge you a specific cost for the air conditioner each month at 40 baht to 50 baht per square meter each month on average.
Furniture
Serviced offices are the only offices that come with furniture. For other types of offices, you'll need to buy furniture.
Officemate and IKEA are the two recommended places. As the name implies, Officemate has everything you need for your office: office supplies, appliances, and furniture.
There are two IKEAs here in Bangkok with office furniture available.
Management Fees
If you rent a home office or an office inside an office building, you might have to pay management fees every month.
The cost of management fees is around 10% of the rental price and should be in the range of 20 baht to 50 baht per square meter each month.
In many cases, management fees are already included in lease prices.
Maintenance Fee
Unless it's a serviced office, you're responsible for the cost of replacing light bulbs, fixing water leaks, and changing batteries for security doors.
Parking Spaces
Parking spaces are available for office buildings. You should get a free parking space for every 100 square meters of office space.
For example, if your office size is 100 square meters, you get one parking space. If it is 200 square meters, you get two parking spaces.
If you want more parking spaces you might be able to pay for extras for at least a few thousand baht per month.
Other
Other expenses include snacks, coffee, drinks, toilet paper, soap, and maintenance costs if you break something.
Finding an Office
The first place you can look for offices is property websites. These websites will list offices, pictures, location, prices, and other significant info.
Some places to look online are:
Property websites are mainly run by real estate agents. And contact details found on websites will lead you to agents instead of property owners.
Real estate agents in Thailand don't charge you. Instead, they make their living by charging real estate owners a commission.
If you don't want to use an agent, but you want to get the most of the website, you can write down the offices you like and walk in to check them out.
All office buildings and serviced offices have management teams. They'll show you the offices that are available and how much they cost.
On the other hand, if you want to look at a home office it's necessary to make an appointment.
You can also walk around the MRT or BTS stations in the areas you're interested in. You might find a place for cheaper than you'd find online.
Leases
You're normally locked into office rental leases for one to three years. For longer leases, you'll need to tell the Department of Lands and pay a 1.1% fee for the total amount of your lease throughout the lease.
Lease prices may increase by a small percentage once the lease is up.
It's pretty difficult to find a lease for under a year. This choice is available for serviced offices, which you can even find one-month leases for.
Property owners must prepared and have them checked by their legal team. The info on leases includes lease length, cost, deposit, other expenses, and regulations.
You should look over your leases or find your a lawyer to look at it for you. You'll pay a few thousand baht but you'll get peace of mind knowing no unexpected legal problems will pop up.
Security Deposits
The standard deposit for office rentals is two to three months. And you'll have to pay one month rent in advance. So the total amount you'll have to pay upfront for your lease is three to four months.
You should get your security deposit at the end of your lease. But in many cases you'll only get part of it back. The property owner may keep some of your security deposit to clean, renovate, or repair any damage in the office.
Moving
The process of renting an office in Bangkok isn't done after you sign a contract. There are a few more steps you'll need to take to move in and out.
Moving In
When moving in, you need to let the following three government organizations know:
Revenue Department in your area fifteen days BEFORE moving in
Department of Business Department in your area within fifteen days AFTER moving
Social Security Office within fifteen days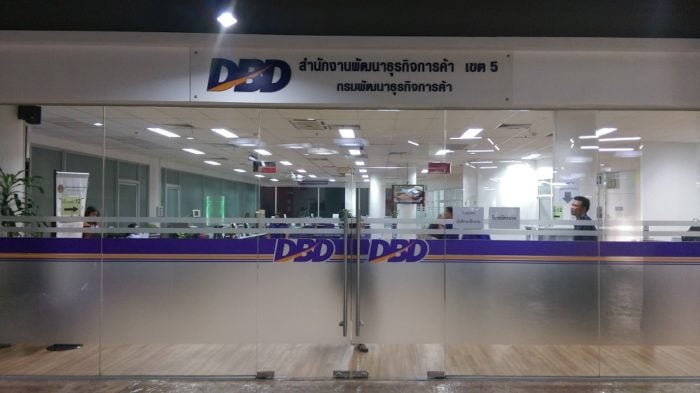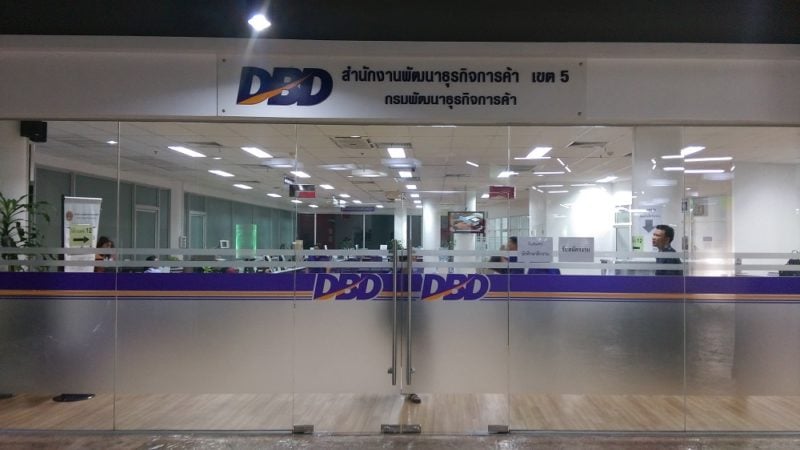 After that, you'll have to tell the Board of Investment (if they promote your company), banks, any utilities you're using, and your clients.
And you'll also have to change the company address in your work permit and the work permits of each of your foreign employees.
Moving Out
You must let the landlord know three to four months in advance before moving out.
After you move out, the landlord or the management team will send you an invoice for the renovation costs. Landlords will deduct these costs from your security deposit.
When we moved out from our office in 2015, the landlord deducted 7,000 baht from our security deposit and spent it on renovating, cleaning, and painting.
You still have to tell all three government organizations mentioned in the Moving In section that you're leaving. And then change your address with banks and utilities.
Moving Your Company
When it comes to moving your company, you have two choices:
freelance movers
professional movers
Freelance movers have pickup trucks and offer moving services for extra money on their free time.
Since moving isn't their main career, they don't have regular team members. Instead, they ask their friends, family, or anyone else they can find to help them.
Because of this, there's no guarantee for any damage occurred during the move. You can ask them to help you disassemble the furniture but don't expect the furniture will turn out the same when they try to reassemble it.
To find freelance movers, go to a residential area near your office and look at electric poles, walls, or even songthaews, and you'll find their advertisements. You can also ask maids or motorcycle taxis.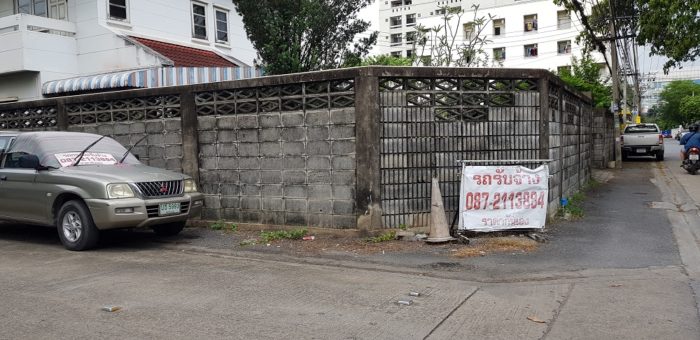 You can bargain for prices with freelance movers. Prices, though, start at 1,500 baht on average.
If you have a lot of things to move it's a better idea to hire a professional moving company.
There are many shipping companies available in Thailand such as, Thai Movers, Boonma, and JWD
These moving companies, coming with packing and unpacking services, have experienced teams, suitable tools, and safety measures in place to minimize possible damage from the move.
Now, on to You
Finding an office for rent in Bangkok is an important step to starting your business. But it takes special care to pick the right office for your company's needs.
With many choices available in Bangkok, consider each option thoroughly before making your decision.
Also, renting an office space is only one part of the process to incorporate your company. To read more on starting a business in Thailand, check out our Thailand company registration guide.