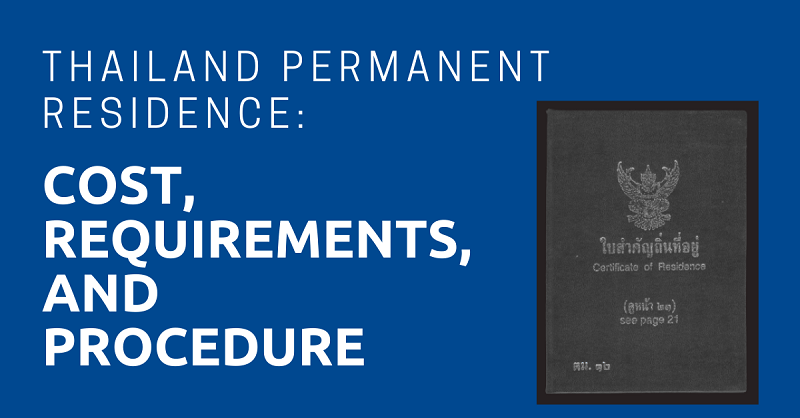 Are you thinking about living in Thailand permanently?
If so, Thailand permanent residence might be something to look into. It gives you the right to stay in Thailand permanently. You can live in Thailand and fly in and out of the country at any time without having to worry about getting visas anymore.
It is also the first step towards getting Thai citizenship.
In this article, we are going to guide you through everything you must know about permanent residence in Thailand, including requirements, procedure, cost, advantages, disadvantages, limitations, and how to prepare yourself.
What Is It?
Permanent residence, or PR, is for anyone who is planning to live in Thailand permanently or for a very long time.
It is officially called a resident's visa or residence permit by the Thailand Immigration Office.
With it, you can stay in Thailand permanently. You don't need to get a visa and keep extending it repeatedly. You are even able to use the Thai passport control lane when leaving and entering Thailand.
Once you have permanent residency in Thailand, you are one-step closer to having Thai citizenship.
Advantages
Having the right to stay in Thailand permanently isn't the only advantage of permanent residence.
Here's a list of its other advantages:
You can say goodbye forever to 90-day notifications and TM30 reporting. They are not required for a PR holder.
You can be listed under a normal house registration (Tabian Ban a.k.a. blue book). This means you don't need to get a residence certificate anymore when getting a work permit, opening a bank account, or getting a driving license.
Your spouse and children can get dependant visas based on your permanent resident status.
You don't need to send money from abroad to buy a condo in Thailand any more.
You can use the same line as Thai people at the airport when entering and leaving Thailand.
Your kids will be able to get Thai citizenship if both you and your partner have PR status.
You can apply for Thai citizenship after holding it for 5 years.
You can be a director of a public company in Thailand.
Limitations
However, holding PR status is different from having Thai citizenship. There are some limitations with it, including:
You cannot leave Thailand for more than 364 days in a row.
You still need to get a work permit when working in Thailand. However, it's much easier since you don't need to get a business visa any more.
You still need to get a re-entry permit before leaving Thailand.
You can't buy a house or property yet.
You need to do a notification at a local police station every 5 years.
Requirements
To apply for the residence permit, the main requirement is that you need to hold a non-immigrant visa and stay in Thailand for at least 3 years in a row with the same extension of stay.
Your visa extension needs to be active during the time of the application.
For example, if you stay in Thailand for 3 years with an extension of stay based on your business visa, you can apply for permanent residence.
On the other hand, if you stay in Thailand for 3 years with a business visa and then change to a marriage visa, you are unable to apply for permanent residence until you live in Thailand for another 3 years with an extension of stay based on your marriage visa.
Other requirements depend on which category you apply for. Currently, there are five categories in total.
The below table shows the general requirement of each category.
| | |
| --- | --- |
| Category | Requirements |
| Investment | Bring money from abroad to invest in Thailand of at least 10 million baht in a limited company, public company, the stock market, or a state-issued security or state enterprise's security. |
| Employment | Run a business in Thailand in a specific position and business category as specified by the Thailand government, or work in Thailand for at least 3 years with a salary of 80,000 baht for at least 2 years. You must also work at the same company in Thailand for at least 1 year during the time of the application. |
| Humanitarian | Marry a Thai citizen for at least 2 years, be the biological mother/father of a Thai child, or be the biological child of a Thai mother/father. |
| Expert | Have at least a Bachelor Decree and have special abilities needed in Thailand. |
| Extra Circumstances | It's a special category given to those who provide benefits to Thailand. |
Please note that categories and requirements are subject to change every year. To check the exact requirements, check the Immigration Office website.
Which Category Should I Apply for?
The humanitarian (based on marriage) is the most popular category. The second most popular is the employment category.
Expert and extra circumstances categories are mainly given to those who are specially selected by the government on special occasions only.
Do I Need to Speak Thai?
Although it isn't directly required, you do need to be able to speak Thai and understand Thai culture and etiquette in order to apply for Thailand permanent residence.
Why is that?
During the application procedure, you will be interviewed by immigration officers. They often ask about your background, your understanding of Thai culture, why you want to apply for the PR, and so on, in Thai.
If you can't answer them, your chances of getting the resident permit will be much lower. We will talk more about this later in the article.
However, this doesn't mean that you need to be able to speak Thai fluently. At the very least, you should be able to speak Thai in everyday situations.
So if you don't know how to speak Thai, it's now's a good time to learn. Many people also hire a Thai tutor for this purpose specifically.
Quota
There's a limit to how many people can get Thailand permanent residence permits per year.
Based on previous years, it's 100 people per nationality per year.
However, you don't need to worry about the quota at all. There are only two nationalities that might exceed the quota, which are Chinese and Indian.
For other nationalities, the number of people who get permanent residence permits is regularly less than 100 people per year.
How to Apply for the Thai PR
Getting permanent resident status in Thailand isn't an easy task. It involves a lot of preparation, piles of documents, and many steps.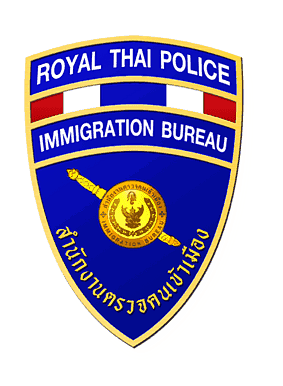 Let's take a look at everything you need to do to apply for permanent residence.
**Please note that the application procedure is subject to change every year. You should always check with your local immigration office for the most up-to-date information.
Filing Documents
Applying for a residence permit in Thailand requires a lot of paperwork.
Some documents you need to get from your home country, some you need to get from your employer, and some you need to get from the Thai government.
Many documents must also be legalized by the Ministry of Foreign Affairs.
If any document is issued outside of Thailand, it must be first notarized by your embassy before having it legalized by the Ministry of Foreign Affairs. Some documents might need to be translated into Thai.
Basically, they want to know everything about you.
The documents you need to prepare might be well over 100 pages in total.

Advertisement
Therefore, it's a good idea to prepare them in advance.
You should contact your local immigration office to find out what documents you need based on your category. It varies between people and is subject to change every year.
Interview
After you submit all of the documents, you need to wait for a few months (or more) before the immigration officers schedule you for an interview.
The interview will be filmed and conducted in Thai. You can see a list of questions usually asked here. After the interview, you need to sign a statement in Thai based on your interview.
After the interview, you might need to take a multiple choice test in Thai. If you can't read Thai, an immigration officer will help you to do it.
The multiple choice test usually asks general information about Thailand (eg. how many provinces in Thailand), culture, and the PR process.
While waiting for the interview, they may also ask you for additional documents as well.
Evaluation
After that, your application will be reviewed, evaluated, and given points by the Immigration Commission, consisting of a representative from different government organisations such as the Ministry of Interior, the Ministry of Foreign Affairs, the Board of Investment, the Royal Thai Police, the Office of the Attorney General, and the National Security Council.
You need to get at least 50 out of 100 points in order to pass the evaluation.
Although the Thai Immigration Office doesn't publicly announce how the point system works, they do give you a general idea on evaluation factors including education, income, knowledge, skill, relationship with Thai citizens, Thai language fluency, personality, attitude, and even your contribution to Thailand and its society.
It is also said that if you are a member of a charity organisation and regularly donate, you get extra points as well.
During the evaluation, immigration officers might visit your neighborhood and ask your neighbors about your behavior.
You don't need to do anything during this process.
Final Approval
If you pass the evaluation, your application will be forwarded to get final approval from the Minister of the Interior.
The entire evaluation and the final approval process can easily take more than a year. Sometimes it can even take over 3 years.
Getting the Permanent Residence Certificate
Once the application is approved, you will receive a letter from the Immigration Office with detailed instructions on how to get the certificate of residence.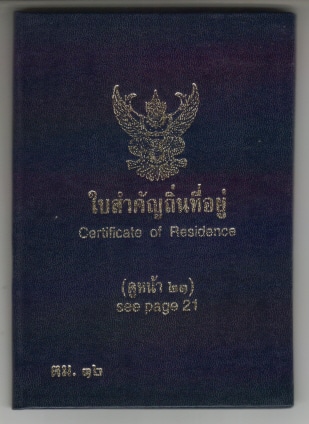 Usually you just need to prepare a signed copy of your personal documents, pictures, go to the local immigration office, and pay the final fee.
Final Step
Once you get the certificate of residence, you need to take a trip to a police station to get an alien book and take another trip to a local district office to get listed on a house registration book (Tabien Baan – blue book).
Please note that the local district officer might interview you and the owner of the house to make sure that you two know each other well.
When to Apply
The application period is different each year. Sometimes the application window only lasts for two weeks. Sometimes it's three months from September to December.
The application deadline is always the end of December.
You should stay tuned to the news in order to find out the application window. You can follow Richard Barrows or join Thailand visa-related Facebook groups.
However, the better way is to contact your local immigration office before the usual application window, such as in June.
By contacting them early on, they can help you prepare documents in advance and give you a better idea on the application period of that year. When the application window is open, you can send your documents and start the procedure right away.
You should also apply as quickly as possible. Many people fail and need to wait another year simply because they don't have all of the documents prepared. They might be missing 1-2 documents that they don't know about until the immigration officer checks them.
Where to Apply
You can apply at your local immigration office.
However, please note that the immigration office in Bangkok has the most experience when it comes to the permanent residence permit. They have a specialized officer that can guide you through the process.
For other provinces, especially the unpopular expat ones, you might be the first person who applies for permanent residence there.
How Much Does it Cost?
Upon applying for permanent residence, you need to pay 7,600 baht for the initial government fee.
Once your permanent resident status is approved, you need to pay another government fee of 95,700 baht or 191,400 baht, depending on your category.
For example, it's 95,700 baht if you apply for the permanent residence based on marriage, and 191,400 baht if it's under the employment category.
However, this doesn't involve the cost of document preparation, including translation, notarization, and legalization, which is significantly different between each person.
The cost of preparing documents can easily be more than ten thousand baht.
How Long Does It Take?
In theory, it should take around 6 months after the application window has ended.
But in reality it can take up to 3 years or more until you can get your permanent resident status approved.
The immigration office also cannot give you the exact time frame since final approval is from the Ministry of the Interior.
Keeping Your Permanent Residence Active
There are a few things you need to do in order to keep your permanent residence active.
Before leaving Thailand, you need to get both a one-year endorsement of your residence book and also a re-entry permit.
You also need to report to a local police station every 5 years.
How to Prepare Yourself for Permanent Residence
As you can see from the above details, getting a permanent residence permit is a long procedure. Planning, building your profile, and preparing documents in advance is key here.
If you plan to apply for permanent residence, you should start preparing documents as soon as possible – the faster the better. You should prepare for it right after you move to Thailand.
Then you should start building up your profile. Be nice to your neighbors and your company. You should find opportunities to contribute to society and also be careful on what you post on the internet, especially criticism of the royal family.
Do You Need to Hire a Lawyer?
It totally depends on you. Many people get their permanent resident status in Thailand without hiring a lawyer. And there are also a lot of people who do hire a lawyer to help them apply for permanent residence.
So it is possible to do everything yourself.
The main advantage of hiring a lawyer is that they can help you prepare all of the documents you need and prepare you for the application process.
For example, an experienced lawyer can tell you what you need to do in advance in order to build your profile and get extra points from the immigration officers.
They can also conduct a mock interview to help you get as many points as possible.
Is It Worth It?
It depends.
If you plan to live in Thailand permanently, then it's a good idea to get a permanent resident permit. With it, you don't need to worry about your visa ever again.
However, some people decide not to do it at all even though they are eligible for it. They don't want to deal with the long, complicated process. Also, the cost of getting permanent residence is even more expensive than getting a visa in Thailand for over ten years.
Some people just get the 20-year Elite visa. It's the most expensive option but also the easiest.
Now, on to You
We hope that this article should answer everything you need to know about getting permanent residence status in Thailand.
If you have any questions or want to share your own experience, please feel free to leave your comments below.