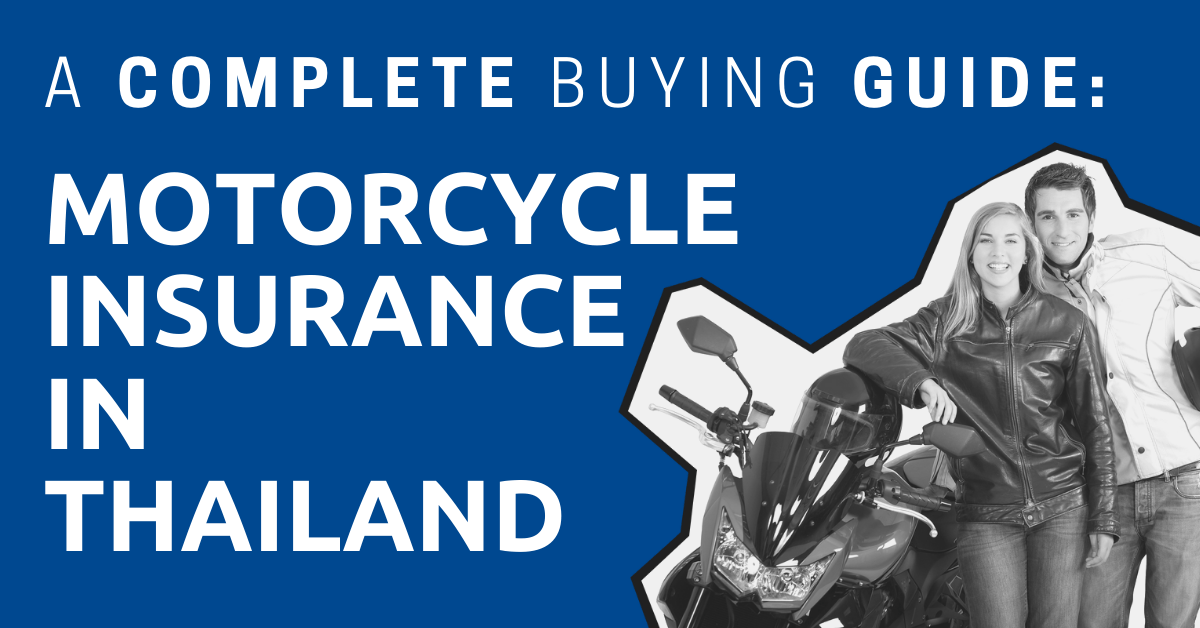 For a lot of expats, riding a motorbike in Thailand doesn't seem like a great idea.
However, there are benefits to owning a motorcycle here. It's cheap, easy to maintain, fun, and can dramatically decrease your time spent in traffic.
It can also be dangerous to ride a motorcycle in Thailand. So if you plan to ride one, buying motorcycle insurance is recommended.
Let's take a look at all of the options you have.
Compulsory Third-Party Liability Insurance (CTPL)
You need to buy the compulsory third-party liability insurance (CTPL) every year. It's required by law.
The premium is from 160 baht to 645 baht depending on the cc. It's cheap and only comes with medical coverage.
The coverage limit depends on whether or not you are the cause of the accident.
If an accident happens because of you, it comes with a 30,000 baht coverage limit.
If not, then the coverage limit increases to 80,000 baht for medical expenses and 500,000 baht for death and dismemberment.
There is a penalty of up to 10,000 baht if you ride a motorcycle that doesn't have CTPL.
Compulsory third-party liability insurance is known as Por Ror Bor among locals.
Since complusory third-party liability insurance only comes with medical coverage, a majority of motorcycle riders in Thailand decide to buy private insurance as extra protection.
You can buy CTPL at the Department of Land Transport, insurance representatives, or insurance brokers.
Normally, you should buy it at the same time that you pay your annual vehicle tax.
Private Insurance
Motorcycle Insurance has limited options when compared to car insurance. There are only a handful companies such as Viriyah, Asia Insurance, and Thaivivat offering motorcycle insurance.
In addition, only three types are available: Type 1, 2+, and 3+.
You can read our car insurance article for a detailed explanation of private insurance types, coverage, and exclusions in Thailand.
Type 1 insurance is mainly available for big bikes, or motorcycles over 250cc's. It comes with the highest coverage limits, and is also the most expensive.
Please note that people have different definitions of big bikes in Thailand. Some say that it means motorcycles over 400cc, while other say that any motorcycle over 250cc is considered a big bike.
Type 2+ and 3+ are for normal motorcycles of less than 249cc's.
They come with sufficient coverage with acceptable insurance fees. For example, yearly Type 3+ insurance for a motorcycle less than 110cc's normally comes with:
collision: 10,000 baht
medical expenses: 50,000 baht
medical expenses for third party personal injury: 300,000 baht
third party property damage: 600,000 baht
annual fee: 1,499 baht
When buying private insurance for motorcycles, you may have the option to choose the excess fee amount, the name of the driver, and whether repairs are done at an official garage or an individual one, which can increase or decrease the annual premium.
You can read this section in our car insurance in Thailand article to find more information.
Theft Protection Insurance
With many motorcycle theft gangs in Thailand, there is specific theft protection insurance for registered motorcycles. It costs 1,000 baht to 2,000 baht per year for a new motorcycle, covering 80% of the motorcycle's market price.
The coverage amount decreases 10% every year together with the insurance fee. However, theft protection insurance usually has a 50,000 baht limit.
For a motorcycle older than four years, theft protection insurance can be even lower than 500 baht a year, but the overall limit decreases to between 6,000 baht and 10,000 baht.
In case your motorcycle is stolen, it is important to first report to the police and insurance company. After that, the insurance company will try to find the stolen vehicle and summarize your claim. This process normally takes thirty days.
To receive compensation, the motorcycle owner needs to transfer the vehicle ownership to the insurance company.
Big Bike
There are only a few insurance companies providing insurance for big bikes, or bikes over 250cc's. The cost for big bike Type 1 insurance is not different from car insurance. It normally starts at 15,000 baht a year.
Sometimes it can be more expensive but provide lower coverage. This is due to the higher chances of road accidents and expensive repair costs.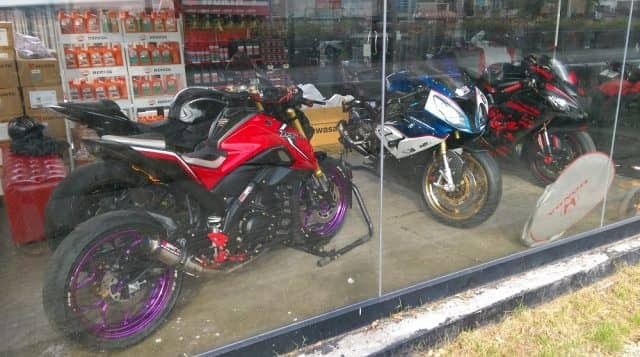 You can get Type 1 insurance for big bikes from Mister Prakan. The insurance fee is lower than major insurance companies with similar coverage.
Here's an example of their Type 1 insurance for big bikes:
collision: 150,000 baht
medical expenses: 50,000 baht
theft protection: 150,000 baht
public liability: 1,000,000 baht
annual fee: 12,666 baht
If you want to buy from an insurance company instead, a popular Type 1 insurance for big bikes is offered by Viriyah.
One major point for big bike insurance is that most companies require an excess fee of 5,000 baht on average for any claim, regardless of whether the damage is caused by the insured or not.
Type 2+ and 3+ are also available for big bikes. The insurance fees and coverage are slightly higher than for normal motorcycle insurance.
Applying for Insurance
Nowadays, the easiest way to buy insurance for your motorcycle is to do it online.
There are many insurance brokerage websites allowing you to compare different motorcycle insurance plans and buy the one you like the most.
Mister Prakan is one of them.
The following documents might be required when purchasing motorcycle insurance:
a copy of the vehicle's registration
a copy of the first page of your passport
a copy of your driver's license
a copy of your previous insurance policy
For Type 1 insurance, you may need to provide pictures of your motorcycle from all sides, including the front, back, left, and right.
Going without Insurance
You might be tempted not to buy additional private insurance for your motorcycle.
It's possible to do but not recommended.
According to the Accident Data Center Thailand, several hundreds of thousands of people in Thailand are injured in road accidents every year.
Over 70% of severe accidents came from motorcycles in 2018.
The Royal Thai Police showed that 50% of that came from reckless drivers.
What does this mean for you?
It means that motorcycle accidents regularly happen in Thailand. They end up in fatalities often.
Therefore, relying on the compulsory third-party liability insurance alone might not be enough.
Even with 80,000 baht medical expense coverage, that isn't enough if you need to be admtted to a hospital for a few days.
Having health insurance is a good idea. But that only comes with medical coverage for yourself, without coverage on your motorcycle, third party liability, and public liability that commonly happen when it comes to road accidents.
Therefore, if you plan to buy a motorcycle and regularly drive it in Thailand, it's better to purchase motorcycle insurance.
Now, on to You
We hope that this article answers everything you want to know about motorcycle insurance in Thailand.
You can start looking for your own insurance with Mister Prakan.
If you have any questions, please feel free to leave your comments below.