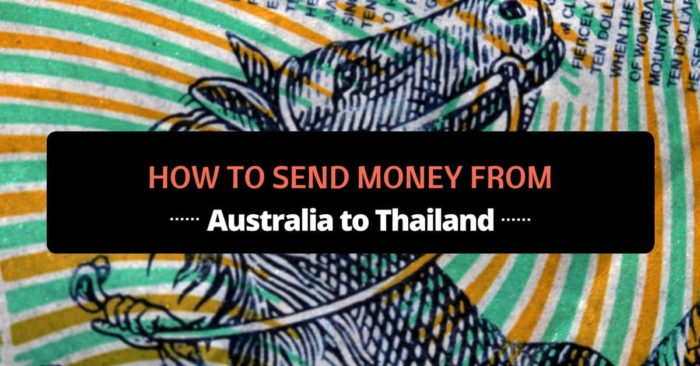 If you are living in or planning to move to Thailand, learning how to transfer money from Australia safely, securely, and with minimal cost is high on many expats' agendas. According to CEO Robbie Sampson of Orbit Remit, "Last year Aussies spent in excess of $5.8 million in unnecessary fees that they may have avoided by finding a more suitable transfer service."
The good news? There are alternatives to using traditional bank transfers, which often have high fees and take a healthy cut of the exchange rate. Online money transfer companies provide fast service, low transfer fees, and more attractive exchange rates.
This article will help you understand your money transfer options. It is based on our research and experience with transferring money from Australia to Thailand. While this article focuses on transferring from Australia to Thailand, the information may benefit you if you live in other locations too.
Our Background
Having moved and retired in Thailand, we knew we would need to transfer money from our Australian bank account to a Thai bank account for purchasing property and a car, living expenses, Visa requirements, and so forth.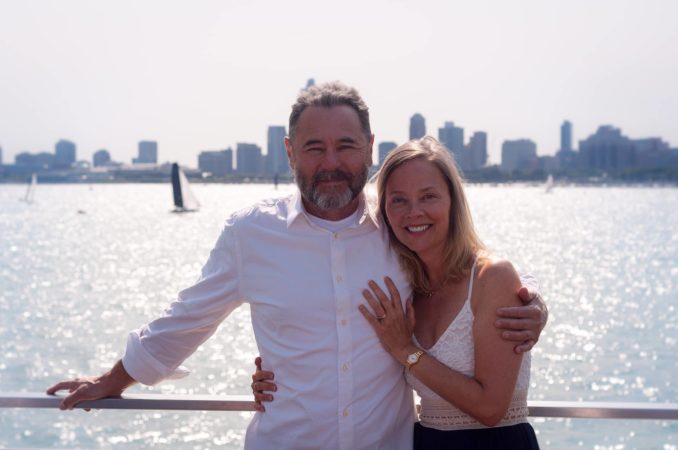 Unfortunately, we learned how to transfer money from Australia to Thailand the costly way first. We purchased property and transferred $16,000 for our house deposit using a bank transfer. The amount we received was about $800 less than our calculations using the XE rate, a 5% difference!
We understood there was a $25 transfer fee and the bank would exchange our money at a lower rate than XE, but we were shocked at the 5% loss. We quickly set about finding other money transfer alternatives to avoid another loss when we had to transfer the balance of our house payment.
Transfer Fees of Traditional Methods
Generally speaking, there are two ways money transfer companies profit from when you exchange currency.
Transfer Fees: Transfer fees range from free all the way up to $32 for international transfers.
Commission: Commission (or spread on the exchange rate) is the difference between the Reserve Bank of Australia's headline rate and the rate the money transfer companies applies to your transfer.
This margin or percentage varies considerably between banks and money transfer companies. The currency required and transfer amount also influence the margin. On a recent calculation based on a $20,000 exchange for Thai baht, for example, the OFX margin was 1.17% and ANZ bank margin was 9.22%.
Debit Cards
People sometimes pay for things in Thailand using their debit card, which attracts an overseas transaction fee of about $5.00. Either way, you will likely lose around 3.5% in the exchange rate.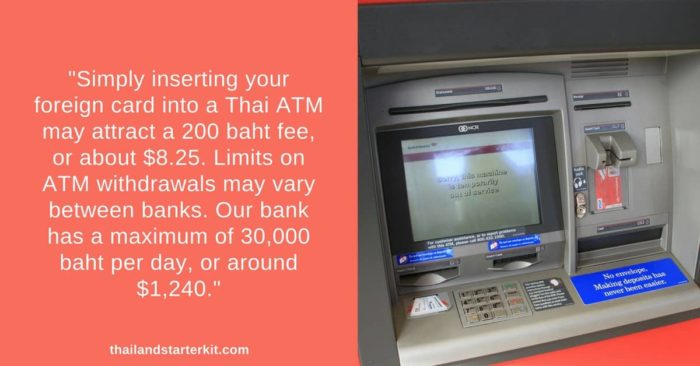 Exchange Kiosks
Money can be changed at currency exchange booths in Thailand's airports. But it is worth shopping around outside of the airports too. SuperRich often offers the best exchange rates and may be quite close to market rates. The downside is carrying a lot of cash with you many be unsafe.
Banks
Many people make an international money transfer directly from their Australian bank into their Thai bank. Often the banks charge a transfer fee—in some cases up to $32. Our bank manager advised us that they also take around 3% to 5% commission. There goes any interest on savings you may have earned.
Credit Cards
Although you can't transfer money into Thailand using your credit card, you can use it to make purchases. And you'll pay an exchange fee as if you were transferring money into Thailand.
Canstar's analysis of five-star rated credit cards indicates this fee is an average of 2.80%. The good news is they also found several companies offering zero exchange fees.
Other factors to take into account may be joining fees or annual fees, minimum usage requirements, cash advance fees, or travel insurance and other benefits. But you'll have to consider how often you may use a credit card in a predominantly cash society.
Researching Companies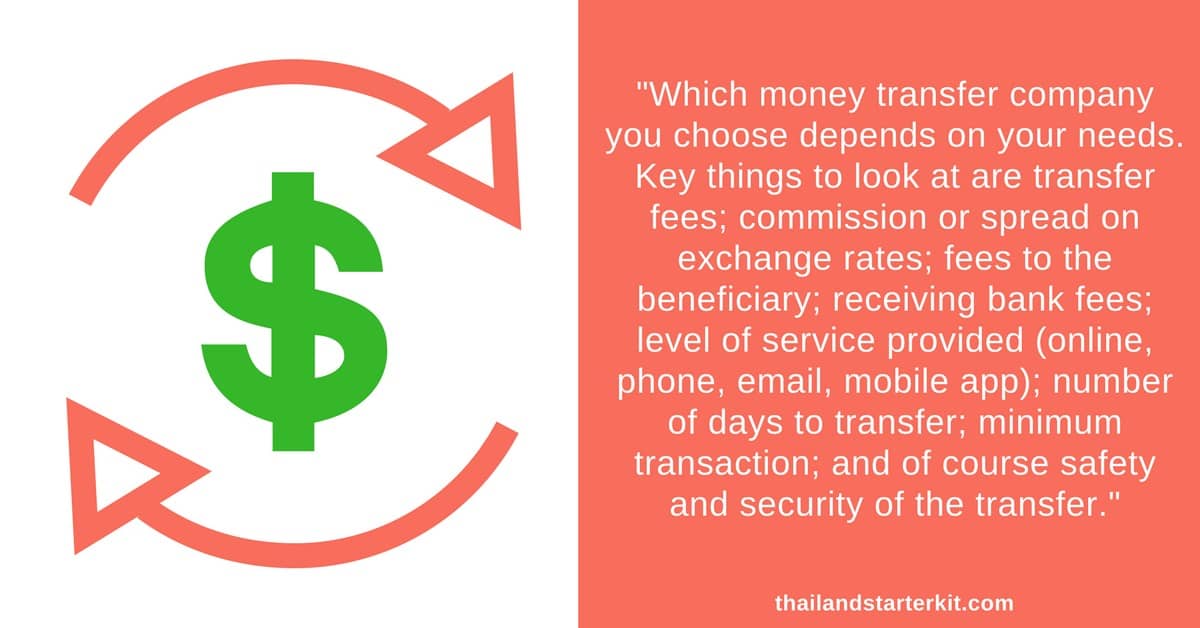 The easiest way to compare current rates and fees is to using the below widget from Monito.
In addition to Monito, you can also use these websites.
Canstar
Canstar is Australia's largest financial comparison site. Their top rated money transfer report for 2016 provides good insight. However, there were limited money transfer companies included in the analysis. Their top three providers were Citi, OFX, and WorldFirst.
Trust Pilot
TrustPilot ranks according to customer feedback. OFX, RemitWisely, and InstaReM are in Trust Pilot's top three. It is worth noting that the two latter companies had just over ten reviews each.
Additionally, there are several websites that will compare actual rates offered by companies. Some will offer discounts or have special offers if you sign up through them.
Currency Shop
Currency Shop shows the amount you will receive, calculates the cost, and conveniently shows the difference you would have paid using other sources.
For example, a transfer of $20,000 to Thai baht indicated WorldFirst to have the best rate. It also indicated the Commonwealth Bank would have cost $1,097 more than WorldFirst.
Finder
Finder also indicates rates and provides helpful information including minimum transfers, length of time to transfer, and so forth. It also has attractive offers to first time users who sign up through their site.
Setting Up an Account
While all the methods mentioned above are viable methods for obtaining cash or paying for goods and services, there are limitations or costs that force people to seek better options.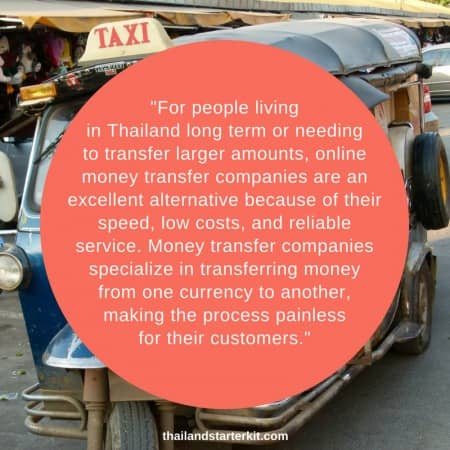 Let's take a look at the general process.
Setting up an account online is usually free and comes with no obligation. You then "set up a deal" online. Some companies have phone or person-to-person support for larger transfers.
The next step is to transfer money from your bank account to the transfer company using one of their methods listed, such as B-Pay or Electronic Fund Transfer.
The money transfer company then changes your money into your selected currency, in this case Thai baht, and transfers it to your Thai bank account.
Your Thai bank may charge a fee too. Ideally, allow for the whole process to take about five days: one to two days to move the money from your account to the money transfer company, and then another one to three days to move the money into your Thai bank account.
If you are relocating to Thailand full-time or even part-time, it's better to set up accounts with money transfer companies in Australia before you leave.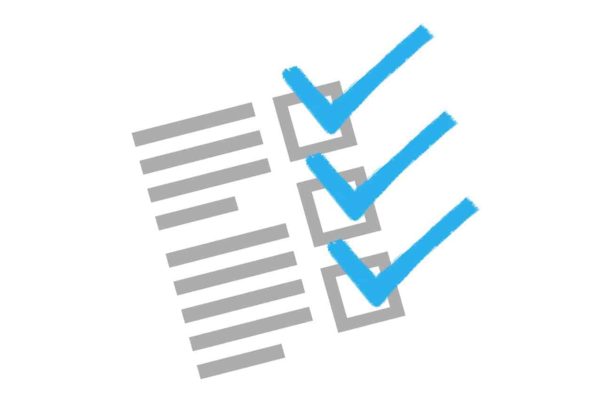 You need to provide identity documents as well as proof of residential address. Ideally, select two or three companies, so you can shop around and obtain best deal when you're ready to transfer.
When transferring large amounts, plan well in advance and watch the currency market. You may even look at the history to help you get the best rate.
Contacting your transfer provider may help you to lock in a rate, or perhaps obtain an even better exchange rate.
XE provides excellent historical data and you can also set up monitoring of rate changes.
Online Money Transfer Companies
During my research, it became clear that there was not one clear "winner" for online money transfers. And different websites showed conflicting information about the companies. So I recommend that you review company websites before making your decision.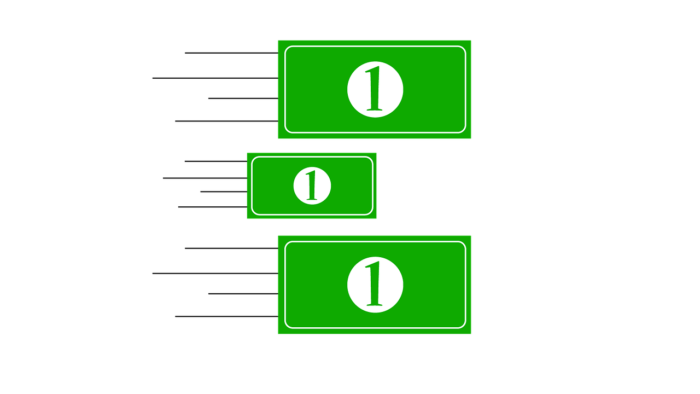 But if you want to transfer $10,000 or more, the following three companies appear to be the best of the best.
WorldFirst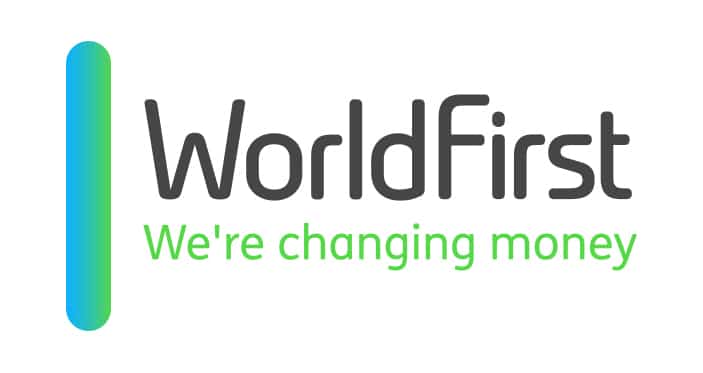 WorldFirst has been in the market since 2004 and has offices in seven countries including Australia. They are regulated by the Australian Securities and Investments Commission, or ASIC, and have received numerous awards and recognition in customer focus and financial services.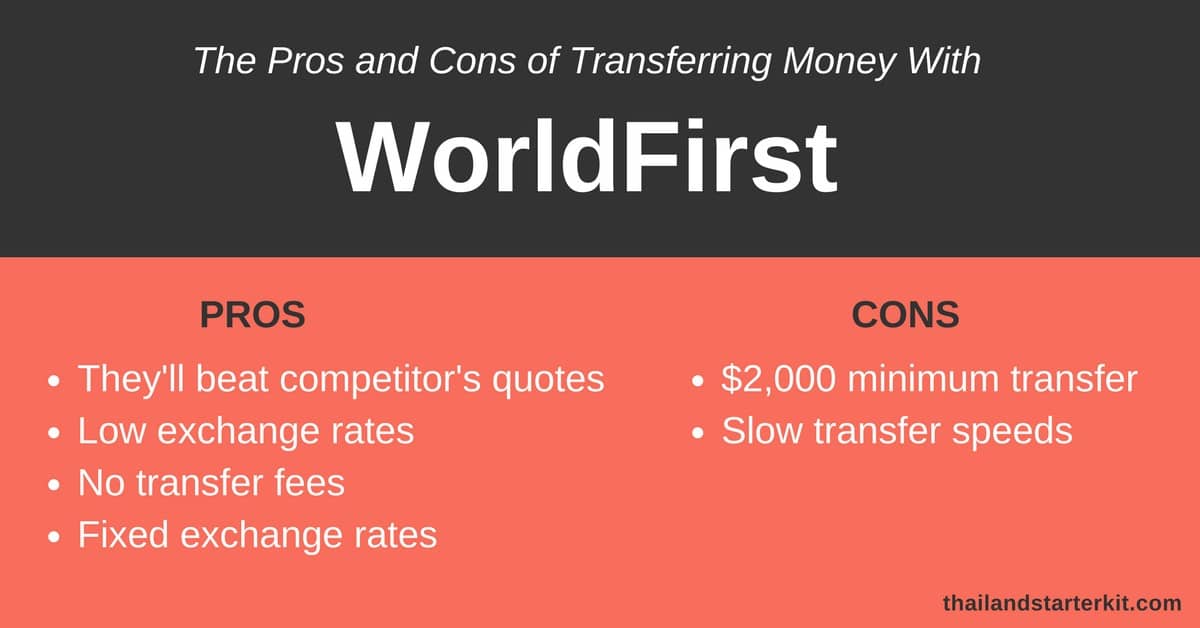 OFX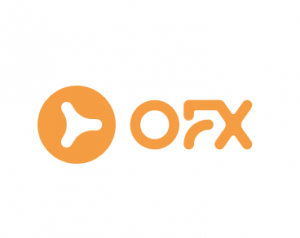 OFX have been operating since 1998. With over $100 billion in transfers since inception, they enjoy a strong reputation in the market and also received numerous awards. They are regulated by the ASIC and their parent company is listed on the Australia Securities Exchange.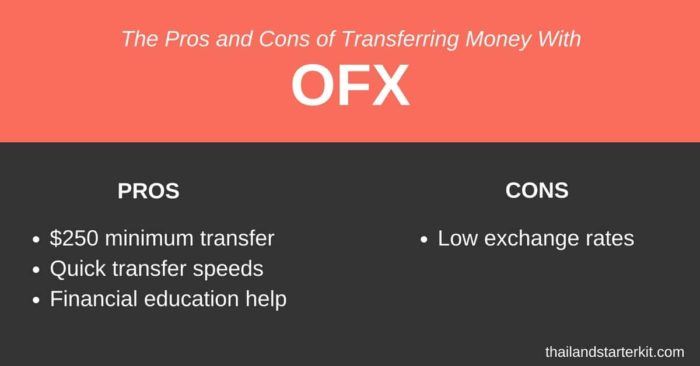 TorFX

TorFX are also regulated by the ASIC. The parent company of TorFX was awarded the International Money Transfer Provider of the Year at the Moneyfacts Consumer Awards in 2016, 2017, and 2018. With offices in five countries, including Australia, they hold the highest credit rating with Dun and Bradstreet.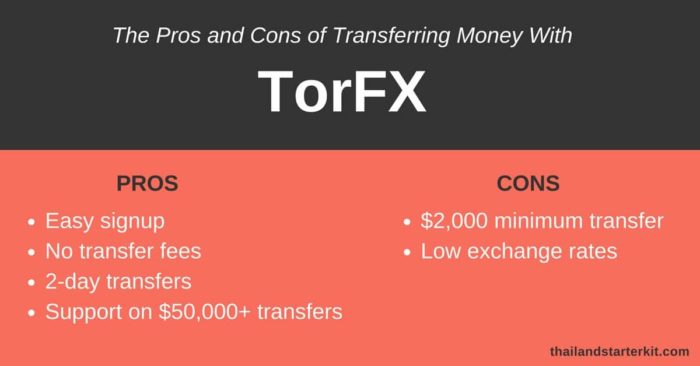 Comparing Transfer Times, Fees, and Rates
Let's look at a sample transfer of $10,000 using the three online money transfer companies above. I've broken down the table into the most important aspects: transfer time, transfer fees, and exchange rates.
| Company | Time | Transfer Fees | Exchange Rate | Amount Received |
| --- | --- | --- | --- | --- |
| WorldFirst | 3 | – | 23.97 baht | 239,700 baht |
| OFX | 2 | – | 23.56 baht | 235,569 baht |
| TorFX | 3 | – | 23.24 baht | 232,373 baht |
The difference between WorldFirst and TorFX on this transaction was 7,327 baht, or just over $300.
So, it's definitely worth shopping around.
Photos by Ersu