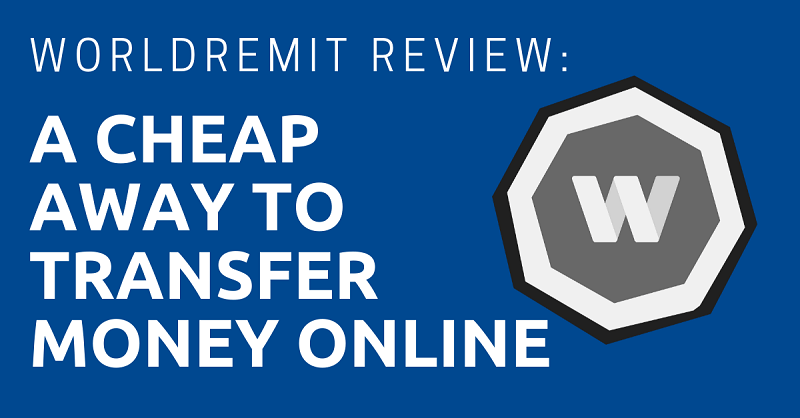 Expats who frequently send money know that in most cases, you have to spend money to send money. If you've been using Western Union, for instance, you know that there's a transfer fee for every transaction. And funds transferred via local banks have higher rates since they charge transfer and exchange rate fees.
WorldRemit is a good alternative for receiving money from foreign or non-Thai bank accounts without having to go to a bank branch.
How WorldRemit Works
WorldRemit is an online money transfer service that allows users to send funds to 150 countries. Options for sending and receiving include cash pickup, bank deposit, Mobile Money, and Airtime top up. It works like many other online money transfer service providers, but with a few limitations. For one, sending money can only be done from fifty countries.
According to customer support staff, they're working on adding more services for countries with limited capabilities. A few months ago, I tried sending money via bank deposit to a US and a Philippine recipient using a Thai bank account, but it wouldn't let me.
To see whether there are limitations on other countries, I randomly chose the UK, Australia, and Singapore to send money to Thailand, and found out that you can send from those countries via bank deposit, cash pickup, and Airtime transfer. However, sending money from Thailand isn't possible at the moment.
Not being able to send money from Thailand is a major downside. But if you need to send money from your US, UK, or Australian account to your Thailand bank account, you can do so. Before creating an account, having your bank details verified, and adding a recipient, check if you can do your planned transaction.


Pros and Cons
It's a pretty straightforward service and a great alternative to more expensive options like banks and Western Union. If you're looking for money transfer alternatives, I would suggest examining the following pros and cons.
Pros of Using WorldRemit
profile and bank account verification is fast and easy
low transaction fees
a viable option if other services don't offer the best exchange rates
user-friendly mobile app
24/7 Support
Cons of Using WorldRemit
WorldRemit doesn't have a currency comparison tool
limited number of countries where users can send money
no option to sign up using Facebook, Google account, or LinkedIn
doesn't allow to send more than $2,000 per transaction
poor customer service
Account Setup
Unlike other services, WorldRemit doesn't allow signup via Facebook, LinkedIn, or Google, which would have been a nice option for those who hate typing in their details. Not to worry: signing up only requires your name, email, and password, and country from where you're sending.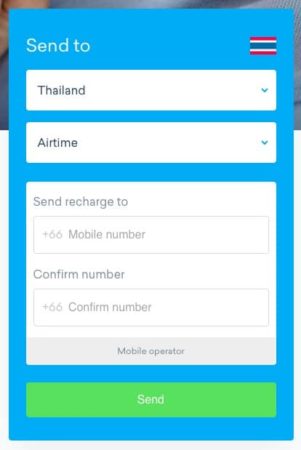 After signup, you can set up your financial details under the My Recipients page. Don't expect an account confirmation email because there isn't any.
When adding a recipient, you have to enter the person's details, including address, email, phone numbers, and bank details. It's nothing you wouldn't do when filling out a Western Union form, but at least with a service like WorldRemit, you only do it once if you'll be making transfers to the same recipient.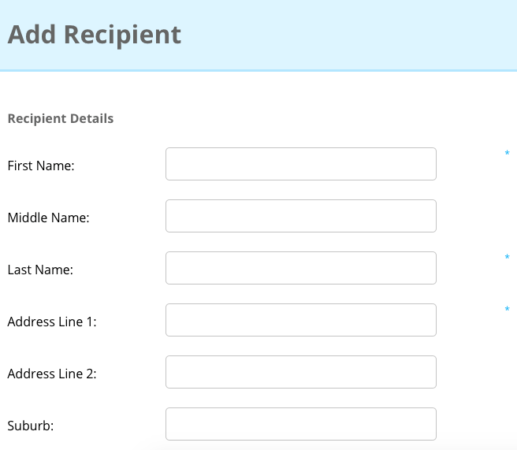 The bank details required will depend on that country's banking system requirements. For example, if you're sending to the UK you'll be asked to provide a Sort Code; if sending to the Philippines, you'll be asked to provide a Branch Code.
If you're sending to Thailand, it has a decent coverage in terms of the banks you can send to. The service allows sending money to many major banks and a handful of smaller local banks.
After setting up, you can proceed to send money.
Money Transfer
The dashboard is clean and easy to navigate mainly because its purpose is to show your list of recipients and transactions.
To begin sending money, go to the main page, select a country from the dropdown menu, click Get started, then fill out the details. You can also do this within the How it Works page.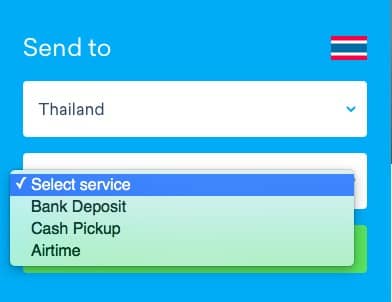 Suppose you're sending money from the US to Thailand via Bank Deposit. The currency will automatically update to the currency of the recipient's location. You'll then get a quick summary: the amount you're sending, fee amount–which varies per country, the total amount you're paying, and the amount your recipient will receive.
The exchange rate will be shown at the bottom of the summary. Once you've confirmed the details, you can hit Send.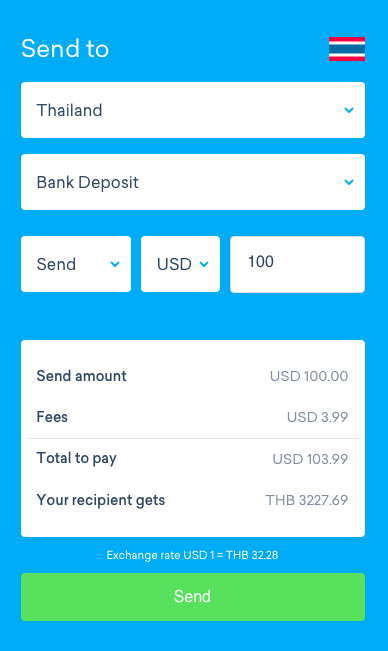 After hitting Send, you'll be taken to the next page, where you'll have to select a recipient. In case you haven't added one beforehand, that's fine. You can choose New Recipient and manually fill in the form. On the other hand, choosing a pre-selected recipient uploads the receiver's details automatically. You'll also be asked to specify a Sending Reason, which is standard for money transfers.
Click Next to go to the Payment page where you can select one of two Payment Methods, debit or credit card and online bank Transfer US Automated Clearing House system, which pays directly from your bank account and may take as long as four days. The latter entails a lower transfer fee, but it also requires a bit of paperwork.
Choosing the online bank Transfer USACH option will prompt the system to authenticate the account you're transferring from. So make sure you have your online banking details handy, including your phone number and email address registered with that bank. Note that this applies to transfers from a US account to Thailand.
To authenticate your account, you have to submit a billing statement and an ID such as a passport.
The more common option is to make a transfer using a debit or a credit card. If you choose this option, all you need to do on the next page is enter your card number, your name as it appears on your card, expiry date, and three-digit code at the back of the card.
Then hit the Pay Now button.
Transfer Rates
How do you know if you're saving money by using WorldRemit? You'll have to visit a comparison portal like Monito to do so.
WorldRemit claims their service is low cost, which is true to some extent. At $3.99 per Bank Deposit transfer fee when sending from the US to Thailand, that claim is justifiable. The same amount applies to the Cash Pickup option. As I've mentioned, transfer rates vary per country. I tried doing a transfer to a Philippine recipient and the fee is only $2.99, while an Australia to Thailand transfer is $4.99. But before you use it to send money, it's best to check other providers' rates.
I wanted to see whether they deliver on their promise of low-cost transfers by checking the standard rates at XE and what was offered by Bangkok Bank and Kasikorn Bank, which are some of the local banks that offer international funds transfers. From the table below, you can see the rates that WorldRemit charges for every USD, GBP, and EUR transferred. 
Compared with, say XendPay, WorldRemit's rates are higher. Also, for some reason, WorldRemit's Euro transfer rates are much higher than either of the two banks.
| | | | |
| --- | --- | --- | --- |
| Provider | USD | GBP | EUR |
| WorldRemit | 3.11% | 2.60% | 2.79% |
| Bangkok Bank | 3.61% | 2.02% | 1.84% |
| Kasikorn Bank | 4.08% | 3.17% | 2.15% |
Transfer Speed
If you use other money transfer services, you've probably encountered some issues with delays especially for large transfers. WorldRemit's maximum transfer amount varies. For instance, USD transfers to Thailand are sometimes capped at $2,000 while at other times it's $2,750. Transfers that are below the maximum amount can take minutes or, at least, not more than twenty-four hours to reach the recipient.
However, larger transfers in currencies other than USD can take anywhere from one to three days. Cash transfers via mobile transfer or airtime top-up are available immediately. It's likely, however, that the number of days it takes to complete a transfer differ in every country.
Tips, Tricks, and Promos
It's safe to assume that at some point, frequent WorldRemit users do receive promo codes for, presumably, a fee waiver mainly because there's a promo code field in the Add Recipient page.
Final Thoughts
After trying it out for the transaction I needed to do, I'd say WorldRemit's service is quite limited. I usually make transfers from Thailand to the Philippines or vice-versa. But the only service available is mobile Airtime transfer, which is no good to me. I contacted customer support to ask whether I could transfer from Thailand, but I was informed the options for certain countries are limited to mobile Airtime transfer.
Anyone else who's looking for an alternative to using a bank or other similar services, WorldRemit could be a great alternative. If you're sending from, say, Australia, Singapore, the US, or the UK, the service is relatively fast and cheap. The mobile app works seamlessly and is a terrific way to send money on the go.
But if you need to make transfers from Thailand, WorldRemit won't be of much use to you because transfers are currently limited to fifty-two countries and Thailand is not one of them–for now. If you're sending or receiving in Australia, Singapore, the UK, or the US, WorldRemit works just fine. Other major drawbacks include the $2,000 limit on sending and receiving money and the lack of detailed answers from customer service staff.
If you need alternatives, you might want to consider using Monito to check for better options and get recommendations for better rates from other providers like XendPay or Wise. Other than these quibbles, you might want to bookmark WorldRemit in case you need a money transfer option if only for the cheap rates and the fast transfers.