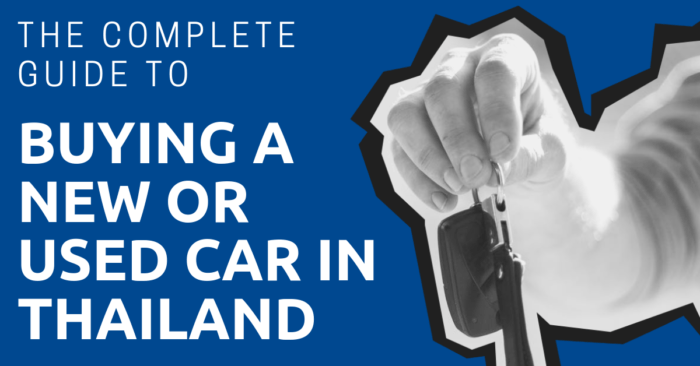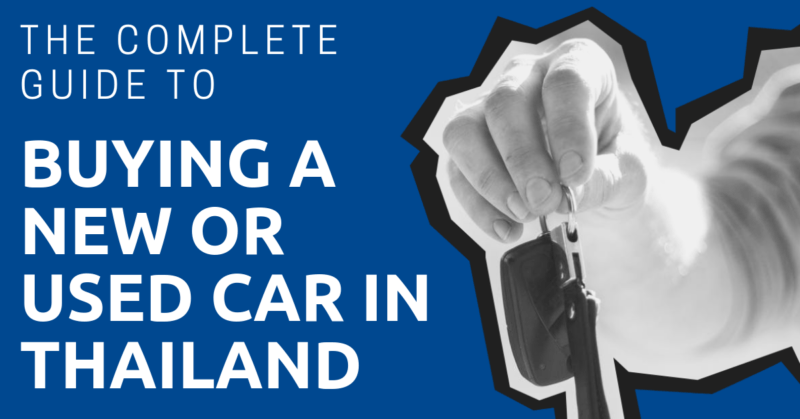 The public transportation system is unreliable in most parts of Thailand. Having a car is necessary for many Thais and expats who live here. Sure Bangkok has the BTS and MRT. And most major towns and cities have a van network and local buses or songthaews. But these don't serve the needs of everyone.
I won't argue that the BTS and MRT are good systems, but they're inadequate for the needs of the city. And they're only suitable for those living in the central zone. Many expats live in areas such as Chonburi, Phuket and Chiang Mai, where subway lines and sky trains are still a distant dream.
Sweating in a bus, risking safety in a public van, and waiting on unscheduled buses means that many people choose to buy a car, especially those living outside of Bangkok. The quality of life and freedom that owning a car gives you makes a huge difference. Imagine traveling on a bus or in a taxi with a baby or praying to a higher power that your van driver will get you to your destination safely.
You can check out our premium subscription and find out reputable sites to buy a car, car inspection tips, and other hundreds+ insider strategies to help you save money and smoothly live your life in Thailand.
Where to Start
When I bought my first car, I had a million questions. I wasn't into cars and didn't know much about the industry and how things worked.
Most people go to their dads for car advice, so I went to mine. I was lucky because my dad worked in the car industry for over 25 years and he gave me a lot of advice. I bought a car I was happy with.
But in Thailand things work differently. So, I used the advice from my dad and from a couple of local sources.
I also used a lot of online sources and through this article I will give you quotes, figures, and links to useful sites to help you buy a car in Thailand.
Why Buy a Car?
Let's take a look at some main reasons why many expats want to buy a car in Thailand.
COVID-19
With COVID-19 on the rise in Thailand, if you still need to go out regularly, having a private car is much safer than public transportation.
Based on the number of active cases so far, we can assume that people infected with COVID-19 are everywhere in Thailand. Having a private ride can protect you from being in close proximity with unaware COVID-19 carriers who are still taking public transportation.
It also makes your life much easier for your weekly grocery shopping, especially during the lockdown.

There's a good discussion on a local online forum called "is it necessary to have a car during the COVID-19 pandemic?". Most people there agree that it is now becoming necessary, if you can afford it.
Location, Location, Location
Location influences your need to buy a car. I'm not sure many people living in Central Bangkok could justify having a car because there are many airport transfer services and good public transportation system. There's also a lot of traffic which would make driving a nightmare.
If you need to travel outside the downtown area for business, it becomes a necessity to have private transportation. Having a car might sound good for weekend trips outside of the big city, but you need to think about how often you would use the car and if it would improve your quality of life.
For those who have decided to buy a car, your location can help determine what type of car would best suit your needs. If you travel long distances from a rural area then a larger car for cruising around would make sense. If you live in the city, choosing a small compact car to make traversing through traffic easier would be the better choice. You could follow the Thai trend and buy a huge pickup truck, regardless of where you live.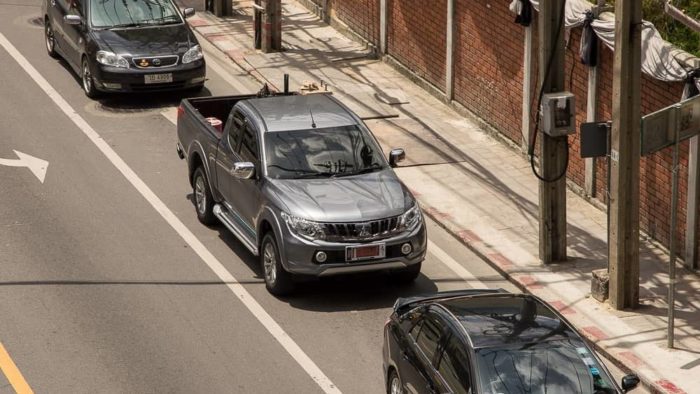 Long Term vs Short Term
A key factor for many expats to consider is whether they will be staying in the country for a long- or short-period of time.
Long-term expats have more reason to buy a car as it is a considerable financial investment in Thailand. Those married, here on retirement visas, or those with full-time jobs who stay for the long haul could benefit from having a car.
Those here for a short period need to consider the resale value of their car and how easy it'll be to sell. As you'll see there is quite a bit of paperwork involved when selling a car. For those here for a short time, it might not be the best option. You also need to consider that if you must leave Thailand on a certain date the car needs to be sold by then which could cause problems if you are rushing to find a buyer.
There is always the option of leasing a car for a period of a few months up to a year or relying on local public transport and taxis. I wouldn't buy a car if you aren't going to be in Thailand for more than a year–unless you are living in a rural area.
If you're looking for a brand which holds it value then the best bet is a Honda or Toyota or perhaps the top models from Japanese car makers.
Family
One common reason for buying a car in Thailand is for when you have a family and don't want to rely on public transportation. I wouldn't want to take a baby on a bus or in a taxi. I feel it would be irresponsible and a car is the safest way to transport your family if you are out of reach of the MRT and BTS in Bangkok. Having your own car is also convenient when traveling in Thailand with your little kid.
Parents.com have listed their top cars released in 2020 for families. The list is worth a look as most models are available in Thailand.
New Cars vs Second Hand Cars
One of the biggest choices you'll have to make is whether you want to buy a new or used car. There are benefits and drawbacks to both. Many people prefer to buy new due to the lower maintenance costs and frequent special offers.
But there is also a thriving used car market in Thailand. And the possibility of buying from other expats in Thailand means you can go through the majority of the process in English.
New Cars
When you buy a new car, there are several benefits. You can get a bunch of extras thrown in if you are good at negotiating.
Here in Thailand, most dealers seem to sell at the recommended list prices, but the extras are where you can try to get added value.
It's normal to get your first year's insurance covered or free tinted windows, for example.
If you buy new, you'll have peace of mind knowing you're the first owner of the car, so there shouldn't be any surprises later on.
Buying a new car also means you have more finance options open to you, and you'll get the chance to speak to the dealer.
Get the Best Price on a New Car
There are several things you can do in order to get additional discounts and more freebies when buying a new car in Thailand, if you know what to do, where to go, and who you talk to.
We have a list of four tips you can use to get the best price when buying a new car.
It's one of our 100+ exclusive pieces of content available only to our premium subscribers.
To get access, please become a subscriber.
During my research for this article, people said that the dealership where they bought their car also offered them better part-exchanges on new car purchases.
The relationship between the customer and dealer lets expats ask more questions with the experts before, during, and after the buying process.
As you'll see below the buying process isn't always easy but by using an authorized dealer, you'll be dealing with salespeople who have experience negotiating with expats.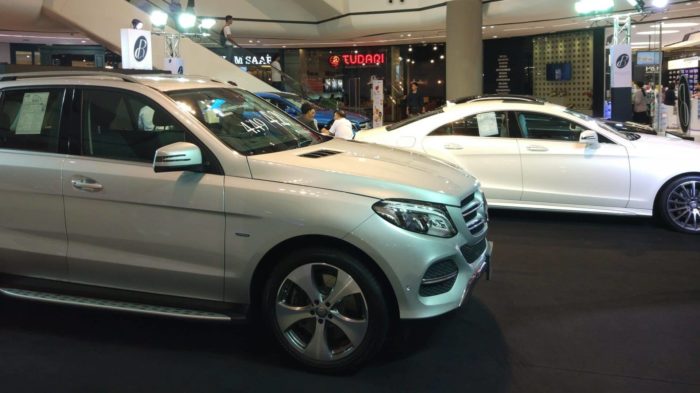 Second Hand Cars
The major benefit of a used car is that you get a cheaper set of wheels. There is the potential for a bargain in Thailand, but in general used cars hold their value well and cost more than you would pay in Western countries.
You also have the choice to buy a used car from a licensed dealer, which means you'll better your chances of getting a service package or insurance.
You can buy used cars from many sources and some of them offer the cheapest prices on the market.
One negative for used cars is the 7% VAT that's added to the bill if you buy from a showroom or used car dealer, or use a loan to finance the purchase.
Avoid Paying Taxes on a Used Car
There are certain conditions, completely legal, under which you can avoid paying taxes when buying a used car.
You can read how in this exclusive content.
It's one of our 100+ exclusive pieces of content available only to our premium subscribers.
To get access, please become a subscriber.
To avoid this payment, you can pay in cash from a private seller. Buying from a private seller who has looked after their car is an excellent choice. Thai people call these "house cars."
Popular Model
Looking around the roads of Thailand I saw two trends. The first was the number of pickup trucks and the second was the popularity of Honda and Toyota cars.
Coming from the UK where the roads are full of Fords and Renaults, I put the number of Hondas and Toyotas down to the Thai love of Japanese products. But I soon discovered other reasons for their popularity.
Honda and Toyota are two of the car brands which are manufactured in Thailand and have lower taxes and selling prices than imports. Tax is also the reason for the large number of pickup trucks. These cars have a reduced excise tax, making them a popular choice for many people.
Another reason for the popularity of these two brands is the availability of certified mechanics. Every town will have a garage to repair these cars and the parts are easy to come by. Even third-party garages will be knowledgeable of top-brand cars.
"black and white" were the two most popular colors for cars and would be a good choice if you were looking to sell your car after a few years.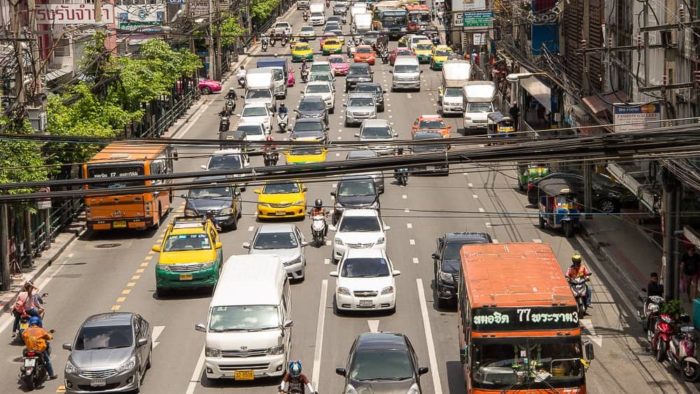 Researching shows Toyota, Honda, Isuzu, Mitsubishi, Mazda, Nissan, Suzuki, Ford, and MG are manufactured in Thailand and are priced better than other brands. BMW and Mercedes are assembled in Thailand but use imported parts which make them more expensive than they'd be throughout Europe or in America.
Imported finished cars and trucks are subject to a 300% tax, making them three times more expensive than in Europe or America.
"The Corolla or Altis is one of the best-selling models for the general public," Damien Kerneis, said. "It holds its value well and it is easy to find spare parts." Because this is the model of most taxis in Bangkok, it goes without saying that these cars are a good choice for those on a budget looking at getting their own wheels in Thailand.
The table below from Marklines.com compares year-by-year the 2018 and 2019 new car sales from all makers.
| | | | | | |
| --- | --- | --- | --- | --- | --- |
| Maker/Brand | 2019 Sales | 2019 Share | 2018 Sales | 2018 Share | Y-o-Y |
| Toyota | 331,878 | 32.90% | 314,498 | 30.20% | 5.50% |
| Isuzu | 168,215 | 16.70% | 177,864 | 17.10% | -5.40% |
| Honda | 125,833 | 12.50% | 128,290 | 12.30% | -1.90% |
| Mitsubishi | 88,244 | 8.80% | 84,560 | 8.10% | 4.40% |
| Nissan | 64,414 | 6.40% | 72,394 | 6.90% | -11.00% |
| Mazda | 58,129 | 5.80% | 70,475 | 6.80% | -17.50% |
| Ford | 50,006 | 5.00% | 66,064 | 6.30% | -24.30% |
| MG | 26,516 | 2.60% | 23,740 | 2.30% | 11.70% |
| Suzuki | 23,908 | 2.40% | 28,503 | 2.70% | -16.10% |
| Chevrolet | 15,161 | 1.50% | 20,313 | 1.90% | -25.40% |
| Others | 55,248 | 5.50% | 55,038 | 5.30% | 0.40% |
| Total | 1,007,552 | 100.00% | 1,041,739 | 100.00% | -3.30% |
*Y-o-Y is based on MarkLines' own calculation.
Finding Cars for Sale
There are many different options when it comes to buying a car, new or used, in Thailand. Traditional dealerships are popular but there is also an ever-growing list of online options for buying a car.
New Cars
Car Dealers
The dealership was the first place I visited when buying a car in Thailand. I felt reassured by visiting an official car dealer and felt I would receive better service and more legal fallback if there were any problems. It also seemed easier to get finance through an authorized dealership than relying on alternative methods, which are listed later in this article.
I went into the process of buying without having a preference towards brand. My issue was budget. I would love to have a BMW, but based on Thailand prices they are not good value for the money–and way out of my price range. Going to a dealership meant I could chose a cheaper brand, look at their entire range of models, and discuss pricing options. The benefit is that there are car dealerships in all the big towns and cities. Within ten kilometers of my condo in Bangkok, for example, I could visit a wide range of car dealerships.
Another benefit of a dealership is that you can see new and used cars and compare prices and conditions. Most official dealerships also have promotions, and provide warranties and extras on not only new cars, but used cars as well.
You also have the option to test drive a car if you have a Thai driving license, a license from your home country, or an international license.
As with many places in Thailand, at dealerships salespeople will treat you according to your appearance. When I walked in wearing a scruffy T-shirt and shorts I got little attention. But when I went in with jeans, a collar shirt, and dress shoes I had salespeople jumping over themselves to help me. Maybe this was just random luck–or bad customer service at some dealerships–but there is a correlation between the two.
Car Event
The Bangkok International Motor Show is one of the most popular places for Thais to buy a new car. Sales from the 2018 were 53,359 which is a lot for the 7-day event. Often discounts are given and there are great promotions. 2019's event was held at the Impact Arena on the outskirts of Bangkok.
In the past, the event has been criticized for being more about the pretty models, but after the recent Junta takeover things have been toned down and the cars are now taking center stage again.
It is also common to see mini shows in the numerous shopping malls around Thailand. My local mall, Fashion Island, seems to have at least one car company showcasing new models every couple of weeks. They have huge signs offering discounts but it is not clear if these are the same deals you'd get at the dealership. One benefit of these events at the mall is that there is less pressure to buy and you get the chance to see and sit in the car.
Used Cars
Buying a used car can save you a lot of money if you know how to thoroughly inspect a car. Or you need to bring someone who knows how to do it.
Otherwise, you may get a car that's only good from the outside. And you need to spend a good amount of cash fixing it.
Where to Look for a Used Car
If you are interested in buying a used car, check out our insider tips on where to look for a used car.
You can find recommended websites used by locals, as well as how to make sure that the car you are buying is in good condition.
It's one of our 100+ exclusive pieces of content available only to our premium subscribers.
To get access, please become a subscriber.
Tents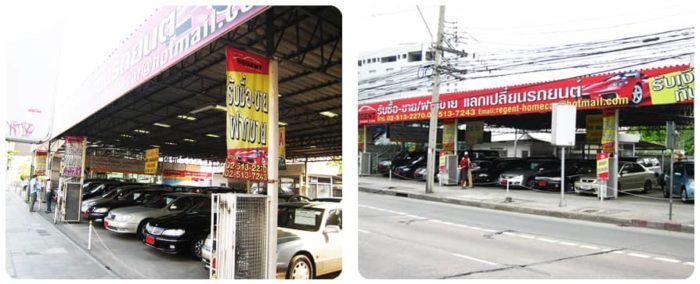 One of my Thai friends told me I could buy a car at the tent which confused me. I googled "car tent" and found pictures of tents covering cars. It wasn't until I found this article where I found out a car tent is a used-car dealership.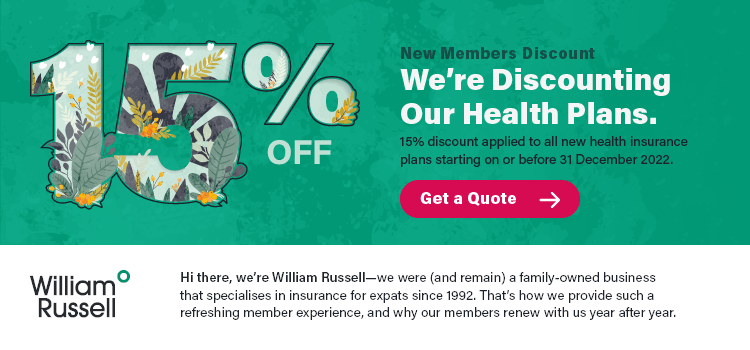 Advertisement
Many cars come with limited warranties and many are sold "as seen" so you need to have a real understanding of cars to get a good buy. Tricks such as winding down the mileage and putting different parts into cars do go on so buyer beware.
Many car tents work in conjunction with a finance company and a loan can be agreed upon on the spot. It's best to make a payment and drive the car away. It's not unheard of for car tents to change parts when a customer pays a deposit and comes back later for the car. Also, if you pay by cash the price of the car can be higher than if financing, since some car tents get commission from giving out loans.
If you are looking for a car to get you from point A to point B then looking for bargains at a car tent could be an option.
Auctions
Car auctions are great fun to watch. The atmosphere is exciting and I find it intriguing to study the tactics of the bidders trying work out their top price. Buying a car through auction is something I would be wary to try for a number of reasons though.
The issue is that you have to compete against other bidders and could end up paying more than you're prepared to in the heat of battle. At auctions you'll have to make quick decisions and might not get a full description of the vehicle or have limited opportunities to inspect it. I wouldn't buy a car from auction unless I had full knowledge of the car and could inspect the vehicle first, ensuring it was in good order.
However, you can sometimes get a bargain at an auction if others aren't interested in the car you want. Those with knowledge of cars can be confident that they can spot a bargain when they see one.
If you're interested in car auctions, check out Union-Auction and Manheim, which both have listings for car auctions in Thai and English. Both sites give pictures and descriptions for the cars available and list fees you need to pay.
Manheim gives the following information on fees and a few useful tips on their FAQ page.
A buyers administration fee of 8,560 baht (including VAT 7%) applies to all lots purchased in the financiers vehicle auction and the salvage vehicle auction. The buyer's fee for burnt out vehicles is 4,000 baht and for motorcycles it's 1,650 baht. For trucks it's 12,500 baht. If you purchase a financiers or salvage vehicle using Simulcast, an additional buyer's fee of 1,420 baht applies. If you purchase a motorcycle using Simulcast, an additional buyer's fee of 250 baht applies. Full payment in cash or bank check is required by 4pm the working day after the sale. VAT is included unless otherwise indicated. Check on site, in auction catalogues, or with cashiers for fees applicable to your vehicle.
The auction is a fun, exciting, fast process. So here's some tips to help you succeed.
Set yourself a budget
Check the car you would like to bid on, including the documents
Pay by internet bank transfer for the safest method of payment
All cars are sold "as is, where is;" there are no returns
Read the terms and conditions
Ensure you have the correct name registered for the auction
Bid clearly and don't wait until the last minute.
A quick look on Google shows there are plenty of car auctions in Thailand so you might be able to find a local independent auction close to you.
Online
Buying a car online is becoming more popular nowadays. Many sites have sprung up in Thailand to cater to the desires of Internet shoppers. These websites cater toward the sales of used cars, but some websites offer sales of new cars, or links to special offers from dealerships.
There are also many listings on forums and social media which can match you up with a seller. The phrase "Buyer Beware" is important here, because there can be limited recourse if the buyer purchases a car as seen and turns out to be a lemon.
Good sources of online cars in Thailand are below. However, note that these online sites run by car agencies result in prices that can be higher than average market prices. There are other sites that help you buy cars directly from sellers. Prices will be cheaper with a better condition.
Our premium subscription includes all of these reputable sites as well as tips to car inspection tips and tricks and other money saving strategies while living in Thailand.
Motors.co.th/en – This site is easy to use and clear. You enter a few simple details about your budget, location, and make and model and you get a list of results. Aside from the license plate number, you get everything in English, and the lists gives you pictures and contact number of the seller. Keep in mind this site is for people interested in buying used cars.
SiamCarDeal.com – The site is useful if you are looking to get a guide price and find information about your nearest dealer. A major selling point of this site is that they list cars available in dealerships, both new and used. This means that you can pick up a bargain from a dealer and not just from a private individual.
The other option for online purchases is to look at sites like kaidee.com and bahtsold.com, which offer secondhand goods including cars. Craiglist also has a site for used cars in Thailand. Again, buyer beware and know that you're unlikely to get any support from the seller after the purchase has been made.
Private Listings
When I was going to buy my first car around 15 years ago my dad went straight to the newsagents and picked up a copy of Auto Trader magazine. It listed thousands of used cars for sale and was like his bible. You could compare prices and specs to see what was a reasonable price for different models.
Nowadays, a lot of this business has moved online but it's still possible to find offline car listings here in Thailand. National and local newspapers have car sections with private listings, which are worth a look if you want to go this route.
One of my colleagues bought up a car from a private listing at his condo. The seller had left a flyer and the sale progressed quickly as they lived a few rooms away from each other.
Also, many cars in the street have for sale posters or stickers on them. You might even see a for sale brochure for the car you're looking for. There's no exact science to buying a car, but fate might bring you to your dream car on the soi you're walking down.
Buying Process
When you've decided to go ahead and make your purchase you have a few hoops to jump through. Depending on how you bought the car will depend on how much of the following you'll have to do. When buying a new car it's possible that the dealer will look after most, if not all, of the paperwork for you. But when buying a used car, you'll need to be more hands on if buying from a private individual.
New Cars
After finding the right dealer you need to reserve the car by paying a deposit, usually 5,000 – 10,000 baht. The reason for this is that cars in Thailand are usually made to order. You should get the receipt after paying the deposit, stating everything about your new car including: model, color, delivery date, and all freebies you got from the negotiation. Sometimes, it may take up to six months for the car to be delivered to you.
Once the car arrives, you need to check the car from bumper to bumper. Be sure to take it for a test drive and check that all freebies are included. Check the warranty for the manufacture date, inspection dates, and customer details. Make sure everything is perfect before accepting the car. If possible, bring a car expert with you. Also, write down the engine number to make sure that this is the same car you inspected.
You should receive all documents on that day including car insurance, CPTL, car manual, the temporal red book, and the tax sticker.
New cars will need special red license plates which will be replaced with the official white plates in a few months. The cost of these temporary ones is around 2,500 baht but you will be refunded when you change over to the white plates. Failure to transfer from the red temporary plates to the white official ones can result in a fine if you are pulled over by the police. A lot of people do like to keep red plates on just to show that they have a new car.
You will get you're official blue ownership book a few days after or on the same day you receive the white plates. If you finance the car you'll get a copy of the blue book. The finance company will be listed as the owner of the car. The blue book and car will be transferred into your name once the loan is paid off.
When driving with red license plates there are a few things you must be aware of. First, you should always keep your ownership and transfer documents with you. If the police decide to stop you then you're liable to pay a fine if you can't prove ownership. Second, with red plates you are restricted to driving during daylight hours and in the province the car is registered to.
All car registration paperwork is dealt with by the Department of Land Transport. The dealer should do it for you once all the following documents have been prepared:
If you want a specific registration plate number, it can be done two months in advance before your car arrives at the Department of Land Transport. A copy of your passport, residential certificate, and the car purchase contract are required. Though some car dealerships should be able to do this for a small fee.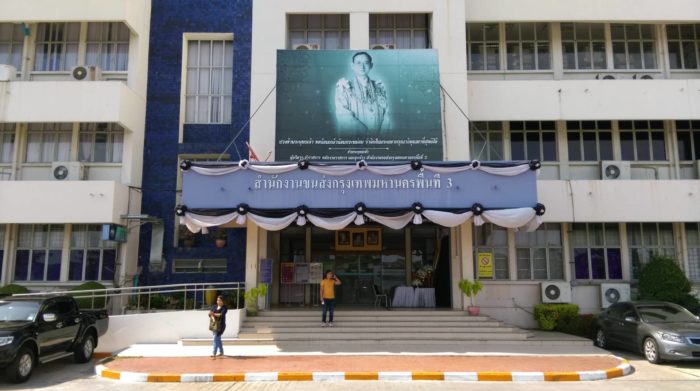 Used Cars
Guide to Buying a Used Car
Buying a used car in Thailand can be complicated. There are 5 common scenarios that you could end up dealing with.
You can read about them in our complete guide to buying a used car in Thailand.
It's one of our 100+ exclusive pieces of content available only to our premium subscribers.
To get access, please become a subscriber.
Transferring Your Car
The transfer process takes several steps. The first step is to submit all paperwork and get it checked and stamped by an official. At this stage, they may ask you to come back in a few days if you bought a car from another province. When everything has been checked, you need to come back and inspect the car. The inspection makes sure the car matches the details on the submitted forms and that there are no other problems. Finally you will be asked to come back to collect plates and the Blue Book.
If the car is transferred within the same province, everything should be finished within a few hours. If it's transferred to another province, it will take a few days.
The transfer cost is different based on the estimated amount of the sale value of your car. There's a 105 baht for transferring fee and a stamp fee of 0.005 baht from the estimated car price. For example, if the car is estimated at 300,000 baht, the total transfer cost would be 1,605 baht (105+(300000 x 0.005)).
Finally, if you are unable to do it yourself, you can give the power of attorney to another person to complete the paperwork for you.
Used cars registered in a different province will need a new set of plates. The cost of this is around 200-300 baht.
Finance Options
One of my biggest concerns when buying a car was where the money would come from. Even with the cheapest models I would still need to borrow to complete the sale.
It's possible for foreigners to get loans in Thailand to buy a car but there are strict restrictions. The foreigner must have a bank account with good standing at a local bank. You can check our premium subscription for the easiest method to open a bank account here with cash saving strategies to save you thousands of dollar within a year.
The foreigner needs a work permit or similar showing they're here long term. Some people stated that they have been successful getting a car loan using a tourist visa, but it seems to take a lot of effort, requires a much higher deposit payment, and is decided upon by the manager at each place.
For the first car a foreigner buys they will need a Thai guarantor. This can be a relative or friend but they need to be aware of the situation and what happens if the foreigner defaults on the loan. For the purchase of all cars thereafter and where the loan is through the same source, a guarantor is not needed. The exception to needing a guarantor is when the deposit payment is between 50-70%.
The final stipulation for getting a loan is that a minimum down payment of around 20% is required. Sometimes a bank will ask for a higher down payment if you are new in the country or have limited funds in your bank. Either way make sure you prepare copies of your work permit, passport, bank statement, and wage slips before applying for a loan.
Now let's look at your financing options.
Through the Bank
The rate of loan defaults has been rising due to the poor performance of the Thai economy and increasing household debt. Therefore the conditions for getting a loan have become stricter and the bank may request a Thai guarantor based on your circumstances. One positive is that the banks are prepared to loan money to foreigners for auto purchases, unlike when it comes to financing property. They also offer special incentives such as 0% interest introductory offers.
For more information on available offers from major banks in Thailand, follow the links below and speak with the banks.
SCB

SCB offers various finance options for both new and used car purchases. You will see they offer loans of up to 95 for new cars and 90% for used cars. The payback term lasts up to 84 months and is available to Thais and foreigners. All applicants must be living in Thailand and show proof of funds with six months worth of bank statements, as well as proof of address.
Bangkok Bank

There are different types of personal loans offered by Bangkok Bank. One interesting option is using your savings as collateral to gain up to an additional 100% on a loan. The payback term is up to ten years and is subject to approval based on the amount of savings you have.
Krungsri


You can find many options for financing a car at Krungsri . The Krungsri new car option looks good and works like a hire-purchase agreement. Foreigners need a work permit and must show proof of employment to get this loan.
Through the Car Dealer
Many people apply for finance through the car dealership where they purchased the car. The benefit here is that the car dealer will have good relationship with finance sources and it could be easier than going through a bank. The terms of this agreement may come with special introductory offers so check to make sure you understand the payments you will make throughout the contract.
For a foreigner this might be easier if buying new from a showroom as you'll have to deal with only one company for the purchase and loan. It also means you can build a financial relationship with the dealer when it comes to upgrading your car or replacing car parts.
Make sure your dealer is authorized to finance your car. Official dealerships are fine but sometimes private firms might bend the rules and regulations when it comes to giving a loan.
Insurance
There are several different types and levels of insurance in Thailand and it is important to know which ones are mandatory and the difference between them all when making a buying decision. We have a separate article on car insurance in Thailand providing you everything you need to know on this topic.
Tax
As part of the initial registration process you will pay tax. Tax depends on the make and model of your car and can be between 800-10,000 baht per year. If it is a new car, your car dealer will be able to tell you in more detail how much tax you will be expected to pay.
To help you work this out yourself for older models you can use the following formula and example to help.
Tax is calculated by car cylinder capacity–or cc:
First 600 cc: 0.5 baht per CC
601-1800 cc: 1.5 baht per CC
1801+: 4 baht per CC
If the car is more than 5 years old you can calculate a tax deduction:
Year 6: 10%
Year 7: 20%
Year 8: 30%
Year 9: 40%
Year 10+: 50%
Here's how to calculate. For example, an 11 year old 2,000 CC is going to be (((600 x 0.5) + (1200 x 1.5) + (200 x 4). Then reduce 50% since it's older than 10 years. The total would be (300+1800+800) – 50% = 1,450 baht.
Tax is paid at the same time as the CTPL through either the Department of Land Transport or a third-party representative. Be sure to stick an up-to-date tax sticker on your car.
In case the car is more than seven years old, the car is required to pass the road-worthiness test and given the Tor Ror Or certificate which can be done, again, through the DLT or a third-party representative for the cost of 200-300 baht.
If the car is being installed with either CNG or LPG, it needs to be checked every five years by the certified engineer from the gas installment companies, in order to pay tax. Also, the gas tank needs to be replaced every ten years.
Third-Party Representatives
Dealers and third-party representatives with Tor Ror Or sign in front of their offices offer full service. This means you don't have to go to the DLT. You just sign the forms and they take care of the rest, including the road-worthiness test. The required document is the same as doing it yourself so check the list above for what you need.
This is another key reason to use a dealer. If you've ever been to an official Thai department office you know these places take up much of your time and can suck the fun out of your day.
You will, however, have to visit the dealer 2 or 3 times over the course of a week to get this done. But in the end it's the better option when it comes to registering, transferring, and paying the tax and CTPL for your car.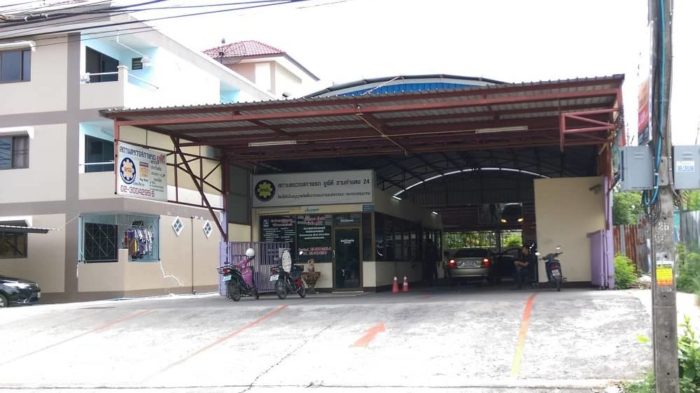 Maintenance
Driving along most roads in Thailand you will see garages and people working on cars. There are enough places to take your car to if it needs a tune up or if something major has gone wrong with it.
While you hope your car will run forever you'll have to get bits and pieces replaced or repaired over time. These little things might not be included in your insurance coverage if there is an excess ,so you will need to find someone to make the repairs.
If you buy a new car from the dealer then it'll be covered for repairs and services for a set period of time–normally a year. If you decide to do work in another garage then it'll void any further inclusions under the special package you got when purchasing the car.
The numerous roadside garages do a good job and are useful if you are in need of urgent repairs. Simple tasks like oil changes are often much cheaper than at official service centers and the labor cost is much lower. Another option is to look at a gas station. Some gas stations provide simple car service and repairs. To find a reputable garage where you live, talk to friends who have the same car model as you. Ask them where they go. Most roadside garages are more up to speed with Japanese models, but there are some repairmen knowledgeable in European brands as well.
Most people budget around 10-20K baht a year for maintenance costs but this varies depending on the age and model of car you have.
Can I Buy a Car Using a Tourist Visa?
Although you can buy a car with a tourist visa, you can't legally register your car under your name.
This is because the Department of Land Transport always asks for a work permit or an affidavit of residence from your embassy in Thailand. And this affidavit is only available to those who have a valid long-term visa.
Selling Your Car
The steps for selling your car work like the advice given above. However, you need to think about the best way to sell it. If you're part exchanging you may sell to a dealer but if you're leaving the country you might find a better deal by selling to another person. Let's have a look at the pros and cons of the different options.
Selling Privately
If you have a friend or a colleague then this might be an easy way to get a quick sale. You can advertise around your company or through Facebook – there are always a lot of adverts and people looking to buy. The negative is that if you're on a tight deadline. To get a deal completed it can be difficult and stressful.
The paperwork is not too difficult but you will be responsible for doing it and going to the DLT with the correct documents and blue ownership book. The other option that Thai people follow is to give all the required documents (stated in the paperwork section for used cars above) to the buyer, who will then go through the process themselves. Make sure you have the usual selection of photocopies of your visa, passport, and proof of address with you when transferring your car.
However, one thing to be careful is that if the buyer doesn't complete the car transfer, and the car is still registered in your name, you'll be the responsible person for accident or, worst, terrorism.
Selling to a Dealer or Car Tent
This is a convenient option if you want to part exchange and get a new car. The dealer will give you a better price to part exchange rather than to sell. A lot of people head to car tents when they are in a rush and want a fast payment. You might not get the best price but it will be done quickly.
Selling at Auction
If you have a rare car or a car that might create some interest, then look at an auction. Especially if you're not happy with the prices offered by dealers.
Well advertised auctions give you the chance to attract a lot of bidders if it's a well-respected auction and you have a special car.
Do I Need to Sell My Car After I Return Home?
Legally speaking, this depends on your visa status. If your Thailand visa is active while you were on a home trip, then you don't need it. If not, then you need to sell your car.
For example, if you are holding a working visa and will be returning to your home temporarily for three months, you don't need to sell your car if your visa is active during that time.
On the other hand, if your visa expired while you were back home, then, you should sell your car before you leave Thailand.