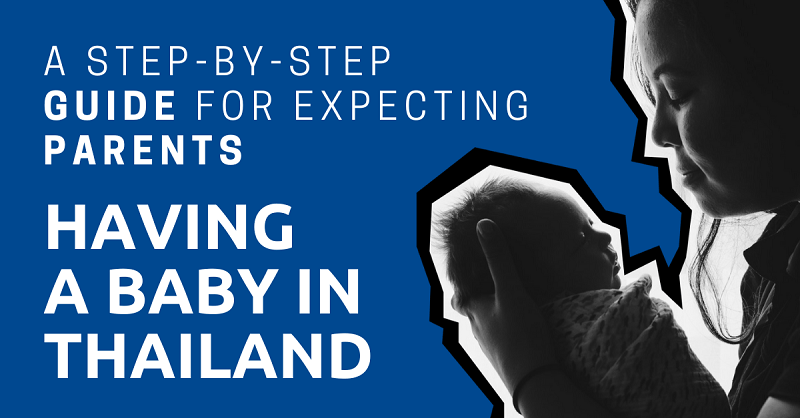 There's something unforgettable about having kids. But there's something even more unforgettable about having kids in Thailand.
When I first wrote this guide back in 2016, my wife and I had little experience as parents.
Fast-forward all these years later, we now have two kids and have lived in Thailand for more than nine years. I've picked up a few more things about having kids in the country — if not from our own situation, then from friends and family.
This guide shows you how to pick doctors and find good hospitals, how childbirth is handled in Thailand, how much having a baby will cost if you don't have insurance, plus much more.
"*" indicates required fields
Pregnancy Tests
If you or your partner feels sick, tired, sensitive to smells, irritated, then it's time to get tested. You can take a pregnancy test at home before you go to a clinic or hospital.
At-Home Pregnancy Tests
You can buy over-the-counter pregnancy tests from most pharmacies in Thailand. Pharmacies are located either as stand-alone shops or in supermarkets such as Big-C or Foodland. Most of these supermarkets have a pharmacy inside.
You can even order a pregnancy test online from Lazada or Shopee.
Pregnancy tests cost about THB150.
After you get the blue stripes or pink-plus symbol or smiley face or any other tell-tale sign that you or your pregnant is pregnant, follow up with a doctor.
Clinical and Hospital Tests
Most doctors in Thailand work out of hospitals and clinics.
Clinics are what we'd call doctor's offices in the West. Clinics are good if you only want to confirm you or your partner are pregnant. Bria Lab is a popular clinic in Bangkok and offers pregnancy screenings.
If your ultrasound and blood work come back positive, get checked at a hospital. Hospitals have better equipment to help you through your pregnancy.
Cost to Deliver a Baby in Thailand
Once you know for sure that you or your partner are pregnant, here's how much you could spend on delivering a baby in Thailand. These costs will help you budget accordingly.
Pregnancy Packages
Most hospitals offer expecting parents childbirth packages for one flat rate. The cost of the package covers all normal delivery services. Some packages could include prenatal checkups, but it's best to ask before you pay for the package.
If the mother or baby has problems before, during, or after delivery, the cost goes up.
An important note about private hospitals: private hospitals offer childbirth packages for a set price. But it's not unusual for new parents to walk away with a bill for three-times the amount of the package.
Hospitals sometimes add services and costs without parent's consent. If you choose to deliver your baby at a private hospital, ask them what the package includes and what other services and costs you should expect to pay for.
For example, private hospitals can add the cost of extra nursing care for mom, emergency care for your newborn, and some medicines.
Ask hospital staff to get your approval before doing anything your package doesn't include. Also, make sure you have a member of the hospital go over your costs line-by-line to be sure you actually receive the services it charges you for.
Below table is an example of private hospitals in Thailand that provide pregnancy packages.
Bangkok
Name
Area
Natural Birth
C-Section
Contact
Hua Chiew Hospital
Bamrung Mueang Rd
52,000 baht (3 days 2 nights)
66,000 baht (4 days 3 nights)
0-2223-1351 Ext. 3126
MedPark Hospital
Khlong Toei
98,000 baht (3 days 2 nights)
111,990 baht (4 days 3 nights)
0-2023-3333
Vejthani Hospital
Lat Phrao
60,000 baht (3 days 2 nights)
82,000 baht (4 days 3 nights)
0-2734-0000 Ext. 3200, 3204
Paolo Hospital (Phaholyothin)
Phahonyothin Rd
(Samsen Nai)
62,000 baht (3 days 2 nights)
82,000 baht (4 days 3 nights)
0-2271-7000 Ext. 10498-99
Vimut Hospital
Phahonyothin Rd
(Samsen Nai)
59,900 baht (3 days 2 nights)
75,000 baht (4 days 3 nights)
0-2079-0066
Paolo Hospital (Kaset)
Phahonyothin Rd
(Sena Nikhom)
55,900 baht (3 days 2 nights)
65,900 baht (4 days 3 nights)
0-2150-0900 Ext. 5420
Phyathai 2 International Hospital
Phahonyothin Rd
(Sanampao)
71,000 baht (3 days 2 nights)
108,000 baht (4 days 3 nights
0-2617-2444 Ext. 3143, 3164
Bangkok Hospital
Phetchaburi Road
100,000 baht (3 days 2 nights)
138,000 baht (4 days 3 nights)
0-2310-3005
Dr. Panya General Hospital (Phaetpanya Hospital)
Ramkhamhaeng
34,400 baht (3 days 2 nights)
42,100 baht (4 days 3 nights)
0-2314-0726 Ext. 1138
Ramkhamhaeng Hospital
Ramkhamhaeng
52,000 baht (3 days 2 nights)
72,000 baht (4 days 3 nights)
0-2743-9999, 0-2374-0200
Bangkok Christian Hospital
Si Lom
59,000 baht (3 days 2 nights)
83,000 baht (4 days 3 nights)
0-2625-9000 Ext. 30230-1
Phyathai 1 Hospital
Sri Ayutthaya Rd
(Phayathai)
45,000 baht (2 days 1 nights)
72,000 baht (4 days 3 nights)
0-2201-4600 Ext. 3465, 3466
Bumrungrad Hospital
Sukhumvit (Soi Nana Nua)
139,000 baht (3 days 2 nights)
159,000 baht (4 days 3 nights)
0-2011-2361, 0-2011-2365, 0-2011-2366
Samitivej Sukhumvit Hospital
Sukhumvit (Soi 49)
89,900 baht (3 days 2 nights)
119,000 baht (4 days 3 nights)
0-2022-2222
Other Provinces
Name
Province
Natural Birth
C-Section
Contact
Lanna Hospital
Chiang Mai
23,000 baht (3 days 2 nights)
37,000 baht (4 days 3 nights)
052-134-724
Samitivej Hospital
Chonburi
53,900 baht (3 days 2 nights)
60,900 baht (4 days 3 nights)
033-038-888
Krabi Nakharin International Hospital
Krabi
36,500 baht (3 days 2 nights)
49,500 baht (4 days 3 nights)
075-626-555 Ext. 1142
Bangkok Hospital
(Phuket)
Phuket
64,000 baht (3 days 2 nights)
83,000 baht(4 days 3 nights)
Call Center 1719 Ext. 1021, 1022
Bangkok Hospital
(Hua Hin)
Prachuap Khiri Khan
46,000 baht (3 days 2 nights)
69,000 baht(4 days 3 nights)
032-616-884
Prenatal Costs
Prenatal costs aren't always included in the pregnancy package, so be sure to ask the staff at the hospital if yours will be included or not.
That said, aside from the delivery costs, you also have to pay for:
ultrasounds
routine checkups
fetal tests
Tack on another THB20,000 to THB30,000 for these visits.
If you have insurance, routine checkups might be 100 percent covered. Or you might have a co-payment. Check with your insurance company.
Our family's biggest cost outside of the childbirth package was the ultrasound and blood work to test our baby for Down Syndrome. That cost us THB16,000.
Related article: Health Insurance in Thailand: What You Need To Know as an Expat
Doctor's 'Side-Fee'
Some people may pay their doctor a side-fee for extra care, a private delivery room, and other amenities that they might not otherwise get.
This isn't done on the record or through the hospital. It's something you and your doctor agree to on the side. I don't recommend doing this. But you should know ahead of time that these things do happen in Thailand.
The 30-Baht Thai Healthcare Card
Thailand has a 30-baht healthcare card for Thais who qualify. If you're a native Thai woman or married to a native Thai woman, the government may give you or your wife free or discounted healthcare.
Each visit to the doctor is free up to five visits. But you have to go to a hospital within the 30-baht healthcare card network.
The downside to the 30-baht healthcare card is longer wait times during checkups and the inability to pick your doctor.
Researching Hospitals
Now that you have a budget in mind or you've spoken to your insurance company, it's time to look for hospitals in Thailand.
Consider the steps in this section and the section on finding a doctor something you should do at the same time.
Private Hospitals
Private hospitals are a convenient choice when planning to have a baby in Thailand. However, many doctors care for patients at both public and private hospitals.
The biggest differences between the hospitals aren't the doctors, but rather the equipment, wait times, convenience, delivery choices, and prices.
Private hospitals also offer more perks, like cozy rooms, better food, or the rights of the father to be in the delivery room if you're having a C-Section.
Below is a list of popular hospitals in Thailand for childbirth.
Public Hospitals
Your cheapest choice for having a baby in Thailand is a public hospital. Public hospitals have good healthcare for the cost. But you wait longer to see the doctor — all day long.
You also don't get to choose your doctor. In other cases, doctors at public hospitals might have less experience or they may be apprenticing under senior doctors.
Below is a list of popular public hospitals in Thailand for childbirth.
Premium Clinics
Premium clinics are part of Thailand's public hospitals. But the service you get at premium clinics is a major step up from public hospitals.
For example, you get to pick a doctor. And most doctors who work at premium clinics also work at private hospitals. Wait times are shorter than wait times at public hospitals as well.
The cost of having a baby at a premium clinic is cheaper than private hospitals but cost more than public hospitals. But you get great healthcare for the value.
My wife had a lot of problems during her first pregnancy. So, she decided to deliver our second daughter at a premium clinic in Ramathibodi Hospital.
Ramathibodi has one of the best NICUs in Thailand, and her doctor had a lot of experience with high-risk pregnancies.
Taking Tours
Once you've slimmed down your choices, take a tour of the hospitals on your list.
On the tour, you should visit the delivery ward — and, just in case — the NICU. Ask plenty of questions just like you would back home.
Remember, things aren't always done the same way in Thailand as they are in your home country. It's better you know what to expect ahead of time so you're not surprised on the big day.
Here are some important questions to ask:
Are special services available for high-risk pregnancies?
Who can be in the room during delivery (natural and C-Section)?
Is your partner or newborn allowed to stay with you overnight?
Does the hospital offer private rooms? Do I have to pay extra for a private room?
Does this hospital deal with your insurance company?
You can get a good feel for a hospital and its staff by asking these general questions and more.
Finding Doctors
While you're looking for the perfect hospital to welcome your baby into the world, you're going to want to find the perfect doctor as well.
You should find a doctor who has either studied, worked, or lived abroad. Or at least find a doctor who understands Western culture because cross-cultural misunderstandings can happen easily.
In Thailand, social hierarchy is important. It's not always okay to question doctors. I learned this the hard way when my wife was pregnant.
One doctor got offended more than once about the questions we asked.
One day, the doctor felt my questions insulted her expertise. "You know," she said, "Thailand has smart doctors, too."
I had to explain to her that the questions I was asking her were the same questions I'd ask any doctor in America as well, and that it wasn't about Thailand having smart doctors.
The same doctor wouldn't support my wife's desire to push naturally because my wife's first delivery was done through C-Section.
But strangely enough the doctor told us that had I been Indian — not American — my wife could probably deliver our baby naturally.
But even if this is your first pregnancy, expect doctors to push you to have a C-Section. It's more convenient for the doctor, and in some cases, makes more money for them and the hospital.
Doctors from the Childbirth and Breastfeeding Foundation of Thailand have fought tirelessly to change these policies.
To avoid some of the challenges we faced when finding a doctor, here are some important questions to ask potential doctors:
Are you board certified?
Will you listen to me and answer my questions? (Always be sure the doctor is open to answering your questions.)
Are open to working with me and the outcome I expect? For example, if I want a natural birth after having a C-Section the first time, will you support my decision?
Are you accessible? Can I reach you in an emergency?
Are you affiliated with the hospital I've chosen? Most doctors in Thailand work at several hospitals. Make sure he or she works at the hospital you decide to deliver at.
When looking for a doctor, find one who is open minded and used to working with Westerners. It'll save you a lot of headaches later on.
Monitoring the Important Stuff
The next nine months will be the craziest, most nerve-wracking time of your life — especially if this is your first child.
Pregnancy-related health problems are common and, in most cases, you can avoid them. Especially if doctors detect them early. So it's important for you and your growing baby to get health checkups.
Ideally though, you should get your checkup before getting pregnant. But if you're already pregnant, get one done as soon as possible.
During a health checkup, doctors may recommend that you change or stop taking certain medicine that may be harmful to your baby, and they can detect and treat any health problems early on.
Doctors may want to test you, your partner, and your growing son or daughter a few times over the next nine months. Here are a few of the major tests.
Ultrasounds
In Thailand, doctors give expecting moms ultrasounds during every visit to the office. Each ultrasound tells the doctor something different about the baby's progress. Here are a few major ultrasounds you'll have.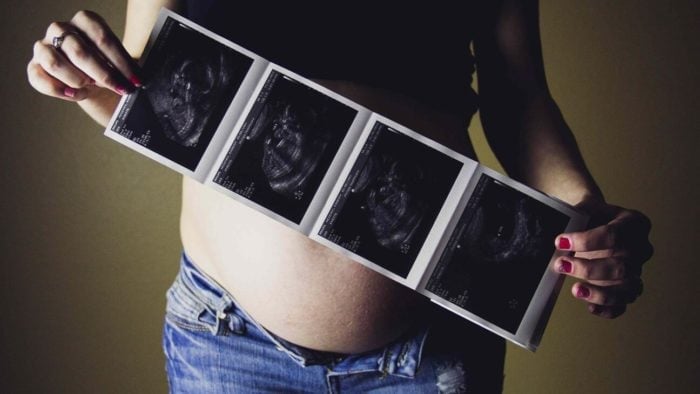 First Trimester:
predict due date by measuring heart rate and fetal length
check for Down Syndrome
check for Trisomy 18
check for heart defects
Second Trimester:
scan body and organs
check baby's sex
Third Trimester:
check body and organ growth
check for heart defects
Each case is different so you may or may not have these tests and others.
Down Syndrome
This is the first of two serious tests. The older the mother is, the greater the risk of the child being born with Down Syndrome.
Doctors consider the risk enough to do an amniocentesis test. During this test, doctors check your baby's skin-fold at their neck to see if they might have Down Syndrome. Mothers may have to give blood as well.
Your Baby's Heart
It's not unusual for babies in the womb to have holes in their hearts during their growth. Our first daughter had a hole in her heart when she was in the womb.
If the doctor tells you about a hole in your baby's heart, don't panic. It usually closes up before you deliver the baby.
Just to be sure, though, your doctor checks your baby's heart through regular ultrasounds.
Your Baby's Anatomy
During the second trimester doctors do a full anatomy scan of your baby. Doctors check your baby's limbs, toes, fingers, facial features, and internal organs to make sure they're growing correctly.
Your Baby's Sex
At the 20-week mark, you get to find out what you're having. Now you can start thinking of your baby's name.
Tests for Parents
Mothers and fathers aren't free from tests. Doctors may test one or both parents for sexually transmitted diseases. And if your partner or you are Asian, doctors will test for Thalassemia.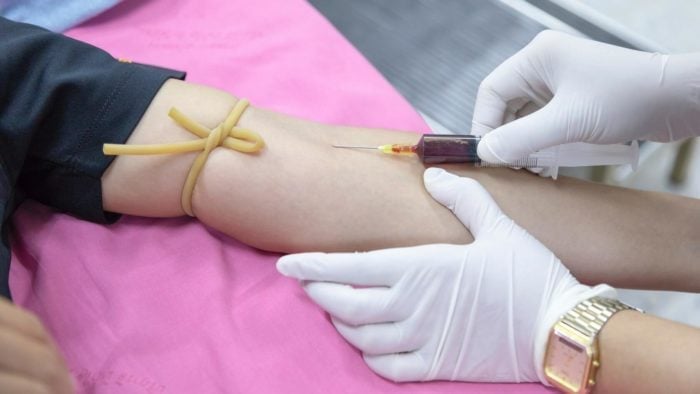 There are two types of Thalassemia: major and minor.
Thalassemia minor is when you are a carrier of the disease but show no symptoms. Thalassemia major is when you have symptoms of the disease, which can lead to anemia.
Thalassemia is most often found in people from Southeast Asia, as well as Italy.
Doctors test women for the disease during their pregnancy, or, if it's a planned pregnancy, they test before conception.
If the mother is a carrier then doctors also test fathers. If both parents are Thalassemia carriers the baby might be at risk for anemia.
Scheduling Your Delivery
After doctors finish testing you or your partner and your growing baby reaches the important milestones, you're ready to schedule your child's birth.
You can deliver your baby naturally and you can find doctors who'll support your choice, but don't be surprised if doctors try to sway you toward getting a C-Section.
C-Sections
You schedule the C-Section in the last month of your pregnancy. Doctors use your due date and ultrasound measurements to see which week would be best for your baby to enter the world.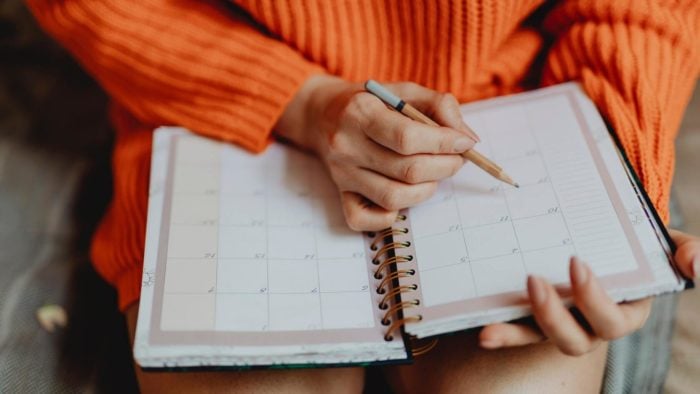 My wife begged her doctor to let our second daughter come when the baby wanted to, but my wife's doctor insisted she schedule the C-Section. The doctor said it would be easier and less risky for everyone, but it sounded to us like it was more convenient for her.
In the end, though, our daughter came a week early, so we still had the surprise factor.
Natural Delivery
If you plan on delivering your baby through natural childbirth, you won't have to schedule anything.
You should ask your doctor if he or she will be the one delivering your baby. Bangkok is not an easy city to get around in. If your baby decides to come out during rush hour, your doctor might not reach you in time. So, find out which doctor will help you in an emergency.
Preparing the Right Documents
If you or your partner are Thai, you only have to bring your Thai ID card to check into a hospital when delivering a baby. If neither of you are Thai, you should bring both of your passports and Thai ID cards if you own them.
Most of the documents you'll need for your delivery, such as test results and so on, the hospital will already have on hand, assuming the hospital is where your delivery doctor practices.
For non-Thai or half-Thai children, most of the documents you'll need translated will be for when you apply for your child's citizenship at your home country's embassy in Bangkok.
For more about his, jump the section below on Citizenship.
Packing Your Bag
As a general rule of thumb, have a hospital bag ready when you or your partner are pregnant. Even if you've scheduled the delivery, surprises happen.
When my wife was pregnant with our second daughter, for weeks my wife kept telling me to pack a hospital bag. One Saturday, it was too late and we had to rush to the hospital empty handed.
This wouldn't have been too bad, except this wasn't the first time I did this. When our first daughter was born, I also neglected to pack a bag. When she came one month early, we also had to rush to the hospital empty-handed.
If you have a car, keep your hospital bag in the car. If you're going to take a taxi, keep the bag by your front door. Make sure the bag is light enough to throw in a taxi. This means packing just what you need.
Must-Haves
Make sure you have these things packed in your hospital bag. You can buy everything else at stores inside the hospital.
insurance paperwork
sweater (hospitals are cold)
travel-size toiletries
contact lens solution
cell phone charger so you can video call your family back home
a few day's worth of clean clothes
Optional
You'll want to bring things that remind you of home — maybe a comfortable pillow or pajamas. Bring things to pass the time, too.
Remember, if you get a C-Section that means you're having major surgery. You'll spend a lot of time recovering in the hospital room.
You can bring:
books
tablet
clothes for your baby
Hospitals give you a gift basket to welcome your baby into the world. You should have enough in the basket to get your newborn home.
Things to Help Your Delivery
In America, hospitals have stabilization balls and other gear to help moms get comfortable and push the baby out.
You probably won't find these things in delivery wards at Thai hospitals. So, if you plan on using something to help you, make sure you bring it with you.
If you plan on delivering your baby at a hospital on the other side of Bangkok, you might want to stay at a hotel close to that hospital for the last few days of your pregnancy.
If you start going into labor during rush hour and you're far away from the hospital, it may take you several hours to get to the hospital.
What to Expect on Delivery Day
Delivery day is nothing like you see in the movies. So, if you've never had a kid before, forget everything you've ever thought about — and just go with the flow.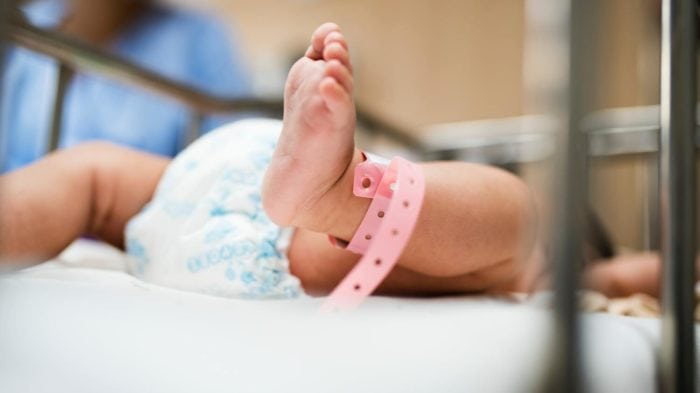 To lower your stress levels, you should keep in mind that this is Thailand and things work differently here. It doesn't mean things are better or worse than the way they're done in your home country, just different.
Here's what you can expect.
C-Sections
If you've scheduled your C-Section, then delivery day won't be a surprise. You'll arrive at the hospital like you're going in to get a tooth pulled — nervous, anxious, and a little uncertain about the whole thing. At least that's how I felt as the father. My wife may have felt a lot differently.
The mother goes into the operating room with only the nurses and doctors. You can make plans at a private hospital for fathers to follow along, but dad usually waits outside for the good news.
In most cases, the anesthesiologist will give the mother spinal anesthesia, which results in numbness for three to four hours.
Once doctors have delivered the baby, the father can go in a snap a picture with his new family. Then the nurses shuffle dad out and tell him to wait for the mother to recover. Or he'll get to see the baby in the delivery ward.
The hospital lets the father go in and watch as the nurses clean up your baby, check his or her weight and vitals, and dress the newborn. This is also where you'll get to hold your baby for the first time.
After the mother recovers she's allowed to spend time with her new son or daughter, too.
Nurses bring the baby back and forth between the mother and the delivery ward for monitoring over the next few days. Once the nurses see your baby's okay, the baby can sleep in the same room as the mother.
The mother also has a catheter in her bladder for a few days.
Natural Delivery
When you check into the hospital, nurses assign you a delivery room.
If your contractions are far apart, you won't have much help. But as they get closer, nurses help you until it's time for the doctor to deliver your baby.
The father can go in the room with the mother for natural childbirth, and some hospitals may let your children in the room.
You have choices for painless labor, in which epidural catheters are put in. Usually, the catheter is removed a day or two afterwards.
The recovery process for the mother isn't so severe with natural childbirth. You get some initial bonding time with your baby before he or she is sent to the delivery ward.
The Days After Delivery
The days after delivering the baby are foggy for the entire family. You won't sleep because you're excited about the new member of your family.
And when you do sleep, nurses barge in and throw the lights on and poke and prod you. But it's all done with good intentions.
Nurses in Thailand go above and beyond. They spend extra time with you. They make sure you're getting everything you need while recovering from the delivery.
But they also have to follow the guidelines of the hospital. So, if you have any special needs for you or your baby, let the nurses know.
My wife decided to do exclusive breastfeeding with our daughter. She had to tell hospital staff so none of the nurses gave our daughter formula.
Whether you or your partner want to breastfeed or give formula or do a little of both, tell the nurses. They make a note of it on your baby's crib.
Citizenship
Depending on the nationalities of the parents, your child may or may not get dual citizenship. The below sections explain in further detail.
Home Country Citizenship and Birth Certificates
If you're not a Thai citizen, or at least one parent isn't, then you have to tell your home country about your baby's birth. There's no time limit, but the sooner the better.
You can start the process by visiting your home country's embassy website and setting up an appointment. You can apply for your newborn baby's birth certificate and passport at the same time.
Make sure you ask what documents you need to get translated or bring with you and how much everything costs, as every embassy requires different paperwork.
Read more: How to Apply for a US Passport and Citizenship When Your Child is Born in Thailand
Thai Citizenship and Birth Certificates
If you or your partner aren't a Thai citizen, you can't get Thai citizenship for your baby, even if he or she is born in the country.
One way around this is if you and your partner have permanent residency in Thailand. Then, any of your children born in the country can get Thai citizenship. But keep in mind that both parents — not one — need to have permanent residency status in Thailand in order for this to work.
When one parent is a Thai national, your child will automatically become a Thai citizen. The hospital handles all the paperwork involved with registering the birth of your child and getting him or her a Thai birth certificate.
Hospitals usually charge a few hundred baht extra for the service. But even if it were a few thousand baht more, it would still be worth it. After all, it saves you a trip to the local district office, which could eat up a full day.
We paid an extra THB250 for Ramathibodi Hospital to process our daughter's Thai birth certificate.
Paying for the Delivery
When the doctor clears you and your newborn to leave the hospital, it's time to pay for everything. You have two choices:
paying out of pocket
paying with insurance
Paying Out of Pocket
Whether you have no insurance or universal Thai healthcare, you have to pay for all hospital costs before you leave. If you don't have a Thai debit or credit card to pay for the costs, you can pay via bank transfer or cash.
Paying With Insurance
Some insurance companies don't cover child birth, so it's best to check with your insurance company first.
One insurance company that does pay for childbirth is Luma Health. It'll reimburse up to THB80,000 of the cost of delivering your baby if you take out insurance at least 10 months before you deliver.
Another good thing about Luma is that it seems to offer group discounts if you ensure your entire family with them.
When it comes to actually paying the bill, some insurance companies may ask you to pay for healthcare costs upfront. Then you have to send them the bill and they reimburse you.
Depending on the hospital and insurance, it's also possible that the hospital will bill the insurance company directly (Luma, for example, has agreements with most major international hospitals in Bangkok).
Either way, be sure to get a list of every single thing done at the hospital and how much it cost.
Medicine
Private hospitals are in the healthcare business to make a profit. Yes, they help you and give you excellent care. But they also need to make money. It's just the way it is.
Most private hospitals mark up the cost of medicine, sometimes by 400 percent. Private hospitals may charge you THB200 for medicine that you could buy for THB50 at the pharmacy. It doesn't sound like much for one medicine, but if you have to take a lot of medicine during childbirth recovery, it adds up.
You have the right to decline buying medicine from any hospital. In this case, ask for the list of medicines you need and buy them at the pharmacy.
Public and premium clinics don't usually mark up the cost of medicine. But it's best to check.
Bringing Your Baby Home
If this your first baby then you'll need a bunch of things like a car seat, chest carrier, crib, high chair, clothes, and all the other basics.
Once your baby is home, the real fun begins.
Car seats and other safety devices are still luxuries in Thailand. But because Thailand's roads are some of the most dangerous in the world, I'd suggest you buy one and use it.
To get all the basics for your newborn, go to Mega Bangna. They have a bunch of baby and children's stores that sell things for newborns. Some of the stores are:
If you're looking for bigger furniture like cribs, dressers, or high chairs, Mega Bangna also has an IKEA.
You can buy baby bathtubs, sippy cups, plates, and baby utensils at Big C for a lot cheaper than the larger department stores. Big C also has a selection of children's clothes. They're not the best quality, but they last long enough for a growing baby.
If you prefer to shop online for new and used baby items, Facebook has groups and pages such as:
For a larger selection check out:
Buying Health Insurance
Many insurance companies offer health insurance for newborns who are at least 15 days old.
In addition to normal protection provided in an adult plan, this baby insurance usually includes:
vaccinations
follow-up doctor appointments
annual eye and hearing tests
You can find these plans on Mister Prakan. Also, if you don't already have it, this can be a good time to start looking for family health insurance.
Finding a Pediatrician
Finding a doctor for your baby is as important as finding a good OB/GYN was for the mother.
Again, if you come from the West it helps to have a doctor who's familiar with Western standards or at least knows the Western mindset.
If not, your doctor may grow impatient with the slew of questions you're going to have as a new parent. Even in some cases, Western-trained doctors may surprise you.
These private hospitals have western-trained pediatricians who understand the needs and concerns of Western parents.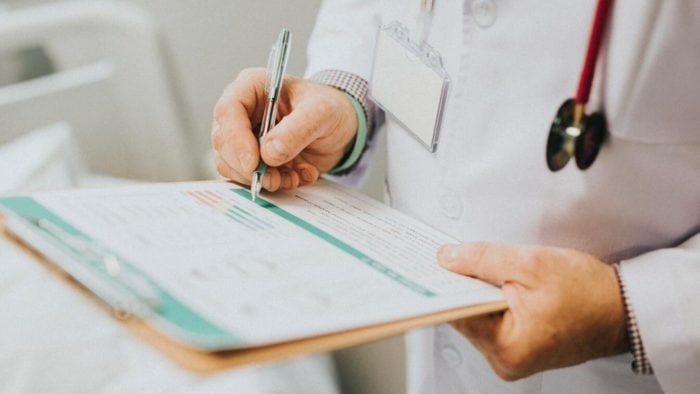 To make sure your doctor is right for you, ask these important questions:
How long have you been practicing?
What is your childcare philosophy? For example, if I choose to breastfeed, will you support me?
Do you have children? This helps the doctor empathize with you.
How do you handle emergencies?
Is the waiting area clean and welcoming?
Is there a separate area for sick kids?
Does the hospital or doctor accept your health insurance?
You can add your own questions to this list as well.
Vaccines, Follow-Ups, and Checkups
Once you settle your baby into the world it's time for his or her vaccines and follow-ups.
Vaccines
Thai doctors follow the standard vaccine schedule endorsed by the American Academy of Pediatrics. But children in Thailand get vaccines children in the West don't get. One is a vaccine for Japanese B Encephalitis.
If you're concerned about any of the vaccines, ask the doctor to give you the name of the vaccine and the name of the company that makes it. You can then research the company online.
The major question you want to answer is: is this vaccine new or has it been around a while? Avoid any vaccines without a proven track record for safety.
We're not an anti-vaccine family, but we took a conservative approach and chose to spread out our daughters' vaccines over time, when possible.
The cost to vaccinate your baby changes with each stage. For a single vaccine like Hepatitis at a private hospital, you pay around THB1,000. For a combined vaccine like Infanrix, you can pay up to THB3,000.
At a public hospital or premium clinic the cost drops to around one-third of that price.
Over the course of four years you can expect to pay about THB16,000 to THB20,000 for all your child's vaccines at a private hospital. There is a cheaper solution, though.
One way to get cheaper vaccines is to buy a vaccine package from a hospital. Ask your hospital if they offer these types of packages.
Follow-Ups
Your baby's visits to the doctor's office include height and weight checks. However, keep in mind that average healthy weights and heights in Thailand differ from those in the West.
If your baby isn't Thai, or is mixed Thai, check online with baby weights and averages from your home country as well.
A doctor in Thailand may tell you your baby is too big for his or her age. But in your home country your baby might be on target.
During follow-ups, doctors also make sure you baby hits his or her important milestones.
Postpartum Checkups
It's important to make sure your baby is healthy. But it's also important for the mother to go for a postpartum checkup.
During the exam, your doctor makes sure that your body is healing properly, and they check that your uterus is returning to normal size.
They can also check that your C-Section is healing properly and detect any other post-birth health problems.
The health checkup is important for both you and your child. You can get a postpartum health checkup at these private hospitals. They have short wait times; you'll be in and out of there in no time.
IVF Clinics in Bangkok
If you're having trouble getting pregnant, consider doing in vitro fertilization, or IVF. It could increase your chances of getting pregnant.
The good news is that Bangkok is a haven for medical tourism, and there are many IVF clinics here. These clinics are located at many private and public hospitals. And there are also specialized IVF clinics that operate outside of hospitals.
In Bangkok, you can go to SAFE Fertility Center. It has its own fertility center with a wide range of facilities and English-speaking OB/GYNs.
The cost of IVF packages depends on your age, the complexity of your case, and where you go. If you go to a government hospital, prices can range from THB100,000 to THB200,000. At private hospitals, it can be THB300,000.
In addition, you may need to pay for health checkups and medications.
The whole IVF process takes a few months. You may need to visit the hospital every week or every other week.Read more: The Complete Guide to Finding the Recommended IVF Clinics in Bangkok
Support Groups
Whether you're a Thai or an expat, it's always good to connect with like-minded moms and dads to share experiences and find help with the challenges of raising kids in Thailand, such as finding a school for your kid.
Bangkok has many support groups, but two of the most popular for mothers are:
If you live in or near Chiang Mai, check out Le Leche League of Chiang Mai. They offer mother-to-mother support and meet regularly to talk all things motherhood.
For fathers, you also have quite a few choices. Check out these Facebook groups:
If you know of any more groups for moms and dads in Bangkok, let me know in the comment section.
Looking for Nannies
If you need help during your pregnancy with cleaning the house or getting your new baby's bedroom in order, hire a reputable maid or nanny.
Compared to America, the cost of a nanny is fairly cheap in Thailand. And you decide how much you want them to help with day-to-day tasks.
You can hire a nanny to live with you full-time or come for a few hours a day. They can help with the laundry and household chores while you're taking care of your newborn. They also can help take care of your newborn, allowing you to get some much needed sleep.
A few reputable choices for finding nannies in Bangkok are:
Kiidu's prices start at THB300 an hour for drop-in nannies or THB15,000 a month for full-time, live-in nannies. Ayasan's prices start at THB3,600 for part-time nannies and THB15,000 for full-time nannies.
It's important to vet your nanny before hiring her. After all, she'll be responsible for the health and safety of your newborn.
You can set up an interview with nannies from any three of the agencies above before hiring. You should do this in advance so you and your nanny are ready for the big day.
Find out more: How to Find a Maid, Nanny, Babysitter, and Housekeeper in Thailand
Now, on to You
This article is based on the experiences my wife had when she delivered our second daughter in Thailand.
It's also based on the experiences of Thai and Western friends who've had kids in Thailand. Your experiences may differ.
Please note: The information provided by ExpatDen is not intended to replace or serve as a substitute for medical or healthcare advice. It is strongly recommended that you seek guidance and consultation from a licensed medical practitioner or qualified healthcare professional pertaining to your specific circumstances and healthcare needs.