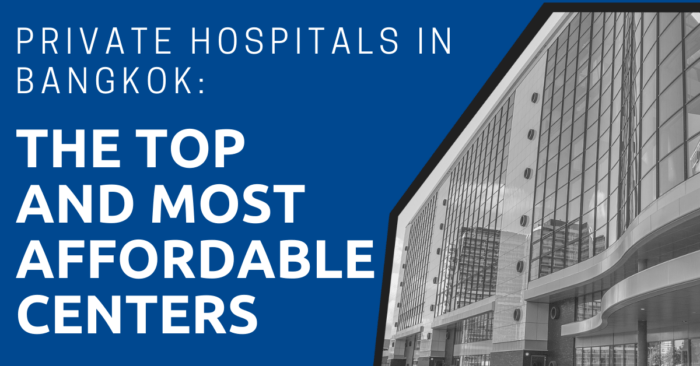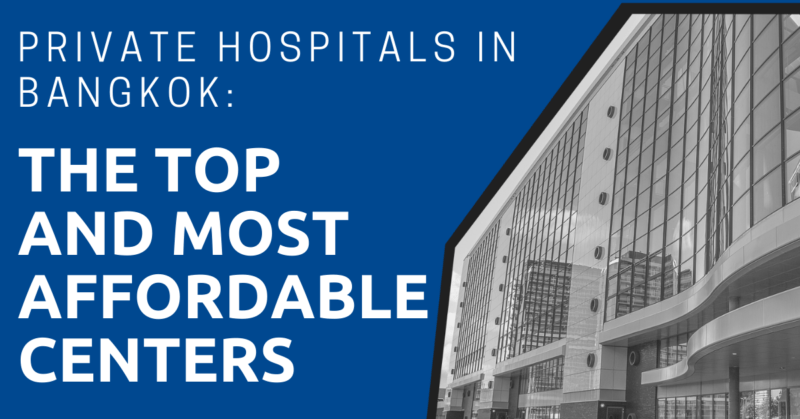 Bangkok has become one of the top destinations in the world for medical tourism, thanks to affordable prices, English speaking hospital staff, and excellent services.
Expats who live abroad in Bangkok enjoy excellent medical care at a price that is a fraction of what the same procedure would cost back home.
Others travel specifically to Bangkok for treatment in these private hospitals and take advantage of the benefits I've mentioned.
Private hospitals in Thailand are higher quality and more expensive by Thai standards in comparison to the public hospitals but still affordable compared to the USA. Of course, when it comes to your health price should never be the first priority.
However, no one likes to spend money needlessly. And why spend several times more elsewhere when you can get the same level of treatment for so much less in Bangkok?
Even at a premium private hospital, you can get medical treatment for 30% cheaper than you could in Europe and 70% cheaper than you could in America.
Plus, you can keep your medical expense in control through health insurance. With Luma, for example, it comes with 32 million bahts coverage limits, which is enough for any medical treatment.
In this guide I'll offer you more info on some of the main hospitals in Bangkok, so that you'll know what to expect.
Tips for Visiting Hospitals in Bangkok
Here are some tips to keep in mind when visiting hospitals in Bangkok: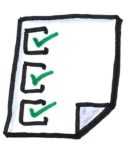 It's best to seek out a hospital that has been certified by the Joint Commission International, as this is a verification of a hospitals standards of quality. One of them is Bumrungrad International Hospital.
Be sure to bring your passport with you, as the hospital will ask to see it.
If your prescription calls for common medications, consider checking the local pharmacy as they are often cheaper than the hospital pharmacy and offer many of the same medications.
You can read reviews of the hospital and the doctors online. Just do a Google Search and you'll end up with some TripAdvisor results describing the experience.
If you get sick or injured while traveling, check your travel insurance documents carefully to find out what you are covered for and what your deductible is.
Also, find out what documents you need to get from your doctor in Bangkok to submit as part of a complete travel or health insurance claim.
Depending on your health insurance, sometimes if you are an expat living elsewhere in Asia your insurance company will consider covering your treatment and flight.
Let go of your idea that hospitals are uncomfortable places with fluorescent lights and bad smells. The private hospitals in Bangkok have stylish decor and they are as comfortable as a hotel. They will often have a choice of restaurants and very cozy waiting rooms, making them a better experience for patients as well as loved ones visiting.
If English is not your native language, many hospitals in Bangkok that cater to international patients offer translation services.
Many people in Western nations are sending their elderly family members to Thailand for care, especially those with dementia and long-term memory loss. The facilities in Bangkok are better and offer higher quality care for a lower price.
Don't be afraid to ask questions at all stages of your medical treatment: before, during, and after. Be sure to clarify exactly what treatment you will be receiving, how much it'll cost, what it entails, what the follow up will be, what medications you will need and how long your recovery time will be.
Almost all hospitals in Bangkok that treat foreigners will have English speaking staff who will answer all of your questions and give you the information you need.
General Medical Care
The following are some of the best hospitals in Bangkok. I've organized them into categories according to their main specialty, although many of these hospitals can cover a wide range of medical treatments.
Need Help Finding a Hospital?
If you are not sure which hospital to go, please feel free to contact us. We can help you find a suitable hospital based on your needs.
Heart Disease
Heart disease usually refers to heart attacks, chest pains, and strokes caused by blocked blood vessels. Here are a few popular private hospitals in Bangkok that treat heart disease.
Bangkok Hospital
Bangkok Hospital has a department that specializes in heart disease. It has a reputation for providing excellent care for a range of different types of heart diseases. The team of cardiac surgeons, physicians, radiologists, and other professionals are internationally trained. This is one of the JCI accredited hospitals in Bangkok, and it also received the Asian Hospital Management Award and the European Air Medical Institute Accreditation.
The Bangkok Heart Hospital has the largest number of full-time cardiologists and treats an average of 40 thousand cardiac outpatients per year. They perform more than 1,100 heart surgeries annually. They are also a member of the Heart Care Network, which was created to establish standards regarding heart care for patients.
This was the first private heart hospital in Asia and the only complete heart care service offered 24/7 in Thailand. This internationally renowned hospital receives approximately 20% to 25% foreign patients, and they are able to handle even the most complex heart conditions.

Vejthani Hospital
Another one of the best hospitals in Bangkok for heart disease is Vejthani Hospital. At the Vejthani Cardiac Center the medical specialists provide a full range of medical services related to heart disease. They are also able to perform angioplasty, which is a procedure where a doctor inserts a thin catheter with a balloon on the end of the artery. When the balloon reaches the blockage, the balloon expands and opens up the artery and improves the blood flow.
It's also possible to undergo bypass surgery and other heart disease treatments at Vejthani Hospital. The medical treatments are a world-class standard and the staff are well-trained. The state of the art Imaging Laboratory features echocardiograms, exercise stress tests, holter EKG monitoring, and much more.

Bumrungrad International Hospital
Bumrungrad International Hospital has a reputation as one of the best hospitals in Bangkok. Although it offers a wide range of healthcare services, its Cardiology Center is one of the best.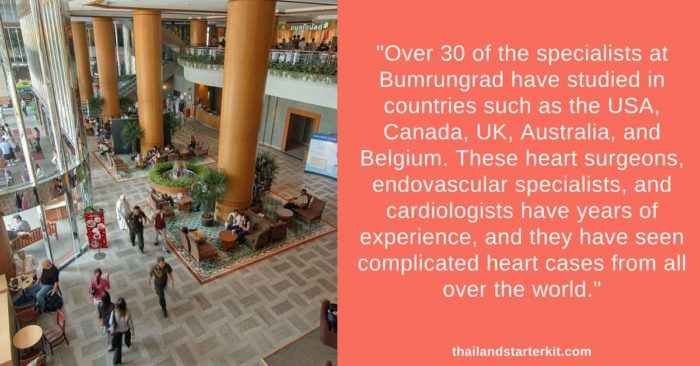 The team of highly trained and skilled doctors are supported by expert nurses, pharmacists, and dietitians. This hospital has been JCI accredited for 10 years and it is always ranked at equal or above the international standards when it comes to diagnosing and treating heart conditions.
Bumrungrad has a lot of high-tech equipment on site for highly accurate diagnoses, including dobutamine stress echocardiograms, electrocardiograms, and echocardiograms. They were the first Thai hospital to introduce 24-hour emergency cardiac intervention and they can implant a pacemaker within 90 minutes of a patient's arrival at the door. They are also able to perform heart and chest surgery.
However, Bumrungrad isn't just a hospital for heart conditions. It is one of the most renowned hospitals in Thailand and this 200 bed premier healthcare center is known around the world for being a leading provider in medical tourism. It's one of the only hospitals in Thailand to achieve the coveted Joint Commission International Accreditation. Over one million patients per year are treated here, from simple medical checkups to major surgeries.
When you enter Bumrungrad Hospital, you will feel more like you have entered a luxury mall or a fancy hotel than a hospital. It has a Starbucks, a McDonald's, valet parking, and rooms with cable TV.
Cancer
Cancer is an abnormal growth of cells that requires progressive treatment. Here are a few private hospitals in Bangkok that specialize in cancer treatment.
Samitivej Hospital
Samitivej Hospital is one of the leading providers of healthcare in Thailand. It has been recognized around the world for its quality and has received awards such as the Prime Minister Award for Most Recognized Service. It was also the first hospital in Thailand to be given Mother and Baby Friendly Hospital status by the World Health Organization and UNICEF.
Although this hospital offers care for everything from common medical needs to cosmetic services to complex procedures such as liver transplants, it's known for the excellent oncology clinic. The team of oncologists there, along with the technicians, radiologists, nurses, and other medical professionals are known for offering quality service.
The clinic provides a comprehensive cancer care program that meets high international standards. They focus on early detection with regular screenings and then offer a diverse range of treatments, including iodine therapy, surgery, treatment of blood diseases, bone marrow transplants, radiation, and chemotherapy.
During treatment, the staff at Samitivej are also devoted to palliative care to minimize the discomfort and negative symptoms for each patient. This hospital can also offer reconstructive surgery, as well as breast prosthesis after surgery for breast cancer patients. They also offer nutritional consultation, emotional and spiritual support, and support groups.
Bangkok International Hospital
The Cancer Hospital at Bangkok International Hospital is known for offering high-quality treatment. This hospital prides itself on using the latest technology, which allows medical professionals to diagnose conditions as accurately as possible. The cancer treatment offered here is comprehensive and of very high quality.
Of course, this is one of the main hospitals in Bangkok and it offers more than just cancer treatment. It also has a Neurology Center, a Cardiology unit and much more.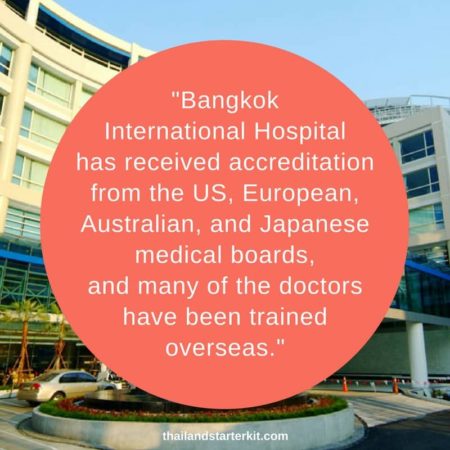 Rest assured, if you arrive at Bangkok International Hospital with any ailment, they'll be able to treat you with a very high standard of care. They even have a dedicated international team of translators who speak more than 30 different languages collectively, so no matter where you are from you'll be able to communicate with your doctor with ease.
Wattanosoth Cancer Hospital
Bangkok Wattanosoth Cancer Hospital is the first private hospital in Thailand that is dedicated to the screening, prevention, and treatment of cancer. It has received a number of awards, including the Clinical Care Pathway Certification which is awarded by the Joint Commission International. It has been named as the best private full-service cancer treatment center in Thailand for the last six years and its survival rates are comparable with leading cancer treatment centers in Japan, Western Europe, and the USA.
Wattanosoth Cancer Hospital, often referred to as WSH, is the referral center for cancer care for all of the 29 hospitals in the Bangkok Dusit Medical System. It's sister hospital is the University of Texas MD Anderson Cancer Center.
Since early detection is one of the best ways to improve the odds of treatment success, Wattanosoth Cancer Hospital uses the most modern technological advancements to diagnose the disease. Some of the diagnostic technologies available at the hospital include CT scans, magnetic resonance imaging, MRI, digital mammograms, and PET and CT scans.
When it comes to cancer treatment, the hospital is able to offer a range of therapies, including chemotherapy, molecular targeted therapy, ambulatory chemotherapy, intervention chemotherapy, and much more. Sometimes a combination of therapies can be the best way to combat disease and often the doctors at this facility will apply multiple breakthrough treatments. Plus, the hospital offers alternative treatments to supplement, such as therapeutic music, aromatherapy, exercise, reflexology, massage, and more.
In addition to medical treatment, this hospital provides some pretty luxurious concierge services for patients. They offer limousine transfer to the hospital from any location in Bangkok, visa extension services, and accommodation arrangements. They can even arrange tours for your loved ones who are visiting you while you are in hospital. This medical center is considered the gold standard when it comes to cancer care in Bangkok.
Plastic Surgery
Plastic surgery involves the alteration or reconstruction of the body. Some people seek out plastic surgery for alteration purposes, like getting breast lifts or tummy tucks. Others may seek out plastic surgery to reconstruct a body part after a major accident. Here are some popular private hospitals in Bangkok that provide plastic surgery.
Kamol Hospital
Kamol Hospital is another hospital in Bangkok that is renowned for its cosmetic surgery treatments. The hospital is JCI accredited and offers a range of beauty and cosmetic procedures, including hair transplants, liposuction, tummy tucks, face lifts, gender reassignment surgery, facial feminization surgery, and more. The hospital also offers dermatological treatments such as reducing acne scars, whitening, tattoo removal, and treatment of varicose veins.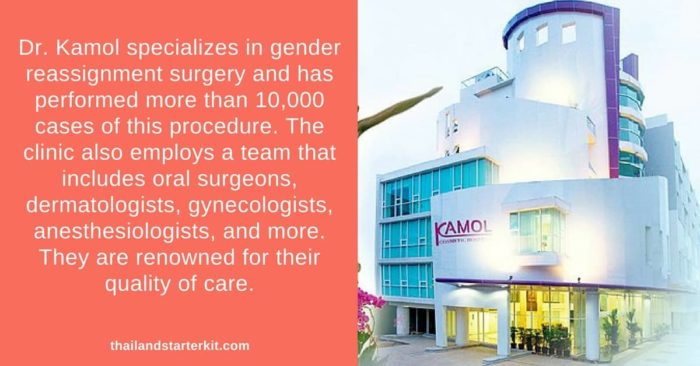 The hospital was established by Dr. Kamol Pansritum, who is a plastic surgeon who worked for a private clinic, as well as for the Royal Army Hospital in Lopburi province. He served in Lopburi for six years, then came to Bangkok to open his own clinic.
Yanhee General Hospital
Located on Charansanitwong Road, Yanhee General Hospital, which is JCI accredited, is one of the most respected and renowned in Thailand. The fact that 75% of international patients there are repeat clients is a testament to the hospital's excellent reputation in cosmetic, beauty, and health services. The hospital is a 15-story building with 400 beds, an ICU, emergency rooms, and a laboratory onsite. It has been offering successful cosmetic surgery since 1984.
Yanhee General Hospital is considered to be the best cosmetic surgery hospital in Thailand. Some of the common procedures undergone here include tummy tucks, rhinoplasty (nose job), breast enhancement, dental treatment, and other plastic surgery and beauty treatments. However, the treatments here are not all superficial. This hospital can also treat kidney problems and heart conditions.
The staff speak fluent English and they are dedicated to staying on the cutting edge of technology and medical advancements. When you go under the knife with these highly-trained and experienced doctors and surgeons, you'll be able to receive plastic surgery and other treatments at a huge savings compared to the same procedures in the West.
Nirunda Cellpoint Clinic
Nirunda Cellpoint Clinic might be small, but it offers an expert quality service for patients. It has been operating since 2007, and Nirunda Cellpoint Clinic employs an elite team of internationally trained professionals.
The staff speak fluent English and can consult with you about your cosmetic surgery needs and wants. Some of the common treatments at this clinic include breast lifts, nipple reduction surgery, breast augmentation, Brazilian butt lifts, eyelid surgery, facelifts, mole removal, and Botox injections.
It's also possible to have gender reassignment surgery at this clinic, which takes around four to five days and is performed at a high standard. It's also much more affordable than it would be to have this surgery anywhere in the West.
Elderly Care
Eldery care, sometimes called "end of life" care, is a necessary stage of life for the aging population. Below are a few hospitals that provide elderly care in Bangkok.
Bangkok Nursing Home Hospital
Bangkok Nursing Home Hospital has 120 beds and provides inpatient and outpatient services for older patients in Bangkok, with physicians trained in every field of medicine available on a 24-hour basis.
The hospital began in the late 1800s as a nursing home for British and other expatriates in Thailand. A great deal has evolved and changed since then, but the hospital you see today was built in 1991.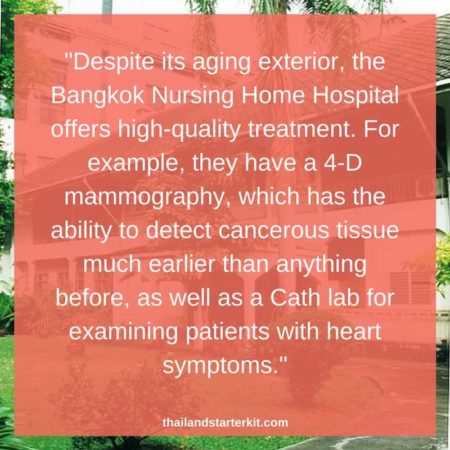 What makes this hospital special is that it really focuses on providing care and comfort for patients. The waiting rooms are designed like comfortable living spaces, so patients and their companions feel at home. The highly-trained staff have excellent bedside manner and make sure everything is professionally run. Plus, the hospital is in a convenient location near Sala Daeng BTS Skytrain Station in downtown Bangkok.
Bangkok Longevity Center
The Bangkok Longevity Center at Bangkok Hospital strives to offer a full and comprehensive suite of healthcare services for the elderly. They offer preventative medicine, as well as treatment for disease and disabilities.
The center recognizes that the elderly have different healthcare needs than other patients and the complications that come with old age require specific types of treatment. The staff at this specialized medical facility are trained in helping the elderly and they are experts in conditions such as movement disorders, Alzheimer's and much more.
The Bangkok Longevity Center also has a MACE unit, which stands for the Mobile Acute Care for the Elderly. This unit is comprised of nurses, geriatricians, nutritionists, and pharmacists who treat any acute conditions. The unit aims to prevent damage that might occur due to being immobile in bed for prolonged periods.
Pediatric Care
When it comes to your children's healthcare, you'll probably want the best money can afford. Below are a few popular private hospitals in Bangkok that provide pediatric care.
Samitivej Children's Hospital
Samitivej Srinakarin Hospital is known for being one of the best institutions for pediatric care in Southeast Asia. It has received a Mother and Baby Friendly Hospital Award from the World Health Organization and UNICEF.
They provide a high level of care to infants, toddlers, children, and teenagers with state-of-the-art facilities and world-class technology. The team at the hospital includes more than 150 experienced doctors, surgeons, specialists, nurses, and staff. They also have a team of 72 interpreters speaking a range of languages to help patients communicate.
The hospital provides medical care for a wide range of ailments and it also has a Pediatric Cancer Center that provides comprehensive care for children suffering from leukemia, lymphoma, and other forms of cancer.
As well as the standard pediatric services, Samitivej Children's Hospital also has a Special Needs Child Center to diagnose behavioral disorders and learning disabilities. Plus, they have a highly sophisticated Allergy and Asthma Center which was the first of its kind to receive the Clinical Care Program Certification from the Joint Commission International.
Phyathai Hospital
Although Phyathai Hospital offers a range of medical services, they are known for the quality of their pediatric center. They care for children from birth to adolescence and the services they have to offer include care and support for your child in a very compassionate and comforting environment.
One of the interesting things that this pediatric care facility offers is childhood learning and development programs. They promote brain development with a range of activities that are designed to improve agility, flexible learning, creativity, and other thinking skills. Plus, Phyathai Hospital also offers programs for children with special needs.
To make your visit easier, this hospital offers coordinators who can help you with arranging hotel and airport pickup, visa procedures, transportation, and assisting with your travel or health insurance. There will be someone there to walk you through every step of the experience. After all, when your child needs medical care it's stressful enough, so having this service makes things much easier.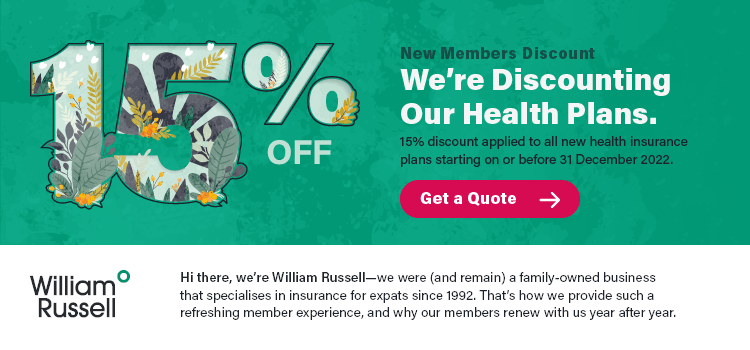 Advertisement
Orthopedic Hospital
Having a problem with your muscles and bones? You can visit the below hospitals.

Bangkok Hospital
Bangkok Hospital has a specialized orthopedic center providing a full range of orthopedic treatment, with both surgical and non-surgical options.
This hospital has a team of specialists certified by FIFA, providing care and treatments for all kinds of sports injuries. In addition to providing the treatment, the specialist can also give you a suggestion on how to prevent future injuries and increase your overall fitness performance.
The team of orthopedic surgeons at Bangkok Hospital can diagnose and provide suitable treatment for feet, ankles, wrists, arms, elbows, hips, knees, shoulders, and bone fractures, no matter if it is the result of an accident or chronic disease.
In case you have a problem with your back and spine, you can also visit their spine clinic.
Vejthani Hospital
This might be the first time you heard the name Vejthani Hospital.
However, the hospital has been in operation since 1994 and is a well-known private hospital for locals who are living in Ladprao.
The orthopedic center in Vejthani Hospital is considered one of the best in Bangkok when it comes to treating bones and muscles.
One user posted a review on Pantip.com, which is something like a Thai version of Reddit, about her experience with Vejthani Hospital.
The hospital was able to treat her husband, who had spine problems from an accident for over 6 years. Her husband had two surgeries before in his home country. And it became worse over time.
In the end, she took her husband to Vejthani Hospital. After the surgery, her husband became better and looks to be completely healed.
According to the review, another good thing about Vejthani Hospital is that the medical team informed her husband about every step in detail, and even taught him how to breathe properly after the surgery.
This didn't happen when he was operated on two times in the hospital in his hometown.
The only bad point of Vejthani Hospital is the location itself. It's located in Ladprao, which can be far from usual expat areas.
Final Thoughts
These are just a few of the best hospitals that Bangkok has to offer. When choosing a hospital in Thailand be sure to do your research so that you can select the hospital that's best for you.
If you want to skip the research and see our recommendations, you can visit Bumrungrad International Hospital. They offer a wide range of treatments and adhere to international medical standards.
Photos by Otacke, Pinaew, Kamolhospital, and Bahtboy.