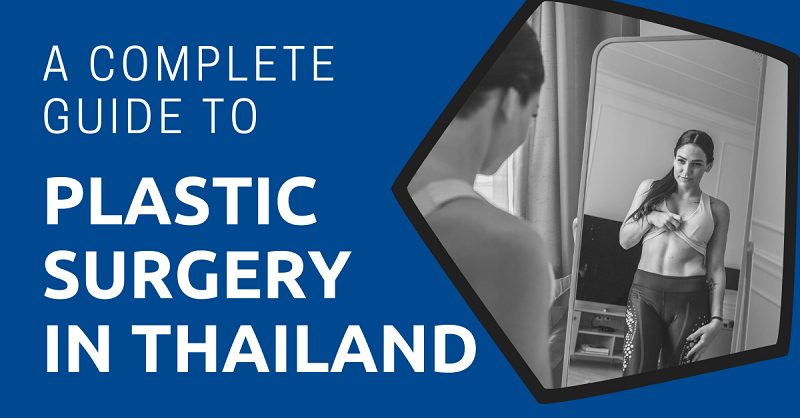 Medical tourism used to be a novel idea but thanks to the rising cost of healthcare in the West and the excellent facilities available abroad — at often half the cost or less — an increasing number of people are seeking medical procedures in new countries.
One of the most popular destinations for medical tourism is the Land of Smiles, Thailand, and it's no secret that many patients are coming here to receive cosmetic surgery. Thailand's plastic surgery market has boomed over the last decade and procedures like Botox injections, thread lifting, and rhinoplasty are commonplace.
"*" indicates required fields
Why Choose Thailand for Cosmetic Surgery?
With its robust medical infrastructure, highly trained doctors, and relatively low prices even at top hospitals, Thailand is a world renowned cosmetic surgery destination. There is an abundance of options available for those seeking cosmetic treatments in paradise.
Overall, the standard of care is high, even compared to Western hospitals, despite prices often coming in around 60% lower. Highly skilled surgeons are available in Thailand who have a breadth of experience and knowledge in their specialty field, many of whom have received international training.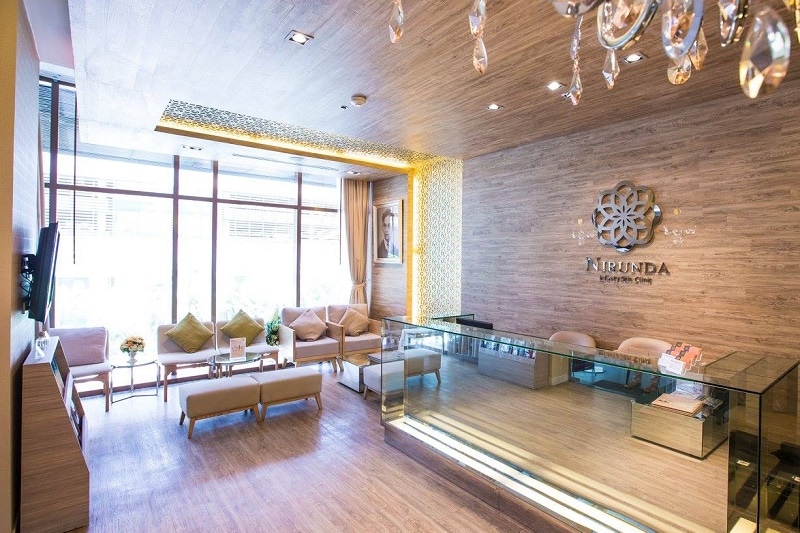 Many hospitals in Thailand also have a high level of English and regularly cater to international patients. Private hospitals like Bangkok Hospital and Samitivej Hospital offer the highest standard of care and world class facilities. Many are also JCI accredited which ensures the hospital is operating at the highest standards.
While price shouldn't be the defining factor in your decision to get cosmetic surgery, Thailand does offer much more affordable cosmetic surgery options than in the West. So with highly competitive treatment prices, an easy entry and visa process for foreigners, a low cost of living once you've arrived, and a beautiful, tropical environment for treatment and recovery.
Common Plastic Surgery Packages Procedures & Costs
High cost does not always equal high quality in Thailand. Do your due diligence to find the best value and don't fall for a bargain. Various factors will influence the final cost of your procedure including the hospital you seek treatment at, the skill level of your surgeon, the quality of the facilities and equipment and more.
Cosmetic surgery is very popular among locals, expats, and tourists in Thailand and it is not difficult to find a surgeon specializing in the most common cosmetic procedures. Popular procedures include "double eyelid" surgery, nose jobs, breast augmentations, and face lifts.
There is an abundance of options but it is important to choose your surgeon carefully. Look for one that performs your chosen procedure as a large part of their practice and go over their before-and-after photos to ensure they can deliver satisfactory results. All of the hospitals and clinics we have recommended here are JCI Accredited, ensuring the highest standard of care, but other qualified institutions and surgeons can be found.
Keep in mind that the total cost will also include air travel and living expenses if you do not already reside in Thailand. While Thai hospitals generally offer treatment plans that cover post-operative care, you may also need to factor in an extended stay in Thailand to fully recover.
Breast Augmentation
Commonly known as a boob job, this procedure augments the breasts by placing fat transfers or implants in the chest to increase the size, symmetry, and volume.
There are a variety of implants and surgical approaches available in Thailand so ask your doctor to see before-and-afters from previous patients to get an understanding of the results you can expect and what risks are involved.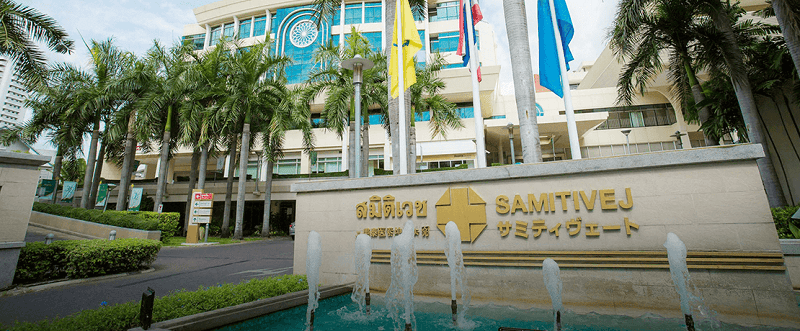 Bangkok Hospital has skilled surgeons in many of its branches and has put together a helpful guide to breast augmentation.
Average prices range from $2,700 – $5,000
Rhinoplasty
Rhinoplasty, or a nose job, is one of the most popularly performed cosmetic surgeries in Thailand. There are certain instances that this procedure is required for medical reasons such as septum deviation or a poorly healed broken nose but it is most often done for purely aesthetic reasons.
Patients work with their doctor to determine the final desired shape and structure of the nose either through an open or closed rhinoplasty.
Samitivej hospital offers both open and closed Rhinoplasty at their highly rated facility.
Average prices range from $500 – $1,200
Eyelid Surgery
Eyelid surgery in Thailand either aims to reduce the signs of aging around the eyes or to create a "double eyelid" on Asian lids. Lower eyelid surgery is performed to reduce bagginess and skin folds under the eye and may be combined with other procedures for a full facelift.
Yanhee hospital is a popular choice for both lower and upper eyelid surgery as well as surrounding surgical procedures.
Average prices range from $1000 – $2,000
Rhytidectomy
Commonly known as a facelift, this procedure aims to tighten the skin on the face and neck through the removal of sagging tissue at discrete incision sites.
Kamol Hospital offers several different surgical and non-surgical options for lifting the face.
Average prices range from $2,000 – $4,000
Liposuction
This common procedure removes excess fat from troublesome areas of the body including the abdomen, hips, arms, and face. Because liposuction only removes excess fat, it is often combined with other procedures like tummy tucks that remove sagging skin from the abdomen and tighten the waistline.
Phyathai2 International Hospital offers a procedure called Vaser Liposuction that combines liposuction and ultrasound technology to reduce fat but several liposuction methods are available.
Average prices range from $4,000 – $6,000
Sex Reassignment Surgery
Thailand has become well known for providing both male to female and female to male sex reassignment surgery or SRS. While most people are referring to genital surgery when they refer to SRS, sex reassignment actually involves a multi-faceted medical approach.
Gender reassignment is a complex process that generally involves the patient having lived as their desired gender for a lengthy period of time and receiving medical interventions such as taking hormones and getting surgery to correct areas such as the adam's apple, breasts, and hips. Genital sex reassignment surgery is performed for patients in the final stages of the transgender process and cannot be reversed.
Kamol Hospital is well-known for providing sex reassignement sugery and surrounding procedures.
Average prices range from $8,000 to $25,000
Minimally Invasive Procedures & Costs
Minimally invasive procedures are a huge part of the plastic surgery market in Thailand with Botox and dermal fillers being the most popular. Skin treatments come in at a close second with Thai women seeking Hyaluronic Acid facials, photo rejuvenation treatments, and microneedling. Body contouring is also popular with a variety of methods on the market.
While minimally invasive procedures come with less risk than their surgical counterparts, it is still important to find a trustworthy clinic and doctor.
Many major hospitals have skin clinics that offer laser treatments, botox, fillers, and more. Chaoprya Hospital, MedPark, Bangpakok 9, and Siriraj Piramajarajkarun Hospital are all JCI Accredited institutions with aesthetic clinics.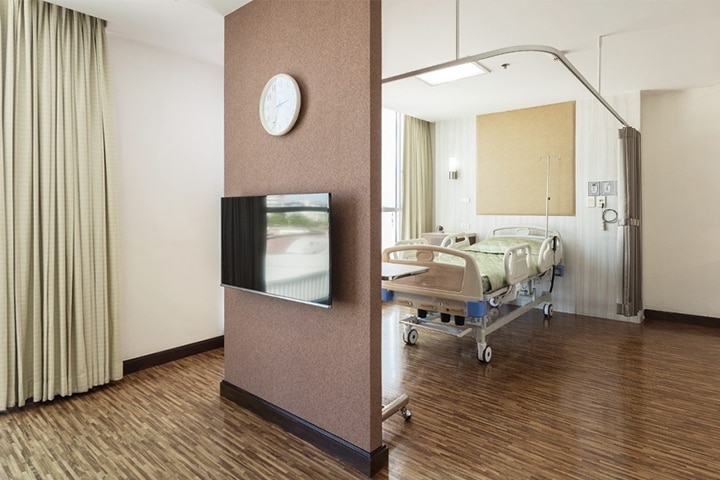 While minimally invasive procedures also come at a significant discount in Thailand, it is likely not worth you visiting just for the savings. Work with your doctor to maximize the value and bundle treatments if possible.
Botox
Botox is a toxic bacteria found in botulism that has been harnessed as an injectable to reduce the appearance of wrinkles by paralyzing the muscle around the injection site. Results last for three to six months.
Botox isn't the only brand on the market. Your doctor may also offer brands like Dysport, Xeomin, or others. Work with your doctor to determine which brand is right for you and take extra precautions to ensure the clinic's reputation. Dangerous, counterfeit products have been found on the market.
Average prices range from $400 – $1,000
Fillers
In the last five years, the use of dermal fillers to add volume to the lips, nose, and cheeks has exploded. Now as common as botox, with as many brands on the market, dermal fillers are easily found in Thailand.
Do your research on the clinic and doctor as botched fillers can cause disfiguration, infection or worse if the product injected was not as advertised.
Fillers last anywhere from six to twelve months.
Average prices range from $500 – $1,500
Plastic Surgery Price List
| | |
| --- | --- |
| Breast Augmentation | $500 – $1,200 |
| Rhytidectomy | $2,000 – $4,000 |
| Rhinoplasty | $1,000 – $2,000 |
| Liposuction | $4,000 – $6,000 |
| Sex Reassignment Surgery | $8,000 – $25,000 |
| Eyelid Surgery | $1,000 – $2,000 |
| Thread Lift | $200 – $1000 |
| Botox | $400 – $1,000 |
| Dermal Fillers | $500 – $1,500 |
Finding the Right Hospital for You
After deciding on Thailand for cosmetic surgery, how do you go about finding the right hospital? It's important to take the time to research potential treatment facilities and find a hospital that has a high standard of care, well-trained staff and doctors, a high-level of English and reasonable prices. Fortunately, there are some excellent hospitals in Thailand that fit the bill.
Accreditation
The gold standard for hospitals and clinics is a Joint Commission International (JCI) accreditation. The US based accreditation is only awarded to hospitals that meet rigorous standards. Only 59 hospitals and clinics in Thailand have been awarded a JCI accreditation and only a handful of those offer cosmetic procedures. All of the hospitals and clinics listed in this article have been JCI Accredited.
If a hospital or clinic is not JCI accredited, you will want to take extra time to research the facilities and surgeon. Look into the types of procedures that form the bulk of the clinic's practice and ask for a surgeon that specializes in your chosen procedure. Ask to see your surgeon's credentials including their education and where they received training.
Many surgeons have received international training and should easily be able to show their credentials from institutions like the American Medical Association (AMA), the European Association of Plastic Surgeons, or the General Medical Council (GMC). They may also be recognized by an international body such as the International Society of Aesthetic Plastic Surgery (ISAPS).
Ask to tour the facilities including the surgical and recovery area before you sign up for surgery. You will want to see firsthand rather than in pictures if possible as misrepresentations are common.
Ask questions while you tour the facilities to fully understand what the procedure and recovery time will involve. Any discomfort with your surgeon or facilities at this early stage should be a clue to look elsewhere for treatment.
Communication
One of the most appealing things about seeking medical care in Thailand is that the majority of large hospitals and clinics will have staff including nurses and doctors who speak a high-level of English.
Of course, this will not be the case if you decide to go to a rural or less international hospital but even then you are likely to find an English speaking representative.
That doesn't mean that communication will be perfect, however, and it will still be important to have someone you trust that is a native speaker on standby. If you are working with a medical tourism company, they will assist in communicating with the hospital and doctors.
Get a Quote
After narrowing down your search, you can seek a detailed, personalized quote from the hospitals of choice. Generally, hospitals only provide detailed quotes once medical records have been sent in and a treatment plan has been thoroughly discussed, however, so you can ask for a general estimate first.
Ask for the estimate to include fees for pre and post op doctors visits, accommodation and care while in recovery, the cost of the surgery, medication and medical supplies to get the most accurate price range.
Plastic Surgery Packages in Thailand
While there are hundreds of options for plastic surgery in Thailand but only 59 with a JCI Accreditation and only a handful that offer cosmetic surgery packages.
While hospitals without a JCI accreditation may have skilled surgeons, luxe facilities, and quality care, it will be important to do your due diligence to be sure their qualifications are up to scratch.
We've put together this short list of JCI Accredited institutions in Bangkok, Phuket and Chiangmai with excellent plastic surgery centers.
Bangkok
As the capital city, Bangkok is one of the most popular cosmetic surgery destinations for both locals and tourists. Prices can be a little higher here than the average around Thailand but the standard of care also tends to be higher at Bangkok hospitals.
Some of Bangkok's hospitals are world-renowned facilities employing some of the world's best plastic surgeons.
Accommodations in the city tend to be on the higher end but for many coming from the West, the price of getting plastic surgery in Thailand plus travel and accommodation expenses is still a significant savings over getting the same procedure at home. Many hospitals partner with nearby hotels to provide comfortable accommodation to patients in recovery at a discount or as part of the package.
Chiang Mai
Chiang Mai might not be the first place you think of in Thailand for plastic surgery but it shouldn't be dismissed too quickly. Bangkok Hospital in Chiangmai has an excellent Cosmetic Surgery Center and prices in the city in general are significantly lower than in Bangkok or Phuket. Particularly patients that require a long stay could find significant savings on accommodation in Chiang Mai.
Phuket
Phuket is another popular destination for plastic surgery. There are world-renowned medical centers with resort-like accommodations on the beach, highly rated surgeons at top international hospitals like Artemes Health & Beauty Center at Bangkok Hospital Siriroj, and boutique skin clinics with celebrity doctors.
Phuket also offers slightly more affordable accommodations compared to Bangkok, especially for those that require a longer stay.
Payment
Plastic surgery can be costly even at steeply discounted Thai prices. In rare cases, medical tourism companies or the hospital you are working with may be able to arrange payment plans for procedures but generally, payment will need to be made in-full, up-front.
Payment by Thai credit card or debit card or in Thai Baht will always be accepted. Digital payments are also widely accepted throughout Thailand. Special arrangements can be made with larger hospitals to pay in foreign currencies if required.
A 1-3% fee for international credit cards is generally applied in addition to foreign-exchange fees. Be aware of these potential charges especially if you are making a large purchase. You'll also want to notify your credit card company of your travel plans prior to departure.
Insurance
Speak with your health insurance provider before signing up for treatment to understand what, if anything, they will cover. In almost all cases, cosmetic procedures aren't covered by insurance companies and you should expect to pay for the treatment in full. There are some rare exceptions like cleft palate surgery or reconstructive surgery. If they do cover any portion of your treatment it will be important to understand which hospitals accept direct billing.
Using a Medical Tourism Company
Several companies specializing in medical tourism in Thailand can be found online and help to arrange the logistics of what could otherwise be a complicated trip to plan. Companies like Ever Health Care and Health-Tourism.com offer a platform to help medical tourists find appropriate plastic surgery packages to fit their price range, type of procedure, destination requirements and more.
From arranging visas to facilitating communications between you and the hospital, to helping you arrange accommodation in Thailand after your surgery, these companies can significantly reduce the stress of planning a trip as a medical tourist.
Companies will ask to set up a consultation to understand your medical needs and will request medical records to generate an accurate estimate. You may need to register through the company's website, submit paperwork and travel details, and to agree to a treatment and payment plan once you feel comfortable with proceeding.
Many companies work with specific hospitals and will not charge upfront fees for their services. It is important to understand what the final fee will be, however, as you don't want to get stuck with a big bill you weren't expecting.
Cosmetic Surgery is Not Risk-Free
It's important to offer up a reminder here that going under the knife is inherently risky and may result in complications even under the best circumstances.
Fortunately, however, much of the risk can be mitigated by being vigilant in your research. There are under qualified, even unlicensed doctors out there offering treatment packages, often at bargain prices, so it's important to shop around, look at real before-and-after photos and hear from real patients about their experiences.
Check out the Thai Ministry of Public Health website to see if your institution of choice is listed on their verified list of hospitals and clinics. Join Facebook groups and ask other expats for their experience as well and look into the surgeon's case history. Complications and poor results can happen in any practice but a pattern of malpractice should be a big red flag.
Doing your research upfront is worth the effort and can save you a big headache later. It can be difficult to seek repercussions from a surgeon after a botched procedure and could cost thousands in lawyers fees and extra time.
Getting a Thailand Visa
Thailand makes it easy for medical tourists to enter the country. They grant an immediate 30-day visa-free entry to many foreign nationals. As of the time of writing, there are no Covid restrictions in place and medical tourists can take advantage of the easy entry.
Extending beyond 30 days is generally available for at least 7 days after receiving medical treatment.
There are other non-immigrant visas available as well, making entry into Thailand easy for most travelers.
Now, on to You
We hope this guide has helped arm you with the knowledge you need to find an affordable and safe plastic surgeon in Thailand. By making the right preparations to find a trustworthy hospital, make payments, and ultimately undergo surgery, you can confidently move forward with going under the knife and getting a whole new look in Thailand!