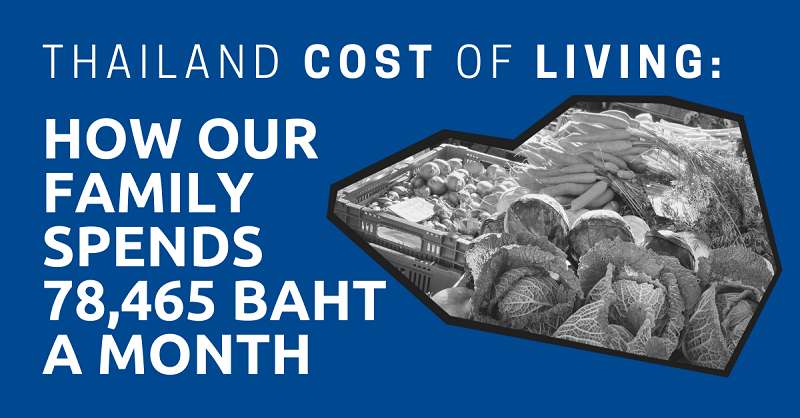 Curious about how much it'll cost your family to live in Thailand? Already live in Thailand and planning on starting a family here? This post will give you a general overview of the cost of living for a family of four in Thailand.
And at the end, you'll find out how to save some money if you have a family in Thailand.
Here's Us
My wife and I and our oldest daughter moved to Thailand in 2014. In 2016 we had our second daughter. We live in a townhouse just outside of Bangkok, in the province of Samut Prakan.
At the time of this writing my wife and I are in our 30s. My oldest daughter is 4. And my youngest is 2.
If you're single and wondering what it would cost to live in Bangkok, check out Karsten's cost of living for Bangkok article.
The Big Picture
In total, my family spent 78,465 baht per month for the last 12 months–give or take. There may have been times when I forgot to add something to the budget. So this isn't an exact number. But it is pretty close. And it should give your family a good idea on how far your money will go in Thailand.
Another thing to consider when looking at this budget is lifestyle. I know families who spend way more than we do. And yet others who live comfortably for far less. So as they say, to each his own.
| Expense | Thai Baht | US Dollars | British Pounds | Euros |
| --- | --- | --- | --- | --- |
| Rent | 16,000 | 499 | 373 | 424 |
| Utilities | 4,495 | 140 | 105 | 119 |
| Health | 3,494 | 109 | 82 | 93 |
| Maid | 1,200 | 37 | 28 | 32 |
| Groceries | 28,782 | 897 | 672 | 763 |
| Eating Out | 4,673 | 146 | 109 | 124 |
| Transportation | 6,748 | 210 | 157 | 179 |
| Fitness | 492 | 15 | 11 | 13 |
| Entertainment | 2,473 | 77 | 58 | 66 |
| Vacation | 2,565 | 80 | 60 | 68 |
| Clothes | 2,967 | 93 | 69 | 79 |
| Education | 4,276 | 133 | 100 | 113 |
| Total | 78,665 | 2,453 | 1,836 | 2,086 |
Curious how to cover your monthly living expenses in Thailand? Check out our book Working in Thailand: How to Ditch the Desk, Board the Flight, and Land the Job. You'll read about 19 expats who've landed their dream jobs in Thailand.
Rent
We used to rent a condo in Bangkok. But we've moved into a house for more space. Our rent is 16,000 baht per month. This gets us a brand new townhouse in a private community near Mega Bangna Mall in Samut Prakan, just east of Bangkok. Our townhouse is two floors, with two bedrooms, two full bathrooms upstairs, and one half bathroom downstairs. We have a driveway, small front yard, and small backyard.
In the community we have a saltwater swimming pool, fully-equipped gym, grassy area, and playground for the kids. Outside of our development there is really nothing special—just a road leading to the main street, which then takes us to Bangna-Trad. From here we can get to anywhere in Bangkok or head east to Chonburi.
Utilities
Our utilities come out to 4,495 baht per month. Our biggest expense is electric, coming in at 1,787 baht per month. I'd rather live in comfort than worry about electric costs, so we don't limit how much we run the air conditioners. All year round we run at least two ACs through the night in the bedrooms. If we have a guest sleeping downstairs, then we run that AC as well.
Our stove top and oven are also electric. My wife cooks from home six out of seven days a week. And she also has a little side business as a baker. For the amount of electric we use, the price we pay each month is unbeatable compared to the West.
Our second biggest utility is the cell phone bill. For two phones we pay 1,530 baht per month through True. This plan gets us what we need and we've never gone over our minutes. I have the option on my phone to call America, for those times I have to reach the bank back home, but I'm only charged when I use it.
Our internet comes out to 654 baht per month through CAT. We don't have cable. If we do watch TV, it's online through Netflix. That costs us another 350 baht a month.
And our water bill each month is 174 baht. This is also cheap considering four people shower twice per day, we use the tap water through a filter to drink, and my kids play in the front with the garden hose on occasion.
Healthcare
This one's tricky since each month is different. But we spend 3,494 baht per month on healthcare. We don't have health insurance, although we did in the past.
Hospital bills are usually cheap enough to manage though. We use Thai Nakarin Hospital, one of the private Bangkok hospitals, for all our basic health checkups, the kids pediatric care and vaccinations, and generally emergencies, which happen more often than not with kids.
If my kids have to be admitted to the hospital we use a government hospital, Bangkok Children's Hospital, in the city. My daughters have a 30 baht card, which significantly cuts the cost of our healthcare expenses. For example, the last time my youngest daughter was admitted to the hospital for four days at Bangkok Children's Hospital, it costed us 93 baht—just about $3. When my oldest daughter was admitted to Thai Nakarin for four days, it costed us 32,000 baht—just under $1,000.
The level of treatment my daughters received at both hospitals was the same. The only differences were the longer wait times at Bangkok Children's Hospital, the less-friendly staff, and the crowded rooms. In Bangkok Children's Hospital there were six kids to a room, with family members, whereas in Thai Nakarin we had a private room.
This cost also includes medication for the family. With kids, you always have to keep a steady stock of Sara on hand (it's like liquid Tylenol).
Maid
I was never really fond of hiring maids when I first moved to Thailand. I was raised to clean up my own messes (although I didn't always do it). And I want to model that behavior for my daughters. But sometimes, as a family, we just need the extra help.
I'm not ashamed to admit it, but our house is usually a beautiful mess. With two homeschooling kids who love to draw, paint, play with legos, and run rampant, things are disorderly. I don't mind it so much but my wife despises a mess. So to ease her pains we hire a maid to come in twice per month and clean up all the forgotten corners of the house.
For this we pay 1,200 baht per month, or 600 baht per visit. It would be hard for me to find anyone else I trust as much as the lady we hire. We let her do her thing and we've never had any problems with her.
And in the end, hiring a maid once in a while really isn't so bad. We're helping her earn an income and she's able to send money back to her daughter in Myanmar.
Groceries
Food shopping by far puts the biggest dent in our pocket. With four hungry mouths to feed, we spend 28,782 baht a month on food. We've tried to pare this cost down but it seems this is as low as it'll get.
All of our vegetables come from Plus Organic co-op farm that my wife joined. We get carrots for dirt cheap (no pun intended). In Villa, organic carrots are 110 baht per kilo. We get organic carrots from the farm for 60 baht a kilo. And these prices carry over to mostly all the other fruits and vegetables from the co-op. Everything's delivered to a nearby spot and we pick it up once per week.
We usually go to Tops and Foodland for the rest of our stuff, like meats, pastas, breads, cereals, and so on.
Eating Out
All in all, we spend 4,673 baht eating out each month. This included nice dinners in the city, quick lunches at foodcourts, or picking up food or ordering delivery.
If we go into the city, we usually hit Broccoli Revolution, Bourbon Street, or Bei Otto. On occasion we go out for pizza at The Stockroom. At the malls, we usually go to MK, S&P, or the foodcourts.
Transportation
Insurance for our car is 500 baht per month. And each month we spend 5,143 baht on gas. I also spend 1,105 baht in tolls each month.
Our total nut for this is 6,748 baht a month. I'd love to get rid of this expense, but with kids, having a car just makes a lot of sense.
Fitness
We don't belong to any gyms. Most of our exercise is done outside in parks. We love to visit Nong Bon Park and Rama 9 Park for bike rides or walks. Most of our exercise comes from biking with our kids in their trailer. Or we swim in the pool.
We did send our kids to swimming class last year. And we might do that again this year. As of now, the little we do spend on exercise comes in the form of bike tubes or athletic clothes.
That comes out to 492 baht per month.
Entertainment
For entertainment we take the kids to various play areas. Whether it's ice skating or bowling at Mega Bangna or playing arcades at Kidzoona. We're also getting into board games and card games. We like to get the kids outdoors as much as possible too. So we take a day trip to the beach every once in a while, or we visit a museum.
As with most parents of young kids, my wife and I rarely get to go out to the movies or go for drinks. So most of our entertainment is done as a family.
Our overall entertainment costs are 2,473 baht per month.
Vacations
Some would consider Thailand a vacation destination in itself. But once you've been here for a while and settle into life, you take just as many vacations as you would back home—which is like one per year. We do hit the beach once every few months. And we like taking trips to Hua Hin and Amphawa.
But having two small kids, we haven't had the chance to leave Thailand in four years (I did once for a visa run before I had my marriage visa).
Our total spending on vacation is 2,565 baht per month.
Clothes
Surprisingly, clothes aren't our biggest expense as a family of four. We tend to lean toward a minimalist lifestyle. So we usually pay for experiences over things. But we do need the occasional sneakers and clothes for ourselves.
When we do shop for clothes, we head to the mall and go to AIIZ, Uniqlo, Cotton On, and Adidas.
This expense costs us 2,967 baht per month.
Education
My wife and I decided to homeschool the kids ever since we lived in America. This cuts our education costs drastically. We decided this would be the best route for quite a few reasons, which I won't get into in this post.
But luckily there are a lot of like-minded people—both foreign and Thai—in Bangkok who feel the same way. And some of those people meet up at a co-op a few days a week, my daughters included. This runs us 2,400 baht per month with a 500 baht registration fee per year.
Then there's the art supplies we buy for home. The books for kids. The books for mom and dad. And we have a Neilson Hayes Library card which runs us 1,700 baht per year.
Our total education cost is 4,276 baht per month.
Now, on to You
That's how much it costs our family of four to live in Thailand. If you'd like to find out how much you'll spend each month on rent, food, transportation, and more in Thailand, check out our Thailand Cost of Living Calculator.
And if you're considering a move to Thailand with your family, or you're here and your family's trying to navigate the confusing waters, check out our ebook Thailand Starter Kit: Save Cash, Land a Job, Avoid Pitfalls, and More.