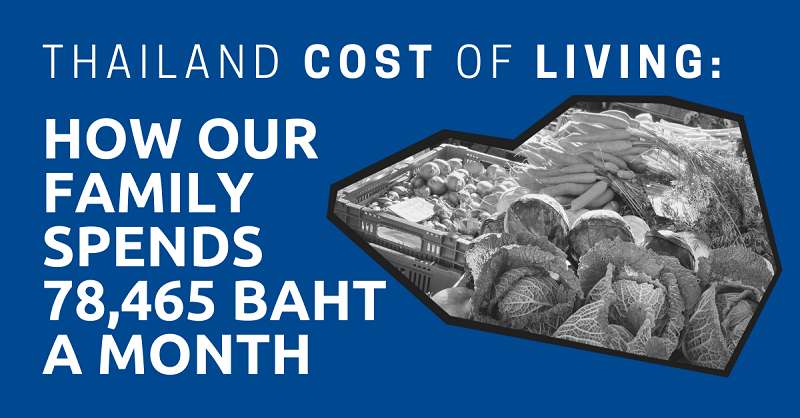 Maybe you're sitting home wondering how much it'll cost you and your family to live in Thailand each month.
Perhaps you're here on vacation with your family and seriously considering moving to the country, but you're not sure how much you'll spend each month.
This guide will break down what my family spends in Thailand each month, on average, for all the basics. From rent to food and healthcare to education, I cover it all.
Here's Us
My wife and I and our oldest daughter moved to Thailand in 2014 from the United States. In 2015 my wife gave birth to our second daughter. If you're interested in what that's like, check out our guide on having a baby in Thailand.
Over the years, we've lived in houses, townhouses, and condos. Currently, we live in a two-bedroom, two-bathroom condo just outside of Bangkok, in the province of Samut Prakan.
At the time of this writing my wife and I are in our 40s. My oldest daughter is 9 years old; my youngest is 7 years old.
If you're single and wondering what it would cost to live in Bangkok, check out our cost of living in Bangkok guide.
The Big Picture
In total, my family spends roughly THB82,464 per month on just the basics.
In reality, we spend about THB100,000 if you include our hobbies and interests and allowances that I dish out every month. Not everyone will have the same hobbies and interests, so I've excluded these from my cost of living, as they relate to only me.
We also invest a certain amount of money each month but, again, everyone's investment strategy will differ, so I've left this out.
Another thing to consider when looking at this budget is lifestyle. I know families who spend way more than we do, and I know others who live comfortably on far less.
| Expense | Thai Baht | US Dollars | British Pounds | Euros |
| --- | --- | --- | --- | --- |
| Rent | 13,000 | 397.40 | 320.81 | 364.89 |
| Electricity | 3,500 | 106.99 | 86.37 | 98.24 |
| Water | 250 | 7.64 | 6.16 | 7.01 |
| Cell Phones | 880 | 26.90 | 21.71 | 24.70 |
| Transportation | 3,000 | 91.71 | 74.03 | 84.20 |
| Internet | 834 | 25.49 | 20.58 | 23.40 |
| Groceries | 26,000 | 794.85 | 641.63 | 729.78 |
| Eating Out | 9,000 | 275.14 | 222.10 | 252.61 |
| Clothing | 3,000 | 91.71 | 74.03 | 84.20 |
| Education | 3,000 | 91.71 | 74.03 | 84.20 |
| Extra Classes | 6,000 | 183.42 | 148.06 | 168.41 |
| Healthcare | 5,000 | 152.85 | 123.39 | 140.34 |
| Travel | 10,000 | 305.72 | 246.78 | 280.68 |
| Total | 82,464 | 2,551.53 | 2,059.68 | 2,342.66 |
If you wondering what kind of job you can get to cover these kinds of expenses, check out our book Working in Thailand: How to Ditch the Desk, Board the Flight, and Land the Job. You'll read about 19 expats from different walks of life who've landed their dream jobs in Thailand.
Rent
We rent a condo in Bangkok. Our rent is THB13,000 per month. This gets us a two-bedroom, two-bathroom 64-square meter condo on the border of Bangkok and Samut Prakan.
Our condo is part of a five-building complex that shares a park, 40-meter swimming pool, gym, running path, lake, two playgrounds, and outdoor exercise area.
When the new MRT line opens on Srinakarin Road, we'll also be a five-minute walk from the Sri-Lasalle station.
Tollway entrances, malls, and parks are all within a five- to 10-minute drive.
Electricity
Our electricity comes out to THB3,500 per month on average.
I'd rather live in comfort than worry about electric costs, so we run at least one AC during the day and two throughout the night in the bedrooms.
Our stove top and wall oven are also electric. We cook at home six out of seven days a week. And my wife loves to bake. She makes homemade sourdough bread, muffins, pizza, and more.
Water
Our water bill each month is THB250. This is cheap considering four people shower twice per day and we use the tap for filtered drinking water. Plus, we water the plants and vegetables on the garden once to twice per day.
Cell Phones
For two phones we pay THB880 per month through True. This plan gets us what we need, as we don't use the phones to eat up too much data.
I have the option on my phone to call America at THB1 per minute, so the months that I use the phone to make the occasional call back home, this cost goes up sightly.
Internet
Our internet comes out to THB834 per month. We use a THB534 plan from AIS for home. Since I often work outside or on the road, I also use THB300 plan from AIS with a pocket wifi router.
Transportation
Our transportation costs are roughly THB3,000 per month. This includes gas, maintenance, and insurance on two cars. We don't drive every day, so we don't use much gas.
We do travel often, but when I fill up the tank while traveling, I include that cost under the travel category.
Groceries
At THB26,000 per month, on average, grocery shopping remains our biggest monthly expense, and with inflation, the number might creep up a little.
When I tell my single friends what it costs to feed a family in Thailand, they are shocked, because, obviously, they are paying a quarter of that amount. When you have two growing kids, though, it's not easy to keep this number down.
I've tried everything possible to lower this cost while eating healthily, but I've found it nearly impossible without sacrificing in quality of food.
It doesn't matter if we shop at Villa, Foodland, Big-C, Tops, or at the local market (for non-meats), this is the number we're stuck with.
Eating Out
All in all, we spend about THB8,000 eating out each month. This included nice dinners in the city, quick lunches at food courts, picking up food, and ordering through Food Panda or the like.
Clothing
To clothe a family of four, we spend roughly THB3,000 per month. Keep in mind that we don't go clothes shopping every month. We usually go quarterly. But broken down into months, this is what our cost comes to.
We do shop at malls instead of markets, as the quality of clothing tends to be a little better. But we don't buy top-of-the-line name brands as well. We stick with UniQlo, H&M, Cotton On, and stuff like that.
For kids shoes, we pick those up at MBK Center or Decathlon for roughly THB500 to THB700 per pair. For Mom and Dad, we buy ours from the mall.
Education
My wife and I decided that we would homeschool before we even had children, so our education costs are low compared to other expat families.
For about THB3,000 per month, we enroll our daughters in a secular (non-religious) international homeschooling co-op near BTS Asoke.
We also have to buy books, stationary, and other supplies for home.
Extra Classes
Since we homeschool our daughters, we send them to extra classes to keep them physically active and expand their network of friends outside of their homeschooling group and learning co-op.
For THB6,000 per month, we enroll our daughters in a taekwondo program at an American international school called ICS, a ballet school (Dance Space by Ant) near our condo, and a weekly gymnastics class at the Hua Mak Sports Complex in Bang Kapi.
Healthcare
Healthcare is relatively cheap in Thailand — even at private hospitals. So, for many years, we paid for everything out of pocket.
But at Christmastime in 2021, I had to undergo emergency surgery to have my gall bladder removed, and that set me back THB85,000. In case you're wondering, I had it done at Chulalongkorn Hospital.
Although the cost for surgery was inexpensive compared to what I would've paid with no insurance in the U.S., the entire situation reminded me that I'm not getting any younger, and health emergencies could happen again.
At the time, I justified the THB85,000 bill by telling myself that if I had been paying insurance up until then, my insurance costs for all those years would've far exceeded the 85K, and indeed that's true.
But it only takes one serious health emergency to 10X that THB85,000 into THB850,000 — and that I can't justify.
Nowadays, I have the Luma Hi5 Plan 2, which covers me in Thailand and in most countries throughout Asia (except for Singapore, Hong Kong, and Japan).
I opted for THB0 deductible because I want to show up at a hospital and have Luma cover everything. Yearly, this comes out to THB43,263. If you opt to pay a deductible, this cost would drop.
As for my wife and daughters, they are part of the THB35 scheme, which covers them for medical emergencies. But I've been considering adding them to Luma in the near future.
My THB5,000 monthly cost includes my health insurance, occasional doctor visits or my wife to the premium clinic at Ramathibodi Hospital, and occasional doctor visits for my daughters at a local private hospital called Thainakarin.
Travel
Ever since I bought a former Thai school van and converted into a campervan, we've been traveling quite a bit, and this comes out to about THB10,000 per month.
This cost includes gas, food, hotel (if not sleeping in the camper van), souvenirs, and everything else associated with traveling.
Now, on to You
That's how much it costs our family of four to live in Thailand each month.
If you'd like to find out how much you could spend each month on rent, food, transportation, and more in Thailand, check out our Thailand Cost of Living Calculator.
And if you're considering moving to Thailand with your family and want to find out how to cut back on all these expenses, become a premium member.
Premium members get access to all our most valuable content, including how to find he most affordable rentals, how to network and market yourself in Thailand, how to manage your finances, and much more.