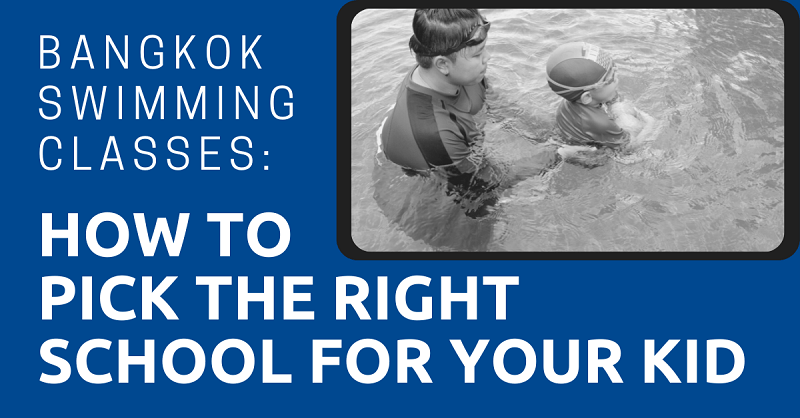 My one-year old daughter stood at the edge of the pool, knees bent and hesitant. I stood below her, in the pool, ready to catch her. I turned to my wife to signal to her to watch Big M's first jump. I turned back and reached out my hands to catch my daughter. But when I looked at the edge of the pool, she was gone.
I looked down and saw bubbles on the water. I could make out her brown hair smeared among the blue of the pool. But before I could reach down to grab my daughter, she sprang up to the surface of the water. I grabbed her, ready to flip her so that her stomach was on my arm and I could smack her back, thinking she must've swallowed water. But before I could do so, her eyes widened and a smile crossed her face.
Relax," the swimming instructor said. "Kids instinctively stop breathing when they go under water."
That was my daughter's first day of swimming class. And as a father-daughter duo, we've come a long way. Her in her swimming abilities and me being more relaxed. I now throw my daughter, now four years old, into the deep end of the pool knowing she'll hold her own.
And I'm happy about this. I think swimming is a necessary life skill. And I'm glad my daughter is learning how to master her body.
Signing your son or daughter up for swimming classes is a big deal if you think about it. You obviously want your kids to be safe. You want them to get the best instruction possible. And you want to make sure the swimming skills they learn at swimming class are transferable to other pools or even the beach or lake or river.
And it takes a reputable and qualified swimming school to pull these things off.
What You're Going to Learn in This Guide
You're going to learn what your son or daughter will learn at swimming class, what questions to ask prospective swimming schools, and which three popular swimming schools in Bangkok live up to their promises.
What Your Kid's Going to Learn
From personal experience and research, what I found is that most swimming schools in Bangkok teach kids the same things in the same sequence and use roughly the same methods. That means songs and games for babies and toddlers and formal training for kids and teens.
What separates one school from the next, though, is the quality of instructors. As with all realms of teaching, if your son or daughter has a passionate and patient and encouraging swimming instructor, they'll feed off the instructor's energy and be more comfortable in the pool.
I've also noticed that some instructors tend to be more patient and less aggressive with students. Whereas other instructors are patient but more aggressive. I prefer aggressive teachers who are going to push my daughters just beyond their limits. But having an aggressive teacher the first time around can be a bit nerve-racking. Especially if you're not yet comfortable with your baby or toddler going under water.
So in addition to having fun, playing games, and interacting with their teacher and other kids, your son or daughter is going to learn a few important things about swimming.
Pool Safety
The first two things your son or daughter will learn is how to "monkey climb" across the edge of the pool and how to climb out. If your son or daughter ever falls into a pool, you want them knowing how to make it to the edge and using their hands to "walk" down to the ladder or pull themselves out of the pool. They'll pick up on other safety habits like walking around the pool, going in and out using the stairs, and being aware of other people around them in the pool.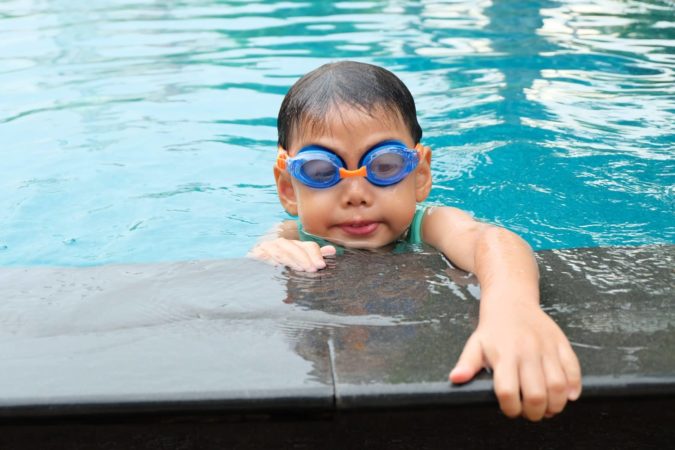 Confidence
It's amazing how kids instinctively know not to breath when under water. But that doesn't mean they'll be confident to go under right away. It takes time and a good teacher to make it happen. Your kid's swimming instructor should know how to make kids feel comfortable going under water and handle the process in small stages. When this happens your son's or daughter's confidence will grow.
Technique
Your son or daughter won't only be learning how to swim, but how to swim correctly. You're son's or daughter's swimming instructor should instill good technique from the beginning. Bad habits are hard to correct.
Important Questions To Ask
You'll probably have your own questions to ask the swimming school, questions based on the needs of your daughter or son. But here a three general questions you'll want to ask prospective swimming schools.
Are your instructors certified?
When my family and I first moved to Thailand, we decided to rent a condo in Bangkok. The condo had a great big outdoor pool. And after school and on weekends, lots of parents who lived in the condo would drop their kids off at the pool to learn with unqualified swimming instructors. They were basically people who spent a lot of time in the pool and taught people on the side for money. But watching the instructors–and having had my daughters enrolled in a swimming school–I noticed the instructors didn't know much about teaching kids how to swim. And I wondered, if anything serious were to happen, would they know how to help the kid. I'm sure all swimming schools hire only certified instructors, but it's worth asking.
Do your instructors know CPR and first aid?
If the swimming instructor is certified, then most likely they'll be qualified to give CPR and first aid. But you should ask about the swimming school's policy when it comes to this. Do schools require their instructors to renew their qualifications every six months? every year? Do they check upon hiring the instructor and then never check again? Ask important questions.
What's your policy on missed classes?
Your daughter or son will probably miss a few swimming classes during their term. At roughly 650 baht per class, you want to make sure your kids can make up any missed classes. Most schools will let them make up missed classes, but make up classes are on the school's terms. This means your daughter or son will have to make up their missed classes when it's convenient for the school, not for you.
Location
Aside from the safety aspects of swimming class, location is the next most important thing you'll want to consider when enrolling your kids in a Bangkok swimming class. When you tack on time and extra money spent on gas, swimming classes tend to be more expensive than what's written on paper. So try to pick a swimming school that close to you.
When you go to the swimming school to check it out, take a peek around the outside of the school. Most swimming schools are outdoors, covered by a canopy. This means the quality of air on the outside of the school will effect the quality of air on the inside of the pool.
And if you need help getting to any of the swimming schools mentioned below, don't forget to check out our guide to Bangkok transportation.
Swimming Schools
Below are three popular swimming schools in or near Bangkok.
Bangkok Dolphins

Bangkok Dolphins has five locations around Bangkok. Its main office is located on Sukhumvit 49/9 inside the Racquet Club and offers classes for kids age 4 and older. It also has a swim center for infants at their Sukhumvit Soi 39 location. Infant swim courses are available at its Yen Akart and Udom Suk locations. All Bangkok Dolphins instructors teach in English and are certified under AustSwim or STA.
Courses
Bangkok Dolphins offers four different types of swimming courses for infants as young as 3 months old to children and adults looking to learn the basics of swimming. It also holds squad training for children and teens looking to swim competitively. You can request a free trial before committing to a course.
Bangkok Dolphins also regularly organize a five-week summer camp for kids ages 4 to 12. It can also set up pool parties for birthdays and events for up to 20 children.
Swimming for Babies
This course aims to build your infant's confidence in the water, while educating you—the parent—on water safety. Swimming for Babies is once a week, for thirty minutes a day.
Swimming for Children
This course aims to show children how to swim in a safe and enjoyable way. Like the Swimming for Babies course, you will be in the pool with your kid while they swim. Swimming for children is once a week, for thirty minutes a day.
Prices for the babies and children swimming courses are the same and depend on term length. Here's an overview of costs.
| | |
| --- | --- |
| Bangkok Dolphins' Terms | Costs |
| 10-week term | THB7,000 |
| 13-week term | THB9,100 |
| 17-week term | THB11,900 |
| Registration fee | THB1,000 for one child |
Squad Training
If your son or daughter has completed the Learn-To-Swim program, they can join the Pre-Squad training classes. These classes are aimed at kids who want to compete or train like they're going to compete. Some classes require training twice per week.
Jump Start Lessons
These classes are designed for both children and adults looking to learn the basics of swimming and gain some confidence in the water. Classes are 30 minutes each for five consecutive days.
Parties and Events
If you'd like to have your son or daughter's next birthday party or special event at Bangkok Dolphins, you can rent its pool and facilities. It'll cost you THB8,500 per hour for parties of 20 children at its Soi 39 location. It can also host parties in your home or condo and include all equipment and staff upon request.
Swimming Camps
Twice a year, you can enroll your son or daughter in one of Bangkok Dolphins' Swimming Camps. Its swimming camps are five weeks long in the summer and one week during October. Swimming camp classes start at 9:00 AM every day and end at 2:00 PM. The cost is THB8,200.
Terms
Bangkok Dolphins has three terms a year. The first term begins in August of each year and ends in December. The second term begins in January and ends in April. The third term begins in April and ends in July.
Contact
If you're interested in enrolling your kids in Bangkok Dolphins or celebrating a party or event at one of its swim centers, here's how to get in touch.
Bangkok Dolphins Head Office
Sukhumvit 49/9 Racquet Club
Wattana Bangkok 10110
Phone 080 565 7558
[email protected]
Monday – Friday 10 AM to 6 PM
Saturday – 9 AM to 5 PM
Infant Center Soi 39
No 1 Promsri Soi1, Sukhumvit 39
Wattana Bangkok 10110
Phone 081 622 2799
[email protected]
Tuesday – Sunday 9 AM to 5 PM
Yenakart
Rama 4, Soi Yenakart
Sathorn, Bangkok 10120
Phone 083 298 0519
[email protected]
Wednesday – 2 PM to 5 PM
Saturday & Sunday – 9 AM to 5 PM

Udomsuk Swim Center
1 Soi Chaloem Phrakiat Ratchakan
Thi 9 Rd Soi 13 Nong Bon
Prawet, Bangkok 10250
Phone 089 553 6989
[email protected]
Tuesday – Sunday 9 AM to 5:30 PM
Goethe Sathorn
18/1 Soi Goethe
Sathon, Bangkok 10120
Phone 080 565 7558
[email protected]
Tuesday – 3 PM to 6:30 PM
Saturday – 3 PM to 6:30 PM
Bangkok Swim Academy

Bangkok Swim Academy is a premier swimming school in Thailand, offering classes for infants and children. It has three training locations in Bangkok, including the BEST Aquatic Center on Sukhumvit 71, which offers infant, toddler, and adult swimming classes.
Its other two locations at Berkeley International School and Brighton College focus on competitive training classes. Its own swim team — the Bangkok Elite Swim Team (BEST) — is currently the National Short Course Champions of Thailand. Its instructors are STA and ASCTA certified, with some having competed at the national level. The head coach has even coached Olympic-level swimmers.
Courses
Bangkok Swim Academy has swimming courses from infants aged 4 months to children up to 14 years old. It has distinct squad training programs for different levels ranging from 7 years old to adults. During the summer, the school holds six week training camps for both beginner and competitive swimmers.
Mother and Baby Swimming
This course is designed for parents and their children between the ages of 4 months to 3 years old. Infants can practice basic kicking and arm movements, develop their balance, and spend time bonding with their parents. Sessions are usually once per week for 30 minutes.
Learn To Swim
Learn To Swim is for toddlers, children, and adult beginners. In this course, students learn the basic techniques of freestyle swimming, backstroke, breaststroke, and butterfly. To avoid distractions in class, the student-to-instructor ratio is low. Level 1 swimmers have a ratio of 3:1, while Levels 2 to 5 have a ratio of 4:1. Each session lasts about 45 minutes.
Here's an overview of costs for a 13-week term.
| | | |
| --- | --- | --- |
| Bangkok Swim Academy Sessions | Baby Class | Learn to Swim |
| 1 Session Per Week | THB9,035 | THB10,465 |
| 2 Sessions Per Week | THB17,550 | THB20,215 |
| 3 Sessions Per Week | THB23,350 | THB29,185 |
| 4 Sessions Per Week | THB33,800 | THB38,935 |
There's also a registration fee of THB2,000 and an annual member fee of THB1,000.
Competitive Swimming
Bangkok Swim Academy places a strong emphasis on their competitive swimming courses, offering seven different levels of squad training. The entry-level Bronze training requires swimmers to be able to swim 50 meters in freestyle, backstroke, and breaststroke before joining the class.
Those training in Junior and National Performance classes are expected to represent the BEST team at the Thailand National Championships.
Swimming Camps
The BEST Aquatic Center hosts an annual summer training camp for six weeks during July. The competitive training camp runs from 8:00 AM to 9:30 AM, Monday to Friday, and costs THB15,000 for the full six weeks.
The Learn To Swim camp also runs Monday to Friday from 9:30 AM to 10:30 and costs range from THB900 per session or THB5,000 to THB16,000 for six weeks, depending on the level and age of the swimmer.
Terms
Contact them via LINE or e-mail to inquire about term start dates.
Contact
If you're interested in enrolling your infant, toddler, or kid in one of their swimming classes, contact them below.
BEST Bangkok Swim Academy
193 Soi Pridipanomyong 42
Yeak 5 Sukhumvit Soi 71
Wattana, Bangkok 10110
Phone 098 252 9649
LINE: bestswimteam
[email protected]
Lets Asia

Lets Asia is located on Sukhumvit Soi 31 and is the largest international swimming school in Thailand. The school prides itself on its training methods, which blend Japanese and Canadian strategies. And the owners are decorated swimmers, having competed and excelled in Canada and Japan's swimming circuits. Swimming lessons are offered in both English and Japanese.
Courses
Lets Asia offers a variety of swimming courses, including infant and children's courses, race training courses, and maternity and adult courses. Members can also participate in the International School of Bangkok's swim competition by invitation. Additionally, the facilities are available for rent for birthday parties, and it offers summer camps for children.
Little Splasher
The Little Splasher swimming course is divided into two levels. Level 1 is designed for babies aged 6 months to 3 years old, while Level 2 is for children aged 3 to 8 years old. Initially, a parent or guardian must accompany the child in the water. But the goal of the course is for the child to be able to swim independently for at least 3 meters by the age of 3. In Level 2, swimmers will begin learning the basic skills for front and backstrokes.

Let's Asia instructors teach infants and kids how to build up their confidence in the water.
Fast Fins
Fast Fins swimming course is for children who've graduated from the Little Splasher's course. In this course, your son or daughter learns all the major swimming strokes and is encouraged to swim between 25 and 50 meters. Classes last between 45 minutes and an hour long. Kids who excel in this course will be invited to the Lets Asia swim team.
| | |
| --- | --- |
| Lets Asia's Terms | Costs |
| 10-week term | THB8,000 |
| 12-week term | THB9,600 |
| 16-week term | THB12,800 |
There is a one-time membership fee of THB1,000 per child and a 50 percent discount starting with your third child.
Swim Team
As aforementioned, the swim team is by invitation only for kids age 7 to 17. The courses are designed to teach students how to prepare for races. Classes are held either at the Sukhumvit location or in Nichada Thani. Sixteen-week courses cost THB14,400 for an hour class once a week.
Adult Swimming
Adult swimming classes are available only privately at THB850 per class. Lets Asia also offers aqua aerobics and maternity group classes for adults, however, lessons are held in Japanese.
Parties and Events
To host your son or daughter's next birthday party or event with Lets Asia, you have a few options. The first choice is to have the party at its Soi 31 location or your pool on Sunday afternoons only.
For THB7,000, you get two instructors, equipment, and games for one hour. There is an additional THB1,000 travel fee for parties hosted at your place. You're limited to 20 kids age 4 and older.
Your second choice is to have your kid's party at The First Steps International Preschool's garden playground. This costs THB3,500 for three hours with the same conditions mentioned above.
Swimming Camp
Let's Asia hosts an eight-week long camp during the summer, and one-week long camps during the winter and Songkran. Children aged 4 to 11 get to play sports, swim, and do arts and crafts from 9:00 AM to 2:15 PM from Monday to Friday. Swimming camps at Lets Asia run you THB1,700 daily, or THB7,500 weekly.
Terms
Lets Asia has three terms a year. The first term lasts 16 weeks and begins in August and ends in December. The second term begins in January and ends in April. Term 3 is only 10 weeks from April to June. Fees are prorated so students can join at any time of the year.
Contact
If you're interested in enrolling your kids in Lets Asia or celebrating a party or event at their swim center, here's how to get in touch with them.
Lets Asia Swimming School
80 Sukhumvit Soi 31
Wattana, Bangkok 10110
Phone 02–258–8085
LINE @letsasia
Now, on to You
At Expat Den, we often talk about how to save time and money in Bangkok. And when it comes to swimming classes you also want to be sure you're getting the most for your time and money.
No matter which swimming school you choose for your baby, toddler, kid, or competitive teen, make sure the instructors are qualified and experienced. One mishap in the swimming pool could pull your kid's confidence in the wrong direction. But encouragement, guidance, and patience could push your kid in the right direction and make learning how to swim an enjoyable and unforgettable experience.