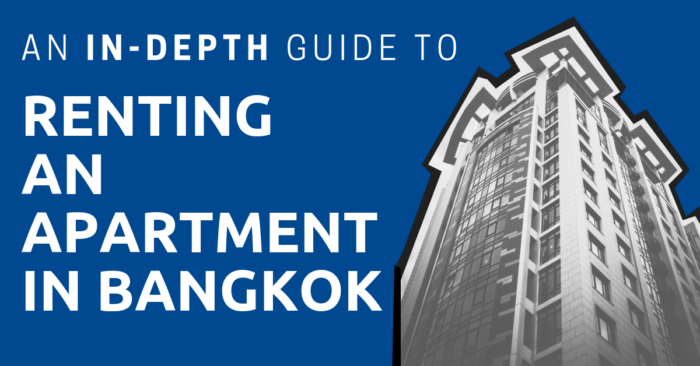 Before I first moved to Bangkok, I looked up some places online.
It didn't take me long to come across an apartment that looked absolutely stunning.
It seemed a lot nicer than the monthly rent that was quoted.
I was ready to book my first month right away, but figured it wouldn't hurt to stay at a friend's house for a few days to get the low-down on Bangkok.
Turns out, that was a good decision. The place was a dump. Pictures of the bedrooms had somehow hidden the fact that there were no windows.
A construction site right in front of the apartment's single balcony was joined by another one one literally next door in the neighboring unit.
On the plus side, that probably meant that the place would soon get its direly needed, new paint job.
I'm not sure what the photographer's business card says, but I assume it's "Wizard."
The ensuing search for an actual long-term place ended up taking the better part of two weeks.
This guide to renting in Bangkok was written to help you cut that two week-long search down to two days.
Whether you're a first time expatriate or just wondering if you can find a better deal than you already have, this should make things significantly easier.
In case you want to save time and pick from a variety of available rentals, skip the search and use a real estate agent. But this choice is only available to you if you plan to rent in Bangkok for at least six months
Things to Keep in Mind When Looking for a Rental
Before you start looking for an apartment in Bangkok you should know that apartment hunts don't work here like they do back home.
I list the most important considerations in the following sections.
Traffic and Weather
Traffic jams and hot, humid weather make traveling around Bangkok a slow and often times wet experience.
You want to avoid getting around by car, bus, or bicycle during the day. Two-hour commutes or reaching your destination drenched in sweat or rain, depending on the season, is never fun.
That limits you to the BTS and MRT, boats, motorcycle taxis, and the odd road, that unlike the rest of Bangkok, isn't clogged up by 2:00 PM.
If you're not the risk-averse type, you can add boats and motorcycle taxis to that list for shorter trips.
Because of the traffic and weather, I rent condos that I can easily walk to work from in hot weather, or condos I can reach by the MRT or BTS without changing lines.
Tourism and Nightlife
How is tourism a challenge? Tourists tend to drive the prices of condos up and the quality of surrounding areas down.
Areas with a lot of hotels or tourist sites are filled with souvenir stands and mediocre, overpriced restaurants.
Unless you have a daily need for Singha beer t-shirts, stay a street or two away from tourist epicenters like central Surawong Road and Silom Road.
Even if you're a night owl yourself, you want to avoid being right next door to a nightlife area.
Some places in Bangkok are open for 24 hours.
And the ones that are supposed to shut down at 2:00 AM—but don't—are not the ones that you can make a noise complaint on.
There's not a lot of places like this, but you don't want to end up in a 12-month lease next to one.
If you're not sure about an area, you can always stay there for a weekend to see what it's like.
Language Barriers
Most apartment ads in Thailand are in Thai. And most landlords can only speak Thai.
This also means some places will only have Thai-language leases or crude English versions by Google Translate.
I rarely found it to be a deal killer, but the language barrier is something you should be aware of and ready to accept if you're looking to get a good deal.
Hassle-free communication and easy interaction in English come at a surcharge.
My approach when I first arrived was to find owners and management that appear to be easy to work with.
I figured as long as they have the right attitude, minor misunderstandings caused by a language barrier shouldn't be much of an issue.
As far as I can tell, the strategy worked out well.
Families
For families, things can be a bit tricky.
You should pick a place that's outside the city for that extra bit of space but still has access to tollways, preferably without having to do a u-turn.
In general, Google Maps is a great resource to check out commuting times during rush hour.
Select directions from your home to work or home to your son or daughter's school at the time you plan to arrive and leave.
It's your best tool to find out how long it'll really take.
Special Needs
If you need to rent an apartment that is wheelchair accessible in Thailand you'll have to do some digging.
Although most Thailand rental websites won't list them explicitly, you can assume most newer buildings will be wheelchair accessible.
Your best bet is to use the travel site TripAdvisor to find condos and apartments with wheelchair access listed as vacation rentals in Thailand.
You can then type the names of those places in the search bars of Thailand's property rental websites and see if they have any long-term rentals.
Here's how to do it:
go to TripAdvisor.com
go to Vacation Rentals and type the city in Thailand you want to rent in
click Find Vacation Rentals
go to the left side of the results page and check the box for Wheelchair access
Pet Friendly Condo
If you have a pet in Thailand, you might find yourself in a similar pinch to those who need wheelchair access.
Not a lot of places in Thailand allow pets. Aside from houses and three- or more-bedroom apartments, your best bet is to look in low-rise, older buildings.
It might be better to start off with real estate agents. It's fast and free for you.
Two websites that let you search for pet-friendly places in Bangkok are Baht&Sold and Craigslist.
You can find out more from our exclusive content on how to find accommodations that allow pets in Thailand.
Financial Considerations
What does it cost to live in Bangkok? I've listed my expenses as an entrepreneur in Bangkok, and our editor has listed his cost of living for a family of four.
But everyone has their own lifestyle that can be a lot more or a lot less.
In general, rent in Bangkok is on par with smaller urban areas elsewhere and significantly lower than most cities its size.
If you can rent a place without a swimming pool or gym, rent will be a lot lower.
Rental prices in Bangkok range from 2,000 baht a month for a dorm-like room to 500,000 baht a month for a penthouse duplex in a trendy neighborhood.
In general, rental prices in new buildings in Bangkok have risen the last few years, putting costs on par with cities throughout Europe and the US.
Of course, you tend to get a lot of bang for your buck in Bangkok, since rentals usually come with swimming pools, saunas, gyms, and a security guard.
I tend to pay around 18,000 baht a month for rent, including utilities. This gets me a 60- to 90-square-meter condo within walking distance from an MRT station.
In general, that's considered a good deal but tends to involve some creative research to find. I explain further down in this article how to go about that search.
Prices vary depending on a lot of factors, including, but not limited to:
quality of the neighborhood
proximity to an MRT or BTS station
extra facilities
condition and age of the building
I've listed some prices in the Apartment Types section to at least give you a rough guideline on what to expect.
Finding Apartments
Whether you use an agent, walk, or search online, the price you pay for rental property is still roughly the same.
Using an agent won't drastically increase prices. Walking in won't drastically decrease prices. And searching online won't drastically increase or decrease prices.
This is because the rental industry in Thailand is competitive. It's possible to negotiate the price down by 40% if you know how to do it.
Depending on your needs, you may find a rental property in Bangkok in one or two days. But sometimes it can take you months.
Using Agents
Real estate agents make your life easier by doing all the hard work. So if you plan to rent for at least one year, I recommend you get in touch with a real estate agent. It's free for you.
When looking for a real estate agent, make sure you find a professional.
A professional real estate agent helps you find a room quickly because they know the area. They work within your budget and needs.
If you're in Thailand, they can take you to the apartment. If you're not yet in Thailand, they can show you listings online.
And once you find a place to rent, they can help you with problems, suggest reliable maids and handy persons, and even recommend local restaurants.
But remember, real estate agents prefer working with long-term renters. So if you plan to stay in Thailand for under one year, you might want to look elsewhere.
A main disadvantage of using a real estate agent is that you lose a negotiation power. This means it's hard to get the best deal when using an agent.
Note that some agents may ask about your visa and work permit since they just want to make sure that you can rent in a long-term.
You can find a list of real estate agents we feel comfortable recommending on this page.
Walking Around
Looking by foot for one of the many condos and apartments available in Bangkok is hit or miss.
Walking helps you experience the area you want to live in. You'll know after a stroll through a neighborhood whether or not you want to live there.
And when walking, you can also pop into an apartment and talk directly to the property manager or staff. But keep in mind not all staff can speak English.
You can also look at a few rooms without an appointment.
I only know a few people who found rental properties by walking into buildings.
Most people I know who spent days walking in an area of their choice came up empty handed.
Looking Online
You can use rental sites to get a rough idea on prices and options.
For a short-term rental, you can look at Airbnb. It's cheap. And you can find thousand of properties there.
If you want to use Airbnb, make sure to stay there for over 30 days for legal reason.
You can also take a look at ddproperty, Hipflat, Craigslist, and Baht&Sold. They provide prices, pictures, contact details, and area information. But a lot of listings from these sites are posted by real estate agents.
You can search and compare rentals on each website without having to go to the building.
Alternatively, you can ask any expat in Thailand facebook group for a recommendation.
But you should be wary of any information you get online. It could be misleading.
Never sign a lease or book a rental property online before seeing it in person.
Rental Types and Prices
Rental prices in Bangkok depend on the type of comfort you're looking for.
I give you a very rough guideline for prices below.
But prices depend on:
length of lease
facilities
proximity to a BTS or MRT station
condition and age of the building
If you're interested in what I pay for rent and other things in Bangkok, check out the breakdown of my cost of living in Bangkok.
If your own place is significantly more expensive or cheaper than I've written below, leave a comment at the end of the article.
Studios
Many single people in Bangkok choose to rent studios. Often you find couples or families crammed into studios, especially in lower income areas like Din Daeng.
Bare Bones
While cheaper offers exist, realistically, prices start at around 3,000 baht a month for a 25-square-meter room.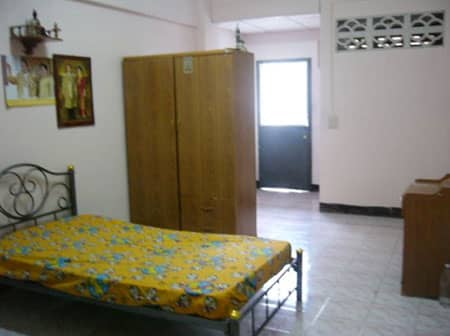 At that price, you might get a squatter toilet that you have to flush with a water bucket and cook food with an electric stove and rice cooker that you bought yourself.
Studios are usually furnished to a bare minimum, if at all.
At 6,000 baht a month you can get a newer place with basic furnishings, standard bathrooms, and a possible security guard at the building entrance.
If you opt for an area of town that's not connected to the BTS or MRT, this price can get you a 45-square-meter place with a gym and parking.
When looking at these bare bones offers, you're usually dealing with the apartment owners directly.
The commissions paid—if any—don't attract a lot of agents.
Comfortable
A more comfortable rental starts around 8,000 baht a month and comes with slightly dated furniture.
Facilities of the building can include a swimming pool, a sauna, and a gym.
You can take a motorcycle to an MRT or BTS station or even walk to one if you don't mind the heat.
If you want something that was built recently and is within 200 meters from a BTS or MRT station, increase that price to at least 12,000 baht a month.
Apartments
You can easily find apartments in areas closer to the BTS and MRT, reflecting people's preference when it comes to commuting.
If you're looking for something very spacious or cheap, you'll have to head to some older buildings that were built pre-BTS and rent used to be a lot lower.
The descriptions and prices I list below refer to apartments that are larger than 50 square meters.
Old Style Apartments
You can find an older apartment that's at least a few hundred meters away from the MRT for 12,000 baht a month.
The upside is that it offers a lot of space for your budget. But sometimes these apartments come with limited or no facilities.
Depending on the specific offer, the air conditioner might be old, resulting in a higher electric bill.
These apartments are a great choice if you need the space for indoor workouts, live with multiple people, or host the occasional dinner party.
Modern Condominium
You can find modern condominium starting at 18,000 baht a month.
These modern spaces are small, but they're nicely furnished in new buildings near the BTS or MRT.
Short-term rentals are more likely to be offered, since occupancy rates don't tend to be as high.
You'll pay a lot for the amount of space you're getting, but these condos are convenient.
Serviced and Executive Apartments
The definition of a serviced or executive apartment varies a bit in Bangkok.
A large part seems to be based on whatever the copywriter of the website thought sounded good.
As a general rule of thumb, these are places that can be rented monthly, are nicely furnished and offer regular cleaning—although that may be extra.
Some places even offer room service by an in-house or nearby restaurant.
Serviced apartments start at 16,000 baht a month and go up to 450,000 baht a month, though most of them range from 35,000 baht to 75,000 baht.
You can use Booking.com to find a serviced apartment.
Luxury Condo
Bangkok isn't short on high-end accommodations.
Starting from 600 baht to 1,000 baht per square meter, you get everything from 40 to 400 square meters of space.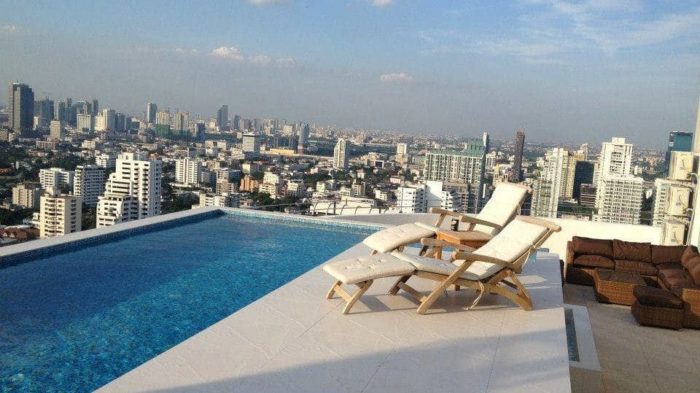 Aside from high-end places like luxury hotels, many condo buildings have duplexes or penthouses on the top.
The most expensive one I came across during my research is located on the top of the lifestyle mall Ei8ht Thonglor.
Houses and Townhouses
Two often overlooked options for renters in Bangkok are houses and townhouses.
Surprisingly, these can work out to be cheaper than apartments. You can also turn it into a home office. But houses in Bangkok have their own pros and cons.
You can check out our dedicated guide to renting houses in Thailand for more info.
Location
One of the most important things to consider when renting is location.
As they always say: location is everything.
Easy Commutes
The length of your daily commutes is something you want to keep in mind when renting a place in Bangkok.
My advice would be to pick a place within walking distance from work or near the MRT or BTS.
Use Google Maps to check public transportation at the time you plan to arrive and leave work.
It shows fairly accurate travel times for cars and the MRT and BTS.
Google doesn't include traffic jams when showing travel duration for buses, making them appear to be a lot faster than taxis.
Google also doesn't combine public transportation with motorcycle taxis, so you might have to do a few runs to find out how long it'll take you to get to work.
Underrated Neighborhoods
Sukhumvit, Sathorn, and Silom tend to pop up first when asking around for areas where expats like to live in Bangkok.
These business districts are full of office buildings and serviced offices, making apartments and condos to be more expensive than other areas in Bangkok.
Nowadays, you can get the best value for your money in other parts of the city like On Nut, Phra Khanong, and Rachadaphisek.
Rental Leases in Thailand
The language in the leases you encounter in Thailand will raise the hair on the back of your neck.
I've seen anything from "owner can raise the rent anytime" to leases that said I could get kicked out for violating the lease if I "created a nuisance for neighbors."
Other contracts were entirely in Thai.
When I asked a friend about this during my first year in Thailand, she simply replied, "If they are going to rip you off, they won't use lease terms to do so."
The legal basis for rental contracts is the Hire of Property section in the Civil and Commercial Code of Thailand. Feel free to read it—it's brief.
Thailand doesn't have a Landlord Tenant Act, which means that you won't find the tenant rights you're used to back home in leases in Thailand.
Websites like Slice of Thai provide leases samples. If you're in a position to ask your landlord to use one of them, they might be worth a look.
At the very least it gives you an idea of things you can check in your own lease to see if they are specified at all, and if so, in whose favor.
While you might not be able to use your own contract template, your landlord might be willing to cross out or alter certain sections in his or hers.
Depending on the landlord, he or she might have just pulled one from the internet as well. There are certain points you should be careful before signing a lease.
If you would like to play it safe with your lease, you can ask a lawyer to review it for you.
Terms
The standard rental length in Bangkok is 12 months.
Since agents usually take one month rent as commission, it's tough to negotiate something shorter if an agent is involved.
If you're looking for a lease that's less than 12 months, you have to get in touch with the owners directly, who might be willing to accept six month leases.
For leases less than six months, you usually have to find a condo where all units are held by a single company. Staff at these places might let you sign shorter leases.
You still pay a premium, but this tends to be the only way to make it work.
If you're looking for a lease that's longer than three years, the leases has to be registered at the Land Department.
Landlords might be reluctant to give you a three-year lease since it results in extra fees for them and they'll need a court order to cancel the lease.
In addition, if they didn't pay taxes on rental income in the past, this might get them into trouble.
The maximum registered lease term is 30 years.
At that point though, there's a whole different set of problems that go beyond the scope of this article.
Furniture
It's common practice for furniture—whether there is any furniture or not—to be signed for in a separate lease.
Half the rent gets paid for the place, half the rent is furniture rent.
This is because furniture rental leases get taxed at a slightly lower rate. In practice, this won't make much of a difference for you.
Maintenance and Repairs
It's important to state in the lease who pays for minor repairs and maintenance, whether it's a broken air conditioner, problems with the stove, or termite damage.
These costs can add up to 10% of your total rent and you should have an understanding—ideally in the lease—of who pays for such repairs.
Deposits
Similar to renting an office, a standard deposit in Thailand is two months.
But a law was passed in 2018 that says landlords can only collect a one-month deposit if they own more than five units, houses, or townhouses.
In addition, you have to pay rent one month's rent in advance. So depending on how you see it, you're paying a three-month deposit.
In some cases, the deposit can't be used to pay the last month(s) rent.
But in other cases, property managers will let you pay the last month's rent with your deposit if they already inspected the rental for damage.
Landlords must return your deposit if there's no damage but they don't have to pay interest on it. It's possible to get 100% of your deposit back.
If your landlord owns five or more units, houses, or townhouses, they must return your deposit within seven days.
Otherwise, it usually takes two weeks to get your deposit back.
Utilities
The highest costing utility is electricity.
Some landlords pass on the official electricity bill to you, which is the ideal situation.
Others charge you an inflated rate that you pay to them, which is not ideal.
In 2018, a law was passed that makes it illegal for property owners to inflate tenants' utility bills if they own more than five units, houses, or townhouses.
So be sure to check whether your owner knows about this law.
If you use the air conditioner, monthly bills tend to be around 2,000 baht or more per bedroom, depending on how efficient the air conditioner is.
Without air conditioning, your bill could be less than 700 baht per month.
Costs for water are minuscule in Bangkok. I don't recall ever paying more than 150 baht a month for water.
Although it's not rare to pay 300 baht a month if you're living with more than one person.
Phone and Internet
Some buildings have their own expensive phone lines and slow internet service.
I've never come across a free one that was worth using.
For around 5,000 baht, you can usually have your own phone line set up and get the internet for a flat rate of 600 baht.
However, you should check with the landlord if this possible and if it'll incur any additional costs before you sign the lease.
You don't want to be stuck with slow internet when working from home and no way to change it while on a six month lease.
Rental Disputes
The single most common disputes tenants have with landlords are over deposits.
I've never had any problems getting my deposit back. But I heard of friends having problems getting theirs back.
One friend of mine had a landlord who wanted to keep 10,000 baht out of his 20,000 baht deposit for supposed water damage in the kitchen.
He argued that it was normal wear and tear.
Personally, I think the fact that he moved out on short notice might have contributed to the landlord holding half of his deposit.
In the end, he involved a Thai friend to help negotiate that down to 5,000 baht—a lot cheaper than involving a lawyer.
The best way to get your deposit back is to take pictures of furniture and spaces, keep good relationships with landlords, and treat the interior well.
If you rent from a private owner you have a better chance of getting your deposit back in full if you maintain the rental.
If you rent from a property manager, it's rare that you're going to get your deposit back in full.
They almost always take some of your deposit for curtain and rug cleaning, painting, and cleaning the room.
You can save some money by doing some touch-up painting yourself.
If you're friendly with the maintenance team you can ask them for a small bucket of the paint. Since they mostly use one universal color, they always have some on hand.
To get on the maintenance team's good side in advance, throw them a tip every New Year's. They won't forget you later on.
If you can't get a hold of your maintenance team, peel a piece of paint fro the room you and bring it to Home Pro. They'll match it up for you.
In the end, accept that there's a good chance of not getting your deposit back in full, even if you do everything correctly.
Deposits aside and as long as payments arrive on time, I've not had problems with any commercial or private landlord while I lived here.
The biggest point of contention I saw, aside from deposits, was the advance notice before moving out.
The landlord of our office expected a 30-day notice for a non-extension of lease—even though it wasn't specified in the rental lease.
We solved the issue by moving out of the office a month later, so he at least had some additional notice.
My advice is to inform your landlord earlier rather than later to give them a chance to find a new tenant.
Not having the place stand empty is also a good way to keep the landlord happy and with a new deposit in their hands, they're less hesitant to return yours.
If your deposit doesn't get returned, you can reach out to a lawyer we recommend or contact the Foundation for Consumers.
Their staff speak limited English, so involving a Thai speaker can be helpful.
However, my experience is that a soft approach like negotiating a partial return ends up being much faster and cheaper.
The one thing you probably don't want to do is to publicly shame your landlord.
Libel and slander are criminal and civil offenses in Thailand and once you get sued, you might find it hard to leave the country.
At this point, it's a good idea to take a look at how much the lost deposit is in percentage of overall rent you paid.
If you lose one month of deposit for a place you stayed in for two years, that's 4% of your total rent cost and might not be worth the hassle.
While your deposit is at risk, things look better for your belongings.
Landlords aren't allowed to take appliances and furniture as compensation for unpaid rent and damages.
If the lease gets cancelled, the landlord can call the police to forcibly remove you if you refuse to leave after the lease is up.
Finding Short-term Rental
As you've seen in the introduction of this guide, pictures on websites can be deceiving.
As such, I recommend you find a temporary place to stay before committing to a long-term lease.
A lot of the good deals also require a "flip-flops on the ground' commitment to discover them.
Booking.com
Booking.com is a good option if you want to find a place to rent short term while looking for something more permanent.
They have a great selection of properties around Bangkok, and allow you to rent hassle-free for up to 30 days with no contract.
This option is cheaper than staying in a hotel, relative to duration, but slightly more expensive than renting an apartment through an agent. The biggest advantage comes from the fact that you don't have to commit to a 1-year contract and you get a place to store your belongings while looking for a permanent home.
Hotels
Hotels are also a good option. Being one of the most crowded cities in Asia, there are thousands of hotels available in all corners of Bangkok.
It costs more, but you get more convenience, better accommodation, and more choices in return.
Finding a good hotel deal can be done through Booking and Agoda. They also let you search specific districts and sub-districts.
Hostels
If you're traveling lightly, you can also use hostels throughout the city.
Aside from having staff that usually know their way around, hostels are often found in conveniently located, affordable areas of town.
This means their immediate surroundings are often a candidate for your long-term accommodation as well.
My personal recommendation on booking a hostel would be hostelworld.
You can find good deals here with prices starting from a few hundred baht per night—if you don't mind sleeping in the same room with other people.
Now, on to You
This article includes everything you need to know about renting in Bangkok.
If you want something more in-depth, check out our premium subscription.
You'll discover hidden gems in Bangkok, how to save 40% on rent, and how to avoid common mistakes that costs expats thousands of dollars a year.
Related Articles