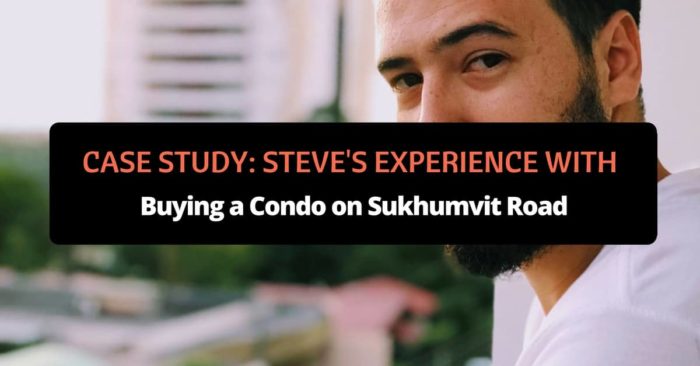 Looking to buy a condo in Bangkok? Or are you just curious as to how the process works? Either way, you're sure to get a lot from this post. It was submitted to us by one of our readers, Steve, who went through the process with his then fiancé (they're now married) in 2017.
This firsthand account looks at Steve's selection method, his buying process, and what was required of him and his wife.
So without further ado, let's find out how Steve bought a condo on Sukhumvit Road in Bangkok.
My Background
My name is Steve. I'm originally from the United States but I work for an oil company in the Middle East. When I was buying a condo, I was engaged to my then fiancé, a Thai lady who is now my wife.
We wanted a two-bedroom, two-bathroom condo in Bangkok. We weren't overly picky, but the condo had to be at least 70 square meters, it had to be close to the BTS or MRT, it had to have a Tesco Lotus or similar nearby, and it had to cost between 5 and 6 million baht.
Working with Agents
I started screening properties on hipflat and HomeFinderBangkok. And since my fiancé was Thai, I had her contact as many agents as possible.
When the agents asked my fiancé about our price range, she told them our budget. But the agents said they had nothing available in that price range. Even when my fiancé showed the agents all the listings I had found online, the agents told us that another agency had that listing—even though the property was listed under their agency.
To my surprise, my fiancé didn't get any attention from the agents she contacted. They didn't seem very interested in helping her out. And they always responded with
We have to contact the owner."
Then we'd wait several days and the response would be
That listing is no longer available."
or
"Another agent has that listing."
We knew we needed another approach. So we decided to contact real estate agents that catered to foreigners. But it turns out, most of these agents primarily focused on rental properties as opposed to properties for sale.
Around the same time, we started wondering if agents had been discounting my fiancé because she wasn't from Bangkok. After all, she came from a small village in the countryside. I'm sure this is the reason real estate agents didn't take my fiancé very seriously.
That's when I decided to initiate three-way conference calls with real estate agents, so that I can be in on the conversations as well. And not to my surprise, they were all of sudden interested in helping us.
I'm sure not all real estate agents in Thailand work like this. Maybe we just had a string of bad luck. But nothing ever came from working with a real estate agent. You might have a different experience though.
In the United States, we have something called the Multiple Listing Service, or MLS. The properties in this database can be accessed by any licensed and authorized real estate agent.
Unfortunately, this doesn't exist in Thailand. If it did, I imagine it would've made our dealings with real estate agents a lot easier.
So my fiancé and I decided to hit the ground running.
Looking In Person
I eventually flew back to Bangkok to look at some properties in person and officially get married in Thailand to my fiancé. I found some properties online and decided it was best to show up.
There was one condo in particular that my fiancé and I liked, but it was a bit more than I was willing to pay. The Condo was in Tree Condo on Sukhumvit Soi 52.
The property was brand new and very nice. But they were not interested in giving me a discount, even after I told them I could pay for the condo in cash—that is, no financing.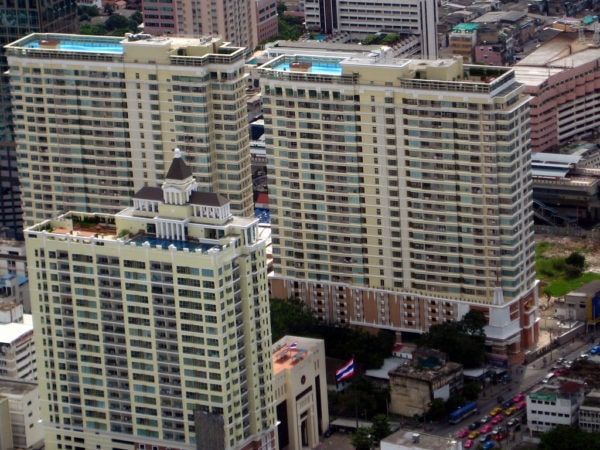 While trying to negotiate a price for that condo, we'd come to fall in love with that neighborhood in Bangkok. So we walked around and took note of all the "For Sale" signs on the other condos in the area.
That's when we came across Residence 52 on Sukhumvit Soi 52 near BTS On Nut. We walked inside and the from the start the sales staff we very cordial and genuinely interested in making an effort to show us the available condos in the building and the overall property itself.
It turned out, they had one last brand new unit left. And it met our criteria: two bedroom, two bathroom, and was 68 square meters (just slightly smaller than what I wanted).
And it was ready to move in—that is, it was fully furnished (including TVs, refrigerator, kitchen appliances, and even free basic cable and wifi).
On the outside, there was a 7-ELEVEN within walking distance. The BTS On Nut Station was only a six-minute walk away. And there was a giant Tesco Lotus next to the BTS station. The condo itself was in the city, close enough to all the action, but far enough from the main road that it felt quiet.
We were very impressed with the condo and the building, which was constructed in 2011. And although the amenities were not luxurious like many of the well-established properties in the area, they were exactly what we needed.
The price was nearly 7 million baht though.
Buying Process
Since the condo was everything we were looking for, I decided to try to negotiate the price. In the end, the seller and I agreed to a price of 6.75 million baht.
I put a down payment on the condo using my credit card, just so the owners knew I was serious. And in the meantime they worked on the sale's contract.
When we showed up a few days later, I was surprised to see that the contract was in English. I could read everything, which made me feel very comfortable making the purchase.
I explained to the sales manager that my fiancé and I were in the process of getting married. And we wanted both of us listed as the owners. They told us all the necessary documents we needed to make this happen. The documents were as follows:
my fiancé's Thai national ID card
my fiancé's blue book in which her name is registered under
official copy of marriage certificate (authenticated by the Thai Ministry of Foreign Affairs)
official copy of marriage registration (authenticated by the Thai Ministry of Foreign Affairs)
a copy of my passport
a letter from our Thai bank that the source of funds for the property came from outside of Thailand
a cashier's check from our joint bank account payable to the seller
I signed all the necessary documents ahead of time so that I didn't have to be present for the final transfer.
In the end, the sales staff at Residence 52 were extremely helpful. They even helped my wife organize and participated in the Buddhist blessing ceremony at our new condo.
It was that attention to detail and genuine interest in us as future residents that won us over.
Buying Timeline
Here is the actual timeline for the sale in our particular situation.
August 31, 2017: Deposited down payment for The Residence 52 @ BTS On Nut
September 1, 2017: Went to the US Embassy for notary services for affidavit of single status
September 6, 2017: Married at Thai Government Office in Laksi
September 6, 2017: Opened Thai bank account
September 6, 2017: Initiated international wire transfer for purchase of condo
September 13, 2017: Flew back to the Middle East to go back to work
September 14, 2017: Received the international wire transfer funds at the bank
September 15, 2017: Obtained all the necessary bank guarantee letters and cashier's check for condo
September 18, 2017: Allowed to move into new condo
September 21, 2017: Received official keys and package for new condo and new Thai "Blue Book"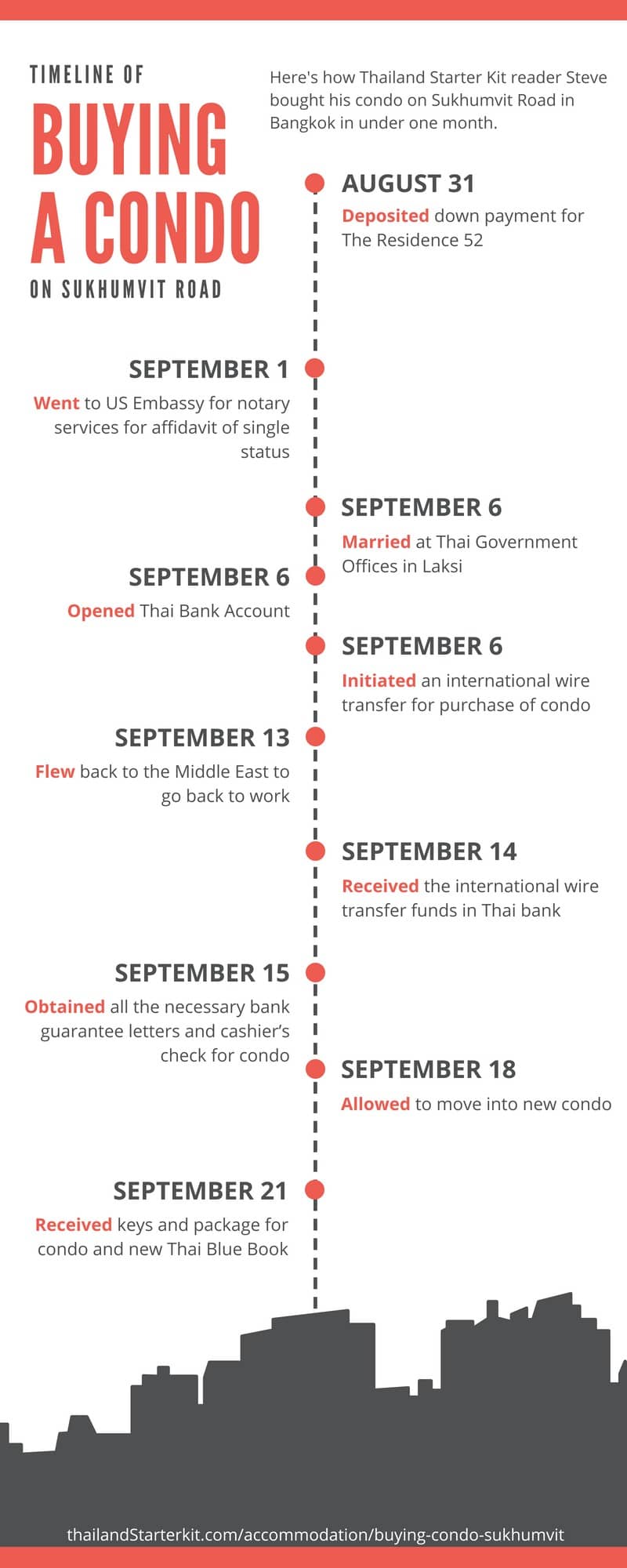 Now, on to You
Now that Steve has shared his experienced with buying a condo on Sukhumvit Road in Bangkok, consider sharing your own experience. If you've been through a process in Thailand that could benefit our readers, contact us with your story idea. All names are changed to respect the privacy of our readers.
Related Articles
Bangkok condo photo by neajjean.