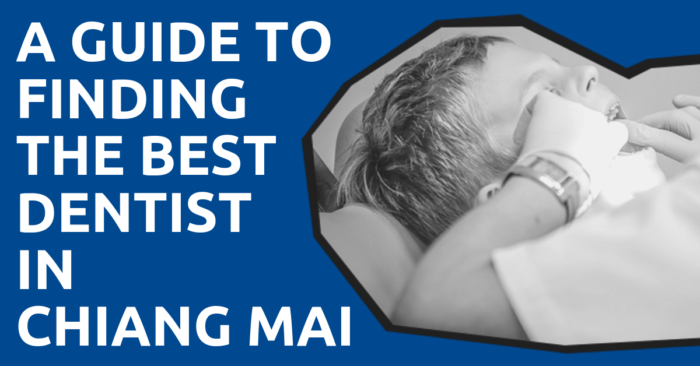 Got a toothache? Or had dental work done (fillings, crowns, dental implants or dentures) for which regularly consulting a dentist is necessary while you're living or visiting Chiang Mai?
Then this article is for you. In this guide, you will learn some good options to get dental treatment in the capital city of Northern Thailand.
You'll also learn why you should see a dentist in Chiang Mai, how much you'll be spending, which clinic or dental hospitals are best, and what you need to do when undergoing a dental procedure.
If you need help finding a dental clinic, you can make an appointment with CIDC. They have English-speaking dentists, modern facilities, and free oral examinations.
"*" indicates required fields
Overview
Chiang Mai is a top destination for digital nomads and retirees because many believe that life in this charming city is easy peasy. But that's not the only reason.
The cost of living is cheap. The food is good. The people are nice. And you get access to good medical facilities.
Many hospitals in Chiang Mai are JCI-accredited, which means they meet the high standards set by an internationally recognized organization that certifies healthcare institutions' quality of care.
In fact, it can be argued that the medical treatment you get from a healthcare provider in Chiang Mai isn't that much different from what you would get in the West The only difference is that the costs of services in Chiang Mai hospitals and clinics are much cheaper.
And this definitely applies to seeing a dentist.
You can find dental clinics throughout Chiang Mai. Some are standalone clinics found in many areas around the city, while some are located inside huge buildings and department stores. Some dental clinics in universities are even open to the public.
In the city's main area alone, there are easily over 20 clinics.
In other words, no matter where you live in Chiang Mai, there's bound to be one dental clinic in your area.
Dentist Qualifications
A majority of dentists in Chiang Mai graduated from Chiang Mai University, currently ranked as the top four university in Thailand. What's more, the Faculty of Dentistry at Chiang Mai University is considered one of the best dental schools in Thailand.
After getting a bachelor's degree, many dental students continue their studies abroad, usually at reputable medical schools in countries like Germany, United States, United Kingdom, and Australia, then go back home to practice dentistry in Chiang Mai.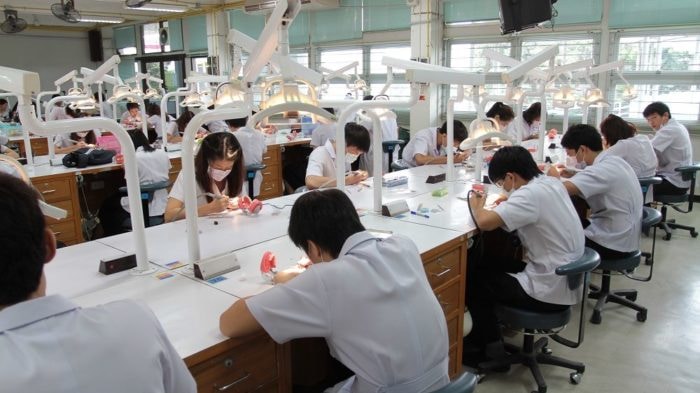 So, the dentists' qualifications in Chiang Mai are comparable to that of dentists in Bangkok and many parts of the world.
In addition to general practice dentists, you can also find all kinds of dental specialists in Chiang Mai, including aesthetic dentists, endodontists, implantologists, oral surgeons, orthodontists, periodontists, and prosthodontists.
Here are the practice areas of these specialists:
Aesthetic dentists – crowns, whitening, veneers
Endodontists – root canal
Implantologists – teeth implants
Oral surgeons – oral surgery
Orthodontists – braces, retainers
Periodontists – periodontal disease and oral inflammation
Prosthodontists – replacing teeth
Facilities
Thailand is known as a top medical tourism destination. The treatment costs are cheap. The doctors provide high-quality healthcare. And the medical facilities provided, including in Chiang Mai, are comparable to those offered in Western countries.
Similarly, dental clinics in Chiang Mai utilize modern medical equipment.
Many clinics implement a full digital X-ray system in which X-ray results are sent digitally and automatically to a dental treatment room.
Some modern clinics, including CIDC, have their own 3D dental CT scan and dental laboratory.
Dental clinics in Chiang Mai also use similar dental technologies used in the West.
For example, All-on-4 treatment concept dental implants, which is one of the most popular dental implant technologies in the West, are widely used in Chiang Mai dental clinics.
Price
Dental treatment costs in Chiang Mai aren't that much different from dental practices in other parts of Thailand.
For example, the leading dental clinics in Chiang Mai and Bangkok charge exactly the same for Zoom™ teeth whitening at 9,000 baht. In the US, the cost of this procedure starts at 15,000 baht ($500 USD).
Or you can pay 45,000 baht ($1,500 USD) per tooth for composite veneers. But in Chiang Mai, you need to pay only 5,000 baht ($167 USD).
If you go to government hospitals in Chiang Mai, it will cost even cheaper. But you need to be able to speak at least a little bit of Thai. And expect queues to be very long.
Costs of procedures in dental clinics tend to be more expensive compared to costs in government hospitals. People tend to get the wrong idea that international dental clinics must be more expensive than local clinics.
In fact, it isn't always the case.
We know someone who got charged 4,000 baht for a tooth extraction procedure at a local clinic. International clinics charge 2,500 baht maximum for a similar procedure.
Dental services at private hospitals tend to be the most expensive.
Refer to the table below to see how much you need to pay to a dentist in Chiang Mai. The prices are in baht.
Please note that the cost of dental treatments varies. It depends on the complexity of your case, the types of materials used, and the nature of the procedures.
| | | | | |
| --- | --- | --- | --- | --- |
| Dental Clinic | Teeth Whitening | Crown (Standard Alloy) | Veneer (Composite) | Tooth Extraction |
| CIDC | 9,000 | 10,000 | 5,000 | 1,000 |
| Dental World Chiang Mai | 9,000 | 10,000 | 5,000 | 500-2,000 |
| Grace Dental Chiang Mai | 12,000 | 10,000 | 5,000 | 1,500 |
| Chiangmai Dental4You | 8,000 | 8,000 | 3,500 | 500 |
| Elite Smile Dental Clinic | 9,000 | 8,000 | 6,000 | 500 |
| Empress Dental Clinic | 10,000 | 8,000 | 6,000 | 500 |
| Chiang Mai University (Premium Clinic) | 10,000 | 10,000 | N/A | 350 |
*Prices are in Thai baht
Dental Clinic in Chiang Mai
Here is a list of popular dental clinics in Chiang Mai. You might have seen their names when you browsed for dentists online.
All of them have English-speaking staff and offer a full range of dental treatments.
CIDC
Chiang Mai International Dental Clinic, located at Nimmanhaemin Road, is the most recently established dental clinic in Chiang Mai, managed and operated by Dental Corporation Public Co., Ltd, the biggest dental clinic company in Thailand.
Dental Corp PLC is the same company that runs BIDC.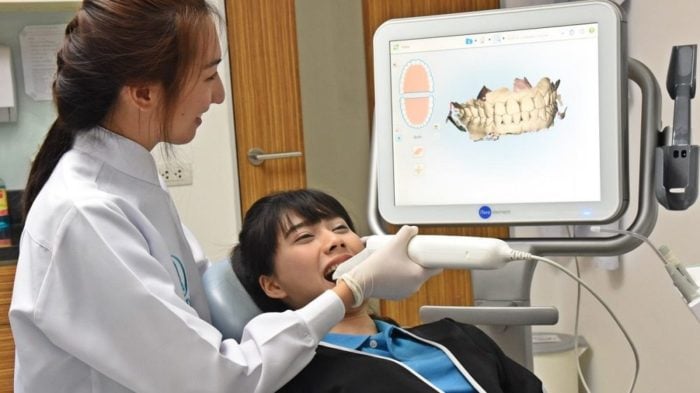 You can expect to receive the same quality of treatment at CIDC as in BIDC. CIDC has many English-speaking specialist dentists and offers modern equipment and facilities, including digital X-ray equipment, intra-oral camera, and 3D CT scan. They also have their own in-house digital dental laboratory.
CIDC offers a full range of dental treatment from general dentistry, dental implants, root canal, prosthodontics to orthodontic braces, and cosmetic dentistry.
They are one of the few dental clinics in Chiang Mai that offer all dental treatments.
Prices at CIDC are also competitive. They aren't the cheapest options out there. But then again, there are dental clinics that are more expensive than them. What's great is that CIDC offers a free oral examination and consultation.
CIDC uses dental sterilization technologies to ensure the cleanliness of equipment and the environment. They are certified by JCI-compliant sterilization standards and ISO quality management controls.
Because of their dental specialists, facilities, services, prices, and certifications, there's no doubt that CIDC will become the leading dental clinic in Chiang Mai soon.
You can fill out this form to make an appointment with CIDC.
Dental World Chiang Mai
Dental World Chiang Mai is another well-known dental clinic in Chiang Mai, conveniently located near Tha Phae Gate and Pratu Chiang Mai.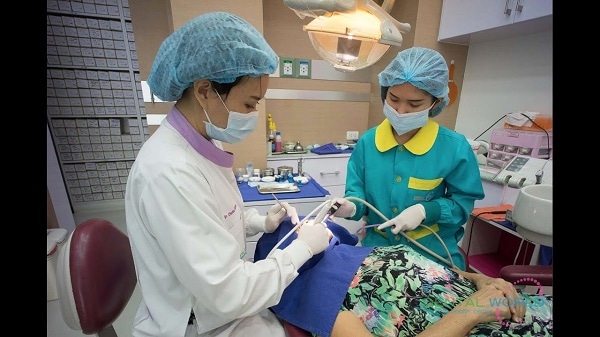 Dental World Chiang Mai's team of dentists is famous. Some of them are dental professors from Chiang Mai University.
They also have specialist dentists including orthodontists, oral surgeons, aesthetic dentists, implantologists, and even pediatric dentists.
Dental World Chiang Mai is well equipped with modern facilities and equipment. They use a digital X-ray machine, endodontic microscope OPMI, enlarge endodontic instruments, root canal filling tools, and UltraSonic motor PS XS.
They even provide laughing gas for those who fear having their teeth drilled and squeezed.
When it comes to the treatment cost, Dental World prices are similar to CIDC. They are not the cheapest, but also not the most expensive, as well.
Grace Dental Care Clinic
Grace Dental Care Clinic is undoubtedly one of the most well-known dental clinics among expats in Chiang Mai. In addition, many considered it the best and the most expensive dental clinic in Chiang Mai.
Grace Dental Care Clinic, which was founded in 2003, targets expats or digital nomads who live in Chiang Mai. They are located in Nimmanhemin Road, a popular expat area in Chiang Mai.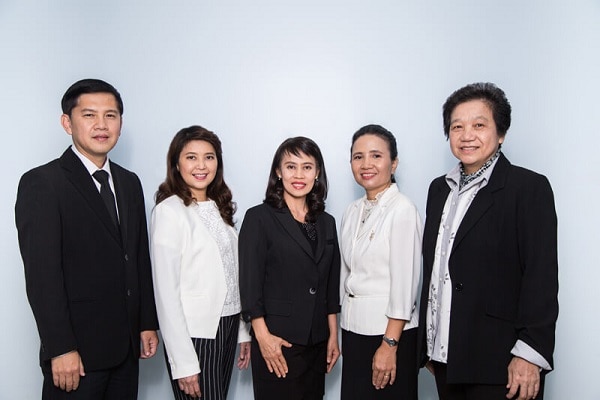 In fact, it's the only dental clinic in this article that doesn't have a website in Thai language — their website is in English.
Most of the reviews of their services on Google Maps and Facebook page were written by expats.
But what makes Grace Dental Care Clinic attractive to customers is the reputation of their dentists, especially Dr. Korakot. She's a prosthodontist and also one of the co-founders of the clinic.
Grace Dental Care Clinic offers various kinds of dental treatment including implants, oral rehabilitation, root canal treatment, dental cleaning, dental surgery, and tooth replacement.
In terms of pricing, Grace Dental Care Clinic is more expensive than other clinics. For example, they charge 12,000 baht for Zoom teeth whitening while CIDC charges only 8,000 baht.
Chiang Mai Dental 4 You
Chiang Mai Dental 4 You definitely has the catchiest name among all the clinics. They offer a wide range of dental treatments… for you.
Their clinic is a two-story house located in Tha Prae Road, and it would be hard to miss their gigantic "Dental 4 You" signboard.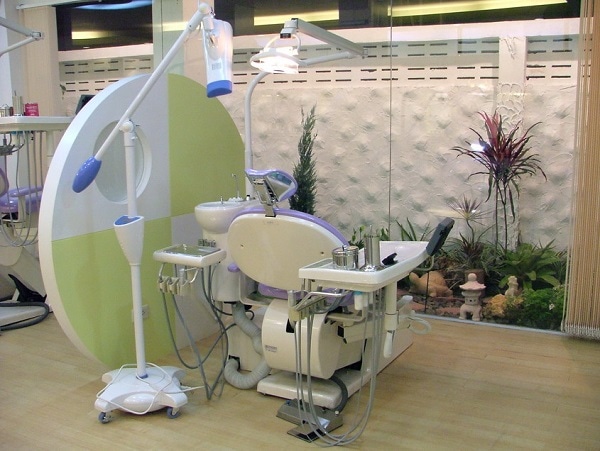 Dental 4 You was founded by Dr. Warut Muttarak. He studied dentistry at Chiang Mai University, and completed the Masters in Implant Dentistry Program in the USA. He also used to work as a lecturer at Chiang Mai University.
In addition to dental implants, Chiang Mai Dental 4 You also offers cosmetic dentistry, oral surgery, periodontic dentistry, and prosthodontic dentistry.
Elite Smile Dental Clinic
Elite Smile Dental Clinic is located inside Pantip Plaza Chiang Mai, the biggest IT mall in Chiang Mai.
You can shop for IT gadgets while waiting for your dental appointment.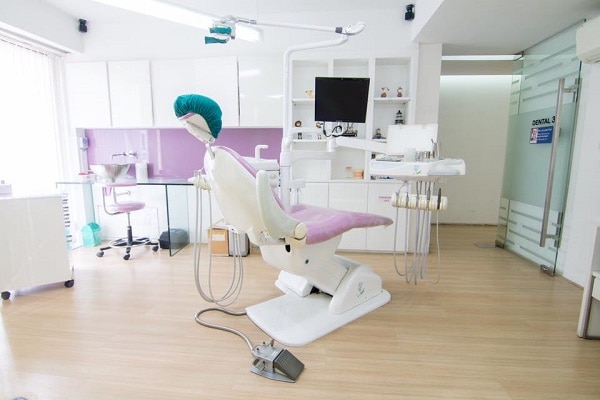 Elite Smile Dental Clinic is actually a branch of Chiang Mai Dental 4 You, and is run by the same dentists who run Chiang Mai Dental 4 You.
As such, Elite Smile provides pretty similar dental services at similar prices using similar technologies as Chiang Mai Dental 4 You. You can decide to go to either clinic based on where you live and what's more convenient to go to.
Empress Dental Clinic
Dr. Jarunee, the founder of Empress Dental Clinic, is a favourite dentist among expats in Chiang Mai. Some even claim that she's the best dentist in Chiang Mai.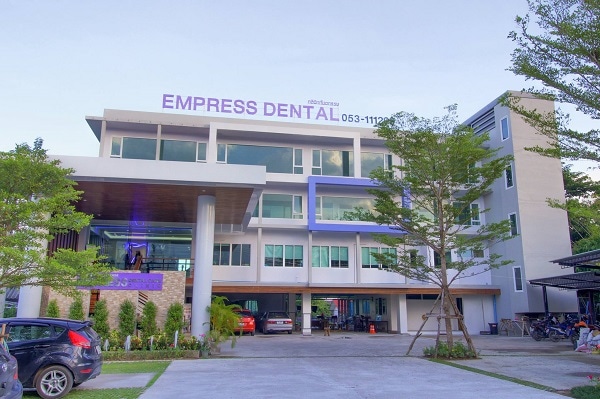 Dr. Jarunee practiced at Grace Dental Care Clinic before she opened her own clinic at Klong Chonlaprathan Road. It's out of town, but it's still a good location if you live near Chiang Mai Night Safari.
Now, Dr. Jarunee has a team of over 20 dentists working with her. Most of them graduated from Chiang Mai University. She's quite in-demand, which is why if you go to her clinic, you will be treated by one of her associates instead.
Although Empress Dental Clinic's dentists are good, the same group who deemed Dr. Jaruneed the best would rather go to a different dentist if she can't do the work herself.
Empress Dental Clinic prices are comparable to other dental clinics in Chiang Mai.
Dental Hospitals
In addition to dental clinics, your other option is to visit a dentist at hospitals. Many hospitals in Chiang Mai, both private and government hospitals, have a dental department.
In fact, there is no major difference between private hospitals and government hospitals when it comes to treatment quality and dentists' expertise.
The main differences are waiting times, types of services, prices, and medications used and prescribed.
In government hospitals, you need to wait in a long queue. It can take you hours just for a dental cleaning appointment.
Depending on a complication of your case, you may need to wait for weeks, months, or even a year in order to get treatment.
On the other hand, you hardly need to wait for more than a week at private hospitals.
In addition, government hospitals do not always have English-speaking staff. Unless you know how to speak Thai, it's better to go with someone who can.
That said, the prices you pay at government hospitals are much cheaper than private hospitals. And the medications you get are usually locally made.
With private hospitals, the medications are a combination of local and imported drugs.
Note that in Thailand, it is more common to visit dental clinics for dental treatment than to go to hospitals.
Unlike government hospitals, dental clinics have a short waiting time. And they are cheaper than private hospitals. But for cases that require a major operation such as a jaw surgery, it's advisable to visit a hospital instead.
Chiang Mai University
You can visit a government-sponsored dental hospital at the Faculty of Dentistry of Chiang Mai University. They can handle general dental treatments including cleaning, tooth extraction, tooth filling, braces, root treatment, and dental implants.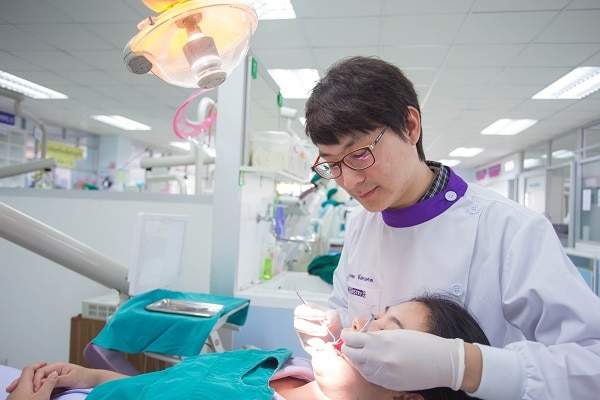 You can choose between getting a treatment from dental students and lecturers. Treatments performed by dental students cost very cheap. It can even be less than a hundred baht for a tooth extraction.
You don't need to worry about the quality of treatment performed by students. All procedures are closely supervised by lecturers.
Just a warning: waiting times are very long. Some patients have reported that they had to wait for six months just to get a simple tooth filling.
If you want a shorter waiting time and get treated by lecturers, you can visit their premium clinic.
As for prices, they're not that different from other dental clinics in Chiang Mai.
McCormick Hospital
McCormick Hospital is the first hospital in Chiang Mai founded by an American missionary back in 1867.
It is considered as one of the cheapest private hospitals in Chiang Mai.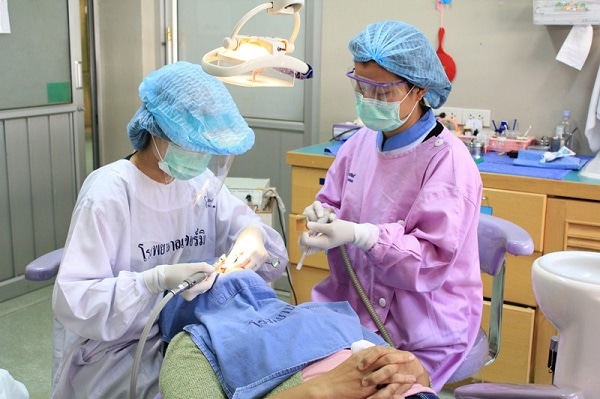 Because of their competitive costs and good treatment quality, their name often comes up in discussions about a hospital recommendation.
McCormick Hospital has a dental clinic that offers a wide range of dental treatments including check-ups, cleaning, tooth extraction, root canal, gum treatment, veneers, whitening, implants, and dental surgery.
In addition to McCormick, other private hospitals such as Bangkok Hospital in Chiang Mai, Chiang Mai Ram Hospital, and Lanna Hospital also has dental departments. They are more modern than McCormick Hospital but are more expensive, as well.
Procedure
Visiting a dentist in Chiang Mai is very simple. You make an appointment, make a visit, pay the bill, and you're done.
Making an Appointment
Making an appointment isn't always necessary. You can just walk in at any dental clinics in Chiang Mai. If you are lucky, it's possible to get a treatment right away without having to wait in a long queue.
However, in many cases, you will need to wait.
To make an appointment, you can just call them. Some clinics, such as CIDC, require you to fill out an appointment form on their website.
Getting a Treatment
Once you are at the clinic, just go straight to the information counter, wait for a few minutes, and then meet with the dentist.
Dental treatment rooms in Thailand are the same as in many parts of the world. It's a clean room with a dental chair in the middle and some other medical and dental equipment.
Depending on the treatment, a dentist might send you to another room for an X-ray or a dental CT scan.
In more modern clinics, the scan's result will be sent digitally and automatically to the dental treatment room. Then, a dentist will give you the diagnosis and provide a further treatment plan.
You shouldn't have a communication problem with a dentist in Chiang Mai. Many dentists are good English speakers.
This is especially true for clinics like CIDC. A majority of their dentists graduated from universities overseas.
A dentist or his/her assistant may talk to you during a treatment. Some may play relaxing music to keep you at ease.
Normal treatments don't last more than an hour. Simple procedures like tooth extraction and tooth filling may even take less than ten minutes.
Paying the Bill
After the treatment, you will be sent back to a waiting area to settle your bill. Cash is the most common payment method.
Please note that dental clinics in Chiang Mai and in other areas in Thailand rarely accept foreign currencies. You should exchange them to Thai baht at local banks or money exchangers.
You can read this article on how to get the best exchange rates.
Many clinics do accept credit cards, including Visa, Mastercard, Diners, and AmEx. Make sure your card is activated if you're using it in Thailand.
For security reasons, many credit card companies may block overseas payments especially when paying a large sum of money.
Note also that paying by credit card is more expensive since credit card companies charge 2% for foreign transaction surcharges on average.
In case you open a bank account in Thailand, you can pay a dental clinic through wire transfer.
Follow-Up Treatment
Many dental treatments require a follow-up treatment or consultation.
For example, you need to visit a dentist for two to three more (or more) times for dental implants, root canal treatments, and crowning.
For teeth replacement, you may need to see the dentist five more times.
Health Insurance
If you have health insurance that covers dental treatments, you may not need to pay the cost of treatment out of your own pocket. So check with your health insurance provider first.
Dental Insurance
There is specific insurance for dental coverage in Thailand.
It comes with coverage for your general dental needs, including teeth cleaning, fillings, extractions, and root canals.
The main limitation is the waiting period of 65 days, which means that after you purchase the dental insurance, you won't be able to make claims for dental expenses for 65 days, with the exception of accidents.
It also doesn't cover dental implants, braces, or cosmetic dentistry.
You can compare plans and buy dental insurance from Mister Prakan.
Social Security
If you are employed by a company in Thailand, you are entitled to social security. This means free dental coverage, including: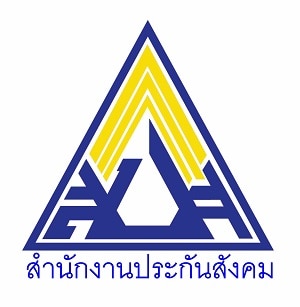 900 baht a year for tooth extraction, tooth filling, cleaning, and wisdom tooth removal
Tooth replacement for up to 4,400 baht within 5 years
The amount isn't a lot. Think of it as your annual free dental cleaning.
Social Security also gives you a free health check-up every year.
If you want to use your Social Security benefits, inform the dental clinic. Then, they will give you the Social Security form and a receipt.
Fill it out, attach a receipt, and send it to the Social Security office in your area.
It can be done by post. Or you can just visit the Social Security office.
Now, on to You
You shouldn't have any problem locating a dental clinic in Chiang Mai. You can rest assured that the dentists in the region are good.
But if you are afraid of the dentist, like most of us are, but need to visit one in Chiang Mai, we recommend going to CIDC.
It's not the cheapest clinic in Chiang Mai, but they have good-quality equipment and experienced dentists, which mean less pain and quicker recovery time.
Related Articles