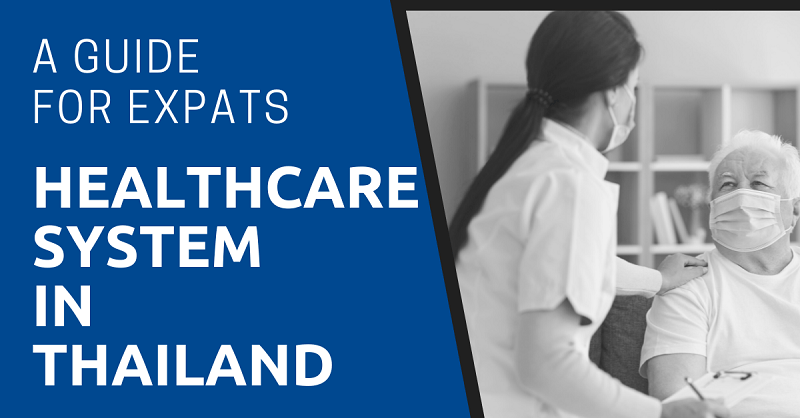 Moving to a new country comes with various stresses for the average expat, and healthcare must surely rank near the top of the list, especially for older expats and those arriving from countries with generous government healthcare schemes. Will I be able to get the medication I need? Will the standard of healthcare be good? And how will I avoid bankruptcy in case of an accident? These are some of the questions many expats might ask.
Well, we're here to assuage any concerns you might have about healthcare in Thailand. Yes, you will likely be able to get your medication. Yes, the quality of healthcare will be good — excellent, even, if you are living in a big city and are willing to pay a little more. And there are plenty of generous insurance schemes out there to help cover your costs — you might even qualify for state assistance.
In this article, we'll break down the options available to you in Thailand, as well as how to go about paying for it. We'll also give you a brief guide to what to do in case of an emergency, or where to go for more common ailments.
Healthcare Quality
The quality of healthcare in Thailand is very good for the most part. Its healthcare system was ranked sixth in a survey by CEOWORLD magazine in 2019, and the country is currently the fifth most popular destination worldwide for medical tourism. It is usually easy to see a specialist for just about any problem almost immediately if you're willing to use some of the better private hospitals. Boarding in some of Thailand's top hospitals, such as Bumrungrad International Hospital, can feel more like a stay at a 5-star luxury hotel, with private suites and round-the-clock world-class care, albeit at a price.
Many of Thailand's top hospitals are, as you might expect, located in Bangkok, although there is a handful of good medical centers in the country's other major cities. As you venture further into the countryside, quality tends to drop off, but you can still expect to see a qualified doctor quickly and cheaply even in the country's provincial cities. Pretty much all the medication you'll need is available easily at the nation's many pharmacies, although these may be generic-brand medications rather than brand-name meds you're familiar with.
Public Hospitals
The majority of public hospitals in Thailand are overseen by the Ministry of Public Health. A broad variety of facilities fall under this umbrella, from tiny community medical centers serving remote rural villages to enormous local hospitals in the big cities.
As one might expect, prices at public hospitals tend to be a lot more affordable than at private hospitals, both for care and for medicines. On the downside, they also tend to be much more overcrowded, and you can expect to have to wait a long time to be seen by anyone. There's also a much higher probability that your doctor or nurse may not speak — a probability that increases substantially when you visit medical centers outside of Bangkok.
Some of Thailand's big medical schools, such as Siriraj and Chulalongkorn, also operate their own hospitals. As these are training centers, they may also boast the latest top-of-the-line medical equipment, as well as skilled and competent doctors. On the downside, they also tend to be overcrowded, so if you plan to visit one, make sure to get there early.
For more information, check out our article on visiting hospitals in Thailand.
Private Hospitals
As an expat, you're much more likely to use private hospitals for most of your medical needs, particularly if you're a Westerner. After all, private hospitals in Thailand tend to offer a high standard of care, which cost a fraction of what private care would cost in most Western countries.
By the way, you should disregard any preconceived notion you may have of what a hospital in Thailand looks like. There are no dimly-lit corridors with patients in wheeled-beds clogging up the walkways and harried doctors rushing back and forth on hour 30 of their never-ending shifts.
The top private hospitals in Bangkok feel more like luxury resort destinations, only with medical specialists available to see you on demand.
Granted, private hospitals are a lot pricier than government hospitals, but with a decent health insurance plan (see below), the costs should be negligible.
Some of the best private hospitals include Bumrungrad International Hospital, Sukumvit Hospital, and Samitivej in Bangkok, Chiang Mai Ram and, a little confusingly, Bangkok Hospital in Chiang Mai and Vachira Hospital in Phuket. For more recommendations and contact information, you can check out our article about hospitals in Thailand.
Paying for Your Healthcare
Although Thailand provides free at point-of-service healthcare, the majority of government healthcare schemes are limited to Thai citizens only (with one exception, which we'll get into shortly). As an expat, you are likely to need (or want) private health insurance.
The good news is that if you're working here, your employer will likely provide you with health insurance as one of the perks of employment. If they're a good employer, this may be all you need. But chances are, the coverage they offer will only be useful in emergencies and basic medical services. For everything else, you'll probably want to opt for a more comprehensive health insurance.
Let's look at all the available options:
Public Healthcare Schemes
Universal Healthcare
The Thai government offers a number of schemes to cover healthcare costs for those who need it, such as the Civil Servant Medical Benefit System (CSMBS) or the Social Security System. The most widely-used scheme by far is the Universal Coverage Scheme (UCS), which covers around 99.5% of the population. Anyone enrolled in this scheme can apply for a Card for Care, which entitles them to comprehensive, free at point-of-use medical care.
Unfortunately, UCS is currently only available to Thai citizens.
For more information, check out our article on universal health coverage in Thailand.
Social Security
One public healthcare scheme that is thankfully available to expats is the Social Security System (SSS). Under this scheme, a small amount of money is deducted from your salary each month, which then entitles you to a number of healthcare benefits. These include a free annual check-up, dental treatment (up to THB900) and free treatment at a government hospital for anything deemed "medically necessary", among other benefits.
For a more detailed breakdown of the benefits, check out our article on the Social Security system.
Private Insurance
There are many options when it comes to selecting a private insurance plan that choosing one can be quite a headache. They can, however, all be broadly grouped into two categories for Thailand-based expats: local and international.
For a more detailed breakdown of the options, check out our article on health insurance in Thailand.
Local Insurance
This covers all health insurance plans offered by companies based in Thailand. Popular local insurance companies include Aetna (formerly BUPA), Axa, AIA, and LMG.
Taking out a local insurance plan may differ a little from the plans in your home country. Rather than providing you with an annual limit for healthcare spending, you're given limits on what benefits you can claim – for example, you might be limited to THB900 per outpatient visit, or THB2000 per night for room and board. Recently, however, several insurance companies have started offering plans that more closely resemble international insurance plans, albeit with lower limits, such as Krungthai-Axa's iHealthy Ultra.
On the one hand, taking out a local insurance plan will likely be cheaper than a home insurance plan, as there are far more options available. Processing payments is also a lot faster, as everything can be done within the country. One downside is that they may not provide as much flexibility as an international insurance plan might. For example, you're unlikely to be covered for accidents that happen while you're travelling abroad.
To compare insurance plans, check out the comparison site, Mister Prakan.
International Insurance
International insurance plans are the ones you apply for abroad but which still provides coverage within Thailand (amongst other countries). Examples of this type of insurance include travel insurance and expat insurance.
International insurance policies can give you much more flexibility, particularly if you're also a frequent traveller. There are plans available from companies such as Cigna Global, which provides coverage for care in hospitals region-wide (e.g., across Asia) or even worldwide. Traditionally, these plans offered higher coverage limits, but in recent years, coverage has almost reached parity with the local plans.
On the downside, these plans can be a little pricier than those offered by local insurance companies. Having to deal with an international company can hold up your payment processing, too.
For more information, check out our comparison of expat insurance plans that are currently available.
Pharmacies
Pharmacies can be found all over Thailand, and you shouldn't have any problems buying over-the-counter medication for mild ailments.
The variety of pharmacies range from big local chains, such as Boots or Watsons, to small mom-and-pop operations, each varying in terms of the cost and availability of medications. Medications in Thailand is generally inexpensive compared to those in Western countries, and you'll likely be surprised at the broad selection available at most Thai pharmacies.
In addition, you're unlikely to need a prescription for most over-the-counter drugs at pharmacies in Thailand. However, you may need one for narcotic or psychotropic-based drugs. If you're currently taking a certain type of medication, it's probably a good idea to get a prescription from your home country as well as a sample to a local hospital as soon as you arrive. We'll go into a little more detail about the process of taking controlled medication into the country below.
For more detailed information, you can check out our article about pharmacies in Thailand.
Bringing Medication Into Thailand
If you are currently taking medication, it's best to check out the Thailand Food and Drugs Administration's (FDA) website ahead of time to see if your meds are on the controlled substances list. Controlled drugs are divided into narcotics and psychotropics and subdivided into categories, with some categories being completely illegal and others heavily controlled.
If your medication falls into the 'legal but controlled' category, you may still be able to bring it into the category, albeit with some paperwork required. You may also need to declare your medication at customs when arriving in the country.
Whatever you do, do NOT attempt to bring in any non-generic medication without first ensuring that it's safe and legal to do so. Penalties for smuggling in controlled substances are strict, and you probably don't want to spend the first few months or years of your expat life locked up in a Thai prison.
For a more in-depth guide, check out our article on to what to do when bringing medication into Thailand.
Getting Sick
The best thing to do for mild illnesses in Thailand is likely similar to what you would do in your home country: stock up on medication, stay at home, and get plenty of rest. As stated above, pharmacies can be found everywhere and are generally well-stocked with over-the-counter painkillers, decongestants, antidiarrhea medicine, and the like, so it's worth stopping by your nearest pharmacy if you've got the strength. Staff in pharmacies in Bangkok and in most tourist-heavy areas are likely able to speak good English and highly professional, so don't be afraid to ask for their advice if needed.
Generally speaking, most expats in Thailand will go to a hospital if they need to see a doctor, even for relatively mild complaints. While you can find doctors' clinics around Bangkok, they are frequently overcrowded and the overworked doctors will likely have little time to tend to you. There's also the possibility that in certain hospitals, many doctors won't be able to communicate well in English. Most insurance plans in Thailand will cover outpatient consultations, so if you're already covered anyway, you'd be better off going to a hospital where you can see a specialist quickly.
If you're working in Thailand, you should know that Thai labor law dictates that you're entitled to up to 30 paid sick days a year. For three or more consecutive days, you will need to present a doctor's certificate, so make sure you get one, if necessary. Most doctors in Bangkok will offer you one during your consultation as standard procedure.
Emergencies
The number to dial in case of emergencies in Thailand is 191. If the person taking your call can't speak English and/or there isn't a Thai speaker around to help you, you can try calling the Tourist Police on 1155, and they will help redirect you.
To call for a public ambulance directly, you can dial 1669. Public ambulances are often manned by volunteers working for groups like the Poh Teck Tung Foundation or the Ruamkatanyu Foundation. As you can imagine, this an extremely difficult and thankless task for the volunteers, so do consider sending a donation their way if you ever see a collection. To call for a private ambulance, you can call 1724 or 1719. It'll get you to the hospital quicker, but for a price.
Now on to You
As a general rule, you should have nothing to worry about when it comes to getting healthcare in Thailand. With a good insurance plan, you can expect a high standard of care at Thailand's reputable hospitals and a wide availability of different medications at the country's many pharmacies. And make sure to do some research when finding an insurance plan that will suit your needs.
Essential Guides on Healthcare System in Thailand
Latest Guides on Healthcare System in Thailand