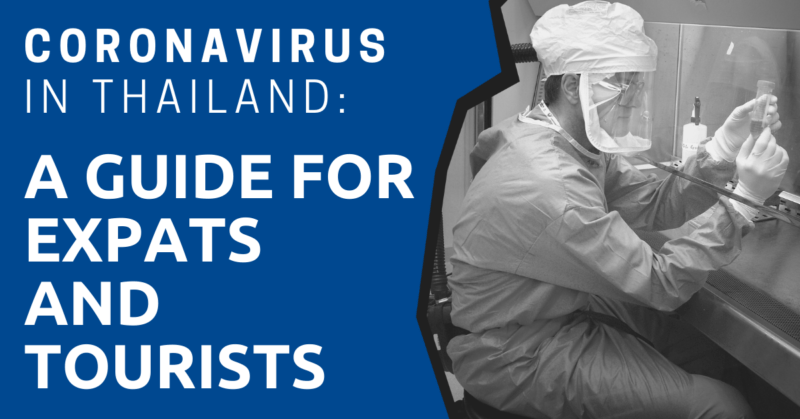 The 2019 Novel Coronavirus is dominating the news in the region. With more than 20,000 infections in China and a small but rising number of cases in Thailand, a lot of expats and visitors are wondering what the actual situation is and what steps they can take.
In this preliminary guide, we are going to give you an overview of important findings, news, research and how-tos that aims to serve as a one-stop resource for anyone who is staying or coming to Thailand and trying to familiarize themselves with the situation. It was our objective to keep things as factual as possible without inflating the dangers for clicks.
Please keep in mind that the authors not infectious disease specialists. While we asked medical professionals to provide feedback on the accuracy of the information, this article is meant to be taken as 'best effort' in a time of uncertainty and with many details not yet known. It's provided 'as is' and without any warranty or guarantees.
Hopefully most of this will only be of informative nature and not something you'll get in touch first hand.
Coronaviruses are actually the name of a large family of viruses. They can be commonly found in many animal species, including cats, cattle, camels, and bats.
There are only a few types of coronaviruses that cause disease in humans. Two well-known diseases caused by the virus are MERS and SARS.
The virus can cause illness, including fever and respiratory problems, when transmitted to human beings.
The coronavirus found in 2019 is a new type of virus. It's called the 2019 Novel Coronavirus, or 2019-nCoV for short.
Where did 2019-nCoV come from?
The 2019-nCoV is speculated to be from a fish market in Wuhan, China.
Although it is commonly believed that 2019-nCoV came from a bat, we don't know whether this is true or not.
Other reports also said that the virus came from snakes.
There still needs to be further investigation to determine the real cause of the 2019 Novel Coronavirus.
You should be careful when reading about the virus since there is a lot of misinformation spreading online.
Why the name "corona"?
The name coronavirus comes from its appearance, since the virus has a crown shape.
"Corona" derives from Latin, meaning "crown".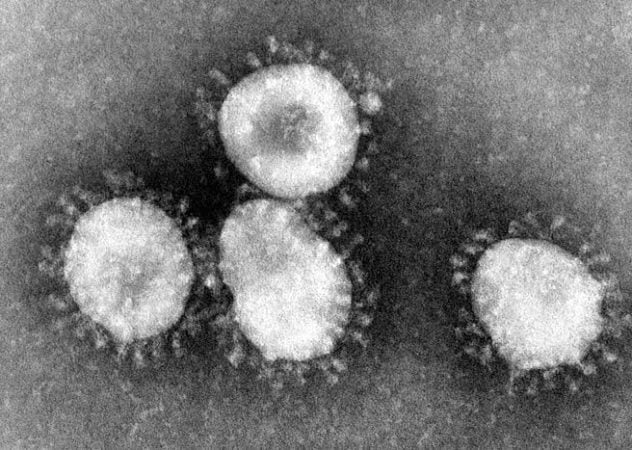 What are the symptoms of 2019-nCoV?
The common symptoms of the Novel Coronavirus are fever, coughing, and shortness of breath.
However, please note that the symptoms of the virus can vary between each individual.
Some infected patients may not show any symptoms at all, while others can have fevers and breathing difficulties.
You can find out more about the 2019 Novel Coronavirus on the Centers for Disease and Control and Prevention website.
Frequently Asked Questions
The WHO has tweeted a set of useful questions & answers related to the spread of 2019-nCoV including:
Does the new coronavirus affect older people, or are younger people also susceptible?
Is it safe to receive a package from China?
Can pets at home spread the new virus?
Do vaccines against pneumonia protect you against the new coronavirus?
Can eating garlic help prevent infection with the new coronavirus?
How deadly is it?
As of February 5, the Novel Coronavirus has caused 493 hundred deaths, with the current fatality rate at around 2%. The majority of deaths were reported from China, one from Hong Kong, and another one happened in the Philippines.
At the time of writing, that's still lower than SARS (at 9.6%) or MERS (34%).
Please note that the current fatality rate of the 2019-nCoV might be either overestimated (e.g. many more people might be only asymptotic carriers) or underestimated (e.g. many of the patients are in critical condition but have not yet died).
You can check the up-to-date number of confirmed cases, dealths, and fatality rate at worldometers.info.
How does it spread?
The 2019 Novel Coronavirus mostly spreads through respiratory droplets produced when coughing or sneezing.
The Center for Disease Control and Prevention stated that:
"Most often, spread from person-to-person happens among close contacts (about 6 feet).
Person-to-person spread is thought to occur mainly via respiratory droplets produced when an infected person coughs or sneezes, similar to how influenza and other respiratory pathogens spread.
These droplets can land in the mouths or noses of people who are nearby or possibly be inhaled into the lungs.
It's currently unclear if a person can get 2019-nCoV by touching a surface or object that has the virus on it and then touching their own mouth, nose, or possibly their eyes."
Although there was a study claiming that the 2019 Novel Coronavirus can be spread by asymptomatic people, an update later on stated that the report has some errors in it, and in the specific case analyzed it turned out to be inaccurate. However, that doesn't mean the possibility was ruled out.
The best course of action is to follow news on peer-reviewed papers until they can discover more evidence on this issue.
How many people have been infected so far?
Although the Novel Coronavirus is less deadly than SARS, it seems to spread more easily.
European Centre for Disease Prevention and Control stated that:
"Since 31 December 2019 and as of 4 February 2020, 20,626 laboratory-confirmed cases of novel coronavirus (2019-nCoV) infection have been reported and 427 deaths."
Their website gives an up-to-date number of confirmed cases.
Which countries have been infected by the virus so far?
While the majority of the confirmed cases come from Wuhan, China, the novel coronavirus has also spread to many other provinces of China, possibly in every state and territory.
In addition, infected people have been found in many countries all over the world, including France, Germany, Japan, Singapore, and Thailand.
An infographic from CNN shows confirmed cases of the coronavirus and a real-time tracking map of the Novel Coronavirus from Johns Hopkins University's Center is also available.
How About Thailand?
Let's take a look at key information you should know about the coronavirus in Thailand.
How many people in Thailand have been infected so far?
As of February 5, 25 people have been reported with coronavirus in Thailand. 8 have recovered and been discharged from the hospital.
There was a new report on Febuary 3, 2020 that a South Korean tourist was infected with 2019-nCoV after taking a trip to Thailand without any record of visiting China.
You can check the daily reports on the number of infected people in Thailand from the Ministry of Public Health Thailand website.
As of now, Thailand still doesn't have any policy to prevent Chinese people coming into the country yet.
Instead, thermal scanners have been installed at various international airports, including Suvarnabhumi airport, Don Mueang, Chiang Mai, and Phuket.
Additional measures have been implemented for travellers from China. In addition to thermal scans, all passengers will be manually examined by medical staff.
Many hospitals and department stores have also started installing thermal cameras. Hand sanitizers and surgical masks are also provided at BTS and MRT stations.
Expats and locals are also active with the Novel Coronavirus prevention. Many people now wear masks when going outside.
Thailand is also considering suspending visas-on-arrival for Chinese citizens.
What happens when someone is infected with the virus in Thailand?
If someone is infected or suspected to be infected with 2019-nCoV, they will be isolated and closely monitored by hospitals until they are fully recovered.
Or they will be sent to the state-owned specialized medical center for infectious disease, called Bamrasnaradura Infectious Diseases Institute.
In addition, most hospitals in Thailand have a designated area with negative pressure rooms and policies for personal protective equipment, or PPE.
Is it safe to travel to Thailand?
The CDC still puts Thailand in Watch Level 1. This means you should take the usual precautions before traveling internationally, regardless of where you are going. That warning may change in the following weeks, so best check the current status if planning a trip.
This means that according to CDC, it's safe to come to Thailand at this point as long as you take the usual precautions and follow safety standards as mentioned above. However, keep in mind that at the time of writing there was at least one reported case of a South Korean tourist returning from Thailand and testing positive for 2019-nCoV. With the total number of cases in Thailand also on the rise, we may see additional infections among tourists in the future.
In any case, certain vaccinations are still recommended for diseases that are commonly found in this area, including Hepatitis A, Typhoid, Cholera, and Hepatitis B.
In case you have a fever and/or cough, the World Health Organization recommends you completely avoid traveling.
How to get updated with the current virus situation in Thailand?
The Thailand Ministry of Public Health is a great website to keep yourself up-to-date about the 2019 Novel Coronavirus situation.
They actively release a daily report in English giving you updated information on the virus, not only for Thailand, but the entire world.
You can also follow the WHO Thailand Twitter account. They regularly tweet on what you should do to protect yourself from the virus. You can also use this hashtag: #coronavirusthailand.
Richard Maude, a tropical medicine physician and epidemiologist, also regularly tweets interesting information about the coronavirus.
TheThaiGer and Bangkok Post have specific sections for 2019-nCoV news in Thailand.
Precautions
Let's take a look at how you can protect yourself from the 2019 Novel Coronavirus.
How to protect yourself from the virus
The WHO released the following advice to protect yourself yourself from 2019-nCoV:
Frequently clean hands by using alcohol-based hand rub or soap and water;
When coughing and sneezing cover mouth and nose with flexed elbow or tissue – throw tissue away immediately and wash hands;
Avoid close contact with anyone who has fever and cough;
If you have fever, cough and difficulty breathing seek medical care early and share previous travel history with your healthcare provider;
When visiting live markets in areas currently experiencing cases of novel coronavirus, avoid direct unprotected contact with live animals and surfaces in contact with animals;
The consumption of raw or undercooked animal products should be avoided. Raw meat, milk or animal organs should be handled with care, to avoid cross-contamination with uncooked foods, as per good food safety practices.
There are also additional outlines for those who are working in wet markets in China and Southeast Asia, including:
Wear protective gowns, gloves, and facial protection while handling animals and animal products
Remove protective clothing after work, wash daily and leave at the work site.
Avoid exposing family members to soiled work clothing and shoes.
Disinfect equipment and working area at least once a day.
Should I wear a mask?
There's conflicting information on whether or not you should wear a mask to protect yourself from the 2019-nCoV.
Surprisingly, according to the World Health Organisation, you may not need to wear a surgical mask in Thailand at all.
WHO Thailand tweeted the below infographic summarizing when you do you need or do not need to wear a mask.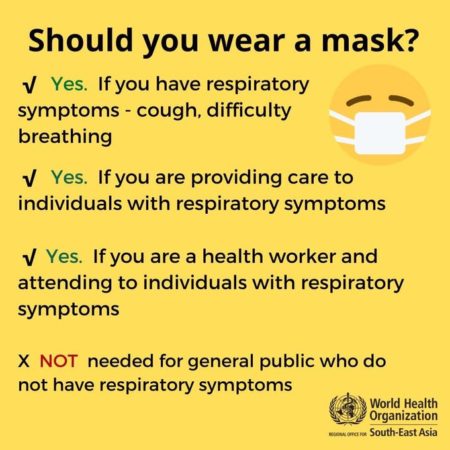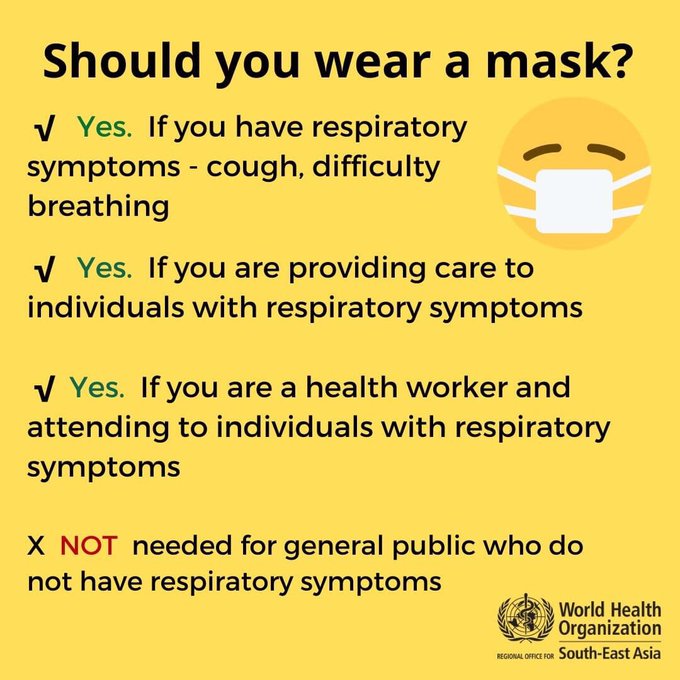 In the same way, Forbes has a good article explaining about coronavirus and face protection.
BBC also has a similar article about "Can wearing masks stop the viruses?". The article says that
"Routine surgical masks for the public are not an effective protection against viruses or bacteria carried in the air", which was how "most viruses" were transmitted, because they were too loose, had no air filter and left the eyes exposed.
But they could help lower the risk of contracting a virus through the "splash" from a sneeze or a cough and provide some protection against hand-to-mouth transmissions."
The Department of Disease Control Thailand also does not mention that you need to wear a mask in order to protect yourself from the infection.
On the other hand, masks are more effective for preventing infected people from spreading the disease. The Hong Kong Government has a good explanation on when, how, and why you should wear a mask.
Wearing a mask might offer added protection for healthy individuals, providing they wear it properly. For example, you shouldn't touch the surface of the mask after wearing it.
This video here shows you how to wear a mask properly.
You may also need to wear a mask to protect yourself from air pollution.
What hand-sanitizer should I use?
You should regularly wash your hands. Rubbing your eyes with contaminated hands carries a risk since it is possible that the virus can get into the body through the eye mucosa.
In case you can't wash your hands regularly with soap and water, Centers for Disease Control and Prevention recommend you use an alcohol-based hand-sanitizer containing at least 60% alcohol.
Although hand sanitizers in Thailand don't clearly state the concentration in the label, it is required by Thailand Food and Drug Administration that all hand sanitizers sold in Thailand need to contain over 70% alcohol.
Therefore, it is safe to assume that you can buy any hand sanitizer as long as it is approved by the Thailand FDA.
According to Thailand Department of Disease Control, here's what you need to do:
"If you have one or more of the following symptoms including fever, cough, sore throat, runny nose, and shortness of breath after travelling from affected areas within 14 days, you should notify physician, nurse, or health staff immediately."
You can also contact the Department of Disease Control hotline at 1422.
Useful Links
Here are some useful links regarding the 2019 Novel Coronavirus situation:
General information about the virus
Maps and Data
Media
Research
You can also read more research at rxivist.org.
Now, on to You
We hope that this article gives you everything you need to know about the 2019 Novel Coronavirus in Thailand.
In case you have anything to share, including how to protect yourself during the virus outbreak, or additional sources we should add, please feel free to let us know in the comments.