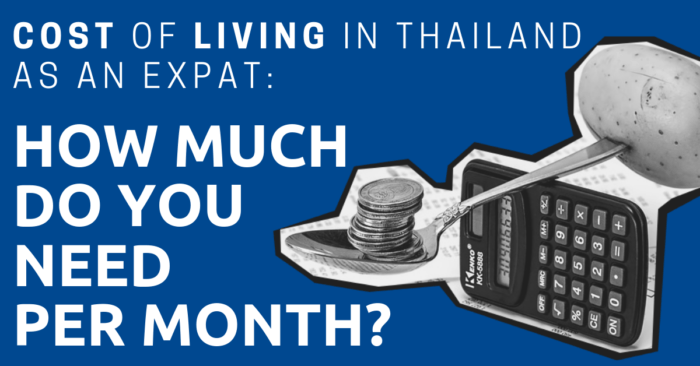 "How much do I need to live comfortably in Thailand?"
"Is US$3,000 a month enough to live a comfortable life there?"
These are the types of questions you may have when planning to live in Thailand.
When you search on the internet, you may find many different opinions. Some say they only need 20,000 baht ($667) a month while others need over 50,000 baht ($1,667 USD) a month.
The truth is, there's no right or wrong answer. Determining the cost of living will largely depend on your lifestyle and how you will spend your money.
In this guide, we list all the fundamental costs — from basic necessities like rent, food, and transportation to miscellaneous costs as an expat in Thailand. You will also learn why the cost of living wildly differs for each person.
Also – it is worthwhile considering annual or one time costs, when establishing a budget – such as initial Visa, Deposits, Joining fees , miscellaneous personal expenses, furniture and similar.
However these items are largely dependent upon individual choice and covered separately outside this article.
In case you plan to live in Thailand, don't forget to check out our premium subscription. It gives access to hundreds of exclusive contents that help you smoothly set-up your new life while saving thousands of dollars at the same time including:
*This article uses an exchange rate of $1 USD = 30 baht
"*" indicates required fields
Living Expenses
Although we did our best to reflect the increase in prices due to 2022's inflation surge, prices for every category are only averages.
In addition, factors like location come into play when calculating costs of meals and other expenses. For example, a plate of pork fried rice costs about THB65 on the outskirts of Bangkok. But in the heart of the city, you could pay well over THB100 for the same meal. And if you buy that meal in, say, Nan province, it may cost only THB50.
That said, you can use the average costs we've cited in the sections below to determine your living expenses.
Here's the average cost of a single person to live comfortably in Thailand. It can be more or less depending on your lifestyle.
| | |
| --- | --- |
| Type | Cost |
| Rent | ฿15,000.00 |
| Electricity | ฿2,000.00 |
| Water | ฿100.00 |
| Internet | ฿550.00 |
| Phone | ฿500.00 |
| Food | ฿10,000.00 |
| Coffee and Drink | ฿4,000.00 |
| Healthcare | ฿3,000.00 |
| Gym Membership | ฿2,000.00 |
| Transportation | ฿3,000.00 |
| Visa | ฿400.00 |
| Total | ฿40,550.00 (US$1190) |
For more information, please see below.
Rent
If you're single, rent will probably be your biggest expense in Thailand, especially if you live in Bangkok, Phuket, or Pattaya. In fact, many expats spend over 30 percent of their monthly income on rent alone.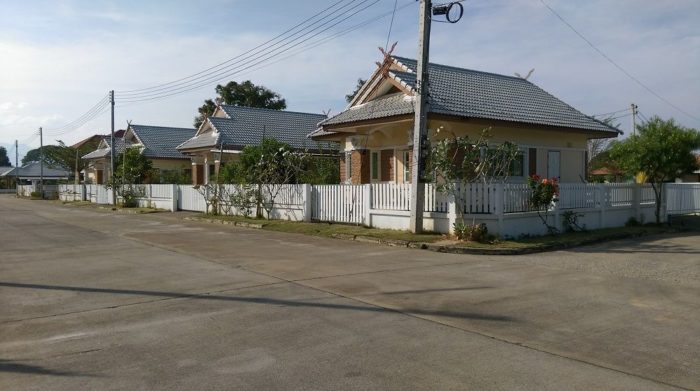 Some expats pay THB50,000 on rent, while others pay as little as THB7,000 per month. In other words, the cost of rent varies and depends on factors like location, type of housing, and facilities.
To determine how much you might pay in rent per month, ask yourself these questions:
Which city and province in Thailand do you want to live?
Do you want to live in the heart of the city, on the outskirts, or in rural Thailand?
Do you want to rent a condo or a townhouse?
Do you prefer a studio, one-bedroom, two-bedroom, or four-bedroom?
Do you want a place that's furnished or do you want to buy your own furniture?
Do you need a swimming pool or a gym?
How far can you live from public transportation and main roads?
Your answers to these questions will determine how much you pay in rent. However, the three biggest factors that will affect rental prices are:
province
neighborhood
room size
A 30 square-meter studio apartment in Bangkok starts at around THB13,000 per month in expat areas like On Nut. In business districts like Asok or Silom, prices for the same size room can start at THB30,000.
Check out our in-depth guide to renting in Bangkok to find out more.
In Chiang Mai, a 30 square-meter unit starts at around THB8,000 per month, even if close to the city. In Phuket, the same size unit starts at THB10,000 per month.
In Bangkok, if you want to rent a house with a small front yard and backyard, expect to pay around THB30,000. In Samut Prakan province, prices start at around THB16,000. If you live in rural Northeast Thailand, you can rent a 608 square-meter house for only THB5,000 per month.
The best way to save on rent is to find someone to share the cost with. Having a roommate helps you save 50 percent on rent, electricity, water, and Internet — if you split the bills 50/50.
Keep in mind these are just starting prices. If you're looking for something on the luxurious end, expect to pay well over THB100,000 per month.
Rent Negotiation Strategy
The price you see from the internet or get from an agent is often negotiable. If you know what to do, it's possible to negotiate your rent down by 40%.
You can find out more from our rent negotiation strategy. It's based on our editor's experience where he was able to negotiate his price down from 23,000 baht to 15,000 baht per month.
It's one of our 100+ exclusive pieces of content available only to our premium subscribers.
To get access, please become a subscriber.
Electricity
Running the air conditioners in your place will eat up a lot of electricity. So, if you want to cut back on your electricity bill, turn off your air conditioner at night and use a fan instead.
If you can't live without the air conditioner running, expect your electric bill to be around THB2,000 per month if you live in a one-bedroom condo. If you live in a multi-bedroom house and run a few air conditioners all day and night, expect to pay around THB4,000 per month — at a minimum.
Keep in mind that the age and condition of the air conditioner affects monthly costs as well. I know one guy whose electric bill was more than his THB6,000 monthly rent because he had an old clunker of an air conditioner.
Global Petrol Prices compares Thailand's electricity costs with other nations around the world each month. It's worth having a look.
Water
Water in Thailand is inexpensive.
If you live alone in a condo, your water bill shouldn't be more than THB100 per month. For a family of four, expect to pay around THB300 to THB400 per month.
Internet Packages
Thailand has some of the fastest high-speed Internet service in the world, ranking number four on Speedtest's global index.
For around THB650 per month, you can get a basic high-speed Internet package that will handle most of your personal and business needs.
With this package, you get 500Mbps download speed and 500Mbps upload speed. This is enough to stream Netflix in 4K without any lagging and upload videos to YouTube in a decent amount of time.
However, if you want to pay for faster speeds, more expensive packages are available. AIS has a few for between THB1,099 and THB1,399.
Read our home internet package in Thailand for more information.
Cell Phone Plans
Many expats we know pay around THB500 for their cell phone bill every month. A postpaid cell phone plan in this price range normally comes with 300 minutes of call time and a 10Gb mobile Internet plan.
If you want a cell phone package and home Internet, True and AIS both have a variety of bundles. It's cheaper when compared to paying for the services separately.
Save Money on your Phone Plan
There's also a way to even pay only 543 baht every month, with 300 Mbps internet for your home, and a phone package with 300 minutes of calls and 10 GB of mobile internet.
You might be able to get 50% off of your current package as well. More details can be found in this article.
It's one of our 100+ exclusive pieces of content available only to our premium subscribers.
To get access, please become a subscriber.
Food
The cost of food in Thailand depends on whether or not you purchase local or imported goods and where you buy it.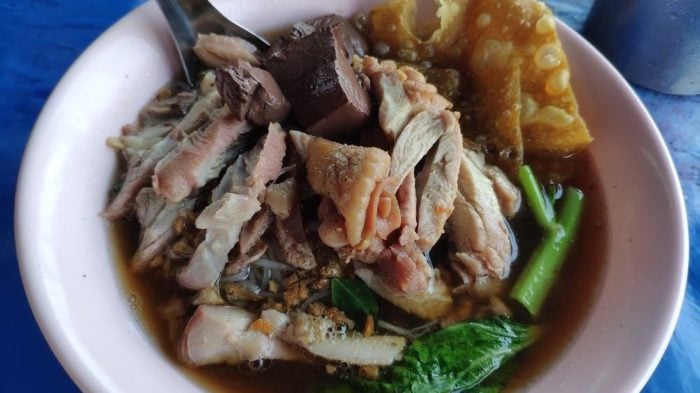 On average, meals cost around THB50 to THB60 at roadside stands and food courts. For this price, you get one dish — a bowl of noodles or plate of rice with meat and/or vegetables — without any sides.
If you eat at these kinds of places, your food expenses should be no more than THB10,000 per month. And if you buy food from local markets and cook at home, it's possible to keep your food budget at around THB6,000 per month.
If you eat at McDonald's, KFC, or Taco Bell, expect to pay around THB150 to THB250 per meal. At mid-priced restaurants, meals start at around THB150.
On the higher end, hotel seafood buffets cost around THB1,500 per meal, and a premium sushi set from a Japanese eatery in Bangkok starts at THB700.
Coffee
All over the world, people consume 2.25 billion cups of coffee every day. A large percentage of that number must come from Thailand.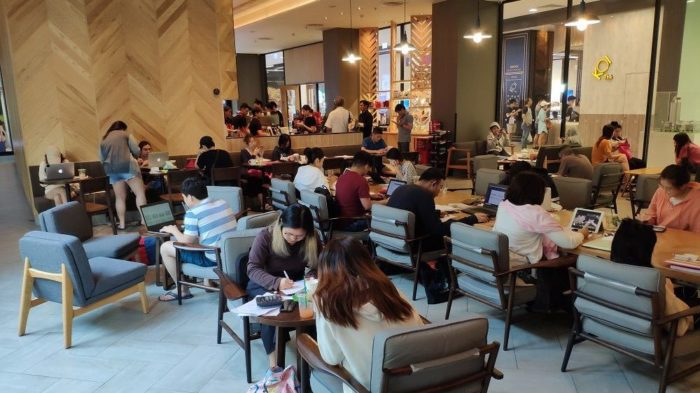 There's a cafe on every corner of the city. In fact, you can find three or more coffee shops within arm's reach. On average, a cup of coffee costs between THB40 and THB200.
It's THB40 per cup if you buy coffee from a vendor on the street, THB60 to THB80 per cup if you buy from a cafe, and over THB100 if you go to Starbucks or the like.
You can buy coffee beans from Tops Market starting at THB185 for 250 grams and brew it yourself, which works out to THB9.1 per cup.
Beer, Liquor, and Wine
Local beer and liquor are cheap in Thailand, but because of import taxes, alcohol from overseas is expensive.
A small bottle of Leo, Chang, or Singha costs around THB60 at a restaurant, while a larger bottle costs around THB100. Imported beers from Japan or Germany start at THB60 per can. Larger bottles cost around THB130.
Thailand doesn't produce many grape wines. However, in Chiang Mai farmers do make fruit wines from strawberries, mulberries, and more. A 750ml bottle of fruit wine costs around THB300 to THB400. But be forewarned, this stuff is sweet and thick, like aged port wine.
You can find a decent bottle of imported Italian or Chilean wine from Wine Connection starting at THB750. Villa Market also has a selection of imported wines starting at THB600.
Health
Healthcare in Thailand is the most unpredictable of all your expenses.
One year, you may not have to pay a single baht for any medical treatment or medication. The next year, you might get sick or have an accident and have to pay THB100,000 out of pocket.
This is why it's a good idea to get health insurance for yourself or your family in Thailand. With it, you know how much you have to spend each month (your premium). Aside from that, you'll only have to pay a few thousand baht for an annual health check-up.
If you don't have insurance, expect to pay around THB1,500 to THB3,000 for an average doctor's visit at a private hospital in Thailand.
If you get admitted, you have to pay at least THB8,000 per night for a standard room. If you're admitted to the ICU, that cost shoots up to around THB100,000 per day.
Alternatively, you can go to a government hospital if you don't mind waiting in long queues. But this option is only ideal if you know how to speak Thai or, if you can't, go there with someone who could.
Gym Memberships
With all the gyms available in Thailand, you have no reason to skip exercising while in the country. In fact, depending on where you live, your condo or neighborhood might have a gym that you can use for free.
Otherwise, you can pay for a gym membership for between THB1,200 and THB3,000 per month. Prices depend on the quality and quantity of facilities provided by the gym.
The THB1,200 per month membership may have mostly cardio and basic exercise equipment and showers, whereas a THB3,000 per month membership comes with spa treatments and exercise classes.
If you're really serious about working out, you can hire a personal trainer in Bangkok for roughly THB1,000 to THB2,500 per session. You can also pay THB7,000 per month to train at a professional Muay Thai gym.
If you're on a budget, you can invest in a nice pair of sneakers, go to the nearest park, and run without having to pay anything. Some parks even have free outdoor exercise equipment.
Transportation
If you live in Bangkok and don't have a car, then motorcycle taxis, the BTS (skytrain), or the MRT (subway train) are going to be your main transportation options.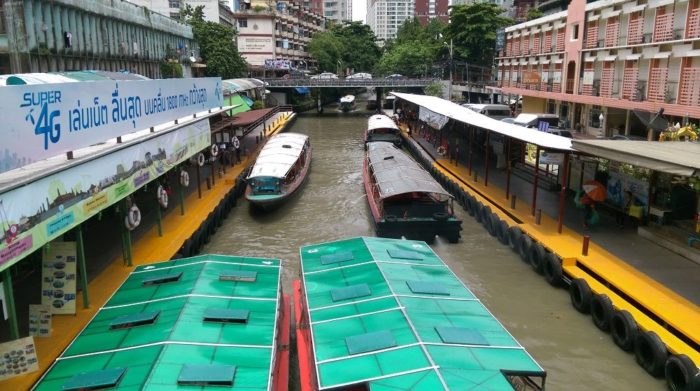 A typical commuting scenario involves taking a motorcycle taxi from your condo to a BTS station, and then taking the BTS or MRT to your workplace.
The motorcycle taxi costs around THB30 for short distances, and the BTS and MRT varies depending on how many stops you're going. In general, though, you could spend THB50 or more to travel the BTS and MRT lines one way.
You'll spend less on transportation if you learn the bus routes. Bus fares in Thailand are only around THB10 to THB30 per trip, or around THB600 per month if you travel five days a week. If you take a taxi every day, you might spend around THB6,000 per month.
If you're going to live outside of Bangkok, it's a good idea to buy your own car. Although, gas prices have gone up quite a bit and you could spend at least THB2,000 per month filling up the tank. You can also rent a car for THB15,000 per month.
You can rent a motorbike for THB2,500 per month. For motorbikes, gas shouldn't cost more than THB700 per month, depending on how much you drive.
Vacations
Thailand has plenty of places to vacation at. And because accommodations and transportation are relatively inexpensive, you can enjoy much of what the country has to offer.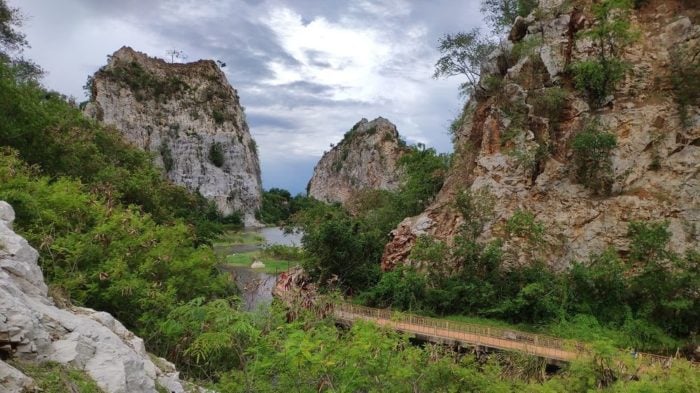 For a sleeper train, expect to pay between THB600 and THB2,000 from Bangkok to Chiang Mai depending on the ticket class. If you take the bus, it costs around THB700.
The average cost of renting a car in Thailand it's is THB1,000 per day. If you rent an economical car, it'll be THB600 to THB800 per day.
If you really want to save money, there are an even cheaper options. For example, you can take the train from Bangkok to Ayutthaya from THB15 to THB35 for third class seats.
In short, the overall cost of transportation in Thailand is very affordable. The only exception is Phuket, where a one-way taxi ride from Phuket Airport to Patong beach costs THB800.
As for hotel fees, a three-star hotel costs THB1,200 per night. If you don't mind sleeping in a hostel, you could find places for just a few hundred baht per night.
When we asked our team of writers and editors how much they spend when vacationing in Thailand, they said somewhere between THB1,000 to THB1,500 per day, per person.
Easily Get Around in Thailand
Taxis aren't your only transportation option in Thailand.
You can read this article to explore a plethora of options you have to get around in Thailand.
It's one of our 100+ exclusive pieces of content available only to our premium subscribers.
To get access, please become a subscriber.
Cable TV Packages
If you want to watch English TV programs in Thailand, you can get a TV package from AIS. The package starts at THB199 per month for access to channels including Disney+, CNN, BBC, Nickelodeon, and more.
If you're a sports fan, you can get TrueVision's Now Gold plan for THB1500 per month, which gives you access to most sports leagues around the world.
Both True and AIS have home Internet, cell phone, and cable TV bundles that save you 20 percent when compared to paying for these services separately.
Netflix is also available in Thailand. The standard plans costs THB349 per month. If you sing up for Netflix, get a VPN as well, this way you can stream all the shows from back home, as many of them aren't available in Thailand.
Movies
There is no shortage of movie theaters in Thailand. The theaters here are spacious and clean, and the screens are huge and crystal clear. The seats are comfortable, too, and there's usually a great selection of English, Thai, and foreign movies.
Tickets prices are THB280 to THB300, on average.
However, popcorn, snacks, and beverage are overpriced like in many cinemas around the world. In fact, a popcorn and a drink could cost just as much as the ticket itself.
Maids and Nannies
You can hire a full-time or part-time maid or nanny in Thailand. A full-time live-in maid (one who lives in your house) salary starts at THB15,000 per month.
When you hire a full-time maid, she can cook, do laundry, or even take care of your kids.
If you're hiring a part-time maid, expect to pay THB600 per week for a few hours of cleaning — including sweeping, mopping, and washing dishes — on a per-day basis. If you go this route, you will spend around THB2,400 per month.
Laundry
Laundry service costs in Thailand are calculated either per piece or per kilogram. It costs THB20 per piece or THB49 per kilogram, on average.
Laundry services include washing, ironing, picking up, and delivering your items.
You can buy a laundry service package, too. For example, you can pay THB700 per month to have 40 items washed. Laundry services are available at almost every apartment and condominium in Thailand.
In addition to laundry services, you can use a coin-operated washing machines. They cost THB30 per cycle. But you need to have your own detergent and fabric softener if going this route.
Education
You should never stop learning. Even if you retire in Thailand, you can take a Thai language course to help make your life in Thailand much easier.
You'll pay around THB3,000 per month on average. Costs can drop to THB500 per month if you decide to learn Thai online.
Haircuts
Men's haircuts start at around THB250 at salons and around THB100 at local barbershops. Prices can double at fancier salons.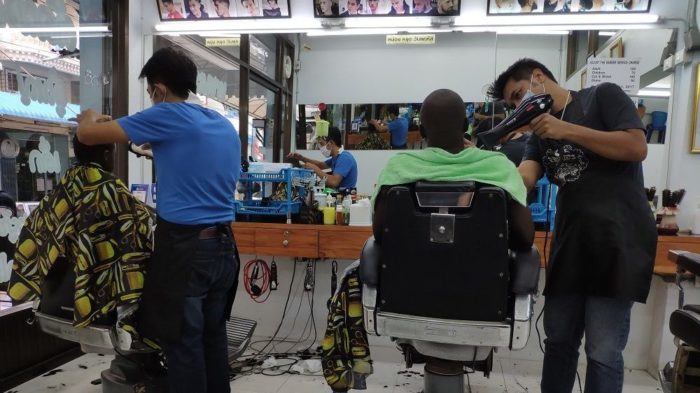 For women, cost of a haircut is usually more, depending on the service. A wash and dry starts at only THB200, but add in a trim and some coloring and that can double or triple.
Visas
You need to pay for visas and other related fees when living in Thailand. The cost itself isn't too bad, though. You pay THB1,900 per year for a single-entry visa or THB3,800 per year for a multiple-entry visa.
But the cost of visas will get more expensive if you're unable to get a long-term business visa or retirement visa.
An education visa, for example, needs to be renewed every three months at THB1,900 per renewal, excluding the necessary transportation costs.
If you have a tourist visa, you may need to extend your visa every 60 days for another THB1,900 or fly out of Thailand to get another visa.
However, be careful if you plan to renew your tourist visa, as living in Thailand long-term on a tourist visa is considered illegal. You may get banned from re-entering Thailand if caught. Being denied entry at the airport, even if you hold a Thailand tourist visa, is not uncommon. So, if you plan to live in Thailand long-term, it's best to get a proper visa.
If you have an Elite Visa, it'll cost you THB10,000 per month to maintain.
Average Cost of Living by Location
As you can see, it's quite challenging to come up with the average cost of living in Thailand due to various factors. But we can narrow down the amount depending on where you decide to live.
Let's look at some of the more popular spots in Thailand.
Bangkok
To give you a few specific cases, let's look at what some of our team members have spent each month in Bangkok.
ExpatDen founder Karsten Aichholz spent THB80,658.58 a month living as an entrepreneur in Bangkok. On the other hand, ExpatDen editor John Wolcott spent THB78,465 a month for a family of four.
ExpatDen contributing writer Richard McCully, who shares a space with his girlfriend, spent THB95,000 per month on his expenses in Bangkok. However, the cost of his accommodations is higher than usual since he decided to buy a condo in Bangkok. It also means that once his condo is paid off, his costs will significantly decrease.
If he had rented a condo instead of buying one, his cost of living would have been only THB75,000 per month.
There are also dozens of YouTube videos that break down various cost of living scenarios in Bangkok, from Byanca G,'s US$400 condo tour to this CNBC Make It video about Jesse Schoberg's cost of living.
On the other hand, the legendary Mark Wiens admitted to only spending THB6,700 a month on his bare-bones living setup in Bangkok at one time.
Chiang Mai
Shannon O'Donnell from alittleadrift.com said that she paid around THB16,975 per month living in Chiang Mai.
Although her own monthly costs are lower, she also said that THB23,000 is the minimum amount expats should be paying to live in Chiang Mai, with a maximum cost of living of THB54,000 per month.
On the other end of the spectrum, Chris, an expat who has been living in Chiang Mai for many years, said he spends around THB91,322 per month. But that includes the cost of his blog maintenance. If you exclude that cost, then it's THB79,384 per month.
If you're living alone as a digital nomad in Chiang Mai, then Iglu says that you should prepare to spend at least THB30,000 baht per month. If you want to enjoy life a bit more, then they said to double that number to THB60,000.
Phuket
The cost of living in Phuket is among the highest in Thailand; it's even more expensive than Bangkok.
The average cost per meal in Phuket is more expensive than most parts of Thailand. You should expect to pay THB70 to THB100 for one plate of food.
If you don't have your own car or motorcycle, the cost of transportation can also be extremely high too. You might have to pay more than THB1,000 for one taxi ride.
To live in Phuket, you should prepare to spend at least THB40,000 per month. But you can still get by on THB30,000 a month if you cook your own food and don't drink often.
If you want to live a somewhat comfortable life on the island, your average cost of living in Phuket should be around THB65,000 per month.
Pattaya
The cost of living in Pattaya is quite similar to Bangkok.
Quora has a good discussion on how much expats spend per month, on average, in Pattaya. The numbers are in line with Stephen, a teacher in Pattaya, who spends around THB50,000 per month there and regularly eats out at Western restaurants.
If you're planning to retire here, pattayaretired.com said that you should be prepared to spend around THB40,000 to THB60,000 per month.
Hua Hin
Hua Hin is quite similar to Pattaya in terms of cost of living.
Food, drinks, hospital visits, and all the other costs that come with daily life in Thailand will generally be the same. So, most expats can afford to call the province home on just about THB30,000 on the lower end and THB60,000 on average.
Where Hua Hin and Pattaya differ from each other is in lifestyle. Hua Hin is more quiet than its neighbor across the gulf. So, you'll be less tempted to go out and spend money.
The YouTube channel Thai Girl Gift & Foreigner Joe has a video dedicated to the cost of living in Hua Hin for retirees. THAILAND MY LAND… RETIRING DISGRACEFULLY reveals his monthly costs in Hua Hin as a single retired expat on YouTube as well.
Koh Samui
Islands tend to be more expensive places to live compared to the mainland.
Food, drinks, clothes, building materials, fuel, laborers, staff, knowledge, expertise, and all other forms of tangible and intangible resources — it all has to be boated in from the Surat Thani.
That said, to enjoy the island, expect to spend at least THB50,000 each month. For double that mount, you can afford yourself a comfortable lifestyle in one of the beachside villas.
Mickey Stotch breaks down his cost of living each month in Koh Samui in his detailed YouTube video. Vagabond Awake runs through his expenses while on the island, too. Both offer different numbers; both are worth a watch.
Living in Thailand on US$1,000 Per Month
For US$1,000 per month, or THB35,000, here's a breakdown of how a single person living in Thailand can spend that money per month:
THB10,000 on a studio condo or apartment (not within walking distance from the BTS or MRT) and utilities
THB300 on a basic cell phone plan with limited talk minutes and Internet
THB550 on Internet service (if needed)
THB10,000 on food and drinks
THB2,500 on one of the lower-end health insurance plans found on Mister Prakan
That would leave THB6,900 for either travel, savings, or both.
Living in Thailand on US$2,000 Per Month
If a single person doubles that number to US$2,000, or THB70,000, here's what he or she would be able to afford in Thailand each month.
THB15,000 on a one-bedroom condo (within walking distance from the BTS or MRT) and utilities
THB650 on a cell phone plan with over 200 minutes of talk time and Internet
THB550 on Internet service (if needed)
THB15,000 on local and Western food and drinks
THB3,500 on a mid-tier health insurance plan from Luma
That would leave THB35,300 for travel, savings, gym memberships, or pursuing hobbies.
Living in Thailand on US$3,000 Per Month
For US$3,000, or THB105,000, a single person would live quite comfortably in Thailand. Here's how that person could spend that amount each month.
THB30,000 on a multiple-bedroom condo (in one of the prime real estate areas along Sukhumvit or Silom) and utilities
THB1,200 on a cell phone plan with unlimited talk time and Internet
THB1,200 on the highest speed Internet service
THB30,000 on local and Western food, drinks, and some fine dining
THB5,500 on Cigna's premium global health insurance packages
That would leave THB35,300 for travel, savings, gym memberships, or pursuing hobbies.
Living in Thailand on US$5,000 Per Month
If a single person has US$5,000 to work with, or THB175,000, here's what's possible to afford in Thailand every month.
THB90,000 on a penthouse or two-story loft in the heart of Bangkok and utilities
THB1,200 on a cell phone plan with unlimited talk time and Internet
THB1,200 on the fastest speed Internet service
THB40,000 on local and Western food, drinks, and frequent fine dining
THB7,000 on one of Cigna's premium global health insurance plans
That would leave THB35,600 for travel, savings, gym memberships, or pursuing hobbies.
Cost to Live in Thailand for One Year
As you can tell from the scenarios above, the amount you spend to live in Thailand for one year will be in direct relation to the kind of lifestyle you want to have while in the country.
On the lower end, expect to pay around US$11,000, or THB360,000, for just the basics. These basics include rent, a cell phone plan, Internet, food and drinks, and a modest health insurance plan.
On the extreme opposite end, you can pay US$60,000, or THB2,100,000, to live in Thailand for a year and not have to worry about anything. You'll get to live in the nicest condos, eat anywhere you want, and afford the best health insurance plans. Plus, you'd still have plenty of money left over for traveling, investing, or saving.
The Cheapest Place to Live?
If you're looking for the cheapest place to live in Thailand, you should look at this list of 55 secondary cities in Thailand. They are in provinces that have not yet become popular among tourists, such as Buriram, Chiang Rai, Nong Khai, Udon Thani, and Mukdahan.
The cost of living in these cities can be very cheap, in some cases even less than THB12,000 per month.
However, if you don't know how to speak Thai, it's going to be a real challenge living in these areas. Western food is also rarely available, and public transportation is limited.
Normally, expats who live in these cities are either hired by a local school or live with their Thai spouse.
How Much Do You Need per Month?
The short answer is: it depends on your lifestyle.
If you want us to give you some numbers, THB35,000 per month should be enough to live in Bangkok, Pattaya, and Hua Hin.
With this budget, you can rent a place, eat local food, enjoy a few special meals at a restaurant, and travel on a budget.
But if you want to have a comfortable life in Thailand, you need at least THB45,000 a month. Many retirees in Thailand are spending that much every month to live here comfortably.
As a general rule of thumb, if you lived in Chiang Mai, you would need 20 percent less than in Bangkok. But if you lived in Phuket, you would need 20 percent more.
If you have someone to share expenses with, it's possible to live in Thailand for less than THB20,000 per month. However, if you live in a rural area, it's possible to spend THB12,000 per month.
To calculate your estimated cost of living in Thailand, you can use our popular cost of living calculator. It'll estimate how much you need every month based on your lifestyle.
You can also subscribe to our premium subscription to find out how to significantly decrease your cost of living in Thailand.
Now, on to You
Keep in mind that everyone's standards differ, and the same can be said when it comes to the cost of living in Thailand.
One person may not want to spend more than THB50,000 per month, while another might not be able to spend less than that.
Either way, this guide has given you some good references on the average cost of living in the country by lifestyle and location.
But these are just starting points. The only way to know for sure how much you'll spend each month is to live here full-time.