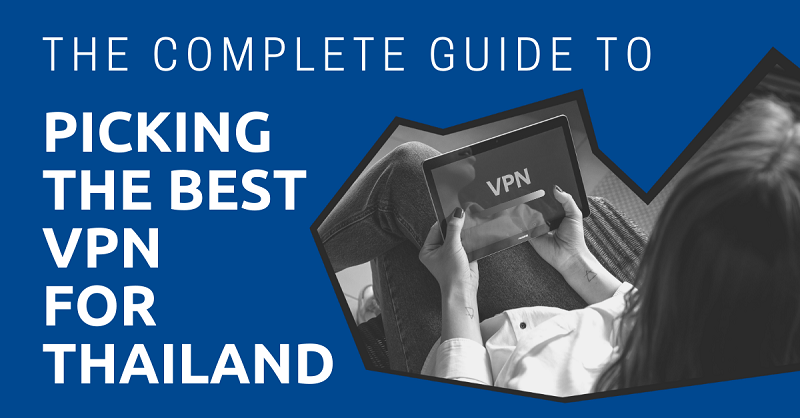 Can't stream your favorite television shows from Thailand? Don't feel secure while doing your online banking from within the country? Worried about internet service providers snooping on your online activity or selling your data?
You can continue handling your online business in an unsecured way and potentially jeopardize your personal info–or you can get a VPN and secure you and your family's online activity.
In this article, I'm going to show you everything you need to know about signing up for and using a VPN in Thailand.
In case you just want to know which VPN you should choose, check out NordVPN.
What is a VPN?
A VPN is a virtual private network that your device connects to so that you could safely, securely, and privately use the Internet. VPNs keep all your online data between your device and the websites you visit. In other words, it doesn't share your online activity with anyone, and it disguises everything you do online.
However, those are just the technicalities of what a VPN does. The benefits are many.
Benefits of Using a VPN In Thailand
There are three benefits to using a VPN in Thailand, although your needs may differ.
First, I can access my online banking and investment accounts securely from wherever I am. If, for example, I'm at a coffee shop and need to do some banking or transfer money from one account to another, I know a VPN will secure my banking details.
What's more, sometimes banks will only allow you to access their apps from within the country you set the account up in. For instance, I couldn't download the TD Bank app onto my phone from within Thailand. With my VPN, though, I was able to set my location to America and download the app and bank from my phone.
Second, using a VPN in Thailand lets you access websites or other services that you can't normally get in the country. For example, you can get Netflix in Thailand, but you only get a fraction of the shows available when browsing the online streaming platform from here. I was a big fan of Myths and Monsters on Netflix, but the only way to watch it was to use a VPN and connect from America.
Third, a VPN protects you from hackers, nosy internet service providers, and governments. The last one you might not have to worry about as long as you're not involved with illegal activity.
But in Thailand, hacking is a real problem. Also, internet companies can and do keep track of the browsing history of your IP address. In fact, data leak happens regularly in Thailand.
A VPN protects you in all three of the instances I mentioned above and more. And the best part? Setting your VPN up is simple.
Setting Your VPN Up
Before I get into the details of each VPN, I want to show you how easy it is to set your VPN up once you get it. In most cases, it's just a set-it-and-forget kind of process.
I've used a few VPN services while living in Thailand, but since I'm currently using Surfshark, I'll show you how to set a VPN up using them as an example.
From Your Laptop
Keep in mind that most VPNs work the same. Also, I use a Macbook Air, but I assume the process will be the same on a Windows PC or laptop.

Download the app from the VPN service provider's website. Most VPNs will give you options to download the app for Windows, Mac, or Linux.
Once you download the app, register with the same email you used to purchase the app.
After you register, you can then customize your app based on your preferences.
Enable Kill Switch. You should have the option to do this from your app's settings menu. This ensures that if you lose a VPN connection, it will automatically connect you to another server and your service won't be interrupted.
Enable your app's CleanWeb or similar features. This blocks ads and trackers and can save you data usage, especially if you're using the Internet over your data plan and not wifi.
Those are the only two changes I made to my account when I downloaded Surfshark. I left everything else as it was.
After you adjust your settings, you have three options for connecting to a VPN. You can choose between the fastest server, the nearest country, or a location of your choice.
When I pick the fastest server, I am usually connected to a server in Thailand. To be sure my IP address was secure, I looked up my IP address before and after connecting to the server in Thailand and found my IP address were indeed different.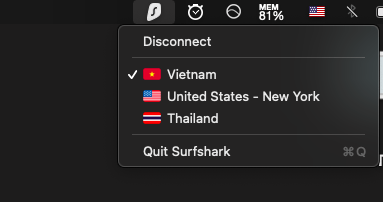 When I connect using Nearest country, I am generally connected to a server in Vietnam.
Most times, however, I pick a city in the United States to connect to, that way I can do my online banking and watch shows that I wouldn't normally have access to without a VPN.
You can change your location at any time from the menu bar.
From Your Phone
Once you download the VPN app onto your phone, you'll have to verify your account to start using the service. Once again, most apps will give the option between downloading for Android or iOS.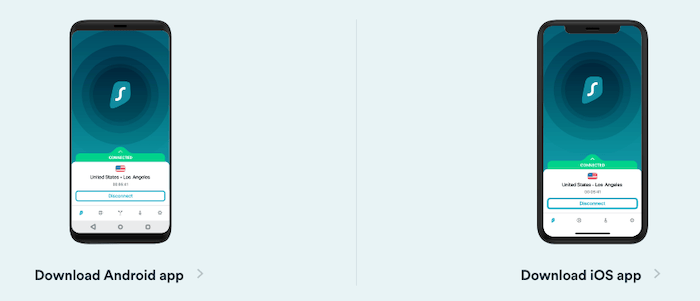 In my case, I was able to log in to my VPN app on my phone using the same email address I bought the VPN with.
When using a VPN on your phone, there are quite a few more options for you to go through, some of which are important for security. Be sure to go through your entire settings menu.
In general, though, ensure that Auto-Connect and VPN Kill Switch are both activated on your phone's app.
You should also have a preferences tab that lets you pick the networks you can connect to. For example, you should see options to automatically connect to a VPN while using your mobile network and wifi network.
Under other options, you should also be able to override your current GPS location. This means your GPS location will always be in sync with the VPN server location. And no, it will never affect your use of Google Maps.
For me, this is important because the VPN "tricks" my banking app into thinking I'm in the USA, so I can log in with no issues.
You can also choose to make your device invisible to other devices in your area. This can prevent IoT attacks, but since I connect my phone to my stereo system through Bluetooth, I decided to keep this disabled.
As for connecting to a VPN, the process is generally the same for phones as it is for laptops, so you can refer to the section above for help with connecting to a VPN from your phone.
Choosing a VPN for Thailand
When you pick a VPN for Thailand, there are eight factors you should consider, which I'll cover in more detail below.
What's Your Reason for Using A VPN?
This may seem like a silly question, but it's a reasonable one to ask yourself before you pick a VPN. If your prime reason is to stream Netflix in Thailand, make sure that the service provider unblocks the streaming service, because not all VPNs do. And make sure they offer fast connections.
Speed
When choosing a VPN, speed is important. You want to pick a VPN that doesn't slow down your workflow or Netflix streams because that will cause you to not use the VPN, which defeats the purpose of paying for one.
Performance
Some VPNs don't perform like others, which could be a problem. If you constantly have to quit and relaunch your VPN service for it to work properly, then it's money not well spent.
Compatibility
Nowadays, almost all VPNs will be compatible across all your devices. With Surfshark, for example, I was able to download the app for both my Macbook Air and Huawei phone, log in to both, and use them seamlessly.
Just be sure the VPN you choose has apps for all your devices.
User Friendly
Make sure your VPN app is user friendly. By this, I mean that once you start your laptop or phone, the VPN should either kick on by itself or with one click of a button. You shouldn't have to spend more than a few seconds setting it up each time.
27/7 Customer Support
Most of the VPNs I'll cover in the section below have 24-hour customer support, seven days a week, through live chat. But it's safe to say that if the VPN service you're interested in doesn't offer 24-hour live chat support, it's probably not the right service for you.
Money-Back Guarantee
All reputable VPN service providers offer at least a 30-day money-back guarantee–sometimes more. If the VPN service doesn't offer it, they probably don't believe in the quality of their service, and it's best to look elsewhere.
Best VPNs for Thailand
With all that said, that brings us to the best VPNs for Thailand. It goes without saying that you have more options than the ones I've listed below, but in my experience and in the experience of others I know who use a VPN in Thailand, these have performed the best.
NordVPN
NordVPN is regularly listed as one of the most reliable and best-performing VPNs available.

What makes NordVPN stand out from the rest of the service providers is that it has double VPN, which means instead of routing your connection through one location, it routes it through two.
What's more, NordVPN constantly changes the security keys to your connection, so if someone happens to hack into your connection, they will soon be knocked off the connection when the security key changes.
Starting price: $3.49/month
Surfshark
Since I regularly do banking and investing in Thailand, a VPN is important for me. And the VPN I'm using is Surfshark.

The main selling point was obviously their low monthly price, which was reduced even further when I signed up for two years in advance. But I also liked that I could add as many devices as I wanted, which meant I could put my wife's phone and laptop on my account as well.
As for speed, I've never had an issue with Surfshark. I currently work in live sports broadcasting, and I need the fastest connection I can get my hands on. Surfshark delivers every time.
Surfshark, like ExpressVPN, also comes with 24/7 customer support and bucket loads of other features that I'll list in the table below.
Starting price: $2.39/month
ExpressVPN
Because of the high ratings ExpressVPN usually gets, this was the first-ever VPN I ever used in Thailand, and to be honest, I had no complaints. The connections were fast, and it unblocked all the shows I was looking for on Netflix.

Moreover, I never had an issue with their service, but I had peace of mind knowing they offered 24/7 support. The only reason I canceled my service with ExpressVPN was that I had gotten rid of Netflix at the time and no longer needed a VPN. Also, ExpressVPN is quite pricey.
But if you're looking for an all-around solid service, you can never go wrong with ExpressVPN.
Starting price: $6.67/month
VPN Comparison
Here's a more detailed look at each of the VPN service providers I mentioned above.
| | | | |
| --- | --- | --- | --- |
| VPN | NordVPN | Surfshark | ExpressVPN |
| Encryption and connections | AES-256 bit encryption, double VPN | AES-256 bit encryption, split-tunneling, double VPN | AES-256 bit encryption, split-tunneling |
| Protocols | OpenVPN, IKEv2/IPSec, WireGuard | OpenVPN UDP, OpenVPN TCP, IKEv2, Shadowsocks | OpenVPN, SSTP, L2Tp/IPsec, PPTP |
| Security | DNS, IPv4 and IPv6 leak protection, kill switch | DNS and IPv6 leak protection, kill switch | DNS, IPv4 and IPv6 leak protection, kill switch |
| User logging | No | No | No |
| Torrenting support | Yes | Yes | Yes |
| Speed | Super fast | Super fast | Super fast |
| Unblocking streaming services | Netflix, Amazon Prime, Hulu, Roku, BBC iPlayer and more | Netflix, Amazon Prime, BBC iPlayer and more | Netflix, Amazon Prime, Hulu, Roku, BBC iPlayer and more |
| Customer service | 24/7 with live online chat | 24/7 with live online chat | 24/7 with live online chat |
| Lowest price | $3.49 monthly/two-year contract | $2.39 monthly/two-year contract | $6.67 monthly/15-month contract |
| Money-back guarantee | 30 days | 30 days | 30 days |
Should I Use a Free VPN in Thailand?
Over the years, I've used both free and paid VPNs, and I can say with confidence that free VPNs will not protect you like a paid VPN.
One of the more popular free VPNs is Onion Browser, which I've used from within Thailand, and it runs slower than a snail's pace.
Moreover, usually with free VPNs you can't choose your location. So if you need to connect to a specific country to use a website or app, you need to keep refreshing your VPN connection with the hopes that eventually it will connect to a server in that country, which rarely happens.
Paid VPNs, on the other hand, give you the security and privacy you need to safely use the Internet. Not only that, but paid VPNs are fast. You will never know you're connected to the internet in a country on the other side of the world.
Below are some of the benefits of using a paid VPN.
Encryption and Connections
With a paid VPN, you normally get AES-256 bit encryption, which is the current standard for government and private sector IT security professionals.
A paid VPN also lets you split-tunnel, which means you can send some of your data through the VPN and some over your standard network. This keeps your VPN free from unnecessary bandwidth usage.
Some paid VPNs also offer double VPN connections. This means that you can connect to one server, then through another server, before connecting to your end destination. Essentially, it enables double the security.
Security
Most paid VPNs today also offer maximum security features like DNS leak protection and IPv4 and IPv6 leak protection. Without going into the nitty-gritty of each of these features, they protect your privacy and internet activity.
Paid VPNs also offer a "kill switch," which means when you lose a connection to one of the VPNs servers, you'll automatically be connected to another of their servers.
Now, on to You
Now that you know what to look for in a VPN, you can confidently select the service provider that suits your needs.
Just be sure to pick a VPN that gives you the most security, whether you want to stream your favorite television shows from back home or protect your privacy while doing more serious matters like online banking.
For the small fee, you'll be able to rest peacefully knowing that no one can access or sell your online data.