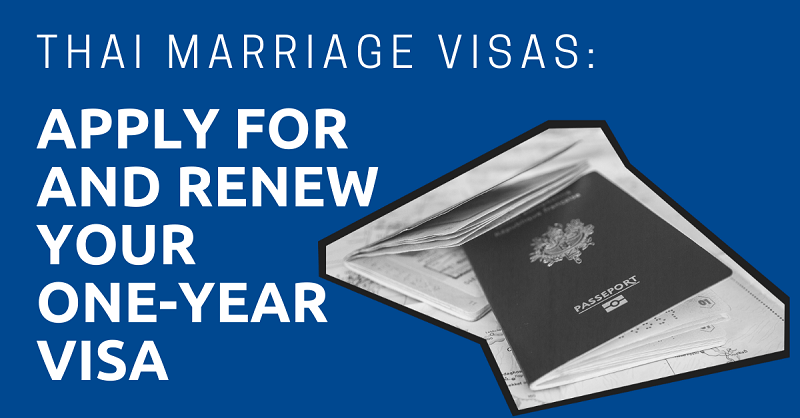 I stepped out onto the slushy streets of New York City. The wind ripped through my bones. Warm air billowed from my mouth like the steam twisting and rolling out of the metal stacks on East 52nd Street. Behind me, the Thai Consulate building. In front of me, a world of wonder.
As far as I was concerned, it was the last winter I'd be spending in America. Because in my hand was my passport, and in my passport, my visa. A guarantee that Thailand would be my home for the next 365 days—at least.
Applying for my Marriage Visa was the last step in my seven-year plan to move from America to Thailand. But perhaps it was the most important. So I want to walk you through how I did it. And how, since 2014, I've been renewing my Marriage Visa every year in Thailand.
Overview
In Thailand, anyone who's married to a Thai citizen can get a One-Year Extension of Stay based on marriage, commonly referred to as a Marriage Visa.
Before getting this visa, though, you must have a Non-Immigrant Visa O based on marriage or for the purpose of accompanying a family member.
You must get this from your home country, like I did in NYC. Once you're in Thailand, you can then apply for an extension of stay based on marriage to a Thai national, which is valid for one year.
With this visa, you're allowed to work legally in Thailand and apply for a work permit under a Thai-registered company. You don't have to apply for a working visa, but the employer must give you a work permit.
If you aren't legally married to a Thai citizen, an alternative option for you is to get a Thailand Elite Visa.
Financial Requirements
You can't get a border run-free one-year visa outside of Thailand. But if you come to Thailand with a single-entry Marriage Visa, good for three months, you can extend it to one year.
To do so, you'll have to show 400,000 baht in a Thai bank account deposited two months before applying.
Update: You used to be able to get an income affidavit from your country's embassy showing you had 40,000 baht a month going into your home bank account. But this is no longer the case for the US, UK, and Australians.
Embassies will not issue this income affidavit. And if they do, Thai Immigration won't accept it.
The unofficial word is that you now need to show a statement that you have 40,000 baht going into your Thai bank account every month. We'll keep you updated as we find out more info.
Once you have a one-year Marriage Visa, you won't have to do visa runs every ninety days. But you'll still have to do the 90-day reporting at your local immigration office. Although it's not often cited as a requirement, a foreigner applying for a one-year extension must be living with the Thai spouse. For up-to-date info see Question 16 on the Thai Immigration website.
Non-Thai women married to Thai men don't have to show the same financial documents to get a one-year Marriage Visa. The Expat Women with Thai Partners Facebook group is a good place to ask for help if you need it.
Process From Outside of Thailand
If you're coming to Thailand from your home country, and you're married to a Thai citizen, you can apply for a one-year Marriage Visa at the Thai Embassy in your country. That's what I did when I moved from America to Thailand in 2014. Since I lived in New Jersey, I went to the Thai Embassy in New York City.
They gave me one year in the Kingdom. And instead of doing 90-day check-ins, I had to leave Thailand every ninety days. So I drove out to Aranyaphrathet and crossed the Thailand-Cambodian border every three months.
The process to get my Marriage Visa in NYC was easy and my wife didn't have to be there. Here's how I did it.
Application
Your visa doesn't go into effect when you arrive in Thailand. It goes into effect when the embassy approves your paperwork. So I went to the Thai Embassy in New York City about three weeks from our departure date, because I wanted my one-year visa to start as close as possible to my Thailand arrival date.
Because different embassies ask for different documents, and because different countries have different agreements with Thailand, contact your local Thai Embassy for their list of required documents. In New York City, here's a list of documents the Thai Embassy asked me for.
Documents Needed
airline ticket
Thai spouse's passport
three 2×2 inch passport photos
passport with six months validity
marriage certificate translated to Thai
bank statement showing "sufficient funds"
Cost
The cost for a single-entry Marriage Visa is $80. And the cost for a one-year multi-entry Marriage Visa is $200.
Time
Depending on where you get your visa, it could take anywhere from two days to two weeks. When I applied for my marriage visa in New York City, it took about two weeks for the embassy to approve my paperwork.
Renewing
If you've been in Thailand for one year and have to renew your visa, but don't have 400,000 baht to show in a Thai bank account or 40,000 baht a month going into your Thai bank account, you can renew your visa at a Thai Embassy in a neighboring country.
I have friends who go this route. And they've told me if you go to the Thai Embassy and drop off your paperwork in the morning, they'll give it back to you by the next evening. But if you're booking a round-trip flight, I'd leave a few days for some breathing room.
Two popular places to renew your Thai Marriage Visa are Phnom Phen, Cambodia and Savannakhet, Laos. Each city is only a short plane ride away from Thailand and each has a Thai Embassy. The embassies in both places ask for the same documents, which are listed in the section above.
Process From Within Thailand
If your single- or multi-entry Marriage Visa issued in your home country is going to expire, you can apply for a new visa inside of Thailand fifteen days before your original visa expires.
Application
To apply for your Marriage Visa, go to the Government Complex in Chaengwattana. Track down Building B by following the blue pathway on the road in the complex. At the end of the road, you'll see a megalith surrounded by a moat. That's where you want to go.
The architecture is some of Bangkok's finest. It's amazing how they built the roof to cover the almost hollow building. I once watched a man, an architecture connoisseur perhaps, walk to the building's center, pull a penny out of his pocket, hold it up in his hand, and drop it on the floor. With his eyes closed, he soaked in the echoes of the penny rolling and bouncing around. Yes, the building is that cool.
But that's where the fun ends.
In the far left corner of the building, on the first floor, you'll find the Immigration Office. Enter the office and go to the counter so they can check your paperwork. If you've done this before, and are sure you have everything, go straight inside and get your queue number. You'll wait in Section L for an officer to call your number. Be sure to have all the documents listed below. For the most recent list, check the Immigration Bureau's website. I have to warn you though. The website's in need of an update and some sections may not work.
Documents Needed
passport
bank book
2×2 inch photos
marriage certificate
form tm7 (download)
Thai marriage certificate*
copy of spouse's Thai ID card
form ค.ร. 22 (if married overseas)
copies of your TM.6 departure card
copies of every page of your passport
forms ค.ร. 2 and 3 (if married in Thailand)
children's birth certificates translated to Thai
photos of you and your spouse at your house
photos with you and your kids at school, if applicable
copy of Blue Book Thai address page with spouse's name
printed Google map showing how to get to your Thai residence
for men, a letter from a Thai Bank showing 400,000 baht in savings**

or 40,000 baht a month going into your Thai bank account
*If you got married inside of Thailand, you can get your Thai marriage certificate at the district office in the city you got married in. If you got married outside of Thailand, you must get your marriage certificate translated into Thai. You then have to bring the translated certificate to the Department of Consular Affairs in Chaengwattana to have it approved and stamped. Once the DCA approves your translated marriage certificate, you can take it to the district office in the city you live in, and they will print for you a certified Thai marriage certificate.
**KrungThai Bank was the only bank willing to let me open an account in my name on my existing Marriage Visa from the Thai Embassy in New York City.
If you can read Thai, or your Thai spouse is willing to put in some leg work for you, MFA also has a detailed explanation of all the documents needed. Their website is more up-to-date than the Immigration Bureau's.
Cost
It costed 1900 baht for my visa application. But when you think of the gas money I spent driving back and forth. The toll money. The missed days at work. The photos. The total cost adds up. The real cost is closer to 5000 baht.
Time
It takes roughly ten days to get the results back from your visa application.
Renewing
Each year you'll go through the same process listed above to renew your one-year Marriage Visa.
Keeping Your Visa Active
To keep your Marriage Visa active, you need to do 90-day check-ins at immigration, stay married to your spouse, and reapply every year under the same process mentioned above. If your spouse passes away, Immigration won't renew your Marriage Visa when it expires. But if you have children you can switch your visa to an อุปการะบุตรไทย, or Ubogarabut Thai Visa. There's no official name for the visa. But I like to call it the "Take Care of Thai Kids Visa."
If you want to leave Thailand and you plan on returning, make sure you get a re-entry permit. To leave and return one time, you'll have to pay 1000 baht for your re-entry permit. If you plan on leaving and returning multiple times, you'll have to pay 3,800 baht for your re-entry permit. For the full procedure and required documents, check out Bangkok Immigration's Re-Entry Permit webpage.
Overstaying
If there's anything you don't want to do when it comes to Marriage Visas, it's overstay your visa.
In August of 2017, I had to go to the American Embassy to renew my passport. When I went to pick-up my new passport, they gave me a letter asking Thai immigration to transfer my visa from my old passport to my new passport. I went to Chaengwattana to have my visa transferred and the immigration officer did so with no problems.
Before I was about to leave she looked at my visa one more time. "It's expired," she said. I sat there dumbfounded. "I have three more months," I said. She showed me the date on my visa and sure enough, it expired.
"Unless you show a bank statement right now, you have to leave the country," she said. "We're supposed to detain you." I asked her if there was anything else I could, and she said no.
I drove home and packed an overnight bag, kissed my wife and kids, and made the four-hour trek to Aranyaprathet that night, so in the morning, I could cross into Cambodia and come back into Thailand just like I used to.
But when I got to the Thai immigration officer at the border, she told me I couldn't leave. "Your visa," she said. "Void." I tried to explain to her what happened, but she wasn't having it. She told me I had to go to Sa Kaeo immigration office and get a 60-day extension.
So that morning, I drove back in the other direction for an hour toward the Sa Kaeo Government Complex, the only officially-sounding immigration office that showed up on my GPS. When I got there, the officer told me they only handle border passes for Thais. But the lady was kind enough to help me. She called her friend who worked in the Cambodian Embassy in Thailand. Her friend said foreigners could get 60-day extensions at the Cambodian Embassy.
The officer told me to go back to Aranyaprathet to the Cambodian Embassy, where her friend was expecting me and would help me. I got the address for the Cambodian Embassy in Aranyaprathet and drove back to the border. When I got there, there was no Cambodian Embassy. The Google Maps address, despite showing "Cambodian Embassy," took me to a shop that sold t-shirts.
A local pointed me down the road to the Cambodian Consulate. But when I went inside, the man told me no one called on my behalf. I tried calling back the officer in Sa Kaeo, but whoever picked up on the other end mumbled something in Thai and hung up.
It was like I was stuck in the Twilight Zone.
My blood began to boil.
With nowhere else to turn, I went back to the immigration office at the border. They sent me to a table and told me to wait. The lady who sent me to Sa Kaeo walked over. I asked her why she told me to go to Sa Kaeo. "You," she said, "Go to Bangkok. You understand?"
"No I don't understand." I said. "You told me to go to Sa Kaeo." But she refused to acknowledge her mistake. The immigration police came over, and seeing my patience running thin, he closed my passport and told me to leave.
The next day I drove back to immigration in Bangkok with my wife. When I met with the lady who originally voided my visa, she said the immigration officer at Aranyaprathet didn't know how to read the voided visa in my passport and that she should've let me leave. My wife explained to the immigration supervisor the wild goose chase they sent me on, and the lady had mercy on me.
"Come back as soon as possible with your paperwork," she said. "Pay the fine, and we'll renew your visa." And sure, enough, she stuck to her word. But since I couldn't show 400,000 baht on my bank statement two months in advance—because I had to transfer it that day—they switched my visa from a Marriage Visa to a "take care of Thai kids" visa. Apparently, you still need 400,000 baht in the bank, but not two months in advance.
I know I could've avoided this whole thing if I stayed on top of my visa. But this was a big lesson learned. Don't assume immigration officers in Thailand work together, or work under the same standards.
Reapplication Process
The reapplication process for overstaying your visa is the same as when you apply for or renew your visa. But you'll have to pay the fine for overstaying your visa. They'll give you separate paperwork to fill out. And you'll have to sign and agree to their terms. And you'll only know those terms if you can read Thai.
Fines
The fine for overstaying your visa is 500 baht per day.
Time
If you've overstayed your marriage visa and apply for a new visa, you'll get your results in ten days.
Final Thoughts
Despite what you read online, and despite my situation–which I could've avoided had I paid closer attention to my visa–applying for or renewing your Marriage Visa is a straightforward process. And as long as you're patient and respectful to the immigration officers in Chaengwattana, they'll work with you. Even if you screw up.
And remember, this guide only scratches the surface of applying for or renewing your Marriage Visa. For other questions about qualifications, the application process, financial documents, and re-entry processes, it's best to seek a reliable legal adviser for advice.