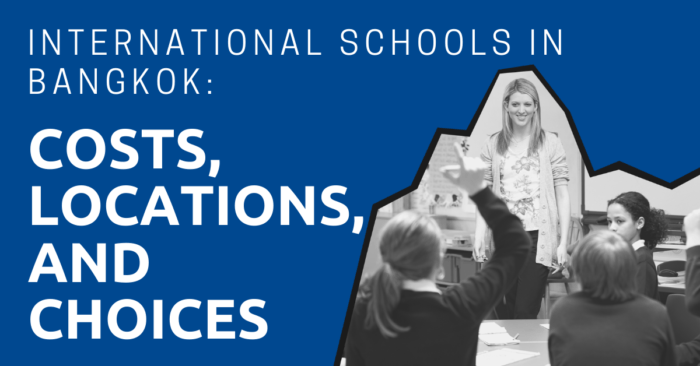 This article is the second part of our Thailand international school series. If you'd like to learn more about international schools' tier systems, accreditation, curricula, and more, check out International Schools in Thailand: A Primer for Expat Parents.
What follows is more information on seven of the most well-known international schools in Bangkok. These do not encapsulate the entirety of the international school scene in Bangkok (let alone the rest of the country), and there are plenty of excellent schools beyond. But this guide should give a rough idea of what to look for when searching for an international school in Bangkok.
KIS International School (KIS)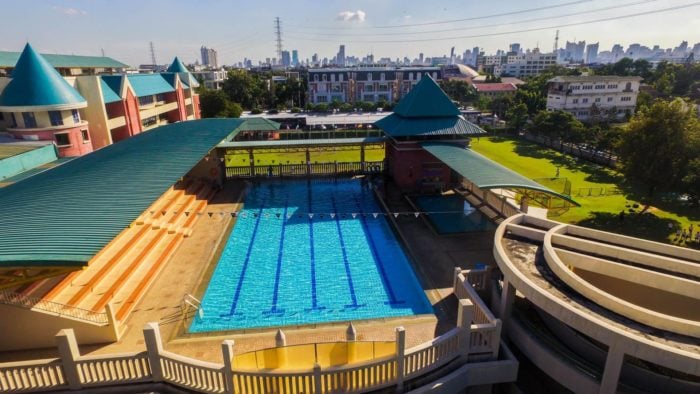 School Type: Private
Curriculum: IB
Accreditation: CIS
Grades: Kindergarten – Grade 12
Number of Students: 700
Tuition (as of September 2018): 347,400 baht (pre-KG) – 731,300 baht (Grade 12) per year
Address: 999/123-124 Pracha Utit Road, Huay Kwang 10310, Bangkok
If you're looking for an international school with good IB curriculum where your child will feel like part of a tight-knit community, KIS could be the answer.
If asked to sum up the international schools in this article with a single word, there would no doubt be some that spring to mind at once.
For some schools, it might be "heritage," or others "innovation." However, for KIS students and their families, that word would have to be "friendly."
The second dedicated International Baccalaureate school on this list, KIS (it stands for Knowledge, Inspiration, Spirit) has been educating students since 1998.
KIS International School is located in the central Bangkok district of Huay Kwang and offers modern facilities with a close-knit community feel.
Located on a leafy four-acre campus within a gated community, KIS currently has 700 students on its rolls, spread across kindergarten to Grade 12.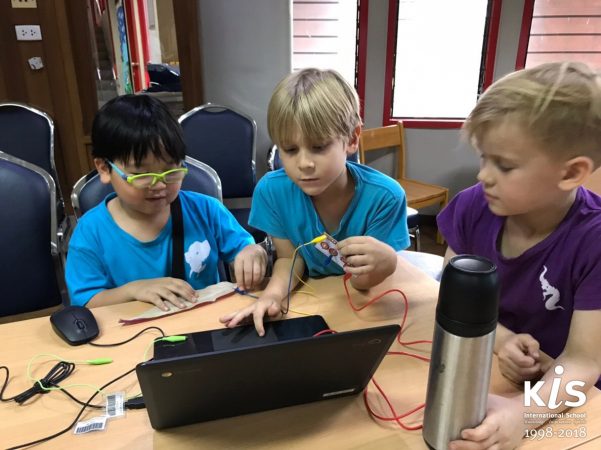 Combined with its convenient location just outside the hustle and bustle of Sukhumvit, there's a comforting, homey feel to the place.
However, don't let its size suggest a lack of facilities. KIS's primary school includes a computer room, a drama room, a library, and a music and recording room.
Their secondary facilities include science labs, individual music rooms, a dance studio, a rooftop swimming pool, and a 600-seat auditorium.
KIS has also opened new building with a multipurpose hall, indoor gymnasium, a third pool, a drama room, a workshop, and a design and art studios.
Education at KIS stresses creativity and innovation.
Secondary students are encouraged to take part in something called the Design Cycle Challenge Week, in which they are tasked with designing airplanes, catapults, remote-control cars or water rockets.
Visual arts, music, design, and performing arts are all part of the curriculum, and students are encouraged to display their musical talents in the school's annual Battle of the Bands.
As stated above, KIS follows the International Baccalaureate curriculum straight through from kindergarten to Grade 12.
Education is split into a Primary Years Program, or PYP from ages 3 to 11, Middle Years Program, or MYP, from 11 to 16, and finally students aged 16 to 18 do the IB Diploma Program.
Within the PYP, KIS offers an early-learner's center, which, in keeping with the school's focus on creativity and invention, focuses on play-based learning, providing students with areas for role plays, a sand pit, a place for water play, sculpture facilities, and more.
Students in the PYP study the core subjects of language, math, social studies, science, the arts, and physical, social, and personal education, building towards a PYP exhibition in Grade 5 (the last year of the PYP).
In the MYP, students study English language literature, modern languages (such as Spanish or Mandarin), math, humanities, science, the arts, technology, and PE, again building towards a personal project (something like a research essay or—in keeping with the focus on creativity—an invention).
Finally, in the IBDP, students can select six subjects from a list including math, languages, the arts, science and humanities, and they need to complete a Theory of Knowledge Course.
In addition they are expected to engage in the Creativity, Action and Service Program, or CAS, and write an extended essay.
There's also an impressive list of languages to learn, including the main options Spanish, Mandarin and Thai, as well as languages though the mother tongue program such as Swedish, Japanese, French and Tamil.
Although fees at KIS start off roughly equal to those of other top-tier international schools, they also don't increase by a great deal.
By the time your child arrives at secondary, fees compare extremely favorably against other international schools, topping out at a very reasonable 699,700 baht per year for Grade 12 students, making KIS one of the better value-for-money schools on this list.
The school also offers various types of scholarships.
Its location is also favorable, too—near enough to the center to make driving there less of a headache, but removed enough to feel a little more spacious and airy.
The school also offers door to door buses and a free shuttle service from the MRT.
Schedule a Visit at KIS International School
NIST International School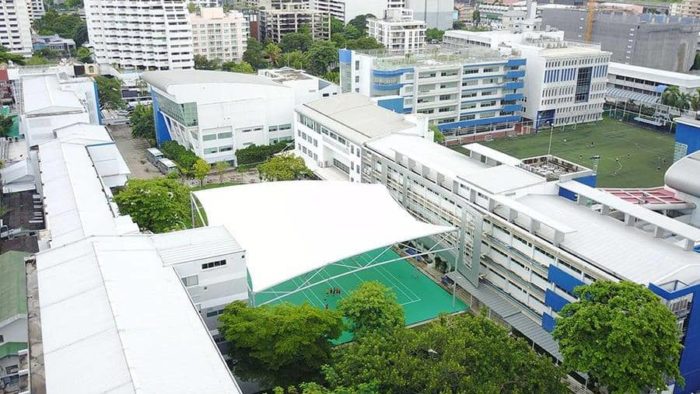 School Type: Non-profit
Curriculum: IB
Accreditation: ONESQA/CIS/NEASQA
Grades: Nursery – Year 13 (Grade 12)
Number of Students: 1,600
Tuition (as of September 2017): 491,000 baht (KG) – 893,200 baht (G12) per year
Address: 36 Sukhumvit Soi 15, Watthana, Bangkok, 10110
Considered by many to be one of the best of the Tier 1 international schools in Thailand along with ISB and Bangkok Patana, NIST International School is one of just three schools in Thailand offering the full International Baccalaureate Program (as in, from nursery level to high-school graduation), making it a great choice for parents seeking an international education for their children. Located centrally in the Sukhumvit area of Bangkok, NIST currently has over 1,500 students on its books, from more than 50 different countries.
There are few areas in which NIST doesn't excel—to an often ludicrous degree—with what it offers students. Fond of technology? How about wireless classrooms, a MacBook Air for the personal use of every secondary student, a green screen room and robotics facilities? Business-minded? NIST's the only school in Thailand to offer Harvard (yes, that Harvard) Business School's Credential of Readiness, or CORe program, which trains students in business analytic, economics for managers and financial accounting. Musically minded? The NIST Instrumental Music Program can hook you up with an Associated Board of the Royal Schools of Music diploma, or the chance to complete Trinity Pop & Rock exams.
Education at NIST is split into three programs, each following the IB curriculum.
Primary Years Program
The Primary Years Program, or PYP runs from kindergarten to year 6, and covers subjects areas including languages, math, visual arts, performing arts, social studies, science, information and communication technology and personal, social, and physical education, all of which are integrated together.
Middle Years Program
From year 7 to 11, students enter the Middle Years Program, or MYP, which expands its focus to include the development of social and emotional skills, as well as intercultural and community awareness and an awareness of both local and global issues.
International Baccalaureate Diploma Program
Finally, senior students (years 12 and 13) study the International Baccalaureate Diploma Program (IBDP), which narrows the academic focus down to the humanities, at least two languages, experimental science, math, and the arts.
Senior students also have the option of studying NIST high school courses, which are based on the American education system and result in a grade point average suitable for college or university applications in the US.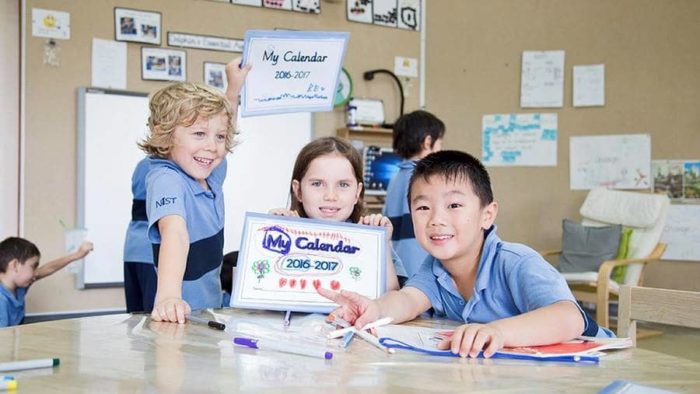 Facilities at NIST are all thoroughly up-to-date and top-of-the-range, and include a creative arts building, a sports complex including sports courts and a FIFA-standard pitch, science labs, counseling lounges, tech centers, several multi-purpose halls, theater, performance studio and recording studio. All classes contain SMART boards, digital projectors and FrontRow sound systems. NIST also boasts two libraries, one each for primary and secondary students, each stocking a wide range of books, newspapers, magazines and digital resources such as PebbleGo and Tumblebooks.
Unsurprisingly, all this prestigious education comes at a high price, with tuition fees for senior students topping out at 893,200 baht per year, or around $28,000. Competition for placements is also understandably fierce. However, the results are clear to see, with the 2017 cohort scoring an impressive average of 36.3 in the IBPD exam results compared to a global average of 30, and 100% of students entering universities following graduation, predominately in the UK and US.
Contact NIST International School
Bangkok Patana School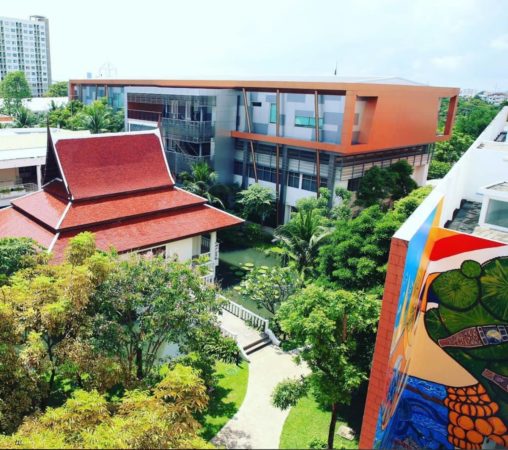 School Type: Private/Non-profit
Curriculum: UK/IB
Accreditation: CIS/NEASQA
Grades: Nursery – Year 13 (Grade 12)
Number of Students: 2,250
Tuition (as of September 2017): 460,100 baht (pre-KG) – 796,600 baht (G11) per year
Address: 643 La Salle Road (Sukhumvit 105), Bangna, Bangkok, 10260
If NIST is the flashy new kid on the block, Patana is the grand old dame of the Big Three. The oldest British international school in Thailand, it was founded way back in 1957 to provide a British-style education to the children of English-speaking expats.
Alongside its august reputation as a long-standing school, Patana is particularly noteworthy for its excellence in sports and the arts.
The school boasts an enormous arts center, which includes the 600-seat Rosamund Stuetzel theatre, a 300-seat black box, practice and rehearsal rooms, an orchestra practice room and multi-media production studios, as well as art and drama studios.
Patana's alumni includes an impressive list of some of Thailand's most famous celebrity performers, including actor Ananda Everingham, singers Tata Young and Joni Anwar, and appallingly youthful writer Praekarn (Pier) Nirandara, known by her pen name Pieretta Dawn, who published her first novel at a mere 15 years of age.
Patana is very much a sporting school, with frequent swimming galas, sports days, inter-class tournaments, an "aquathlon" run and swim challenge, and record-breaking competitions.
Patana's sports teams – all known as the Tigers – have an impressive string of victories under their belts when it comes to inter-school competitions, including reigning championship of the Bangkok International Schools, or BISAC, and Federation of British International Schools in Asia, or FOBISIA, competitions.
Education at Patana closely follows the British curriculum, and the school maintains close ties to its British heritage. The majority of teachers are British, as are almost a quarter of the students. Primary students, who have their own head-teacher, in addition to a dedicated floor for each year group, follow the first two key stages of the English National Curriculum, or ENC.
Secondary students, who also have their own headteacher, continue to follow the ENC as they work towards completing their International General Certificate of Education, or IGCSEs, in year 11. Year 12 and 13 senior students are then given the option to take the IBDP, or the British A-Level exams.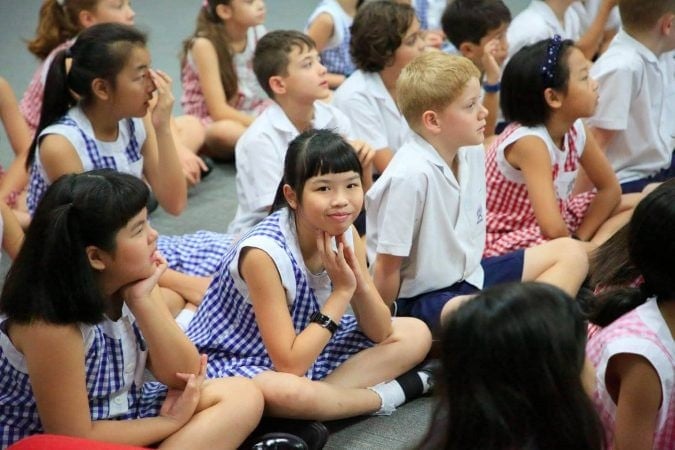 Facilities at Patana are—as you'd expect—excellent. Besides the arts facilities we've already mentioned, there are also sports pitches, mini tennis courts, a sports hall with climbing wall, dance studios, spin bikes and fitness studio, hard courts, and swimming pools. For the nursery kids, Patana also boasts a cycle track, sensory stream, learn-to-swim pool, indoor exploration areas, outdoor play areas, a library, gardens, and more. Technology is fully integrated into many classrooms, with students given the option to use their own laptops in the classroom.
Results are, inevitably, excellent. Students in 2017 scored a 100% pass rate, with a whopping 95.1% grades landing in the A* to C area, 55.6% of which ranged between A* to A.
Like NIST, an education at Patana doesn't come cheap, with term fees ranging from a minimum of 460,100 baht for nursery students up to 796,600 baht for grade 11 students. Another factor that may be a little off-putting for some students may be the school's sheer size, with over 2,000 students on their books as of 2017. However, class sizes are restricted to a maximum of 22 students, each with their own tutor.
Contact Bangkok Pattana School
International School Bangkok (ISB)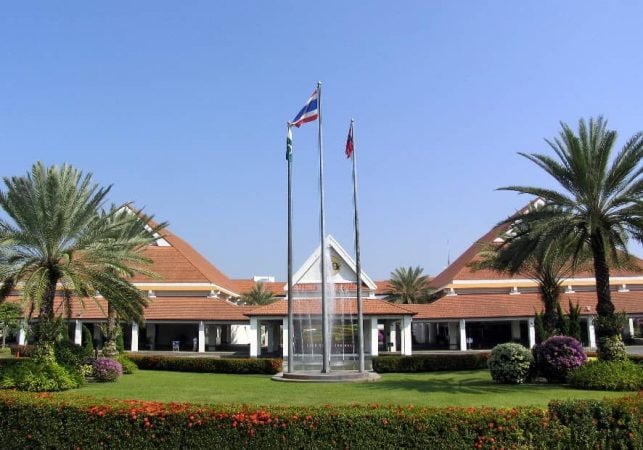 School Type: Private/Non-profit
Curriculum: US
Accreditation: WASC
Grades: Pre-kindergarten – Grade 12
Number of Students: 1,900
Tuition (as of September 2017): 522,500 baht (pre-KG) – 949,900 baht (G12) per year
Address: 39/7 Soi Nichada Thani, Samakee Road, Pakkret, Nonthaburi, 11120
Rounding out the Big Three is the rather simply-monikered International School Bangkok, or ISB. ISB can be forgiven for a little lack of creativity in its name, however. Founded in 1951 to teach the children of UN and US diplomats, this American curriculum school is the most venerable of its kind in Thailand. ISB has accrued an impressively heavyweight list of former students over the course of its 60-odd years, including former US Secretary of the Treasury Timothy F. Geithner, Minor Food group CEO (owners of the Pizza Company, amid many others), William E. Heinecke, Democratic senator Tammy Duckworth, and the actress Mary-Louise Parker.
At its heart, ISB is still very much an American school. Located within the predominately expat Nichada Thani community, out in far-flung Nonthaburi, you'd be forgiven for thinking you'd stumbled across a lost corner of California as students whiz past on bicycles and shuffle through the school's leafy campus on their way to classes. However, the school has not lost sight of its Thai heritage, with its angular, airy entrance building owing a huge debt to traditional Thai architecture. ISB is also a big believer in contributing to the local community, and expects each of its students to have completed at least 40 hours of community service before graduating.
Education at ISB follows the American model, with students passing through elementary, middle, and high school over the course of grades 1 to 12. Pre-kindergarten classes are also offered, which closely follow the Reggio Emilia method.
Classes at elementary level follow a North American, standards-based framework, covering language arts, math, science, social studies, and health and well-being, as well as specialist classes in art, physical education, world language and music. Thai language is also a mandatory subject for Thai -national students, with non-Thais able to choose between continuing Thai or learning Spanish, French, or Mandarin after a full academic year. Assessment follows the US-led Measures of Academic Progress, or MAP, which monitors student's math and reading skills, as well as science after grade 3.
In middle school, the curriculum expands to include the arts. ISB students are required to spend a year studying music during grade 6, with a choice of either band, choir, or strings. After which they can choose between performing arts, design and technology, and visual arts as electives.
Finally, for high school students, grade 9 to 12, the curriculum narrows to cover the core subjects: English, math, science, social studies, fine and performing arts, design, technology and engineering, world languages (Spanish, French, Mandarin or Thai), and physical education, ultimately building towards the completion of an ISB Diploma in grade 12. Grade 11 and 12 students also have the option of studying for the IDBP.
Facilities at ISB are excellent. Much of their advertising literature is focused on the school's impressive new Environmental Wilderness Campus, or EWC. It's essentially a classic American summer camp, in which students can take part in activities such as rock climbing and kayaking, as well as learning skills such as first aid. Technology is fully-integrated into the school, with the Learning Hub boasting iPods, iPads, laptops, and a media lab. The school's "Invention Center" also provides top-of-the-range tech for its technology and design classes. The arts are also covered, with a five-story cultural center and 700-seat theater.
In terms of results, ISB's 2016 cohort scored an average of 35 points in the IBDP (a little lower than NIST, but still far above the global average of 30), and students in grades 3 to 8 scored within the 90th percentile in the MAP math assessments, as well as 80% at reading.
As with the last two schools, fees at ISB are far from cheap. In fact, at between 522,500 baht (around $16,000) for pre-kindergartner students to a whopping 949,900 baht (over $30,000) for grade 12 students, it tops out as the most expensive option on this list, and is certainly up there with the priciest options in Thailand. Another factor that may be a little off-putting for some prospective parents is the school's distance from the center of the city. Pakkret is around a 40-minute drive from the Silom/Sukhumvit area, and that's without factoring in rush hour traffic. Although the school has a slightly earlier start time of 7:20am, it's still a stressful trip to make first thing every morning.
Finally, the school's enormous size may be problematic for some parents. Currently it has almost 2,000 students on its books, spread across a 37-acre campus. Class sizes are small, however, with the average middle-school class made up of around 17 students, down to 15 by high school. And all students are assigned a dedicated advisor.
Contact International School Bangkok (ISB)
Ruamrudee International School (RIS)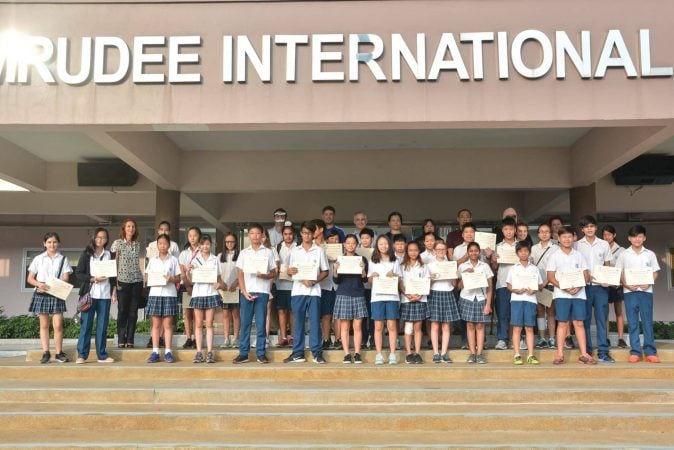 School Type: Private/Non-profit
Curriculum: US
Accreditation: WASC/ONESQA
Grades: Pre-school – Grade 12
Number of Students: 1,200
Tuition (as of September 2017): 359,400 baht (pre-KG) – 675,900 baht (G12) per year
Address: 6 Ramkhamhaeng 184, Minburi, Bangkok
You'd be forgiven for thinking you'd left Bangkok altogether when you step on to Ruamrudee's sylvan campus. Its expansive grounds, nestled in farmland a long drive from anywhere in particular, feels a different place entirely from the smog, high-rises, and flashing billboards of Bangkok. But Bangkok it most certainly is, albeit just barely. The campus is located in the far-flung suburban province of Minburi, a stone's throw away from the city limits.
Thankfully, Ruamrudee has plenty to lure potential students out to its remote little enclave. One of the oldest international schools in Bangkok, Ruamrudee was founded in in 1957 by a group of Redemptorist priests from the Holy Redeemer Church, with help from a few locals. Beginning humbly with just two classrooms, the school soon expanded and is now something of a colossus among Bangkok international schools, both in terms of size (boasting over 1,200 students) and reputation.
However, Ruamrudee has not strayed far from its Catholic roots, and there's still a solid core of Catholic values at the heart of the school. Catholic iconography adorns the hallways. Religion classes are offered to Catholic students, which focus on the history of the church, Bible studies, and moral guidance. However, the school is proudly welcoming to students of other faiths, and non-Catholic students can instead opt for a class entitled "Values," which provides a broader discussion of philosophies, cultures, and religions from around the world.
Ruamrudee follows the American curriculum, which means the school is separated into kindergarten, elementary, middle and high schools. The school also provides pre-kindergarten, which aims to develop students' inquisitiveness through play.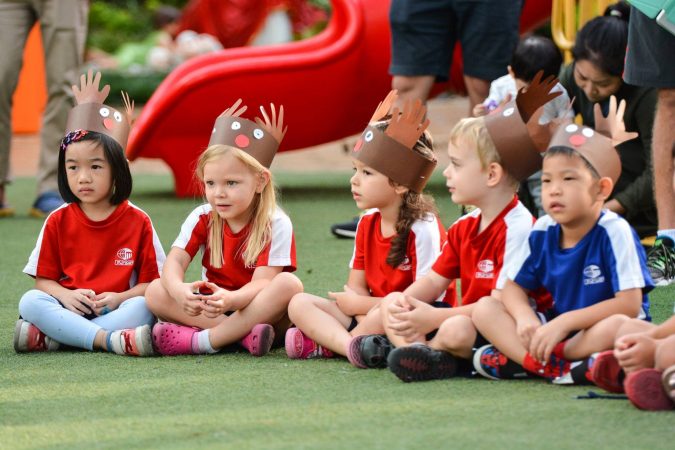 Elementary students are taught the core subjects of reading, writing, math, science, computers and social studies, with additional classes in visual and performing arts, physical education, Thai, the aforementioned values, and health and wellness.
In middle school, the curriculum expands to include Thai language courses for both native and non-native speakers, as well as world languages such as French, Japanese, Mandarin, and Spanish. The school also provides advisement sessions, including a daily homeroom and annual field trip, which aims to teach students to navigate the emotional complexities of peer pressure, stress, and so on. Middle school students may also take a number of elective courses, including information technology, band practice, broadcast media, and 3D art. One interesting elective is the Model United Nations course, which helps students develop their debate and rhetorical skills.
In high school, which contains the bulk of Ruamrudee's enrollment, students can choose to take either the AP System or the IBDP, with students opting to take up to six modules (three each in grades 11 and 12) from either. Students are also offered assistance with university application prep from the school's college counseling services.
Ruamrudee's spacious campus gives it plenty of space to provide some excellent facilities, including two full-sized covered gyms, two tennis courts, two squash courts, a fitness center, a FIFA-certified football pitch, and an Olympic-sized outdoor swimming pool. For more artistically-minded students, the school boasts a recording studio, art studios, and a performing arts center. And for literature fans there are expansive libraries in both the secondary and elementary schools. The school is also well-equipped when it comes to science and technology, including a number of modern science labs and a laptop provided to all students from middle school up.
In terms of results, Ruamrudee's students are among the highest-achieving among Thai schools, with the 2016 averaging an impressive 35 in the IBDP (against the global average of 30). In the AP diploma, 85% of students achieved a grade 3 or higher, including 36 perfect science or math scores.
Surprisingly enough, Ruamrudee's fees are fairly reasonable for what it provides, clocking in at 359,400 baht per year for pre-kindergarten students, rising up to 675,900 baht per year for grade 12.
One thing that may detract some parents is the school's sheer distance from the center of Bangkok. A daily commute to and from Minburi can be a truly grueling affair, taking an hour or more. The school provides boarding on a five- or seven-day basis, but this does come at extra cost. However, for others the chance to study in the relatively clean air and verdant grounds the school provides more than makes up for this.
Contact Ruamrudee International School
Harrow International School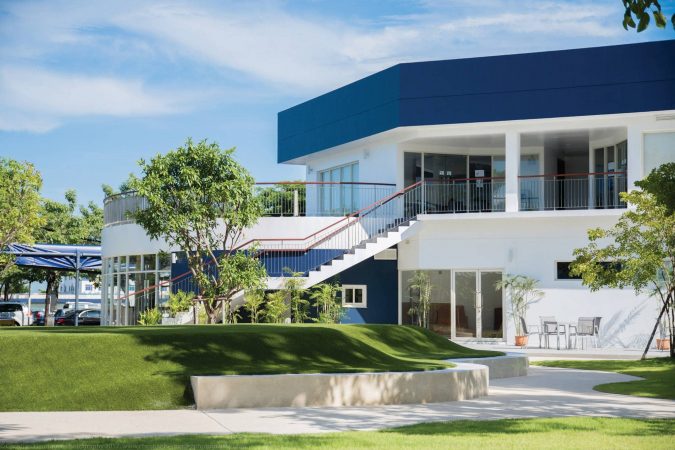 School Type: Private/Boarding
Curriculum: UK
Accreditation: CIS
Grades: Pre-kindergarten – Year 13 (Grade 12)
Number of Students: 1,500
Tuition (as of September 2017): 570,000 baht (pre-KG) – 905,000 baht (G11/12) per year
Address: 45 Soi Kosumruamchai 14, Kosumruamchai Rd, Don Mueang District, Bangkok
Harrow International School, or "The One With The Straw Boater Hats," is far from afraid to wear its 450-year old British heritage on its sleeve—or on its head, or over its shoulders, too, for that matter. Franchised from the venerable all-boy's English public school of the same name, everything from the house system and traditional songs to the blazers and the infamous straw boater hats positively oozes tradition.
Surprisingly, though, Harrow's campus, located out in the Northern suburb of Don Mueang, is airy and modern, and mercifully free of oak paneling and spartan stone dormitories. Sprawling over 35 acres besides a shimmering lake, the Harrow Bangkok campus contains a pre-prep school, prep school, and upper school building, as well as an impressively extensive selection of sporting facilities, including a sports hall, gymnastics hall, rugby, cricket and football pitches, swimming pool, fitness suite, climbing wall, and tennis courts. For wannabe Tiger Woods', the school also runs a golf academy, located just outside the school gates. Harrow also makes use of its lake for all sorts of aquatic shenanigans, including sailing, kayaking, and dragon boat racing.
Boarding is a big part of the Harrow experience. Both day and full boarding options are available to students from year 5 to year 13, and the school claims to have the capacity to board up to 40% of its students across its four boarding houses. As one would expect, boarding facilities are excellent, with common rooms containing pool and table tennis tables and board games available for the use of students, as well as the use of the school's ample sports facilities.
The aforementioned houses are integral to the Harrovian ethos—think Hogwarts, and you're not too far off. There are six houses in total: Byron, Churchill, Keller, Nehru, Sonakul, and Suriyothai, all of which are overseen by a house master or mistress. House events, such as art, poetry, chess, or Scrabble competitions are frequent, and there are also annual contests such as a dragon boat race and swimming gala. Students don their house colors every Thursday, and one can expect there to be no shortage of (hopefully) friendly animosity between houses.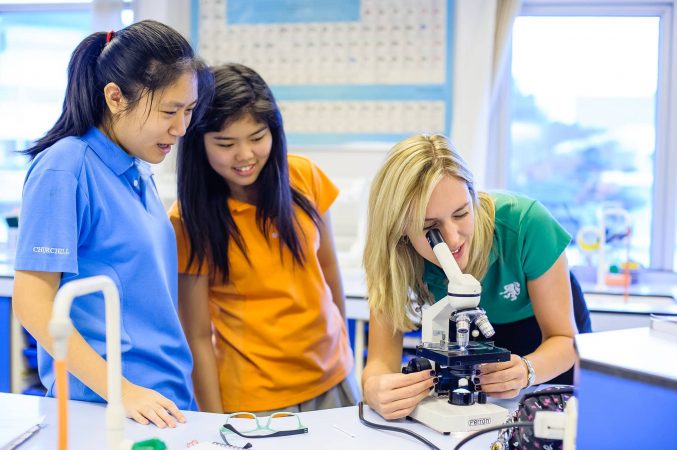 As one would expect, education at Harrow closely follows the British system. The school is split into a Lower and Upper school, with the Lower School encompassing the early years' center and the pre-prep school (years 1 to 5) and the Upper School containing a preparatory school (years 6 to 8), a senior school (years 9 to 11) and sixth form (years 12 to 13).
The early years' center closely follows the British Early Years Foundation Stage, or EYFS, which in addition to establishing some of the core skills required for school (reading, math, etc.), also contains classes in music and physical education.
In the pre-prep and prep school (years 1 to 8), education follows the British primary curriculum, with classes in English, math, science, history, geography, art, design technology and Personal, Health and Citizenship Education, or PHSE, taught by a single homeroom teacher. The school also offers classes in Thai, as well as specialized classes for music, PE, ICT, and modern languages.
From year 9 to year 11, students begin preparing for their IGSCEs, and the workload, including homework, increases commensurately. All students sit exams for the core subjects (namely English, math, and science), and may choose from a number of elective subjects including art, history, biology, chemistry, physics, and/or languages such as French, Thai, Mandarin, or Japanese. There's also the option to take development studies, astronomy, or classical civilizations as extra-curricular IGCSEs.
Finally, in the sixth form students take their AS and A-Levels, in preparation for university. Students can choose from a provided list of subjects including the core subjects of English, math or science, as well as psychology, media studies, or economics, and generally elect to take between 3 to 5 AS levels in year 12 and three A-Levels in year 13.
Even by the standards of international schools, an education at Harrow does not come cheap, starting at 570,000 baht (just over $18,000) per year for pre-kindergarten students. It's the most expensive option on this list, and that's before you include the not-negligible cost of boarding.
Harrow's location is not quite as far-flung as some of the schools on this list, but is a good 30-minute's drive from the Sukhumvit/Silom area without traffic, and as of 2018 lacks a connection to mass transit (however, this should be assuaged somewhat by the forthcoming Airport Rail Link line extension to Don Mueang Airport). Obviously the boarding helps take some of the sting out of this, but that does represent additional cost, and it's not something all parents are comfortable with.
Contact Harrow International School
Wells International School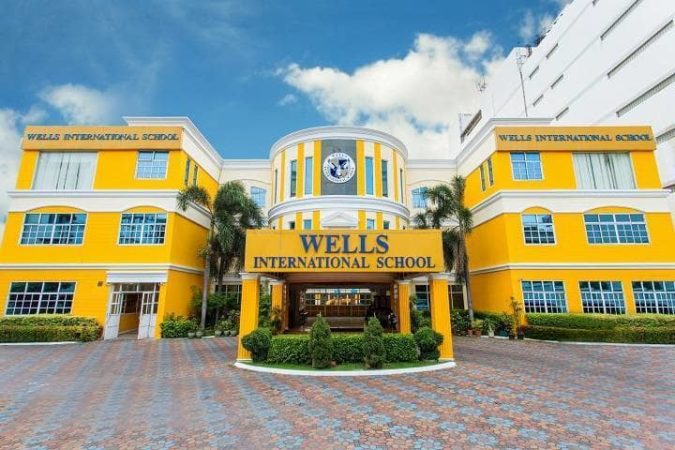 School Type: Private
Curriculum: US/IBDP
Accreditation: WASC/ONESQA
Grades: Pre-kindergarten – Grade 12
Number of Students: 750
Tuition (as of September 2017): 206,000 baht (pre-KG) – 420,000 baht (G11/12) per year
Address: 2209 Sukhumvit Road, Bang Chak, Phra Khanong Bangkok, 10260
What Wells lacks in razzmatazz, it certainly makes up for in value for money. At just 420,000 baht (a little over $13,000) per year for G11 and 12 students, and an exceedingly reasonable 206,000 baht (a touch over $6,000) per year for Pre-K, this American curriculum school is one of the cheapest on this list.
However, don't think the rock-bottom prices (at least by the standards of international schools) mean rock-bottom educational standards. As stated above, Wells follows the US curriculum up until senior level, at which point students can choose between the Advanced Placement scheme or the coveted IBDP.
Pre-kindergarten and kindergarten teaching takes place at Wells' Bang Na and Thong Lor campuses (the latter of which also provides classes for students up to grade 2), but the heart of the operation is in Wells On Nut, which contains an elementary school, middle school, and high school.
Education at Wells is built upon the US Common Core Standards, which stress a heavy focus on the arts, language, math, science, physical education, and social studies. In addition to this, Wells students also study music, IT, drama, PE, Thai culture, Thai language, and languages (including French, Japanese, and Mandarin). English classes follow the American Literacy by Design program, which develops students' reading, listening, and writing skills.
As already mentioned, senior students at Wells also have the option of choosing to complete either the IBDP, or Advanced Placement (AP). For the curious, the AP program allows students to gain college credits for schools in the US, essentially gaining the opportunity to skip a course that may take as much as a year. However, should they choose to take neither course, students can also finish up their studies and gain a standard high school diploma.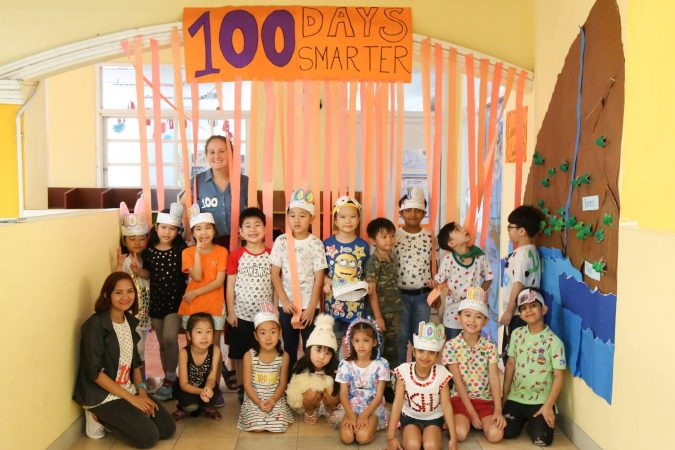 Much of the focus at Wells is on preparing students for university, and from high school onward students are given a number of opportunities to flesh out their university applications through job shadow opportunities and internships, teaching assistant work and placements at highly-regarded institutions such as the John Hopkins Center for Talented Youth and Thailand's own Mahidol University. Students can also volunteer in annual charity projects, such as visits to local orphanages.
While the campus at Wells On Nut is significantly smaller and homelier than those of the Big Three, it's still large enough to provide five computer labs, a fine arts center (complete with fully-furnished dance and music studios), and an auditorium. Sports facilities include a central field for primary students, and a hard rubber surface, bleachers, a full-size basketball court, a volleyball court and badminton courts for secondary students, in addition to a swimming pool. Several classrooms are equipped with SMART boards, and wireless hubs dotted around the school keep students and teachers connected at all times.
Perhaps one of the strongest things in Wells' favor is its central location. Located near the popular expat hub of On Nut, just a ten-minute walk from the BTS station of the same name, its vividly-yellow campus is one of the most conveniently located of the schools on this list, and its close proximity to the BTS means students need not fall victim to Bangkok traffic during the school-run.
Contact Wells International School
Resources
As stated above, this is the merest sampling of what's on offer when it comes to international schools in Thailand. For more information, check out the following links:
International Schools Association of Thailand
ISAT contains a comprehensive list of international schools across the country, complete with contact details, curriculum information and accreditation. The website is extremely useful for a basic overview of the scene here in Thailand.
Which School Advisor
For a more detailed look at what local international schools offer, Which School Advisor provides extremely detailed and thorough reviews, covering just about every aspect of international schools from course fees to campus facilities.
What to Do Next
If you're looking for the right international school to send your son or daughter to, reach out to some of the schools listed in this article and see if they have tour dates open. Some schools will hold open houses during the year to give expat parents a better understanding of how their schools run.
While there are a lot of good schools in Bangkok, we recommend KIS International School.
At KIS, teachers understand that each student is unique. KIS designs their curriculums and classrooms to encourage your child to learn and grow according to your child's learning style and personality.
To find out more or apply for your child's placement at KIS, please read our in-depth review of KIS International School.